Death is an inevitable part of life. It brings with it a range of emotions – sadness, grief, fear, and perhaps even peace.
Among the bitter realities of life, death tops the list because a person cannot avoid or even get rid of it. Death quotes have cleared one thing that it doesn't matter what type of life a person is living, he/she should have to be prepared to leave it!
Throughout history, people have turned to quotes as a way to express their thoughts and feelings about death. From famous authors to religious leaders, many have shared words that resonate with the human experience of loss.
Death quotes has cleared the confusion that whatever a person does in this world, it will remain here and he/she should have to do such acts that can create a good image in front of others and they may remember him/her even after the death.
Whether you are looking for comfort during your own grieving process or seeking insight into the complexity of mortality, these quotes offer something for everyone.
Famous Quotes About Death By Famous Authors
Throughout history, many famous authors have expressed their views and insights about death through their writings. Here are 25 famous quotes about death by some of the most renowned authors.
1. "Death ends a life, not a relationship." – Mitch Albom
2. "Death was not taking him swiftly but slowly and painfully, and giving him plenty of time to think." – J.K. Rowling
3. "To be, or not to be: that is the question." – William Shakespeare
4. "The boundaries which divide Life from Death are at best shadowy and vague. Who shall say where the one ends, and where the other begins?" – Edgar Allan Poe
5. "I am ready to meet my Maker. Whether my Maker is prepared for the great ordeal of meeting me is another matter." – Winston Churchill
6. "It's not that I'm afraid to die, I just don't want to be there when it happens." – Woody Allen
7. "Even death has a heart." – Markus Zusak
8. "All that live must die, passing through nature to eternity" – William Shakespeare
9. "I hope the exit is joyful – and I hope never to return" – Frida Kahlo
10. "No one here gets out alive" – Jim Morrison
12. "A thing is not necessarily true because a man dies for it." – Oscar Wilde
13."People living deeply have no fear of death." – Anais Nin
14."Our dead are never dead to us until we have forgotten them." – George Eliot
15."Life is pleasant, death is peaceful " Rainer Maria Rilke
16."Death must be so beautiful…" John Steinbeck
17."And when he died they washed him out with holy water" Ernest Hemingway
18."What we have once enjoyed we can never lose; all that we love deeply becomes a part of us." Helen Keller
19."For life and death are one…" Jack Kerouac
20."Death is always on the way…" Carlos Castaneda
21."I am become as sounding brass or a tinkling cymbal…" Jack Kerouac
22."Our birth is nothing but our death begun.." Edward Young
23.."Dying's easy for you now…" Dylan Thomas
24.."After your death you will be what you were before your birth…" Arthur Schopenhauer
25.."Perhaps they are not stars in the sky but rather openings…" Chinese Proverb
Read: 59 Best Michael Jordan Quotes: Life Lessons from the GOAT
Inspirational Death Quotes
26."Death is nature's way of telling you to slow down." – Dick Sharples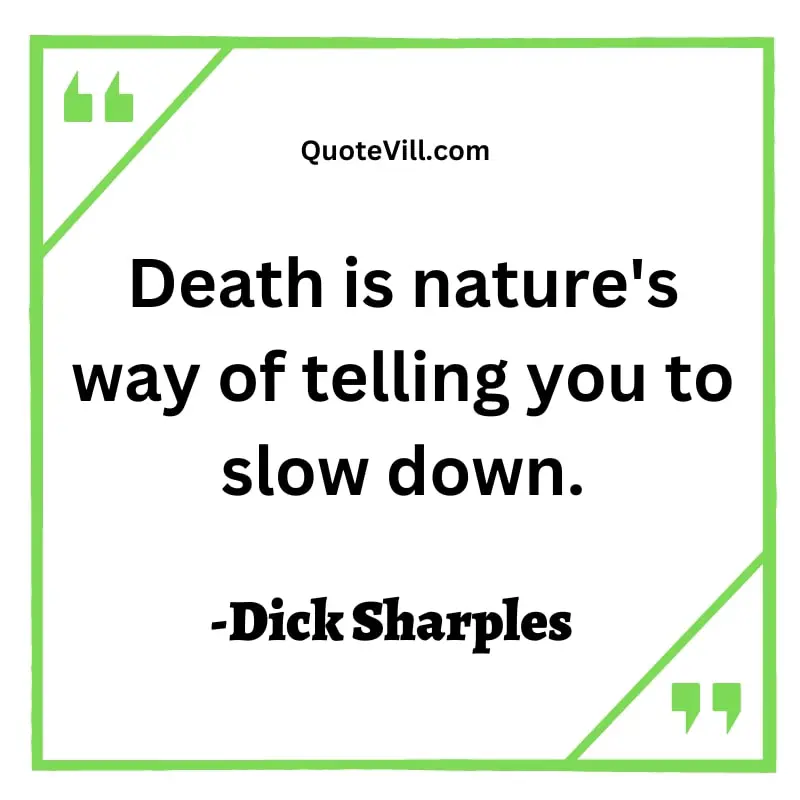 27. "Death is only the end if you assume the story is about you." – Welcome to Night Vale
28."Death is not the opposite of life, but a part of it." – Haruki Murakami
29. "The tongueless dead write their stories in the dust with their fingers." – Vladimir Nabokov
30."To die is poignantly bitter, but the idea of having to die without having lived is unbearable." – Erich Fromm
31. "We all die, but not all of us will truly live" – William Wallace (Braveheart)
32."Death is the destination we all share. No one has ever escaped it. And that is as it should be because death is very likely the single best invention of life." – Steve Jobs
33. "Death is more universal than life; everyone dies but not everyone lives." – A. Sachs
34."Our dead are never dead to us until we have forgotten them." – George Eliot
35. "Death is not the greatest loss in life. The greatest loss is what dies inside us while we live." – Norman Cousins
36. "Some people are so afraid to die that they never begin to live." – Henry Van Dyke
37."Death is simply a shedding of the physical body like the butterfly shedding its cocoon. It is a transition into a higher state of consciousness where you continue to perceive, to understand, to laugh, and to be able to grow." – Elisabeth Kubler-Ross
38. "He who has gone, so we but cherish his memory, abides with us, more potent, nay, more present than the living man." – Antoine de Saint-Exupery
39."The fear of death follows from the fear of life. A man who lives fully is prepared to die at any time." – Mark Twain
40. "Death is the easy part, the hard part is living and knowing you could be so much more than you're willing to be." – Robert M. Drake
41."I'm not afraid of death because I don't believe in it…It's just getting out of one car and into another"- John Lennon
42. "Death is not extinguishing the light; it is only putting out the lamp because the dawn has come." – Rabindranath Tagore
43. "Death is a challenge. It tells us not to waste time. It tells us to tell each other right now that we love each other." – Leo Buscaglia
44. "We all die. The goal isn't to live forever, the goal is to create something that will." – Chuck Palahniuk
45. "Death is a stripping away of all that is not you. The secret of life is to "die before you die" and find that there is no death." – Eckhart Tolle
46. "Death is not an event in life: we do not live to experience death. If we take eternity to mean not infinite temporal duration but timelessness, then eternal life belongs to those who live in the present." – Ludwig Wittgenstein
47. "Death is the last chapter in time, but the first chapter in eternity." – Unknown
48. "Death is the only way to avoid old age and disease." – P. J. O'Rourke
49. "Death is a challenge. It tells us not to waste time. It tells us to tell each other right now that we love each other."
50. "The fear of death is the most unjustified of all fears, for there's no risk of accident for someone who's dead." – Albert Einstein
51. "I don't fear death because I don't fear anything I don't understand. When I start to think about it, I order a massage and it goes away." – Hedy Lamarr
52."I would rather die a meaningful death than to live a meaningless life." – Corazon Aquino
53."Just as a well-spent day brings happy sleep, so a life well spent brings happy death."- Leonardo da Vinci
54."The fear of death is not the fear of death itself, but the fear of not living fully in the time that we have." – Paulo Coelho
Read: 85 Strong Karma Quotes to Encourage Self-Reflection
Short Death Quotes
55. "To live in hearts we leave behind is not to die." -Thomas Campbell
56. "Death leaves a heartache no one can heal, love leaves a memory no one can steal." -Irish Proverb
57. "Take care of all your memories, for you cannot relive them." -Bob Dylan
58. "We understand death only after it has placed its hands on someone we love." – Anne Lammot
59. "No one really knows why they are alive until they know what they'd die for." – Martin Luther King Jr.
60."Death is viewed as the beginning of a new journey rather than as an ending."
61. "Death brings peace as it marks the end of life's challenges."
62. "The concept of mortality reminds us to value and enjoy our lives completely."
63. "It is important to acknowledge that death is a natural occurrence in life."
64. "After we pass away, our spirit ceases to exist but those who cared for us continue to remember us in their hearts."
65. "Death is not an antagonist, but a companion that brings us to our final destination."
66. "The concept of death brings about equality as we all eventually end up in the same destination."
67. "To continue existing in the memories of those we leave behind is a way to live on rather than dying."
68. "Death is considered by some to be a transition to an improved state of being, rather than a loss."
69. "Facing death with bravery and inquisitiveness is essential, as it leads to the unexplored."
70. "Although the future after death remains unpredictable, there is comfort in acknowledging that we are united."
71. "Death is a natural part of the life cycle and should not be feared."
72. "The legacy we leave can have a lasting impact, even though our time on earth is brief."
Religious Death Quotes About Loved One
73. "Blessed are those who have died in the Lord; let them rest from their labors for their good deeds go with them." – Book of Revelation 14:13
This quote from the Christian Bible offers reassurance that those who have passed away will be rewarded for their good deeds and allowed to rest peacefully. It can be helpful for Jews who find comfort in both religious traditions.
74. "The world is a narrow bridge, and the most important thing is not to fear." – Rabbi Nachman of Breslov
This quote reminds us that life is full of challenges but encourages us to face them bravely without fear. This attitude can help bring peace at a time when we feel helpless and overwhelmed.
75. "The pain passes, but the beauty remains." – Pierre Auguste Renoir
Although not directly tied to Jewish tradition, this quote still has relevance in times of grief. It acknowledges the painful reality of loss but also encourages us to remember and cherish all of the beautiful moments shared with our loved ones.
76. "Mourners need not observe shiva (the seven-day mourning period) on Shabbat." – Talmud Bavli
This quote highlights an important aspect of Jewish mourning traditions – that Shabbat should be a day of rest even during a period of mourning. It reminds us that taking breaks from grief can help soothe our hearts and minds.
77. "Against your will you are formed, against your will you were born, against your will you live, against your will you will die, against your will you must give account before the King." – Pirkei Avot 4:22
While it may seem bleak at first glance, this quote actually holds meaning for many Jews facing loss. It reminds us that life is ultimately beyond our control but also reinforces the importance of living a meaningful life while we're here.
78. "Blessed are those who mourn, for they will be comforted." – Matthew 5:4
This bible quote reminds us that it is okay to grieve when someone we love passes away. It is a natural part of the process, and this verse assures us that God understands our pain.
79. "He will wipe every tear from their eyes. There will be no more death or mourning or crying or pain, for the old order of things has passed away." – Revelation 21:4
This passage inspires hope that in heaven there will be no more suffering, including death and grief.
80. "Precious in the sight of the Lord is the death of his faithful servants." – Psalm 116:15
While losing someone dear to us may cause immense pain and sadness, this quote reminds us that for Christians who have died, it is actually a special moment as they go home to be with God.
81. "The Lord is close to the brokenhearted and saves those who are crushed in spirit." – Psalm 34:18
When we feel overwhelmed because of our loss, we can take comfort knowing God is near and can heal our broken heart.
82. "Jesus said… 'I am the resurrection and the life. The one who believes in me will live even though they die…" – John 11:25-26
In these powerful verses Jesus assures believers that dying isn't an end but just another step towards eternal life with him.
Death Quotes By Famous People
83."If a man hasn't discovered something that he will die for, he isn't fit to live."— Martin Luther King Jr.
84. "Death smiles at us all, all a man can do is smile back."— Marcus Aurelius
85. "He who is not busy being born is busy dying."- Bob Dylan
86. "Every poem should remind the reader that they are going to die." ― Edgar Allen Poe
87. "Death is so genuine a fact that it excludes falsehoods, or betrays its emptiness; it is a touchstone that proves the gold, and dishonors the baser metal." — Nathaniel Hawthorne
88. "As a well spent day brings happy sleep, so life well used brings happy death."- Leonardo da Vinci
89. "It's not contagious, you know. Death is as natural as life. It's part of the deal we made."― Mitch Albom
90. "They that love beyond the world cannot be separated by it. Death cannot kill what never dies." – William Penn
Death Quotes About Comforting
Death is an inevitable part of life, but it doesn't make losing someone you love any easier. Sometimes, all we need is a little bit of comfort to help us through the grieving process. Here are ten quotes about death that can offer comfort during difficult times:
91. "Perhaps they are not stars in the sky, but rather openings where our loved ones shine down to let us know they are happy." – Eskimo Proverb
92. "No one ever truly leaves us as long as we remember them." – Unknown
93. "The pain of grief is just as much a part of life as the joy of love: it is perhaps the price we pay for love, the cost of commitment." – Dr. Colin Murray Parkes
94. "Grief is like the ocean; it comes on waves ebbing and flowing. Sometimes the water is calm, and sometimes it is overwhelming. All we can do is learn to swim." – Vicki Harrison
95. "What we have once enjoyed deeply we can never lose. All that we love deeply becomes a part of us." – Helen Keller
96. "Those we love never truly leave us… There are things that death cannot touch." – Jack Thorne
97. "Don't cry because it's over, smile because it happened." – Dr. Seuss
98. "When someone you love becomes a memory, the memory becomes a treasure." – Unknown
99. "Those who have suffered understand suffering and therefore extend their hand." – Patti Smith
100. "In the end, it's not the years in your life that count. It's the life in your years." – Abraham Lincoln
101. "Those we hold closest to our hearts never truly leave us. They live on in the kindness they have shared and the love they brought into our lives." – Unknown
102. "Although it's difficult today to see beyond the sorrow, may looking back in memory help comfort you tomorrow." – Unknown
103.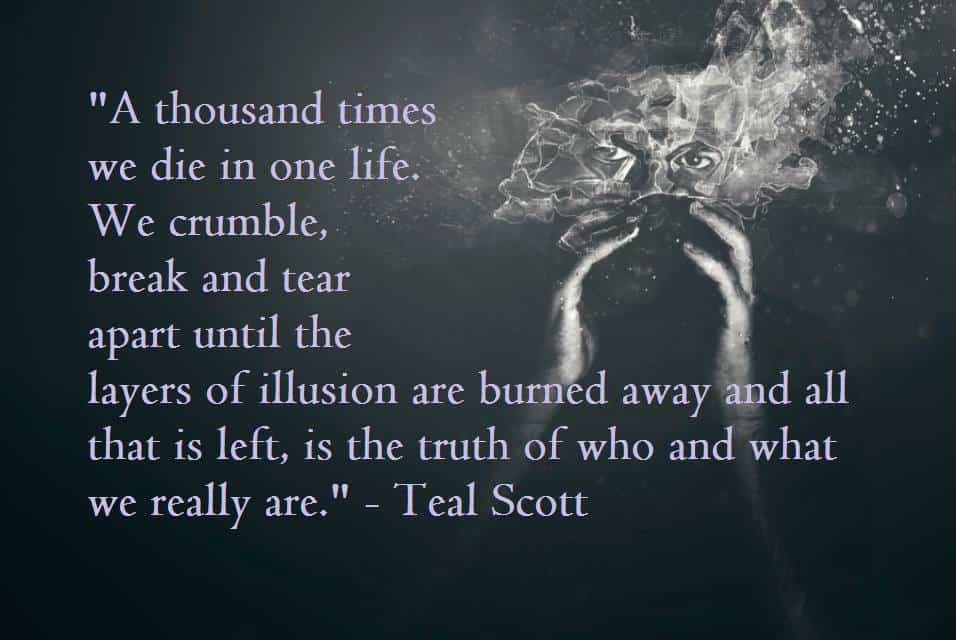 104.
105.