Every milestone in a baby's life is worth celebrating, and the 2nd month's birthday is no exception. Today, we are focusing on one such meaningful occasion – the 2nd month birthday of your baby. This post is all about celebrating this moment, commemorating it with touching and memorable Happy 2nd Month Birthday Wishes that can inspire parents, family members, and loved ones.
We'll delve into the significance of this milestone, different ways to celebrate it, and creative ways to communicate your love to the little one.
The Importance of Celebrating the 2nd Month Birthday
Cherishing Growth: Babies grow incredibly fast, and each month brings new developments. Celebrating each monthly birthday allows parents to reflect on these changes and appreciate their little one's progress.
Building Memories: The 2nd month birthday is a perfect opportunity to start or continue a tradition of capturing these fleeting moments, and creating precious memories.
Strengthening Bonds: Sharing your heartfelt 2nd month birthday wishes not only verbalizes your love but also helps deepen the emotional bond with your child.
Creative Ideas for Happy 2nd Month Birthday Wishes
Personalized Messages: Write a letter to your baby documenting their milestones, your hopes for them, and how much joy they have brought into your life.
Video Messages: Record a video message with your 2nd month birthday wishes and save it for your child to watch when they are older.
Photo Collage: Gather photos of the baby from the past month, pair each image with a birthday wish, and create a collage. This is a visual and beautiful way to express your wishes.
Happy 2nd Month Birthday Wishes For Baby Girl
1. "Happy 2nd month birthday, our little princess! In just 60 days, you've filled our lives with twice as much joy and love. May your journey ahead be as bright as your twinkling eyes."
2. "Our darling girl, two months ago you entered our world and changed it forever. Happy 2nd month birthday! Every day with you is a cherished gift we're grateful for."
3. "To our tiny miracle, happy 2nd month birthday! From your soft giggles to your curious eyes, every moment with you is a delightful surprise."
4. "Happy 2nd month birthday to our bundle of joy! In your short time with us, you've made our hearts grow bigger than we ever thought possible."
5. "Two months in and you've already painted our world with the beautiful hues of your love. Happy 2nd month birthday to our little artist!"
6. "Our sweet girl, happy 2nd month birthday! You are our moon, stars, and everything in between. Thank you for the joyous journey of the last 30 days."7. "To our baby girl, happy 2nd month birthday! From your first coos to your tiny toes, you've brought immense joy into our lives. Here's to many more magical moments!"
8. "To our tiny dancer, happy 2nd month birthday! Your cute wiggles and bright smiles are the music to our day. Here's to many more delightful moments with you."
9. "Two months old and already a star! Happy birthday, little one. Every day with you lights up our life in a way we never knew possible."
10. "Happy 2nd month birthday to our precious gem! Your presence has added a sparkle to our life that's brighter than any diamond. We're excited to see you shine even brighter."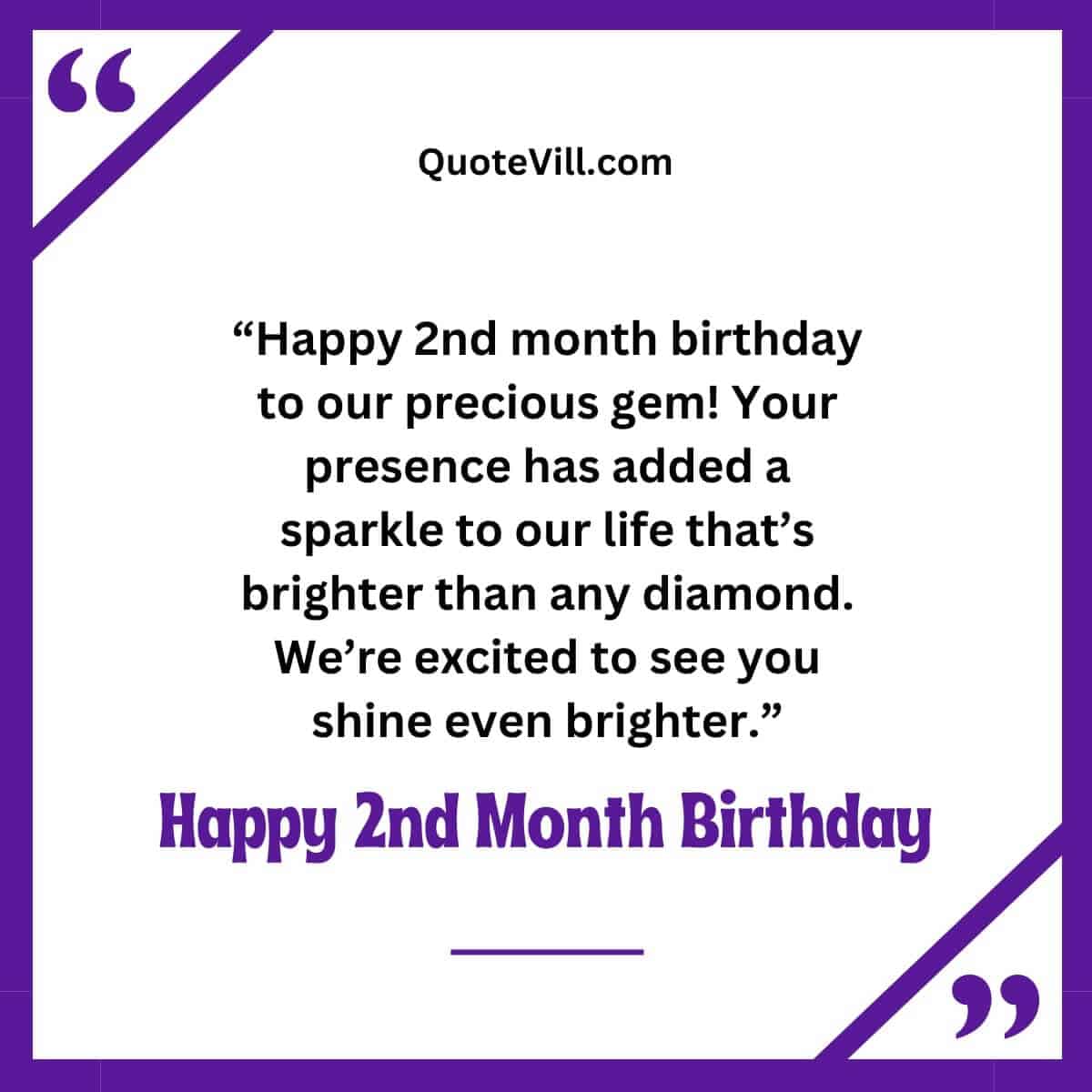 11. "Happy 2nd month birthday, darling! Your tiny hands have a huge hold on our hearts. Here's to the endless joy you bring into our lives."
12. "Two months of pure bliss! Happy birthday, baby girl. Your smiles are the sunshine that brightens our world. May your journey ahead be as wonderful as you are."
13. "Sweet little one, happy 2nd month birthday! Your laughter is the sweetest symphony we've ever heard. Thank you for making our lives a masterpiece."
14. "To our little fairy, happy 2nd month birthday! With each passing day, you sprinkle a little more magic into our lives. We look forward to the enchanting journey ahead with you."
15. "Happy 2nd month birthday, baby girl! Your arrival has transformed our world into a beautiful garden of love and happiness. We're excited to watch you bloom."
16. "Celebrating 2 months of our sweetest blessing! Happy birthday, darling! Every single moment with you is a slice of heaven. Here's to an eternity of these precious moments."
See: 50 Cute Happy 1st Birthday Wishes For Son For A Year Of Wonder
Happy 2nd Month Birthday Wishes For Baby Boy
1. "To our dearest boy, happy 2nd month birthday! Each day with you is a treasure trove of memories, filled with your sweet giggles and precious milestones."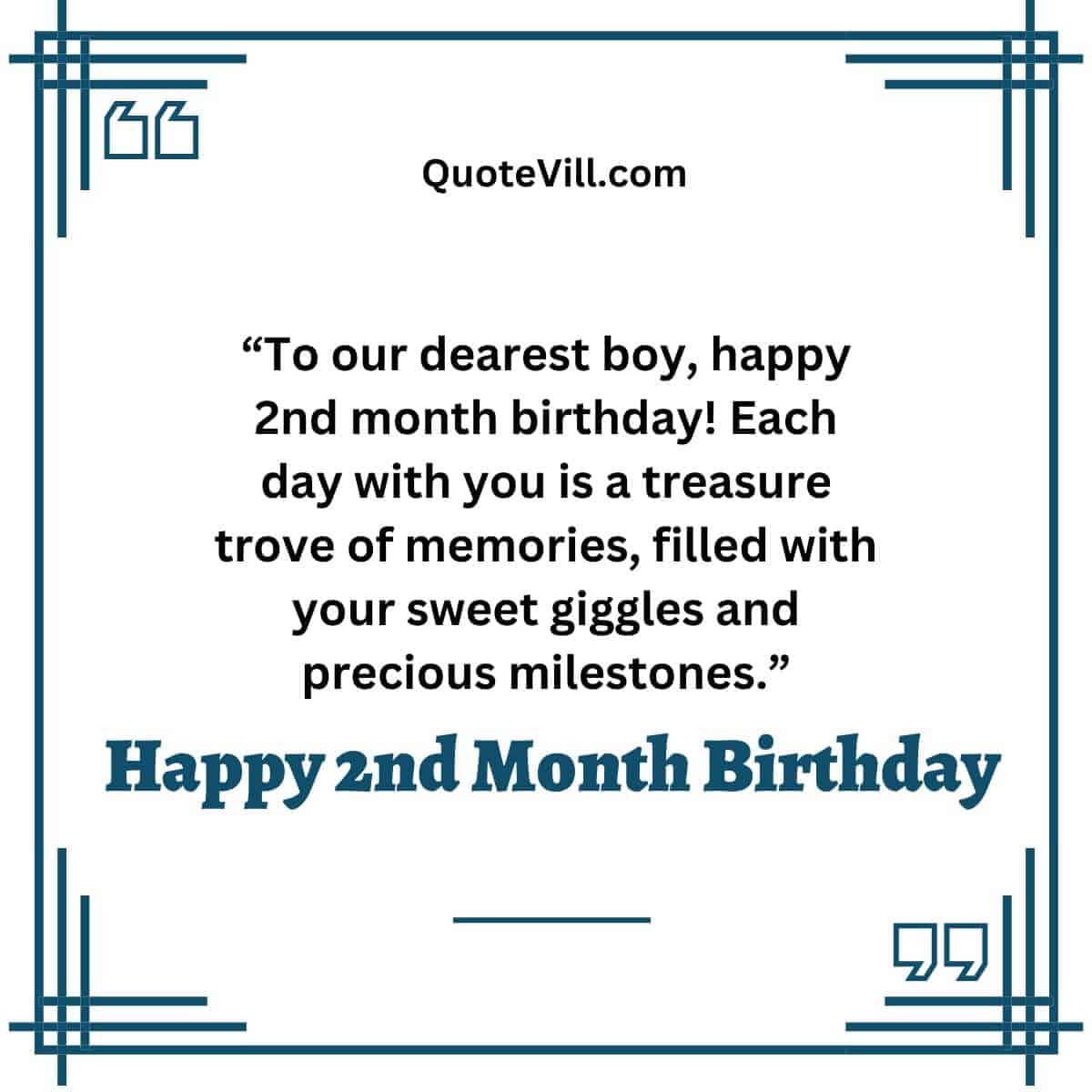 2. "Our little prince, happy 2nd month birthday! Your sparkling eyes are our guiding stars, leading us to a world filled with love and joy."
3. "Happy 2nd month birthday to our brave adventurer! In just two months, you've taken us on a journey of love and wonder. We can't wait to explore more milestones with you."
4. "Two months old and already a heart stealer! Happy birthday, little one. Each day with you brings us immeasurable joy and love."
5. "Our sweet boy, happy 2nd month birthday! From your first steps to your cheerful laughs, you've made our lives an endless celebration."
6. "To our little sunshine, happy 2nd month birthday! Your radiant smiles have brightened our darkest days. Here's to a future filled with countless happy moments."
7. "Happy 2nd month birthday to our bundle of joy! Your tiny hands and tender smiles have written a beautiful story in our hearts, one that we'll cherish forever."
8. "Celebrating two months of your laughter, your smiles, and all the ways you've made our world brighter. Our charming little man, you are loved more than words can express."
9. "On this day, two months ago, our lives changed forever. Our adorable boy, every day with you is a day filled with wonder and joy."
10. "Marking 30 days since you entered our world and filled it with unimaginable joy! Your adventure has just begun, little explorer."
11. "Two months with you have felt like a beautiful dream, full of joy, love, and cuddles. Here's to you, our little bundle of joy, and to countless more moments we'll cherish."
12. "Our little prince, 30 days have passed since you've graced our lives with your presence. Each day with you is a gift, and we can't wait for what the future holds."
13. "As we celebrate 2 months of your beautiful journey, we're filled with joy and gratitude. Our darling boy, you've made every moment a memorable one."
14. "In two months, you've transformed our lives into a beautiful canvas of love and happiness. We're excited to watch your colorful journey unfold, little artist."
15. "60 days since you made us the luckiest parents in the world. To our little champion, every day with you is a celebration of life and love."
See: 50 Cute One Month Birthday Wishes for Baby Boy
2nd Month Birthday Quotes
1. "Two months of journeying with you, our little explorer, and each day feels like a new adventure. Your curious eyes and stretching legs signify the exciting path that lies ahead."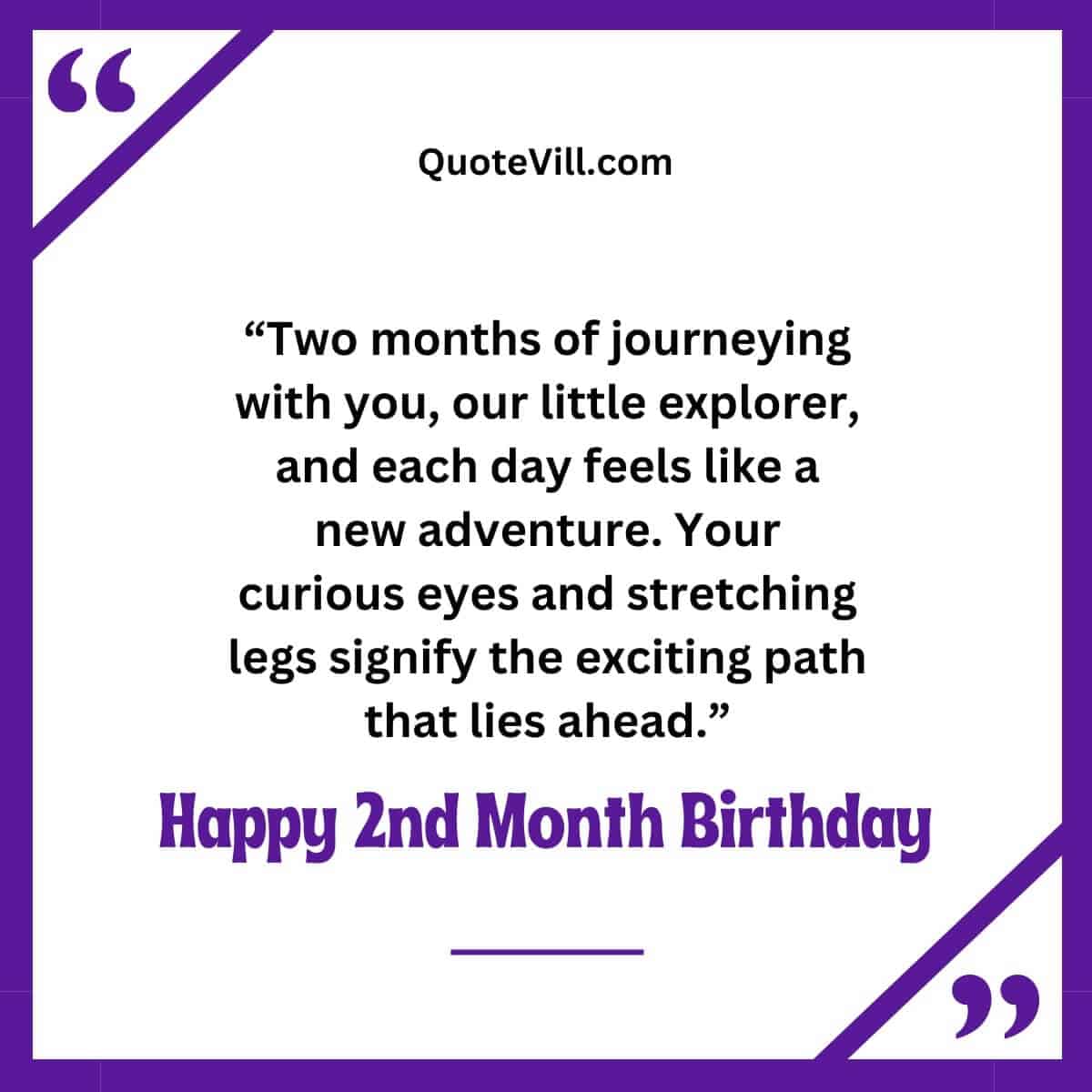 2. "Celebrating two months of your journey, and what a journey it has been! With every coo, smile, and wriggle, you've woven a beautiful story into the tapestry of our lives."
3. "At two months old, your transformation from a tiny newborn to an active infant amazes us. Your charming smiles and heartwarming coos are our treasured keepsakes."
4. "As you stretch your little arms, we stretch our hearts to encompass the love we feel for you. Two months with you have been a delightful journey of snuggles, giggles, and a few sleepless nights, but every moment is worth its weight in gold."
5. "30 days since we held a little bundle in our arms, and now you've opened your eyes to bless us with the most beautiful gaze. Life with you is an adventure we wouldn't miss for anything."
6. "From newborn haze to exciting days, our journey with you is nothing short of a miracle. Your growth, your transformation, your smiles – everything about you is a celebration."
7. "In two months, you've transformed our world in ways unimaginable. Each stretch, each smile, each moment with you brings us immense joy despite the challenges."
8. "Happy Birthday, my tiny adventurer! In two months, you've journeyed from being a newborn to an energetic explorer. Even though the nights are long, the joy you bring makes every moment worth it."
9. "Happy 2nd month birthday to our little sunshine! Your adorable giggles and heartwarming smiles have brightened every day, even through the sleepless nights and fussy moments."
10. "Celebrating two joy-filled months with you, dear one! Happy birthday! From your peaceful yawns to your cute stretches, you're our little bundle of happiness in this whirlwind of life."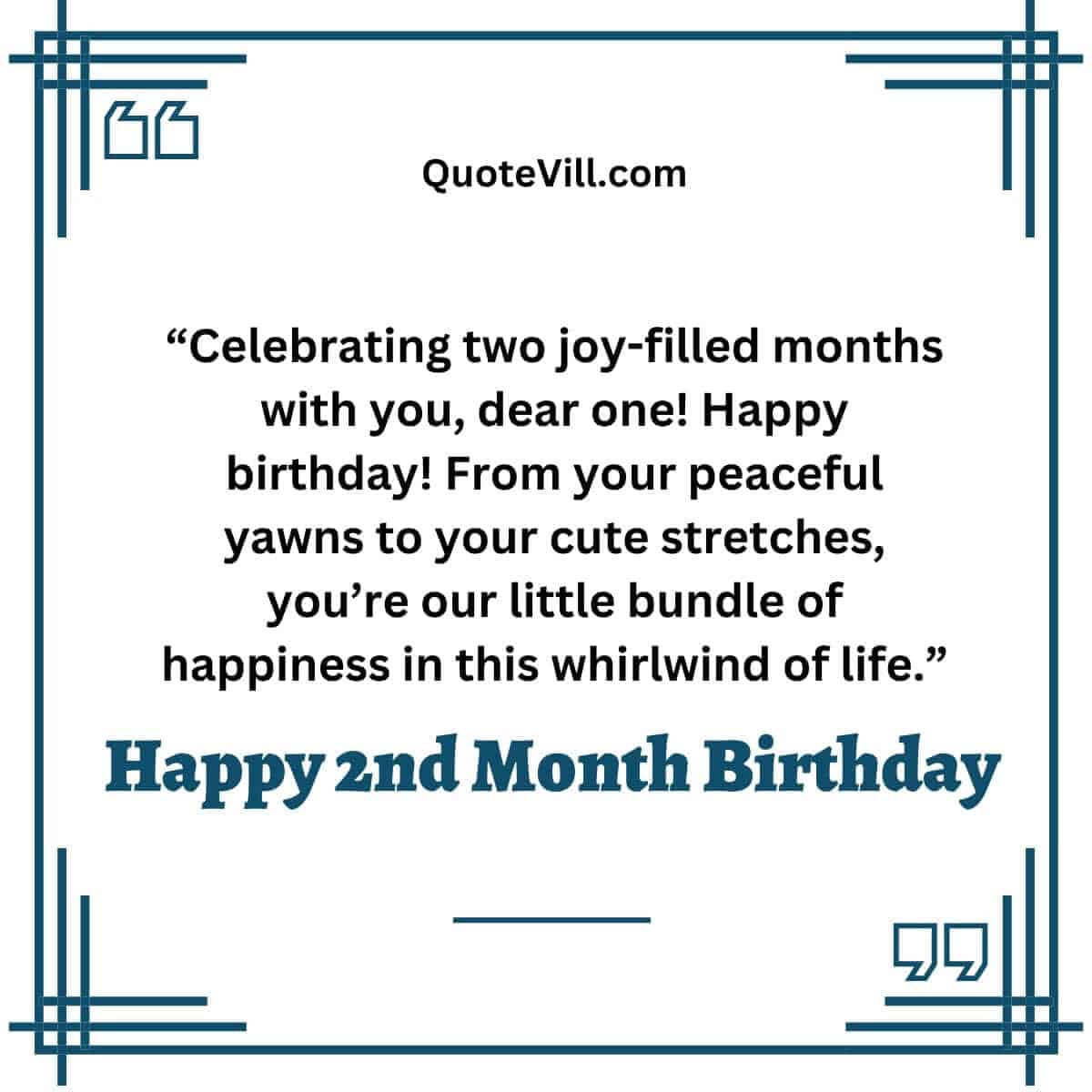 11. "Our brave little trooper, happy 2nd month birthday! Your journey so far has been nothing short of miraculous, from a bundled newborn to an ever-curious baby."
12. "Happy 2nd month birthday to our precious gem! Despite the long nights and challenges, your smiles are our beacon, guiding us through every obstacle with love."
13. "Happy 2nd month birthday, our little star! Your journey from being a newborn to an active baby has been extraordinary. Through sleepless nights and challenging days, your light shines the brightest."
14. "To our tiny miracle, happy 2nd month birthday! Each day with you, from your first coos to your adorable stretches, brings pure delight, making every challenge worth it."
15. "Celebrating two magical months of your existence, darling! Happy 2nd month birthday! Through the colic, fussiness, and sleepless nights, you've brought us boundless joy and love."
16. "Our sweet baby, happy 2nd month birthday! Each moment with you, from your cute giggles to your peaceful yawns, is a precious memory. Here's to many more memorable milestones!"
Read: 74 Best Happy 10th Birthday Wishes For Celebrating Double Digit
Happy 2nd Month Birthday Wishes For Princess/Daughter
1. "In just two months, you've become our world, our sweet little princess. Your heartwarming morning smiles have been the sunshine that brightens our days. We're forever grateful for the boundless love and joy you bring to our lives."
2. "To our precious daughter, these 60 days have been the most incredible journey. Your giggles fill the air with joy, and your adorable yawns signal the close of another day spent in wonderment at your growth and curiosity."
3. "Sweet princess, in just two months, you've filled our home with pure joy. Your morning smiles are the most charming sight, and your tiny hands hold a big place in our hearts. Happy 2nd month to our greatest source of happiness!"
4. "To our little princess, your journey over the past two months has been a beautiful melody in our life's symphony. Your morning giggles are the perfect start to our day, and your evening coos the most soothing lullaby. Here's to the joy of your 2nd month!"
5. "To our precious princess, each day of these past two months has been a gift we can't wait to unwrap. From your first coos in the morning to your peaceful slumber at night, each moment with you is a joyous celebration of life and love."
6. "Our sweet little girl, two months of pure joy and happiness—that's what you've given us. Each morning, your bright smiles greet us, and each night, your soft coos lull us to sleep. Celebrating two months of this precious rhythm with you!"
7. "Our dear girl, two months ago, you came into our lives, bringing a whole new meaning to love and joy. Each morning begins with your lovely smiles, filling our day with warmth and happiness. Here's to our beautiful journey with you!"
8. "Happy 2-month birthday, our precious girl! You've managed to bring more smiles into our lives than there are stars in the night sky. Here's to more days of starry delight with you!"
9. "Our sweet little ray of sunshine, happy 2nd month! Waking up to your giggles has been the best morning alarm we could ask for. Here's to another month of love-filled 'snooze' buttons!"
10. "Two months with you, darling princess, feels like a whirlwind tour around the sun! Your charming giggles have become our favorite soundtrack, and your bright morning smiles, our cherished masterpiece. Happy journey around the sun!"
See More: 51 Sweet 1st Birthday Wishes for a Daughter
Happy 2nd Month Birthday Wishes For Prince/Son
1. "Happy 2nd month to our little prince! Your tiny giggles and endearing coos have brought a whole new rhythm to our lives. Just like a royal orchestra, they make our day music to our ears!"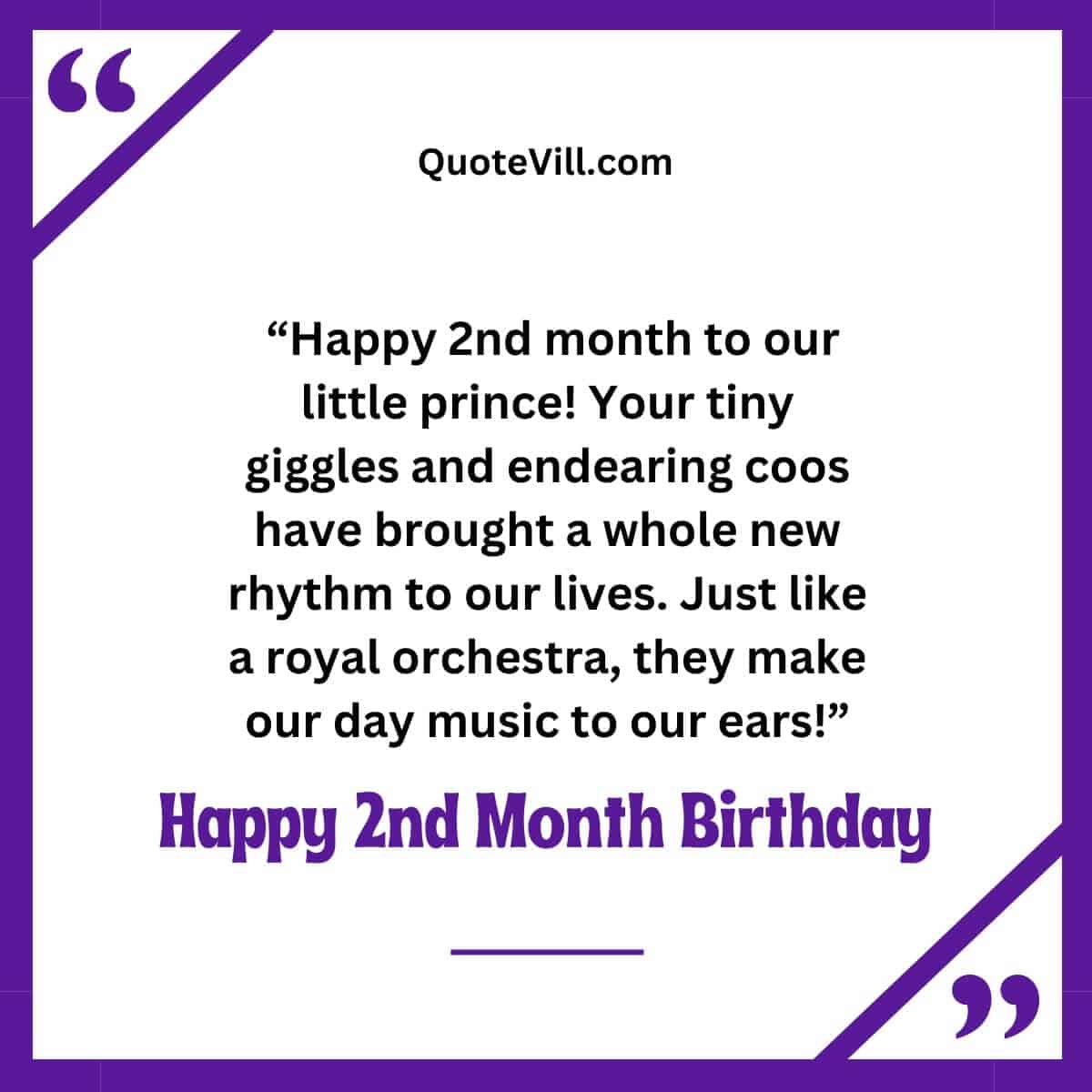 2. "Our little prince, you've filled our lives with fairy tale magic over the past two months. Each morning we wake up to your enchanting coos, making us feel like the king and queen of a joyous realm. Here's to celebrating your 2nd month on your adorable throne!"
3. "Happy 2-month birthday, our precious boy! You've become the sun that brightens our kingdom and the moon that guides our dreams. Here's to the royal charm you've brought to our lives in the past two months!"
4. "In just two months, you've embarked on an adventure that's brought boundless joy to our kingdom. Your morning smiles are our treasure map, leading us to the gold of love and happiness. Happy 2nd month to our brave little explorer!"
5. "Our darling boy, in the span of two months, you've become the prince charming of our fairy tale. Your morning smiles have been the most enchanting spell, turning each day into a magical experience. Celebrating your wonderful journey into the second month!"
6. "Sweet prince, in just two months, you've filled our kingdom with pure joy. Your morning smiles are the royal decree that starts our day, and your giggles, the sweetest symphony in our palace. Happy 2nd month to our greatest source of happiness!"
7. "Happy 2nd month, our dear boy! From your charming coos to your adorable yawns, each day with you is a new chapter in our fairy tale. Here's to another month of magical adventures with our little prince!"
8. "To our little prince, your journey over the past two months has been a royal parade in our life's celebration. Your morning giggles are the perfect start to our day, and your evening coos the most soothing lullaby. Here's to the joy of your 2nd month!"
2nd Month Baby Birthday Status For Social Media
1. "Two months of snuggles, smiles, and oh so much love! #OurBabyTurns2Months 👶"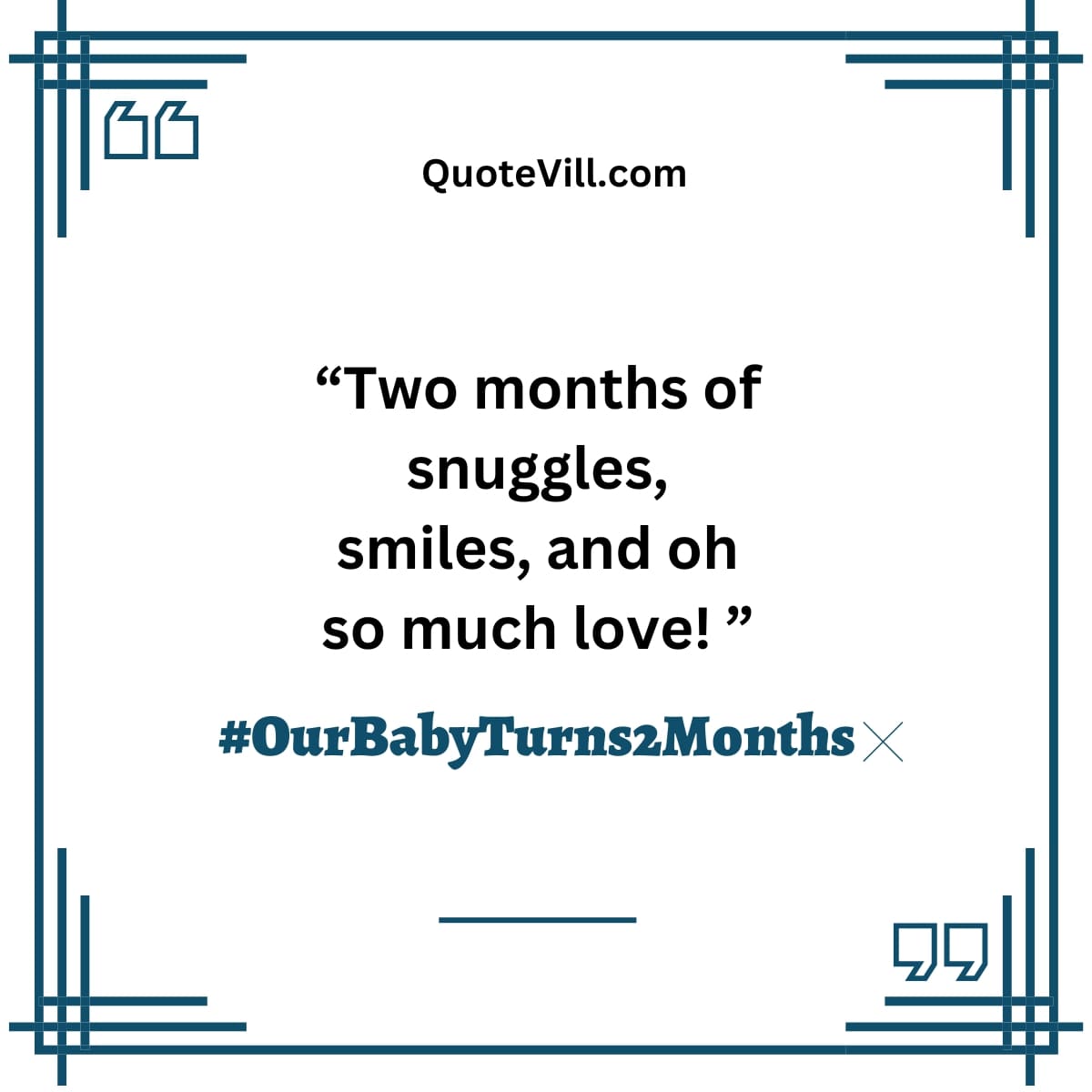 2. "Two months in and already stealing hearts! Happy birthday, little one!"
3. "Waking up to baby coos and bedtime with gentle lullabies—welcome to our world of joy, celebrating #2MonthsOfBabyLove 💖"
4. "What's cuter than a two-month-old's toothless smile? Nothing, we say! #2MonthsWithOurCutie 🎊"
5. "Our hearts have never been so full, our lives have never been so blessed. #Happy2ndMonth, our darling! 🌈"
6. "Two months of endless cuddles, boundless love, and priceless moments. #BabyMilestones #TwoMonthsOld 🎉"
7. "Two months ago, our lives were touched by a little bit of heaven. Happy 2nd month, angel! #HeavenOnEarth 👼"
8. "Our little bundle has turned two months old today. Time flies when you're in love! #TwoMonthsWithBaby 👼"
9. "Our days have been brighter, and our nights more peaceful since you arrived. Happy 2nd month, sunshine! #BabySunshine 🌻"
10. Happy 2nd month birthday to my little bundle of joy! Time is flying by so quickly, but every moment with you is precious. I can't wait to see all the amazing things you'll accomplish as you grow up #2ndmonthbirthday #babylove