Here are a few beautiful  3 month anniversary wishes through which you can show your partner how much you love and appreciate them.
We all know that communication is the crucial foundation of any relationship. Relationships are all about caring for each other and giving attention to every minute detail. The 3 month anniversary is one of those minute details.
A 3 month anniversary is a memorable occasion in every relationship and worthy of celebration, so do not consider these monthiversaries unimportant.
These monthiversaries should be celebrations of togetherness. There is no need to throw costly parties for others. A simple 3 month anniversary wish will be enough. Many changes occur in a person's life within a month, so being together for three months calls for some celebration.
Celebration of such little moments will always keep the magic alive in your relationship.
So, celebrate this monthiversary with nothing grand but with a simple happy 3 month anniversary wish and a candle-lit dinner.
How Do You Wish A Happy 3 Month Anniversary?
1. The Art of Expressing Love
The three-month mark is often when couples begin to let their guards down. It's a time to be creative, genuine, and heartfelt. Craft a beautiful wish to celebrate this special occasion.
2. Making it Personal
Personalizing your message speaks volumes. Reflect on shared experiences or inside jokes that only the two of you would understand. A pinch of nostalgia can make your message all the more meaningful.
3. The Perfect Gift
Pair your heartfelt wishes with a thoughtful gift. It doesn't have to be expensive. Sometimes, a simple gesture can be the most powerful. For some gift ideas,
Ideas include:
A small piece of jewelry
A book they've been wanting to read
A custom playlist of songs that make you think of them
Best Happy 3 Month Anniversary Wishes
1. "Happy 3 month anniversary, my love. Every moment with you has been like a beautiful dream, and I'm eager to share countless more. May we continue to grow, laugh, and build this remarkable love together."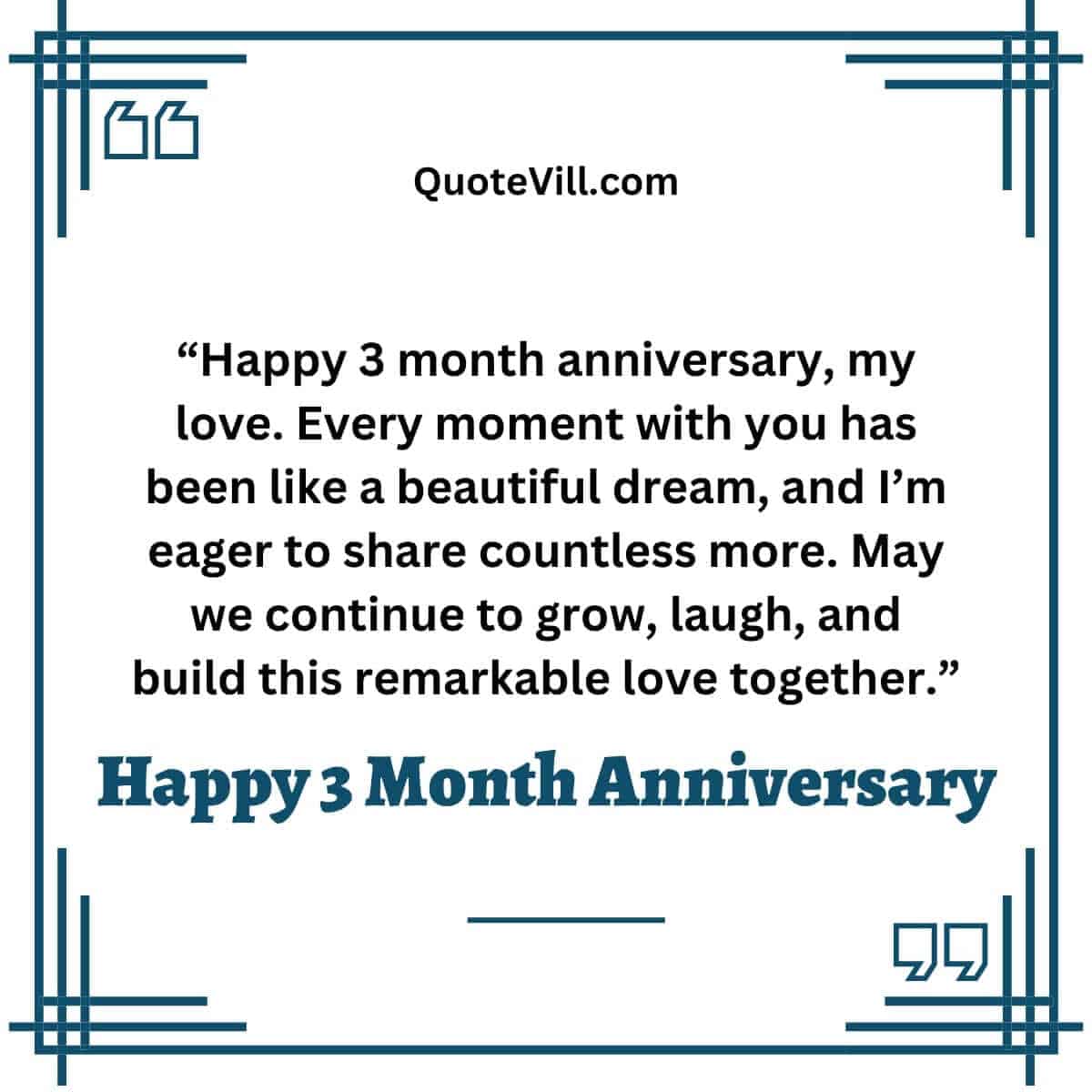 2. "Three months of love, laughter, and unwavering companionship! Here's to us, darling, and to the countless moments that are yet to unfold. Happy Anniversary!"
3. "Happy 3 month anniversary, my dear. In these few months, we've woven an intricate tapestry of love and trust. May we continue to paint the canvas of our lives with vibrant hues of understanding, affection, and joy."
4. "To my partner in life and love, happy 3 month anniversary! Each day with you brings fresh, beautiful insights into who we are together. Looking forward to exploring more chapters of this enchanting love story."
5. "Happy anniversary, my darling! These past three months have been a beautiful sonnet in the poetry of our lives. Here's to writing an epic of love that stands the test of time."
6. "Happy 3 month anniversary, my beloved. Each day with you feels like a love letter written anew. May we continue to write a saga of love that generations will speak about."
7. "Three months of love, companionship, and pure happiness. Happy anniversary, my love. As we step into another month of togetherness, I hope our bond grows stronger, and our love story more mesmerizing."
8. "Happy 3 month anniversary, my beautiful partner. Our love story has only just begun, yet it already feels like an epic tale. Here's to many more chapters of our enchanting journey together."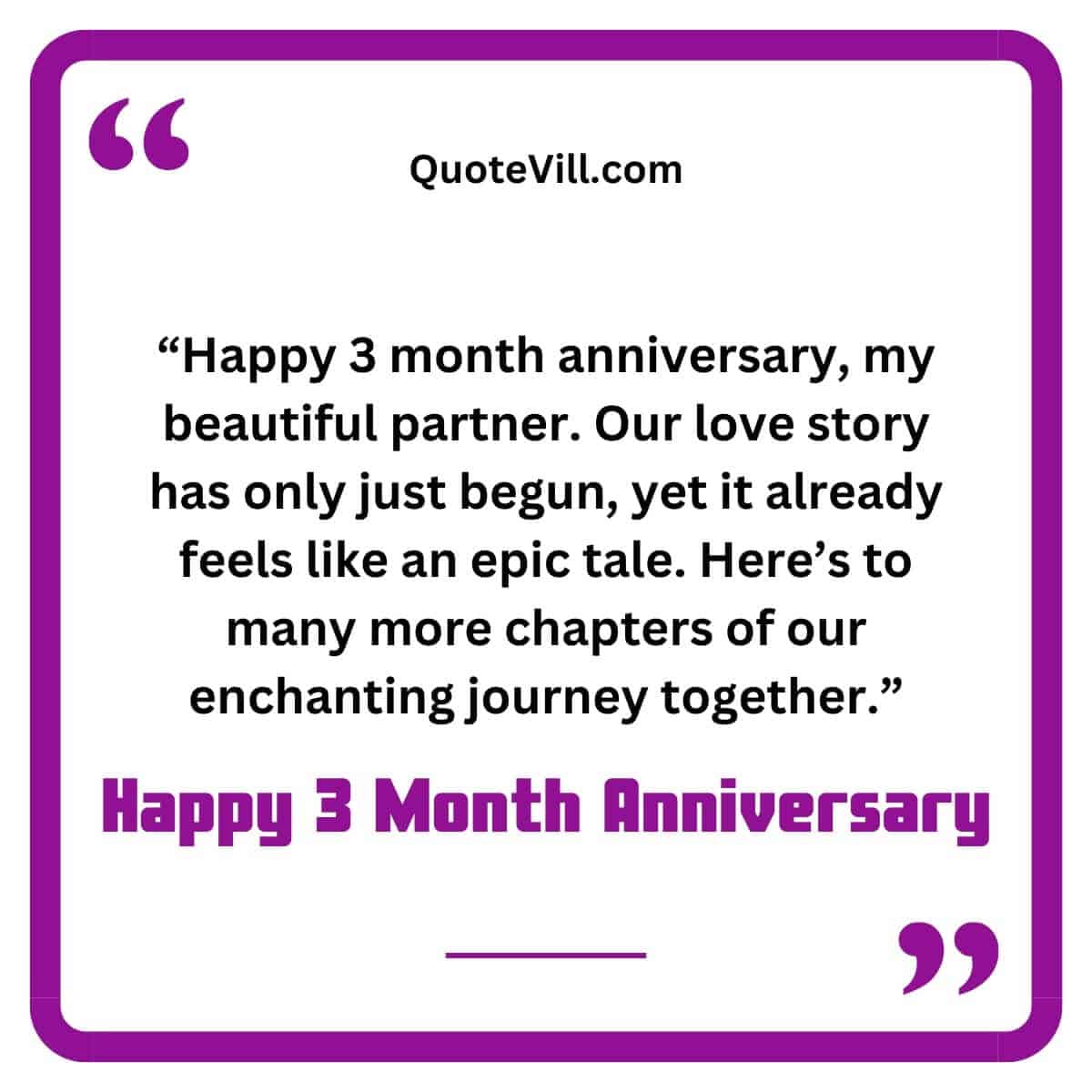 9. "Three months down, a lifetime to go! Happy anniversary, darling. Each day with you fills my heart with indescribable joy. Let's continue to weave this magnificent tapestry of love, trust, and mutual respect."
10. "To my cherished partner, happy 3 month anniversary! Your love has filled my life with radiant colors, and I look forward to adding more vibrant hues to our shared canvas of memories."
11. "Happy anniversary, sweetheart! These past three months have been an incredible journey, and I'm thrilled to continue exploring the uncharted territories of our love. Here's to a lifetime of discovery, together."
12. "Today, we celebrate three months of joyous togetherness. Happy anniversary, my love. May the melody of our love song continue to enchant our hearts and souls."
13. "Happy 3 month anniversary, my dear. Our love story is unfolding beautifully, page by page, moment by moment. I look forward to scribing many more pages of this heartwarming tale with you."
14. "Happy anniversary, darling. Three months ago, we embarked on this journey of love, and every moment has been a precious gem. Here's to many more sparkling moments in the treasure trove of our love."
15. "Three months of shared laughter, dreams, and affection. Happy anniversary, my love. I'm excited to walk hand-in-hand with you into our future, crafting more beautiful memories."
16. "Happy 3 month anniversary, my beloved. In the symphony of life, our hearts beat in perfect harmony. May the rhythm of our love keep us dancing in joy, today and always."
See: Sweet & Romantic 1 Month Anniversary Wishes
3 Months Anniversary Wishes For Husband
1. "Happy 3 month anniversary, my wonderful husband. Each day I discover a new reason to love you more. Let's continue to explore the beautiful depths of our shared journey."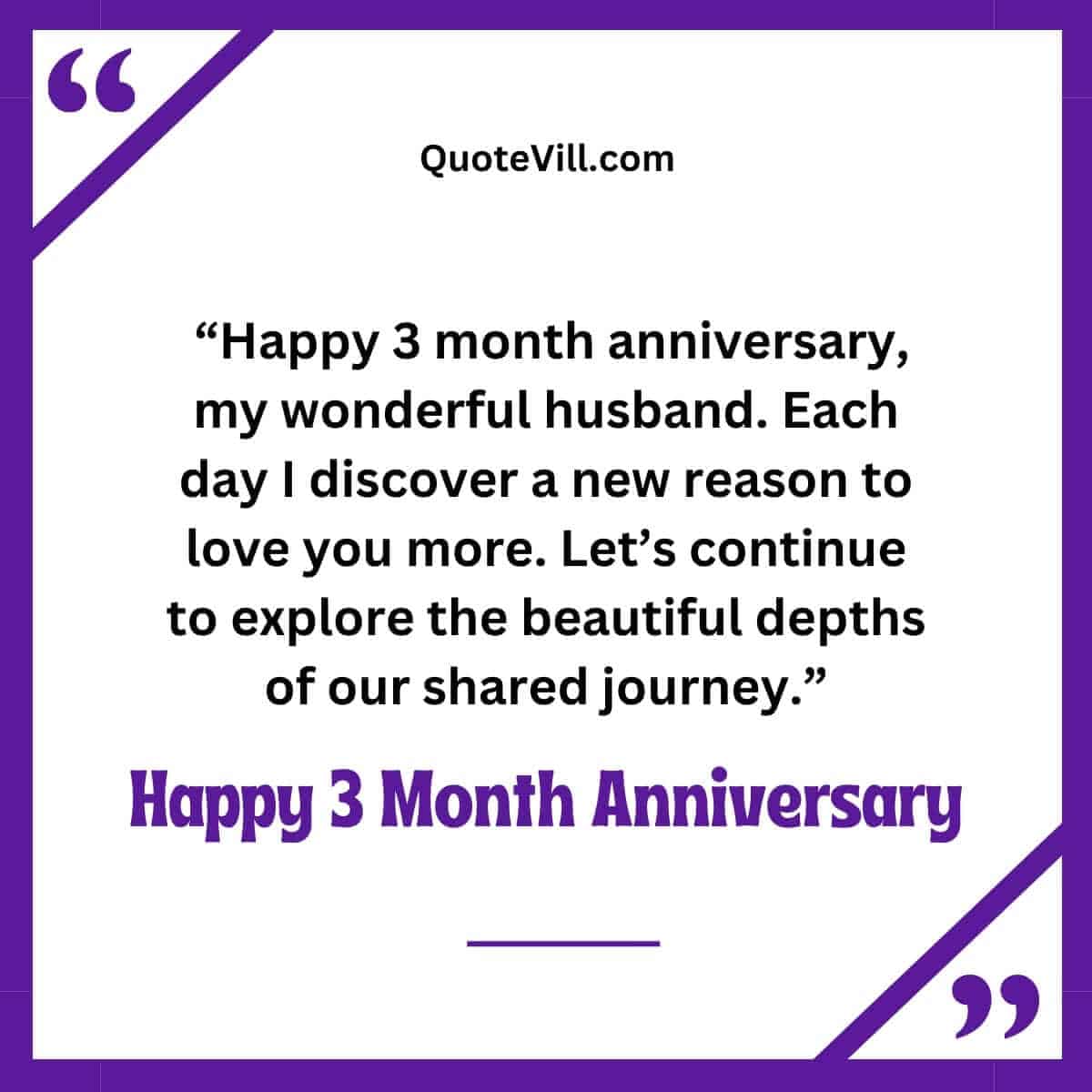 2. "To my rock, my partner, my love – Happy 3 month anniversary. The symphony of our shared life has just begun, and each note with you is more beautiful than the last. Let's continue to compose our extraordinary melody of love."
3. "Happy anniversary, my love! In this short span, we've woven a beautiful story together, and I eagerly await each new chapter. Here's to us, and to a lifetime of shared laughter, joy, and unwavering affection."
4. "Three months of togetherness, and my heart still skips a beat when I see you. Happy anniversary, darling. May the river of our love continue to flow with increasing passion and strength."
5. "Happy 3 month anniversary, my dear husband. Your love brings color to my world, and every day with you is a masterpiece waiting to unfold. Here's to painting our lives with vibrant shades of affection, respect, and shared dreams."
6. "To my loving husband, happy anniversary! Each sunrise shared with you is a new beginning, and each sunset a promise of beautiful tomorrows. Here's to exploring life's mysteries together."
7. "Happy 3 month anniversary, sweetheart. Our love story, like a delicate dance, grows more elegant and harmonious each day. Let's continue to dance to our unique rhythm, today and always."
8. "Happy 3 month anniversary, darling. Just like a soothing melody, your love fills my life with a serenity that words fail to describe. May our love story continue to resonate with this beautiful harmony, today and forever."
3 Months Anniversary Wishes For Wife
1. "Happy 3 month anniversary, my beautiful wife. Each day with you brings fresh joy and deepened love. Here's to continuing our journey, hand in hand, through every twist and turn life has to offer."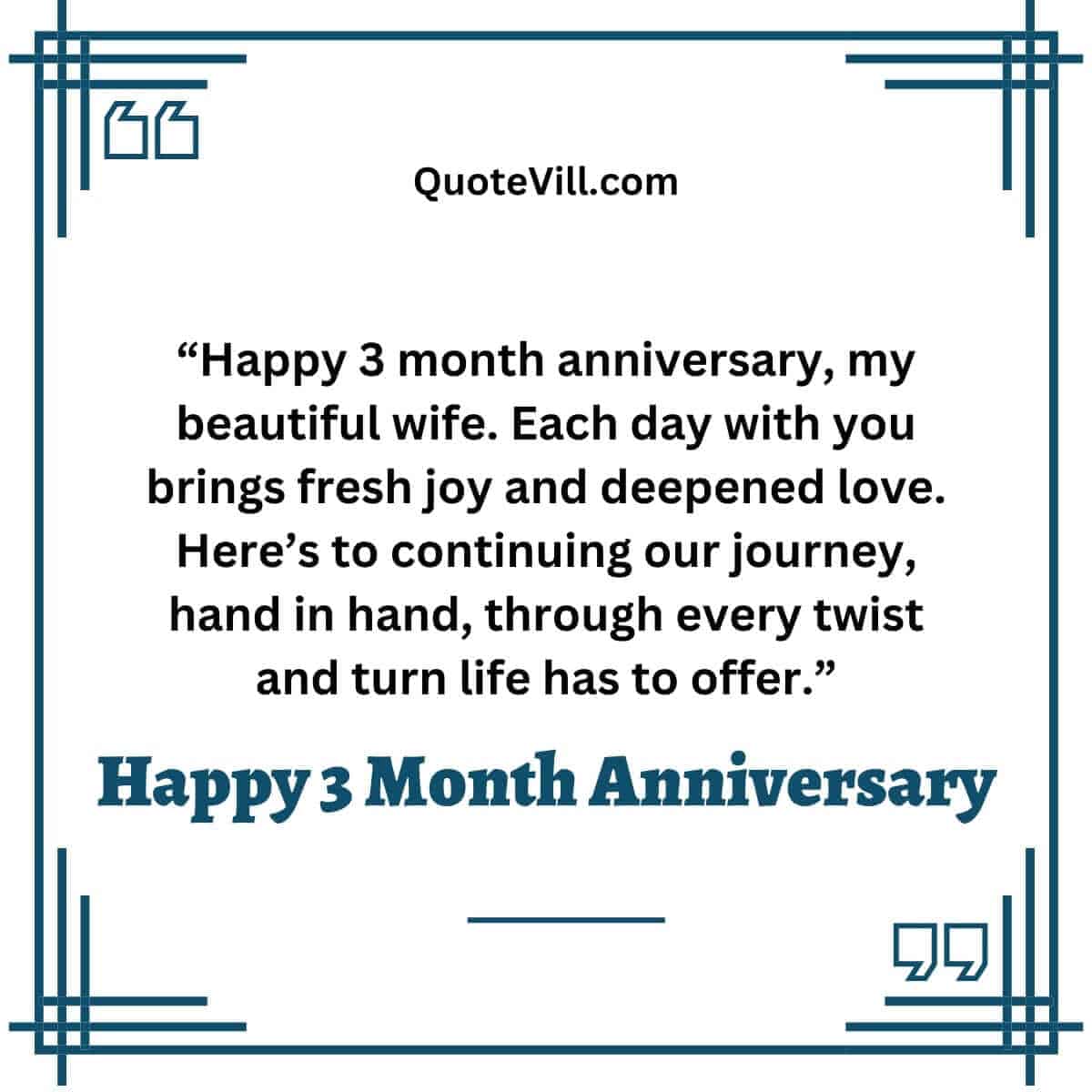 2. "Three magical months with you, and a lifetime more to explore. Happy anniversary, my dear. Your love brightens my life like the morning sun, and I look forward to many more sunrises together."
3. "To my beloved wife, happy 3 month anniversary. The symphony of our shared life is the sweetest music to my ears. Let's continue to compose our beautiful love song, one note at a time."
4. "Happy anniversary, sweetheart! Our love story has blossomed beautifully in the past three months, and I eagerly await every new chapter. Here's to us, and to a life filled with shared dreams and endless joy."
5. "Happy 3 month anniversary, my dear wife. Our love story paints a vibrant tapestry, and each day with you adds another brushstroke of joy and affection. Let's continue to color our lives with love."
6. "Happy 3 month anniversary, my dear wife. Our love story paints a vibrant tapestry, and each day with you adds another brushstroke of joy and affection. Let's continue to color our lives with love."
Happy 3 Month Anniversary Quotes To Girlfriend
1. "Happy 3 month anniversary, my love. You are the melody that sets my heart on a beautiful dance. Here's to our love growing stronger with each passing beat, today and always."
2. "Three months of being with you have felt like a sweet dream from which I never want to wake up. Happy anniversary, darling. You have filled my life with joy and I look forward to cherishing each moment with you."
3. "Happy 3 month anniversary, my sweetheart. Over the last three months, I've come to understand that you're much more than just my girlfriend. You're my closest friend, my secret-keeper, and my constant source of joy. I look forward to a future laden with happiness that we'll carve out together."
4. "Three extraordinary months have passed, and an exciting lifetime awaits us. Happy 3 month anniversary, my darling. Our love story is the type that inspires beautiful songs, and I can't wait to continue composing our melody together."
5. "Happy anniversary, my precious one. In just a short time, our love has bloomed into a stunning flower. I am eager to keep nourishing our relationship and observing how our love continues to flourish."
6. "Here's to three months of shared dreams, laughter that rings through our home, and pure, unadulterated joy. Happy 3 month anniversary, my love. I'm excited to embark on a journey that promises abundant love, deep respect, and an eternity of happiness."
7. "Happy 3 month anniversary, my love. As the moon steers the sea with its magnetic pull, your love guides my life. I'm enthusiastic about navigating life's vast ocean with you, bathed in the warm glow of the love we share."
Read More: Emotional Paragraphs to Make Your Girlfriend Cry Tears Of Love
Happy 3 Month Anniversary Quotes To Boyfriend
1. "Happy 3 month anniversary, my love. Your presence in my life is like a melodious song that uplifts my spirits. Here's to dancing together to this tune of love, today and always."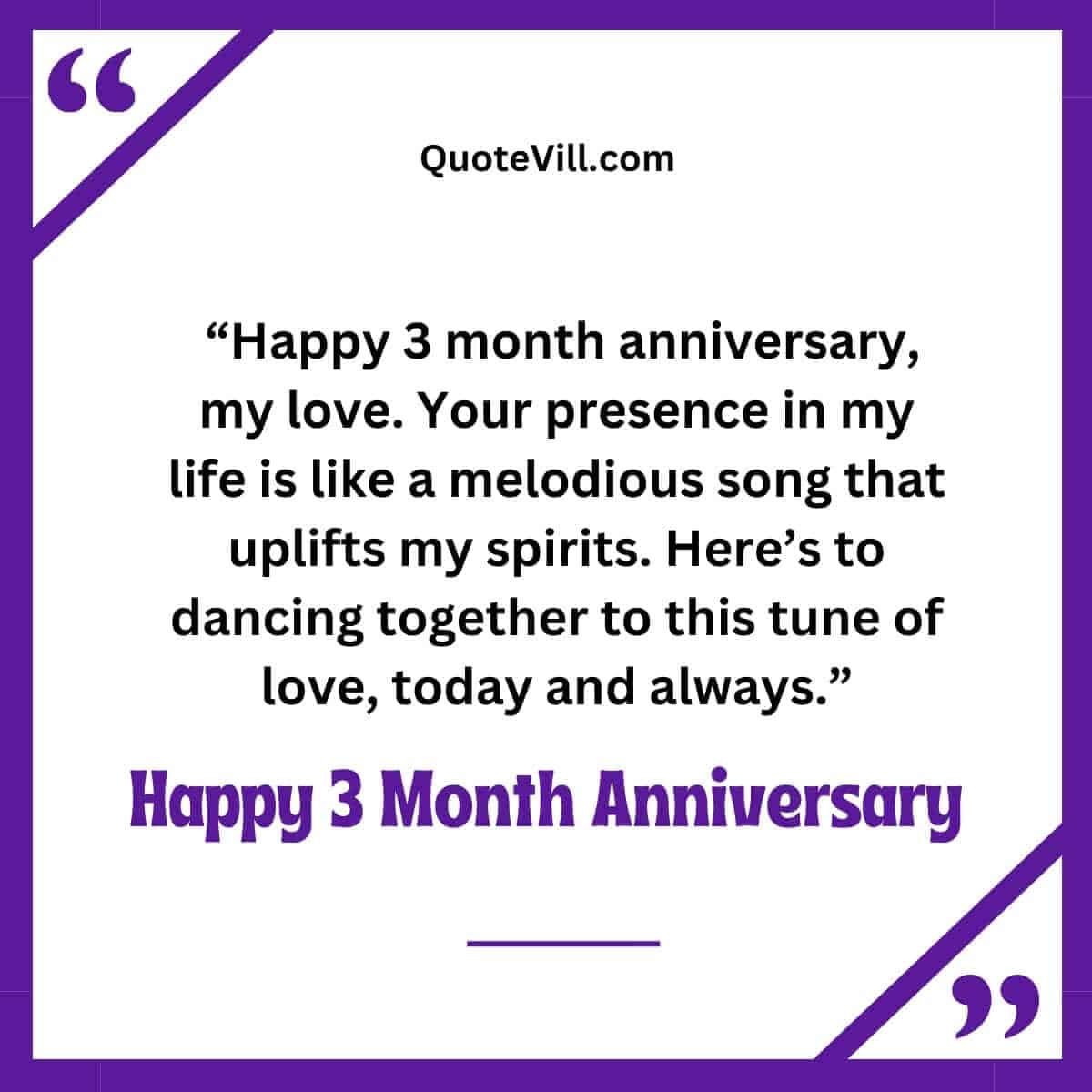 2. "Happy 3 month anniversary, sweetheart. From the moment our paths crossed, you've brought nothing but light into my life. Here's to us, and to a love story that only gets better with each passing day."
3. "To my beloved boyfriend, happy 3 month anniversary. Every day we share is a beautiful chapter in the epic tale of our love. I eagerly anticipate the many adventures that lie ahead of us."
4. "Happy anniversary, my love. These past three months, you've been my partner, my best friend, my beacon of joy. Here's to a future teeming with shared dreams and laughter."
5. "Happy anniversary, my dear. Like a vibrant garden, our love has blossomed beautifully in this short time. I am excited to continue nurturing our relationship, watching it grow stronger each day."
6. "To my wonderful boyfriend, happy 3-month anniversary. Your love fills my life with a sweetness that words can't capture. Here's to savoring many more delightful moments together."
Happy 3 Month Anniversary Paragraph For Her
1. "Happy 3 month anniversary, darling. Our memories string together like iridescent pearls, each one filled with joy and preciousness. I vividly remember our first dance, full of warmth despite our clumsy steps. Here's to adding many more beautiful moments to this ever-growing string of memories."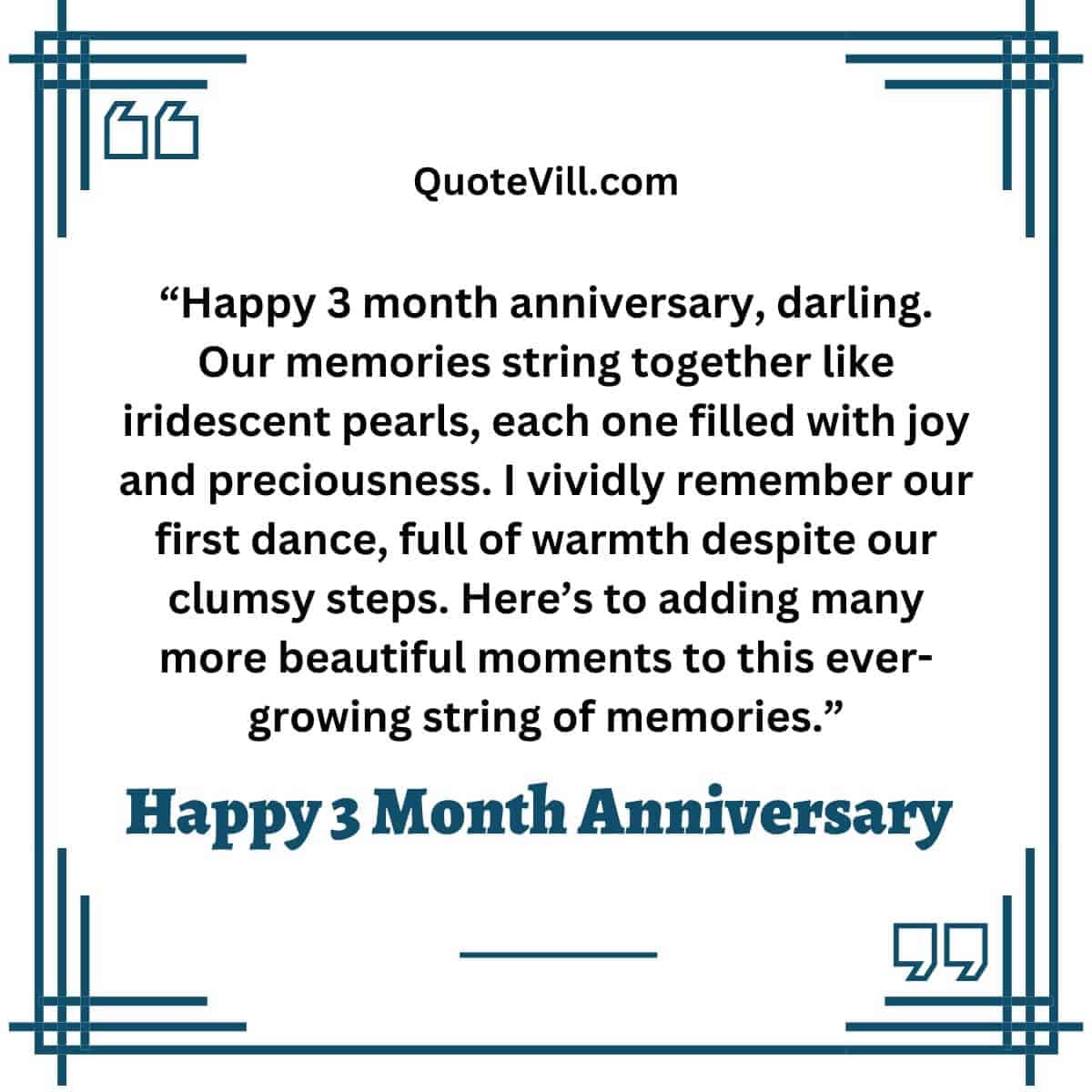 2. "Three enchanting months down, and a lifetime awaits us. Happy anniversary, my darling. I hold dear every memory we've co-created, especially our first beach day, where we built sandcastles and played with waves. Your infectious laughter that day remains the melodious tune that fills my life with joy."
3. "Here's to a lovely 3 month anniversary, my sweetheart. Each shared moment, from our first cozy coffee date to our heartwarming late-night talks, has found a special place in my heart. Your presence illuminates my life, turning each day into a vibrant masterpiece. Let's continue painting our life together with more beautiful moments."
4. "Sending you my deepest love on our 3-month anniversary, my beloved. The journey so far has gifted us delightful memories, including our first cooking escapade. I still recall the taste of the pasta we cooked – slightly overdone but seasoned perfectly with our shared laughter and affection. Here's to our love growing stronger, much like our evolving cooking skills."
5. "Happy 3-month anniversary, my dear. Each shared sunrise and sunset, each stolen kiss, every whispered word of love, they all come together to form our beautiful love story. I vividly recall our first stargazing night, the stars paling in comparison to the twinkle in your eyes. Here's to many more beautiful chapters to come."
Happy 3 Month Anniversary Paragraph For Him
1. "Happy 3 month anniversary, my dearest! I still get butterflies thinking about our first date – your captivating smile, the inviting warmth in your voice, the way your presence felt like home. Each day, every shared smile and whispered 'I love you' breathes life into the beautiful poem that is our love."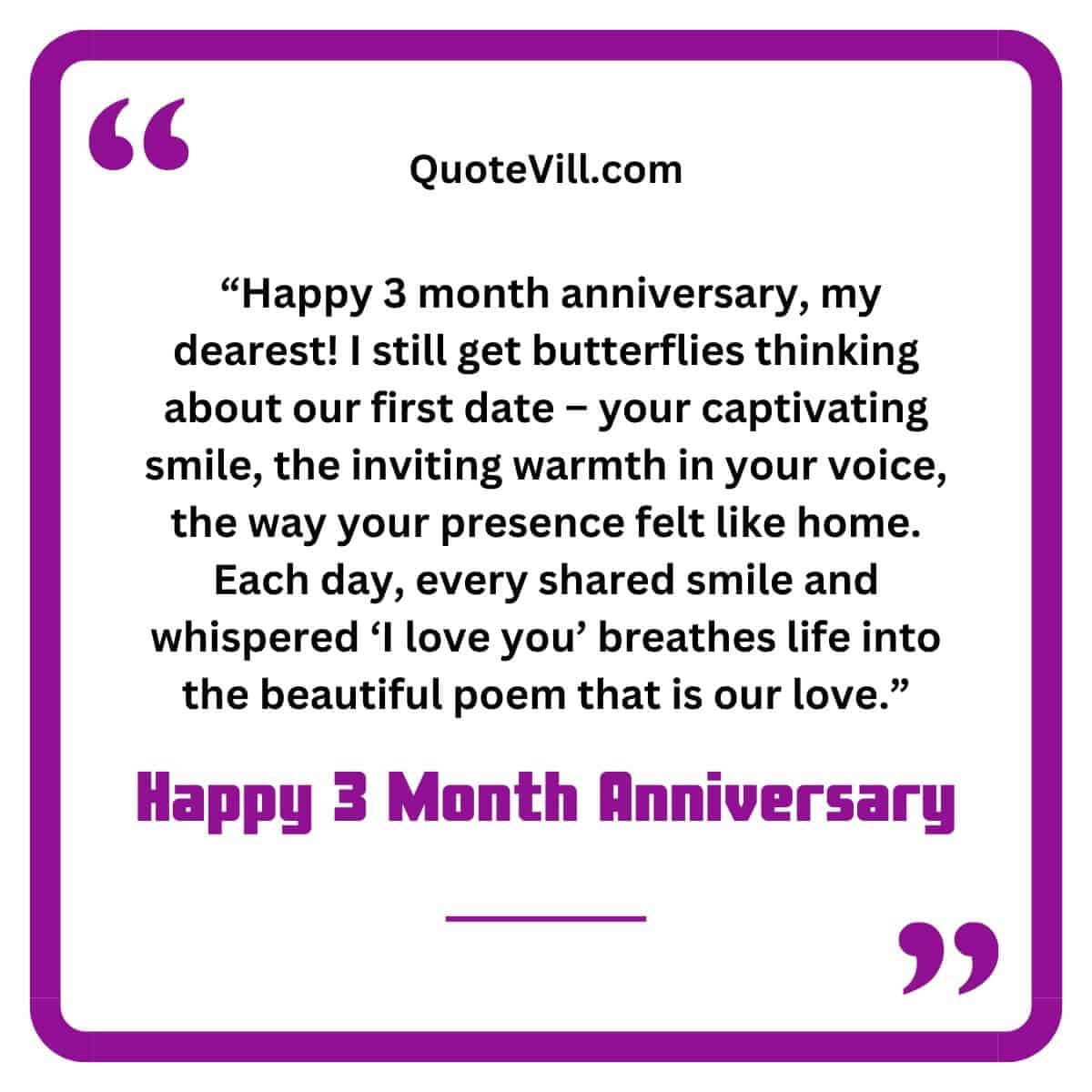 2. "Three months back, our stories intertwined to create a beautiful saga of shared dreams and cherished memories. The feeling of your hand in mine felt like finding my way home, its gentle warmth spreading through my being. Happy anniversary, my darling! Our love tale keeps unfolding, becoming more beautiful with each day."
3. "My dear love, happy 3 month anniversary. Our journey of love resembles a treasure hunt, leading us to the troves of priceless shared moments. I can't help but chuckle thinking of our first picnic, where we forgot the blanket but made the best of it, creating an unforgettable memory. I look forward to many more delightful adventures with you."
4. "Happy 3 month anniversary, my sweetheart. From our first coffee date to our late-night heart-to-hearts, every moment spent with you has become a cherished memory. Your existence in my life paints vibrant hues onto the canvas of my days, making life a beautiful masterpiece. I'm excited to paint more colorful moments with you."
5. "Happy 3 month anniversary, my love! These three months have been a whirlwind of love, laughter, and countless beautiful memories. Our journey from the first shy 'hello' to the deep bond we share now is a treasure. Here's to the next part of our journey, brimming with pleasant surprises."
6. "Happy 3 month anniversary, darling. Our memories string together like shining pearls, each unique and precious. I'll always hold dear our first walk in the park – the way you enthusiastically pointed out different birds, your eyes reflecting genuine joy. Here's to many more cherished moments we'll add to this exquisite strand of memories."
7. "Three enchanting months, and an eternity of memories yet to unfold. Happy anniversary, sweetheart. I cherish each sunrise and sunset we've shared, especially our first trip to the beach. Your laughter, the perfect background score for that day, continues to fill my life with joy."
8. "To my beloved, happy 3 month anniversary. Our journey so far has been rich with delightful memories, like our first culinary adventure together. The slightly charred pancakes we made, accompanied by our shared laughter and love, have become a memory I hold dear. I eagerly look forward to more heartwarming moments like these."
9. "Happy 3 month anniversary, my dear. Each sunrise and sunset we've shared, each stolen kiss, and every whispered word of love contribute to the beautiful love story we're writing. I fondly remember our first movie night, how we laughed and cried together. I'm excited to add many more beautiful chapters to our story."