We have gone through a lot of change and evolved into this modern human race, polished and refined. But does this contemporary human race have time to pray for themselves on their birthday? Love yourself, and pray for yourself. These birthday prayers for Myself  may help you.
It is your life, and you should be the author of your life. So, before you do anything on your birthday, pray for yourself. Ask the Almighty Lord to give you the strength to fight for your dreams.
Birthday prayers for Myself quotes help you to start your special day with hope, positivity, and optimism.
You may receive numerous presents from your near and dear ones on this day, but the blessings of your God, are the most essential ones. It will guide you in all your ventures.
But do you lack words? When you chat with your Lord, you only need a pure heart. Nothing more. But if you need some excellent birthday prayers for Myself quotes, we have crafted the best ones for you.
How Do I Thank God for My Birthday?
Celebrating a birthday is a gift, and many of us feel compelled to express our gratitude for another year of life. Here are some thoughtful and heartfelt ways to say "Thank You" to God on your special day:
Prayers of Gratitude :
Start your day with a Morning Thanksgiving Prayer.
Say a Mealtime Blessing before enjoying your birthday meal.
Acts of Kindness:
Volunteer your time or donate to a charitable cause.
Perform Random Acts of Kindness throughout the day.
Reflection and Meditation:
Keep a Gratitude Journal to note blessings from the past year.
Practice Meditation and Mindfulness with focused time of quiet reflection.
Worship and Fellowship:
Attend a Worship Service or faith gathering.
Share with Others how God has blessed your life.
Best Birthday Prayer For Myself
1. Dear Lord, today being my birthday, I just want to take a moment to say thank you. For all the lessons, for all the love, and for all the ways you've carried me. As I add another year to my life, please continue to fill me with Your boundless grace. Amen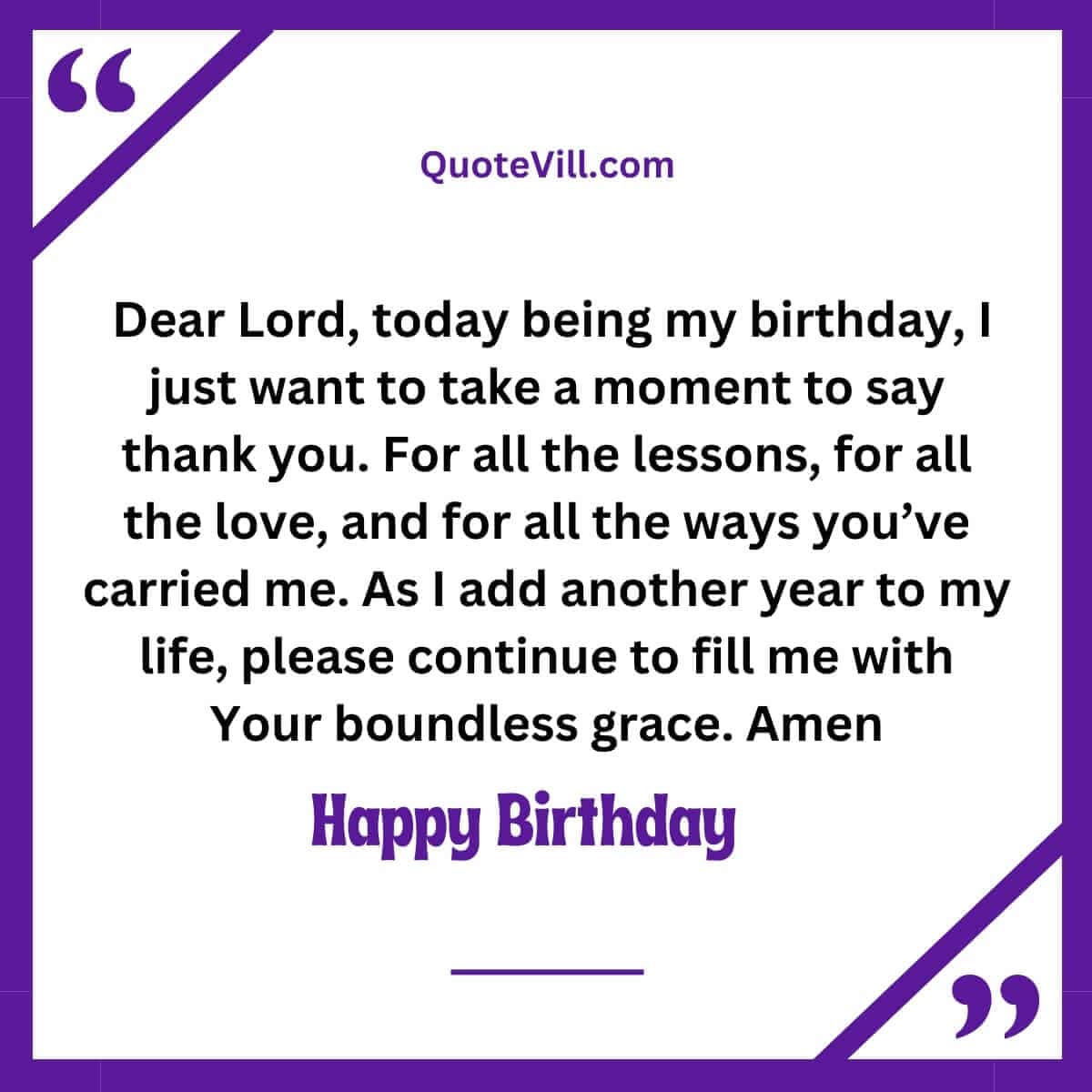 2. God, as I celebrate this special day, I pray for growth in all aspects of my life. Help me to be better, to love more deeply, and to serve more selflessly. Make this year one of profound personal and spiritual growth.
3. Dear God, on my birthday, I humbly ask for a year filled with health. Strengthen my body and mind, guide me to make choices that promote my well-being, and keep illness far from me.
4. Heavenly Father, grant me the wisdom to navigate the coming year with grace and humility. Help me to discern right from wrong and guide my steps in Your loving way.
5. Lord, my birthday wish today is simple but profound: peace. Fill my heart with Your peace that surpasses understanding and let me be content in all circumstances, knowing You are in control.
6. God, on this special day, I ask for Your blessings in abundance. Not just for me, but so I can be a blessing to others. Help me to live generously and love deeply.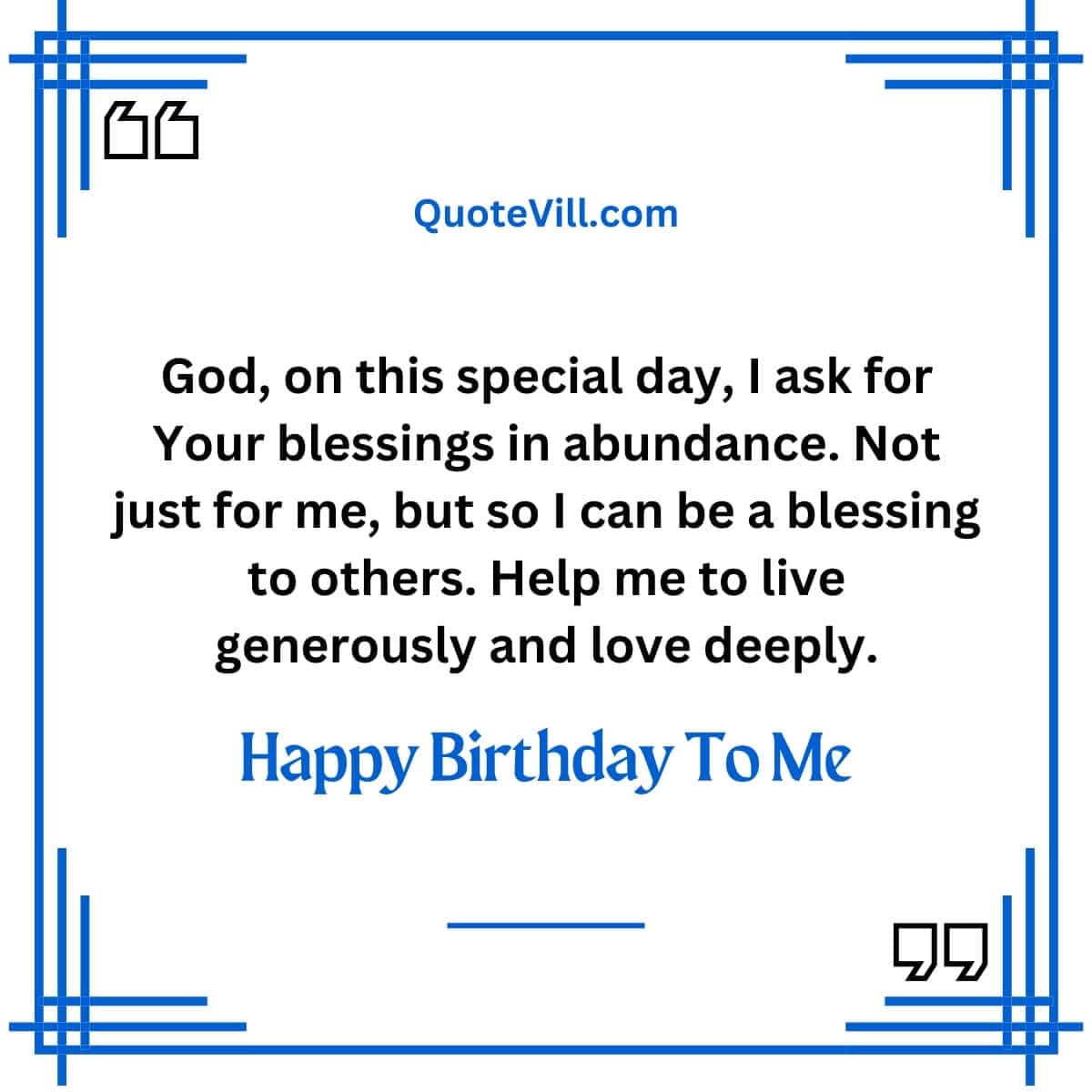 7. God, on this special day, I ask for Your blessings in abundance. Not just for me, but so I can be a blessing to others. Help me to live generously and love deeply.
8. Dear God, in this new year of my life, I pray that joy and happiness will follow me in every step. Help me to focus on the positives, to find the silver linings, and to spread happiness to those I encounter.
9. Lord, I pray for Your protection over my life as I celebrate another year. Keep me safe in my comings and goings and shelter me under Your mighty wings.
10. Father, thank You for another year to fulfill the purpose You've set for my life. On my birthday, I pray that You rekindle my passion and zeal for living out Your plan. Guide me to the paths that lead to You.
See: 80 Trending It's My Birthday Week Quotes
Birthday Prayer For Personal Growth
1. Hey God, another birthday is here, and so much is changing. I have big plans this year – dreams that keep me up at night. I don't expect a paved road, but I do hope you'll be my co-pilot, steering me when the way gets foggy.
2. Lord, I live in a world that's rushing all the time. I get that good things take time, but I could use a little extra patience. Help me keep putting one foot in front of the other, even when it feels like I'm running a marathon with no finish line in sight.
3. Father, I've got some big decisions to make this year – career moves, schooling, personal stuff. Just looking for some of your classic wisdom to make choices that I won't regret and that feel right deep down in my gut.
4. Okay God, this year I'm swinging for the fences. I'm setting goals that are scaring me a little (or a lot). Be that voice in my ear, reminding me that I'm stronger than I think and that with You, I've got this.
5. Lord, I want this year to be about more than checkboxes. I want to really live, to meet new people and think new thoughts. Help me step out of my comfort zone and into a world that's vibrant and challenging in the best way.
6. Father, in a world of endless notifications and constant hustle, help me keep my eyes on what actually matters. When everything is shouting for my attention, remind me of what's whispering – and help me to listen to that.
7. God, sometimes doubt gets too loud, and it's hard to remember that I am capable and talented. As I step into this new year, remind me that I've got skills – and they were gifts from You to begin with.
8. Dear Lord, if this year brings success, help it not to get to my head. And when I mess up (because I will), let me be the first to admit it and eager to learn from it.
9. God, life gets crazy. In the middle of chasing dreams, remind me that it's okay – necessary, even – to sit down and catch my breath. To take care of me, so I can keep going strong.
10. Father, when I look back on this year, I want a heart full of thanks. Help me to see the silver linings, to celebrate the small victories and not just the big moments. Remind me that progress is progress, no matter the size.
See More: 39 Blessed to See Another Year Quotes
Religious Birthday Quotes For Myself
Certainly! Here are the more conversational and casual rewrites of the Muslim and Christian birthday prayer quotes. They're designed to feel like a heartfelt, friendly chat with the divine:
Muslim Birthday Prayer Quotes:
1. "Hey Allah, it's my birthday today, and I can't help but feel thankful for this life. This year, I'm aiming to be a better me – could use your guidance to help make that happen."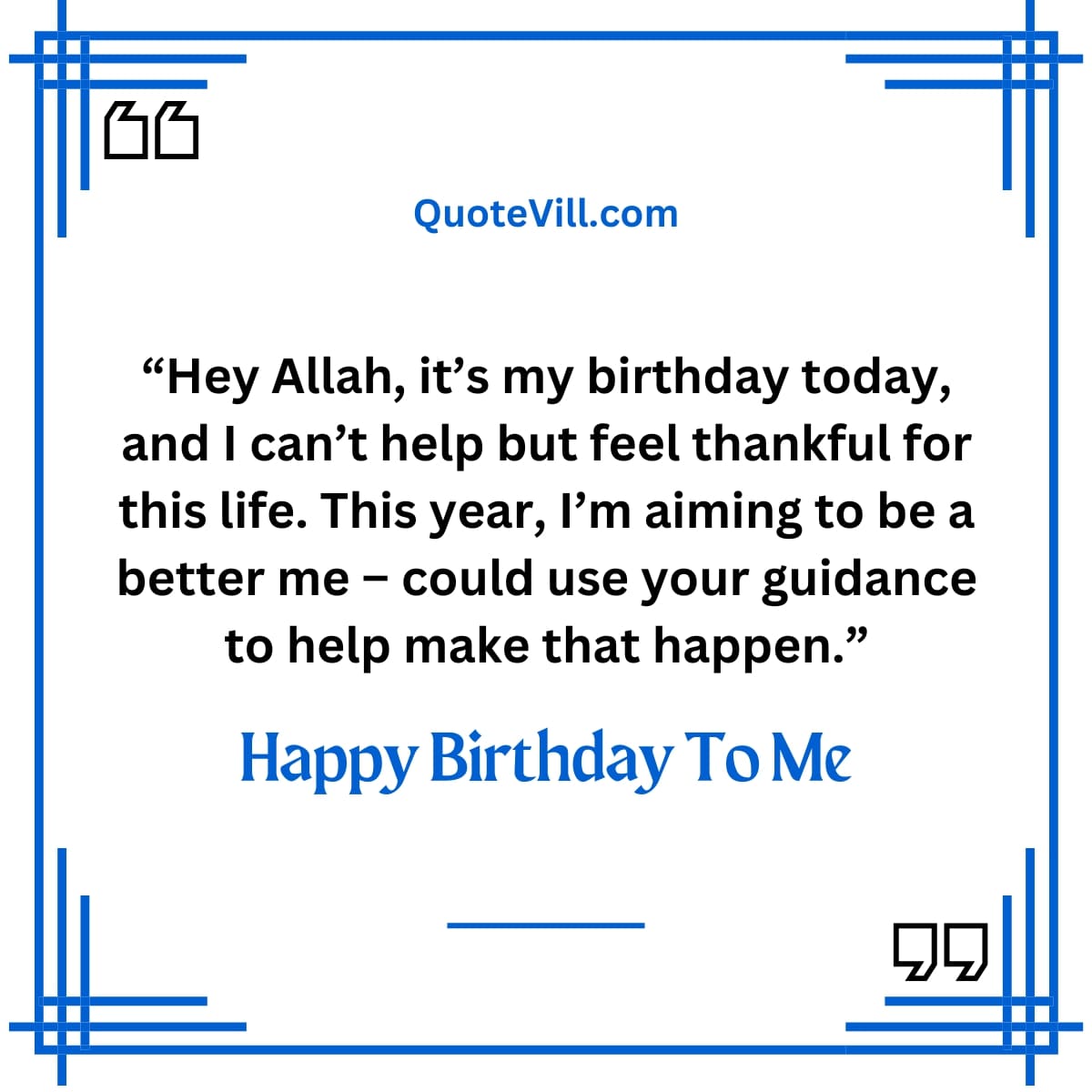 2. "Today's my special day, Allah, and I just want to say thanks. Thanks for being my protector and my guide. Here's to living a life that makes You proud."
3. "Allah, it's my birthday, and honestly, I'm looking for a fresh start. If I've stumbled, I'm asking for your forgiveness. Help me move closer to You and a better future."
4. "So, Allah, another year older today. That's another year I've been blessed with, and I'm just really grateful. I'm hoping for a year ahead that's just full of love, peace, and chances to make You smile."
5. "Allah, as I celebrate me today, I'm also taking a moment to reflect on the life You've given me. My birthday wish? Wisdom for the journey ahead, and a heart that beats in rhythm with Yours."
Christian Birthday Prayer Quotes:
1. "Hey Jesus, it's my birthday, and wow, am I grateful for all the ways You've blessed me. Here's to a future that's just as amazing as Your love for me."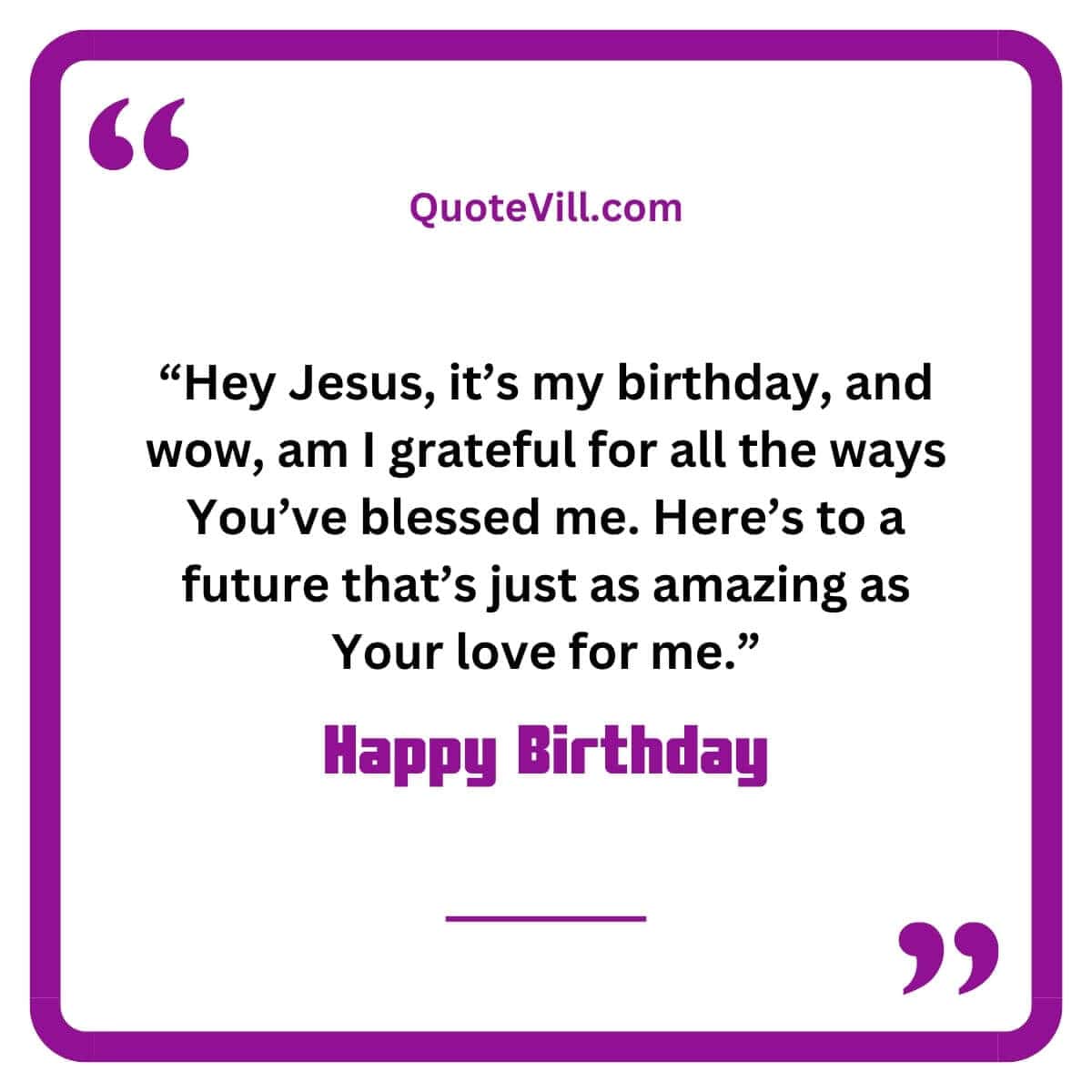 2. "Father, guess what? It's my birthday! I'm feeling super thankful for all Your love and the cool path You've got me on. Keep leading the way, alright?"
3. "Lord, it's my special day today, and I'm taking a moment just to say thanks. As I step into this new year of life, I'm really hoping for more joy, health, and a bunch of wisdom to do things Your way."
4. "Jesus, another candle on the cake today, another heap of gratitude in my heart for You. How about we make this coming year one of new starts and deeper chats with You?"
5. "Hey Dad (Father), today isn't just my birthday; it's a celebration of You being awesome in my life. You've shaped me, and as I step into my new age, I'm keen to keep following Your lead."
Self Birthday Prayer For Prosperity & Success
1. "Hey God, it's my birthday today, and as I step into this new chapter, I'm asking for prosperity—not just in wealth, but in love, health, and happiness. Make this year the one where everything aligns just right. Help me succeed in ways that make both of us proud, okay?"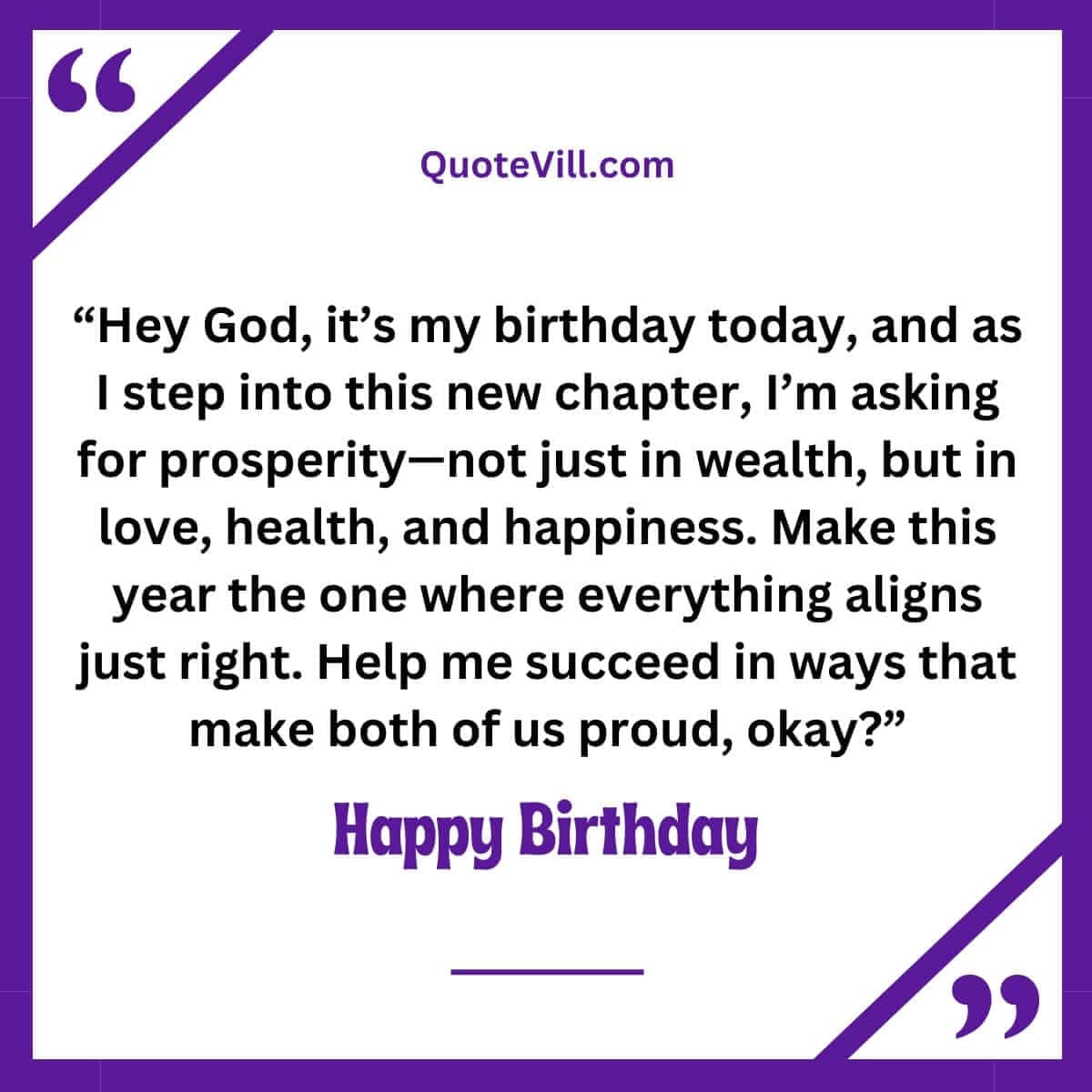 2. "Lord, as I blow out these candles today, my wish is for a journey filled with opportunities and success. Light the path for me, will You? I want a life that's not just successful but also purposeful and kind."
3. "Today, God, I'm not just celebrating another year; I'm celebrating the growth I'm about to embark on. Bless my ambitions and dreams with prosperity, and let me never forget to share that prosperity with others."
4. "It's my birthday, and this year, I'm shooting for the stars. I'm asking for Your guidance, God. Show me the ropes, let me know the when and the how, so this year I can truly soar."
5. "God, as I ask for success, I also pray for peace—peace in my heart and my mind as I navigate this journey towards prosperity. Keep me grounded and grateful every step of the way."
6. "On this special day, I pray not just for financial success, but for the wisdom to manage that wealth responsibly. Help me use prosperity as a tool for good, God. I want to be smart about this."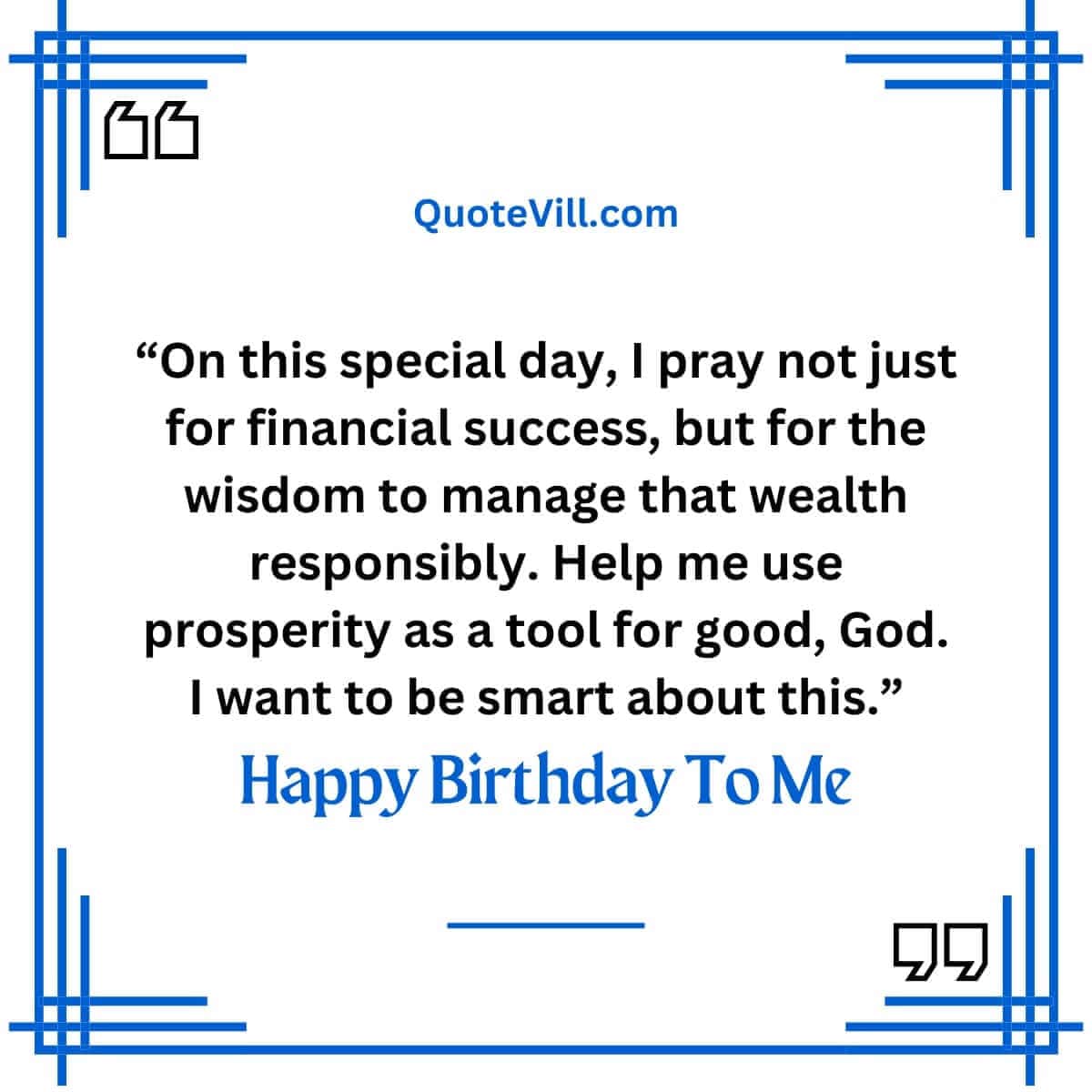 7. "Here's to a year that's as bright and fabulous as birthday fireworks, Lord. I'm asking for a year that's prosperous in every sense – in love, in health, in wealth, and in spirit."
8. "God, on my birthday, I'm choosing to say thanks in advance for the prosperity I know You're ushering into my life. I trust You to lead me into success that's more than I could ever imagine."
9. "Lord, I've sown hard work, love, and persistence all year. As I celebrate another birthday, I'm ready and hopeful for a harvest of prosperity and success. Guide my hands and heart as I reap, will You?"
10. "God, I'm asking for success that feels right for me. Not someone else's version, but the kind of prosperity that fits like a glove and aligns with my soul's purpose. On this birthday, set me on that personalized path of blessings."
Thanksgiving Prayer For Another Year On Birthday
1. "Thank You for blessing me with another year, Lord. Every day is a gift, and I am grateful for the breath in my lungs and the love in my heart."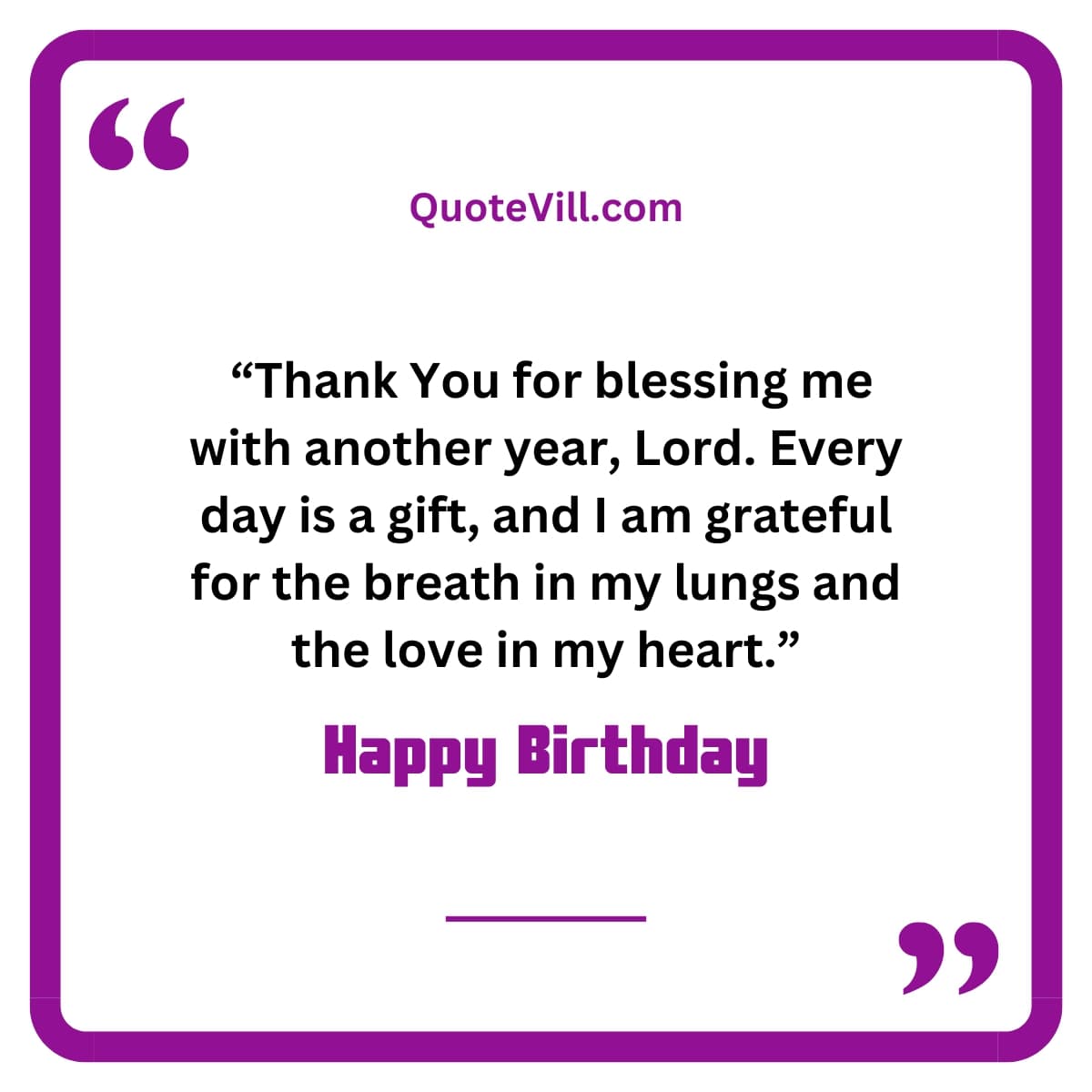 2. "Thank you, God, for the lessons this past year brought with it. They've shaped me in more ways than one, and for that, I am grateful."
3. "Lord, thank You for the people in my life – family, friends, and even the brief encounters that left a lasting impact. They are the most precious parts of my journey."
4. "Thank you, Divine Healer, for my health. Every day I am mobile and well is a blessing, and I am profoundly thankful for the strength You've graced me with."
5. "God, thanks for the doors You've opened and the growth You've spurred in my life this past year. I am eager and excited for what's next."
6. "In a world that can be so turbulent, I am endlessly thankful for Your comforting presence, Lord. This birthday marks another year of Your unfailing love and peace."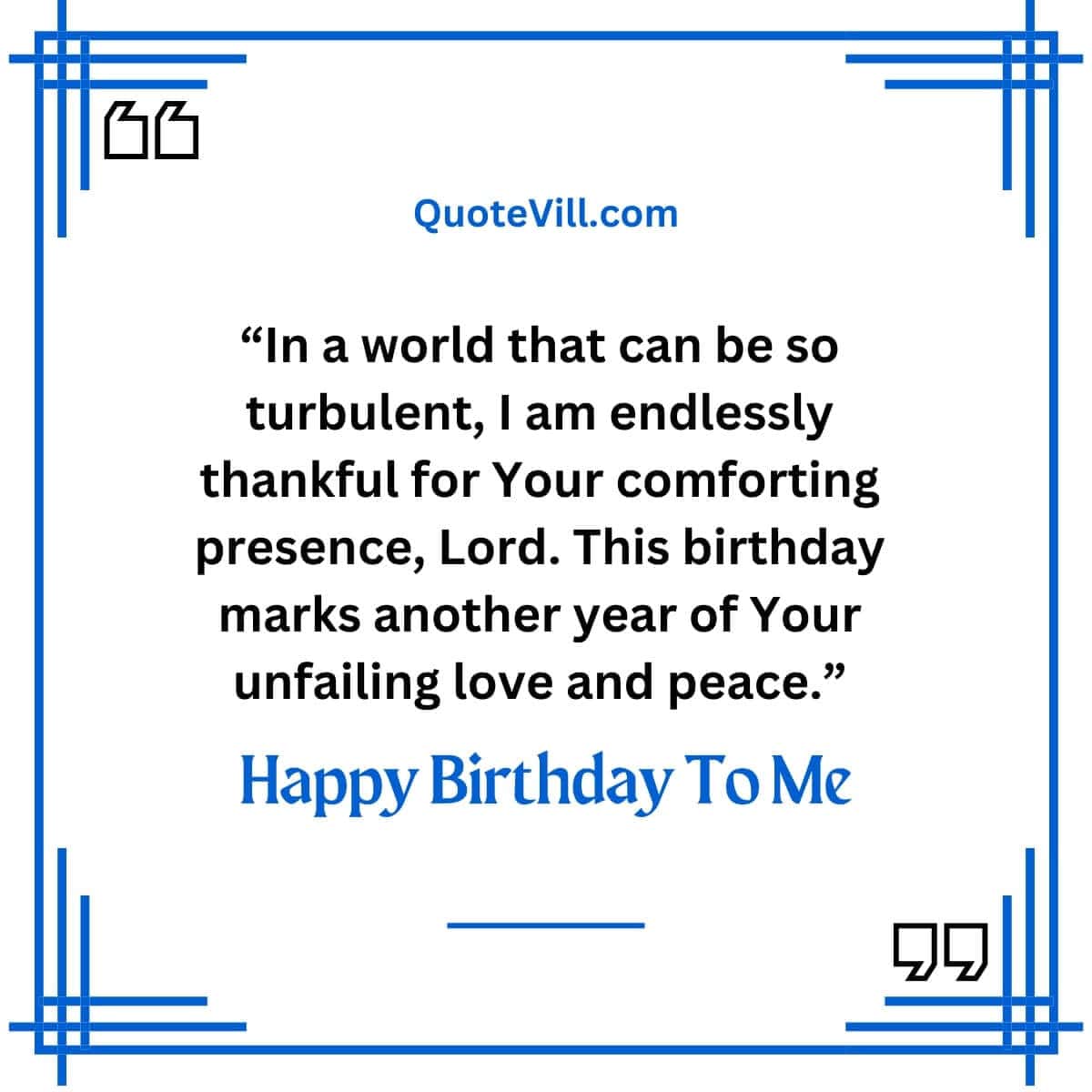 7. "Thank You for the food on my table, the roof over my head, and the clothes on my back. Your provision is something I never take for granted, Lord."
8. "God, thank You for the joy found in simple, quiet moments – a beautiful sunrise, a heartfelt conversation, a good book. These small blessings enrich my life in big ways."
9. "As I step into a new year of life, I am grateful for Your guidance and wisdom, Lord. Thank You for lighting my path and leading me with love."
10. "Thank you, God, for the hope that each new year brings. As I celebrate my birthday, I am filled with gratitude for the promising future that You have laid out for me."
Check: Self Love Quotes
Birthday Blessings For Myself: Prayer For Health & Happiness
1. "Hey God, another year on this beautiful Earth and I'm so thankful! I'm asking You, as I step into this new chapter, to wrap me up in health and happiness. I want to experience the simple joys and keep illness and stress at bay. You know what's best for me."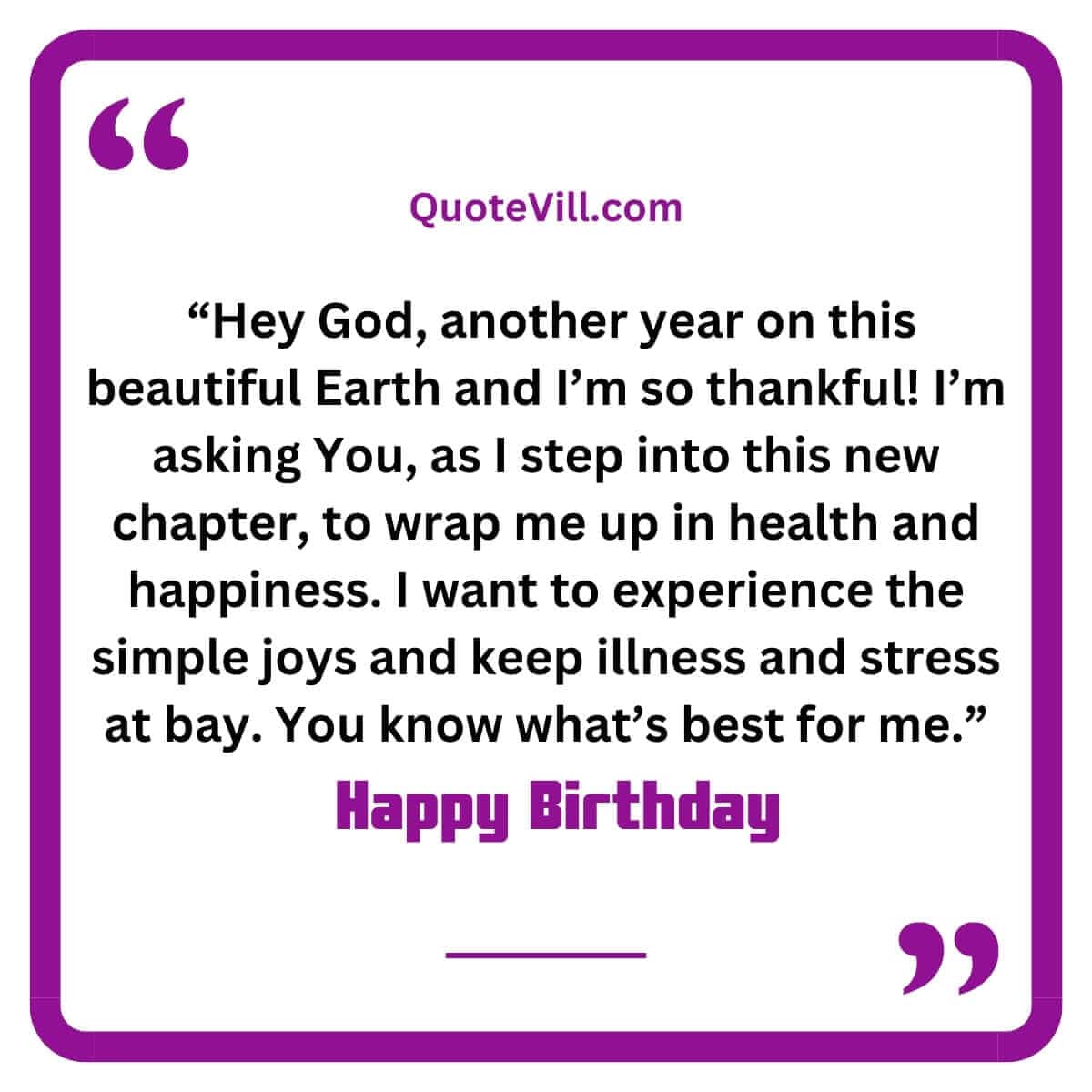 2. "Lord, it's my birthday and I'm reflecting on the year gone by. It's had its ups and downs, but today, I'm wishing for a year ahead filled with health that keeps me vibrant and moments that make my heart full of happiness."
3. "God, health really is the foundation of everything, isn't it? On this birthday, I'm sincerely asking for another year where my body stays strong, my mind stays sharp, and my spirit stays joyful. And while we're at it, sprinkle some happiness on my days, will You?"
4. "Today, I'm wishing for balance, Lord. I want my mind to be at peace, my body to feel alive and energetic, and my soul to be drenched in happiness. I know You're listening, and I trust You've got this year in control for me."
5. "You know, God, they say laughter is the best medicine. As I celebrate another birthday, can we ensure there's plenty of that medicine in my life? I'm hoping for a year filled with chuckles and health that lets me enjoy every single moment."
6. "Lord, every day is a gift. As I age, I realize that more and more. So, for this birthday, my wish is simple: give me the health to jump out of bed every morning and the happiness that keeps me smiling until I hit the pillow at night."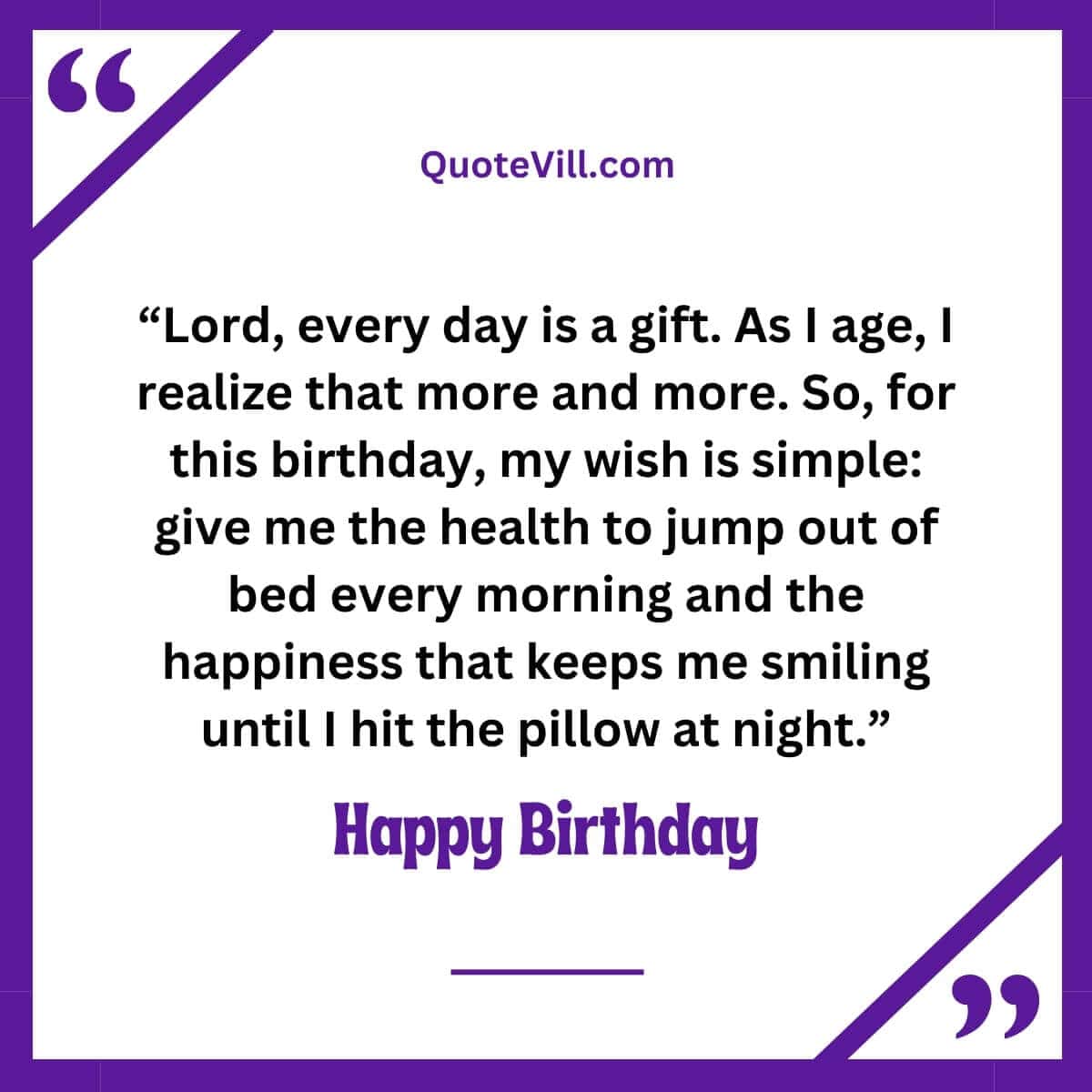 7. "Life can be unpredictable, God, and I've seen that firsthand. But today, my birthday wish is for the health to weather whatever storms come my way, and the happiness that acts as my umbrella on those stormy days."
8. "As I mark another year, God, I'm asking for two things: health to keep me going and happiness that helps me grow. I want to look back on this year with gratitude, knowing I lived it fully and joyfully."
9. "Lord, I've had birthdays where I wished for material things, but today, I'm asking for something more valuable. Bless me with health so I can cherish every moment, and happiness that makes each of those moments sparkle."
10. "God, the journey is just as important as the destination, right? As I embark on this new year of life, I'm praying for the health to keep moving forward and the happiness to make the journey truly memorable."