Happy birthday wishes for pastor is the perfect way to show them how much you care for them. Their birthday is just the right opportunity to let them know how important their presence is in your life. And when you get such a chance, don't let it go way!
To celebrate your pastor's birthday and show your eternal appreciation, wish them a Happy Birthday with the most meaningful birthday text.
We have listed a few wonderful birthday wishes for pastors to make sure you have some creative ideas. You can use them as is or personalize these texts to bring a delighted smile to your pastor's face!
Heartfelt Birthday Wishes For Pastor
1. Happy birthday, Pastor! May God grant you the wisdom of Solomon, the patience of Job, and the ability to understand our jokes. We're so blessed to have you!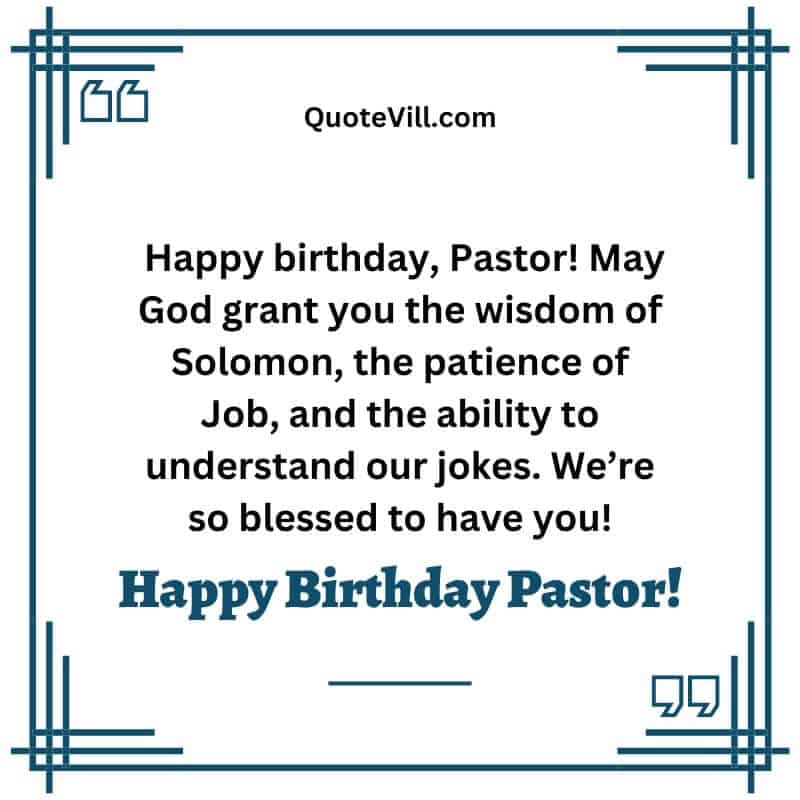 2. Dearest Pastor, may your birthday be filled with heavenly joy and a choir of angels singing… or at least our church choir trying their best. Happy birthday!
3. Happy birthday, Pastor! May you be showered with blessings, love, and an unlimited supply of your favorite snacks to keep you going during those extra-long sermons.
4. On your special day, Pastor, we pray that you're blessed with another year of joy, laughter, and questionable potluck dishes. Happy birthday!
5. Wishing you a birthday full of God's love, the Holy Spirit's guidance, and some extra-strength coffee for those early morning prayers. Happy birthday, Pastor!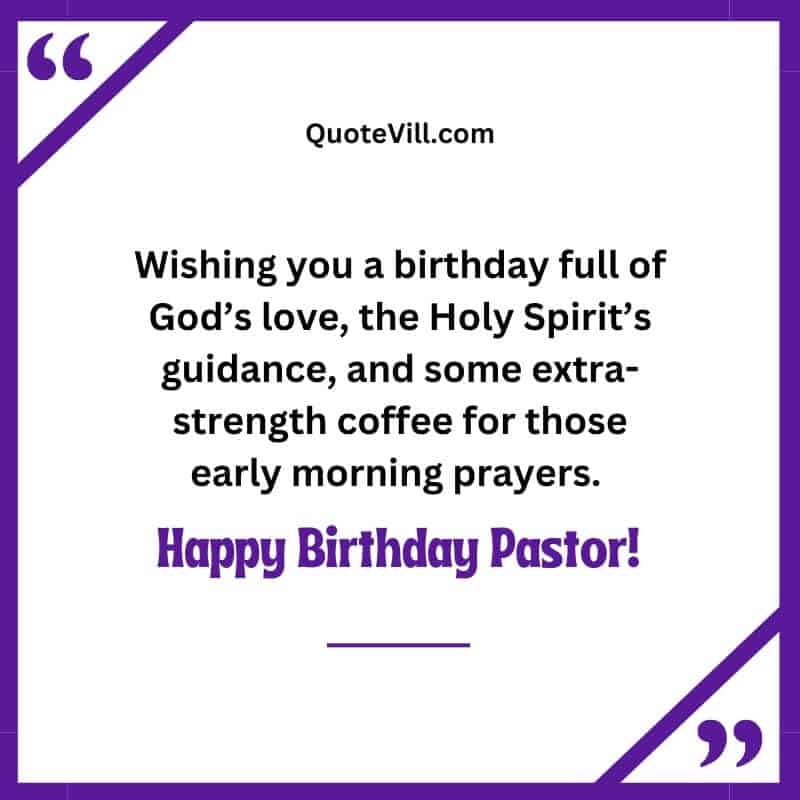 6. Happy birthday, Pastor! As you blow out your candles, may your wish be granted – even if it's just for us to finally remember our hymn lyrics.
7. Here's to a year of blessings, joy, and maybe a few less 'dad jokes' from the pulpit! Happy birthday, Pastor, we appreciate everything you do for us!
8. Wishing you a happy birthday, Pastor! May your day be filled with love, laughter, and more cake than you can handle. After all, man shall not live on bread alone!
9. Happy birthday, Pastor! We're so grateful for your guidance, wisdom, and the occasional reminder to "render unto Caesar." Thanks for keeping us on the right path!
10. Dear Pastor, on your birthday, may you be blessed with the enthusiasm of Peter, the courage of Paul, and the sense of humor to handle our quirky congregation. Happy birthday!
Powerful Birthday Prayer For A Pastor
1. Thank You for Your Humility
Dear Lord, we thank you for gifting us with a humble and kind pastor. As they celebrate their birthday, may you continue to mold them in your image and give them the grace to lead us in love and humility.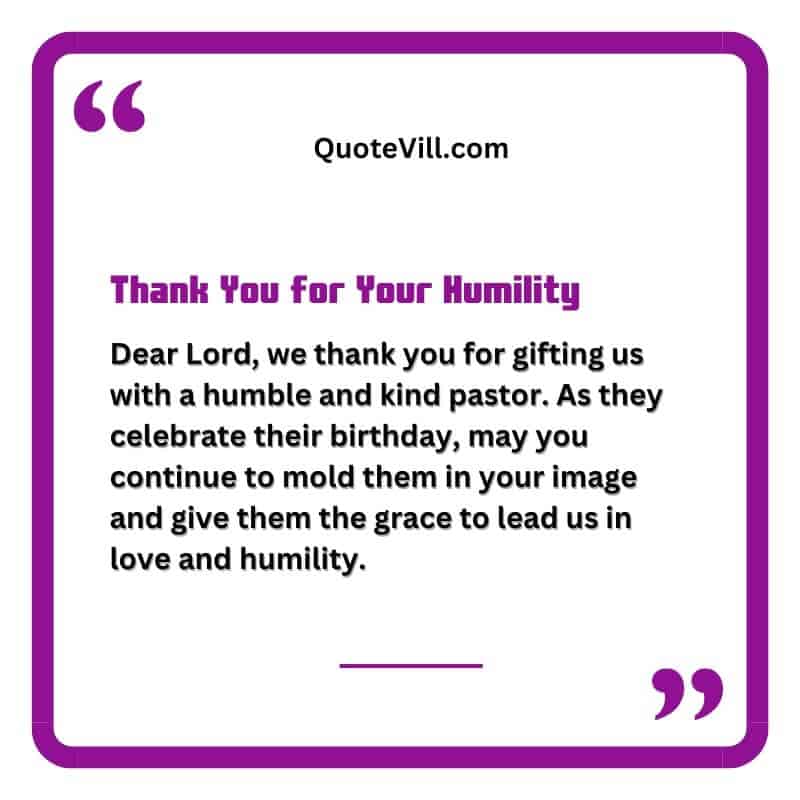 2. Bless Them with Wisdom
Heavenly Father, we ask for wisdom and discernment for our pastor on their birthday. May you continue to give them insight and understanding to lead us in the right direction and make wise decisions.
3. Strengthen Them in Faith
Lord, we pray that you strengthen our pastor's faith as they celebrate their birthday. May they continue to trust in you and draw closer to you each day so that they can help us grow in our faith as well.
4. Protect and Guide Them
Father, we ask for your protection and guidance over our pastor. May they be shielded from harm and be led by your spirit as they lead us on this journey of life.
5. Grant Them Good Health
Dear God, we pray for good health for our pastor on their birthday. May they have the strength and vitality to carry out their duties and enjoy many more years with us.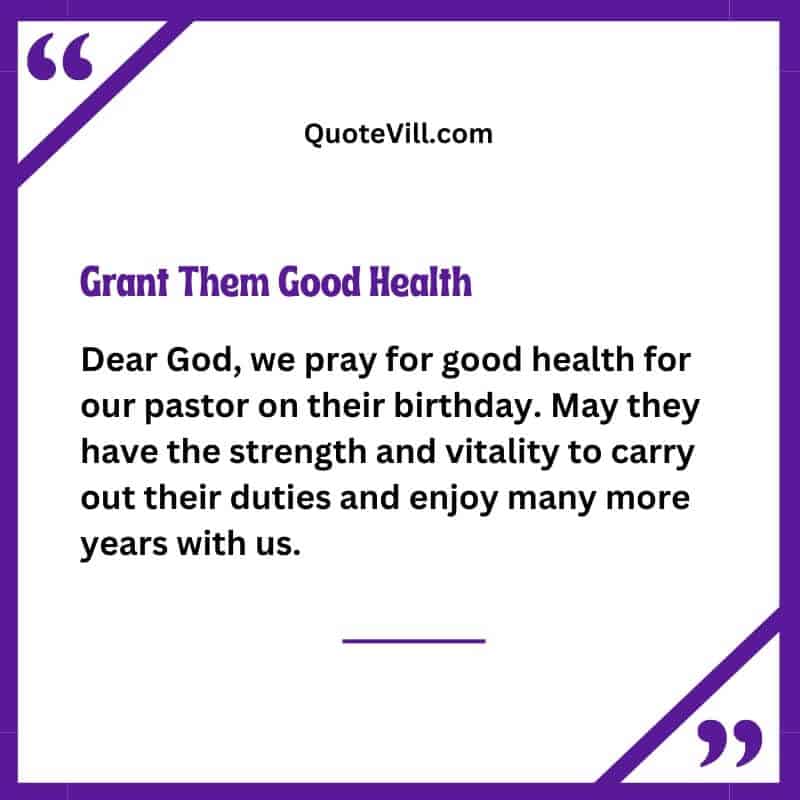 7. Bless Their Family
Heavenly Father, we ask for your blessings over our pastor's family on this special day. May they be happy, healthy, and united in love, and may they continue to support our pastor in their ministry.
8. Give Them Rest and Renewal
Dear God, we pray for rest and renewal for our pastor on their birthday. May they take time to recharge and find refreshment in your presence so that they can continue to serve us with joy and energy.
9. Increase Their Influence and Impact
Lord, we pray that you increase our pastor's influence and impact on our community and beyond. May their ministry touch many hearts and lead many souls to you.
10. Grant Them Long Life and Prosperity
Heavenly Father, we ask for long life and prosperity for our pastor on their birthday. May they continue to enjoy your blessings and favor in all areas of their life, and may they have many more years to celebrate with us.
Read: 74 Best Happy Birthday Doctor Wishes to Show Your Appreciation
Happy Birthday Wishes For Pastor Friend
1. On your special day, I just wanted to say that if Jesus had a favorite pastor, it would definitely be you! Your heart of gold and ability to crack me up are unmatched. Happy birthday, my dear friend!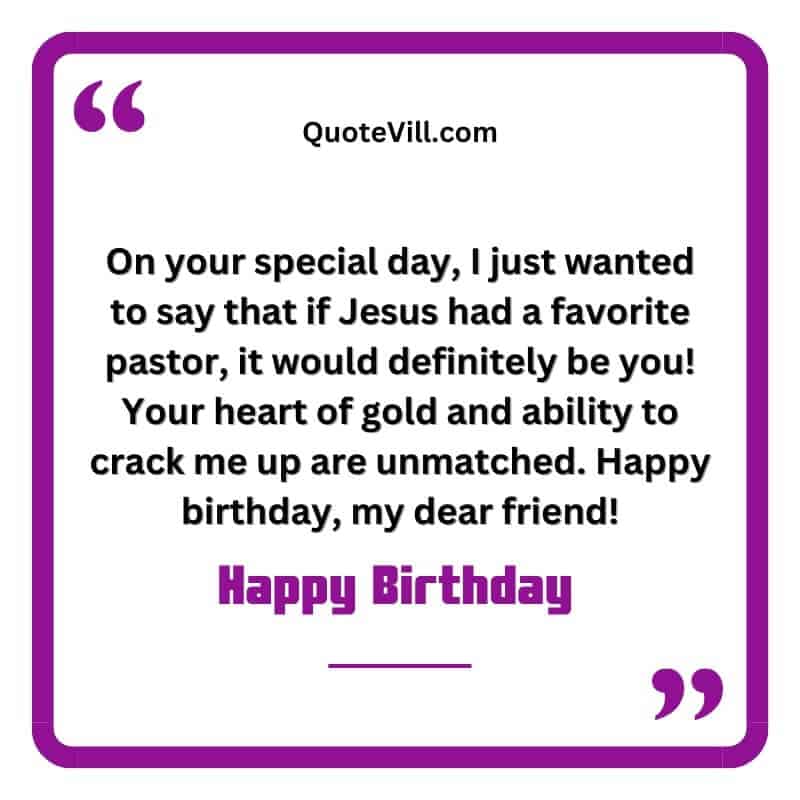 2. A very happy birthday to the pastor who can turn water into laughter! May your day be filled with as much joy as you bring to everyone around you. Thank you for being the light and the comic relief in our lives!
3. Happy birthday, Pastor! Your sermons may be serious, but your jokes are always on point. Here's to another year of laughter, love, and spiritual growth with my favorite funny man of the cloth!
4. May the Lord bless you with another year of wisdom, laughter, and opportunities to spread joy through your infectious humor. Happy birthday to the most entertaining pastor I know!
5. Remember that time you accidentally turned your sermon notes into a paper airplane during the service? It flew straight into the congregation, and we all laughed so hard! You've always been a reminder that humor is a gift from God. Happy birthday, dear friend!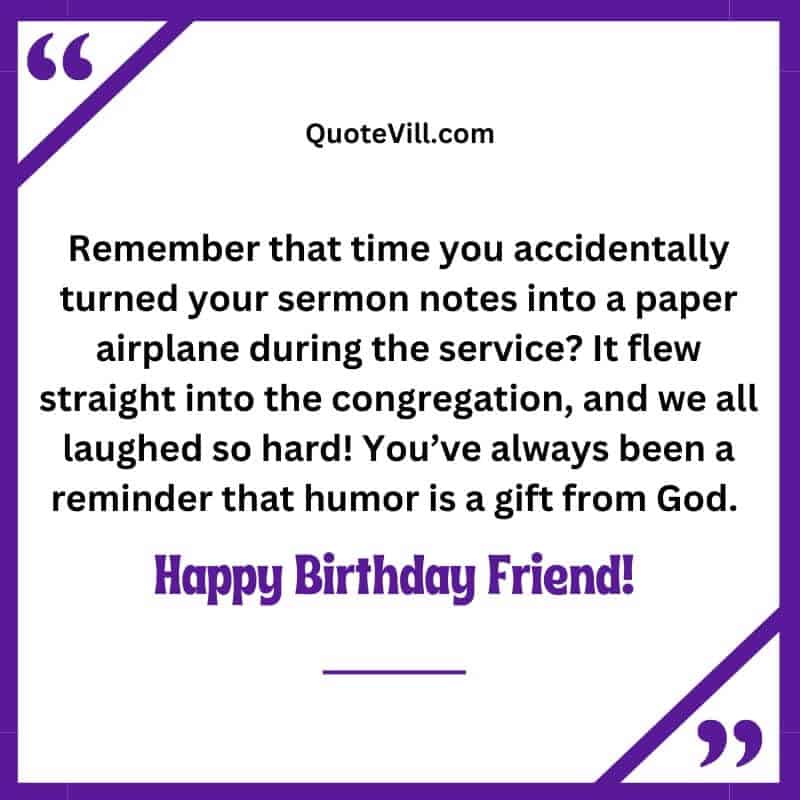 6. To the pastor who always knows when to lend a helping hand or crack a well-timed joke, happy birthday! You've made such a positive impact on my life, and I'm so grateful for your friendship, laughter, and unwavering faith.
7. Wishing the happiest of birthdays to my favorite joke-telling, sermon-preaching, all-around-amazing pastor friend! May this special day bring you all the love, laughter, and blessings you deserve. Thank you for always being there for me and for making our community a brighter, funnier place.
Christian Happy Birthday Wishes For Pastor
1. "May the Lord bless you and keep you; the Lord make his face shine on you and be gracious to you; the Lord turn his face toward you and give you peace." – Numbers 6:24-26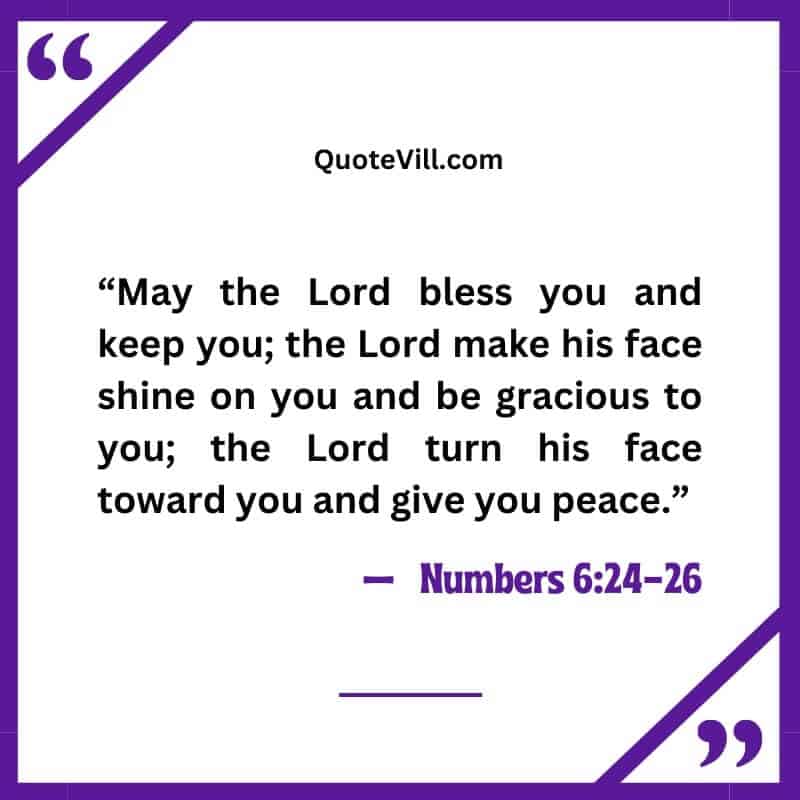 2. "The Lord your God is with you, the Mighty Warrior who saves. He will take great delight in you; in his love he will no longer rebuke you but will rejoice over you with singing." – Zephaniah 3:17
3. "May the God of hope fill you with all joy and peace as you trust in him, so that you may overflow with hope by the power of the Holy Spirit." – Romans 15:13
4. "The Lord is my strength and my shield; my heart trusts in him, and he helps me. My heart leaps for joy, and with my song I praise him." – Psalm 28:7
5. "The Lord is my shepherd, I lack nothing. He makes me lie down in green pastures, he leads me beside quiet waters, he refreshes my soul." – Psalm 23: 1-3
6. "I pray that out of his glorious riches he may strengthen you with power through his Spirit in your inner being." – Ephesians 3:16
7. "So do not fear, for I am with you; do not be dismayed, for I am your God. I will strengthen you and help you; I will uphold you with my righteous right hand." – Isaiah 41:10
8. "The one who calls you is faithful, and he will do it." – 1 Thessalonians 5:24
9. "For I know the plans I have for you," declares the Lord, "plans to prosper you and not to harm you, plans to give you hope and a future." – Jeremiah 29:11
10. "The Lord is good, a refuge in times of trouble. He cares for those who trust in him." – Nahum 1:7
Funny Happy Birthday Wishes For Pastor
1. "Happy birthday, Pastor! May your day be filled with holy laughter, divine cake, and heavenly gifts. And remember, calories don't count on your special day!"
2. "Wishing you a blessed birthday, Pastor! May you get showered with gifts, love, and laughter—just don't forget your umbrella of faith!"
3. "Dear Pastor, may your birthday be filled with more surprises than Noah's Ark—minus the animal poop, of course! Have a fantastic day!"
4. "Cheers to another year of you keeping up with the congregation's prayers, Pastor! May you receive divine blessings and an unlimited supply of dad jokes on your special day."
5. "Happy birthday, Pastor! May you live long enough to turn water into wine—just don't forget to invite us to the tasting!"
6. "On your special day, Pastor, we pray that your sermons get shorter and your laughter gets louder! Have a fantastic birthday filled with humor and blessings."
7. "To our favorite shepherd, happy birthday! May you continue to lead your flock with a smile and a joke, and may the good Lord bless you with endless punchlines."
8. 'Pastor, may your birthday be so fabulous that you feel like Moses parting the Red Sea of birthday cake! Here's to a day filled with joy, laughter, and biblical proportions of fun."
9. "Have a heavenly birthday, Pastor! We hope your day is filled with divine comedy, angelic food, and enough blessings to make your congregation say "Hallelujah!"
10. "Happy birthday, Pastor! As you blow out your candles, may your wish for world peace come true—or at least peace and quiet in the church nursery during Sunday service! Enjoy your day!"
1. "Happy birthday to the best pastor in the world!"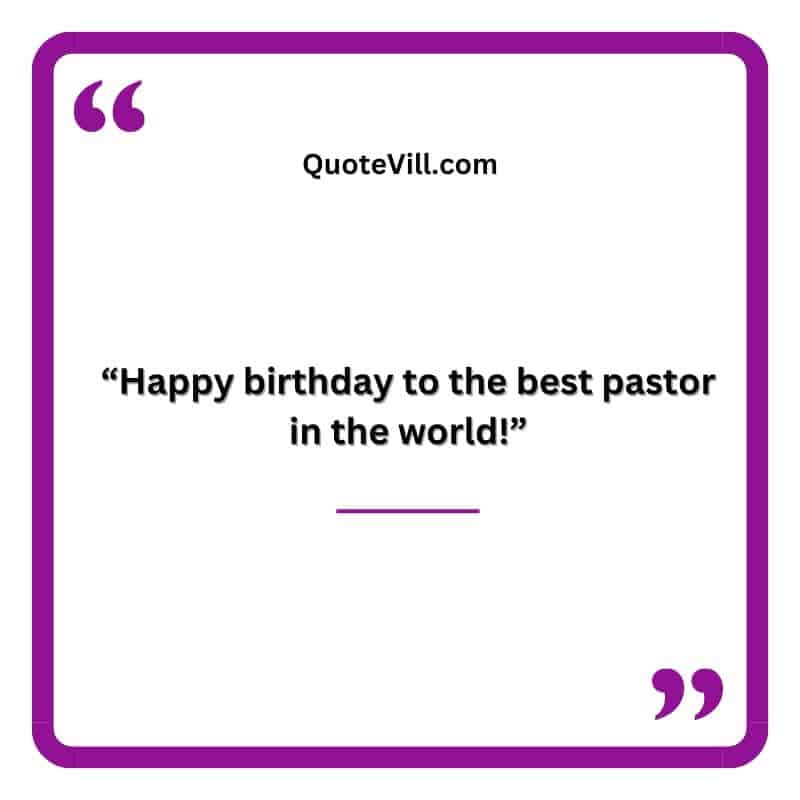 2. "May God bless you abundantly today and always, happy birthday Pastor!"
3. "May God's love and grace shine upon you on your special day, happy birthday!"
4. "Happy birthday to the most inspiring pastor I know!"
5. "May God continue to bless you with strength, wisdom and faith, happy birthday!"
6. "Happy birthday to our beloved pastor, we are grateful for your leadership and guidance!"
7. "Wishing you a birthday filled with joy, love and blessings, dear pastor!"
8. "Happy birthday to the one who leads us closer to God, we appreciate all that you do!"
9. "May God continue to use you to touch the lives of those around you, happy birthday pastor!"
10. "Happy birthday to a pastor who exemplifies what it means to walk in faith and love."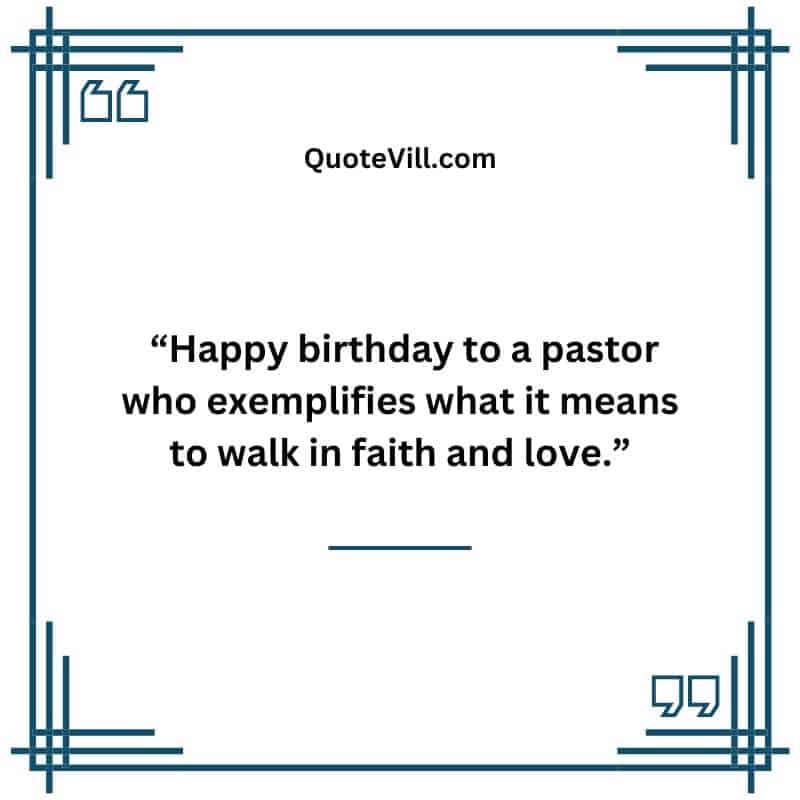 11. "May God grant you all your heart's desires as you celebrate your special day, happy birthday!"
12. "We thank God for blessing us with a pastor like you, happy birthday!"
13. "Happy birthday to our shepherd, may God bless you with a long and abundant life!"