Are you tired of scrolling through your Instagram feed and seeing the same old clichéd captions with your friends' significant others?
Are you struggling to find the perfect words to express your love for your boyfriend?
Well, fear not! We've got you covered with our collection of hilarious and heartwarming boyfriend quotes.
Showing gratitude and expressing love towards a significant other through words of affirmation is a significant part of any healthy relationship. When executed properly, such affirmations can deepen the understanding between two individuals and strengthen their bond.
However, striking the right balance of words without making them sound trite or embarrassed can be tricky.
From cheesy one-liners to thoughtful musings, our expertly curated selection of quotes will help you express your love in a way that's both unique and unforgettable.
Whether you're looking for inspiration for romantic time or just want to surprise your boo with a sweet message, we've got the perfect words to make their heart melt.
It's time to spice up your social media game and show your man how much you care.
here is a handy collection of boyfriend quotes that will take the stress out of expressing how you're feeling – allowing you to easily conveying emotion with heartfelt sincerity.
Sweet Love Quotes For Your Boyfriend
If you want to show a special kind of love for that special someone in your life who makes every day feel like a romantic comedy, these sweet love quotes for your boyfriend are sure to be the perfect addition to any holiday gift or just a little daily reminder of how wonderful he is.
1. "Every love story is beautiful, but ours is my favorite.You are my happily ever after."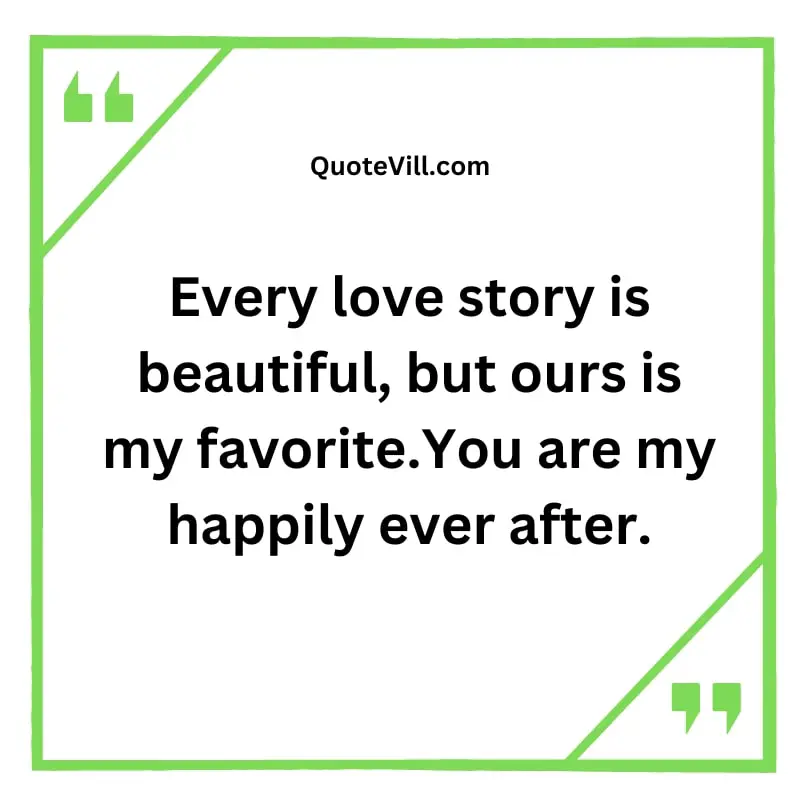 2. "I never knew what love was until I met you, and now I can't imagine my life without you in it. You're my everything, my love."
3. "I don't need paradise because I found you. I don't need dreams because I already have you."
4. "Being with you makes me the happiest person in the world. Your love is my comfort and my strength, and I thank you for being my partner and my best friend."
5. "When I tell you I love you, I am not saying it out of habit, I am reminding you that you are my life."
6. "I love you not only for who you are, but for who I am when I'm with you. You inspire me to be a better person every day, and I'm grateful for your love."
7. "With every beat of my heart, I love you more and more."
8. "The love we share is a bond that cannot be broken. I'm grateful for your patience, your kindness, and your unwavering devotion. You're the best thing that's ever happened to me."
9. "My love for you has no end; it just keeps growing with time and from within!"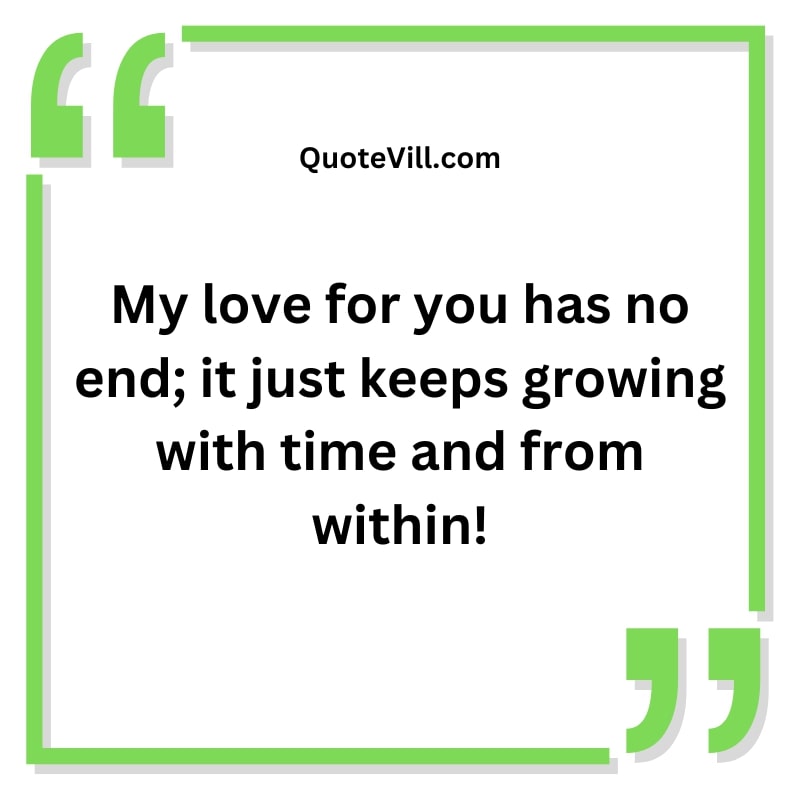 10 ."Sweetheart, our bond was written in the stars."
11 . "Life without our love would just seem so empty and meaningless."
12. "You make my heart skip a beat every time I see you, and your smile lights up my world. I'm so grateful to have you in my life, and I love you more than anything."
13 . "We'll need always be together and even in death we'll never part."
14 . "The most precious thing in this world can't be bought or sold: It's your heart and mine forever feeling warmly entwined.
15. "I never believed in love at first sight until I met you. You swept me off my feet with your kindness, your humor, and your irresistible charm. I'm so lucky to have you as my boyfriend."
Relationship Quotes For Boyfriend
Expressing your love for your boyfriend can sometimes be tricky. Words may feel inadequate, especially when you just have to show them how much they mean to you.
So why not inspire yourself with some relationship quotes? Here are 10 quotes that will help deepen the connection between you and your boyfriend.
1. "I love you the more in that I believe you had liked me for my own sake and for nothing else." – John Keats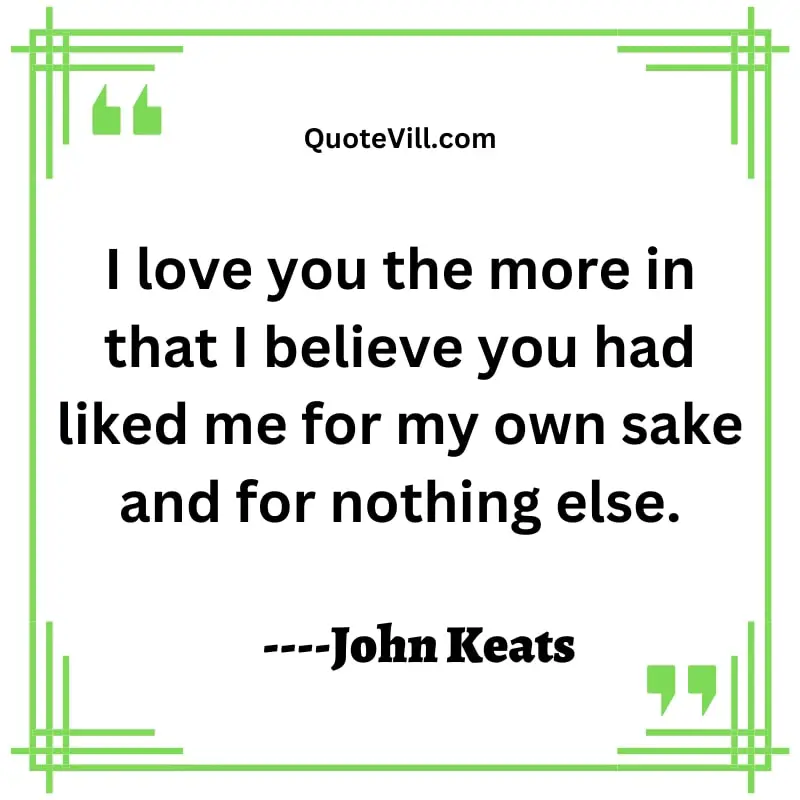 2. "When I saw you, I was afraid to meet you; When I met you, I was afraid to kiss you; When I kissed you, I was afraid to love you; Now that I love you, I am afraid to lose you."- Unknown
3. "You know it's love when all You want is that person To be happy, even if You're not part of their happiness."- Julia Roberts
4. "Soul meets soul on lover's lips." – Percy Bysshe Shelley
5. "As we grow older together, As we continue to change with age, There is one thing that will never change …I will always keep falling in love with You."- Karen Clodfelder
6. "If a star falls from the sky every time I think about It'll never be enough because my love for It'll never run out.- Unknown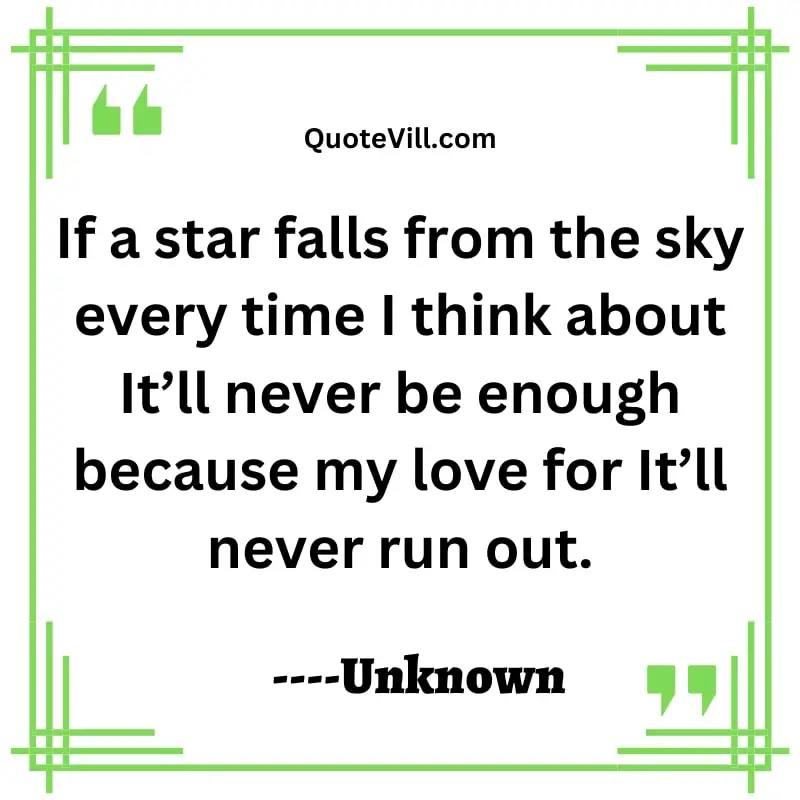 7. "Love is our true destiny The only way which Loves leads us is by being Revealingly itself And though it feels immutably Constant, Love's truth evolves through us.- Thomas Merton
8. "No matter what has happened No matter what ! Will happen We shall remain together Forever inseparable.- Anonnimous
9. "Loving someone and having them love U back Is the most precious thing In this world."- Unknown
10. "The best and most beautiful things in this world cannot be seen or even heard but must be felt With the heart"- Helen Keller
Boyfriend Quotes by Famous People
Are you looking for the perfect words to express your relationship status? These famous quotes by beloved authors and celebrities can be just what you need!
Here are the 15 boyfriend quotes we think are sure to capture all the feels and provide some extra cuteness in your life.
1."I think it's important to have closure in any relationship that ends – from a romantic relationship to a friendship. You should always have a sense of clarity at the end and know why it began and why it ended." – Jennifer Aniston
2."The best love is the kind that awakens the soul and makes us reach for more, that plants a fire in our hearts and brings peace to our minds. And that's what you've given me. That's what I'd hoped to give you forever." – Nicholas Sparks
3. "Your flaws are perfect for the heart that's meant to love you." — Trent Shelton
4."I don't know what the future holds, but I know that with you, I'm ready to face it." – Unknown
5. "A real man doesn't love a million girls, he loves one girl in a million ways." ― Anonymous
6."A successful marriage requires falling in love many times, always with the same person." – Mignon McLaughlin
7. "Sometimes I can't see myself when I'm with you, I can only just see you." — Jodi Picoult
8."A real boyfriend knows his girl like the back of his hand. He knows when she's mad, sad, aggravated, happy, or just wants to be left alone. He knows when she's screaming for attention, and he knows exactly what to do." – Unknown
9. "When someone else's happiness is your happiness, that is love." — Lana Del Rey
10. "Love looks not with the eyes, but with the mind, and therefore is winged Cupid painted blind."— William Shakespeare
11. "Being deeply loved by someone gives you strength while loving someone deeply gives you courage." – Lao Tzu
12. "I'm so blessed my right where I'm supposed to be finally found somebody who completes me." — Justin Bieber
13. "Love is composed of a single soul inhabiting two bodies." — Aristotle
14. "I never loved you any more than I do, right this second. And I'll never love you any less than I do, right this second." – Kami Garcia
15. "The greatest happiness of life is the conviction that we are loved; loved for ourselves, or rather, loved in spite of ourselves." – Victor Hugo
Miss You Quotes for Boyfriend
It can be hard to express your love and emotions for a loved one from a distance – especially when you're so used to seeing each other all the time.
If you have a long-distance relationship with your boyfriend, then these miss you quotes are just perfect to let him know how much he means to you, even when you're apart.
1."My heart aches for you, my love. Each passing moment without you feels like an eternity. I miss you more than words could ever express."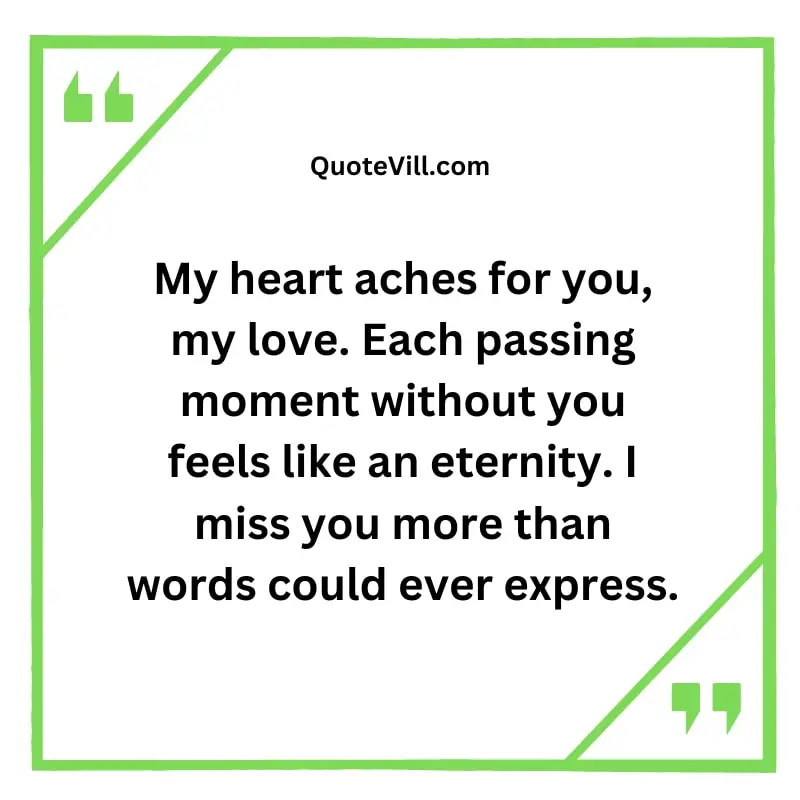 2."You have no idea how hard it is for me to not think about you every single second of my life."
3. "Distance may separate us physically, but nothing can distance the love I have for you. I miss you with every breath I take, my sweet love."
4.  "Longing to be with someone is different than missing them. When I long for someone, my entire body misses them all at once and yet keeps moving forward just fine without them … They call it being strong but sometimes it just feels like being alone.- Akanksha Mishra
5."Days without you are incomplete, nights without you are restless. I miss the way you make me feel, my darling."
6. "Loving someone 300 miles away is kinda like loving someone in another world."
7. "The memories of the time we spent together are the only thing that keeps me going in your absence. I miss you terribly, my love."
8. "Even the sun seems to have lost its brightness without you by my side. I miss you, my love, and I can't wait for you to come back to me."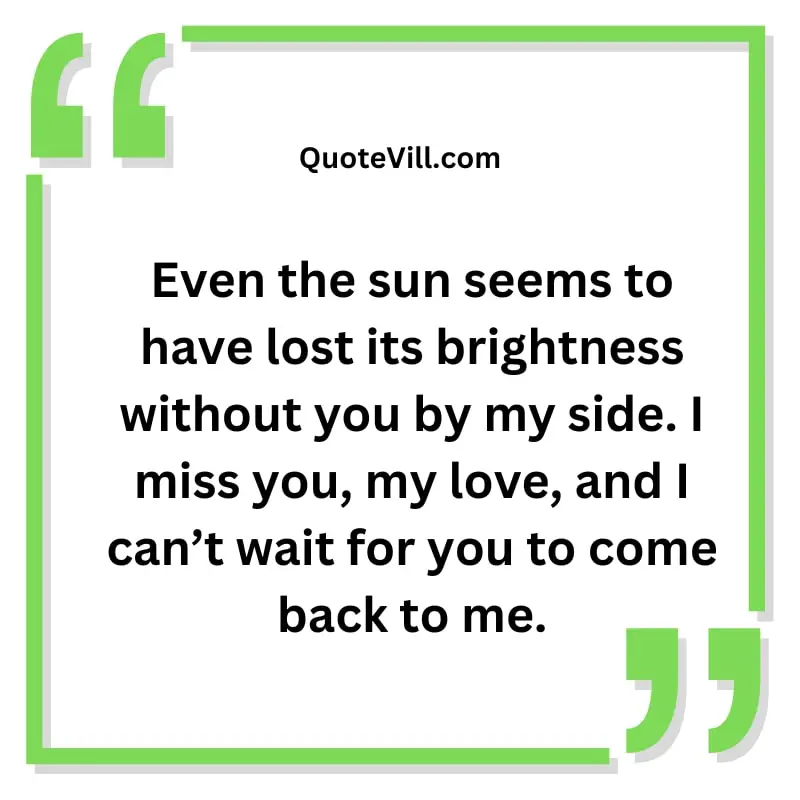 9."I am waiting and hoping and wishing for the time when we can be together again! I miss you!" – Henry David Thoreau
10. "Just thinking of us being together soon keeps me going."
11."Every moment spent away from you feels like a wasted moment. I long for the day when we'll be together again, my dearest. I miss you more than you'll ever know."
12. "Always remembering those happy memories we shared makes me miss us even more…I keep replaying our stories in my mind over and over again.- Chaniyah McKnight
13. "Missing someone changes everything about the world around us; missing them feels like nothing else matters anymore."
Inspirational Boyfriend Quotes
Inspiring your boyfriend is important to show him your appreciation and admiration for all that he does. These quotes are sure to put a smile on his face and inspire him with words of affirmation. Here are unique inspirational boyfriend quotes to get you started.
1."dear boyfriend,being with you makes me feel like anything is possible. Your unwavering support and encouragement inspire me to chase my dreams and conquer my fears."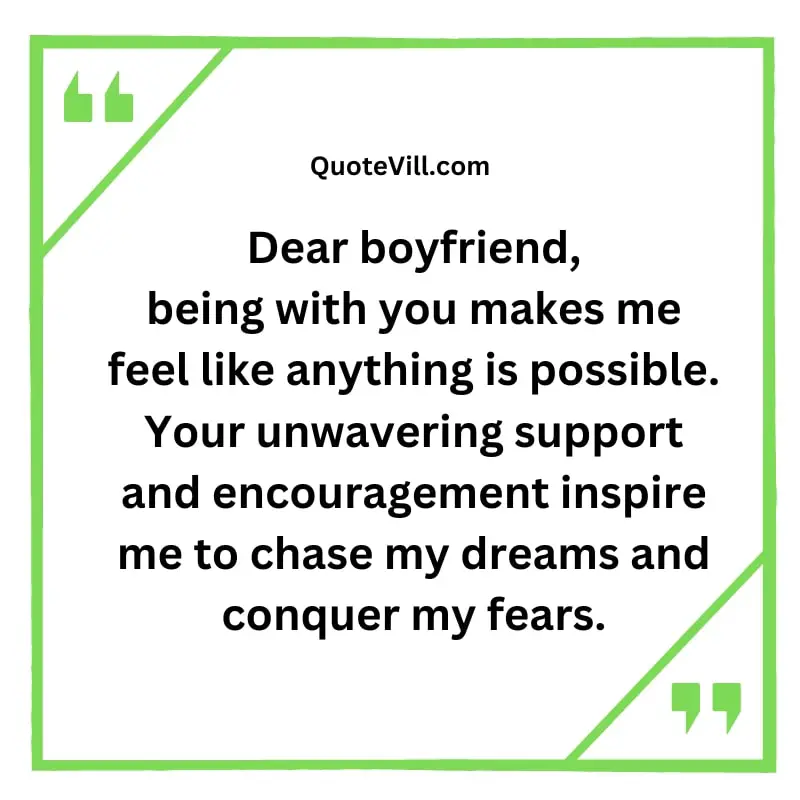 2. "We may not know what life has in store for us but one thing is certain – we have each other through it all!"
3. "I never believed in soulmates until I met you. You are my constant source of inspiration, my rock, and my biggest cheerleader. Thank you for being an amazing boyfriend."
4. "Sweetheart,your love and devotion inspire me to be a better person. You see the best in me even when I can't see it myself, and for that, I am eternally grateful."
5. "No matter how hard today may seem, there's always a brighter tomorrow waiting for us."
6. "My life has been forever changed since you walked into it. You inspire me to be more compassionate, more patient, and more loving. Thank you for being an incredible boyfriend."
7. "Dear boyfriend,you are the sunshine in my life, the wind beneath my wings, and the fire in my soul. Your unwavering love and support inspire me to take on the world and chase my dreams."
8. "You are not just my boyfriend, you are my best friend and my confidant. Your unwavering support and encouragement inspire me to be the best version of myself every day."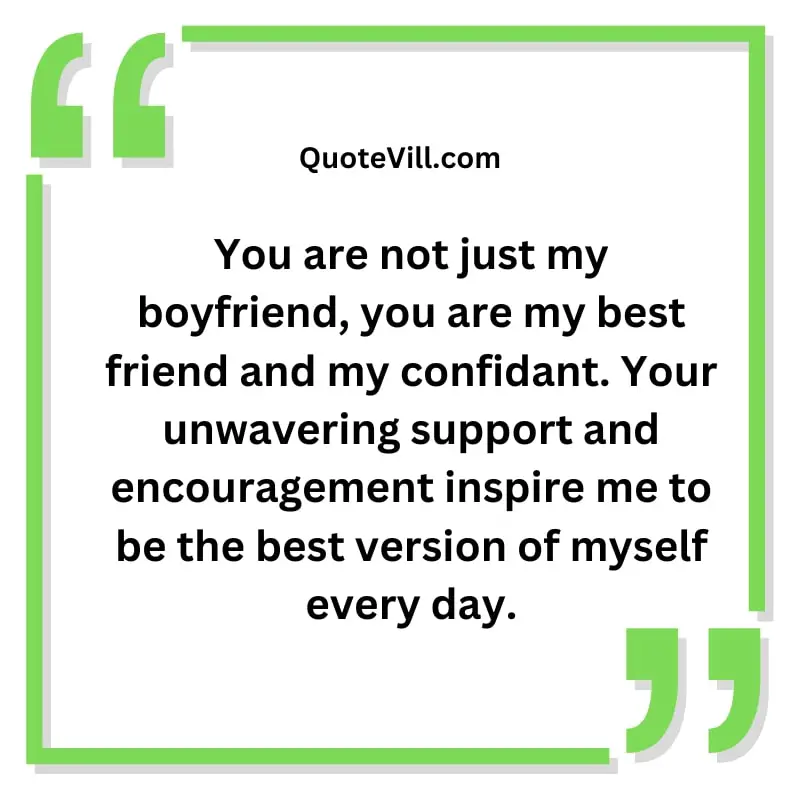 9. "I never knew love could be so powerful until I met you. Your love and devotion inspire me to be a better person and to make the world a better place."
10. "You are my anchor in a stormy sea, my safe haven in a chaotic world. Your unconditional love and support inspire me to be brave and to face any challenge that comes my way."
11. "Dear boyfriend,you are my rock in a choppy sea and my haven in a crazy world. Your unwavering love and support motivate me to have courage and take on any difficulties that may arise. ".
12 " Every day I am motivated to strive to be the best version of myself by your love, kindness, and unflagging support. I appreciate you being such a wonderful boyfriend. ".
Funny Boyfriend Quotes
If you're looking to add some fun and laughter in your relationship, consider using funny boyfriend quotes.
Having a sense of humor is an attractive quality that can bring a lot of joy to any relationship and these funny quotes are sure to put a smile on your partner's face.
completely new funny boyfriend quotes for you to share:
1. "It's all fun and games until someone splits their sides laughing."
2. "I know they say opposites attract… but I'm not so sure when it comes to our jokes!"
3. "Before I met you, I never knew what true love felt like… but now, I think it smells like chili dogs."
4. "When we argue, remind me how much you love me by yelling out my name followed by tons of emojis!"
5. "We are the couple that laughs at their own jokes without fail!"
6. "Just because I don't agree with your opinion doesn't mean I'm wrong – it means we're just really bad at arguing!"
7. "Can't wait till we argue about something important so we can laugh about it later!"
8. "There's nothing better than spending time with my favorite person…until Netflix's next season is released!"
9. "Every day with you is an adventure.. sometimes even a laugh track too!"
10. "My heart belongs to you, until someone else tells an funnier joke!"
Boyfriend Quotes for Instagram
Posting heartfelt and romantic messages to your boyfriend on social media is a great way to show him how much you care. But after a while, it can get hard to come up with something original or new.
Here are brand new quotes for couples that are perfect for Instagram posts:
1. "You and I could be absolute perfection if we just looked at the same sunsets together."
2. "If my life were measured in moments, spending time with you would be my greatest achievement."
3. "No one else matters when I'm with you, no one else is standing near. Can't believe this kind of love was hidden beneath fear."
4. "Explaining bliss in words isn't easy but being in your arms is the only thing that comes close."
5. "Every day with you is the longest day ever, yet it feels like just forty-five seconds has passed by!"
6. "I don't need anyone else as long as I have you here with me".
7. "One look at you turns my frown upside down and gives me hope that everything will be alright in the end".
8. "The more I learn about true love, the more I realize that all along it was you who made me complete."
9."When we're together there are no challenges we can't conquer and no dreams too far away to achieve"
10."Your eyes make me feel like an astronaut and your heart beats like a rocket launcher sending me into an emotional horizon far beyond any other man's reach"
One Line Caption Quotes for Boyfriend
Are you looking for creative and unique captions to use for your boyfriend?
If so, then you've come to the right place. Here are completely new and unique one line caption quotes for boyfriends that will get him smiling!
1. "You were my cup of tea, but I drank you all".
2. "The word 'forever' is not long enough when it comes to talking about us".
3."With you in my life, it just doesn't get any better than this".
4. "All of the stars above must feel jealous when they look down on us".
5. "You make my heart skip a beat, with every single word you speak".
6.  "I'll pick up the stars if it means bringing them down closer to me and still not as close as you are to me".
7.  "I love being able to call someone like you mine".
8.  "Forget sugar, spice or everything nice—you're my favorite ingredient".
9.  "Now that I've found you, I'm never letting go".
10.  "My love for you has grown with each passing day".
11. "You stole my heart, but I'll let it slide because you're cute."
12. "If love was a game, I'd pick you as my teammate because you always score."
13. "You're my favorite distraction from adulting."
14. "You're my missing puzzle piece, except you're not square and boring."
15. "You're my lobster, and I promise not to eat you."
16. "You make my heart skip a beat, but only because you're always chasing after it."
17. "You're my sunshine on a cloudy day, except you're hotter and don't cause global warming."