Chill quotes will remind you how busy you are with your work. Work-life has become so hectic that you don't do the basic things that used to make you happy, like hanging out with friends and family.
Chilling with friends has healing power because you have unconditional fun with them.
We see more and more people being overly tired of their lives, facing different and highly concerning mental health issues.
We all know the reason behind such situations, but we still do not seem to be very concerned about it and do something to improve it because we are afraid to take a break and enjoy life.
But don't you worry. Our chill quotes will remind you when you must take a break from your mundane life and socialize with friends. But not via social media. On the contrary, you must meet them up and talk to them. Or simply enjoy the time with them.
Best 15 Chill Quotes
1. "Peace is the result of retraining your mind to process life as it is, rather than as you think it should be." – Wayne Dyer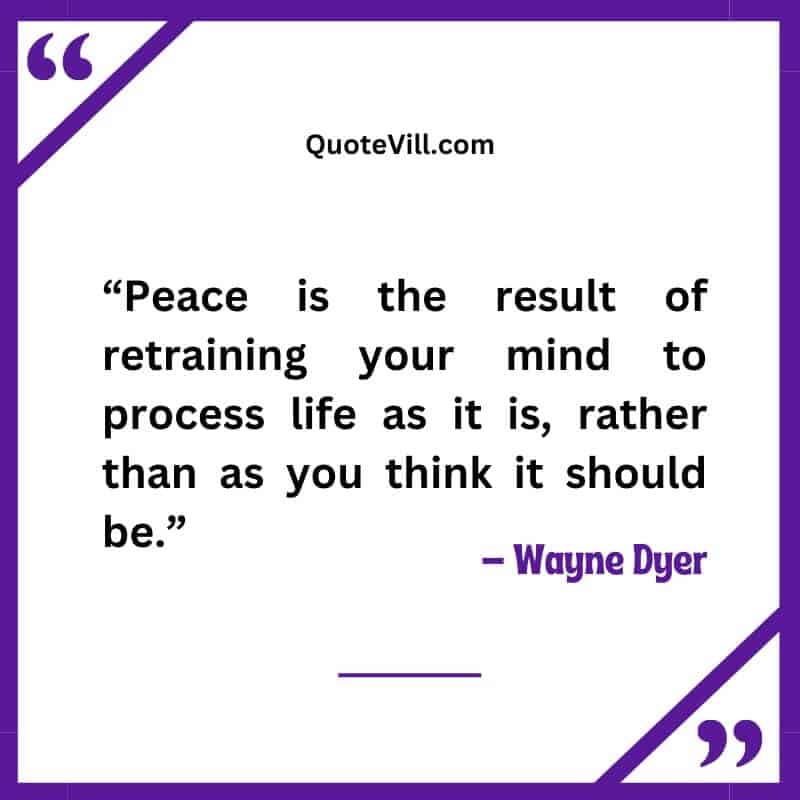 2. "Breathe. Let go. And remind yourself that this very moment is the only one you know you have for sure." – Oprah Winfrey
3. "Sometimes the most important thing in a whole day is the rest we take between two deep breaths." — Etty Hillesum
4. "We are all unique, which makes us beautiful. So never despair, and just chill the hell out about it all." — Miranda Hart
5. "In the midst of movement and chaos, keep stillness inside of you." – Deepak Chopra
6. "Imagine you're a feather, carried by the wind, with no direction but to follow the flow. That's the ultimate level of chill – just letting the currents of life take you where they may."
7. "If you're always racing to the next moment, what happens to the one you're in? Chill out, slow down and let each moment simmer. The best meals are always slow-cooked, after all."
8. "Remember, it's cool to be a glacier in a world full of volcanos. Stay chill, stay calm, and remember – the coolest thing in the room sets the temperature."
9. "On the road to chill, you'll find the scenic route is best. Why rush through life when there's so much to see, to taste, to feel? Kick back and enjoy the ride."
10. "I'm trying to stay focused on what I'm doing. I don't want a whole lot of things going on – people to call back, text messages, or whatever. I chill out, relax a little bit, and then I don't have those issues." — Nate Diaz
11. "The only way to make sense out of change is to plunge into it, move with it, and join the dance." – Alan Watts
12. "Keep your face always toward the sunshine – and shadows will fall behind you." – Walt Whitman
13. "Simplicity, patience, compassion. These three are your greatest treasures." – Lao Tzu
14. "Happiness, not in another place but this place… not for another hour, but this hour." – Walt Whitman
15. "In the end, it's not the years in your life that count. It's the life in your years." – Abraham Lincoln
See: 160 Inspiring 4 Word Short Deep Quotes To Reflect On
Chill Quotes About Life
1. "Life is really simple, but we insist on making it complicated." – Confucius
2. "Don't underestimate the value of Doing Nothing, of just going along, listening to all the things you can't hear, and not bothering." — A.A. Milne
3. "Being cool in life isn't about avoiding tough stuff, it's about dealing with it in a smart way. It's knowing that life's full of ups and downs, and the best way to get through it is to go with the flow."
4. "Life's not about rushing to the end, it's about knowing when to take a break. It's about being relaxed enough to know when to stop and when to keep going."
5. "Life is what happens when you're busy making other plans." – John Lennon
6. "The good life is one inspired by love and guided by knowledge." – Bertrand Russell
7. "If life were a song, being chill would mean finding that perfect rhythm that makes your soul dance. Don't strive for the high notes; find your rhythm and let the rest follow."
8. "The chill attitude towards life comprehends that not every problem demands an immediate solution. It's about being comfortable with allowing certain things to simmer in the background while you center your attention on the present moment."
9. "Life can get noisy and busy. But if you're cool-headed, you know how to find some quiet in all the noise. You find peace even when things get wild."
10. "Staying cool in life means knowing you don't have to fix everything right away. It's being okay with letting some stuff wait while you focus on what's happening now."
11. "Being cool in life isn't about avoiding tough stuff, it's about dealing with it in a smart way. It's knowing that life's full of ups and downs, and the best way to get through it is to go with the flow."
12. "I think the biggest misconception about me is people really don't know who I really am. They see the party side of me, they see the crazy side of me. But I also have a laid-back side. You know, I'm chill, down to earth. If you want to grab a cup of coffee and just talk about life, I can do that." — Nicole Polizzi
See More: 75 Trendy and Cool Instagram Captions for Guys
Chill Quotes For Relaxation
1. "Tension is who you think you should be. Relaxation is who you are." – Chinese Proverb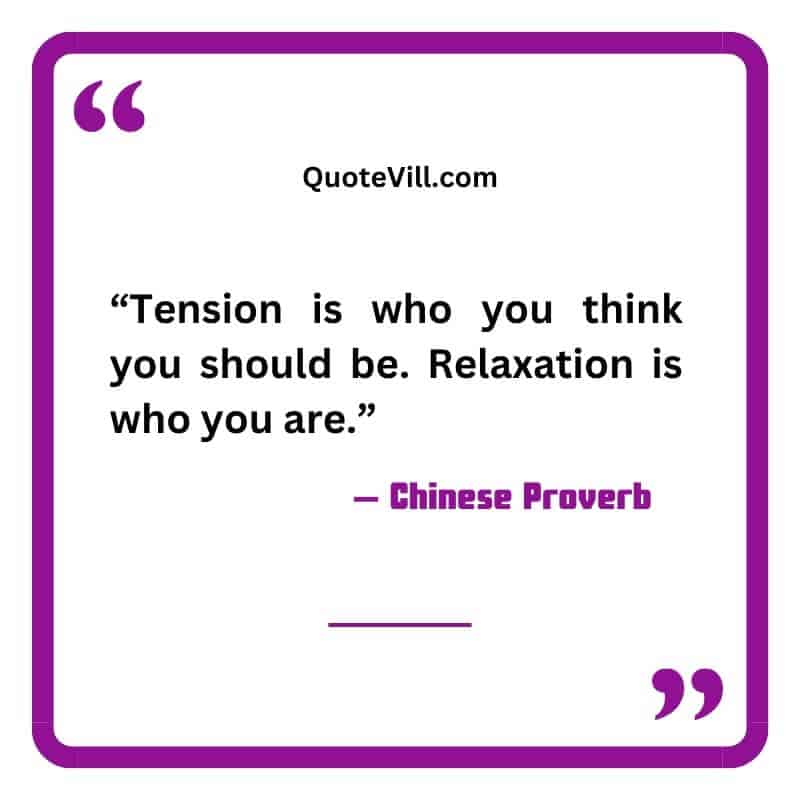 2. "The time to relax is when you don't have time for it." – Sydney J. Harris
3. "It's a good idea to always do something relaxing prior to making an important decision in your life." — Paulo Coelho
4. "Kick back, let the world spin without you for a minute. Your time to shine is on the horizon, but for now, just bask in the glow of a well-deserved rest."
5. "Sometimes the most productive thing you can do is relax." – Mark Black
6. "Peace isn't found in a schedule or a rush, it's found in moments of quiet, in the deep breaths between chores and duties. Embrace the chill of doing absolutely nothing."
7. "Your calm mind is the ultimate weapon against your challenges. So relax." – Bryant McGill
8. "The beauty of doing nothing is realizing that it often leads to the very best of something. Unwind, relax, and let your mind wander."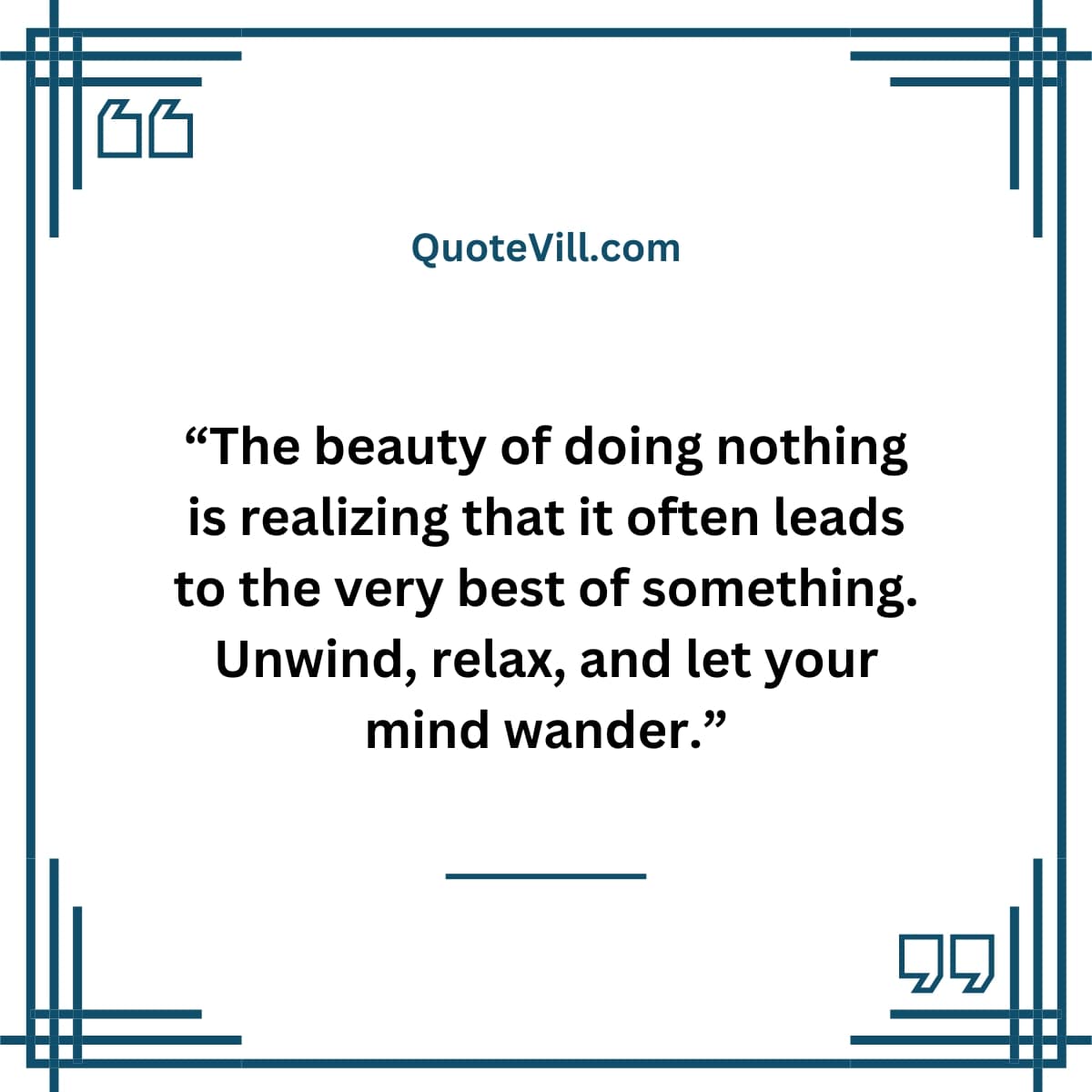 9. "Calmness is the cradle of power." – Josiah Gilbert Holland
10. "Relaxation means releasing all concern and tension and letting the natural order of life flow through one's being." – Donald Curtis
11. "Take a moment to simply be – not planning, not doing, just existing. That's where true relaxation lies. It's being chill enough to just let the world be."
12. "Keep calm and carry on." – Winston Churchill
13. "Being chill is understanding that every sunset is an opportunity to reset, to relax, and to ready yourself for the next sunrise."
14. "True relaxation is letting go of expectations. It's finding your chill in the 'here and now', not in the 'what could be' or 'what should be'."
15. "Never feel guilty for relaxing. The world spins fast, but your mind doesn't have to. Remember, even the most majestic eagles glide to soar."
16. "Sometimes the most productive thing you can do is relax. Because being chill means knowing when to move and when to just let life flow."
17. "Relax, Recharge, and Reflect. Sometimes it's OK to do nothing." — Izey Victoria Odiase
Chill Quotes For Stress Relief
1. "Doing something that is productive is a great way to alleviate emotional stress. Get your mind doing something that is productive." – Ziggy Marley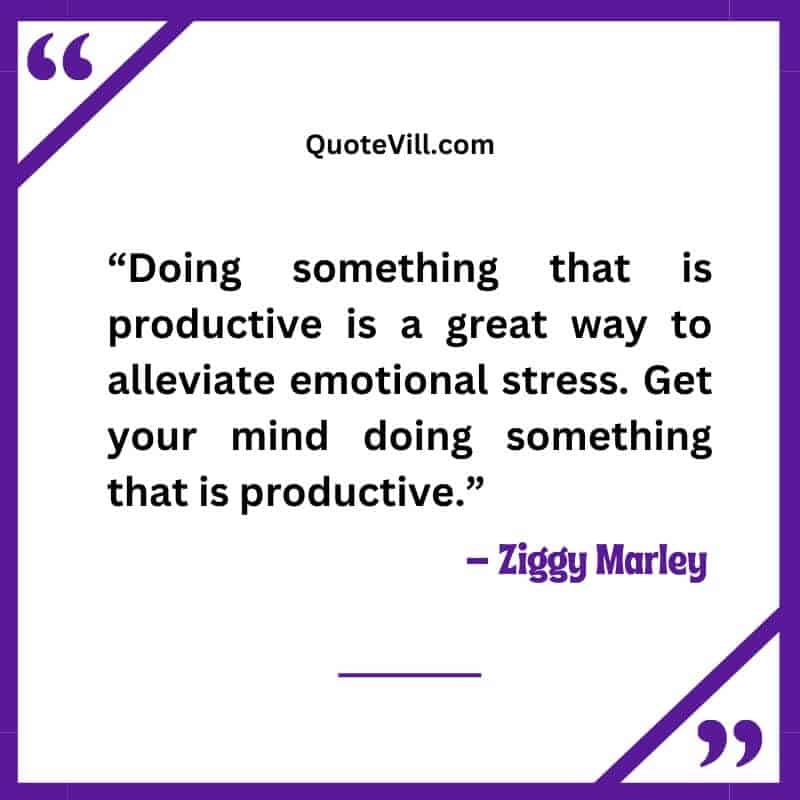 2. "It's all about finding the calm in the chaos." – Donna Karan
3. "Getting stress out of your life takes more than prayer alone. You must take action to make changes and stop doing whatever is causing the stress. You can learn to calm down in the way you handle things." – Joyce Meyer
4. "Don't let yesterday take up too much of today." – Will Rogers
5. "The quieter you become, the more you can hear." – Ram Dass
6. "The greatest weapon against stress is our ability to choose one thought over another." – William James
7. "Simplicity is the ultimate sophistication." – Leonardo da Vinci
8. "Give your stress wings and let it fly away." – Terri Guillemets
9. "Having a chill perspective on life doesn't mean shying away from stress; it's about managing it like a pro. It's about recognizing that life ebbs and flows, and the secret to navigating it is to roll with the punches."
10. "Remember, you're braver than you believe, stronger than you seem, and cooler than you think. Stress is just a stepping stone, not a boulder."
11. "You must learn to let go. Release the stress. You were never in control anyway." — Steve Maraboli
12. "Worrying won't stop the bad stuff from happening, it just stops you from enjoying the good. Let go, unwind, and remember to embrace your chill moments."
13. "Take life day by day and be grateful for the little things. Don't get stressed over what you can't control, just go with the flow."
14. "Sometimes the most important thing in a whole day is the rest we take between two deep breaths. So breathe in, breathe out, and let your worries float away."
15. "Within you, there is a stillness and a sanctuary to which you can retreat at any time and be yourself. Seek that tranquility whenever stress attempts to overwhelm."
16. "The greatest weapon against stress is our ability to choose one thought over another. Choose chill, choose peace, choose serenity."
17. "Don't let your mind bully your body into believing it must carry the weight of its worries. Take a load off, kick your feet up, and just chill."
18. "The day she let go of the things that were weighing her down, was the day she began to shine the brightest. So let go, lighten up, and chill."
19. "It's not the load that breaks you down, it's the way you carry it. So, rearrange that weight, find your balance, and don't forget to chill in the process."
Chill Quotes For Instagram
1. "Enjoying life one relaxed moment at a time. This is me at my best. 🌴✌️ #EaseIntoBliss"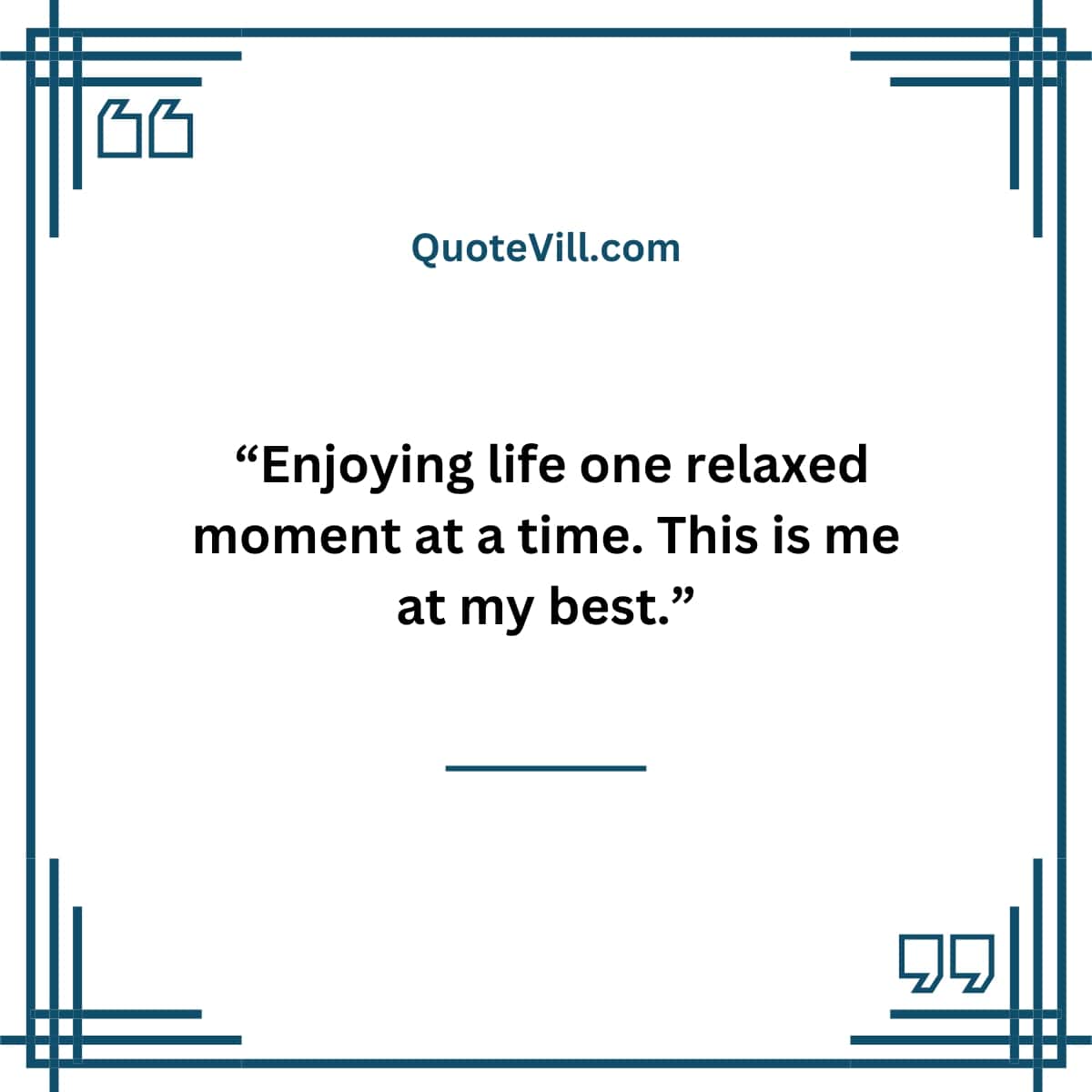 2. "Choosing calm over chaos. Why stress when life is so fleeting? 😎 #GoWithTheChillFlow"
3. "Between a breathtaking sunset and the calming sea – that's where I find my chill. 🌅💆 #ChasingSunsets"
4. "Making peace amidst the pandemonium. Because it's always cool to be calm. 😊 #SerenityInTheStorm"
5. "Breathing in positivity and exhaling all worries. That's how I chill. 🧘‍♀️ #InhalePositivity"
6. "Patience is my co-pilot, and I trust the journey. Remember, being chill means savoring the ride, not hurrying to the end. 🛤️🚲 #LifeUnraveled"
7. "Just a calm soul navigating a wild world. Welcoming both the tranquility and the turmoil. 🌍✨ #WildHeartCalmSoul"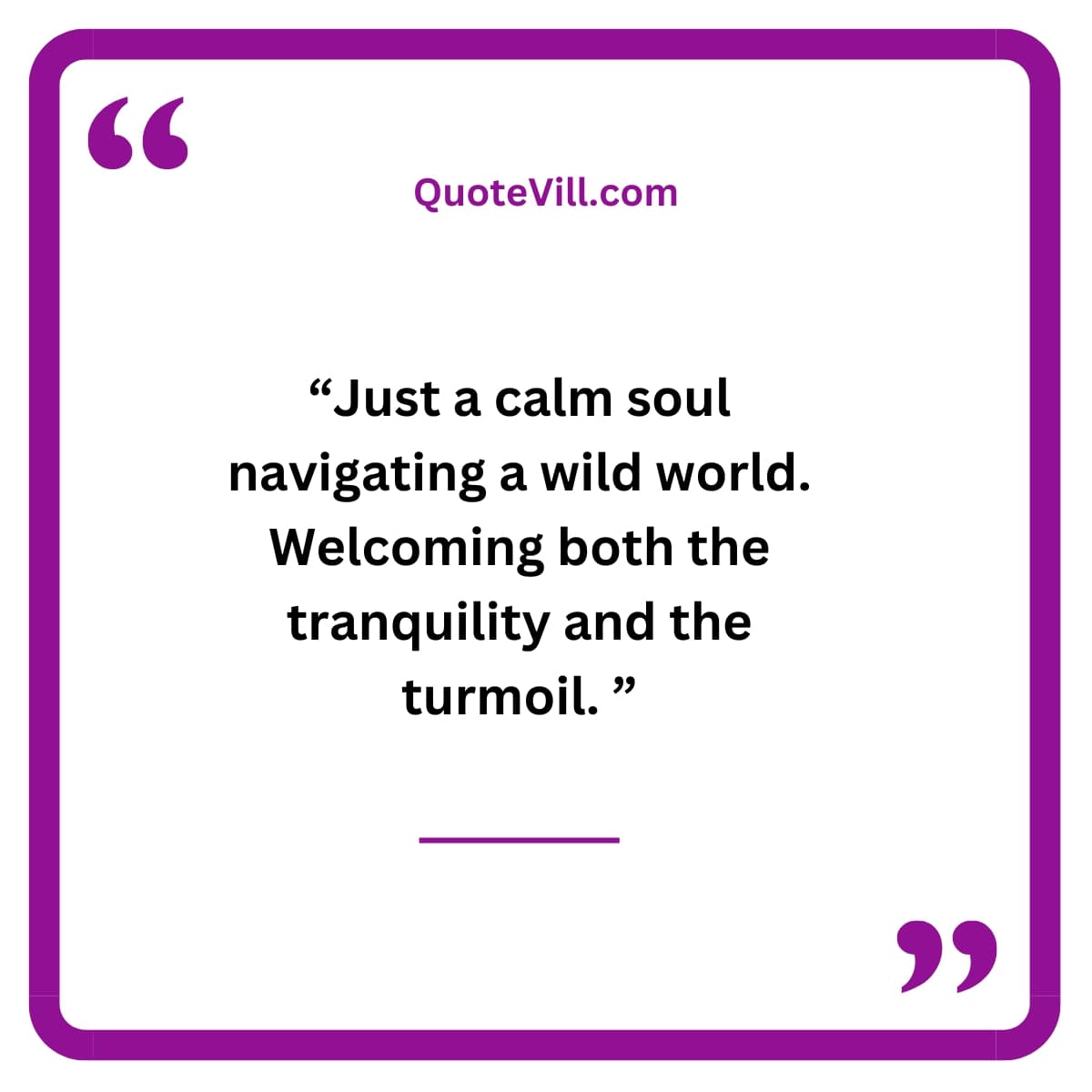 8. "Mastering the fine art of downtime. Because there are times when doing nothing becomes doing something great for your soul. 📖☕ #LazySundayVibes"
9. "Life's way too short to worry over the unworthy. Cheers to more days of chill! 🥂 #ShrugItOff"
10. "Take a moment for what lights up your soul. For me, it's seizing every moment in a laid-back way. 🎈💛 #SoulfulSundays"
11. "Nothing says 'chill' like a good book and a comfy nook. 📚☕ #BookwormBliss"
12. "Feeling the sand between my toes, wind in my hair, peace in my heart. That's my chill. 🏖️🌬️ #BeachBumVibes"
13. "Trading in chaos for a moment of calm. Because, why not? 😌💫 #CatchYourCalm"
14. "Take a deep breath, let it out slowly, and just relax. Life is happening, right here, right now. 🌻✨ #JustBreathe"
15. "Taking life one chill step at a time. Because rushing never did anyone any good. 🚶‍♂️👣 #WalkDontRun"
16. "Good music, good company, good vibes. Now that's my kind of chill scene. 🎵🎸 #GoodVibesOnly"
17. "Finding my zen amidst the whirlwind called life. It's all about balance. ⚖️🧘‍♂️ #ZenMoments"
18. "Underneath the open sky, watching the world go by. That's my kind of chill. 🌌🔭 #StargazingDreams"
19. "Stepping away from the crowd, and into my own peaceful corner. Here's to the beauty of solitude. 🌳💚 #SolitudeIsBliss"
20. "Making room for joy, one chill moment at a time. Because happiness is often found in the calm. 🎈🌈 #JoyfulJourneys"