These lovely country quotes will remind you of miles and miles of green pastures, boundless blue sky, and cattle grazing here and there—in short, they will bring the memories of the heavenly abodes and the serenity of the gorgeous countryside you miss in your urban life.
The sweet melody of the country tunes teamed up with the soft breeze and heart-melting landscape can drain away your stress and make you fall in love with them.
The morning opens with the chirping birds and fresh breeze playing with the dewy grass and green leaves. The evening slowly dies at night with a lit-up star-studded sky staring lovingly at the earth. Whether the bright sunny mornings or long quiet nights, nature in the countryside always looks dolled up to captivate your heart.
The beauty of the countryside is a reflection of simplicity and the joy that resides in it. Thus, we curate these country quotes so you get the essence of serene and simple country lives.
Best Country Quotes For The Peace And Simplicity
1. "The country is lyric, the town dramatic. When mingled, they make the most perfect musical drama." – Henry Wadsworth Longfellow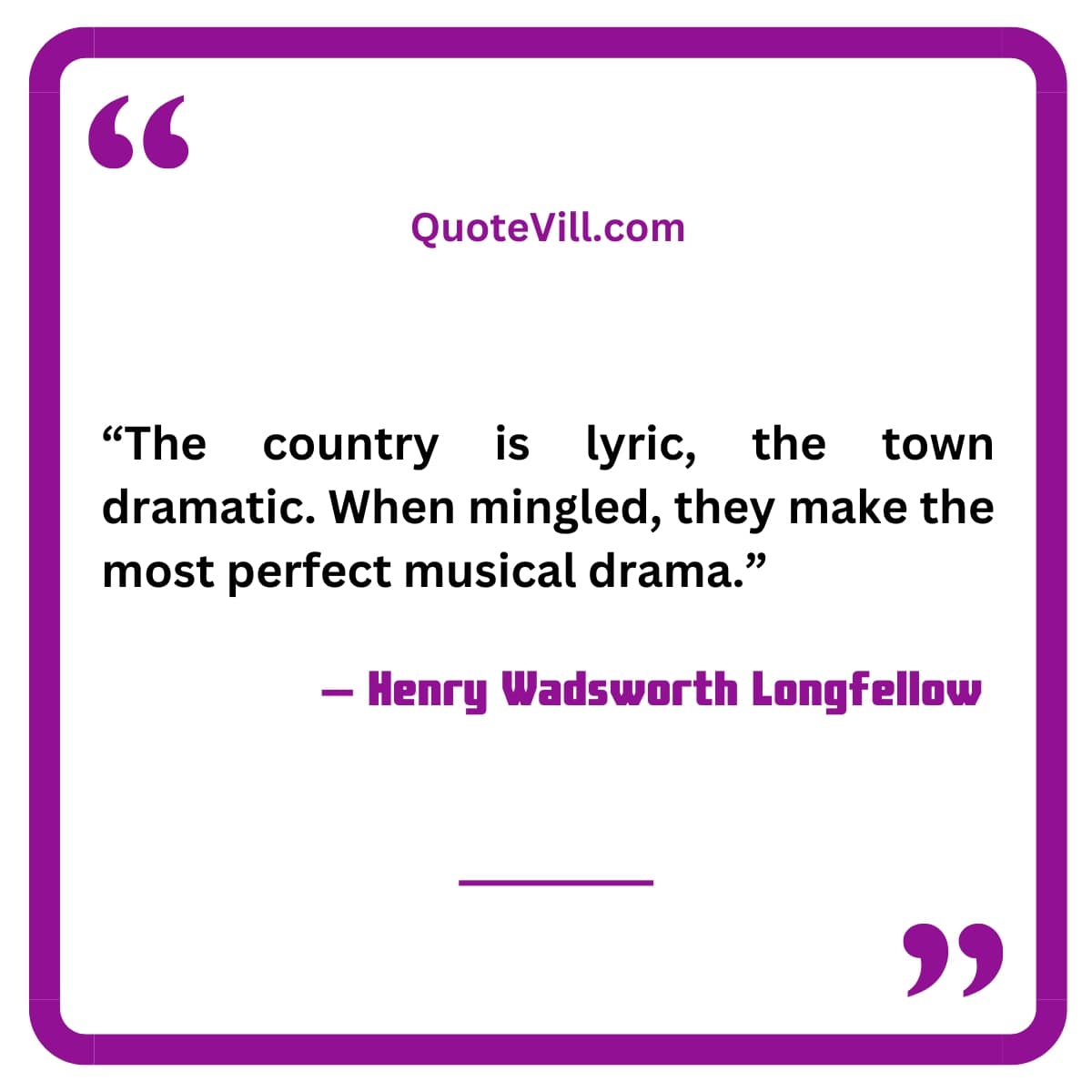 2. "In quietness and in confidence shall be your strength." – Isaiah 30:15
3. "Country life is the only real life, the rest is merely existing." – Cowboy Saying
4. "I'd rather be on my farm than be emperor of the world." – George Washington
5. "The country is not just a place, but a feeling, a way of life."
6. "The sounds of the country whisper in the wind, and in them, we find our peace."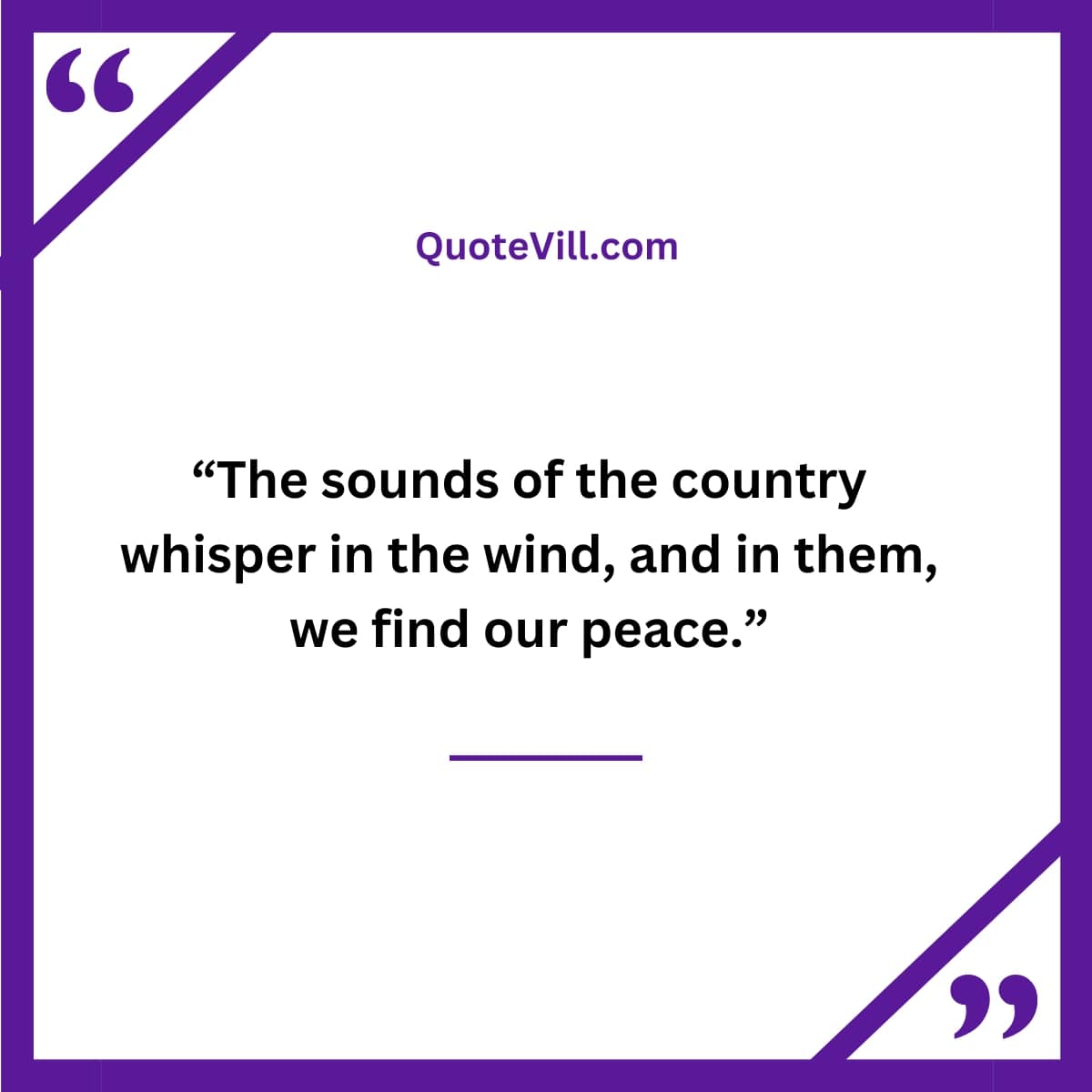 7. "Country life frames simplicity in a way that the city never can."
8. "There's a calm in the country that reaches the soul."
9. "Country life lends itself to moments, not just memories."
10. "Living country is like living on the very pulse of life itself."
Great Country Quotes For Patriotism
1. "The country – that is enough. What would anyone live for but to make new love true in it, to make the waste places fruitful and the wild places tame in it?" – Robert Frost
2. "In the country, no matter where, you feel a yearning for that commune with nature which you know is healthful – the feeling that you are fulfilling a physical requirement of the best kind." – Edward Bok
3. "You need a village, if only for the pleasure of leaving it. A village means that you are not alone, knowing that in the people, the trees, the soil, there is something that belongs to you, waiting for you when you are not there." – Cesare Pavese
4. "Rural life is a great deal about being present in a certain place at a certain time, about the seasons and the weather, the smells and sounds, the rhythm of the place. It is made up of lots of emptiness: wide skies, long roads; time to think, to see, to smell, to wonder." – Deborah Tall
5. "The country is both the philosopher's garden and his library, in which he reads and contemplates the power, wisdom and goodness of God." – William Penn
6 "Country life is a perennial adolescence. The chores at hand are the reality. But the world lies before one, and every tree and flower insists upon adolescence." – Walter Murdoch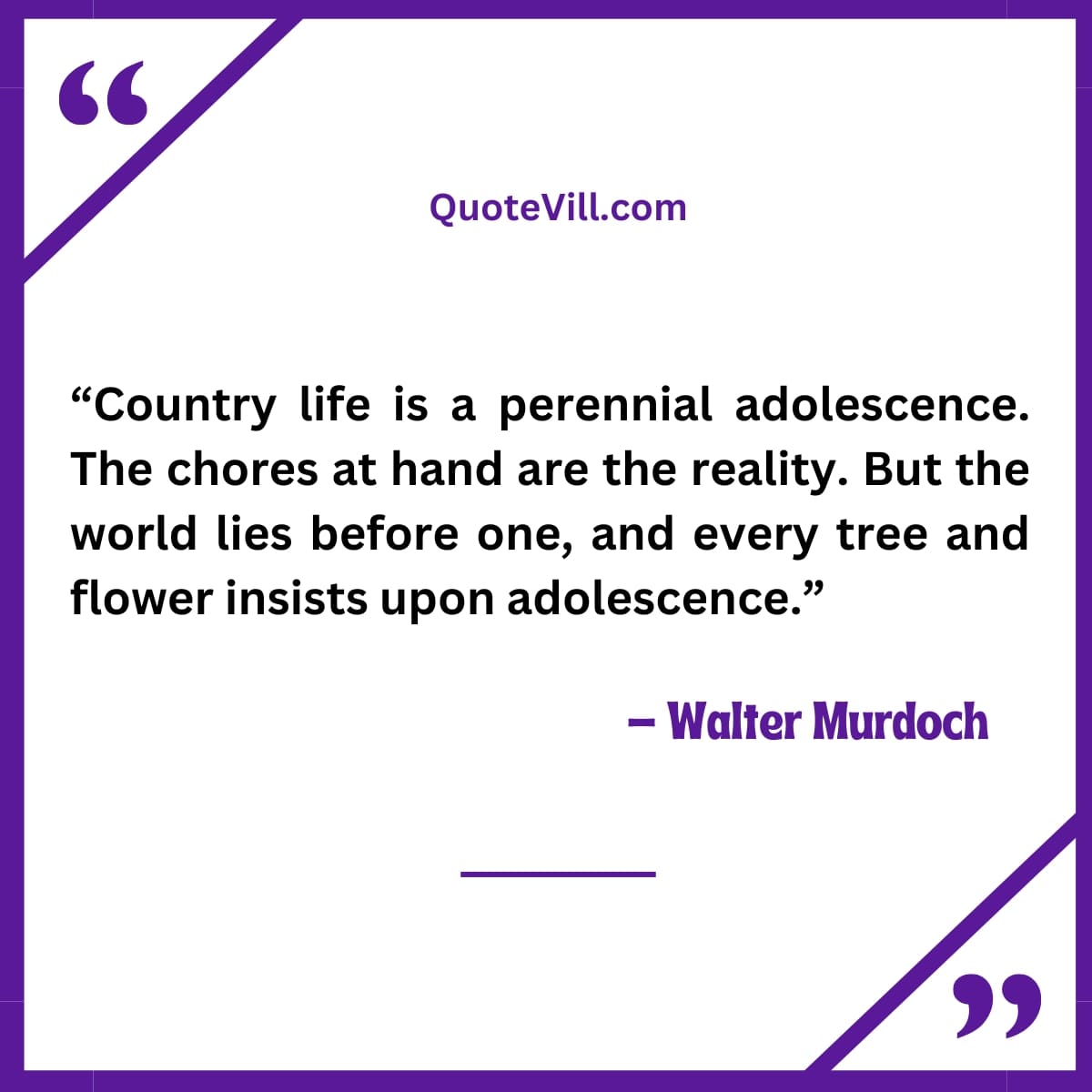 7. "For the true country-lover, each month in the country has its own beauty; and even in winter, when it is almost a caricature of summer, it possesses a charm of its own." – H. E. Bates
8. "The pleasure of jogging and running is rather like that of wearing a fur coat in Texas in August: the true joy comes in being able to take the damn thing off." – Joseph Epstein
9. "The only place that I'd be worried about being or not being is right here, right now, on this beautiful, lovable farm and in the arms of my lovable wife." – E.B. White
10. "The way to live in the country is to do something useful… Then you have solitude and companionship, exertion and ease, and play at every turn." – Ralph Waldo Emerson
Inspirational Quotes About Country Living
1. "In the country, we move with the rhythms of the earth. This connection to nature is the heart of our happiness."
2. "Country living is honest, real, and always rewarding. The toil you put into the land returns to you tenfold."
3. "You find yourself when you lose yourself in the service of the land. That's the charm of country living."
4. "The simpler the life, the more profound the experience. That's the secret we discover in country living."
5. "Country living is a constant reminder that every day is a gift that the earth gives us. Make the most of it."
6. "The peace of the country is not in the silence, but in the mindfulness it brings. Live in the moment, live in the country."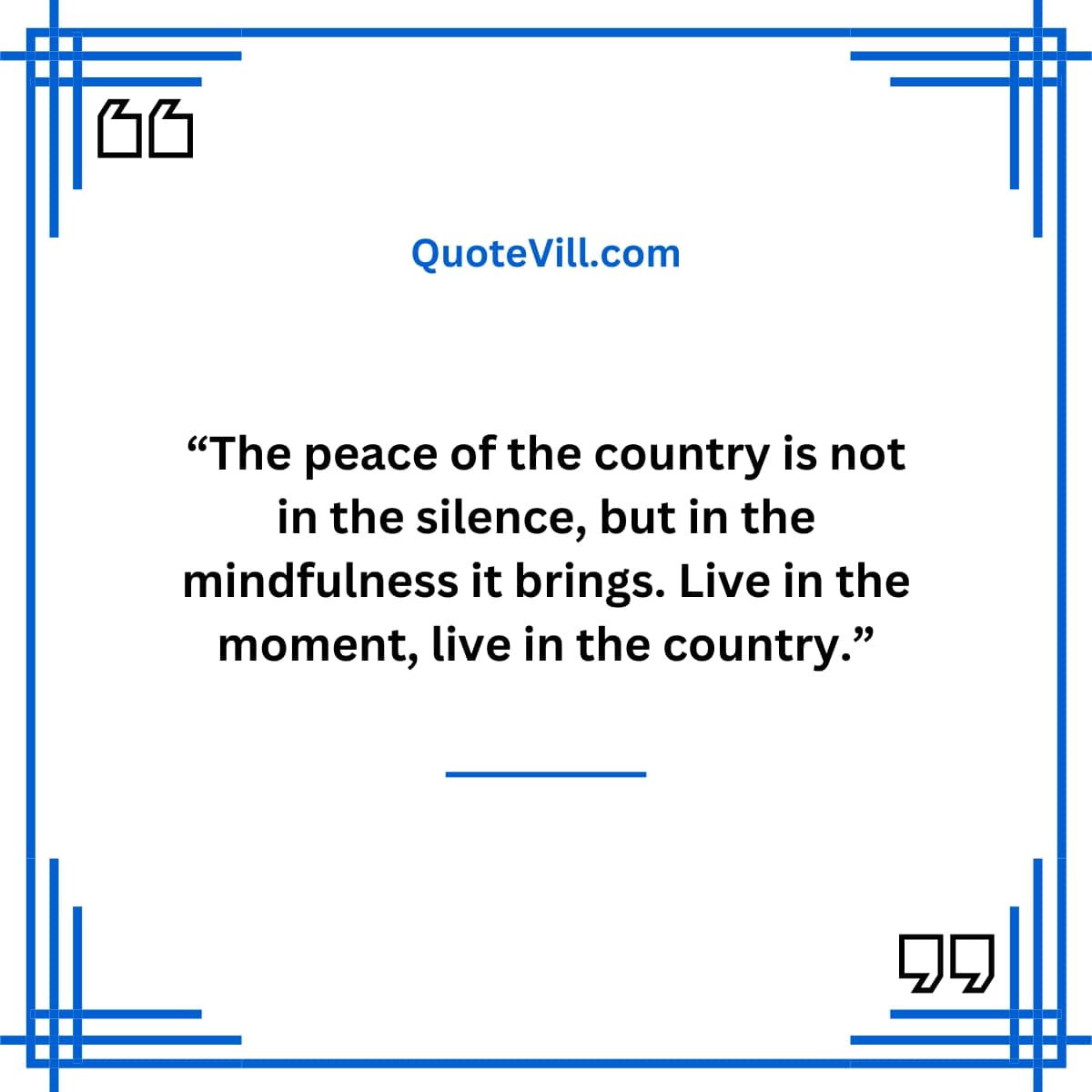 7. "In the heart of the country, we learn life's greatest lesson: To appreciate the little things."
8. "The reward of waking up in the country is not the fresh air, it's the fresh perspective."
9. "Country living teaches us patience. In the slow rhythm of nature, we find our peace."
10. "The country does not hurry, yet everything is accomplished. Let's live with that wisdom."
Country Quotes From The Songs & Music
1. "Country roads, take me home, to the place I belong." – John Denver, 'Take Me Home, Country Roads'
2. "On a hill far away, stood an old rugged cross." – Brad Paisley, 'The Old Rugged Cross'
3. "Where I was born, where I was raised, where I keep all my yesterdays." – Miranda Lambert, 'The House That Built Me'
4. "And I can see the sun settin' fast, and just like they say, nothing good ever lasts." – George Strait, 'Carrying Your Love With Me'
5. "Dirt road in the twilight, woods so cool and dark." – Carrie Underwood, 'Choctaw County Affair'
6. "When the sun goes down, stars come out like the tears your not allowed to cry." – Kacey Musgraves, 'Star-Crossed'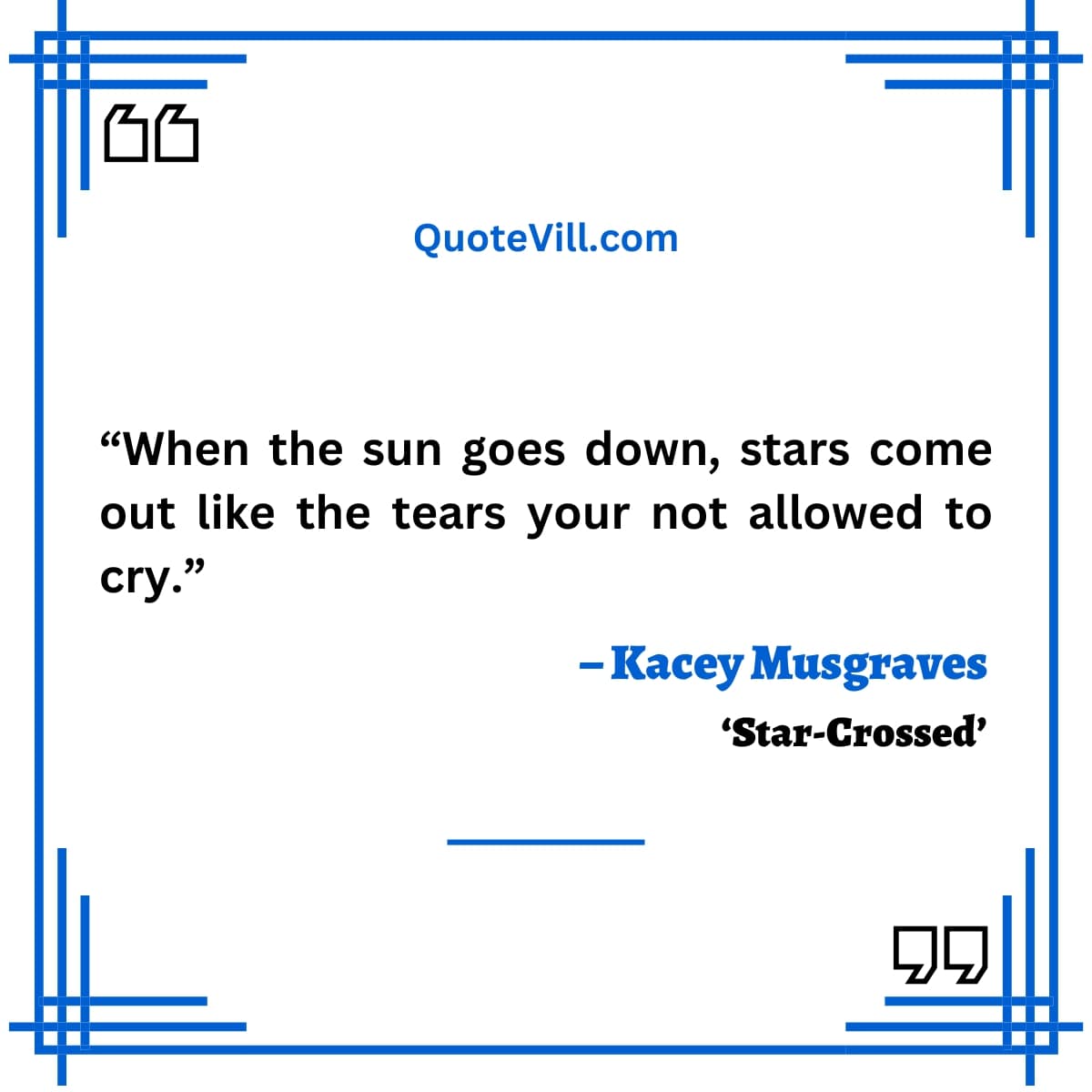 7. "Well life on the farm is kinda laid back." – John Denver, 'Thank God I'm a Country Boy'
8. "Where the green grass grows, watch my corn pop up in rows." – Tim McGraw, 'Where The Green Grass Grows'
9. "Country is, depending on how you do it, hard work, but it's good work." – Dolly Parton, 'Tennessee Homesick Blues'
10. "In my Tennessee mountain home, life is as peaceful as a baby's sigh." – Dolly Parton, 'Tennessee Mountain Home'
Country Quotes For The Love & Family
1. "The little things? The little moments? They aren't little." – Jon Kabat-Zinn
2. "The country is lyric, the town dramatic. When mingled, they make the most perfect musical drama." – Henry Wadsworth Longfellow
3. "In the end, the love you take is equal to the love you make." – Paul McCartney
4. "Family is not an important thing, it's everything." – Michael J. Fox
5. "The greatest thing you'll ever learn is just to love and be loved in return." – Edgar Allan Poe
6. "Country things are the necessary root of our life – and that remains true even of a rootless and tragically urban civilization." – George Santayana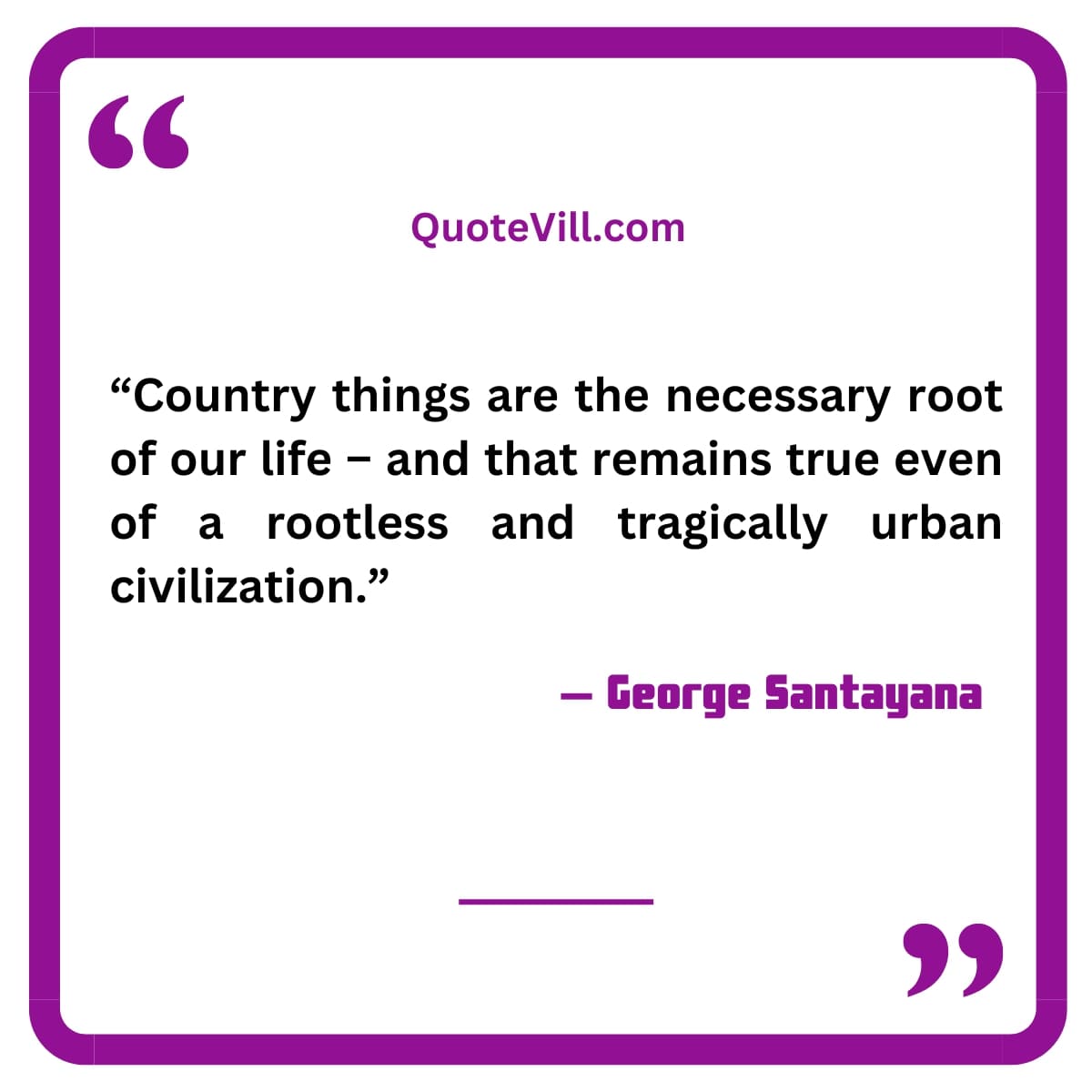 7. "Family and friends are hidden treasures, seek them and enjoy their riches." – Wanda Hope Carter
8. "To us, family means putting your arms around each other and being there." – Barbara Bush
9. "In family life, love is the oil that eases friction, the cement that binds closer together, and the music that brings harmony." – Friedrich Nietzsche
10. "The country is where you find yourself, when you want to lose yourself." – Dave Smith
Short Country Quotes For Social Media
1. "Embracing the country roots, cherishing the rustic charm."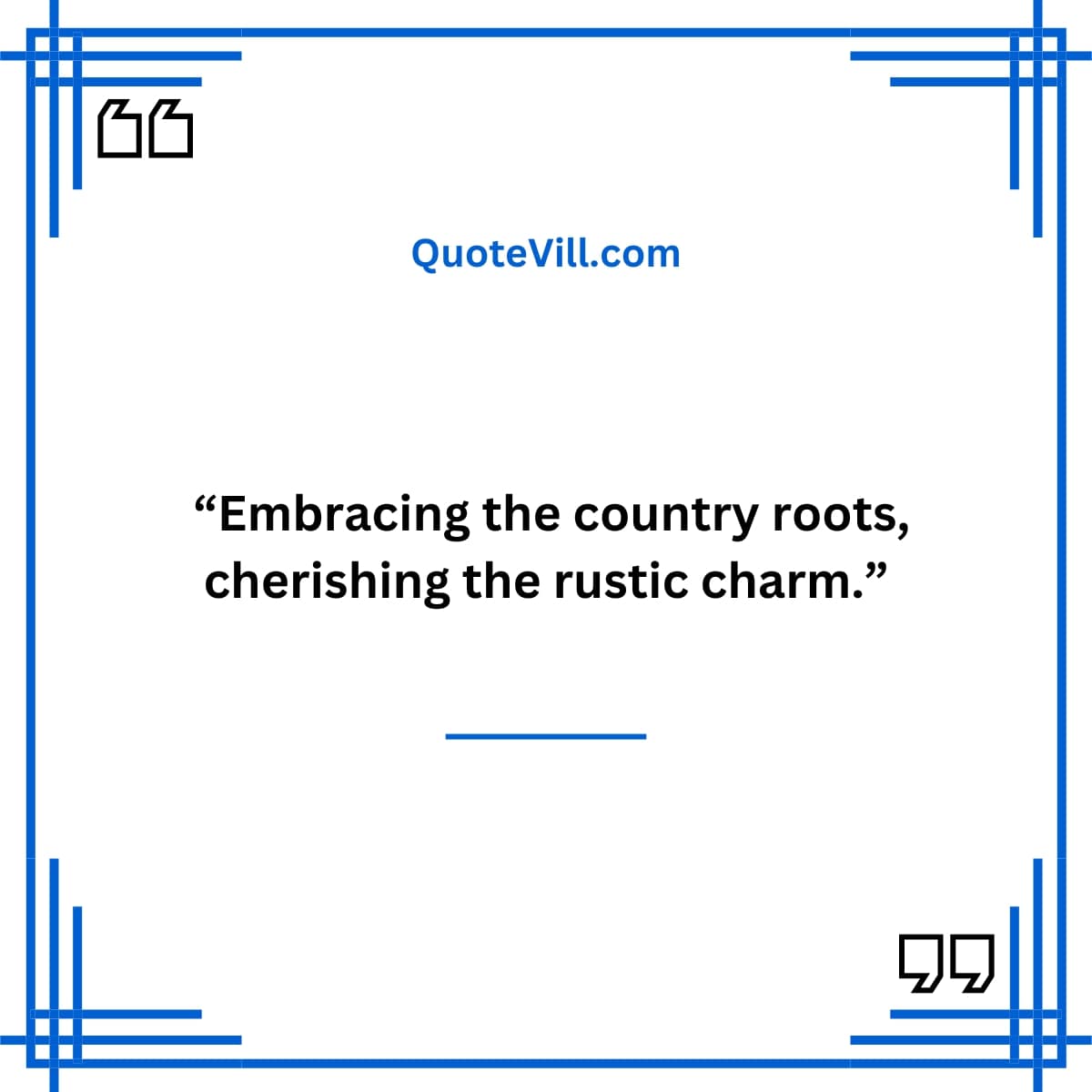 2. "Living country – Breathe simplicity, exhale serenity."
3. "Country roads, open fields – my heart's home."
4. "Country living – where peace finds its home."
5. "In the heart of the country, beneath the endless skies."
6. "Life is better in boots and wide-open spaces."
7. "Chasing sunsets, living dreams, loving country."
8. "Country living – Savoring life's simplest, sweetest notes."
9. "In the rhythm of country, I found my harmony."
10. "Country life – Where every path leads to peace."