Dance quotes are all about dedication, motivation, and courage to take on challenges because not every person is as good in dancing as others are. These quotes explain that dancing is all about giving 100% and working hard with passion because when a person doesn't realize the importance and efforts to be made, he/she would not be able to learn dancing.
Life becomes happier and more satisfactory when it is full of peace and comfort that everything is moving in the way a person wants. Whether it is about professional life or personal, the person has to make sure that things are going as expected. Sometimes, problems become so intense and hard that people start to lose their patience and get depressed with whatever is happening in their lives. They get themselves busy with different hobbies or activities that can keep them away from problems. Some read books, watch television, get pets, or even, dance to keep themselves relaxed because these activities can help a person to forget problems for a certain time period. Just like dance quotes, there are phrases or quotes for every activity that explain their essence and allow a person to realize that nothing would go wrong in their lives.
Dance quotes give a new vision that everything in the world is dancing to a unique rhythm and music and people can hear them when they start to observe and pay attention to the things they have been neglecting. The best thing is that dance quotes can actually change the way of living!
Most Inspirational 20 Dance Quotes
1. "Dance is the hidden language of the soul." – Martha Graham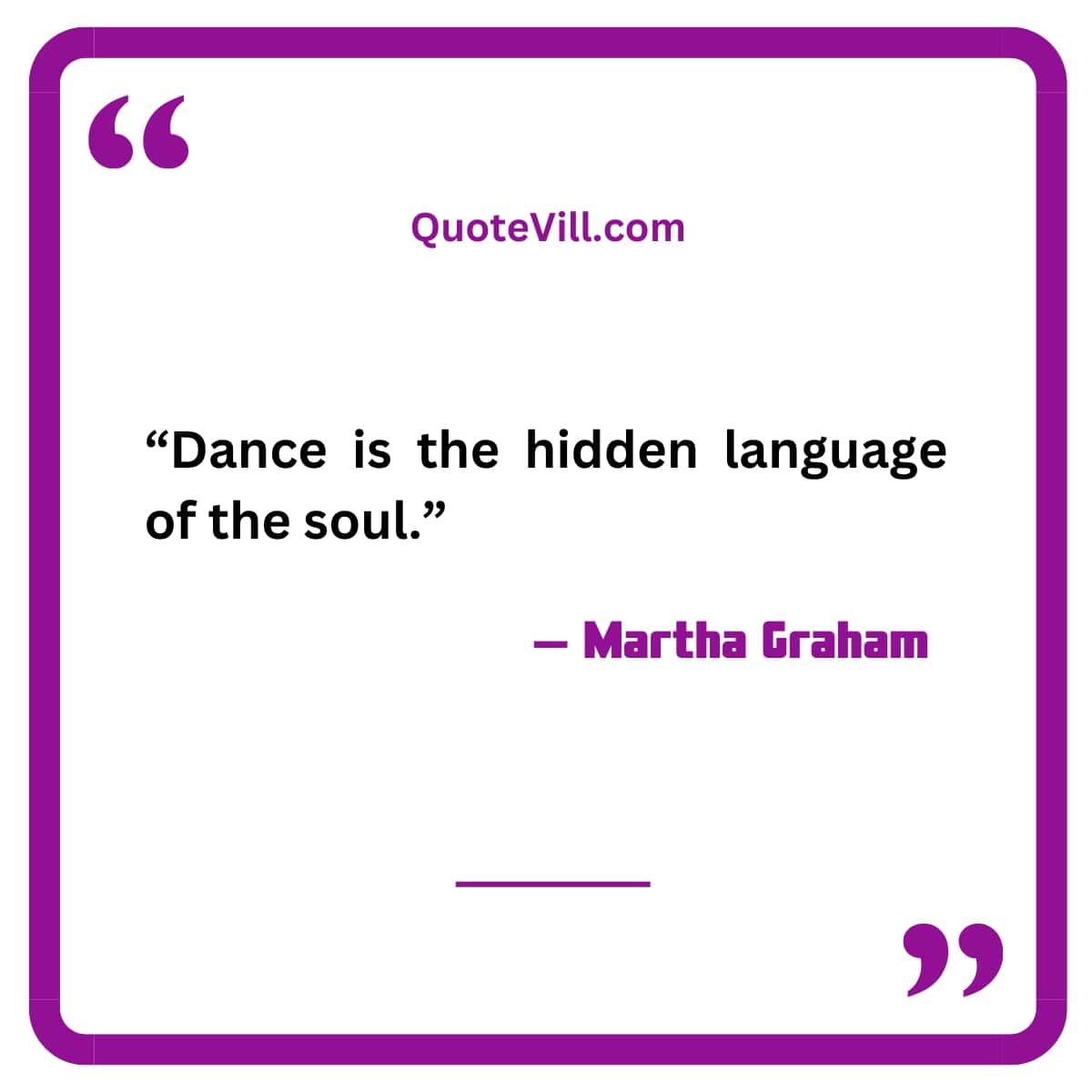 2. "To touch, to move, to inspire. This is the true gift of dance." – Aubrey Lynch
3. "Dance is a song of the body. Either of joy or pain." – Martha Graham
4. "Dance, dance, otherwise we are lost." – Pina Bausch
5. "Do it big, do it right, and do it with style." – Fred Astaire
6. "We should consider every day lost on which we have not danced at least once." – Friedrich Nietzsche
7. "Great dancers are not great because of their technique, they are great because of their passion." – Martha Graham
8. "Life is short and there will always be dirty dishes, so let's dance." – James Howe
9. "Dance is like life. It exists as you are flitting through it, and when it's over, it's done." – Jerome Robbins
10. "Dance is music made visible." – George Balanchine
11. "Dance is the only art of which we ourselves are the stuff of which it is made." – Ted Shawn
12. "If you stumble, make it part of the dance." – Unknown
13. "Dance is an art that imprints on the soul. It is with you every moment, it expresses itself in everything you do." – Shirley MacLaine
14. "Dancing is a perpendicular expression of a horizontal desire." – George Bernard Shaw
15. "Dancing is like dreaming with your feet!" – Constanze
16. "Those who dance are considered insane by those who cannot hear the music." – George Carlin
17. "The job of feet is walking, but their hobby is dancing." – Amit Kalantri
18. "You don't stop dancing from growing old, you grow old from stopping to dance." – Unknown
19. "Dancing can reveal all the mystery that music conceals." – Charles Baudelaire
20. "Every dance you make belongs to you. It is part of your collection. When you think of it like that, you'll want to make your next routine the best you've ever made!" – Torron-Lee Dewar
Cute Dance Quotes And Sayings 
21. "Life is sweet when you pay attention. When it doesn't seem sweet, put a sticker on your nose and do a funky dance." – Whitney Scott
22. "When in doubt, dance it out!" – Unknown
23. "Why walk when you can dance?" – Ellen van Dam
24. "Dancing is just like dreaming with your feet!" – Constanze Mozart
25. "Dance first. Think later. It's the natural order." – Samuel Beckett
26. "Dance is a way to find yourself and lose yourself, all at the same time." – Unknown
27. "You can dance anywhere, even if only in your heart." – Unknown
28. "You know you're a dancer when 'and' is a number." – Unknown
29. "When you dance, your purpose is not to get to a certain place on the floor. It's to enjoy each step along the way." – Wayne Dyer
30. "Dancers are the athletes of God." – Albert Einstein
Dance Quotes From The Movies
31. "Nobody puts Baby in a corner." – Dirty Dancing
32. "God wouldn't have given you maracas if He didn't want you to shake 'em." – Dirty Dancing
33. "Life's short. If you don't try new things, you'll never know what you're best at. And if you don't find out what you're best at… you're missing out on a lot of fun!" – Shall We Dance?
34. "Oh yes, there can be a dark side… Dance is a very powerful drug, Mr. Keane. If embraced judiciously, it can exorcise demons, access deep-seated emotions, and color your life in joyous shades of brilliant magenta that you never knew existed." – Dance Flick
35. "Dancing is not just getting up painlessly, like a leaf blown on the wind; dancing is when you tear your heart out and rise out of your body to hang suspended between the worlds." – Rumi in The Last Dance
36. "We're counting on you to, uh, to sex it up out there." – Take The Lead
37. "Some people learn to dance…Others are born to." – Step Up
38. "Dancing is about being exactly who you want to be in that moment." – Billy Elliot
39. "I'm not sure if I know enough about anything, but I know I have to dance." – Center Stage
40. "I've been thinkin' about the music for our routine. We don't have to really jump. We can… we can get there another way." – Save The Last Dance
Short Dance Quotes For Instagram
41. "Eat, sleep, dance, repeat."
42. "Dance like nobody's watching."
43. "Dance is poetry in motion."
44. "One more dance, please."
45. "When in doubt, just dance it out."
46. "Life is better when you dance."
47. "Dance, it's cheaper than therapy."
48. "In the mood to twirl."
49. "Rhythm is a dancer."
50. "Shut up and dance with me."
51. "Dance to express, not to impress."
52. "Dance is the hidden language of the soul."
53. "Life is a dance, from one stage to the next."
54. "Find me where the music meets the ocean."
55. "Live, love, dance."
56. "Dance first, think later."
57. "I can't, I have dance."
58. "Keep calm and dance on."
59. "Dream with your feet."
60. "Dance is life."