Donald Trump, a real estate magnate, television personality, and the 45th President of the United States, has always been known for his straightforward, controversial, and impactful words. Here, we explore some of the most memorable Donald Trump quotes that have made headlines, sparked debates, and shaped his legacy.
Donald Trump is known for his hard work, dedication, and commitment which have always helped him to create a separate position and stand out among others. The best thing about Donald Trump quotes is that they explain his approach to never give up and even suggest people do the same. His words are enough to encourage people because whatever he says, it's from his own life experiences, which means that people can trust on whatever he says.
Donald Trump quotes are based on his life and what he learned from it. He always suggests people pursue their dreams and struggle as much as they can. The reason behind his success is untiring hard work and commitment that has always led him in the right direction. Not only that, Trump believes in doing everything with passion because if a person doesn't know how he/she is supposed to perform, there would be no reason for life! A life without passion is nothing because everything revolves around how badly a person wants it. So, every person should try to make his/her life better with a clear vision and dedication
Most Popular Donald Trump Quotes 
1. "Sometimes by losing a battle you find a new way to win the war."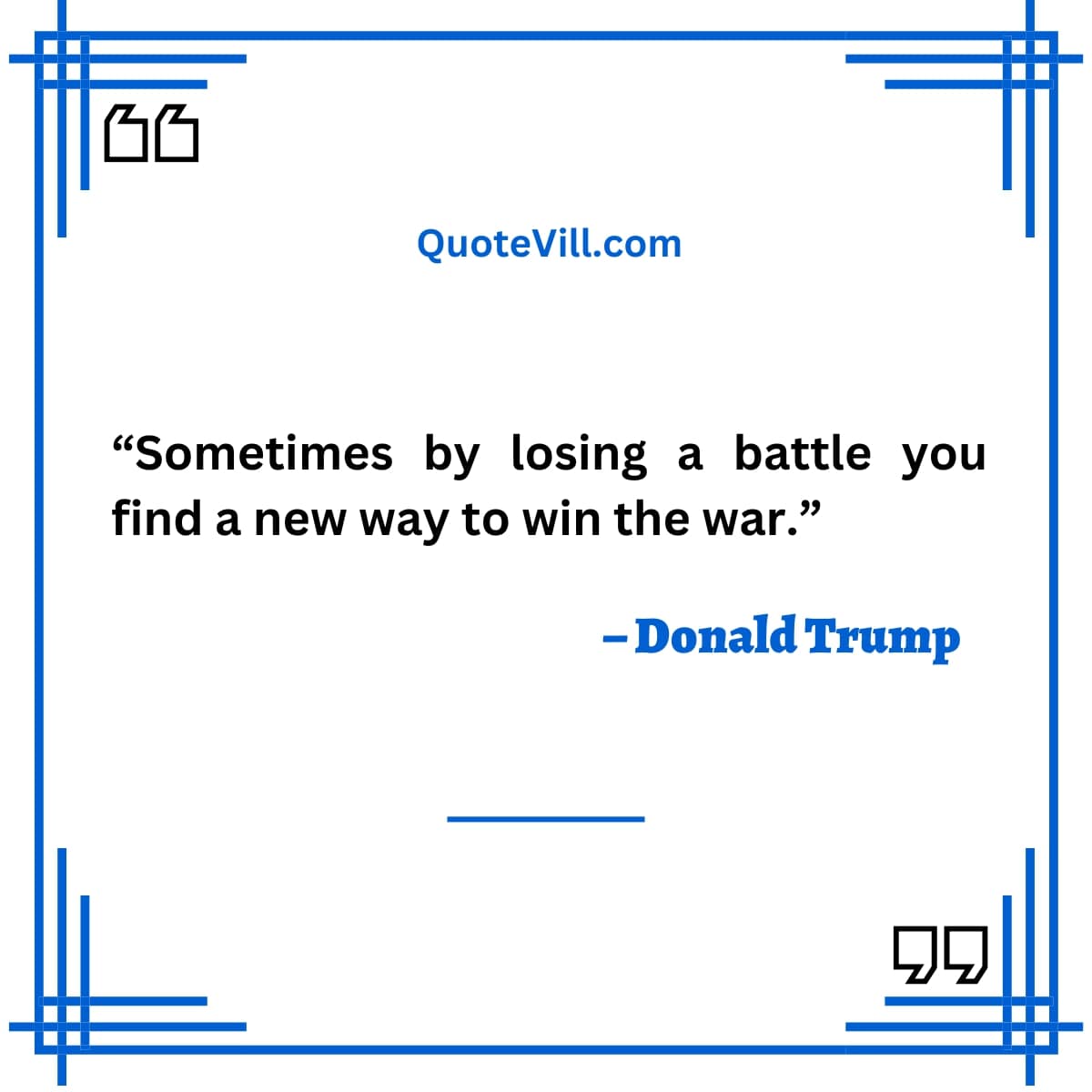 2. "I try to learn from the past, but I plan for the future by focusing exclusively on the present. That's where the fun is."
3. "I don't do it for the money. I've got enough, much more than I'll ever need. I do it to do it. Deals are my art form."
4. "What separates the winners from the losers is how a person reacts to each new twist of fate.
5. "You have to think anyway, so why not think big?"
6. "In the end, you're measured not by how much you undertake but by what you finally accomplish."
7. "When somebody challenges you, fight back. Be brutal, be tough."
8. "If you're going to be thinking, you may as well think big."
9. "What separates the winners from the losers is how a person reacts to each new twist of fate."
10. "Sometimes your best investments are the ones you don't make."
11. "All of the women on 'The Apprentice' flirted with me – consciously or unconsciously. That's to be expected."
12. "I've always won, and I'm going to continue to win. And that's the way it is."
13. "I wasn't satisfied just to earn a good living. I was looking to make a statement."
14. "People love me. And you know what, I have been very successful. Everybody loves me."
15. "You know the funny thing, I don't get along with rich people. I get along with the middle class and the poor people better than I get along with the rich people."
16. "It's always good to be underestimated."
17. "I try to learn from the past, but I plan for the future by focusing exclusively on the present. That's where the fun is."
18. "One of the key problems today is that politics is such a disgrace. Good people don't go into government."
19. "I have made the tough decisions, always with an eye toward the bottom line. Perhaps it's time America was run like a business."
20. "When somebody challenges you, fight back. Be brutal, be tough."
21. "Without passion you don't have energy, without energy you have nothing."
22. "I like thinking big. If you're going to be thinking anything, you might as well think big."
23. "Sometimes your best investments are the ones you don't make."
24. "I've seen people where it rules their lives, you don't want to be that. You want to live your life. You'll never get it perfect."
25. "The point is that you can't be too greedy."
26. "As long as you're going to be thinking anyway, think big."
27. "Experience taught me a few things. One is to listen to your gut, no matter how good something sounds on paper."
28. "In the end, you're measured not by how much you undertake but by what you finally accomplish."
29. "Sometimes by losing a battle, you find a new way to win the war."
30. "I've always felt that a lot of modern art is a con, and that the most successful painters are often better salesmen and promoters than they are artists."
31. "Sometimes your best investments are the ones you don't make."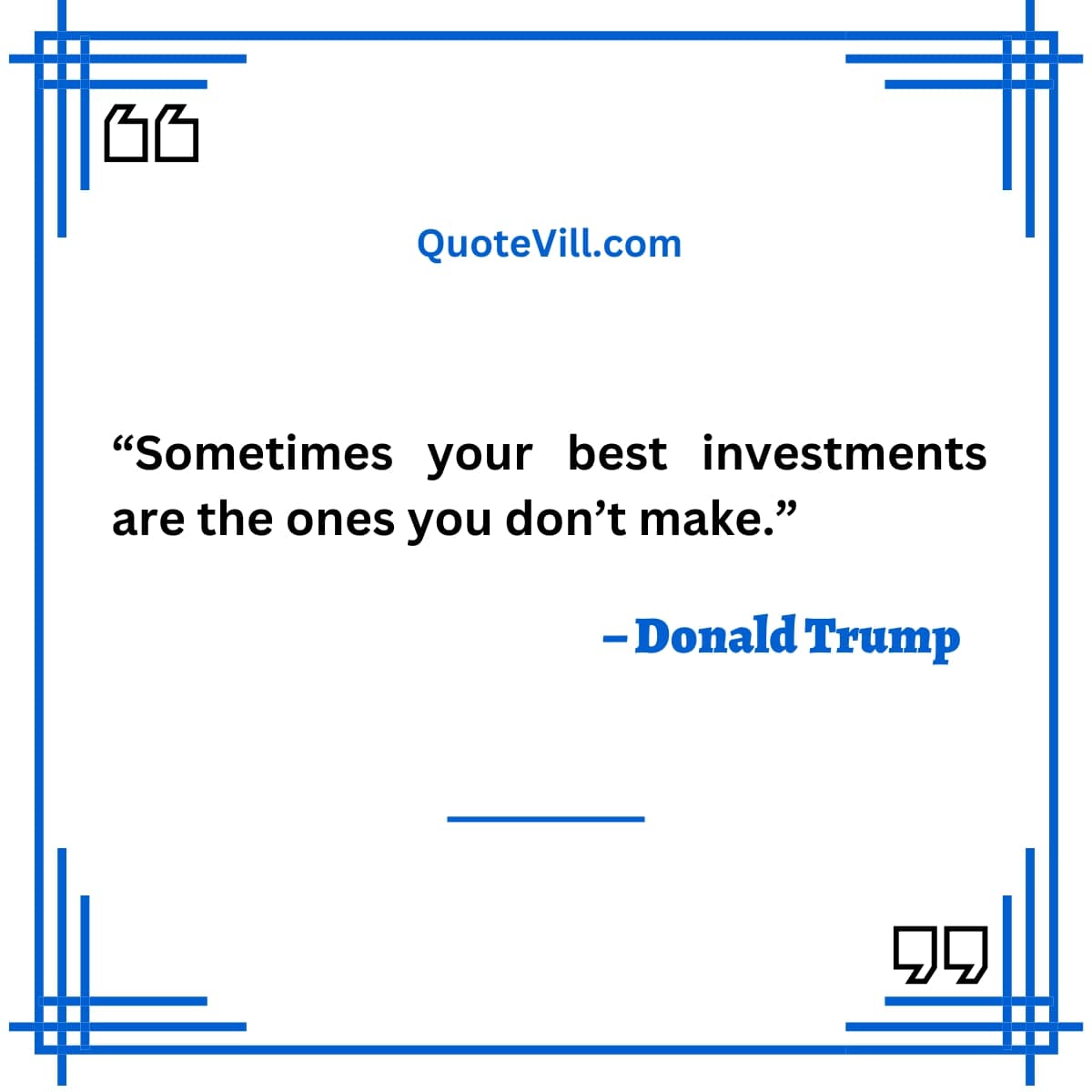 32. "If you're interested in 'balancing' work and pleasure, stop trying to balance them. Instead, make your work more pleasurable."
33. "When you are wronged repeatedly, the worst thing you can do is continue taking it – fight back!"
34. "Don't get sidetracked. If you do get sidetracked, get back on track as soon as possible. Ultimately sidetracking kills you."
35. "Criticism is easier to take when you realize that the only people who aren't criticized are those who don't take risks."
36. "Entrepreneurs are always taking feedback, especially from their customers. They're the ones that matter most."
37. "I don't hire a lot of number-crunchers, and I don't trust fancy marketing surveys. I do my own surveys and draw my own conclusions."
38. "It's always good to be underestimated."
39. "I have a great relationship with the blacks. I've always had a great relationship with the blacks."
40. "If you're going to be thinking, you may as well think big."
41. "A lot of people don't like to win. They actually don't know how to win, and they don't like to win because down deep inside they don't want to win."
42. "In the end, you're measured not by how much you undertake but by what you finally accomplish."
43. "Do you mind if I sit back a little? Because your breath is very bad."
44. "I have no patience for injustice, no tolerance for government incompetence, no sympathy for leaders who fail their citizens."
45. "Every time you walk down the street people are screaming, 'You're fired!'"
46. "In life you have to rely on the past, and that's called history."
47. "Remember, there's no such thing as an unrealistic goal – just unrealistic time frames."
48. "Everything in life is luck."
49. "Part of being a winner is knowing when enough is enough. Sometimes you have to give up the fight and walk away, and move on to something that's more productive."
50. "You could see there was blood coming out of her eyes. Blood coming out of her wherever."