Worked chiefly for humanitarian rights, known as First Lady Eleanor Roosevelt was a strong political figure whom generations to come would look up to. These Eleanor Roosevelt quotes would give you insights into her truly remarkable thoughts about freedom, rights, and justice.
Despite the rough childhood and tough life as an adult, she did rise above all of it and put all her focus and energy into helping those who needed her! She was a commendable writer, public speaker, and above all, a political activist who took charge and brought many issues under her consideration that she thought she ought to, simply to bring changes that the world needed to welcome and embrace.
Honored in 2023 by the American Women's Quarters Program as one of the five women whose contribution as a humanitarian is unforgettable and remarkable, Eleanor Roosevelt is still remembered with a great deal of respect and admiration.
Most 10 Popular Eleanor Roosevelt Quotes About Life
1. "The purpose of life is to live it, to taste experience to the utmost, to reach out eagerly and without fear for newer and richer experience."
2. "You must do the things you think you cannot do."
3. "One's philosophy is not best expressed in words; it is expressed in the choices one makes… and the choices we make are ultimately our responsibility."
4. "You gain strength, courage, and confidence by every experience in which you really stop to look fear in the face."
5. "It is better to light a candle than curse the darkness."
6. "Life was meant to be lived, and curiosity must be kept alive. One must never, for whatever reason, turn his back on life."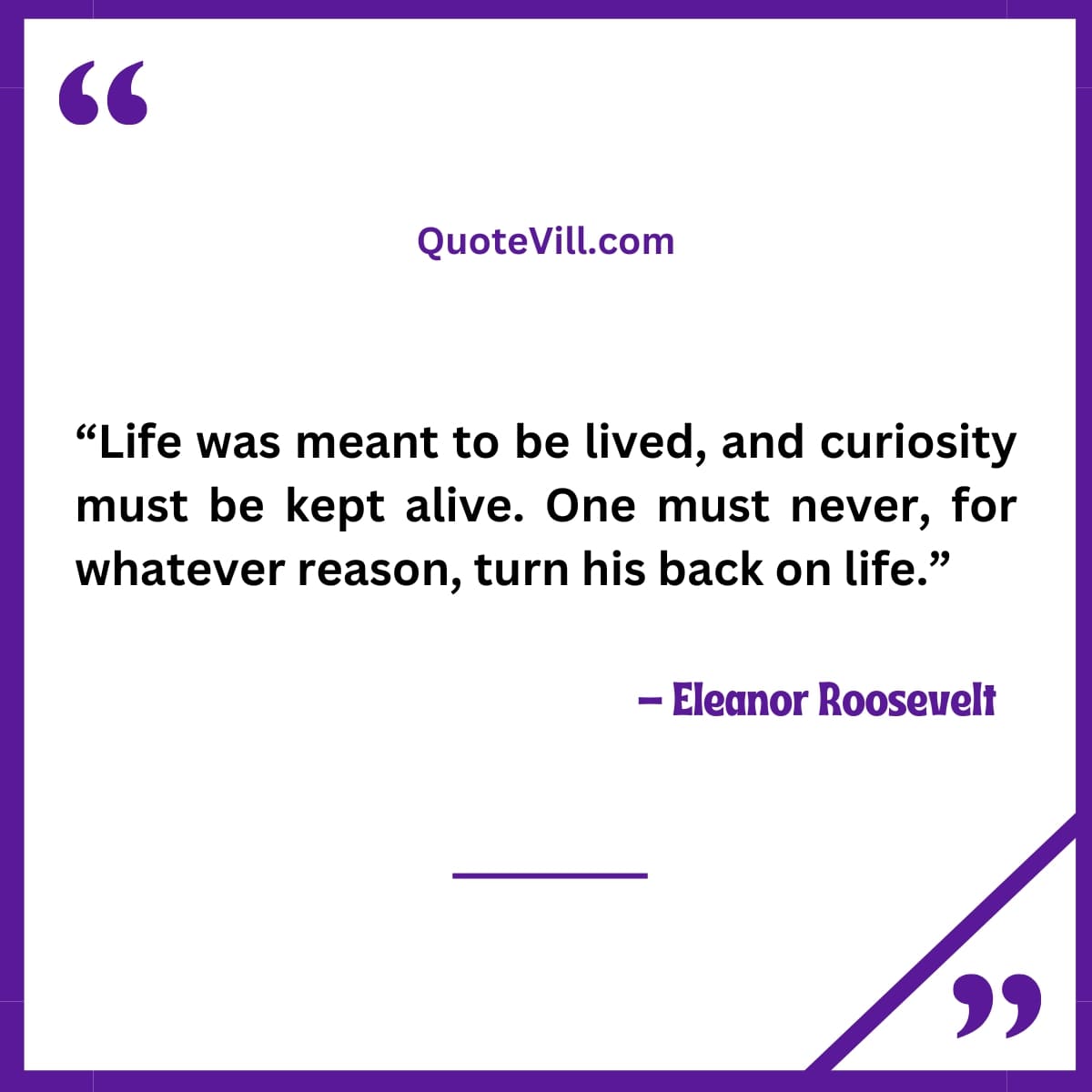 7. "You wouldn't worry so much about what others think of you if you realized how seldom they do."
8. "Life is what you make it. Always has been, always will be."
9. "It isn't enough to talk about peace. One must believe in it. And it isn't enough to believe in it. One must work at it."
10. "Happiness is not a goal; it is a by-product."
Educational Quotes Of Eleanor Roosevelt
11. "One's philosophy is not best expressed in words; it is expressed in the choices one makes… and the choices we make are ultimately our responsibility."
12. "The giving of love is an education in itself."
13. "You must do the thing you think you cannot do."
14. "You have to accept whatever comes and the only important thing is that you meet it with courage and with the best that you have to give."
15. "The future belongs to those who believe in the beauty of their dreams."
16. "I think, at a child's birth, if a mother could ask a fairy godmother to endow it with the most useful gift, that gift would be curiosity."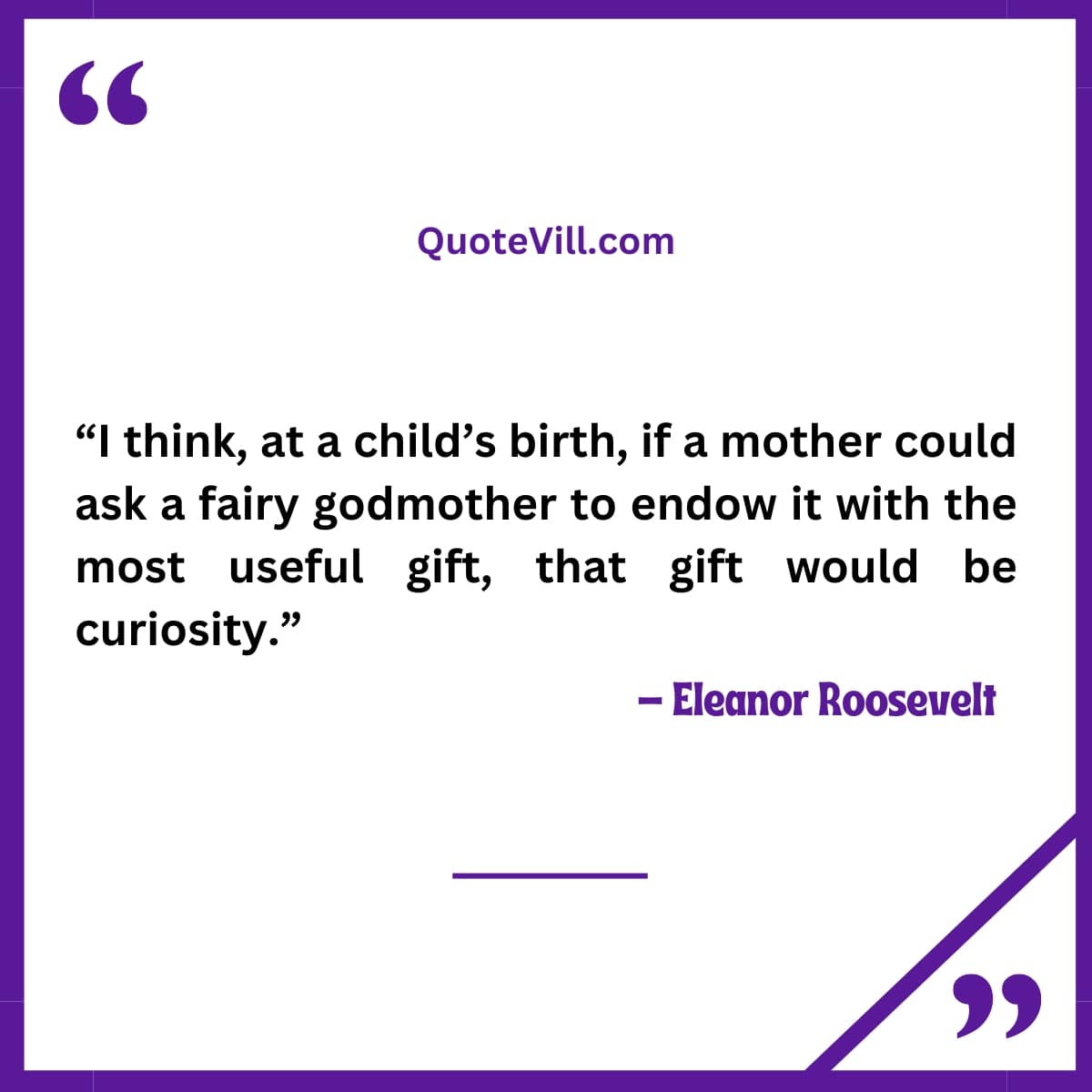 17. "It is not more vacation we need – it is more vocation."
18. "It takes as much energy to wish as it does to plan."
19. "You can often change your circumstances by changing your attitude."
20. "Life is what you make it. Always has been, always will be."
Eleanor Roosevelt Quotes On Leadership
21. "A good leader inspires people to have confidence in the leader, a great leader inspires people to have confidence in themselves."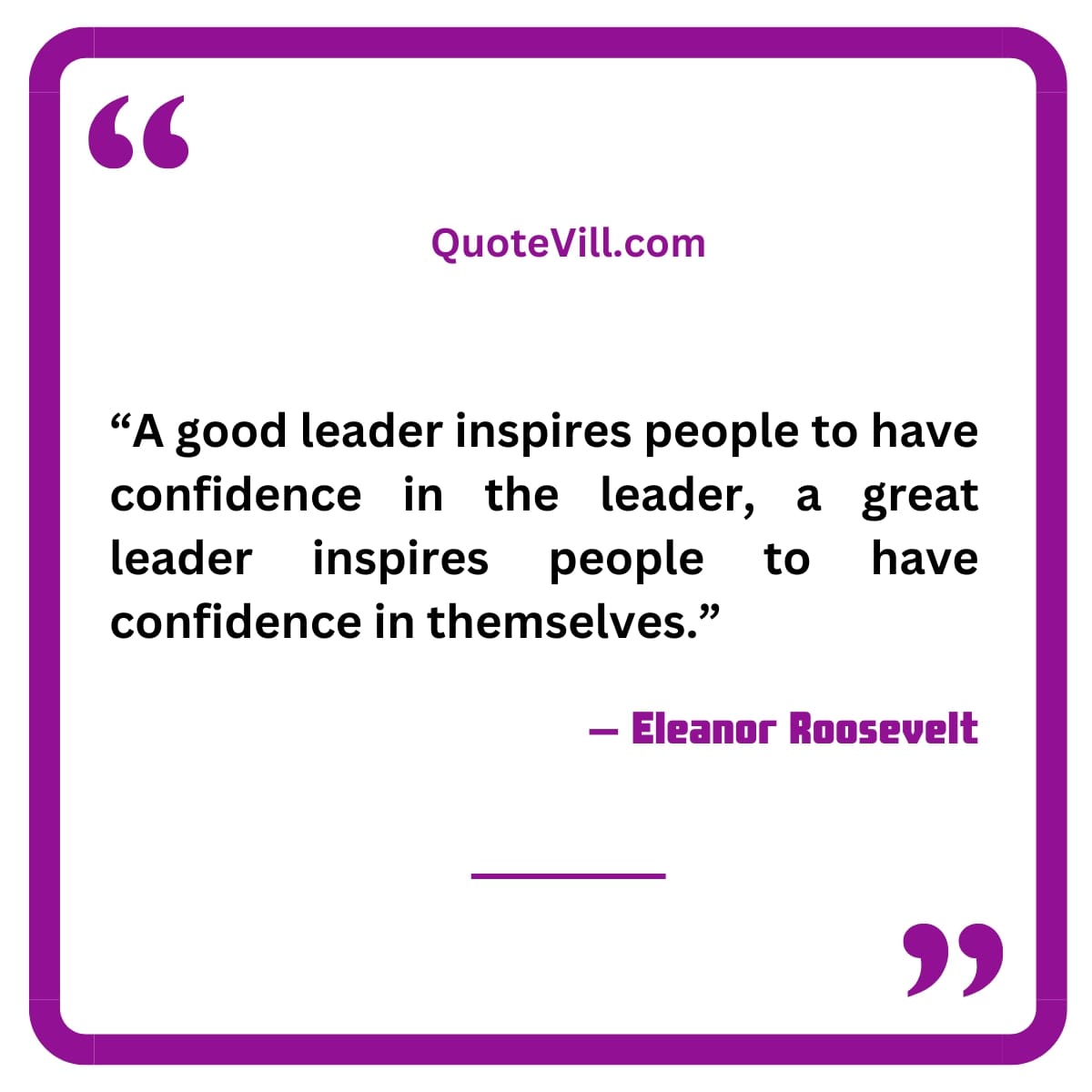 22. "It is not fair to ask of others what you are not willing to do yourself."
23. "Do what you feel in your heart to be right, for you'll be criticized anyway."
24. "No one can make you feel inferior without your consent."
25. "The future belongs to those who believe in the beauty of their dreams."
26. "Great minds discuss ideas; average minds discuss events; small minds discuss people."
27. "You can often change your circumstances by changing your attitude."
28. "In the long run, we shape our lives, and we shape ourselves. The process never ends until we die. And the choices we make are ultimately our own responsibility."
29. "Leadership is not about being in charge. It is about taking care of those in your charge."
30. "I am who I am today because of the choices I made yesterday."
Eleanor Roosevelt Quotes About Women and Feminism
31. "Too often the great decisions are originated and given form in bodies made up wholly of men, or so completely dominated by them that whatever of special value women have to offer is shunted aside without expression."
32. "In all fields, women are the equals of men and their unique qualities make it possible for them to give equally valuable service to society in a slightly different way."
33. "It seems to me of great importance to teach children respect for life. Towards this end, experiments on living animals in classrooms should be stopped. To encourage cruelty in the name of science can only destroy the finer emotions of affection and sympathy, and breed an unfeeling callousness in the young towards suffering in all living creatures."
34. "The battle for the individual rights of women is one of long standing and none of us should countenance anything which undermines it."
35. "The woman who can cherish her husband's interests, her children's activities, her own professional or social work, can rise above the drudgery involved in each if she can look upon each day as an adventure."
36. "Without equality, there can be no democracy. The first right of every individual is the right to be an individual. To recognize in women, who constitute at least half the world, anything less than full equality with men is to deny the basic principles of democracy."
37. "It isn't enough to talk about peace. One must believe in it. And it isn't enough to believe in it. One must work at it. And I think that applies as well to peace among nations as it does to peace in the home, in the family, in personal relationships, and in our own individual hearts."
38. "I once had a rose named after me and I was very flattered. But I was not pleased to read the description in the catalogue: no good in a bed, but fine up against a wall."
39. "No one can make you feel inferior without your consent."
40. "As for accomplishments, I just did what I had to do as things came along."
Motivational Eleanor Roosevelt Quotes On Success
41. "Success must include two things: the development of an individual to his utmost potentiality and a contribution of some kind to one's world."
42. "It isn't enough to talk about peace. One must believe in it. And it isn't enough to believe in it. One must work at it."
43. "Understanding is a two-way street."
44. "Work is always an antidote to depression."
45. "Since you get more joy out of giving joy to others, you should put a good deal of thought into the happiness that you are able to give."
46. "You can be as tall as you want in life, but never stand so tall that you cannot bend down to help someone else."
47. "Life has got to be lived – that's all there is to it. At seventy, I would say the advantage is that you take life more calmly. You know that 'this, too, shall pass!'"
48. "Never allow a person to tell you 'no' who doesn't have the power to say 'yes.'"
49. "If life were predictable it would cease to be life, and be without flavor."
50. "A stumbling block to the pessimist is a stepping stone to the optimist."