The people you can turn to any time aka your family be it blood-related or the one you choose, deserve every bit of your love. Show them that love with these family quotes, treasure your relationships with them, remind them how they light up your soul, warm your heart and bring more peace and happiness to your life.
It is the best way to thank them for choosing to be companions of this lifetime with you. Let them know how truly grateful you're for their presence in your life.
Life is tough and only the people around you, your blood family or soul family would make it easier and smooth. Heaven-sent angels who are now the earth angels for you, should be appreciated and reminded of how special they're and how much you value and love them. They shall get a huge piece of your love. So, give them that.
The Significance of Family Quotes
Family quotes do more than merely decorate our homes or caption our social media photos. They inspire, they resonate, and they remind us of what truly matters in life.
Bonding Over Words: Quotes about family can spark conversations and debates, leading to deeper understanding and stronger connections.
A Reminder of Love: On tough days, family quotes act as a nudge, reminding us of the unconditional love that exists within our families.
Inspiration and Motivation: Quotes can motivate us to be better family members and inspire us to build more meaningful relationships.
Family Quotes For Everyday Life
1. "In every conceivable manner, the family is the link to our past, bridge to our future." – Alex Haley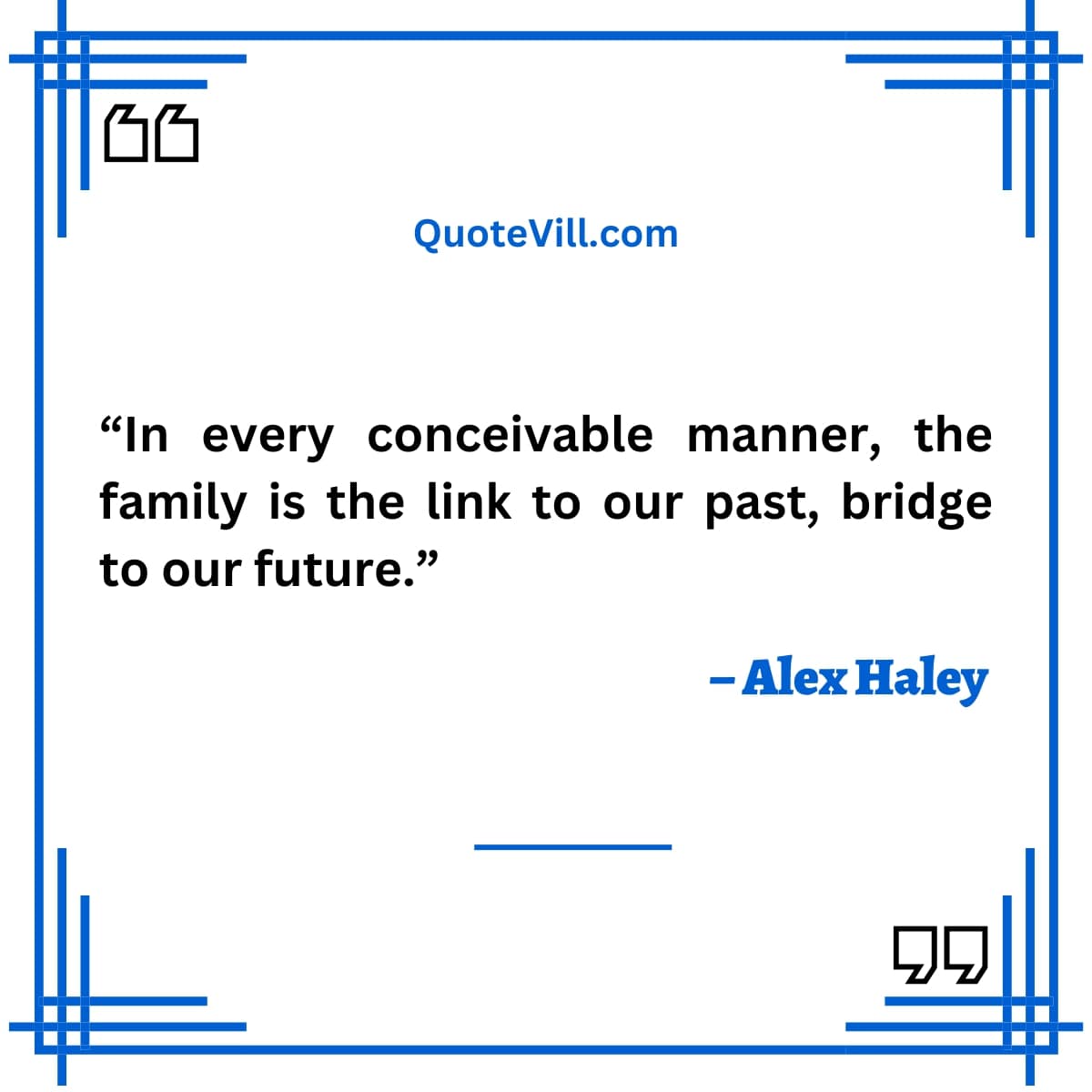 2. "The bond that links your true family is not one of blood, but of respect and joy in each other's life." – Richard Bach
3. "Other things may change us, but we start and end with family." – Anthony Brandt
5. "Family is not an important thing. It's everything." – Michael J. Fox
6. "The only rock I know that stays steady, the only institution I know that works, is the family." – Lee Iacocca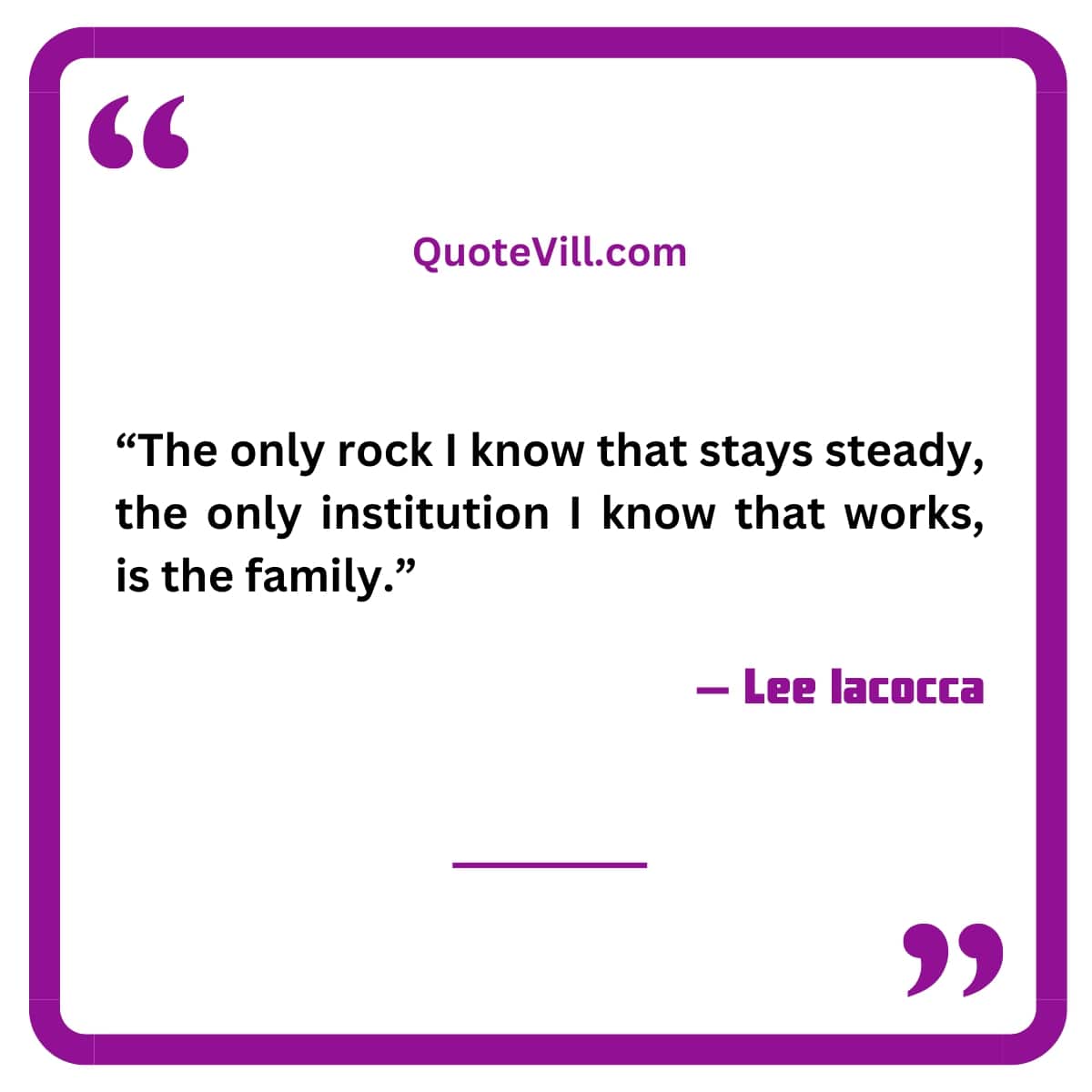 7. "Family isn't always blood. It's the people in your life who want you in theirs; the ones who accept you for who you are. The ones who would do anything to see you smile and who love you no matter what." – Unknown
8. "At the end of the day, a loving family should find everything forgivable." – Mark V. Olsen
9. "In time of test, family is best." – Burmese Proverb
10. "To us, family means putting your arms around each other and being there." – Barbara Bush
11. "Families are the compass that guides us. They are the inspiration to reach great heights, and our comfort when we occasionally falter." – Brad Henry
Inspirational Family Quotes and Sayings 
1. "Family is not defined by our genes, it is built and maintained through love."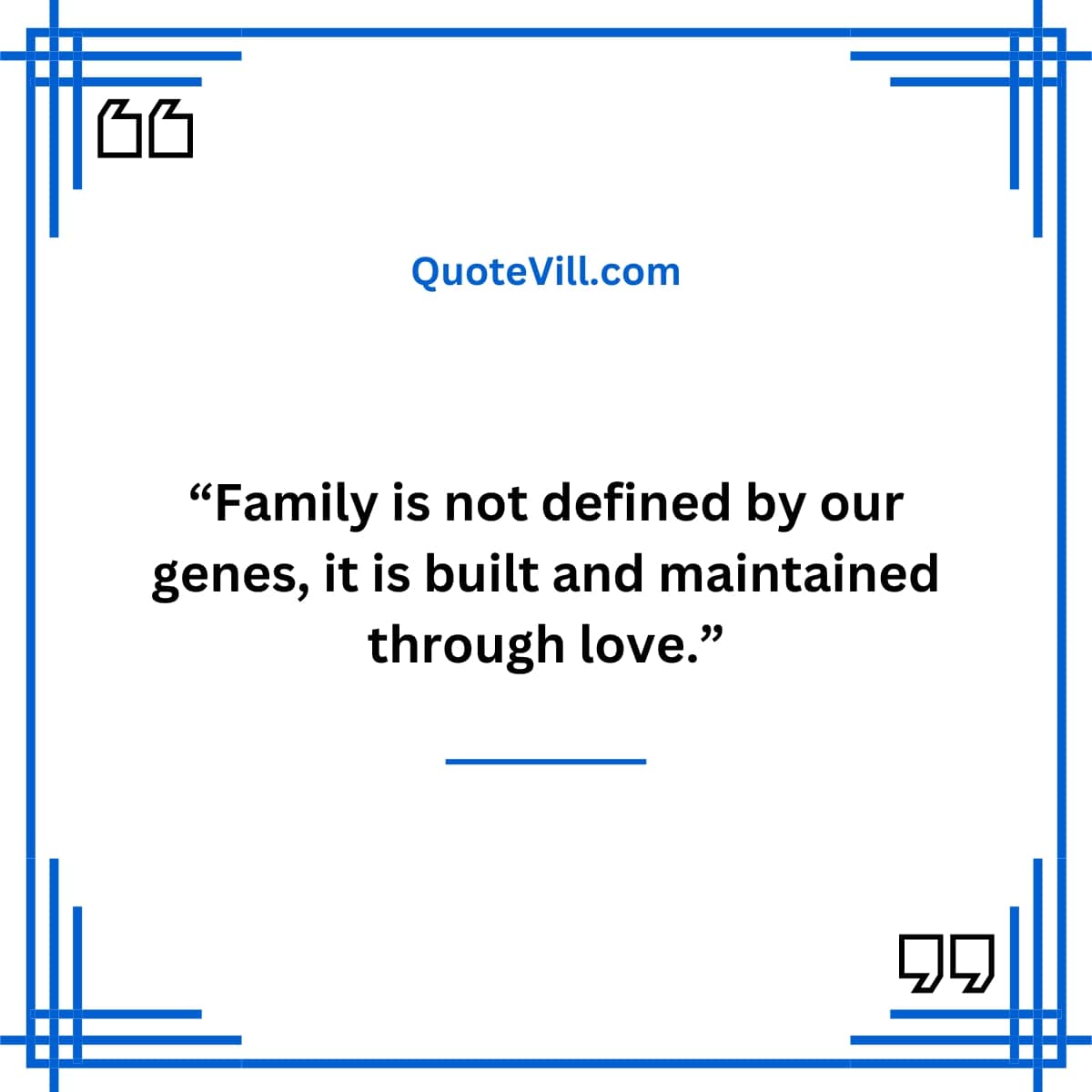 2. "Being a family means you are a part of something very wonderful. It means you will love and be loved for the rest of your life." – Lisa Weed
3. "What can you do to promote world peace? Go home and love your family." – Mother Teresa
4. "The most important thing in the world is family and love." – John Wooden
5. "You don't choose your family. They are God's gift to you, as you are to them." – Desmond Tutu
6. "A happy family is but an earlier heaven." – George Bernard Shaw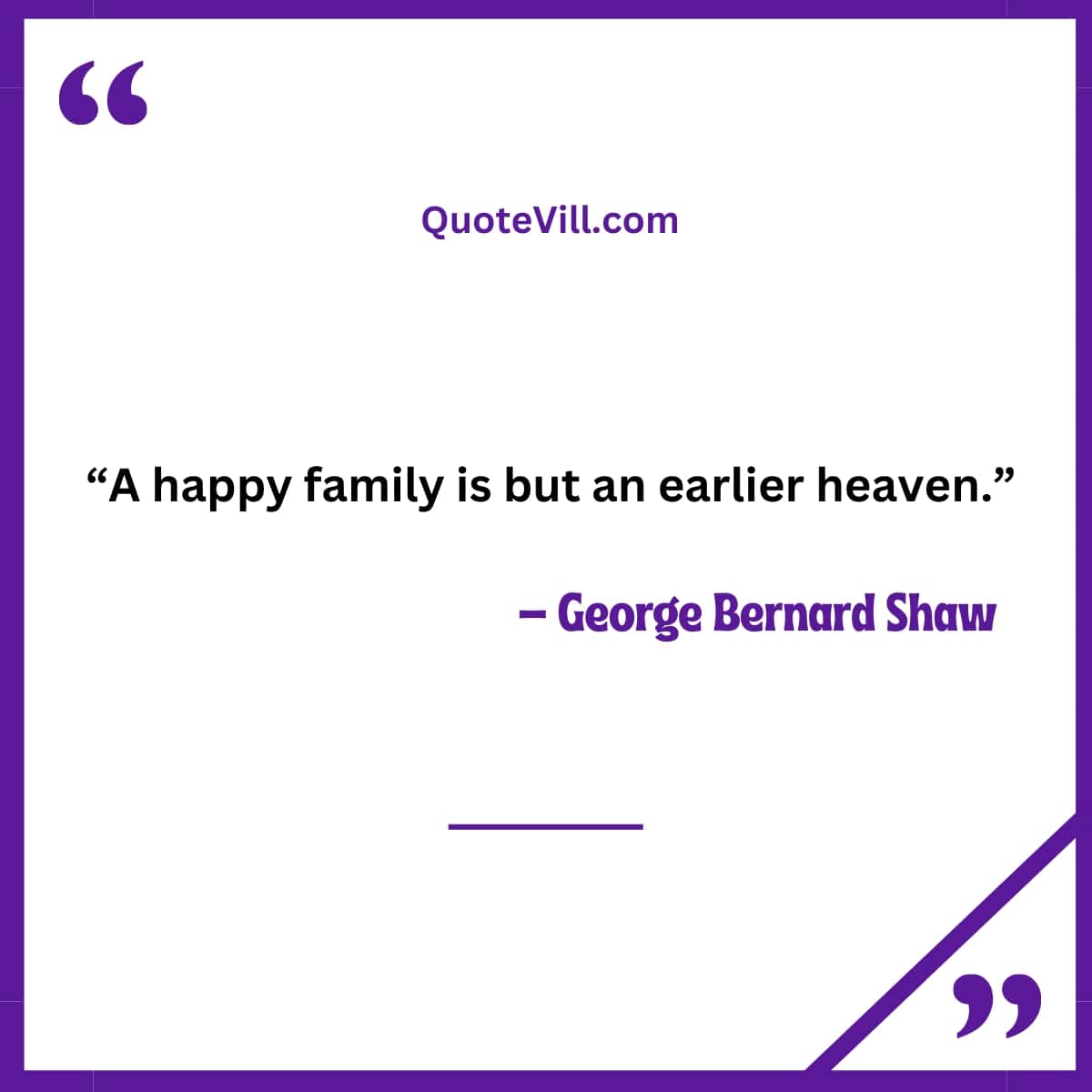 7. "Family is the heart of a home." – Unknown
8. "Family is a life jacket in the stormy sea of life." – J.K. Rowling
9. "Family means no one gets left behind or forgotten." – David Ogden Stiers
10. "The family is one of nature's masterpieces." – George Santayana
Celebration Quotes for Family Occasions
Many occasions lend themselves to the use of family quotes. Here are some perfect examples for various family events.
Family Wedding Quotes:
1. "In family life, love is the oil that eases friction, the cement that binds closer together, and the music that brings harmony." – Friedrich Nietzsche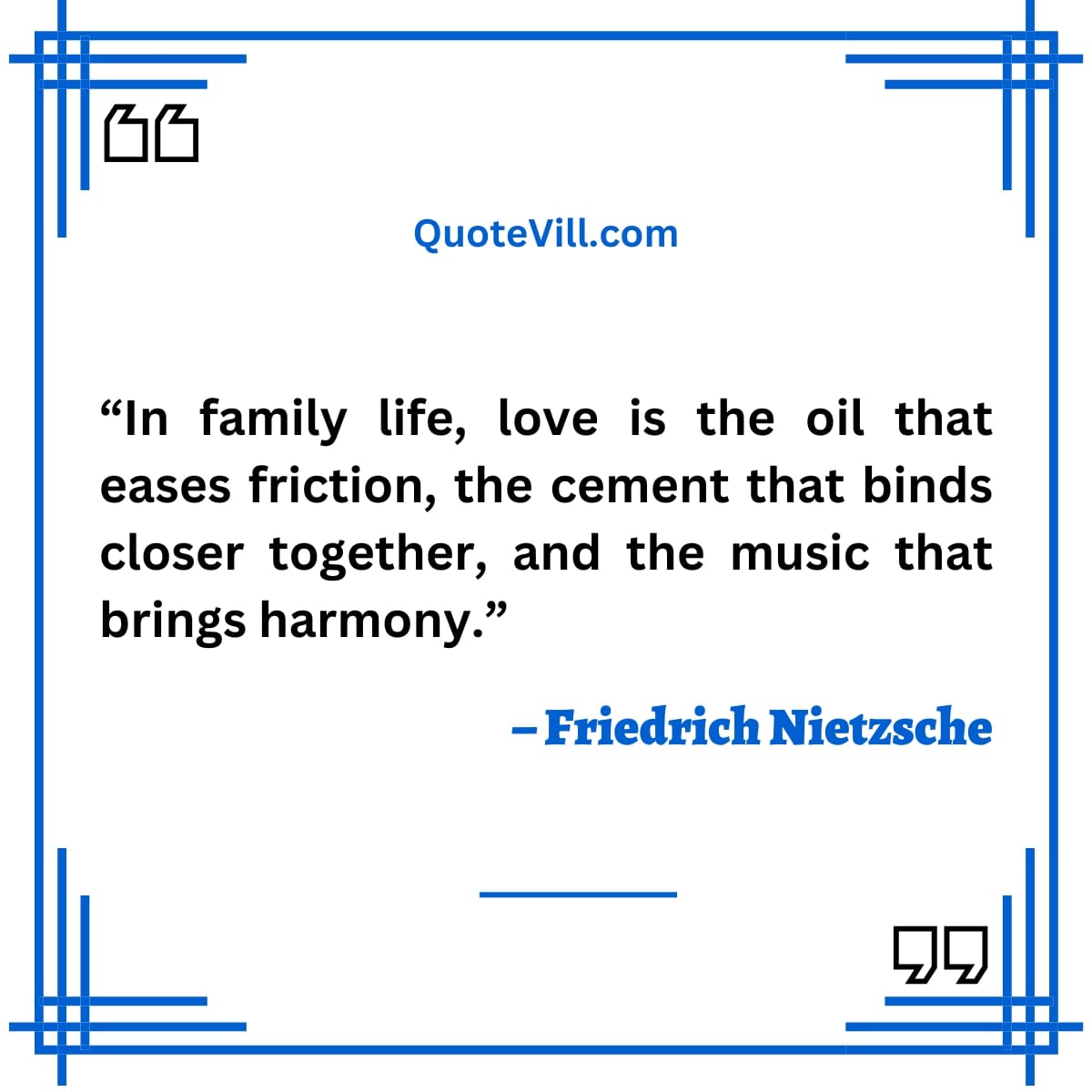 2. "The bond that links your true family is not one of blood, but of respect and joy in each other's life. Rarely do members of one family grow up under the same roof." – Richard Bach
3. "Family means no one gets left behind or forgotten. At this wedding, we're not just joining two lives but two families who will love, support, and cherish each other through all the trials and triumphs life has to offer." – David Ogden Stiers
4. "Our family is a circle of strength of love with every birth and every union the circle grows. Today, we celebrate not only a wedding but an expansion of our loving family."
5. "Family is not defined by our genes, it is built and maintained through love. As we stand here today, let's not just witness a wedding, but the blending of hearts, dreams, and hopes of two families ready to become one."
Family Reunion Quotes:
1. "The love in our family flows strong and deep, leaving us memories to treasure and keep."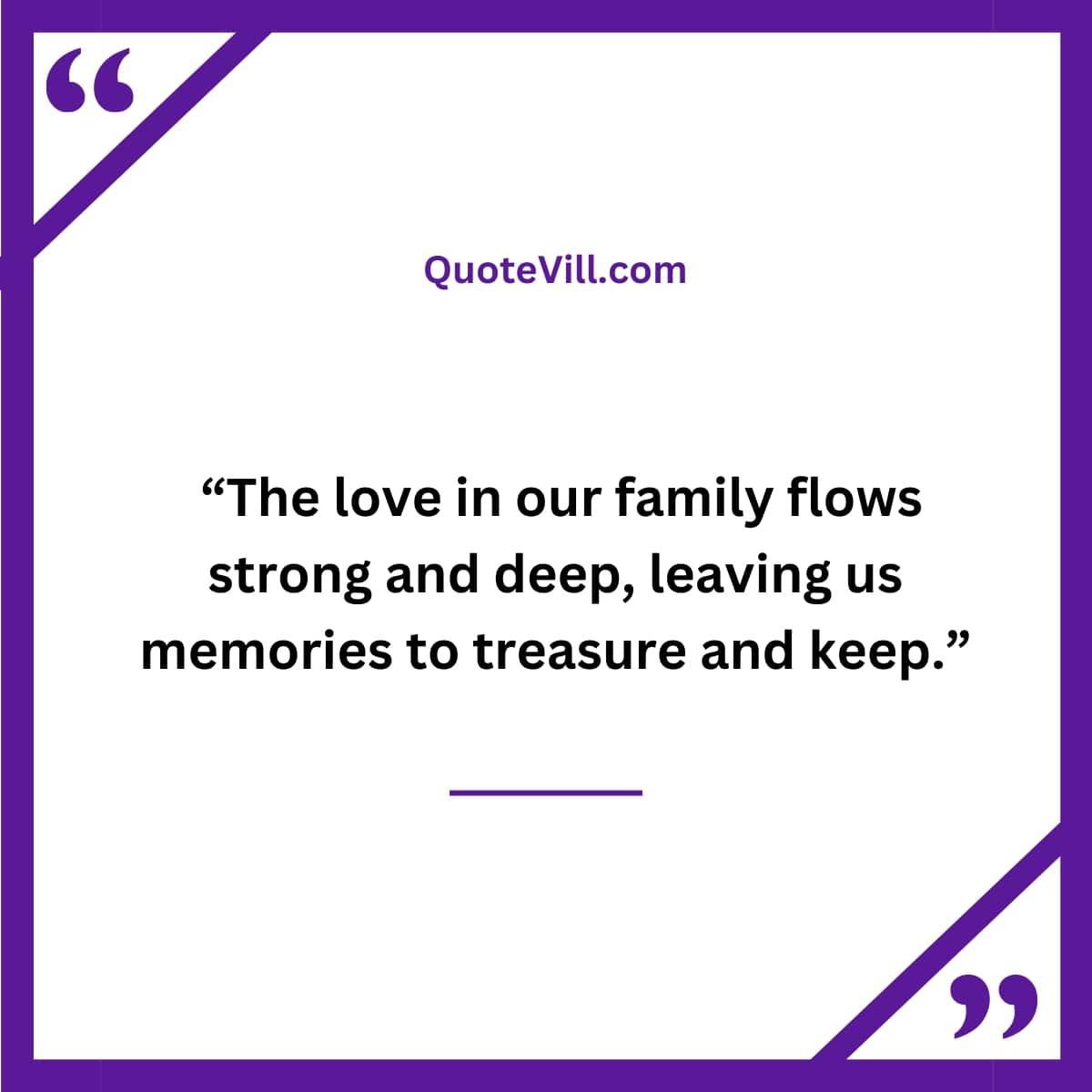 2. "Hi everyone, isn't it funny how walking into a family reunion feels like opening a well-loved book? You know the stories, you know the characters, yet each time you open it, you find something new to appreciate. It's like living those memorable chapters again, while adding a few new pages of our own. We get to relive, remember, and recreate those little moments that make our family uniquely ours."
3. "Every time we come together like this, every shared story, every group photo that never quite comes out perfect, every warm hug, every tear, and every peal of laughter, it's like a little magical glue that strengthens the bond we share. Our family isn't just a lifeline during our troubled times, it's a lighthouse guiding us home, and a treasure trove of joy and laughter."
4. "Coming together after a long period apart, especially with those we love, feels much like finding a missing piece of your soul. It's as if our stories unravel without the other chapters, the ones where we coexisted, connecting moments, pain, joy, love, and fear. The beauty of reunion is in the convergence of those disparate chapters, syncing once again into a narrative that is wholly ours." – Nicholas Sparks
5. "No matter how much we may grow and change, our past is always a part of us. Reunions allow us to remember that, to recall where we come from and who we were. They remind us that those experiences and those people have shaped us in profound ways. We may take different paths in life, but we will always have a common journey, a shared history that binds us together." – J.K. Rowling
Family Quotes For Birthdays: 
1. "Birthdays are like family reunions, without the awkward small talk. You grow another year older, but family keeps you grounded. So here's to growing up, but never growing apart!"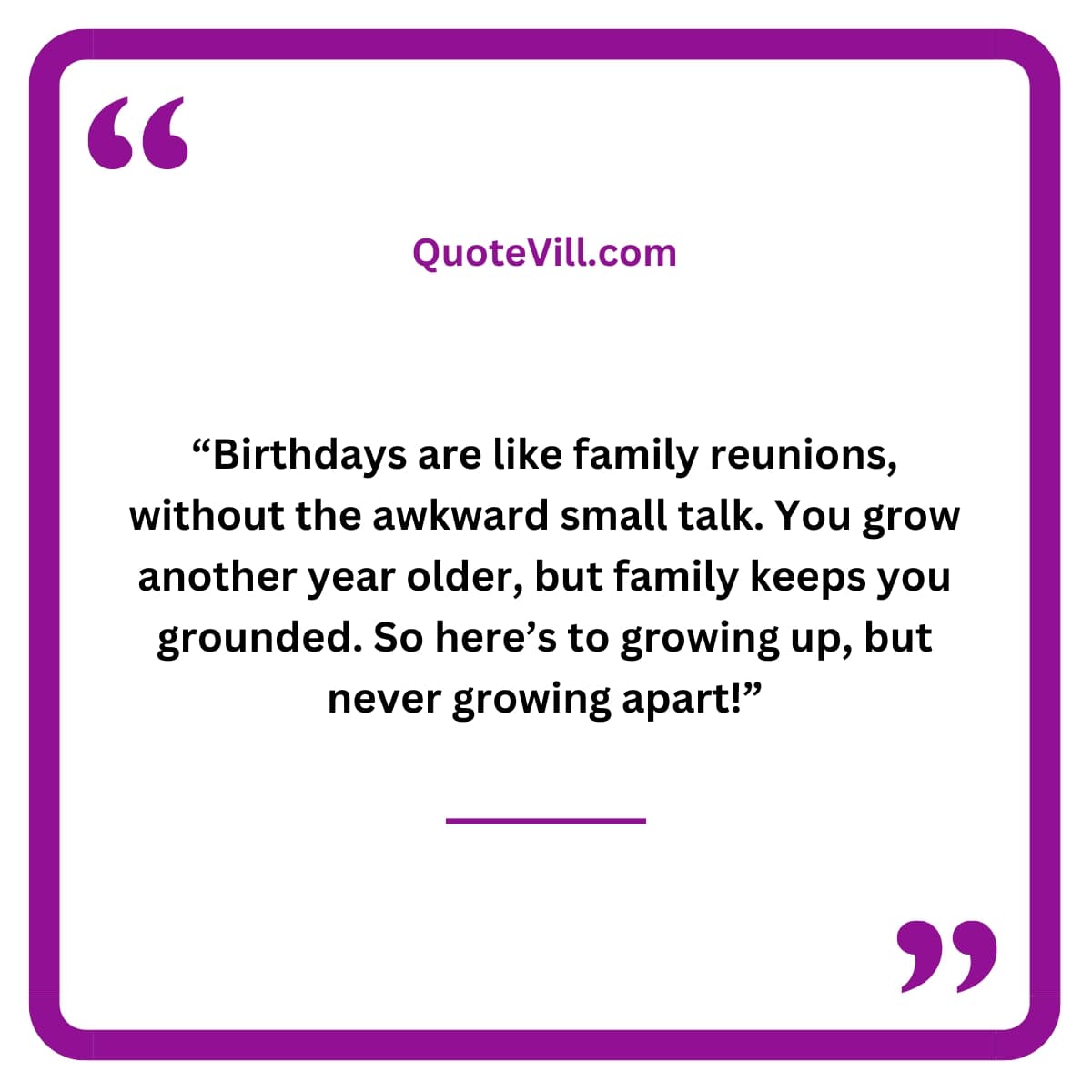 2. "You know, in our family, it's not the candles on the cake but the roots that hold us together. Each birthday, we just add another beautiful branch to our family tree. Cheers to you and our ever-growing canopy!"
3. "With every birthday in the family, we either gain a little more wisdom or a few more whiskers. Sometimes both! But no matter how many lines we get or candles we blow, we always have each other's back. Here's to another trip around the sun and countless shared laughs."
4. "Family and birthdays are a combo deal. With each passing year, we don't just tally up candles, we rack up memories. And honestly? It's the shared giggles, tears, and 'remember when' moments that truly light up our lives."
5. "In our clan, birthdays are more than just personal milestones. They're a celebration of the love, stories, and legacy that runs through our veins. So when we sing 'Happy Birthday,' we're also saying, 'Thanks for being a part of our beautiful, crazy tapestry!'"
Funny Family Quotes For Instagram
1. "Remember, as far as anyone knows, we're a nice, normal family."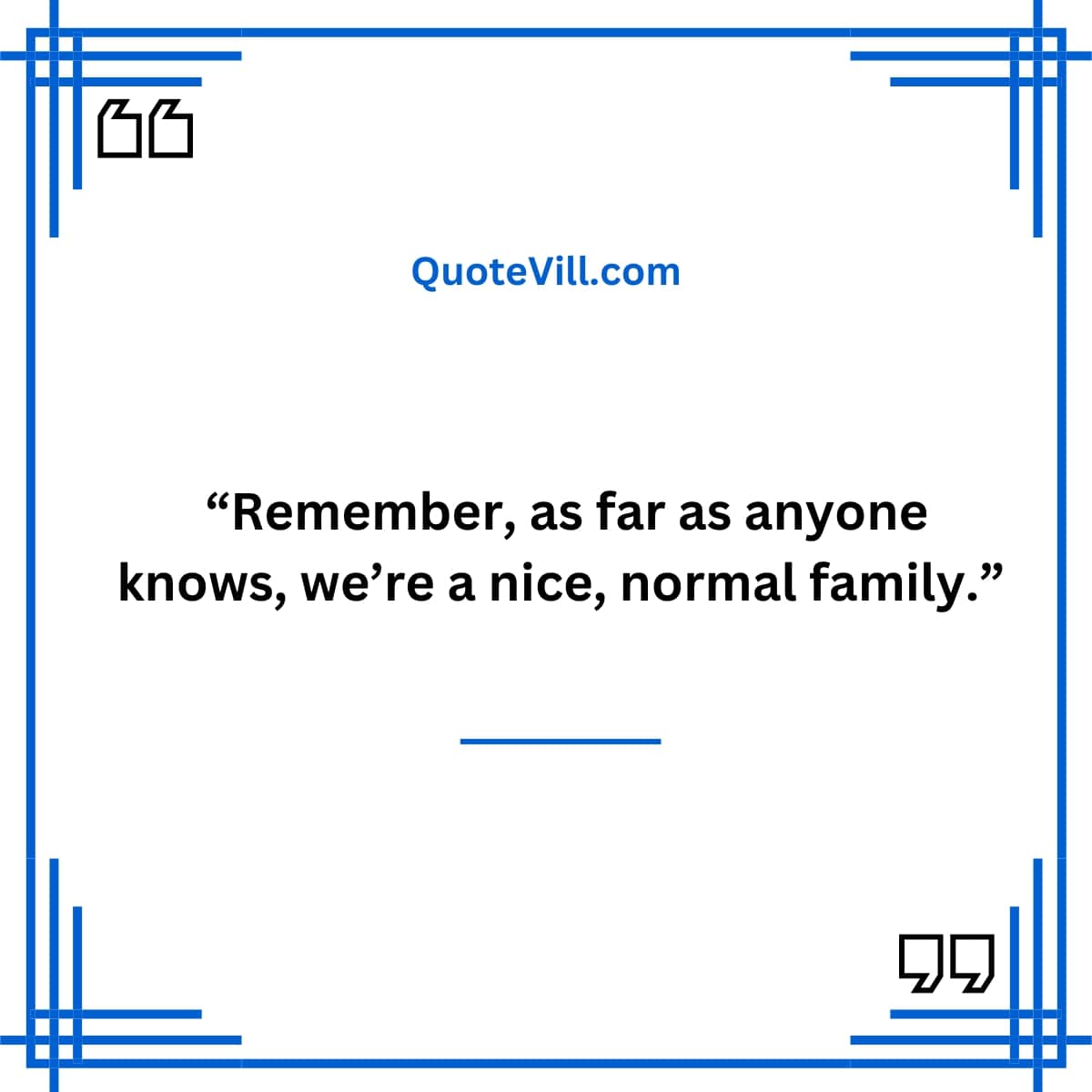 2. "Families are like fudge: mostly sweet, with lots of nuts."
3. "Family: An interesting unit where everyone talks and nobody listens."
4. "My family is temperamental. Half temper. Half mental."
5. "I shook my family tree and a bunch of nuts fell out."
6. "Family ties? Sure, but preferably in a bow!"
7. "Insanity runs in my family. It practically gallops." – Cary Grant
8. "I don't have to look up my family tree, because I know that I'm the sap." – Fred Allen
9. "We are a strange bunch but we're still family."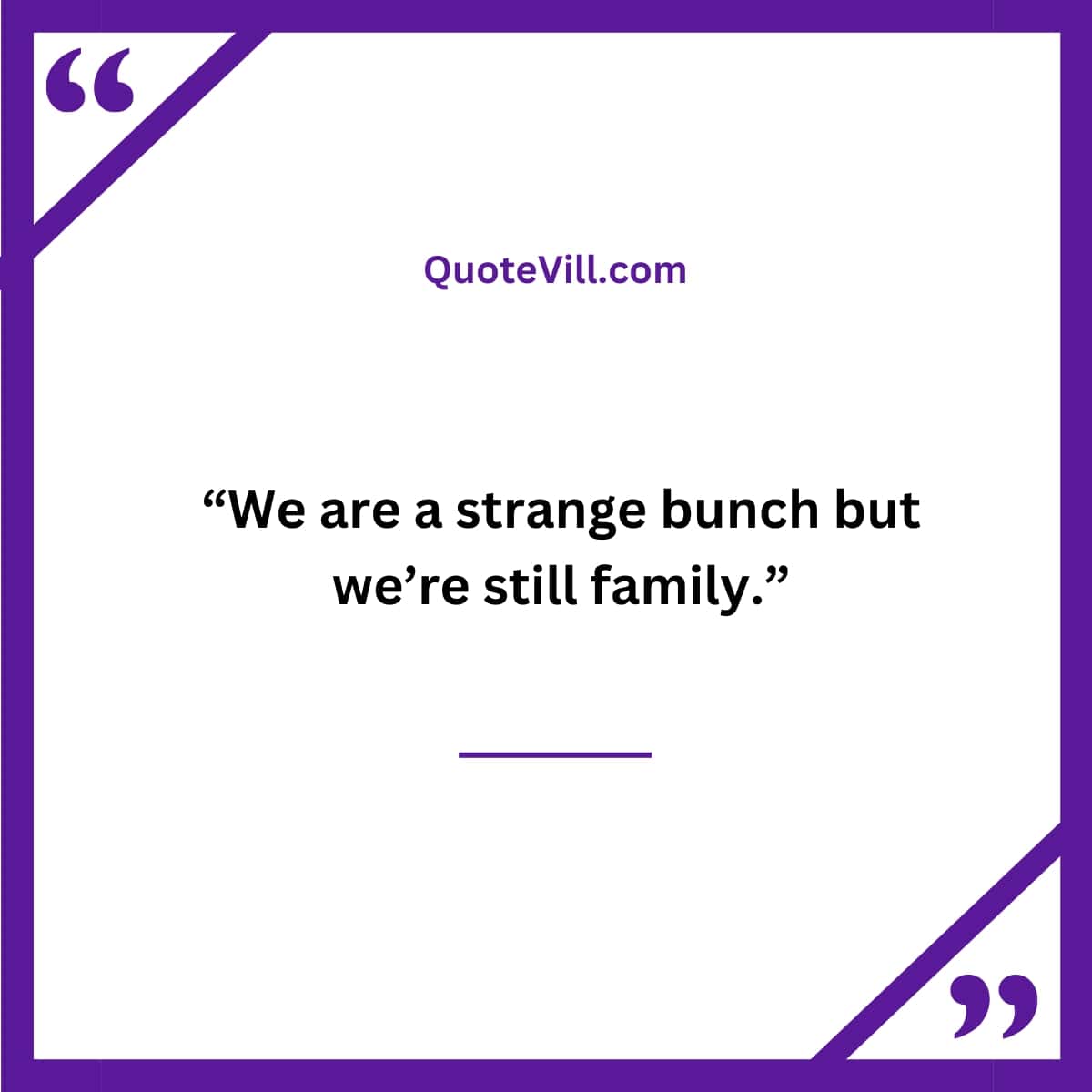 10. "All families have that one weird relative. If you don't know who it is, it's probably you."
11. "Matching outfits? Call it family branding. 😎"
12. "We can't selfie without chaos. It's a rule. 📸"
13. "Family motto: Why be normal when we were born to stand out? 🤷‍♂️"
14. "Rollin' with the homies… and by homies, I mean mom and dad. 🛴
15. "Family: We put the 'elusive' in 'inclusive'. 🤪"