Football quotes not only explain that people should work hard but, they direct them to find their way because most of the time, people need guidance to know when and how they are supposed to proceed with their lives.
Football, commonly known as soccer, is a game of strength, dedication, motivation, and strategy. Players are fighting for success and strive to use every strategy or technique that can help them in snatching success from others. The best part about football is that it gives lifelong lessons and allows people to realize that dedication and hard work can turn impossible things into possible.
Football quotes let people realize that champions are not made within days or months but, it needs a lot of hard work, effort, and courage to face difficulties and learn lessons from failure because when a person doesn't know failure, he/she would not be able to enjoy real happiness and feeling of success.
Last but not the least, people should try to make their lives better and take every step to add happiness, success, prosperity and satisfaction that can give them new reasons to live. Football quotes, if implemented, can change one's life!
Top 30 All Time Best Football Quotes From The Legends 
1. "When people succeed, it is because of hard work. Luck has nothing to do with success." – Diego Maradona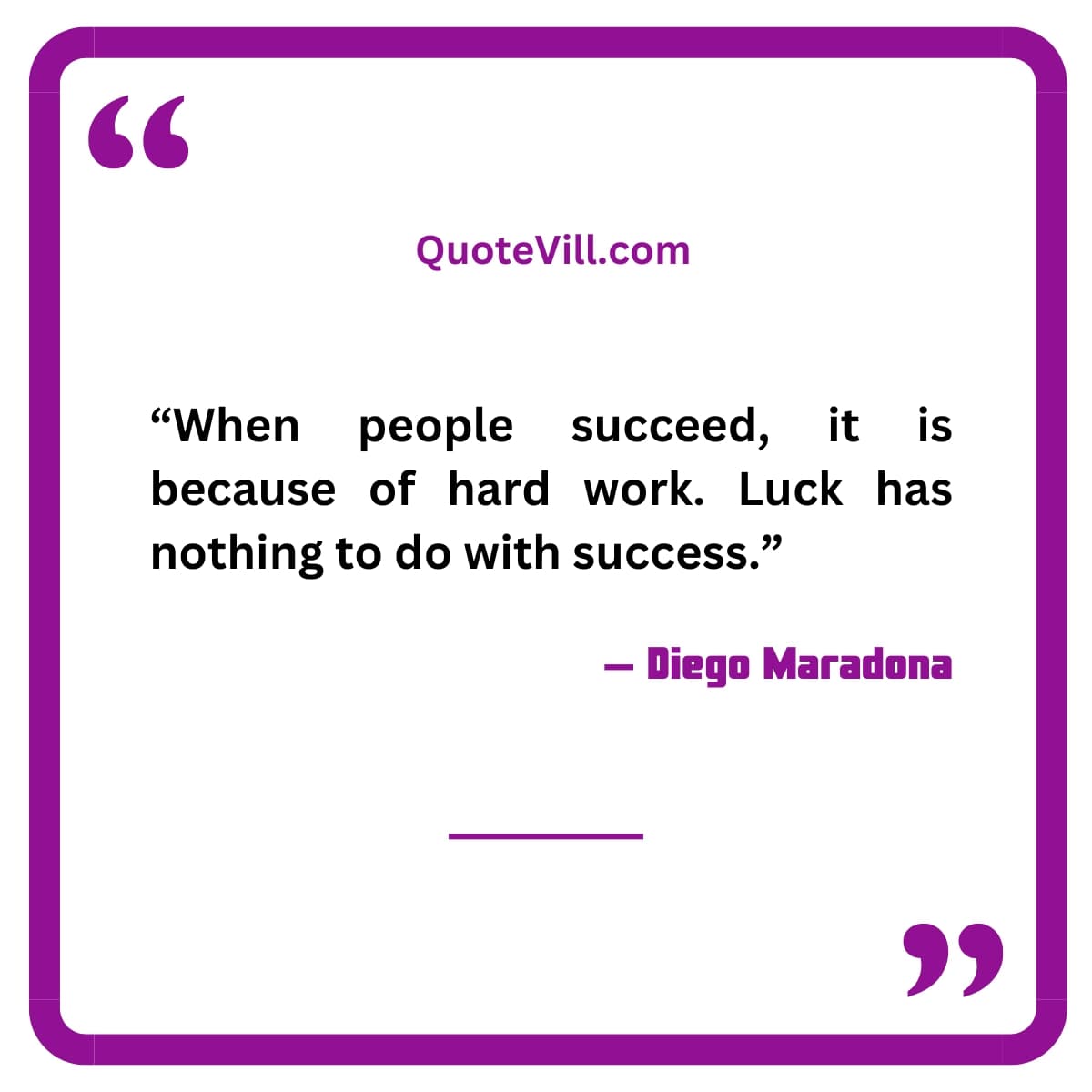 2. "Success is no accident. It is hard work, perseverance, learning, studying, sacrifice and most of all, love of what you are doing or learning to do." – Pele
3. "Some people think football is a matter of life and death. I assure you, it's much more serious than that." – Bill Shankly
4. "Football is a simple game. Twenty-two men chase a ball for 90 minutes and at the end, the Germans always win." – Gary Lineker
5. "Playing football is very simple, but playing simple football is the hardest thing there is." – Johan Cruyff
6. "Sometimes in football, you have to score goals." – Thierry Henry
7. "Please don't call me arrogant, but I'm European champion and I think I'm a special one." – Jose Mourinho
8. "Football, bloody hell!" – Sir Alex Ferguson
9. "I don't feel pressure … I don't give a toss about it. I spent the afternoon of Sunday, July 9, 2006, in Berlin sleeping and playing the PlayStation. In the evening, I went out and won the World Cup." – Andrea Pirlo
10. "Give me 10 pieces of wood and Zinedine Zidane and I'll win the Champions League." – Zinedine Zidane
11. "Fail to prepare, prepare to fail." – Roy Keane
12. "When the seagulls follow the trawler, it's because they think sardines will be thrown into the sea." – Eric Cantona
13. "I spent a lot of money on booze, birds, and fast cars. The rest I just squandered." – George Best
14. "I start early and I stay late, day after day, year after year. It took me 17 years and 114 days to become an overnight success." – Lionel Messi
15. "Your love makes me strong. Your hate makes me unstoppable." – Cristiano Ronaldo
16. "I never comment on referees, and I'm not going to break the habit of a lifetime for that prat." – Ron Atkinson
17. "In my career as a manager, I have played against incredible sides. But there are two that were 'Wow'. One is Barcelona with Luis Enrique, with Neymar, Lionel Messi, and Luis Suárez up front. The other is Liverpool." – Pep Guardiola
18. "If you're in the penalty area and don't know what to do with the ball, put it in the net and we'll discuss the options later." – Bob Paisley
19. "It's not about the long ball or the short ball, it's about the right ball." – Bob Paisley
20. "I once cried because I had no shoes to play football with my friends, but one day I saw a man who had no feet, and I realized how rich I am." – Zinedine Zidane
21. "In football as in watchmaking, talent and elegance mean nothing without rigor and precision." – Lionel Messi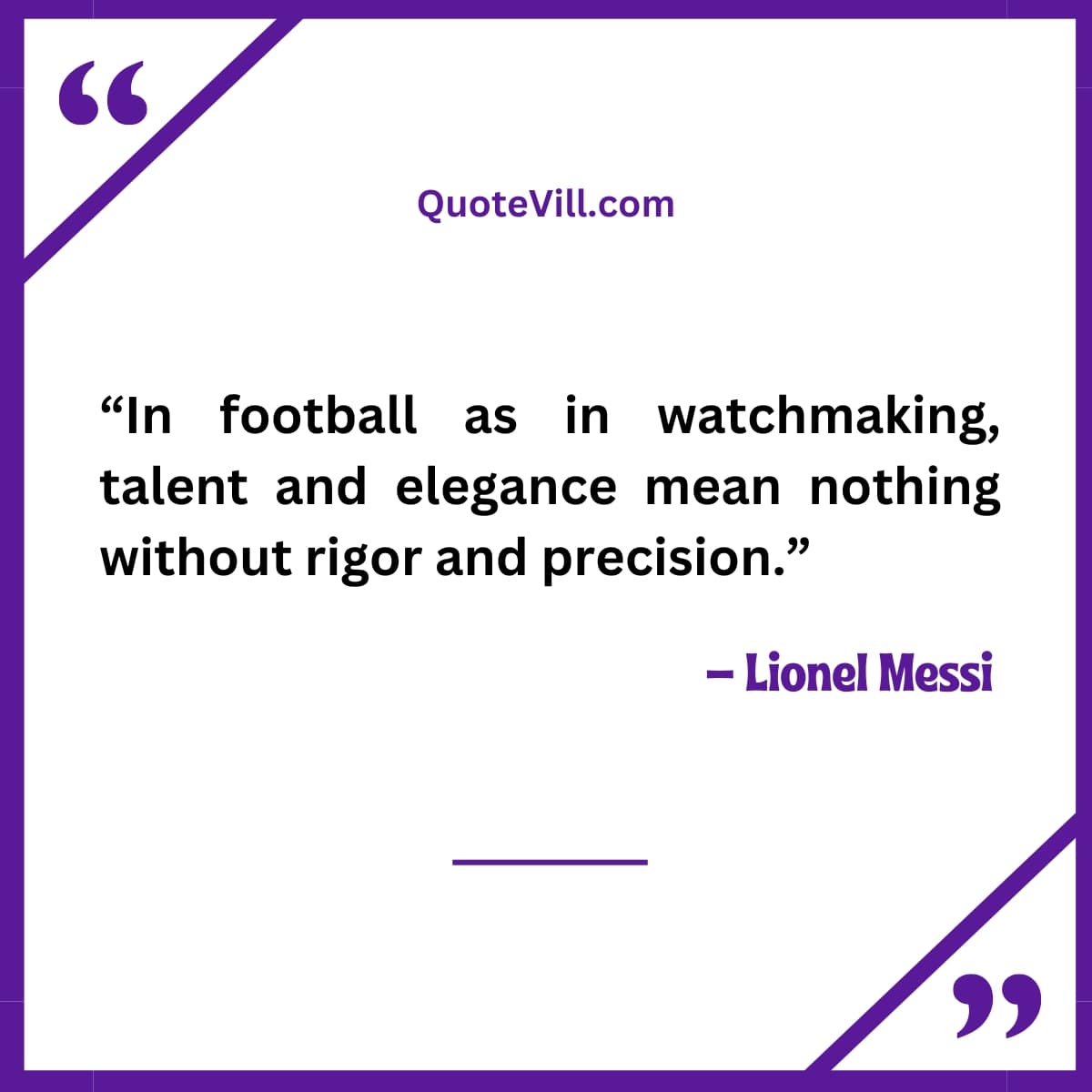 22. "The more difficult the victory, the greater the happiness in winning." – Pele
23. "I am not a perfectionist, but I like to feel that things are done well. More important than that, I feel an endless need to learn, to improve, to evolve." – Cristiano Ronaldo
24. "To say that things will work out is to believe in the triumph of hope over experience." – Arsene Wenger
25. "Football is the most important of the less important things in the world." – Carlo Ancelotti
26. "A lot of football success is in the mind. You must believe you are the best and then make sure that you are." – Bill Shankly
27. "You have to fight to reach your dream. You have to sacrifice and work hard for it." – Lionel Messi
28. "The only way to do something in depth is to work hard." – Jose Mourinho
29. "In football, the worst things are excuses. Excuses mean you cannot grow or move forward." – Pep Guardiola
30. "The problem with being a manager is it's like trying to build an aircraft while it is flying." – Brendan Rodgers
Motivational Football Quotes For A Moment Of Inspiration
1. "The thing about football – the important thing about football – is that it is not just about football." – Terry Pratchett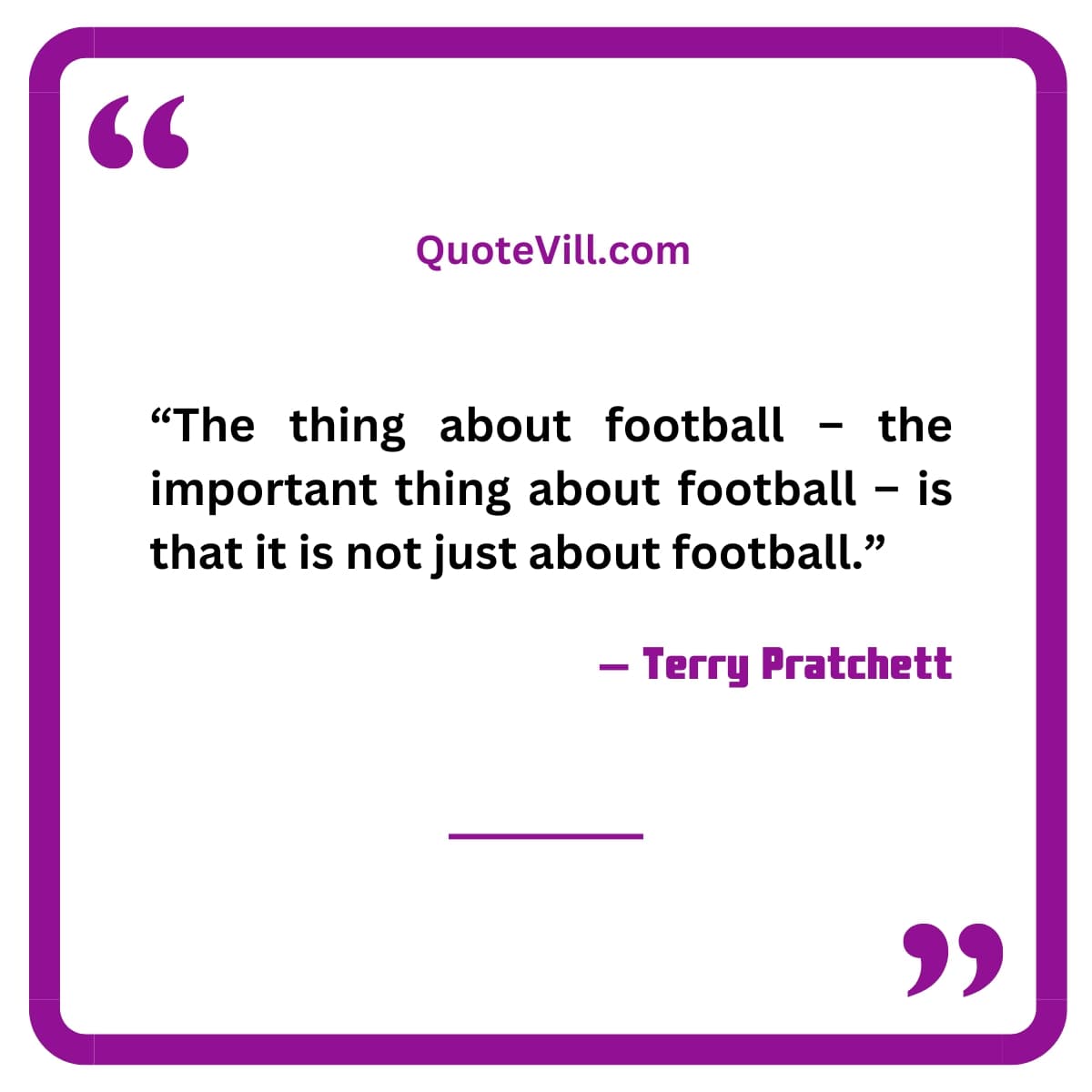 2. "The reason sport is attractive to many of the general public is that it's filled with reversals. What you think may happen doesn't happen. A champion is beaten, an unknown becomes a champion." – Roger Bannister
3. "One man practicing sportsmanship is far better than 50 preaching it." – Knute Rockne
4. "Every disadvantage has got its advantage. You have got to believe in yourself and, above all, you have to fight it out." – Johan Cruyff
5. "In football, the worst blindness is only seeing the ball." – Nelson Falcão Rodrigues
6. "Some people think football is a matter of life and death. I don't like that attitude. I can assure them it is much more serious than that." – Bill Shankly
7. "People who work together will win, whether it be against complex football defenses, or the problems of modern society." – Vince Lombardi
8. "Success isn't something that just happens – success is learned, success is practiced and then it is shared." – Sparky Anderson
9. "You've got to take the initiative and play your game. In a decisive set, confidence is the difference." – Chris Evert
10. "To be successful you have to be selfish, or else you never achieve. And once you get to your highest level, then you have to be unselfish. Stay reachable. Stay in touch. Don't isolate." – Michael Jordan
11. "I've come to realize that we're all our own greatest teachers, so don't you ever brush yourself off, stand tall and make it matter." – Alex Morgan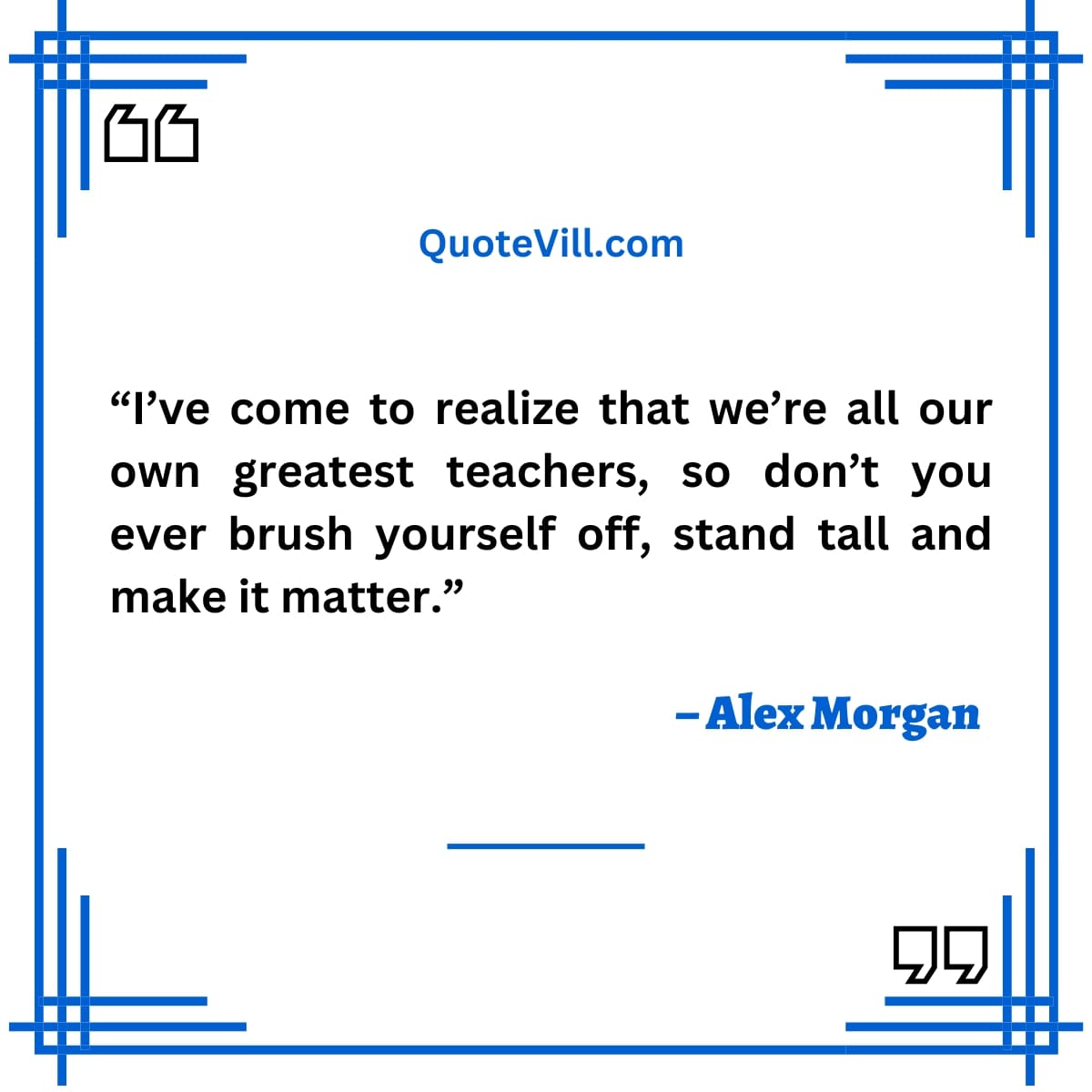 12. "I am building a fire, and everyday I train, I add more fuel. At just the right moment, I light the match." – Mia Hamm
13. "I know that I am never as good or bad as any single performance. I know that I am never as good or bad as any single day. Let your confidence be in the grace with which you get back up." – Hope Solo
14. "I have always believed that if you want to achieve anything special in life you have to work, work, and then work some more." – David Beckham
15. "In football as in life, you won't go far unless you know where the goalposts are." – Arnold H. Glasgow
16. "A lot of football success is in the mind. You must believe that you are the best and then make sure that you are. In my time at Liverpool we always said we had the best two teams on Merseyside, Liverpool and Liverpool Reserves." – Bill Shankly
17. "The first 90 minutes are the most important." – Sir Robert William "Bobby" Robson
18. "Football is an incredible game. Sometimes it's so incredible, it's unbelievable." – Tom Landry
19. "It's not whether you get knocked down; it's whether you get up." – Vince Lombardi
20. "It's not about the shoes. It's about knowing where you're going. Not forgetting where you started. It's about having the courage to fail. Not breaking when you're broken. Taking everything you've been given and making something better." – Stephen Curry
1. "Life's a game. Football is serious. #FootballLife"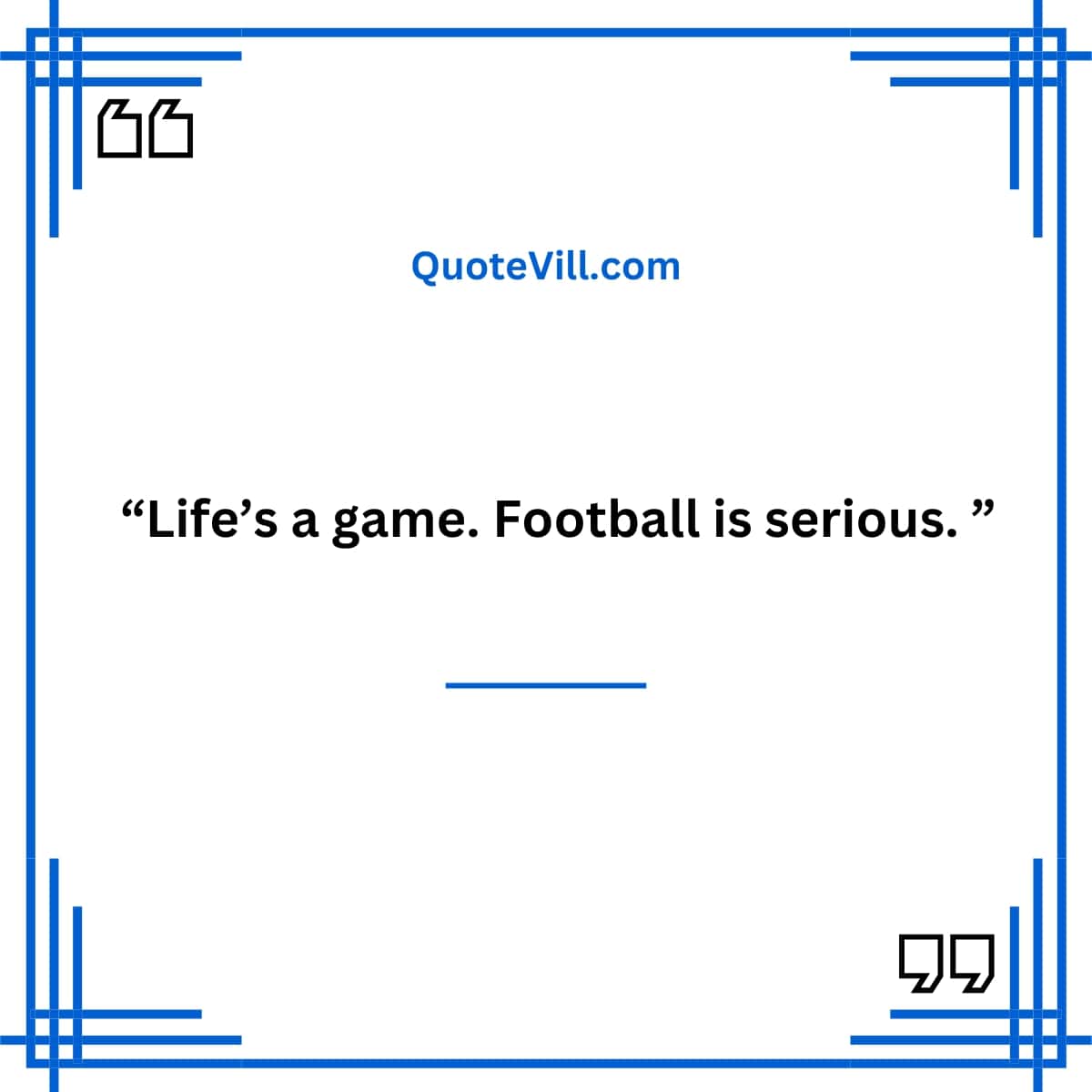 2. "Sweat + Sacrifice = Success. #HardWorkPaysOff"
3. "Born to play football. #FootballBorn"
4. "Living life one game at a time. #FootballEveryday"
5. "My heart is on that field. #FootballPassion"
6. "Ain't a game, it's a lifestyle. #FootballLifestyle"
7. "One team, one dream. #TeamWork"
8. "Football is life, the rest is just details. #FootballIsLife"
9. "Eat, sleep, play football, repeat. #FootballRoutine"
10. "Goal-getter. #GoalGetter"
11. "Dream big, play hard. #DreamBigPlayHard"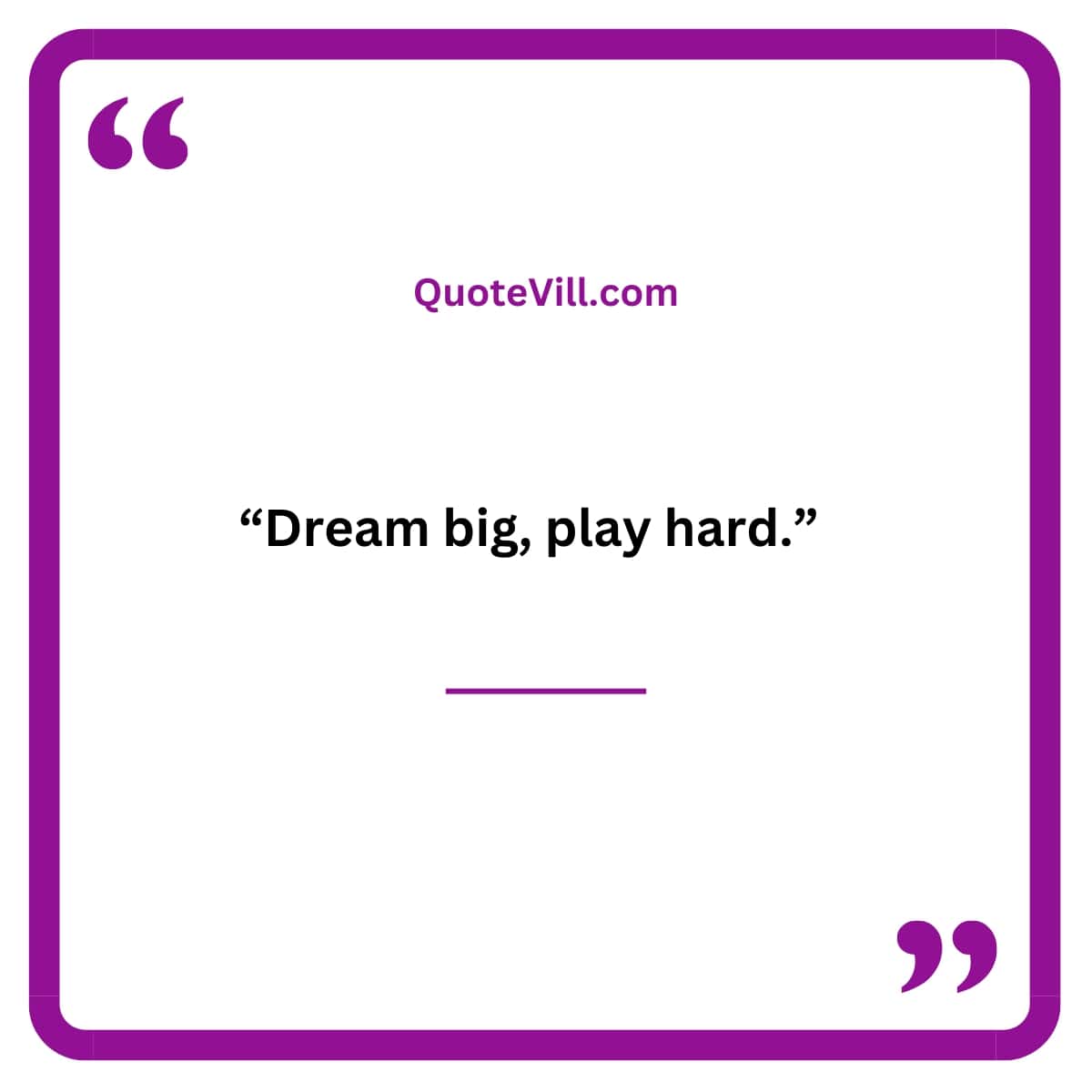 12. "Football: where magic happens. #FootballMagic"
13. "Breathe football, dream goals. #BreatheFootball"
14. "Chasing dreams, one match at a time. #ChasingFootballDreams"
15. "Passion over everything. #FootballPassion"
16. "Born to dribble. #BornToDribble"
17. "Lace up, show up, never give up. #FootballHustle"
18. "In love with the green and the goal. #GreenLove"
19. "Beyond a game, it's a passion. #BeyondTheGame"
20. "Hustle, hit, never quit. #NeverQuit"