A movie that reminded us that life intelligence can't be found in books and that sometimes wisdom is gained by simply being a genuine human. These Forrest Gump quotes will refresh your memories and give you that reminder again.
It is not only charming but heart-warming to see a character like Forrest Gump winning in life despite the challenging circumstances he was presented with, partly because he never viewed them as challenging. The lens through which he viewed life was most admirable and one can truly gain the wisdom that his mama imparted significantly to him.
These quotes from Forrest Gump would make you want to watch the movie again. Having said that, you don't need a reason to rewatch it because anything is a good excuse to take a time capsule and get back to good, old times.
Famous 20 Forrest Gump Quotes
1. "Life is like a box of chocolates. You never know what you're gonna get."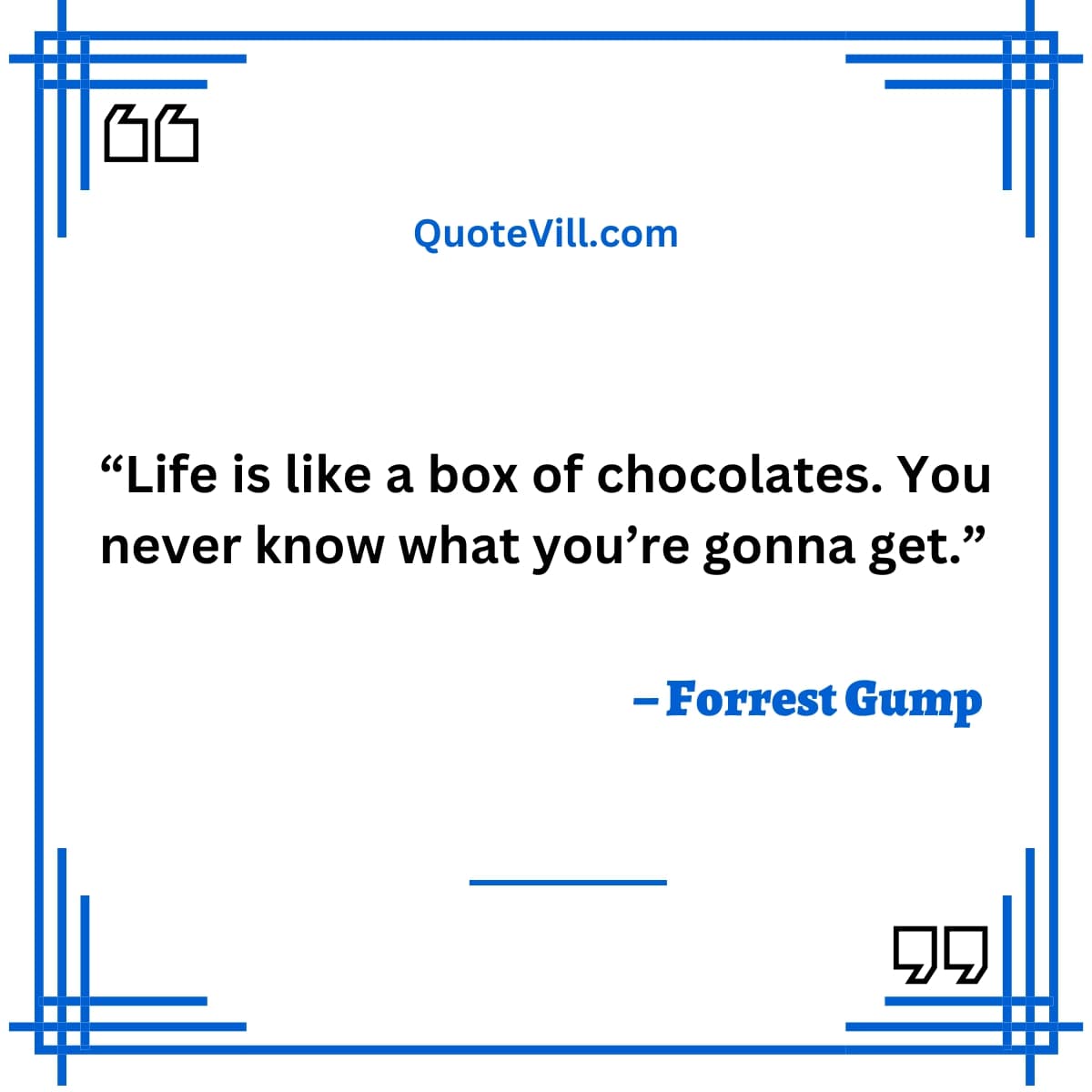 2. "Stupid is as stupid does."
3. "Mama always said, dying was a part of life. I sure wish it wasn't."
4. "I don't know if we each have a destiny, or if we're all just floating around accidental-like on a breeze, but I think maybe it's both."
5. "My Mama always said you've got to put the past behind you before you can move on."
6. "I'm not a smart man… but I know what love is."
7. "You have to do the best with what God gave you."
8. "Mama always said, God is mysterious. He didn't turn Jenny into a bird that day. Instead, He had the police say Jenny didn't have to stay in that house no more. She went to live with her grandma just over on Creekmore Avenue, which made me happy 'cause she was so close."
9. "I don't know if we each have a destiny, or if we're all just floating around accidental-like on a breeze. But I, I think maybe it's both."
10. "Bubba was my best good friend. And even I know that ain't something you can find just around the corner."
11. "Mama said there's only so much fortune a man really needs… and the rest is just for showing off."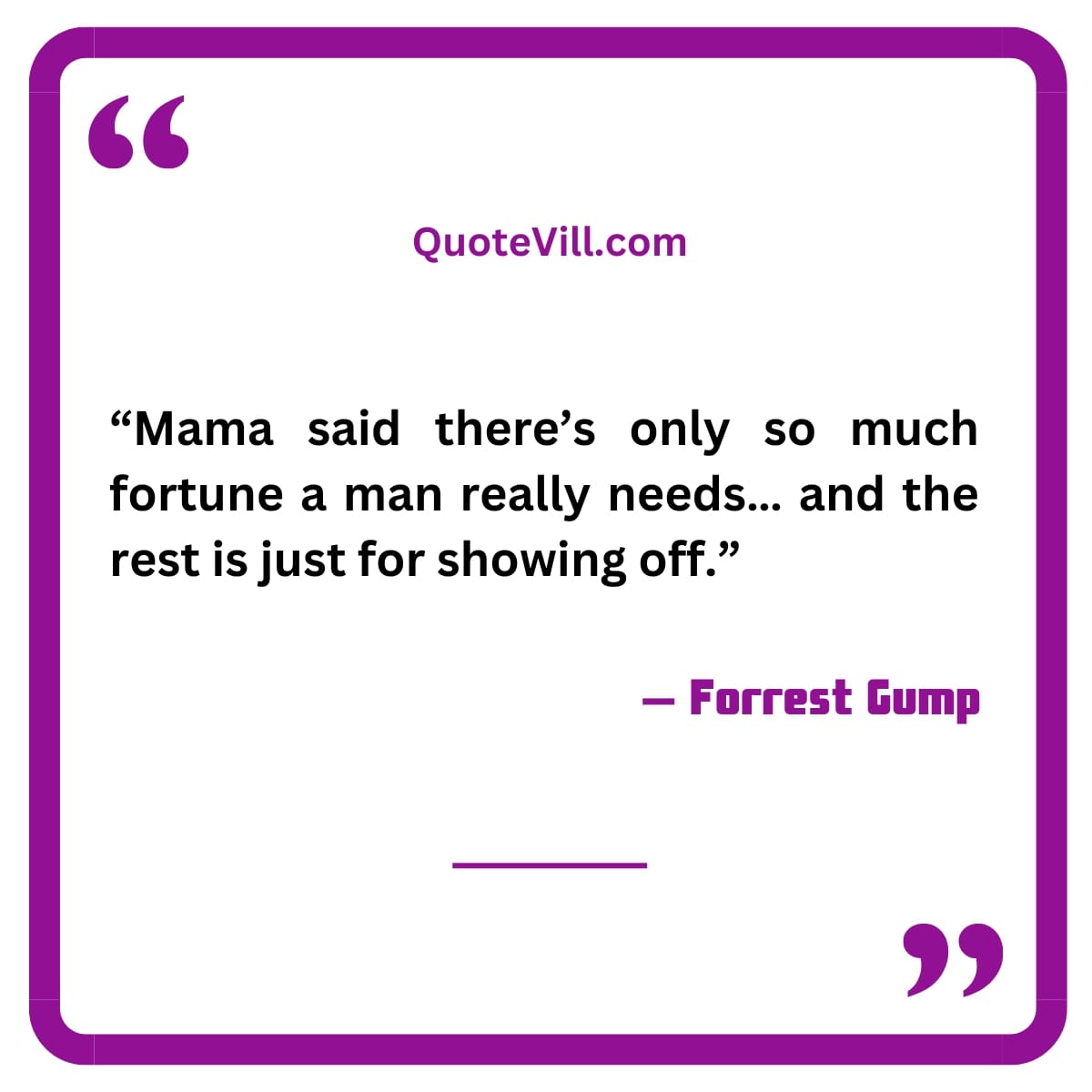 12. "Some people don't think miracles happen, well, they do."
13. "There's an awful lot you could tell about a person by their shoes."
14. "There's only so much fortune a man really needs and the rest is just for showing off."
15. "What's normal anyways?"
16. "Always be able to look back and say, at least I didn't lead no humdrum life."
17. "Mama always said there's an awful lot you can tell about a person by their shoes."
18. "I ran for 3 years, 2 months, 14 days, and 16 hours."
19. "It's funny what a young man recollects, 'cause I don't remember being born."
20. "I'm pretty tired… I think I'll go home now."
Forrest Gump Quotes On Love
1. "I'm not a smart man… but I know what love is."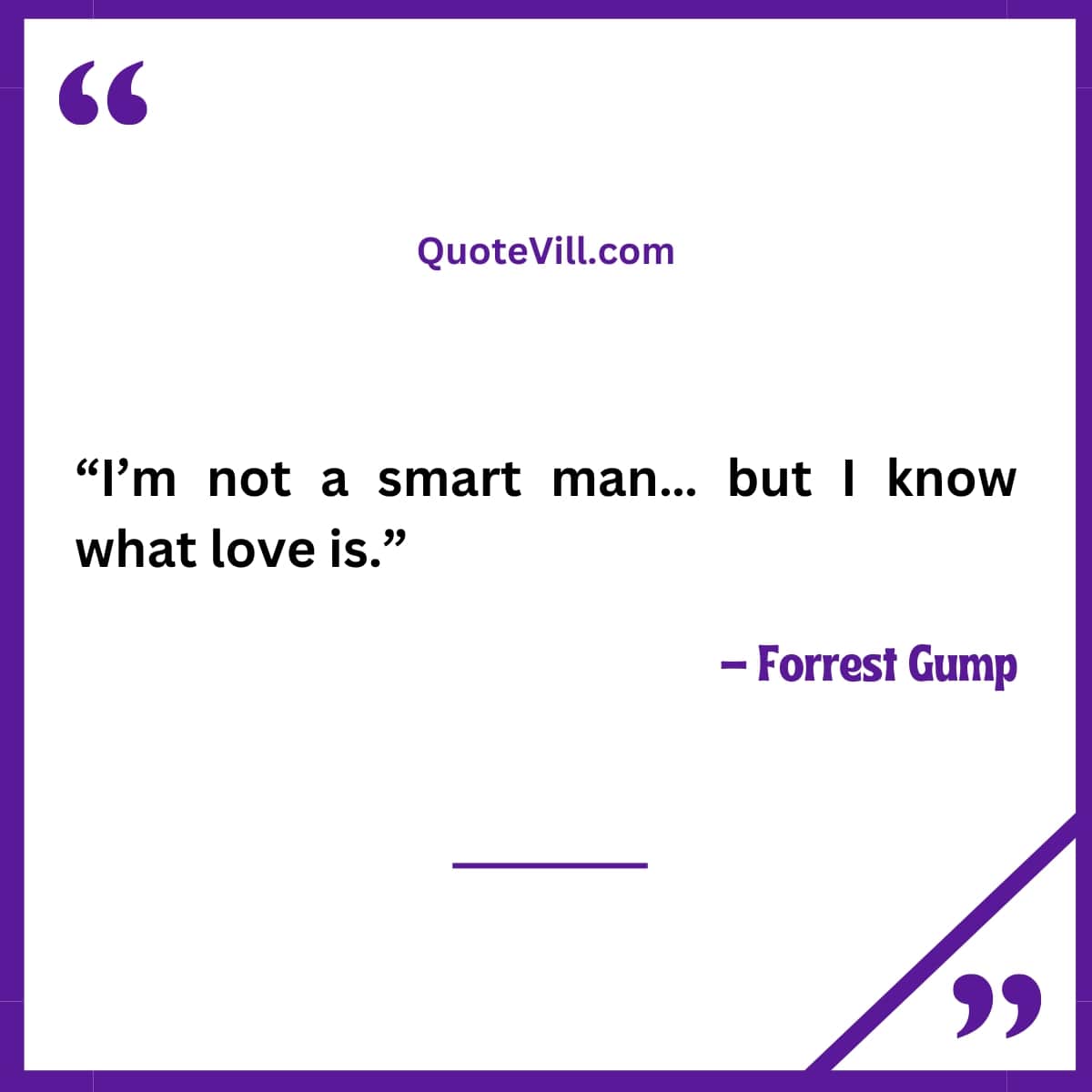 2. "You can't just make a person love you, Jenny."
3. "I don't know why she won't love me. I'm not a smart man, but I know what love is."
4. "I might not be a smart man, but I know what love is."
5. "I'm not a smart man, but I know what love is."
6. "I don't know why I love Jenny. Maybe it's because she understands me and accepts me for who I am."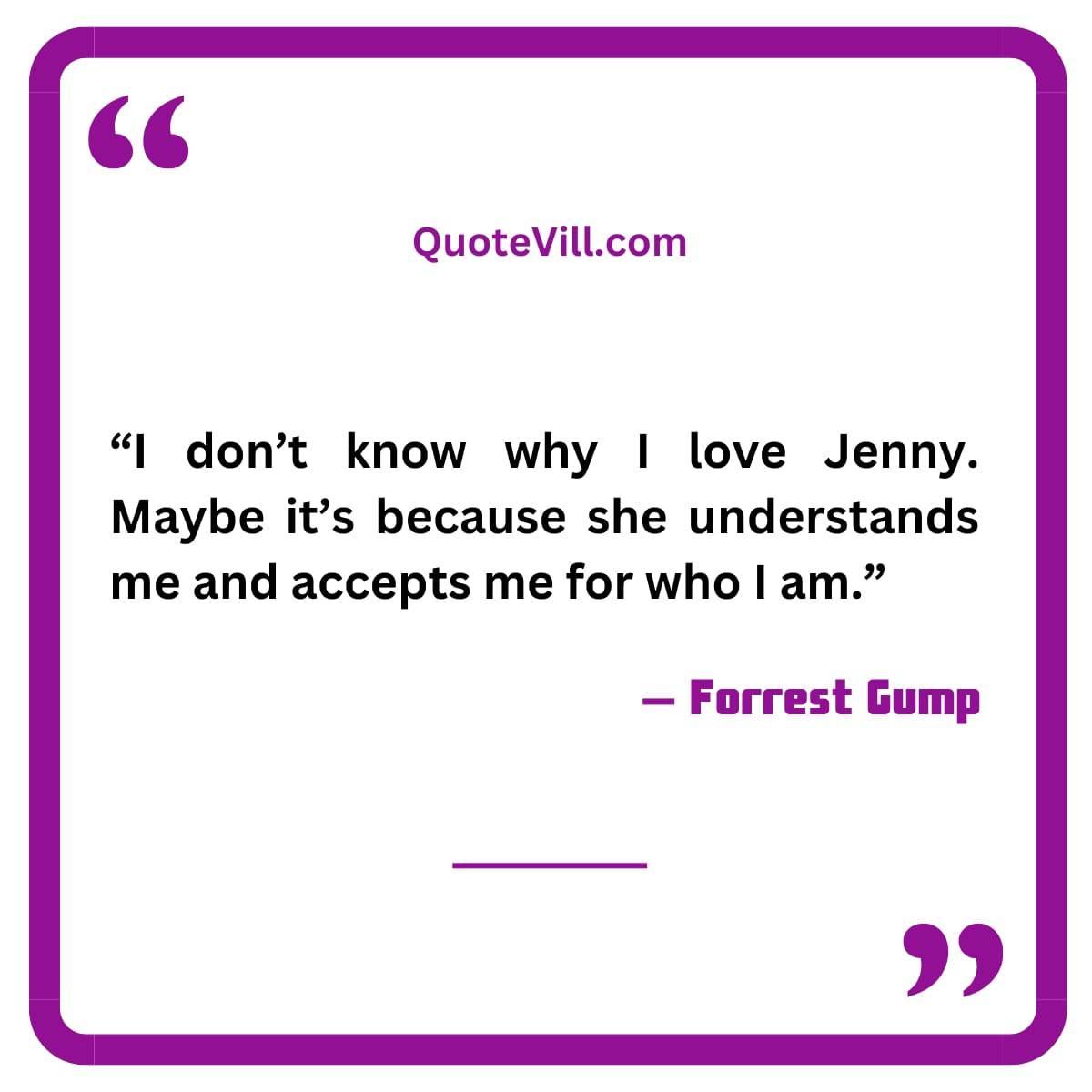 7. "Jenny, I may not be a smart man, but I know what love is."
8. "Jenny, I'll always love you, no matter what."
9. "When I got tired, I slept. When I got hungry, I ate. When I had to go… you know, I went. And Jenny, I miss you."
10. "I'm not a smart man, Jenny, but I know what love is."
Quotes About the Success Of Forrest Gump
1. "I don't know if we each have a destiny, or if we're all just floatin' around accidental-like on a breeze. But I think maybe it's both. Maybe both are happening at the same time."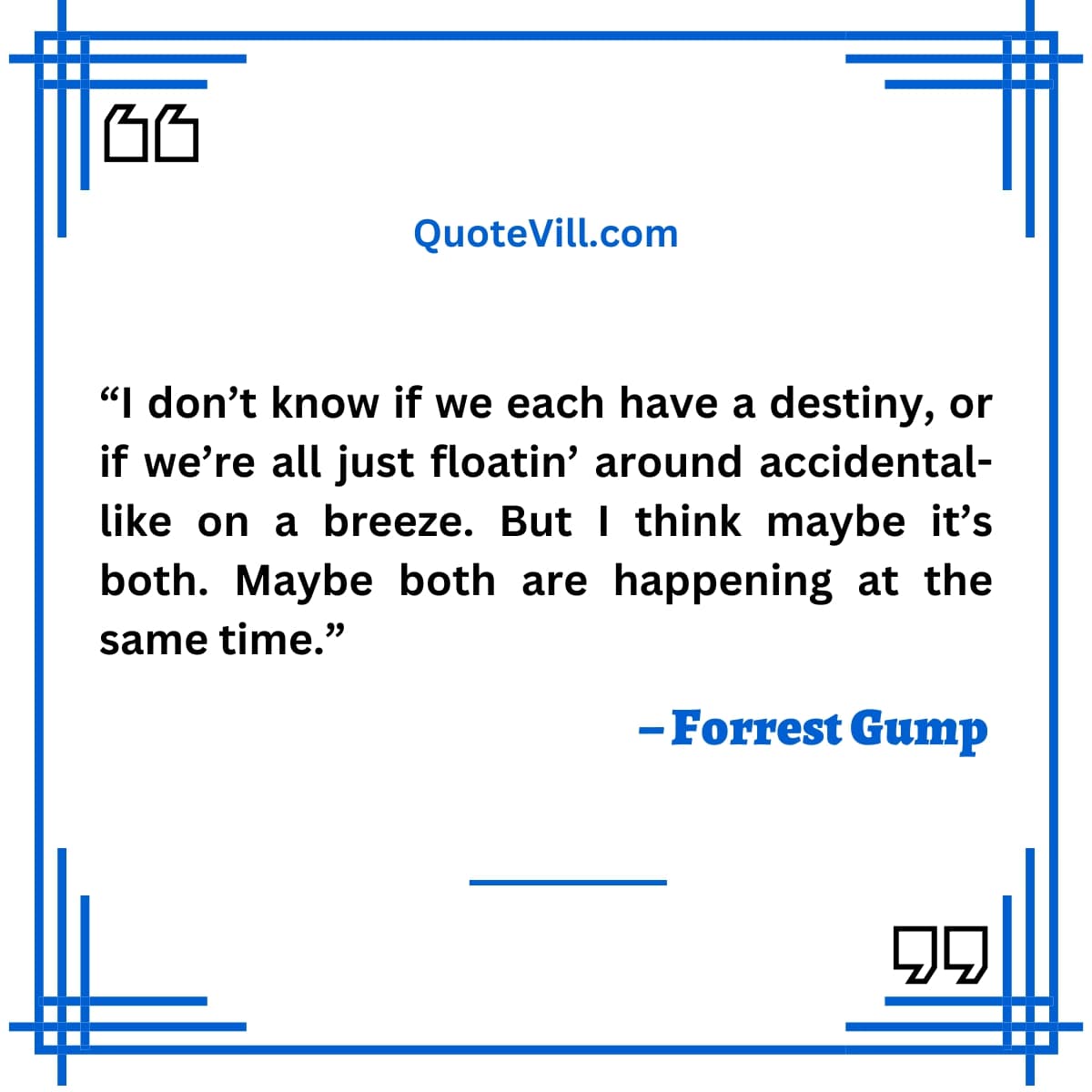 2. "My mama always said, 'Life was like a box of chocolates; you never know what you're gonna get.' That's true about success, too. It's not always about what you know, but about what you do."
3. "Bubba was my best good friend. And even I know that ain't something you can find just around the corner. Bubba was gonna be a shrimping boat captain, but instead, he died right there by that river in Vietnam. That's all I have to say about that."
4. "Now, it used to be, I ran to get where I was going. I never thought it would take me anywhere. But it did. It took me places I never expected and made me feel something I never thought I could."
5. "Now, when I was a baby, Momma named me after the great Civil War hero, General Nathan Bedford Forrest… She said we was related to him in some way. And, what he did was, he started up this club called the Ku Klux Klan. They'd all dress up in their robes and their bedsheets and act like a bunch of ghosts or spooks or something. They'd even put bedsheets on their horses and ride around. And anyway, that's how I got my name. Forrest Gump. Momma said that the Forrest part was to remind me that sometimes we all do things that, well, just don't make no sense."
6. "Mama always said you've got to put the past behind you before you can move on. And I think that's what my running was all about."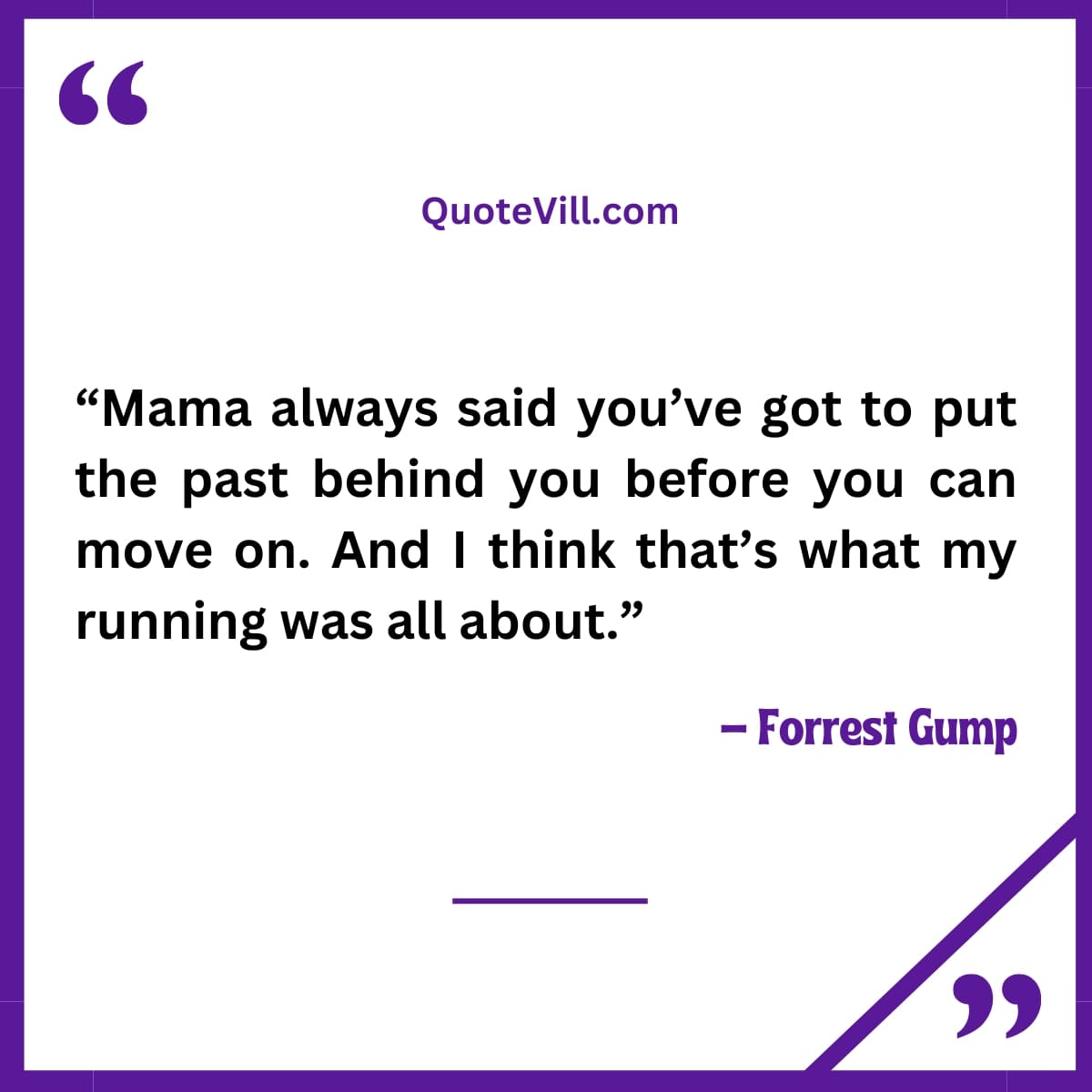 7. "We was like peas and carrots, Jenny and I. That's the way it is with best friends, y'know? You start to feel like you can't live without them. You can achieve anything when you have people you love by your side."
8. "I've worn lots of shoes. I bet if I think about it real hard I could remember my first pair of shoes. Mama said they'd take me anywhere. She said they was my magic shoes."
9. "There's only so much fortune a man really needs… and the rest is just for showing off. So, I gave a whole bunch of it to the Foursquare Gospel Church and I gave a whole bunch to the Bayou La Batre Fishing Hospital. And even though Bubba was dead, and Lieutenant Dan said I was nuts, I gave Bubba's momma Bubba's share."
10. "My momma always said, 'Life is like a box of chocolates, Forrest. You never know what you're gonna get.' That's all I have to say about that."
Saddest Quotes Of Forrest Gump
1. "Mama always said, dying was a part of life. I sure wish it wasn't."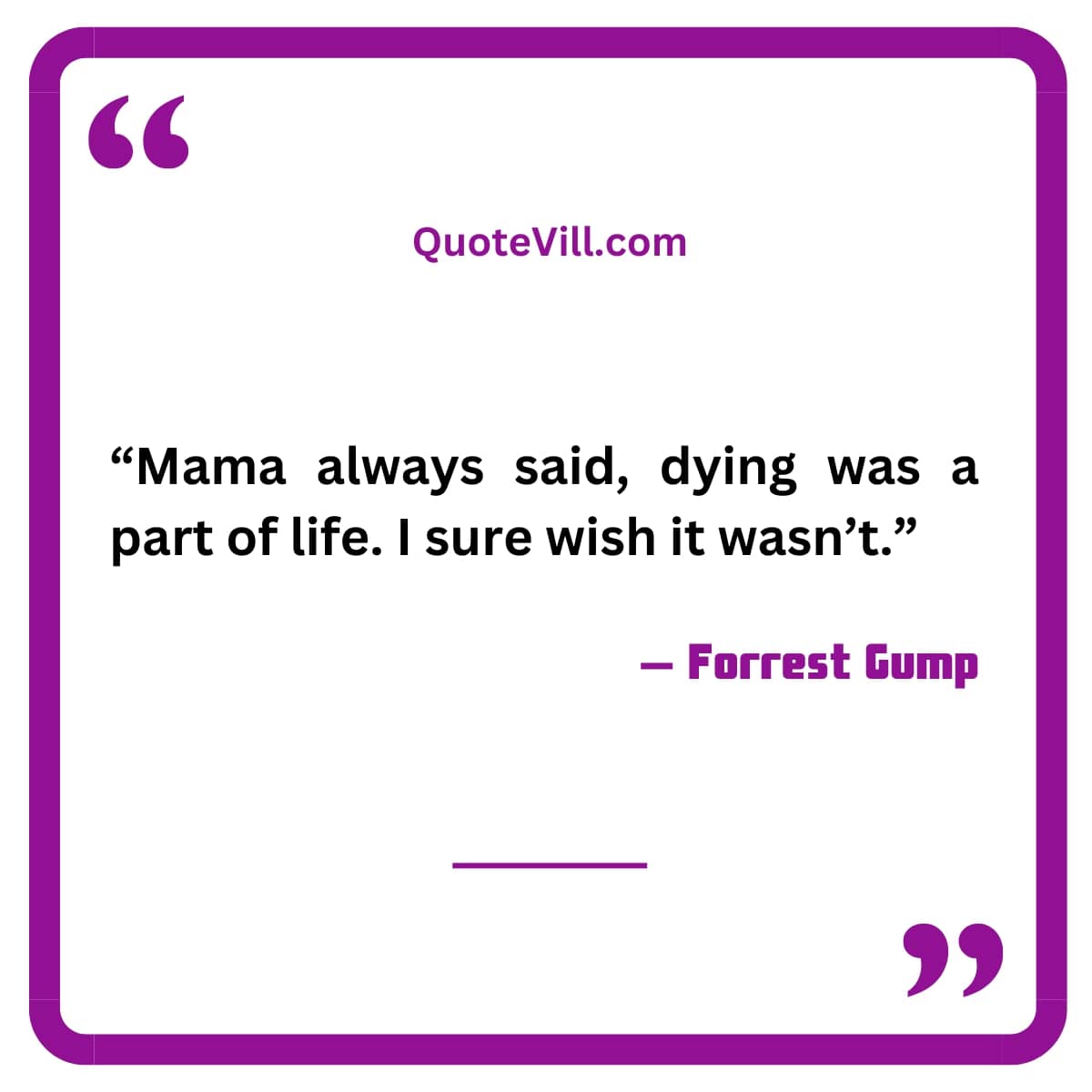 2. "Bubba was my best good friend. And even I know that ain't something you can find just around the corner."
3. "Sometimes, I guess there just aren't enough rocks."
4. "I miss you, Jenny. If there's anything you need, I won't be far away."
5. "He got a daddy named Forrest, too?"
6. "You died on a Saturday morning. And I had you placed here under our tree. And I had that house of your father's bulldozed to the ground."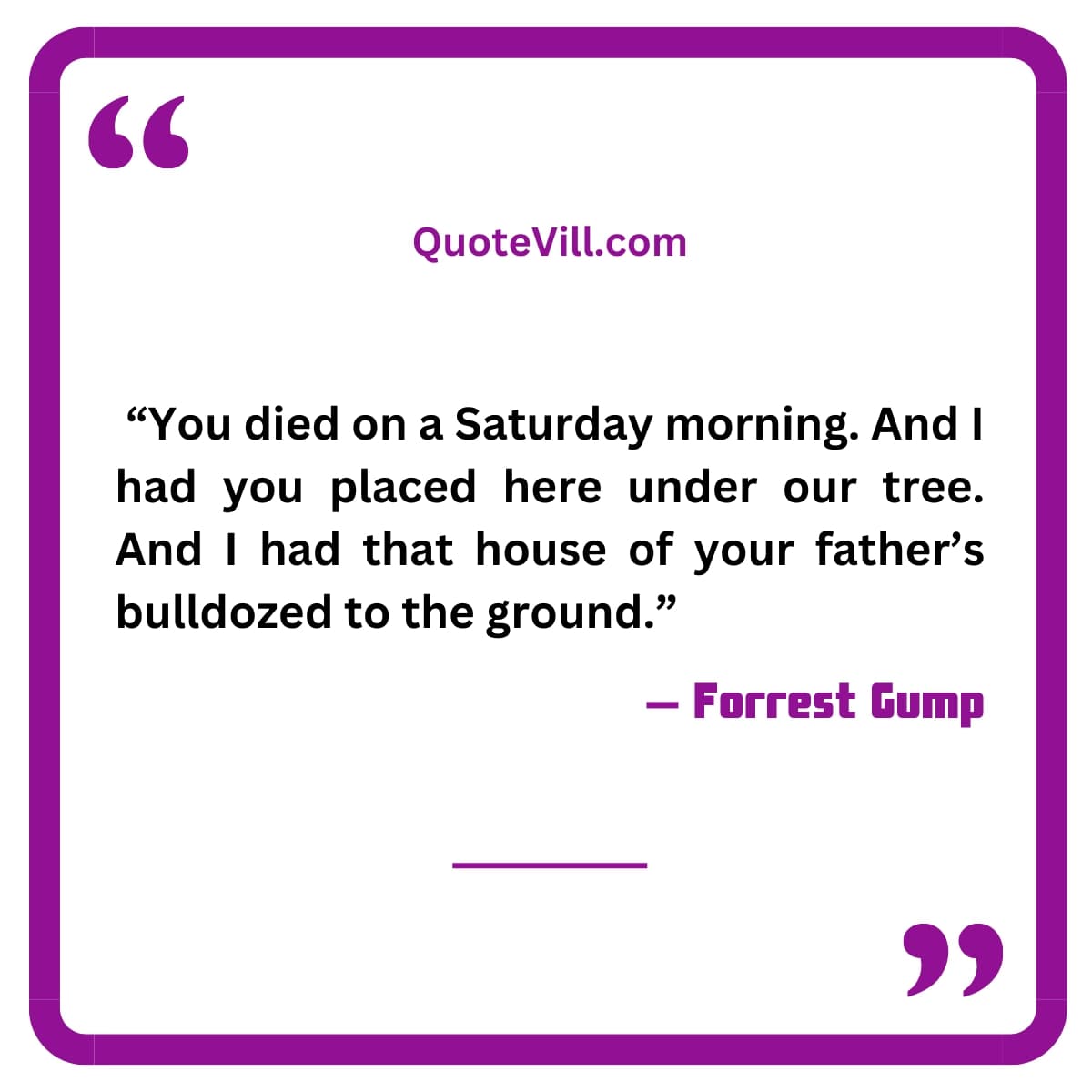 7. "Why don't you love me, Jenny? I'm not a smart man, but I know what love is."
8. "Jenny and me was like peas and carrots. She was the most beautiful thing I had ever seen."
9. "Now, mama said there's only so much fortune a man really needs, and the rest is just for showing off. So, I gave a whole bunch of it to the Four Square Gospel Church and I gave a bunch to the Bayou La Batre Fishing Hospital. And even though Bubba was dead, and Lieutenant Dan said I was nuts, I gave Bubba's momma Bubba's share."
10. "Jenny, I don't know if Momma was right or if, if it's Lieutenant Dan. I don't know if we each have a destiny, or if we're all just floating around accidental-like on a breeze, but I think maybe it's both. Maybe both is happening at the same time."
Forrest Gump Funny Quotes 
1. "My mama always said, 'Life was like a box of chocolates. You never know what you're gonna get.'"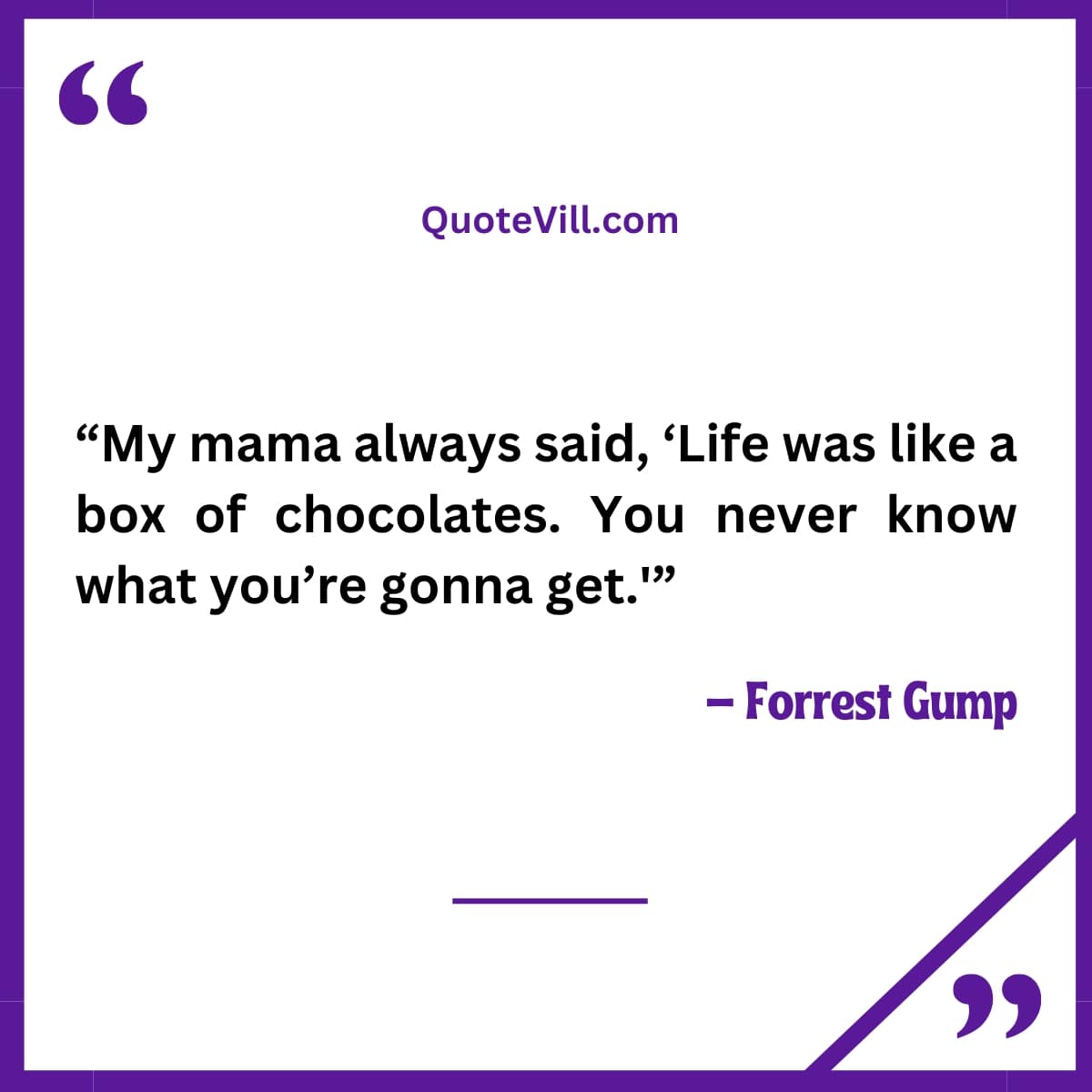 2. "Stupid is as stupid does."
3. "Mama says they was magic shoes. They could take me anywhere."
4. "I gotta pee." (This was Forrest's reply to President Kennedy who asked him how he felt after being honored for his football skills)
5. "Now, when I was a baby, Momma named me after the great Civil War hero, General Nathan Bedford Forrest… She said we was related to him in some way. And, what he did was, he started up this club called the Ku Klux Klan. They'd all dress up in their robes and their bedsheets and act like a bunch of ghosts or spooks or something. They'd even put bedsheets on their horses and ride around. And anyway, that's how I got my name, Forrest Gump."
6. "Bubba was my best good friend. And even I know that ain't something you can find just around the corner. Bubba was gonna be a shrimping boat captain, but instead, he died right there by that river in Vietnam."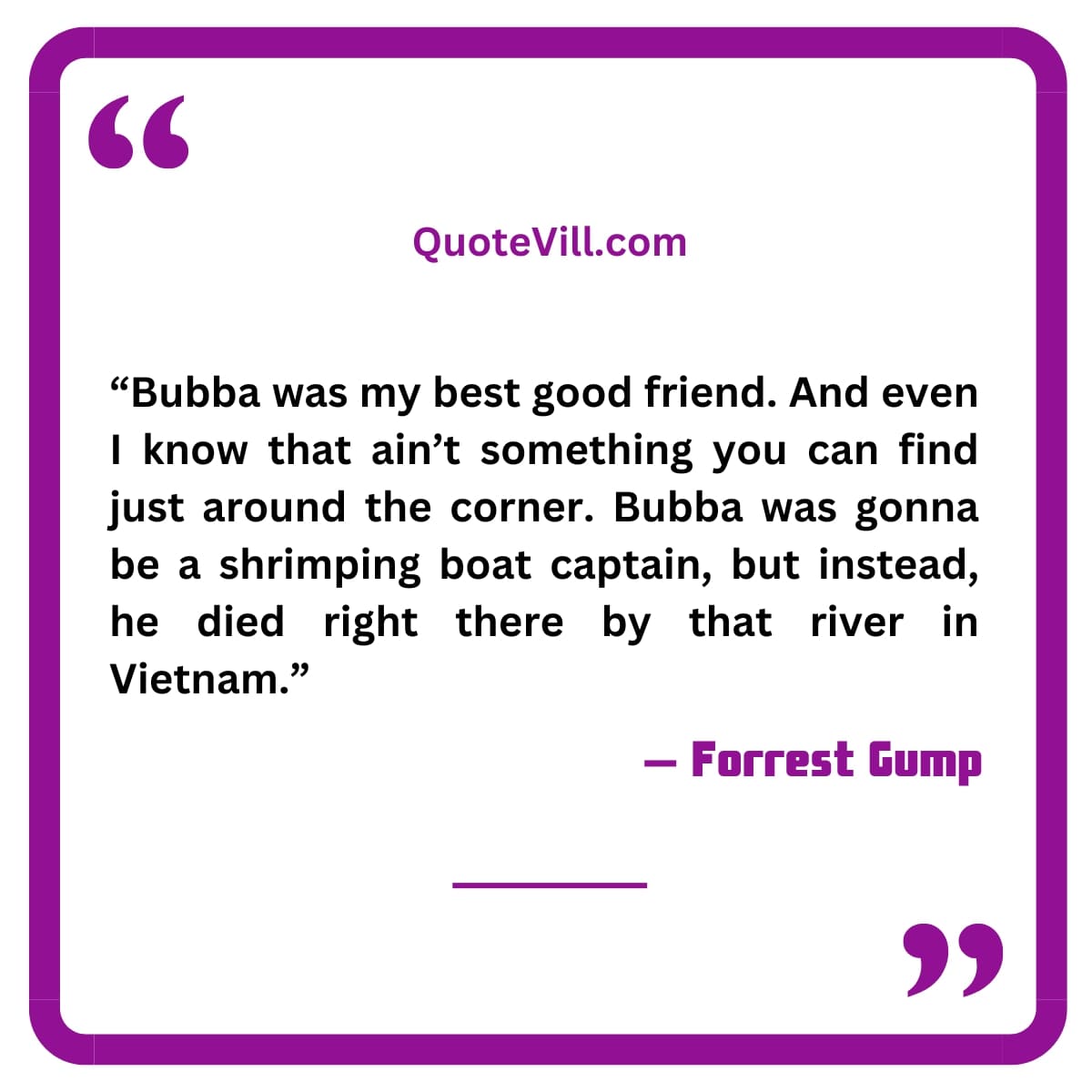 7. "The best thing about visiting the President is the food! Now, since it was all free, and I wasn't hungry but thirsty, I must've drank me fifteen Dr. Peppers."
8. "Mama always said, 'Don't take more than you can eat.'"
9. "And just like that, she was gone, out of my life again. I didn't know where she was going but I knew I had to find her. So I decided to go for a little run."
10. "When I got tired, I slept. When I got hungry, I ate. When I had to go, you know, I went."