Appreciating your husband can be a good thing to strengthen your relationship. Expressing your gratitude frequently for being a supportive life partner will help him understand how much you cherish him. Birthdays are special occasions, and celebrating them can help your loved ones realize that they are appreciated. Using funny birthday wishes for your husband can be the best way to tickle their humor and show how sincere you are about them.
Funny Birthday Wishes for Husband
1. On your birthday I hope you will have a very happy and prosperous life. I will do my absolute best to keep you happy as your wife. Dear husband, happy birthday! Please be on time today.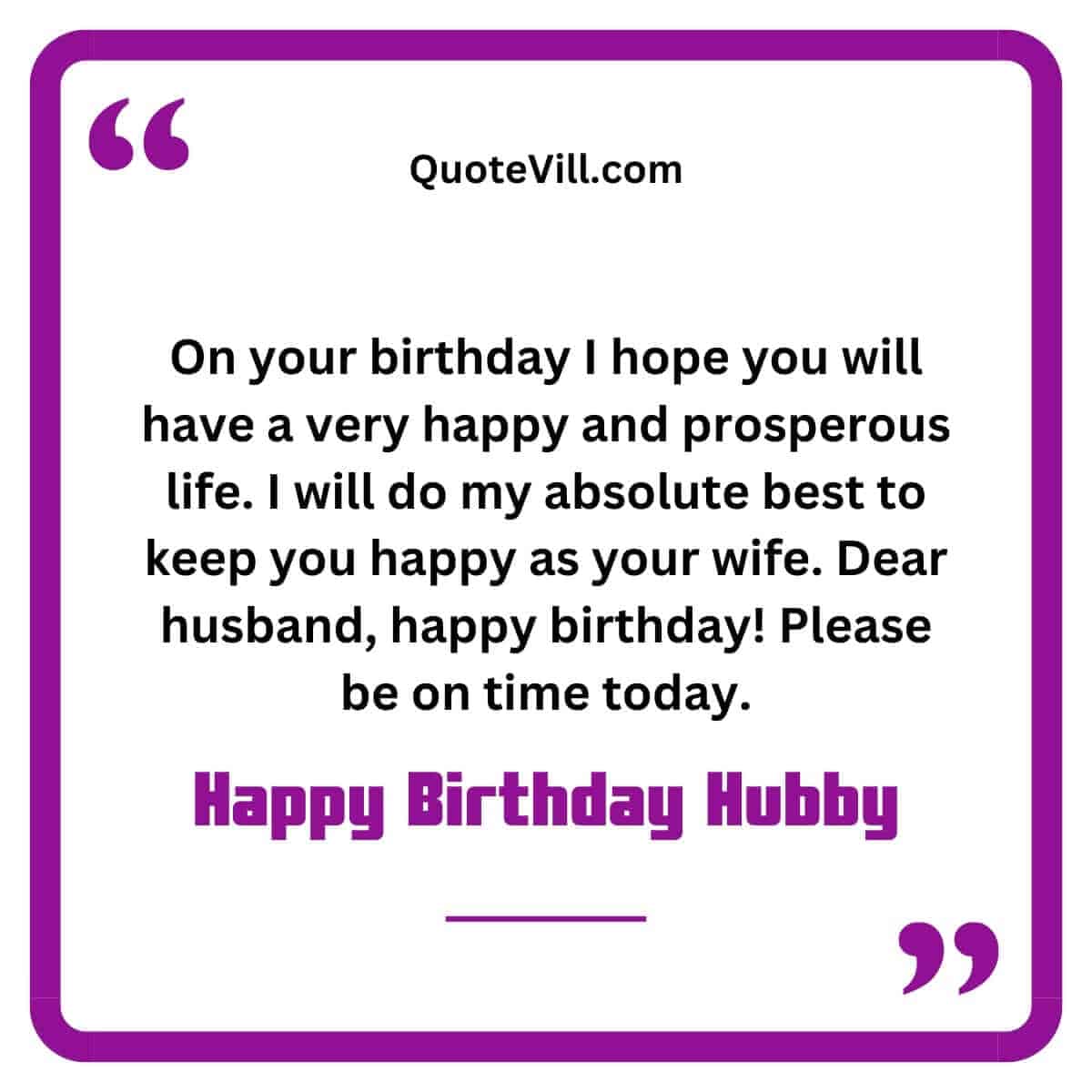 2. I bumped on you, and you stumbled on me, and we became one soul forever. I wish to stay by your side through all your happy endeavors. Happy birthday, dear.
3. Birthdays will come and go. But to me, you are still that handsome young man I married years ago. I wish you a very happy birthday to the owner of my heart. With your white hair you look pretty smart.
4. The spring days of our lives are these days. Although our hairs are all white, we should enjoy our happy days in various ways. My love, happy birthday!
5. We have many more birthdays to spend together. So, let us stick together forever. Life would be blue and grey without your love and favor. Let's grow old together.
6. I hope after aging another year you will know more ways to please your spouse. Otherwise, be ready to be thrown out of the house. Love you, birthday boy!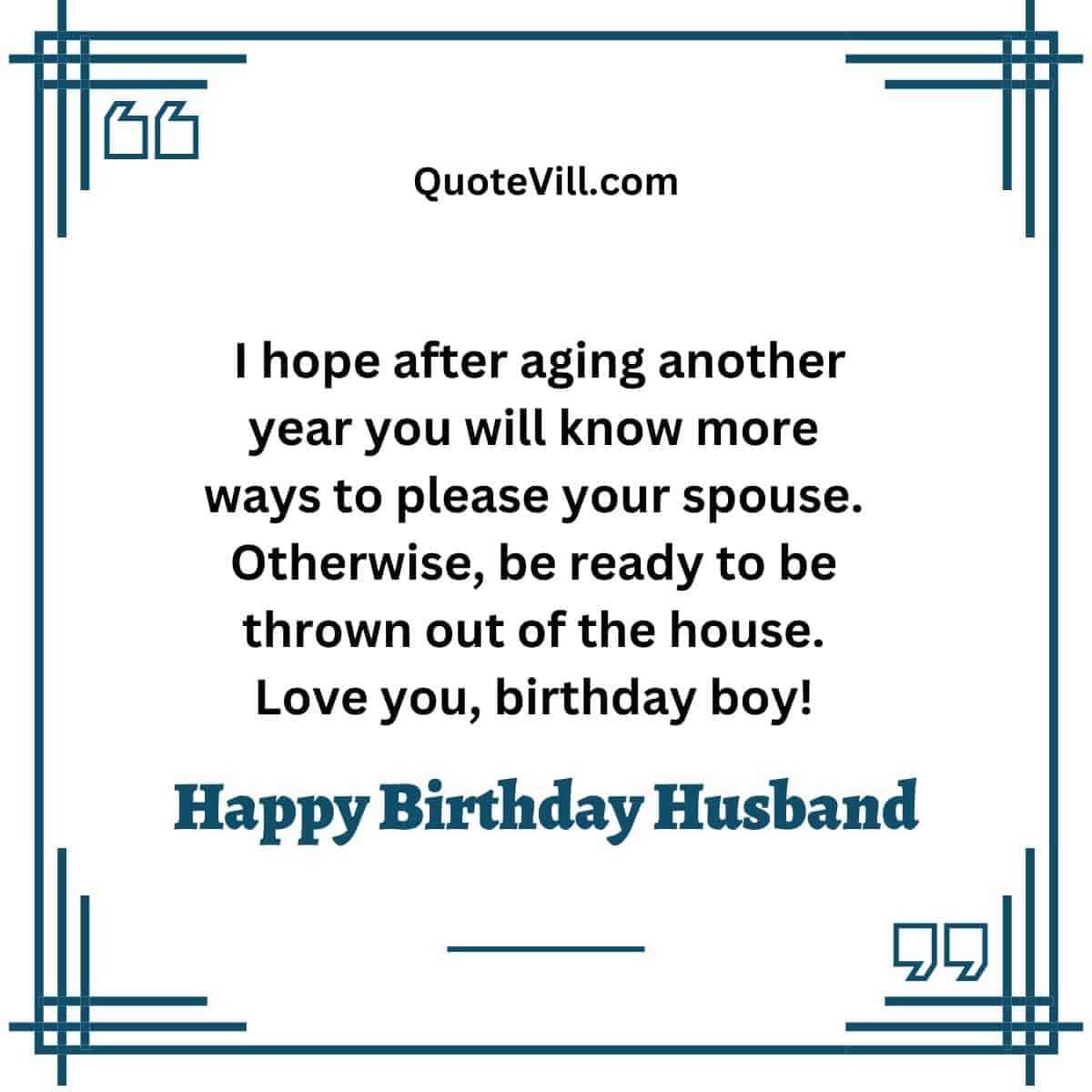 7. It seems like you age like a fine wine. Your birthday was the day when the universe decided to align your stars with mine. A very happy birthday hubby. You are a funny baby!
8. I am glad you grew another year older; I hope it does not make your winters colder than they already are. Happy birthday to the love who is always by my side. Please don't use your comforter to hide!
9. I hope we will still go for our morning runs unless you want to rest your aging lungs. Wish you a very happy born day, the man of my dreams. Today, I will bake you a cake full of creams.
10. Another extra candle this year you blew. In the coming years, I'll hold your cane for you. Happy coming out of womb day to the king of my heart. I have learned from you that lying is an art.
Funny Birthday Wishes for Husband on Facebook
1. Here's to a hubby who still enjoys channeling his inner bad guy from the comfort of his couch. We will grow old together, and this is something that I can vouch. Birthday greetings to you. To me you are always new.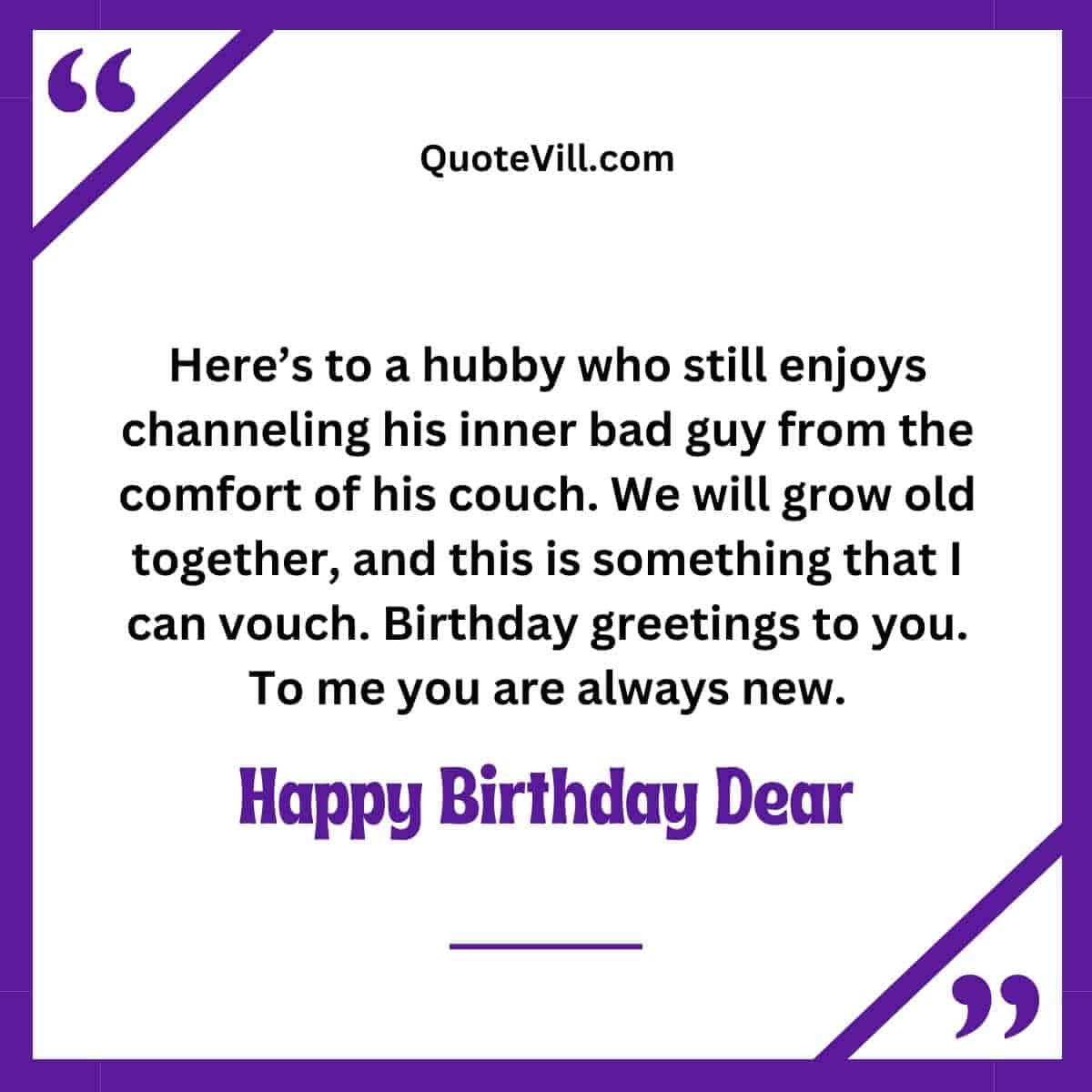 2. You're like mac and cheese. It's cheesy, and you enjoy it while at ease. Let's unwind and celebrate your birthday today! You spoil me for the majority of the year, but today I will do that as it's your happy birthday!
3. Happy birthday to my better half and the source of my greatest annoyance! I really like you, dear husband, for your flamboyance. Happy birthday dear hubby. I really love you baby!
4. You may lack the hero-body, strength, or endurance, but daily when you dedicatedly put out the trash, I know why I love our alliance! I was wondering what to buy for you as a gift? Well, then I remember you already have me that ended the conflict.
5. Happy birthday to a wonderful man. You my heart years ago with your wizardly smile, and today, I am your fan. Today I will ignore your snoring. Happy birthday to you, darling.
Funny Birthday Messages for Husband
1. There will be a time when it will be impossible to fit all the candles on the birthday cake and that day is not far. Happy birthday to you my handsome man, today you can have the bar.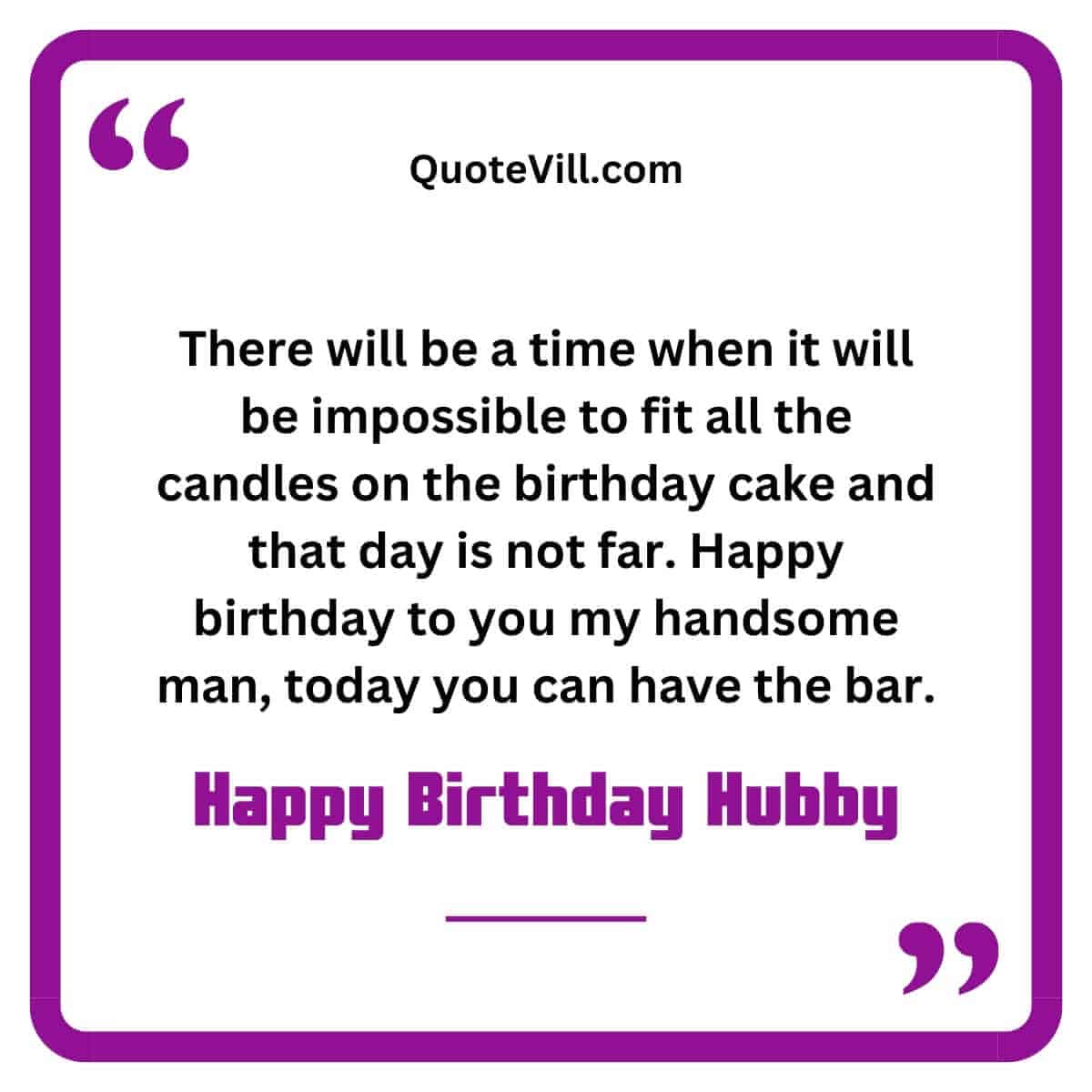 2. Happy Birthday to my hubby. Hope you got a bit more awareness about your peanut butter allergy. After all, it is difficult for me to reach the topmost shelf to get it every day, honey-bee.
3. I was thinking about buying you something that you will like the most. Then I stopped thinking and started cooking your favorite chicken roast. Happy birthday, sweetheart. Please don't break my heart.
4. I like the way you are forgetful because that makes you beautiful. Happy birthday to my big baby. I love my cute and goofy hubby.
5. Sorry, I could not find the perfect gift for your birthday. So, I picked up loads of wafers on the way. Happy birthday, sweet honey, you make my life so sunny.
6. Sometimes it makes me angry that you I am the love of your life. But the truth is without your workouts, you won't survive. Happy birthday, hubby, my hot gym bunny.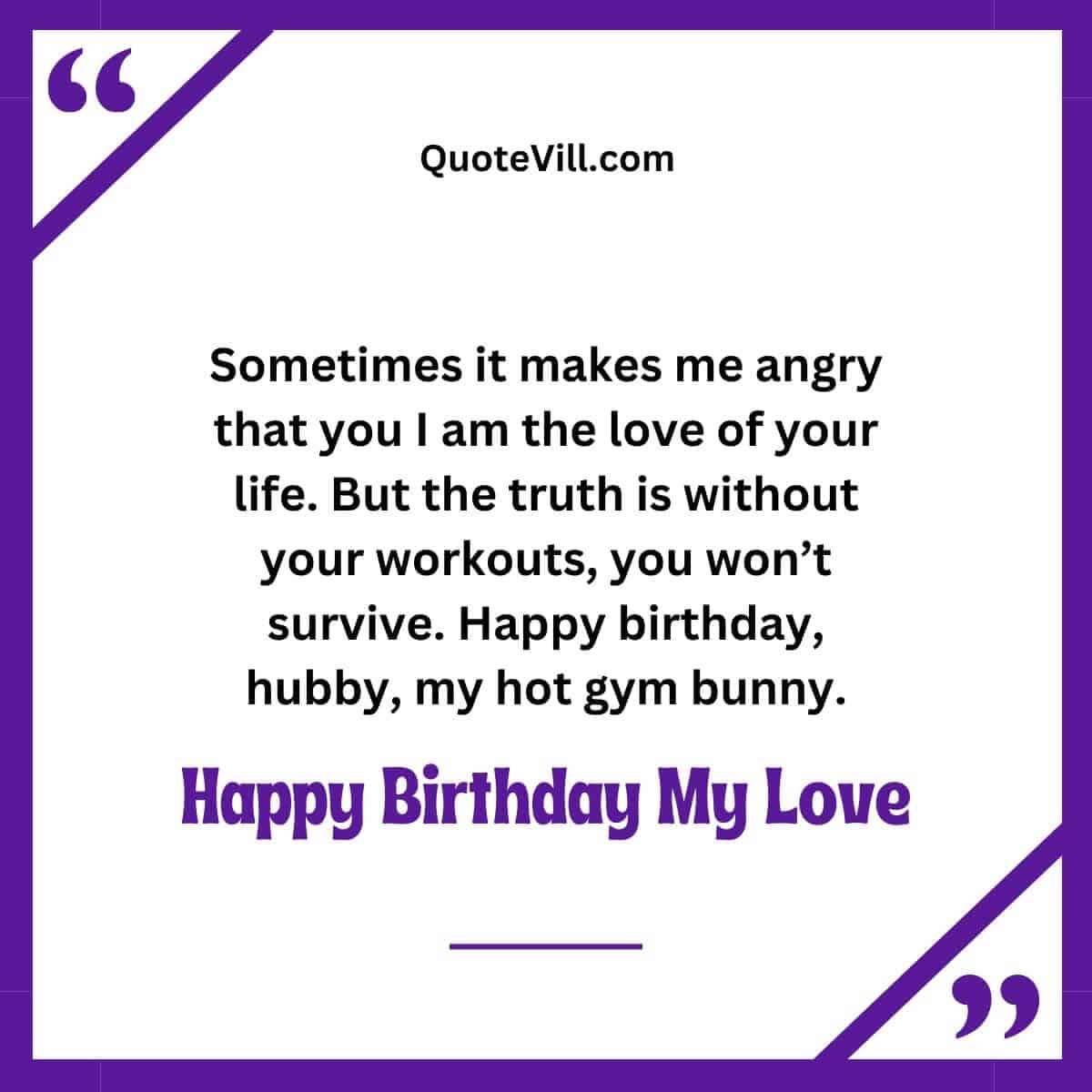 7. Honey, I forgot your age again. Don't blame me when you look like you're aging backward! You are getting hotter every year, dear. Happy birthday to you, dear.
8. I have forgotten what silence feels like. After all, your voice replaces a mic. Happy birthday to my human microphone. Without you, life is all forlorn.
9. I am God's favorite child since he has paired me with a man who is a crackhead just like me. So, you are my perfect partner-in-crime, you see. Happy birthday to you, hubby.
10. Your birthdays freak me out because that means I am getting old too. But I will bear all the tiredness because I love you. Hubby, happy birthday to you.
Final Thoughts
It is always crucial to remember that a simple, heartfelt birthday wish can go a long way. Thus, to make him feel more special on this day, you should prepare funny birthday wishes for your husband. Giving long notes are old fashioned. Use your quirkiness for these wishes.