Start your weekend with these Good Morning, Saturday Blessings. On Saturdays, we spend the whole day relaxing and spending time with ourselves, but it gets special if someone remembers us and tries to wish for a beautiful morning for us, just like we try to do it for someone else.
Saturday mornings mark the beginning of your weekend. So, we should start the day with a good heart and blessings and make our loved one's Saturday a lot better by sending them these beautiful Saturday Morning Blessings.
Even though, nowadays, we are busy throughout the week, the mornings generally are the indicators that let us know how our whole day will pan out, so a little blessing and a lot of good wishes are always welcomed.
When you send someone a morning blessing, you show your loved ones that you care about them and remember them enough to send them a morning blessing first thing in the morning so that they can have a good day.
Nothing is more precious than making someone else feel good. So, send these Good Morning Saturday blessings to your near and dear ones.
Why Saturday Blessings Quotes?
Before we dive in, let's talk about why you should consider sharing these beautiful Saturday morning quotes.
Spread Positivity: In a world full of stress, spreading a little positivity is always welcome. Quotes help in sharing the good vibes.
Connect with Loved Ones: Take this opportunity to connect with friends and family. A simple message can go a long way in strengthening relationships.
Personal Reflection: The tranquility of Saturday mornings is perfect for some self-reflection. Quotes often have a way of speaking to our inner selves.
Best 20 Good Morning Saturday Blessings
1. "Good Morning! Just a reminder that each Saturday holds a secret gift – a fresh start, a new dawn. Today, we're here to unwrap it together. So let's dust off those sleepy eyes and bless this day with a big, sunny smile."
2. "Rise and shine, people! It's a sweet, slow Saturday – a perfect day to spread joy. Remember, every sunrise is an invitation to make your life of equal simplicity, and each day a new life. So, let's count our Saturday blessings one by one."
3. "Good morning, beautiful souls! It's Saturday – a day of rest, refuel, and refresh. Just like a book, every Saturday opens up a new chapter of life. Bless this chapter with love and kindness, and you'll see the magic unfold."
4. "Morning, amigos! Saturday is here, and it's time to sparkle and shine. Let's lace this day with love and laughter, sprinkle it with kindness. Remember, the blessings of Saturday are plentiful if we just look for them."
5. "Wakey-wakey! It's a lazy, daisy Saturday, a chance to refill your soul and be grateful for your blessings. Take a deep breath and relax, soak in the sun and bless this wonderful day!"
6. "Hey! It's a bright and breezy Saturday morning. Let's paint this day with hope and cheer. Remember, every kind gesture is a blessing. So let's bless and be blessed on this beautiful day."
7. "Top of the morning to you! It's Saturday, a day for the soul to catch its breath. So let's sit back, sip some coffee, and soak up the Saturday blessings. Remember, every moment is a fresh beginning."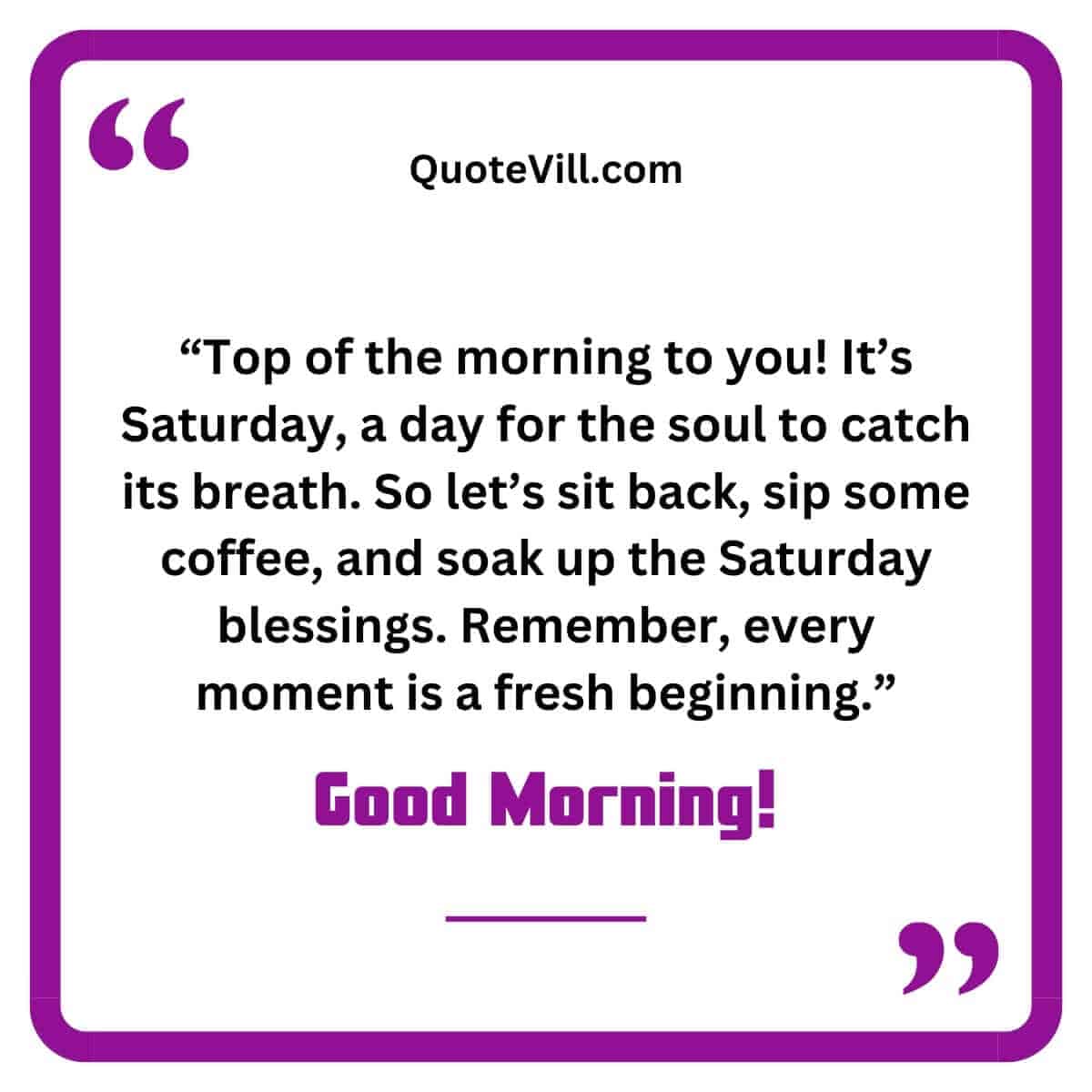 8. "Hello, world! It's a sunny Saturday, just a day to chase dreams and weave stories. Today, let's bless this day with our best, for blessings are more valuable when they're shared."
9. "Good morning, friends! Let's kick this Saturday into high gear with buckets of smiles, heaps of laughs, and a dash of awesome sauce. May your weekend be as epic as a double rainbow!"
10. "Good morning, world! This Saturday, may you find an extra spring in your step, a catchy tune in your head, and maybe a donut in your hand. Who says you can't have it all?"
11. "Hello Saturday, you sexy thing! May this day be a beach party for your soul – think sunshine, waves, and building sandcastles of dreams. Don't forget the sunscreen of positivity!"
12. "What's up, early birds and sleepyheads? This Saturday, let's play 'spot the happiness'. It could be in a warm mug, a funny meme, or a call from a pal. Happy hunting!"
13. "Hey, weekend warrior! May this Saturday bring you adventures – even if it's just a journey from your bed to the fridge. Pack some snacks, you never know what you'll find in there!"
14. "A huge, cheery hello to this Saturday! May your day be a big ol' bear hug of awesomeness. Get that comfy outfit on, dial up your favorite people, and let the good times roll!"
15. "Wishing that this Saturday showers you with happiness, infectious laughter, and abundant blessings that spill over into the rest of your weekend."
16. "Embrace today as a fresh canvas, a rebirth, and an occasion to seize every moment voraciously. May your Saturday be brimming with boundless potential and doors waiting to be opened."
17. "Wake up, dreamers! Saturday morning is like a blank canvas, and you've got all the colors in the world. Paint your masterpiece, bless it with your soul, and let's create a gallery of awesome today!"
18. "Roll out the red carpet, because Saturday's the celebrity today! Let's give it a standing ovation, throw roses, and ask for its autograph. Today, we're all stars in the blockbuster called Life."
19. "Hey, adventurers! Saturday is like a treasure chest full of possibilities. Let's be pirates for a day, explore the unknown and discover new blessings along the way. The horizon is waiting!"
20. "Good morning! Rise and embrace this beautiful Saturday! May the challenges you face today sharpen your skills, and may your hard work bear the fruits of success."
See: 60 Positive Monday Blessings to Motivate You for the Week Ahead
Cute Saturday Blessings
1. "Hey, sleepyheads! Saturday's here – time to rise, shine, and sparkle! Wrap this day in a big bear hug and bless it with your sweetest smile. This Saturday is yours to adore, so make it as cute as a button!"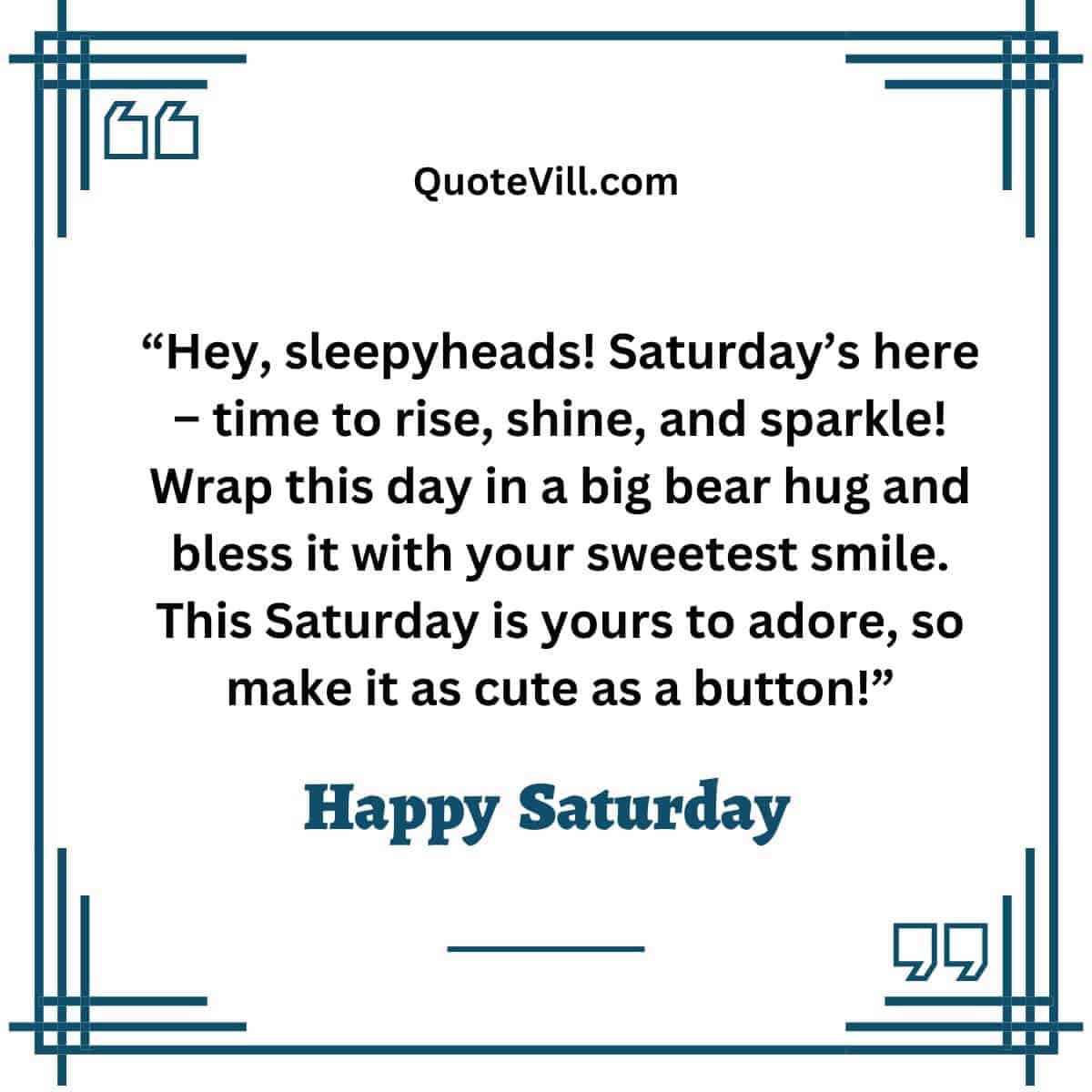 2. "Morning, sunshine! A glorious Saturday is peeking through the window, giggling like a playful toddler. Let's dress it up in laughter, tickle it with joy, and bless it with love. Here's to a cute and giggly kind of day!"
3. "Hola, amigos! Here's a Saturday as sweet as a cupcake. Let's swirl it with love, sprinkle it with hope, and top it off with a cherry of blessings. Let's savor this day, one cute moment at a time."
4. "Wake up, butterflies! Saturday is fluttering in, bright and beautiful, waiting to be chased. Let's bless it with kindness, fill it with color, and make it as cute as a kitten's purr."
5. "Good morning, lovebugs! Saturday has rolled in, as cozy as a warm blanket on a cold day. Let's wrap ourselves in its comfort, sip on the warmth of love, and bless this day with cute little moments of joy."
6. "Hey, dream chasers! Here comes a Saturday, wrapped in a rainbow, ready to color your world. Let's paint this day with all shades of cute and bless it with smiles that will last all week."
7. "Howdy, teddy bears! A plush Saturday is here to be squished and cuddled. Let's embrace it with joy, stuff it with love, and bless it with a pinch of cuteness. Let's make this day as adorable as you!"
8. "Good morning! It's a s'mores kind of Saturday, melty and sweet. Let's roast it over the fire of enthusiasm, sandwich it between love and care, and bless it with sweet memories. Let's make this Saturday deliciously cute!"
Read: 100 Uplifting Have A Beautiful Day Quotes To Share Positive Thinking
Good Morning Saturday Blessings And Prayers
1. "Good morning! May this blessed Saturday be filled with God's grace and love. May the Lord guide your steps and bring joy to your heart."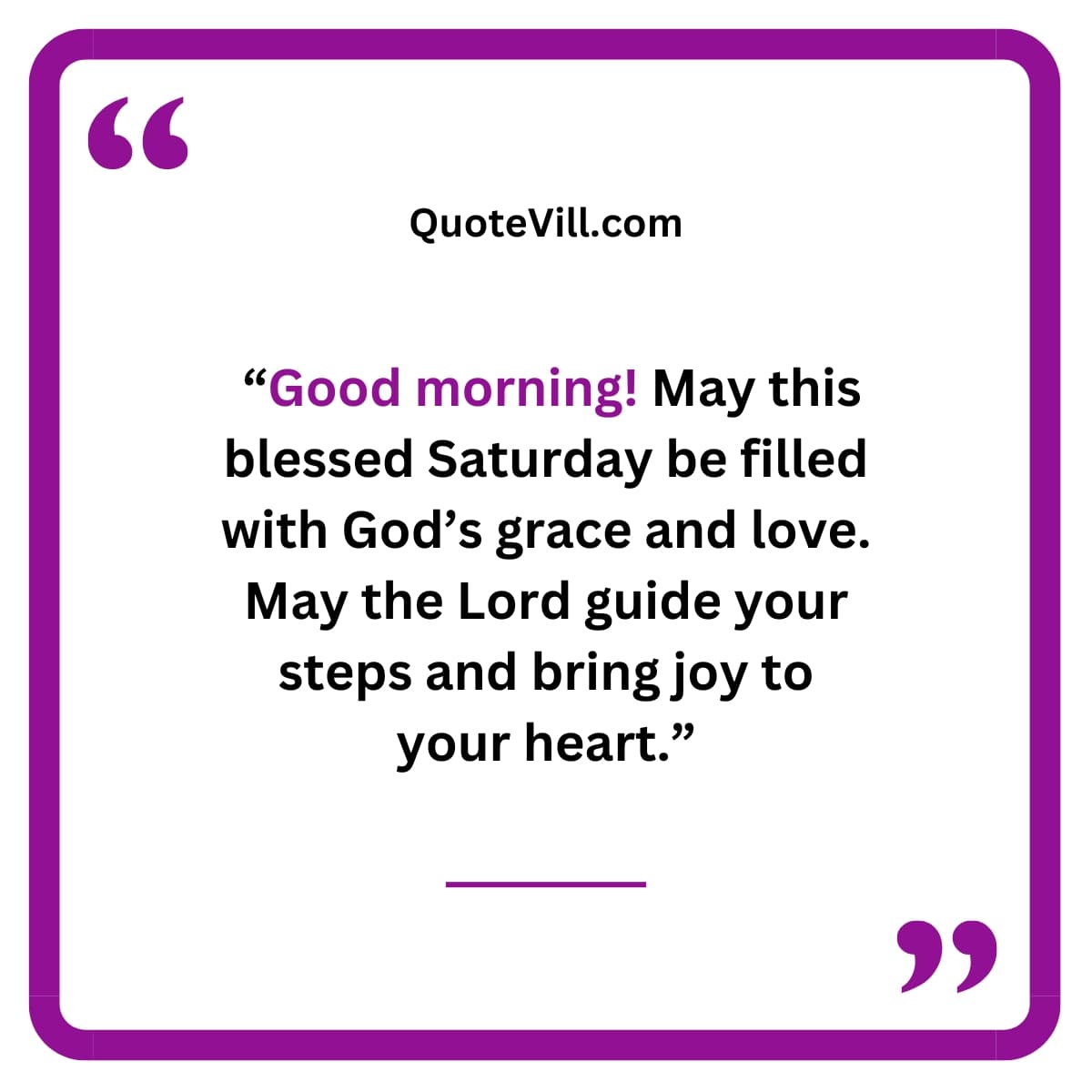 2. "Hello there! On this lovely Saturday, may the Almighty wrap you in His embrace. Let's start this day with a prayer and keep God in our hearts all through."
3. "Good morning, folks! As you step into this beautiful Saturday, may God's blessings follow you. May His love be your shield and His wisdom be your guide."
4. "Hey, good morning! Here's to a peaceful Saturday under God's watchful eye. Praying that the Lord bestows you with strength and fills your day with heavenly bliss."
5. "Hey, wake up! This Saturday is a fresh page. May you pen an amazing chapter today, filled with growth, courage, and adventures that make life even more exciting."
6. "Morning, go-getters! Saturday's calling. May your day be packed with creativity and may each step you take be a leap towards fulfilling your dreams. Keep on rocking!"
7. "Good morning! Here's to a Saturday of possibilities! May you find the strength to climb mountains, the will to forge rivers, and the spirit to embrace life's boundless wonders.
Thankful Saturday Morning Blessings
1. "Good morning! As we greet this stunning Saturday morning, let's pause and express gratitude for the small pleasures and the surrounding love in our lives. Today is a precious present, let's value it."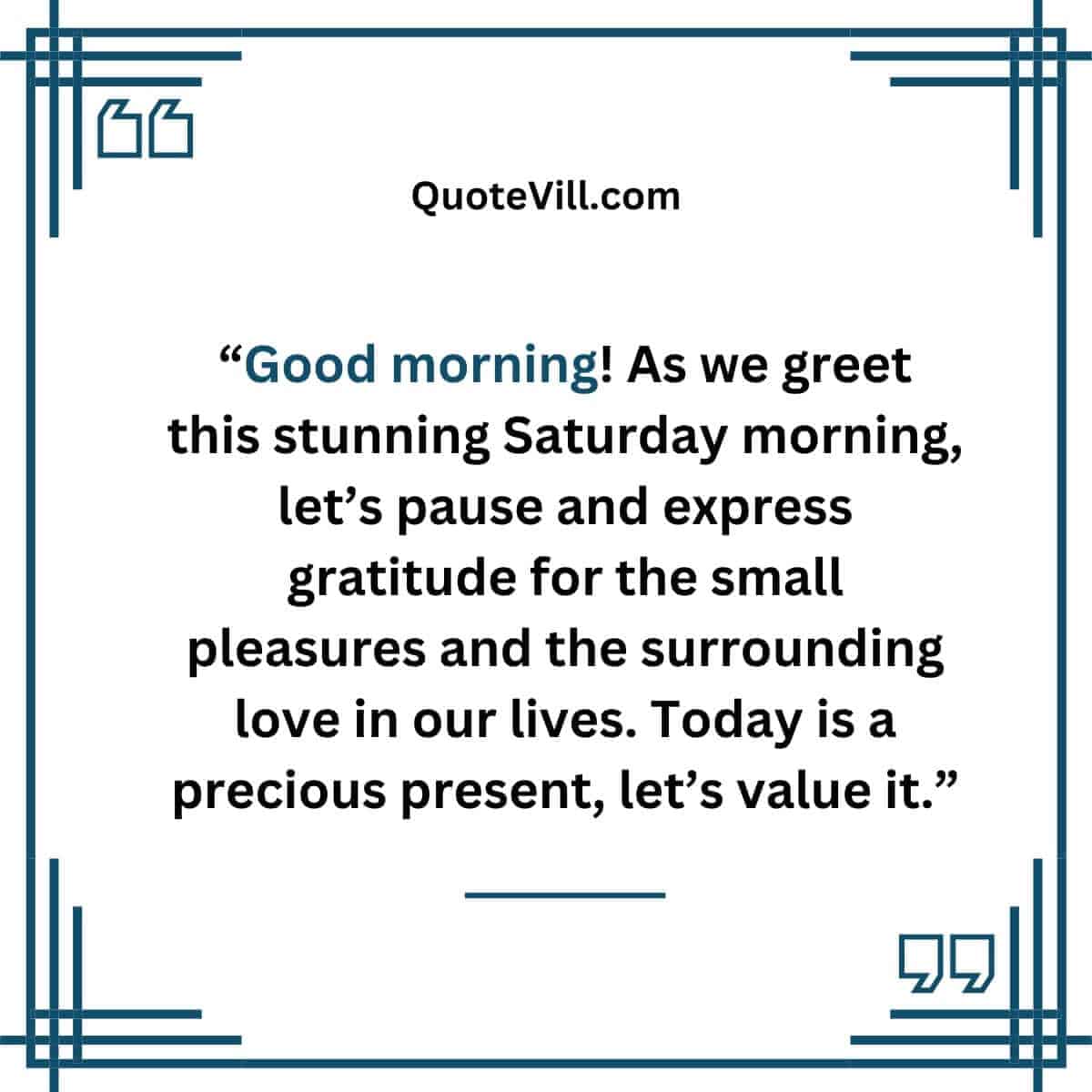 2. "Rise and shine! With the dawn of this new Saturday, let's count our blessings and express gratitude for the opportunities and experiences that have shaped our lives."
3. "Hello and good morning! This peaceful Saturday morning, let's give thanks for the roof over our heads, the food on our tables, and the supportive people in our lives."
4. "Good morning! On this serene Saturday, let's embrace the day with a thankful heart, and let our gratitude be the sunshine that lights our path and warms the hearts of those around us."
5. "Top of the morning to you! As the world awakens this Saturday, let us be thankful for the fresh air, the chirping birds, and the chance to make today meaningful in small ways."
6. "Rise and greet this wonderful Saturday! With gratitude in our hearts, let's make this day a tribute to the boundless beauty and joy that life continuously offers us."
7. "Good morning! On this glorious Saturday, let's open the doors to thankfulness. Grateful for lessons learned, friendships made, and the endless possibilities that each day holds."
Saturday Morning Blessings To My Love
1. "Good morning, my love! Just as the sun brightens the day, knowing I have you makes every Saturday even more special. Let's make beautiful memories today, just the two of us."
2. "Hello, sweetheart! Waking up on this Saturday knowing you're in my life is like a dream come true. Let's spend this day wrapped in love and happiness. You are my sunshine!"
3. "Hey there, darling! Happy Saturday! How about we play hooky from our chores and have a magical day just being together? Your love is the adventure I never want to end."
4. "Good morning, my treasure! It's Saturday, and I'm reminded of how blessed I am to have you by my side. Let's paint this day with colors of love and moments that take our breath away."
5. "Rise and shine, my love! With you, Saturdays are like an endless romantic movie, and I never want the credits to roll. Today, I just want to make you feel as cherished as you make me feel."
6. "Morning, my heart's delight! It's Saturday – a blank page in our love story. Let's pen down beautiful moments, laughter, and maybe even throw in a plot twist of spontaneous adventure!"
7. "Hello, my darling! The birds seem to sing sweeter, and the sun shines brighter when I'm with you. This Saturday, I'm thankful for every moment we share. You are my endless love."
8. "Good morning, beautiful! This Saturday, let's create a day so full of love that even the moon gets jealous of our sparkle. You light up my life in ways words can't capture."
9. "Hey, lovebug! It's Saturday, and I just wanted to remind you that my love for you grows with each passing day. Today, let's make memories that we'll cherish forever."
10. "Morning, sweetheart! Here's to a Saturday as amazing as you are. From sunrise to sunset, I want to spend every minute embracing the joy that is loving you."
Inspirational Saturday Blessings
1. "Good morning! This Saturday, remember that every sunrise offers a fresh start. Shed the weights of yesterday and set sail on a new adventure. The world is yours to explore!"
2. "Hello, world! Here's a sparkling Saturday to rekindle your inner fire. Feed your passions, chase your dreams, and become the architect of your own destiny."
3. "Wake up to this splendid Saturday! It's a blank canvas, and you're the artist. With each brushstroke, paint your dreams, and let your passions guide your hand."
4. "Good morning! This Saturday, let's honor the whispers of our souls. Let go of fears, embrace change, and step boldly in the direction that sets your spirit free."
5. "Rise to a new dawn! Saturday is a gentle reminder that life's a journey, not a race. Soak in the moments, breathe in the possibilities, and forge a path that echoes with laughter."
Text Messages: A simple text message is personal and effective. A 'Good morning' with one of these quotes can make someone's day.
Social Media: Share these on your Facebook, Instagram, Twitter, etc. Tag your friends and use the hashtag #SaturdayBlessings.
Handwritten Notes: For a more personal touch, write one of these quotes on a piece of paper and leave it for your loved ones to find.
Final Sayings
In the embrace of a Saturday morning, we find joy, renewal, and boundless opportunities to touch hearts. With the warmth of these Good Morning, Saturday Blessings Quotes, let's become architects of positivity. The canvas of the day awaits – so let's paint it with kindness, zest, and gratitude. Today and every Saturday, let's gift the world a sprinkle of our sunshine.