Greet your loved ones a sweet and dreamy sleep with good night quotes. Sometimes, people send these quotes with deep thought while sometimes, they just send a simple good night quote in order to make other people realize that there is someone who is concerned about his/her comfort.
Good night quotes are actually not just about greeting a person with simple good night messages but, they send such messages that a person is unable to say- like when a person feels incomplete without his/her companion, all he/she can do is to send a quote that expresses his/her importance in one's life. There could be nothing better than having someone who wants to see his/her loved one in peace and comfort, especially when the person sends quotes with beautiful words.
Good night quotes are more than just wishes or messages, they encourage a person to forget negative things and end the day with positive thoughts so that they can start a new day with a new spirit, dedication, and commitment. The best thing about these quotes is that people can maintain their hope because these quotes motivate people to keep on working for their cause. They should not lose hope and try to achieve goals without remembering what has been done in the past. Going to bed with positive thoughts and waking up with a new spirit is all a person should be as it will keep him/her motivated and give directions to move and make efforts in achieving set objectives. Good night quotes can play a significant role in this regard.
Cute 20 Good Night Quotes 
1. "Goodnight stars, goodnight air, goodnight noises everywhere." – Margaret Wise Brown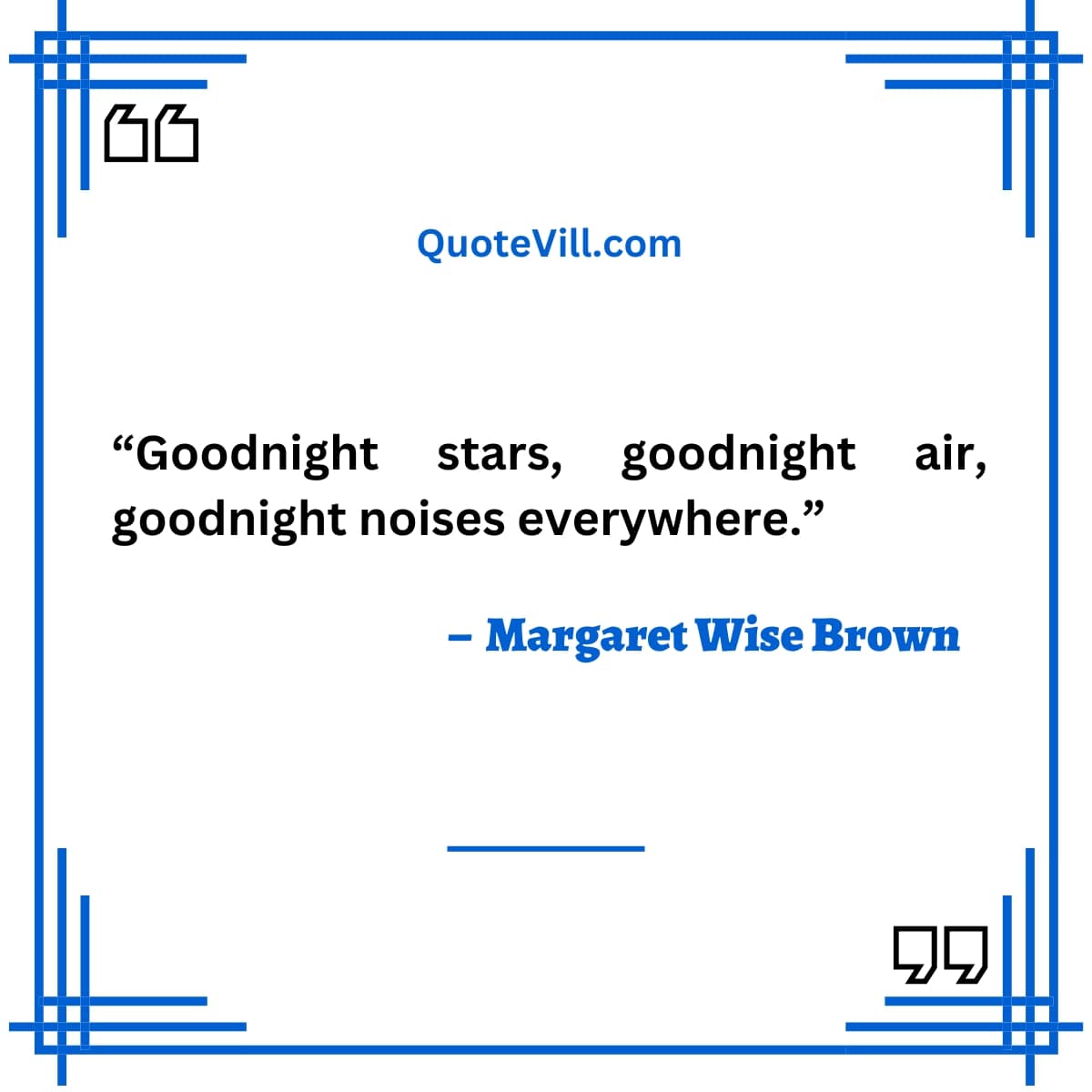 2. "Sleep is the golden chain that ties health and our bodies together." – Thomas Dekker
3. "Never say dreaming is useless, because life is useless if you can't dream. Good night!"
4. "Goodnight. Let the stars light the way to where your dreams can be found awaiting your arrival." – Anthony T. Hincks
5. "I wish for you a good night of sleep, sweet dreams, and a smiling morning." – Debasish Mridha
6. "As the moonlight dims and the world goes quiet, give yourself some rest. Here's to hoping that your sleep is as sweet as you are."
7. "I have loved the stars too fondly to be fearful of the night." – Sarah Williams
8. "Goodnight. Sleep awaits those of us who dare to dream." – Anthony T. Hincks
9. "Always end the day with a positive thought. No matter how hard things were, tomorrow's a fresh opportunity to make it better." – Harry Dean Stanton
10. "May you dream of lovely things and to find them real." – J.J. Heller
11. "Good night, and hush my love. The angels be with you in your dreams, and watch over you while you sleep." – Alexandra Bracken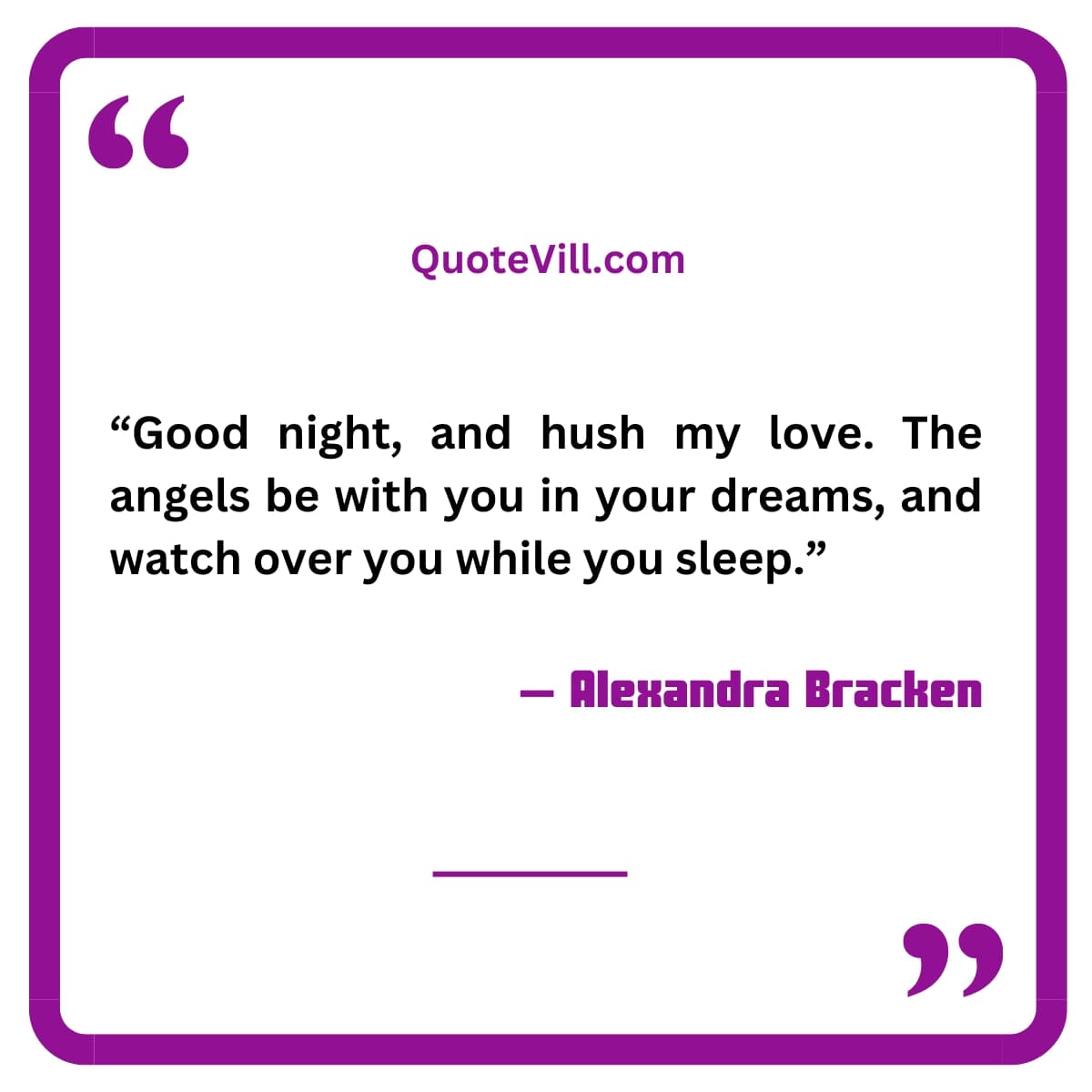 12. "The moon embalms me with her love and she kisses me good night. The nightingale sings her song of love when I take rest in the arms of darkness in the night!" – Avijeet Das
13. "The stars and moon arrive just to wish you a good night. Let the light of the moon guide your dreams as you pass the night away."
14. "Sleep, my Bella, dream happy dreams, you are the only one who has ever touched my heart, it will forever be yours." – Edward Cullen, Twilight
15. "They say that God sprinkles his blessings upon the earth every day and I think I have caught one—it's you! Wishing you a good night."
16. "The day is busy enough to keep me occupied. In the quiet of the night, I begin to really miss you." – Johann Wolfgang von Goethe
17. "Let's go in the garden. You'll find something waiting, right there where you left it, lying upside down. When you finally find it, you'll see how it's faded. The underside is lighter when you turn it around. Goodnight." – Rebecca Sugar
18. "Here is to hoping that angels will guard you while you dream and the gentle breezes of the night will keep you cool. If it is too cold, may your blankets be warm as you drift on to a gentle rest."
19. "May the blanket of night wrap you in a hundred sweet dreams, a thousand hugs, and a million kisses."
20. "Good night! Ah, good the night that wraps thee in its silver light. Sleep, sleep in peace, wake in joy, good night, good night." – George Du Maurier
Inspirational Good Night Quotes
21. "May you dream of lovely things and wake to find them real." – J.J. Heller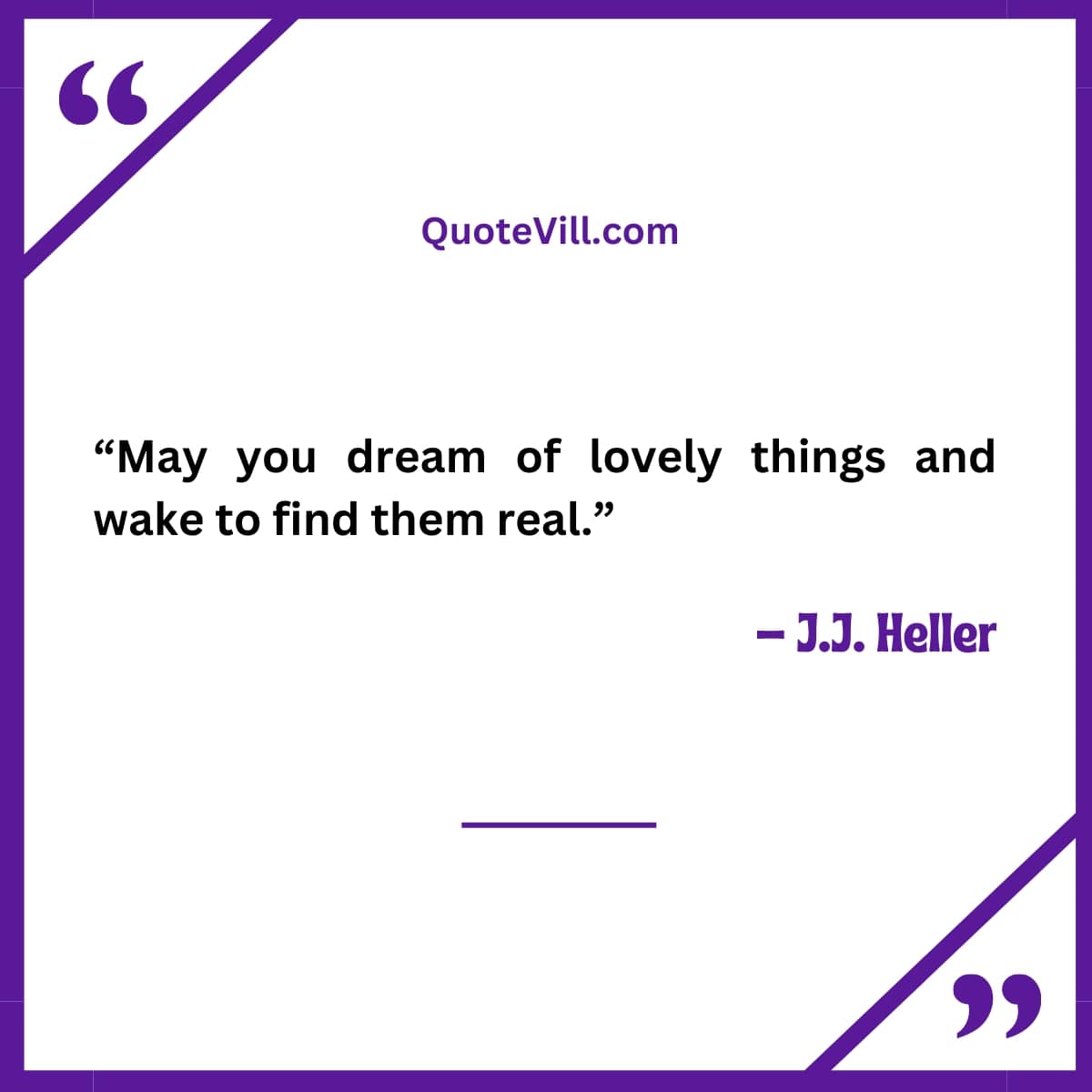 22. "Each night, when I go to sleep, I die. And the next morning, when I wake up, I am reborn. Always end the day with a positive thought and grateful heart. Good Night!" – Mahatma Gandhi
23. "While you dream, I wish that each hope and goal comes true. I just want you to receive everything that you have wished for. Good Night!"
24. "Do not go gentle into that good night but rage, rage against the dying of the light. You are the light of the world. You cannot hide it, nor do you wish to. Sleep well, my angel." – Dylan Thomas
25. "I love the silent hour of night, for blissful dreams may then arise. When all within is peace and calm, and sleep's sweet balm has soothed the weary eyes." – Anne Bronte
26. "The day is over, it's time for rest. Sleep well my dear you gave it your best. Tomorrow comes, another day. A new hope, a new way." – Catherine Pulsifer
27. "Stars can't shine without darkness. Embrace the peaceful solitude of night and anticipate the new opportunities that dawn will bring."
28. "The moon will guide you through the night with her brightness, but she will always dwell in the darkness, in order to be seen. Don't be afraid of the dark, for it is in the darkness that we find our deepest reflections. Good night." – Shannon L. Alder
29. "Nighttime can seem longer than the day when you dream big dreams. Daytime lasts longer for people who make their dreams come true. Good night." – Michelangelo
30. "And tonight, I'll fall asleep with you in my heart. Beneath the laughter and smiles lie sincere wishes for you to have the most beautiful of nights."
31. "Night, the beloved. Night, when words fade and things come alive. When the destructive analysis of day is done, and all that is truly important becomes whole and sound again." – Antoine de Saint-Exupery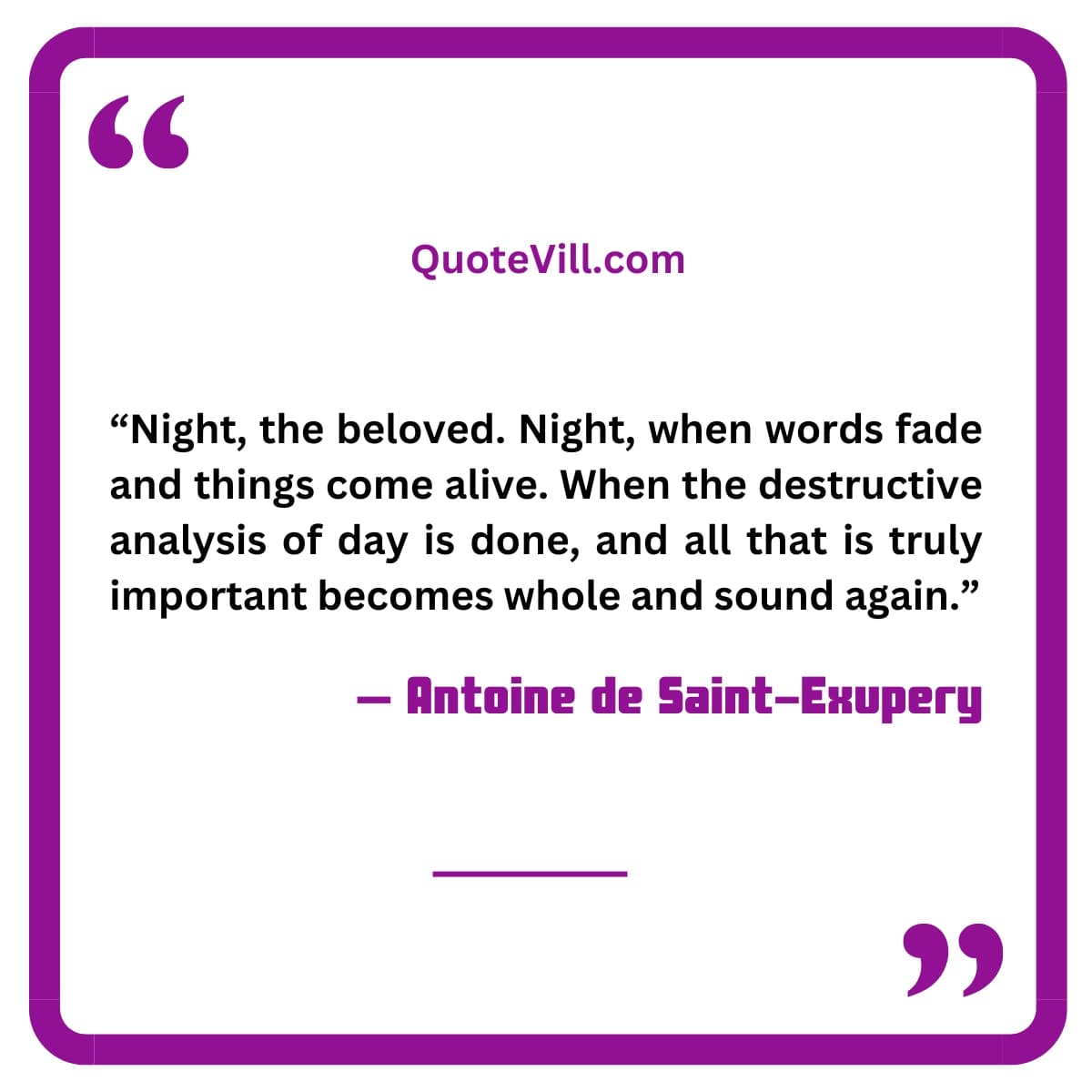 32. "My idea of a good night has always been having a lovely meal, a proper conversation, and a good sleep. May you have a peaceful night and wake up refreshed."
33. "Sleep is the best time to repair, but it's hard to get a good night's rest when we don't dial the inner chatter down. Release your worries, fears, and doubts. Sleep well." – Kris Carr
34. "At the end of the day, keep your spirits high. Tomorrow's a new and better day. Rest tonight and allow dreams of the future to wash over your mind." – Anonymous
35. "As you end this day, before you sleep, remember to count your blessings, not your troubles. You always have more than you think." – Earl Nightingale
36. "No matter how far you are… you are always in my thoughts! Good night."
37. "Night is the wonderful opportunity to take rest, to forgive, to smile, to get ready for all the battles that you have to fight tomorrow." – Allen Ginsberg
38. "The longest way must have its close – the gloomiest night will wear on to a morning. May you find that each dark night you endure leads you to a beautiful morning." – Harriet Beecher Stowe
39. "Before you fall asleep every day, say something positive to yourself. Your words and thoughts are powerful. Use them to your advantage and manifest what you desire in life. Good night." – Enid Bagnold
40. "As the night gets dark, let your worries fade. Sleep peacefully, you have done all you can do for today. Don't lose hope. When the sun goes down, the stars come out. Tomorrow is another day, and a new chance to make everything right." – Roald Dahl