Turning 50 means completing a half-century of life; it's a big achievement. And someone very near and dear to you is turning 50; it calls for a celebration. And what could be a better way to start the celebration than the most amazing Happy 50th Birthday Wishes? 
As the big 5-0 holds a special significance in someone's life, you just shouldn't wish them a simple "Happy Birthday." Because it's a momentous occasion, greet them with something special, heartfelt, and remarkable. And if you feel out of ideas, we are here to help. 
Below we have curated a collection of Happy 50th Birthday Wishes that reflects the importance of such a milestone birthday so that you can use them to adorn the birthday card perfectly!  
Ideas To Deliver Your Happy 50th Birthday Wishes
Now that you're armed with your heartfelt wishes, how do you deliver them in a way that makes the recipient feel special? Here are some ideas:
Throw a surprise party: Organize a surprise party and invite close friends and family. You could prepare a toast and read your Happy 50th Birthday Wishes aloud.
Write a heartfelt letter: Pour your thoughts and feelings into a letter, adding a personal touch to your birthday wishes.
Customize a birthday card: Use one of your chosen Happy 50th Birthday Wishes to customize a birthday card. There are many online platforms that let you do this seamlessly.
Remember, turning 50 is a golden milestone that calls for a golden celebration. Your sincere and carefully chosen Happy 50th Birthday Wishes will undoubtedly make the celebrant's day extra special. If you are in need of more ideas, we also have more links to other fantastic birthday wishes for different ages and relationships. Keep celebrating and spreading the joy!
Inspirational Happy 50th Birthday Wishes
1. "Happy 50th birthday! At 50, you're not slowing down, you're just picking up steam. Here's to a half-century of making a difference and many more years of the same."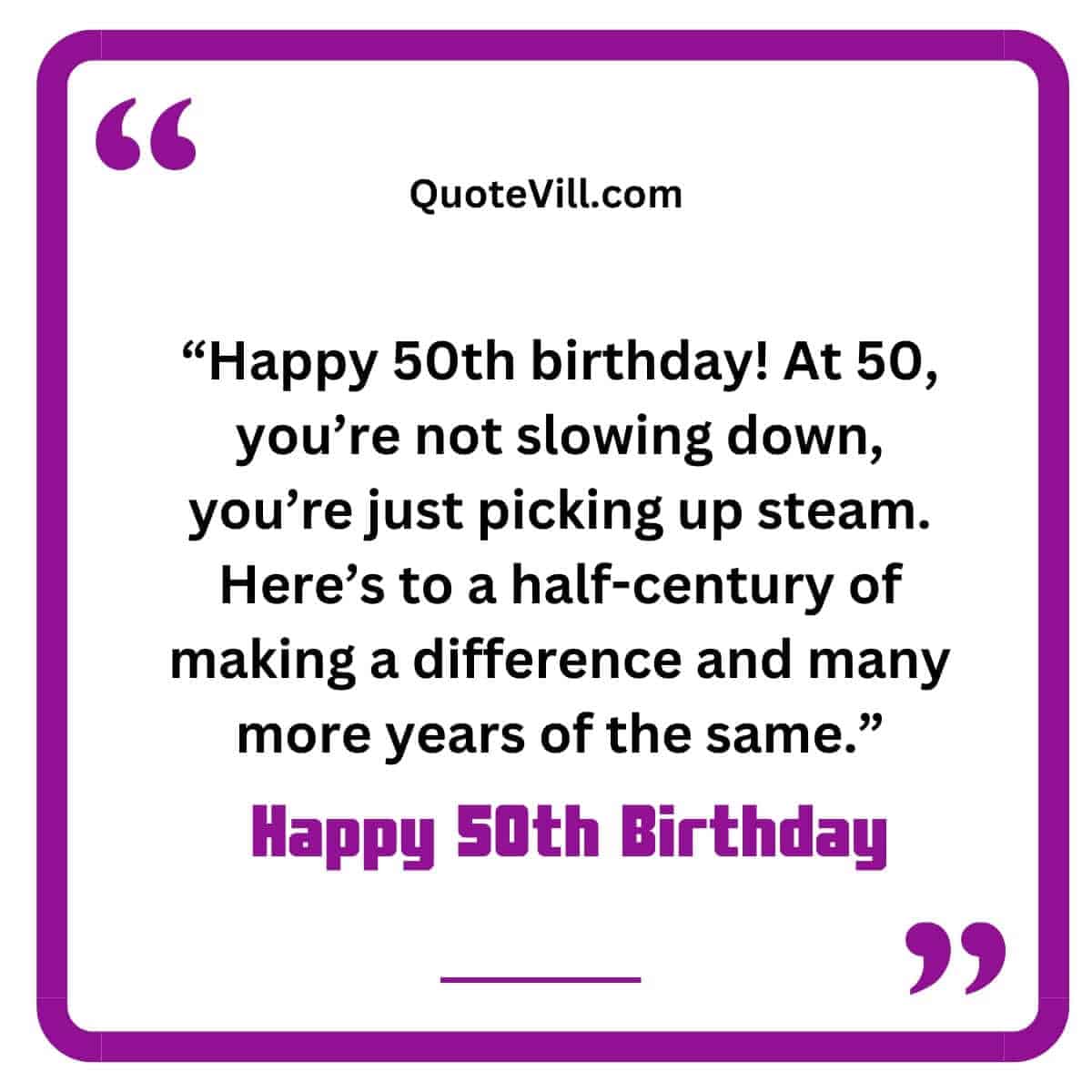 2. "You're 50 and fabulous! May the next 50 years be an exhilarating journey filled with joy, wonder, and discovery."
3. "Embrace this golden milestone! Fifty years of wonderful you have gifted the world with laughter, love, and wisdom. Cheers to 50 more!"
4. "Happy 50th Birthday! In these vibrant years, you've painted your life story with bright colors of love and resilience. Here's to adding more hues in the next chapters."
5. "Welcome to the grand age of 50! Every wrinkle holds a joyful memory, every gray hair a victory won. You wear them all with splendid grace."
6. "On your 50th birthday, let's celebrate the magnificent journey you've traversed, full of love, laughter, and learning. To the next exciting 50!"
7. "Happy 50th! With your charm and grace, 'fabulous' just found a new definition. Here's to celebrating the incredible person you are."
8. "Happy 50th! They say life starts at 50. So, get ready to embrace new adventures, spread your wings, and take flight!"
9. "Happy 50th Birthday! You've spun the earth around the sun 50 times and made our lives brighter in every rotation. Cheers to your beautiful journey and the radiant years to come!"
10. "Welcome to the Fabulous Fifties! With every beat of your heart and every breath you take, you inspire. Thank you for being you, and a very Happy 50th Birthday!"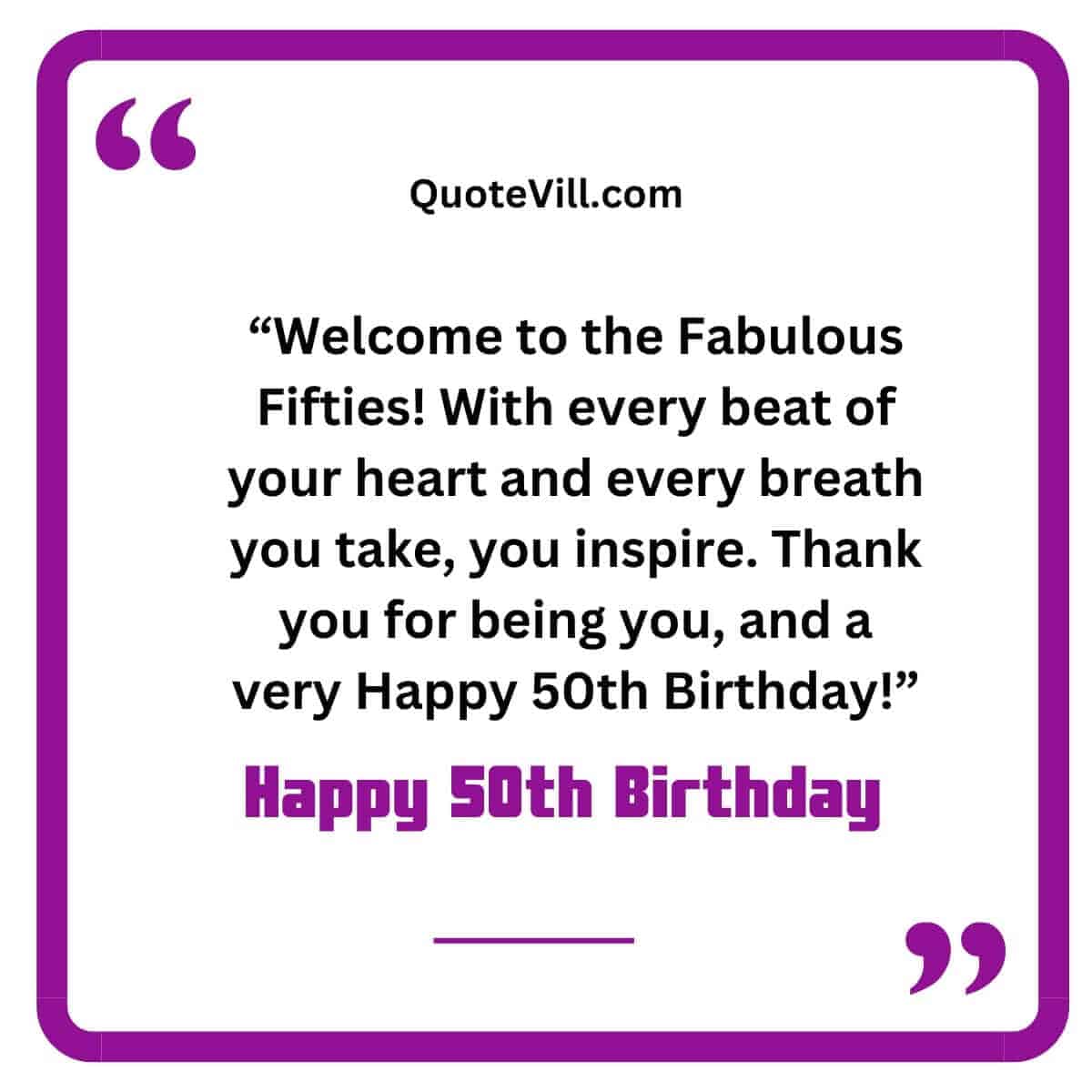 11. "You've danced through five amazing decades, each step echoing your warmth, courage, and love. Happy 50th! May your dance floor always be filled with happiness."
12. "Celebrating 50 years of you—a testament to resilience, a song of joy, a beacon of love. Here's to continuing your beautiful symphony. Happy Birthday!"
13. "Happy 50th Birthday! Remember, age is just a number that has nothing on your youthful spirit. Keep shining, keep laughing, and keep being you!"
14. "Cheers to your golden jubilee! You've lit the world with your grace and grit for 50 splendid years. May your next chapters sparkle just as brightly."
15. "On your 50th Birthday, may you look back at your past with pride, and look forward to your future with uncontainable excitement. Keep living, loving, and laughing!"
Read: 78 Cute and Creative Happy 21st Birthday Son Wishes
Happy 50th Birthday Wishes For Husband 
1. "Happy 50th, my love! You've turned my everyday into a tapestry of love and laughter. Here's to our next 50 years, filled with memories yet to be made."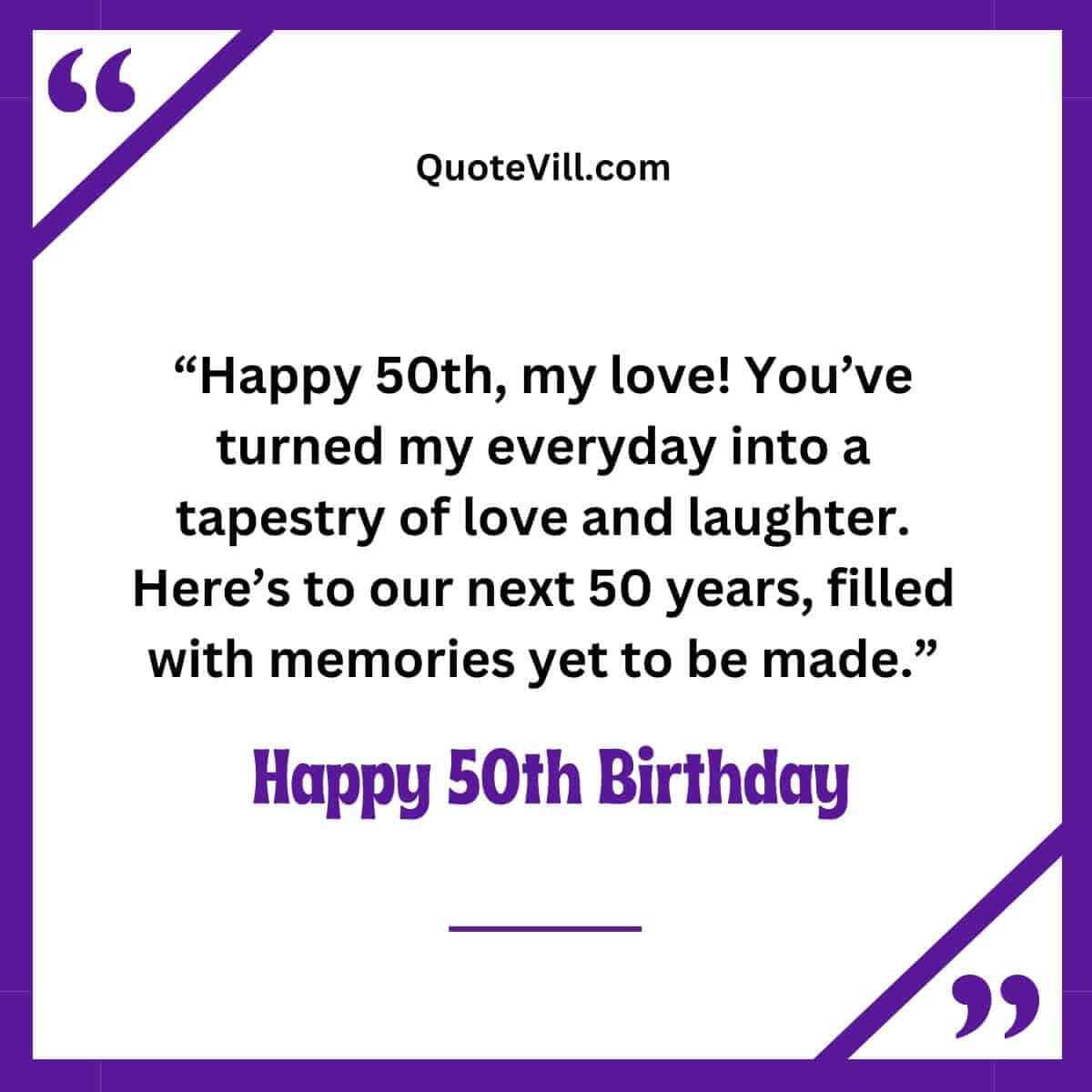 2. "On your golden birthday, let's celebrate not just your age, but the countless moments of joy and love we've shared. Here's to many more as we journey through life together."
3. "Fifty has never looked so charming! With every passing year, you inspire me more. Happy Birthday to the man of my dreams, my rock, my confidant."
4. "Happy 50th, my love! You've filled my life with vibrant hues of love and joy for all these years. I'm excited to paint many more colorful memories with you."
5. "Celebrating 50 years of you, my love! Your strength, kindness, and love have been my compass in life. I'm grateful for every moment with you. Happy Birthday!"
6. "Happy 50th Birthday, my love! Here's to the memories we've made, the love we share, and the many more adventures awaiting us in the next chapter of our life together."
7. "On this special day, we celebrate not just your 50 years on this Earth, but the incredible man you've become in that time. Happy Birthday to my loving and inspiring husband."
8. "Happy 50th Birthday, my love! With every year that passes, you become more incredible in my eyes. Here's to a future filled with happiness, shared adventures, and enduring love."
9. "Happy 50th Birthday to my amazing husband! You are the love of my life, and with each year that passes, my love for you only grows. Here's to many more years of shared joy and love."
10. "Fifty looks fabulous on you, my love! Today, we celebrate you: your strength, your kindness, your unwavering integrity. Happy 50th Birthday to my beloved husband!"
Happy 50th Birthday Wishes For Wife
1. "On your golden birthday, I am reminded of all the golden moments we've shared. Here's to 50 more!"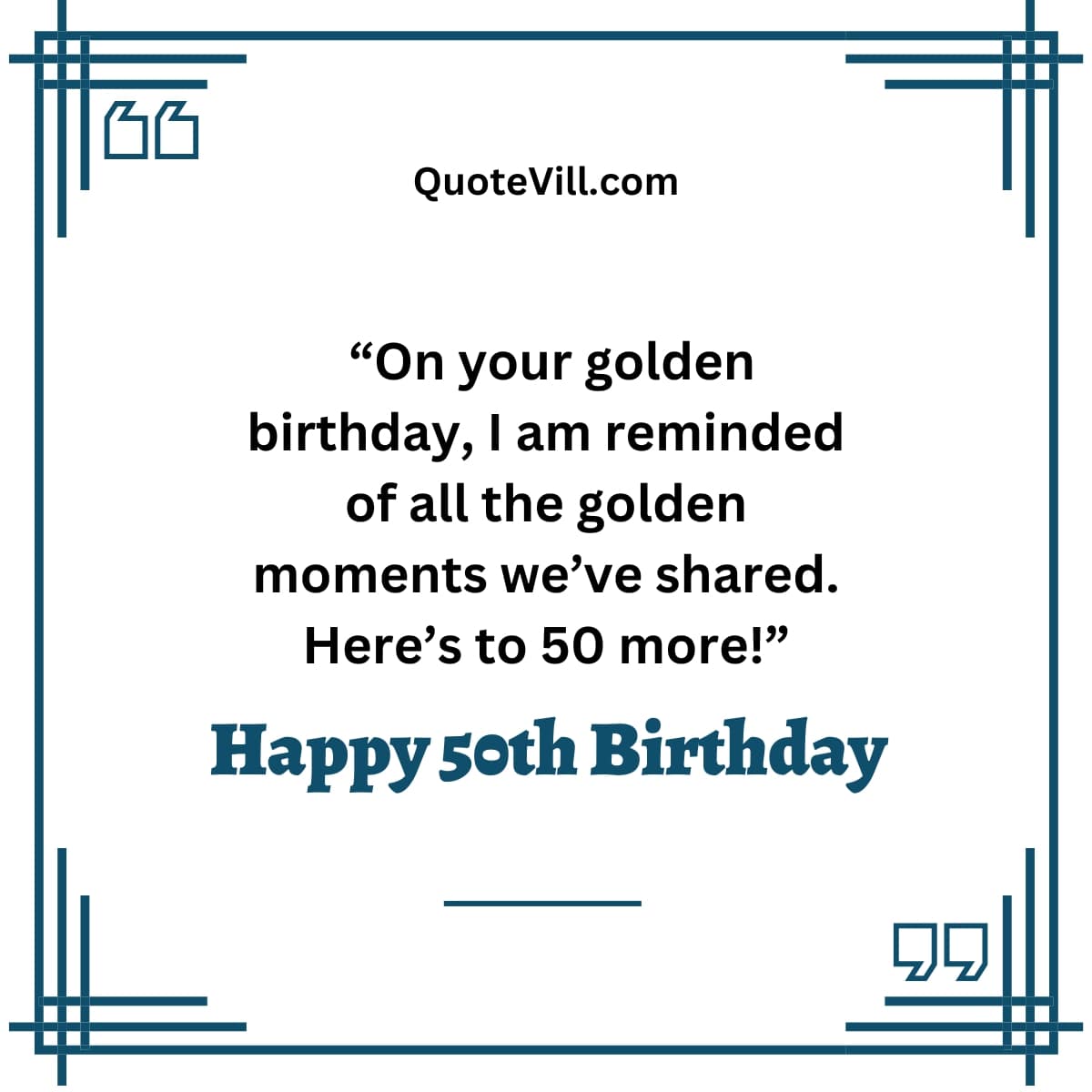 2. "Happy 50th, my love! You've spun tales of love and laughter for half a century now. Here's to weaving many more beautiful chapters together."
3. "On your golden birthday, let's celebrate not just your age, but the countless smiles you've bestowed, the comforting hugs, and the love you've so generously shared. Happy 50th, darling!"
4. "Happy Birthday, my love! May your 50th year illuminate your path with joy and love, just as you've lit up mine for all these years."
5. "On this golden milestone, I am so proud to call you mine. Your courage, compassion, and infectious laughter are treasures I hold dear. Here's to 50 and forever, my love!"
6. "Happy 50th Birthday to the woman who has my heart! The sun may set and rise, but my love for you, radiant and unwavering, outshines them all."
7. "Celebrating you at 50 feels like unwrapping a priceless gift. The past 50 years have been incredible, and I can't wait to journey through the next 50 with you. Happy Birthday, darling!"
8. "On your 50th Birthday, my wish for you is a mirror that reflects back all the love and joy you've poured into the world. You are truly extraordinary, my love."
9. "Here's to you, my gorgeous wife, and the beautiful mosaic of your life. Each piece tells a story of love, strength, and joy. Happy 50th Birthday! I look forward to being a part of your story in the years to come."
10. "Happy 50th Birthday, sweetheart! You're not growing older, you're growing better, more inspiring, and more beautiful with each passing day."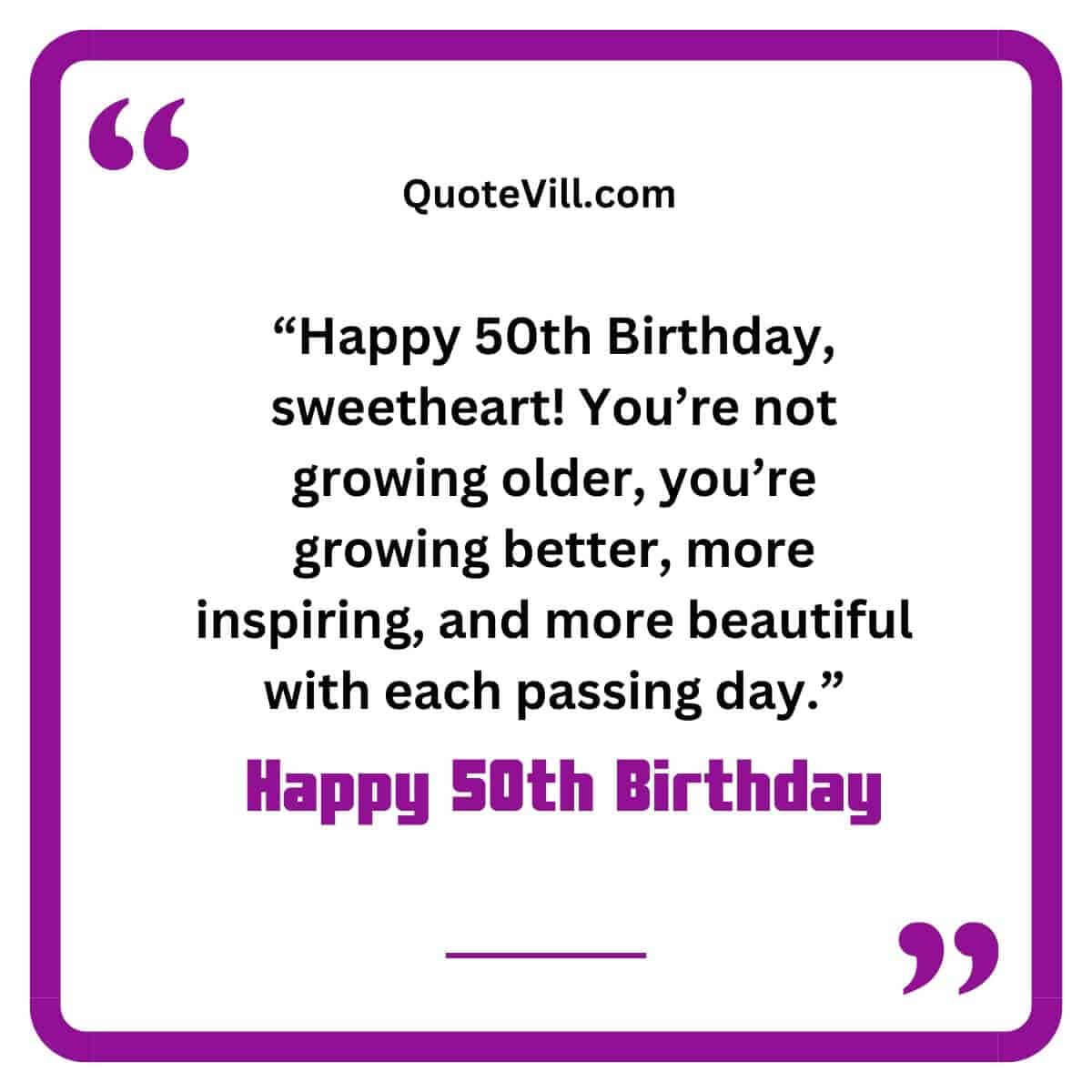 11. "With you, every day feels like a celebration. So today, on your 50th birthday, let's celebrate you—the love of my life and the woman who makes everything better."
12. "Happy Birthday, my love! Fifty never looked so radiant. Your light has brightened our lives and warmed our hearts for 50 wonderful years."
13. "50 years of you! It's a joy to celebrate this milestone with the woman who makes every day a gift. Happy Birthday, my darling!"
14. "Happy 50th Birthday to the woman who paints my world with love and fills my life with happiness. Here's to celebrating you, today and every day."
15. "You've graced this world with your beauty and love for 50 years. Today, we celebrate you, my beautiful wife. Happy 50th Birthday!"
16. "As we celebrate your 50th birthday, I am reminded of the countless reasons why I fell in love with you. You are my world, my love. Happy Birthday!"
Read: 84 Heartfelt Happy Birthday Wishes for Mom in Heaven
Happy 50th Birthday Wishes For Mom
1. "Happy 50th Birthday, Mom! You've painted my world with love and filled it with laughter. Here's to celebrating the masterpiece that is you!"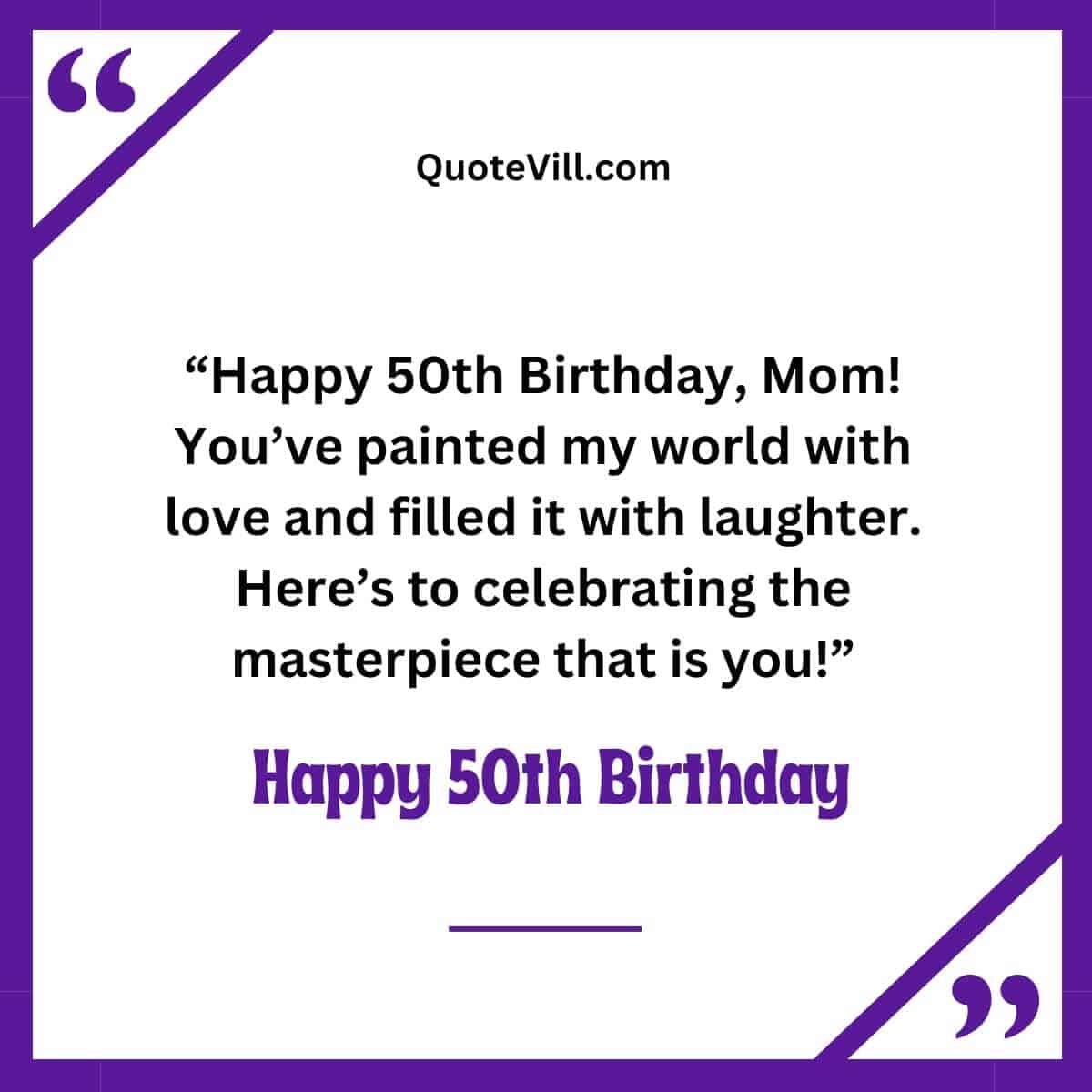 2. "Fifty has never looked so graceful! With every passing year, you inspire me more. Happy Birthday to my rock, my confidante, my first love."
3. "Happy 50th, Mom! You've adorned our lives with vibrant hues of love and joy. I look forward to painting many more colorful memories with you."
4. "Celebrating 50 years of you, Mom! Your strength, wisdom, and boundless love have been my compass in life. I'm grateful for every moment with you. Happy Birthday!"
5. "Thanks for the love, the guidance, and the roots. Now, as you turn 50, may your dreams take flight."
6. "Happy 50th Birthday, Mom! Each day spent with you is a priceless gift. Remember the time we baked that disastrous yet hilarious birthday cake? Here's to many more adventures, shared laughter, and love."
7. "To my first best friend, Happy 50th Birthday! You've made each year more beautiful than the last. From our silly dance-offs to our heart-to-heart talks, every moment with you is a treasure."
8. "Mom, you've guided me through life's puzzles with your wisdom and love. On your 50th Birthday, I celebrate you and all the laughter-filled moments we've shared. May your year be as delightful as our tickle fights!"
9. "Happy 50th Birthday, Mom! Remember when you surprised me on my 10th birthday? Today, I hope to fill your day with the same joy and surprise. Here's to more birthdays and surprises in the coming years!"
10. "Happy 50th, Mom! I remember the warm summer evenings we spent star-gazing and sharing stories. Your tales were always the best. Here's to more nights of wonder under the stars."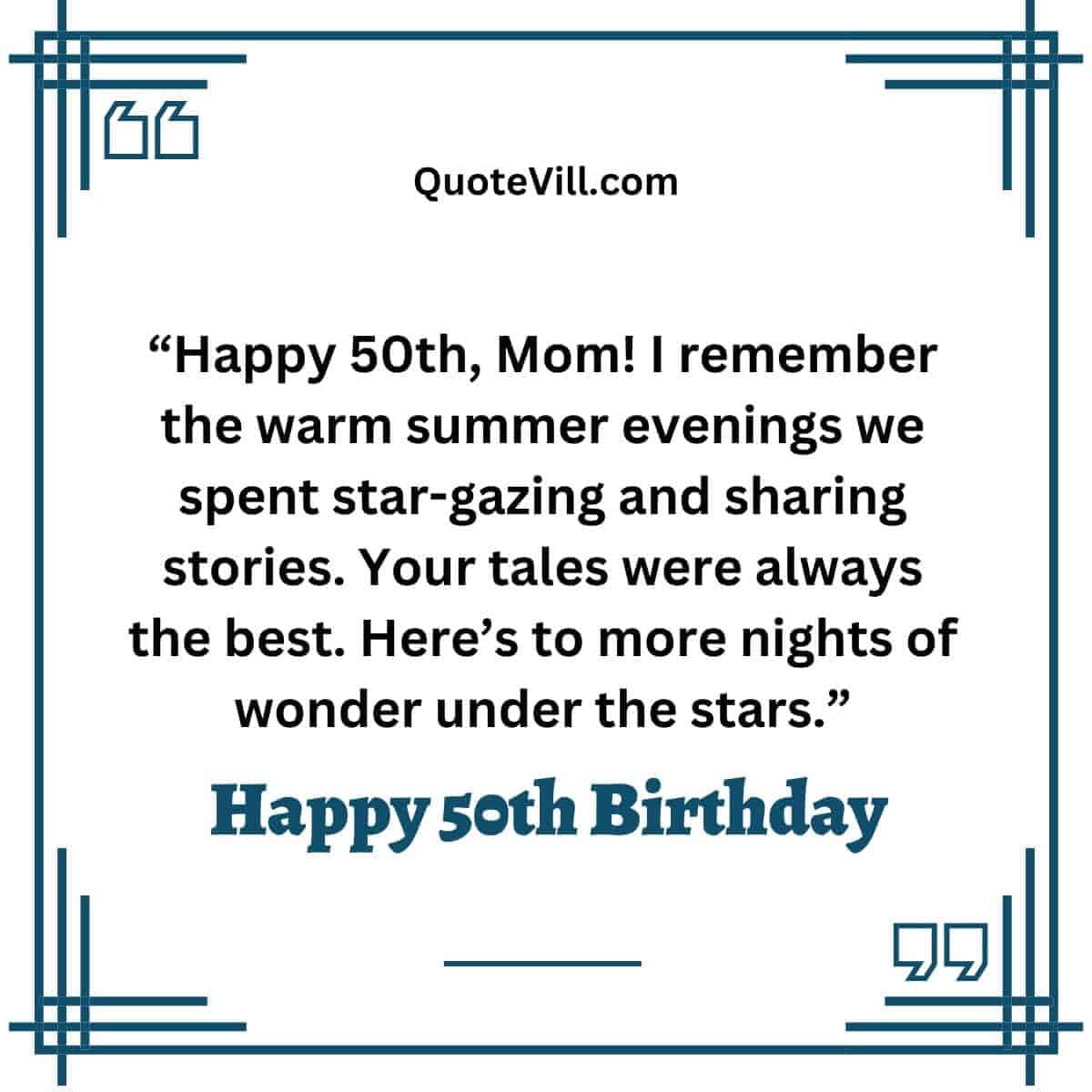 11. "Happy 50th Birthday, Mom! Your life is a beautiful tapestry of love and strength, and I'm lucky to be a part of it. I still laugh when I think of the time we both got lost during our first hiking trip. Here's to more shared adventures!"
12. "From our shared love for old movies to the ice cream tradition, you've filled my life with beautiful memories. Happy 50th Birthday, Mom! Here's to continuing our traditions and creating new ones in the years to come."
Happy 50th Birthday Wishes For Dad
1. "Happy 50th, Dad! Here's to the man who turned stargazing into an adventure, bedtime stories into life lessons, and ordinary days into memories that will last a lifetime."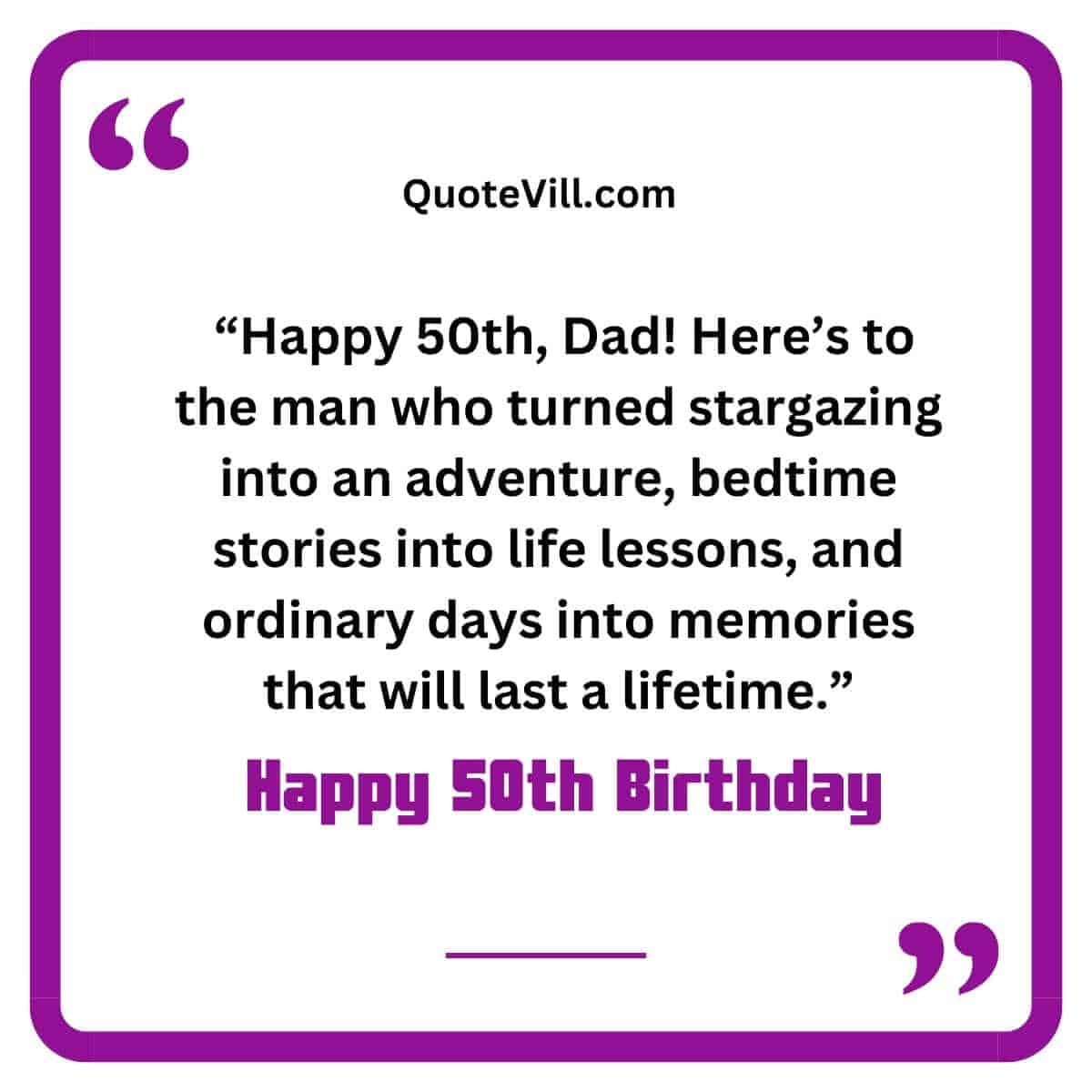 2. "Dad, on your 50th, we celebrate the countless ways you've made our world brighter. Remember when we built that snow fort in the backyard? Here's to more fort-building and snowball fights in the years to come."
3. "Happy 50th, Dad! I remember how you turned a simple pancake breakfast into a gourmet feast with your stories and laughter. Here's to more shared meals and memories."
4. "On this golden milestone, Dad, we reminisce about our epic Monopoly battles, our shared love for music, and the way you've always been there. Happy 50th Birthday!"
5. "To my first hero, Happy 50th Birthday! You've made life a beautiful journey of laughter, lessons, and love. I still smile at our attempts to build a treehouse. Here's to many more DIY projects and laughter."
6. "Dad, on your 50th, we celebrate the countless starlit nights spent around the campfire, roasting marshmallows, and sharing stories. Each moment with you is a treasure. Happy Birthday!"
7. "Happy 50th Birthday, Dad! Here's to a man who has spent half a century making the world a better place simply by being in it."
8. "Happy 50th, Dad! On this monumental day, we honor the love you've given, the wisdom you've shared, and the laughter you've brought into our lives."
9. "Dad, you've made the world brighter simply by being you. Here's to a 50th birthday as wonderful and incredible as you are."
10. "Happy Birthday, Dad! As you celebrate half a century of love, wisdom, and kindness, here's to many more decades of the same."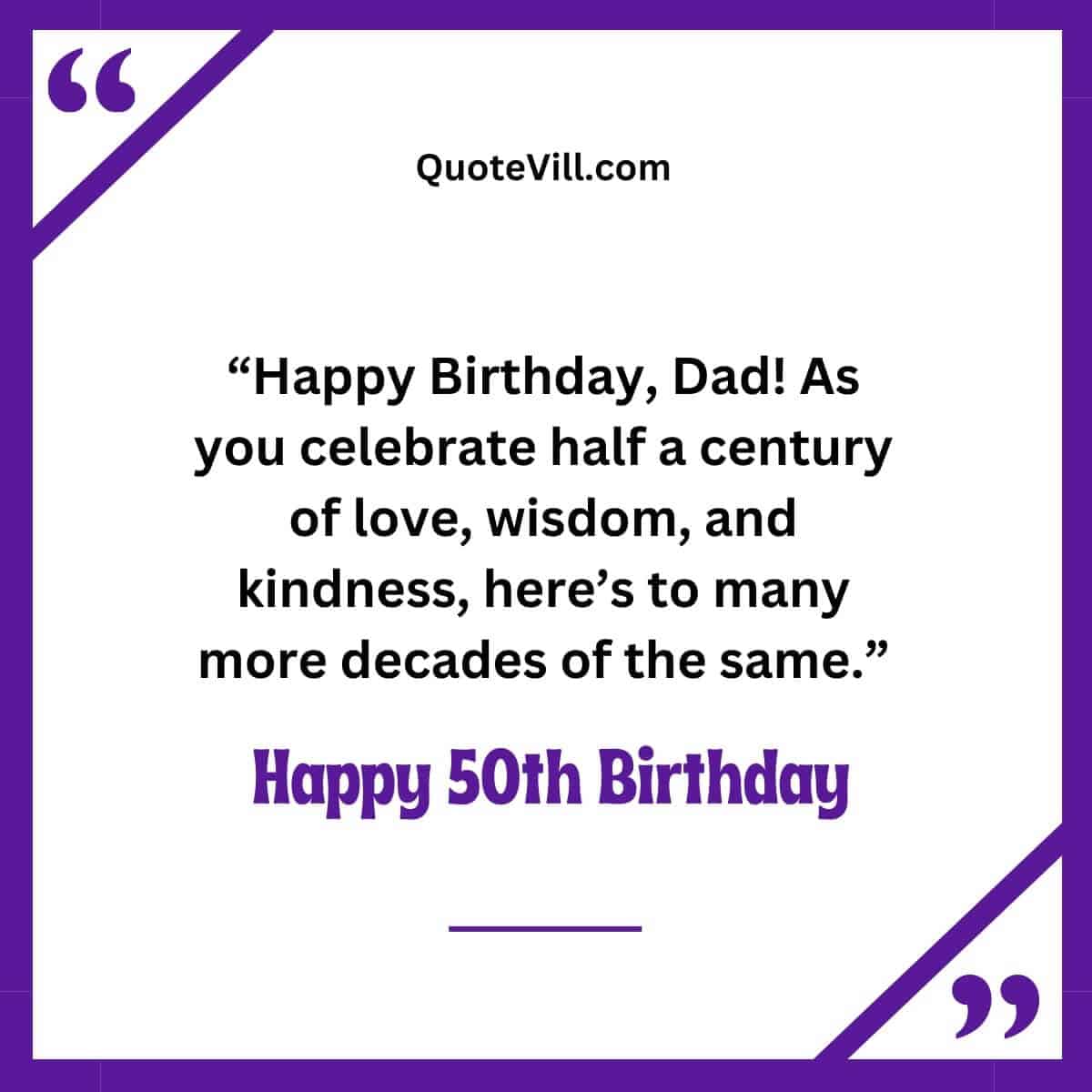 11. "To a father who taught us the meaning of love, resilience, and compassion, Happy 50th Birthday! Your presence is a blessing we celebrate every day."
12. "Happy 50th Birthday, Dad! You've lit up our lives for half a century, and we can't wait to see what the future holds for you."
13. "To the man who exemplifies grace, kindness, and wisdom, Happy 50th Birthday, Dad! We're grateful for each year we've shared with you."
14. "Dad, your 50th birthday is a chance to honor the extraordinary man you are. Thank you for the love, laughter, and lessons you've shared. Happy Birthday!"
Happy 50th Birthday Wishes For a friend
1. "Hey buddy! Can you believe we're celebrating your 50th? It feels like yesterday we were plotting our next big adventure. Our shared journey has been nothing short of amazing – full of laughter, a few tears, lots of joy, and, okay, maybe a couple of rough patches. But who else would I want by my side in this wild ride? Here's to many more years of friendship and fun. Happy 50th!"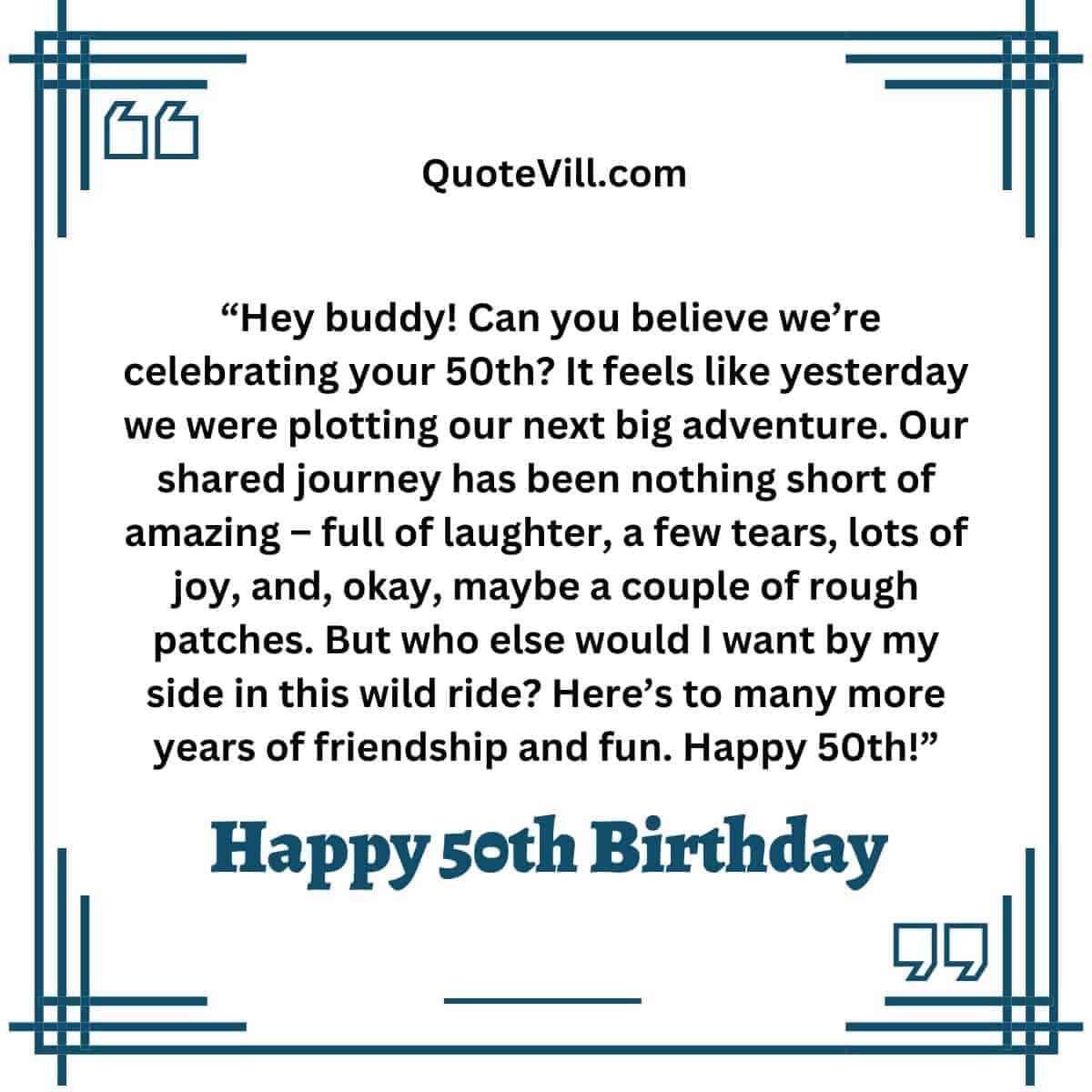 2. "Happy 50th Birthday, dear friend! The big 5-0, wow! It's been quite a ride, hasn't it? From our childhood shenanigans to our grown-up dreams, you've been there through it all, offering kindness, wisdom, and a whole lot of laughter. As you venture into this next chapter, I hope you experience as much happiness as you've brought into my life."
3. "Mate, you're 50! I know we've been joking about this day coming, but here it is! Honestly, I wouldn't trade our years of friendship for anything. Through all the good times and the bad, you've been my rock. Today, I want to raise a glass to you, my steadfast friend, and say, 'Here's to another 50 years of laughter and shared memories!' Happy Birthday!"
4. "Happy Half a Century, my friend! Isn't it crazy to think we've been friends for so much of that time? Your constant strength, kindness, and, let's not forget, patience, have meant the world to me. Today, we're not just celebrating another year of you, but we're also celebrating the extraordinary person you've become. Happy 50th Birthday, mate!"
5. "A very happy 50th birthday to you, my dear friend! The best thing about our friendship? It's not just the years we've known each other, but the life we've lived together. Here's to many more years of shared joy, endless laughter, and creating countless more memories."
6. "My friend, you're finally 50! Remember when we thought this age was ancient? Now, it's just another step in our ongoing adventure. Your friendship has been the one constant thing in my life, and today, I want to tell you how much that means to me. Happy Birthday!"
7. "Happy 50th, my friend! As we celebrate your half-century milestone, I want to take a moment to let you know how special you are. You're not just a friend; you're family. Here's to another 50 years of love, laughter, and friendship!"
8. "50 looks great on you, buddy! It's a joy to celebrate this special day with you. We've spent years making memories, sharing laughter, and picking each other up during those tough times. Today, I just want to say thank you for being such an incredible friend. Happy Birthday!"
9. "Happy 50th, dear friend! As we honor this milestone, I realize just how lucky I am to have a friend like you. Through every up, down, and twist in the road, you've been there. Here's to continuing this journey together and making even more memories. Happy Birthday!"
10. "The big 5-0! Happy Birthday, my friend! Our journey together has been an incredible adventure. Thanks for the memories, the laughter, and most importantly, your unwavering friendship. Here's to more years of this beautiful friendship. Cheers to your 50th!"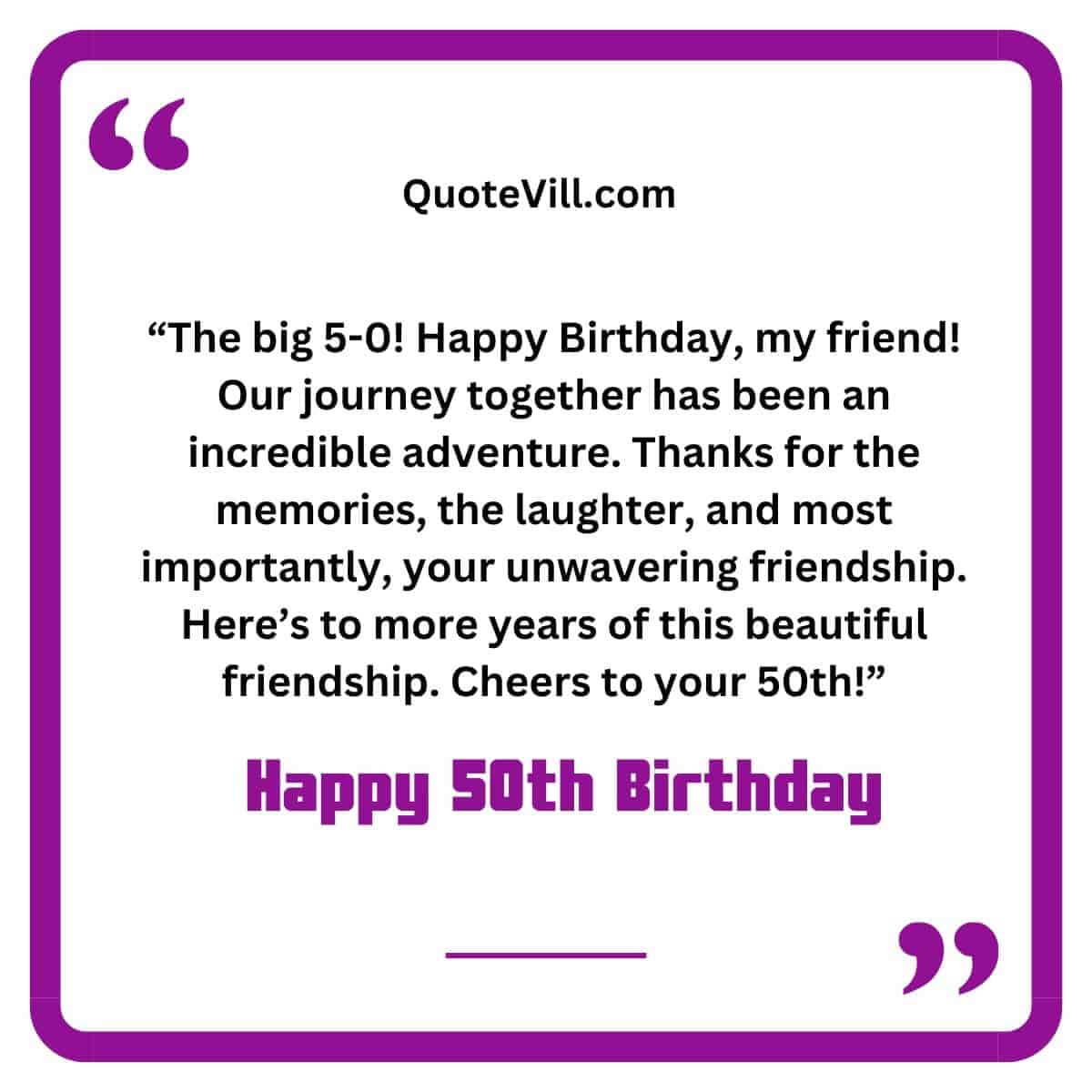 11. "As you celebrate your 50th birthday, remember you are not just getting older, you're also getting better. Happy 50th Birthday to a special friend!"
Funny Happy 50th Birthday Wishes 
1. "Happy 50th Birthday! They say 50 is the new 30. Well, friend, if that's true, you're the oldest 30-year-old I know!"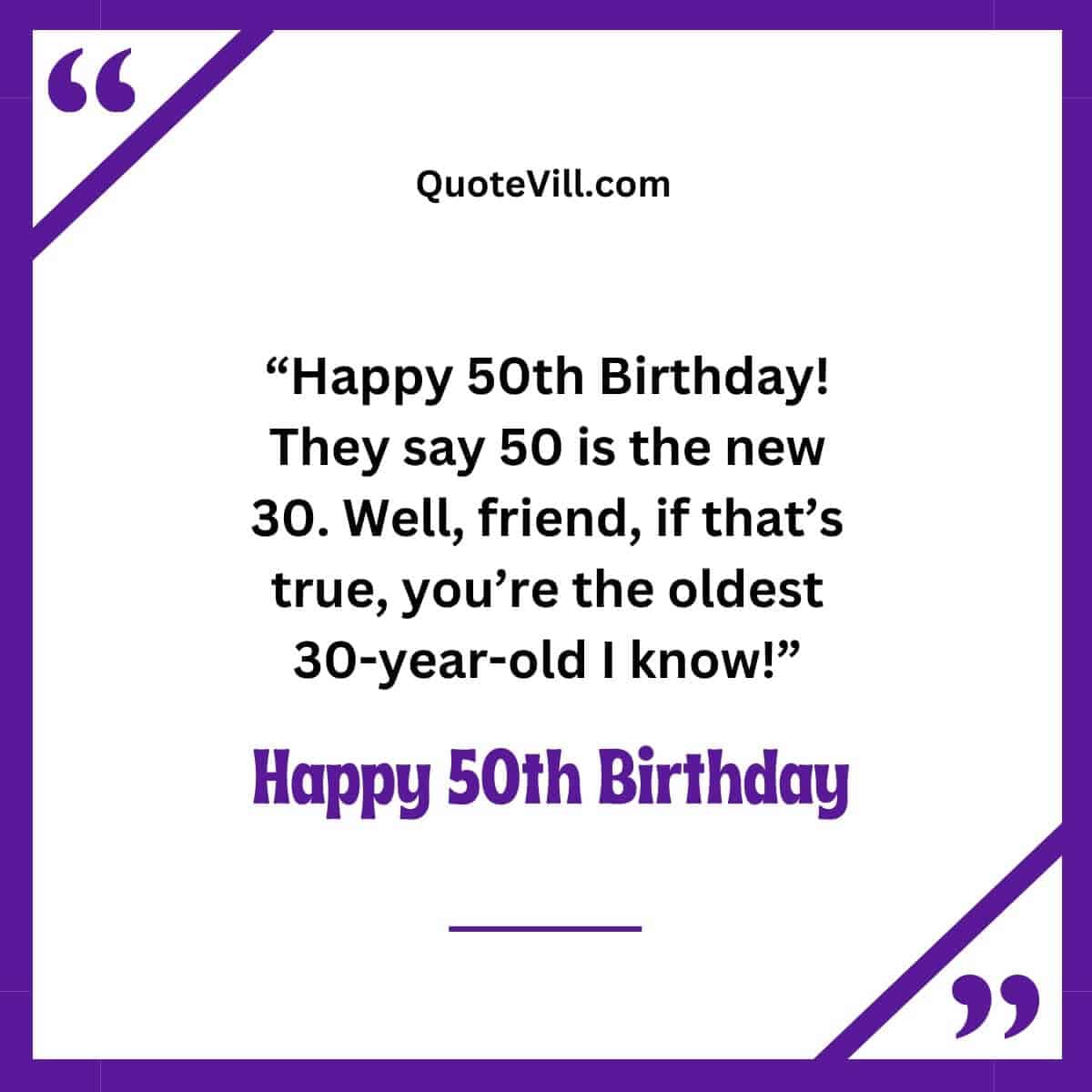 2. "Welcome to the 50 Club! It comes with exclusive benefits like… waking up to pee multiple times a night and getting to complain about kids these days. Happy Birthday!"
3. "Congrats on turning 50! Now, when we can't remember something, we can just blame it on old age. Happy Birthday, my forever forgetful friend!"
4. "Happy 50th Birthday! Don't worry about getting older. You're still going to do dumb stuff, just slower."
5. "Hey, remember when we were younger and thought 50 was ancient? Look at us now, proving ourselves wrong! Happy Birthday!"
6. "Congratulations on your 50th birthday! This is a special, magical time in your life… a time when you officially get to kill the fashion game with socks and sandals. Cheers to the golden years!"
7. "Happy 50th Birthday! May your day be filled with low cholesterol food and orthopedic shoes!"
8. "Here's to your 50th birthday! May the candles on your cake be less than a fire hazard and may you need fewer glasses to read your birthday cards!"
9. "On your 50th Birthday, let's raise a glass to your half-century of surviving your youth! I always knew you'd make it to this age, my wild friend. Happy Birthday!"
10. "Congratulations on your 50th trip around the sun! You're not over the hill, you're just gaining altitude!"