Birthdays are eventful affairs, and our carefully written happy birthday quotes enhance the fanfare of these lovely occasions. You will find the best happy birthday quote in our repertoire, be it your friend's birthday or the birthday of anyone in your family.
Birthdays are lively celebrations, and people are bound to rejoice in such events while celebrating the completion of a year. The year-long journey culminates on the birthday, and people celebrate this journey while showering gifts and good wishes on the birthday boy or girl.
However, you can gift our  Happy Birthday quotes  to your special someone if you fail to find the best words or expressions to articulate your warm regards for the birthday boy/girl. Using age-old phrases also seems off-putting as it wouldn't convey your hearty wish with correct words.
Stop fretting! Our beautifully written happy birthday quotes are suitable for wishing a beloved person on their birthday. We can assure you that our emotive happy birthday quotes are the perfect vessel to send warm wishes.
How to Use These Birthday Quotes?
When you're sending out birthday wishes, the right quote can truly touch the heart. Whether you're jotting it down on paper or posting online, here's how you can sprinkle in those special words:
Birthday Cards: A handwritten card with a beautiful quote can be a keepsake for years.
Social Media Shoutouts: Show your love on platforms like Facebook and Instagram with a birthday quote.
Gift Tags: Attach a quote to your gift, adding that extra sprinkle of love.
Speeches: If you're raising a toast, starting with a quote will surely grab attention.
Quotes infuse emotions into our wishes, turning simple gestures into heartfelt memories. Let your sentiments shine through the perfect birthday quote.
Top 20 Happy Birthday Quotes 
1. "Another year wrapped around you, not just as age, but as stories, lessons, and boundless wisdom. Happy Birthday to the one who wears their years as a badge of honor."
2. "Each birthday isn't just a year older, but a collection of sunsets seen, laughter shared, and challenges overcome. Here's to the journey and many more horizons to chase!"
3. "With each candle on your cake, there's a story in your heart. And as they light up, so do the tales of your journey. Happy Birthday, storyteller."
4. "Birthday wishes to the person who adds a dash of joy, a sprinkle of wisdom, and a whole lot of love to every day. Keep cooking up the magic of you."
5. "You're not just getting older; you're an evolving masterpiece, and each year brings a new layer of depth and beauty. Can't wait to see the person you become next."
6. "In the Book of life, it's not the number of pages but the richness of the stories that matter. Happy Birthday! Here's to more unforgettable moments and memories."
7. "Some say age is just a number, but I believe it's the ongoing tally of love given and received. Here's to celebrating the infinite you!"
8. "For the person who has galaxies of dreams in their eyes and constellations of kindness in their heart, may this birthday be as cosmic and radiant as you."
9. "Your laughter, your stories, and your kindness are melodies that echo in the hearts of those lucky to know you. Here's to another year of sharing your song."
10. "As the clock ticks, marking another year, embrace every second, for it's filled with love from all corners of your world. Happy Birthday and many happy returns!"
11. "Age is but a reflection of the adventures you've had and the ones still waiting for you. Dive in and make a splash this year!"
12. "Birthdays are Mother Nature's way of celebrating you. Another year, another reason for the world to be grateful you're here."
13. "Behind each wrinkle lies a memory, a joke, a tear, or a victory. Here's to many more of each."
14. "The world might spin a little brighter, laugh a little louder, and love a little deeper because you're in it. Cheers to another year of you!"
15. "Your journey around the sun adds warmth to all of us fortunate enough to be in your orbit. Keep shining and happy birthday!"
16. "Birthdays are the universe's reminder that while moments are fleeting, the love we feel lasts forever."
17. "In the symphony of life, your birthdays are the notes that resonate most vibrantly, marking another year of rhythm and melody."
18. "A day to celebrate the wonderful mystery of 'you' — for every question answered in the past year, may there be ten new wonders in the year ahead."
19. "With each passing year, you're not just turning older but also richer in experiences, kinder in deeds, and more amazing as a person."
20. "May this birthday be a gentle reminder of all the beautiful yesterdays you've been a part of and all the incredible tomorrows awaiting you."
Inspirational Happy Birthday Quotes: Celebrating Loved Ones on Their Special Day
Birthdays are special milestones, reminding us of the journey so far and the adventures yet to come. Here's a collection of heartfelt wishes tailored for the irreplaceable people in our lives:
Birthday Quotes For Daughter:
1. "Hey girl! Another year, another reason to celebrate the amazing person you are becoming. Shine on! 🌟"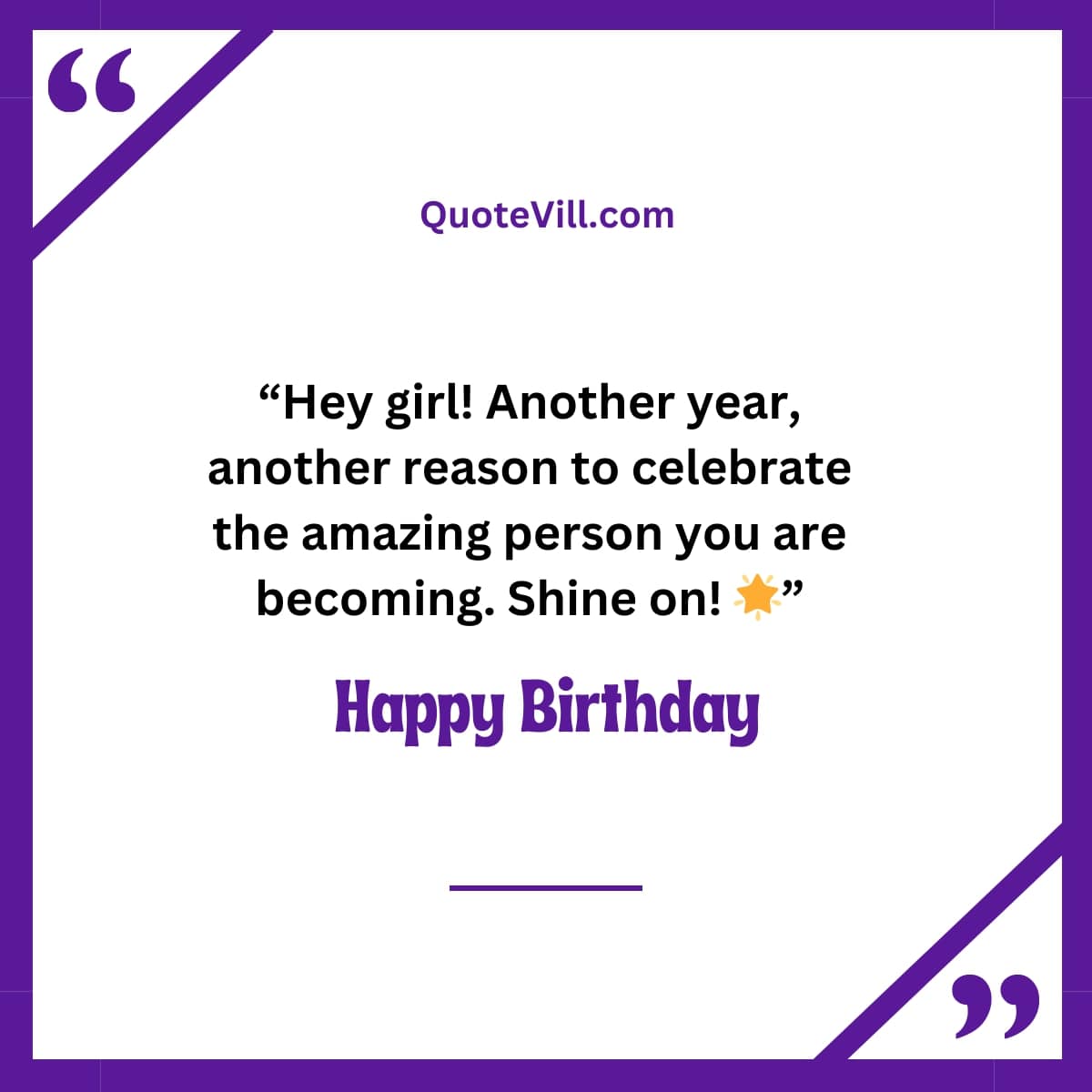 2. "If life is a cake, then you, my daughter, are that sweet slice that makes everything better. Keep rocking the cake of life! 🍰"
3. "Just a casual reminder on your birthday: You're kind of a BIG deal. Keep growing, keep shining, keep being you."
4. "Every year, you surprise me with how gracefully you evolve. You're like a fine wine or an addictive Netflix series – just getting better!"
5. "Hey birthday girl, just remember: You've got the kind of fire in your soul that can light up the world. Don't ever let it dim."
6. "Who needs superheroes when we have daughters like you? Happy birthday, our everyday Wonder Woman."
7. "It's your day! Go on, throw kindness around like confetti, and see the magic you create. Happy B-day! 🎉"
8. "Watching you grow has been like binge-watching my favorite series: exciting, surprising, and always leaving me wanting more. Here's to another year of episodes!"
9. "Daughter, with every candle you blow out, know that you're igniting the flames of inspiration for all who know you."
10. "For the world, it's just another day. But for me, it's the day the universe gifted me its best masterpiece. Keep shining, love!
Birthday Quotes For Son:
1. "From your first steps to your big strides into the world, you've always made us proud. Keep stepping forward, and know you're loved every step of the way. "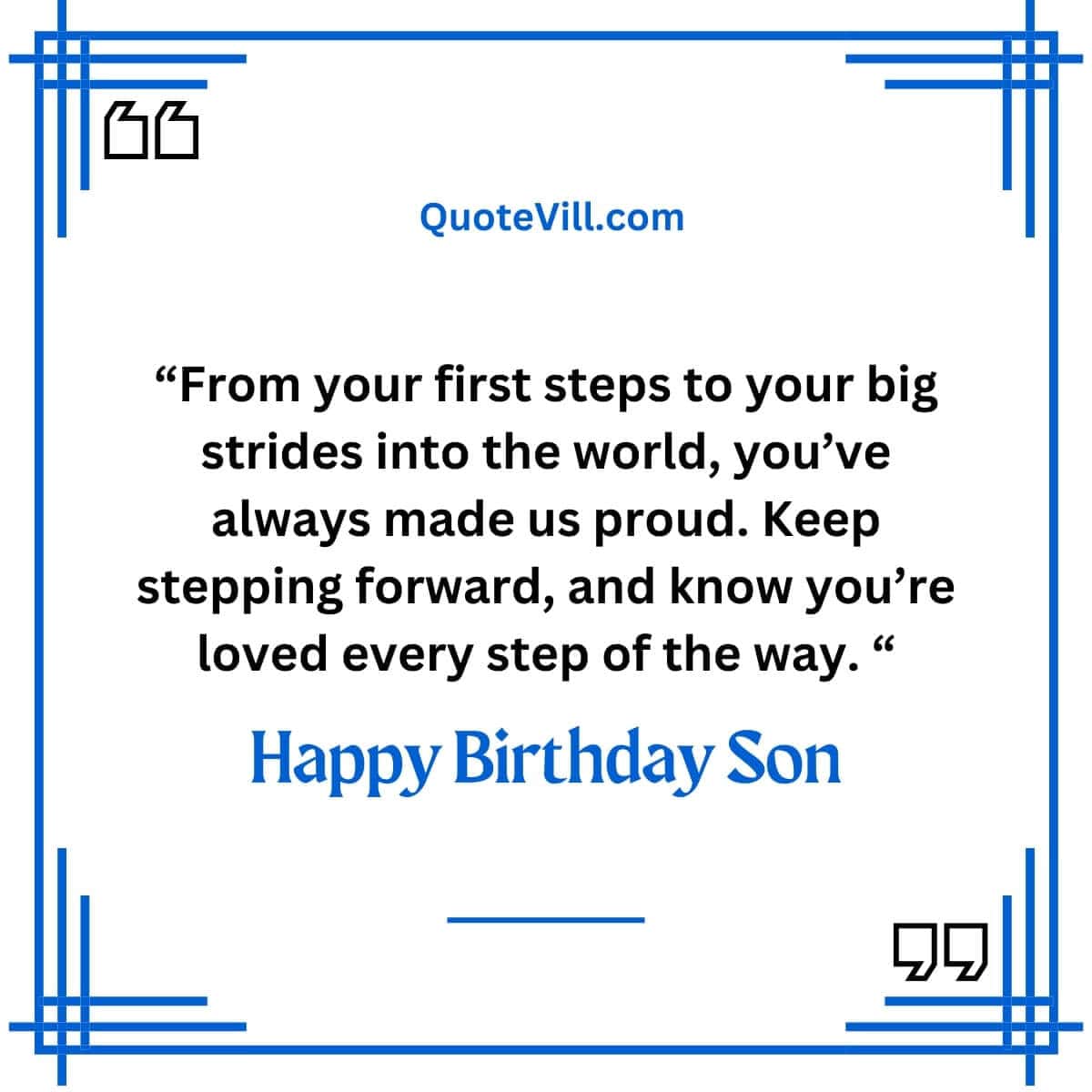 2. "In the story of our lives, you're the hero we always root for. As you embark on another year, remember the sky isn't the limit – it's just the beginning."
3. "Growing up might be mandatory, but growing old is optional. Stay young at heart, keep that twinkle in your eyes, and the world will always be your playground."
4. "You've always been our ray of sunshine, even on cloudy days. Wishing you a birthday and a year ahead filled with endless opportunities and boundless love."
5. "Son, remember that age is just a number. What truly matters is the footprint you leave in the sands of time. With each birthday, I see you making your mark even deeper. Cheers to another fantastic year!"
Birthday Quotes For Sister:
1. "To the one who knows all my secrets and still sticks around: Here's to another year of laughter, memories, and sisterly shenanigans. Happy Birthday!"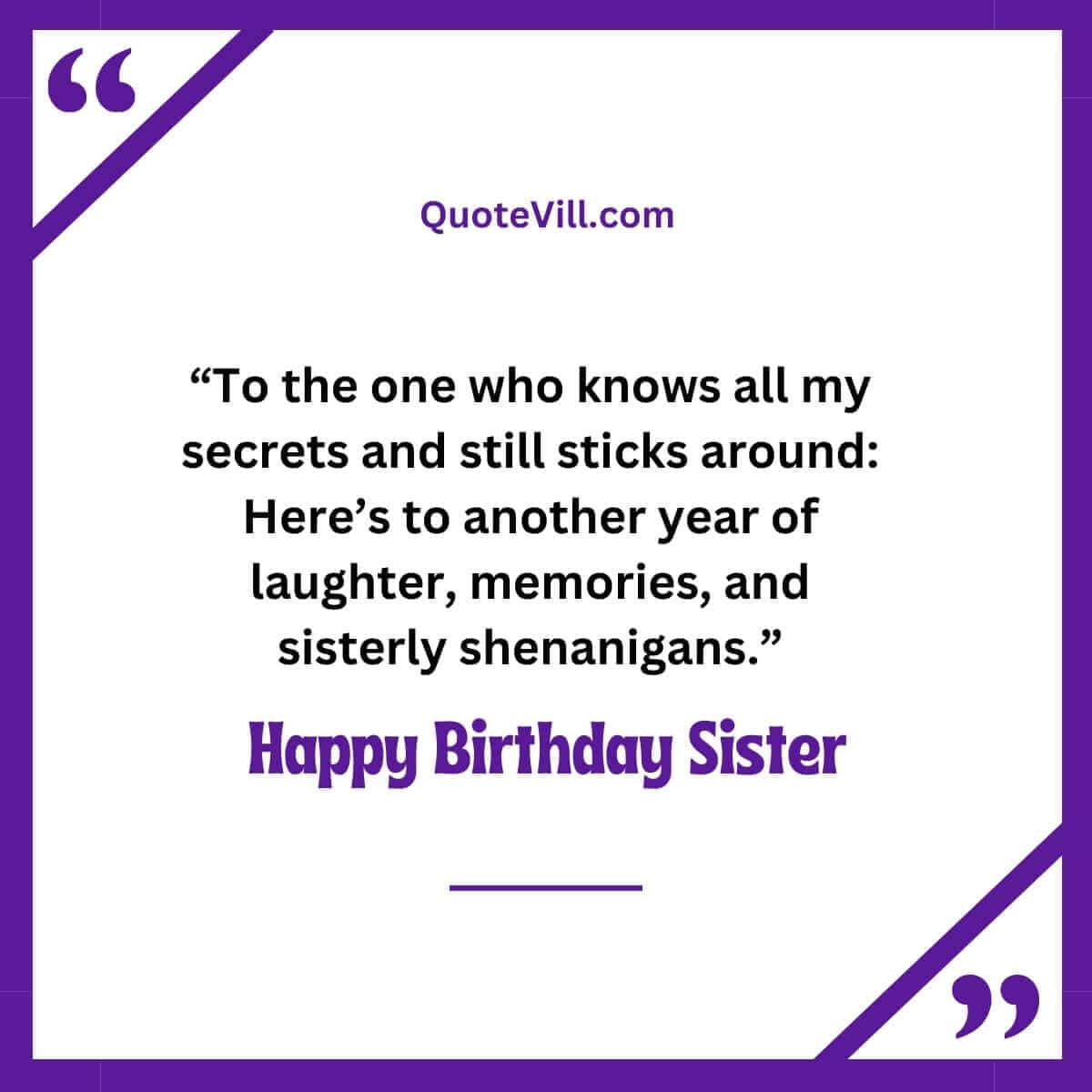 2. "Sisters are like stars – not always visible, but always there shining. Wishing my favorite star the brightest of birthdays. ✨"
3. "From stealing each other's clothes to stealing moments of joy, we've come a long way. Happy Birthday to the one I'm proud to call my sister."
4. "Birthdays are a fresh start, a new chapter, a brand new beginning. Here's to writing our story, one laugh and memory at a time. Cheers to you!"
5. "You're not just my sister; you're my hero, my confidant, and my best friend rolled into one. Here's to another year of sisterly love and adventure!"
6. "In the cookie of life, sisters are the chocolate chips. Sweet, indispensable, and always bringing a smile. Happy Birthday, sis!"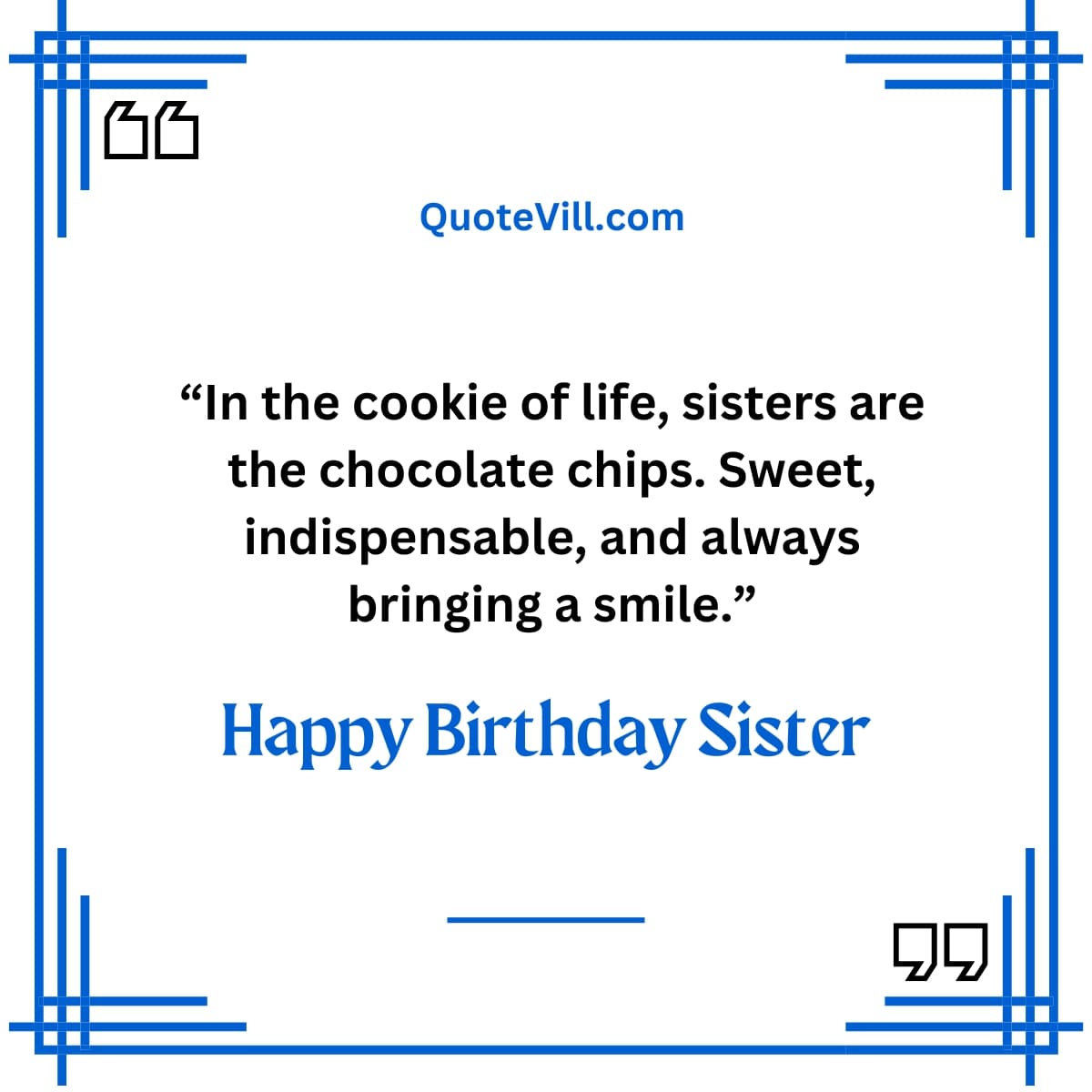 7. "Through the ups, the downs, and all the in-betweens, you've been my constant. Wishing you a birthday as incredible as you are."
8. "Sis, every time I think about our countless memories, I'm reminded of how lucky I am to have you. Here's to creating many more memories this year!"
9. "Age is merely the number of years the world has enjoyed you. Keep gracing us with your presence, and here's to many more years of joy!"
10. "Birthdays come around every year, but sisters like you come once in a lifetime. I'm forever grateful you're mine. Cheers to you!"
Birthday Quotes For Brother:
1. "To the guy who's been my partner in crime since day one: May your birthday be as epic as the adventures we've had… and then some! Cheers, bro!"
2. "Brothers are like old sneakers — comfortable, reliable, and impossible to throw away. Happy Birthday to the best 'old sneaker' I know!"
3. "Through scraped knees, broken toys, and shared secrets, our bond only grew stronger. Here's to more shared moments in the coming year. Happy Birthday, brother!"
4. "Growing up, I always wanted to be just like you. Now, I realize it was for a good reason. Wishing the coolest brother a very happy birthday!"
5. "To the dude who's been by my side through thick and thin: May your birthday be filled with all the joy, laughter, and cake you can handle!"
6. "They say you can't choose your family, but if I could, I'd still choose you as my brother every single time. Here's to another year of brotherly antics!"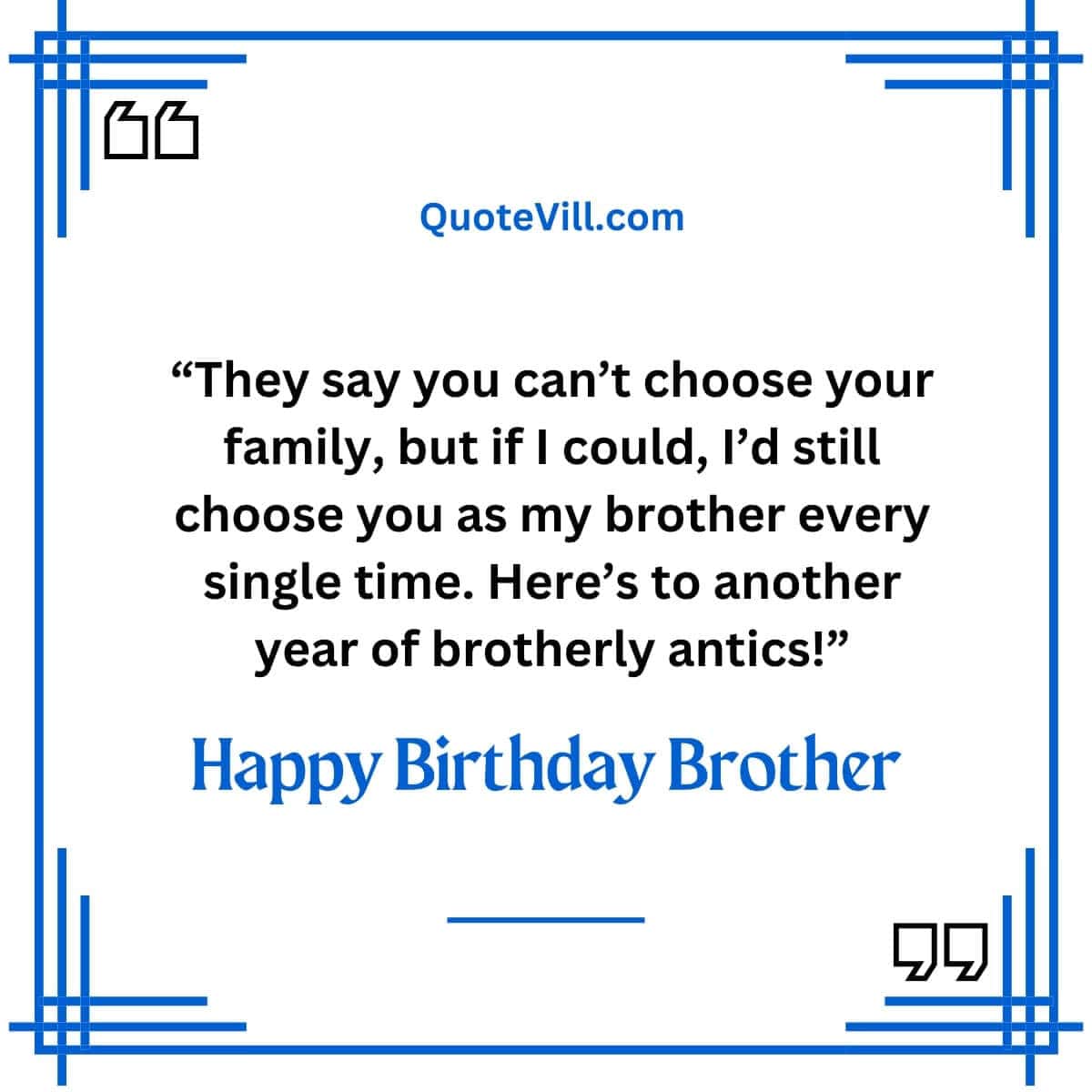 7. "Our memories together feel like an endless movie reel, and I can't wait to see what the next scenes hold. Roll on another year of adventures! Happy Birthday."
8. "Birthdays are a special time to celebrate life's blessings. Brother, you're one of the biggest blessings life has given me. Cheers to you!"
9. "Age might be catching up to us, but in my eyes, you'll always be the mischievous kid with cookie crumbs on his face. Happy Birthday, and may you stay forever young at heart!"
10. "Bro, you've been the anchor in my life, the steady force I can always rely on. As you celebrate another year, know that you're cherished and loved beyond words."
Birthday Quotes For Mom:
1. "To the woman who made home the warmest place on earth: Happy Birthday, Mom! Your love continues to light up our lives."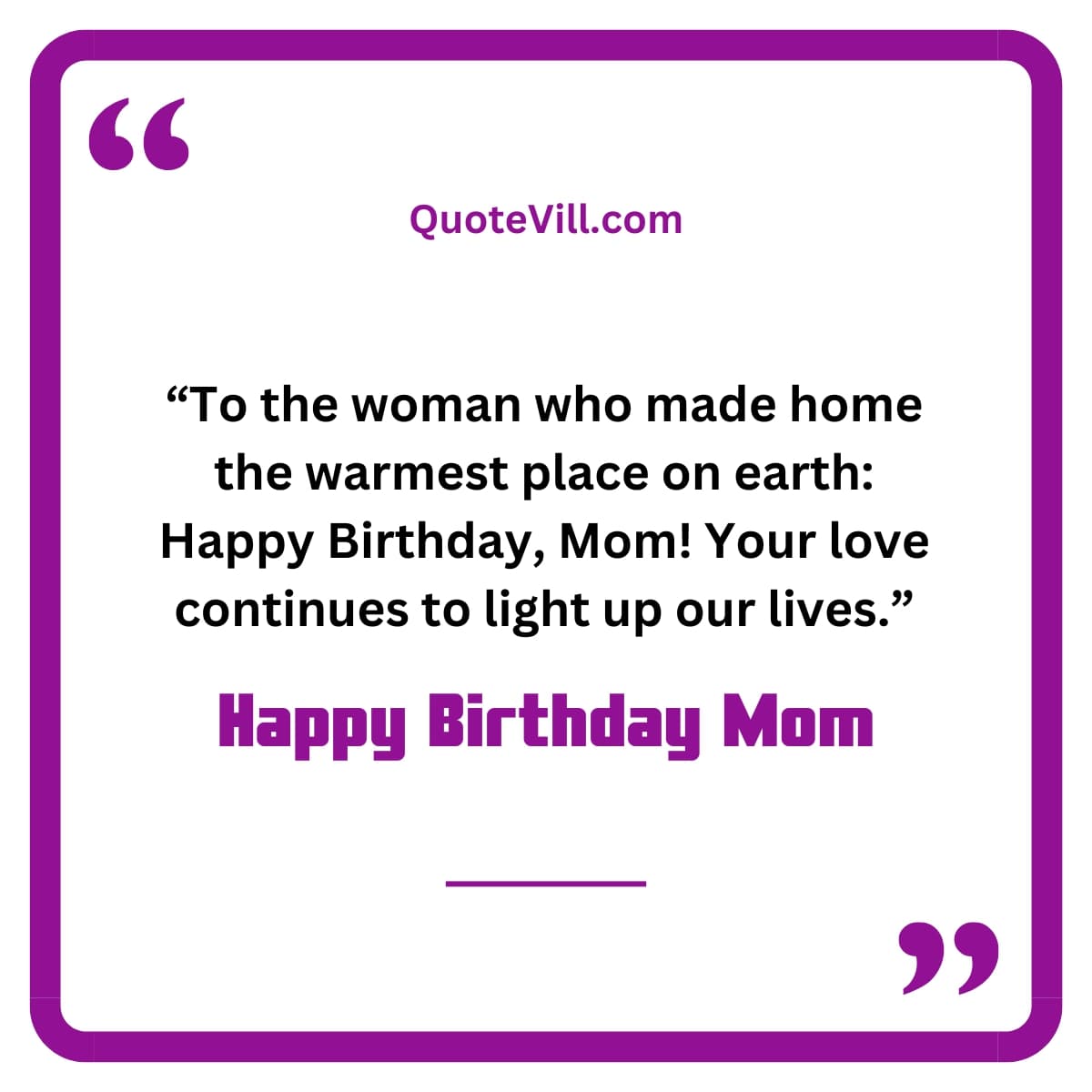 2. "From your comforting words to your selfless acts of love, you've made every day feel like a special occasion. Today, we celebrate you. Happy Birthday, Mom!"
3. "Behind all our stories is always a mother's story, because yours is where ours begin. Thank you for writing the perfect beginning. Happy Birthday!"
4. "Motherhood is the exquisite intersection of all your love, dreams, and blessings. Wishing the most beautiful soul a very Happy Birthday!"
5. "Mom, with every year, you seem to age backward. Today, we celebrate the timeless beauty and love that you represent. Happy Birthday!"
6. "From holding my hand through life's challenges to sharing in its joys, you've been my go-to. Here's to many more shared moments. Happy Birthday, Mom!"
7. "Life has its seasons, and every season has its beauty. But moms? They're the timeless wonder that makes every season perfect. Wishing you the happiest of birthdays!"
Birthday Quotes For Dad:
1. "To the man who taught me that strength is in kindness and success is in perseverance: Happy Birthday, Dad! Here's to the legacy you continue to build."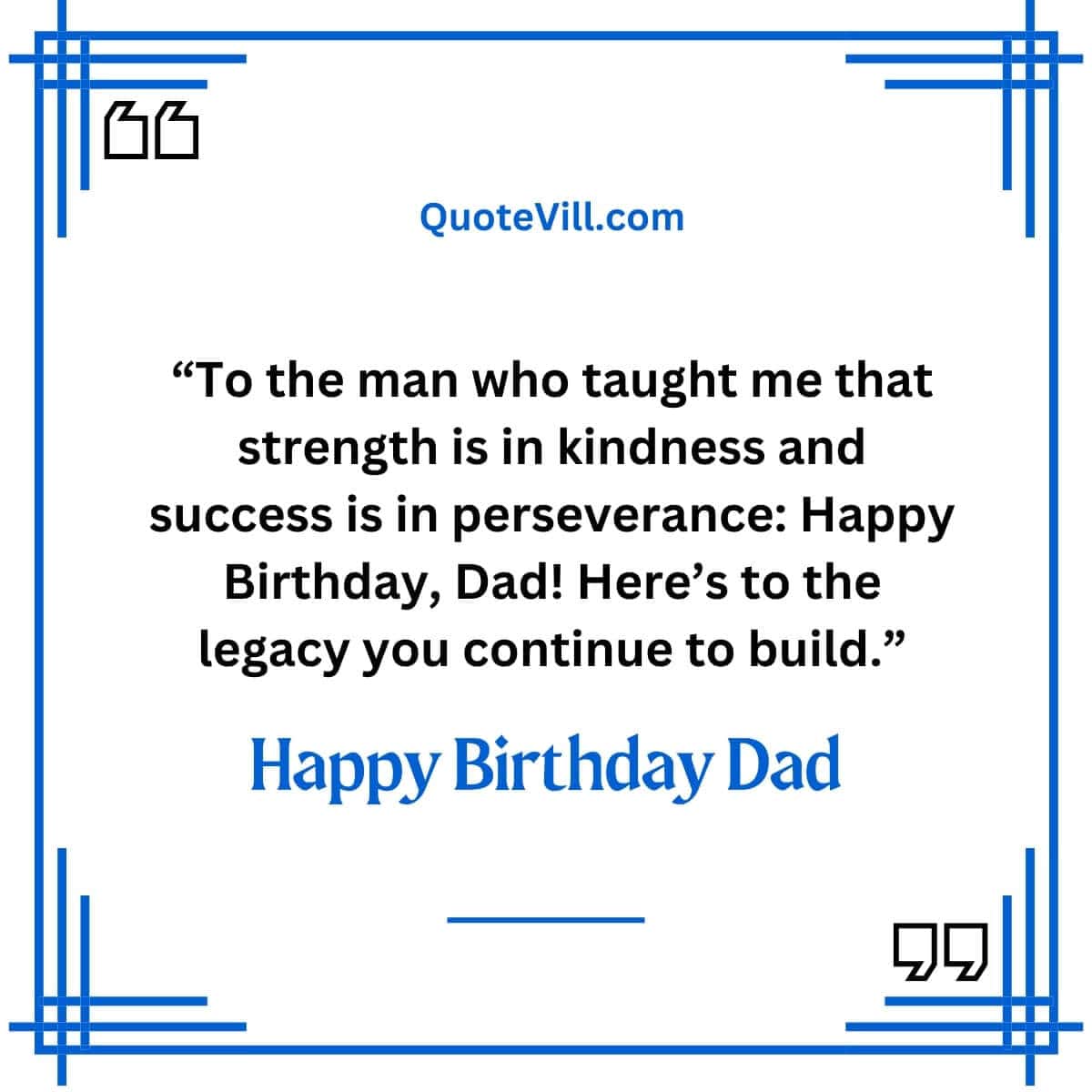 2. "They say a father is a son's first hero and a daughter's first love. Dad, you've been both to me. Wishing you a day as grand as your heart!"
3. "From teaching me to ride a bike to guiding me through life's journeys, you've been the guiding star I've always looked up to. Happy Birthday, Pops!"
4. "Every birthday candle you blow out signifies the light you've brought into our lives. Here's to shining even brighter this year, Dad!"
5. "Behind all those dad jokes is a man with an enormous heart who would move mountains for his family. Today, we celebrate you! Happy Birthday, Dad!"
6. "Life might be full of challenges, but with a father like you, every challenge became an adventure. Here's to many more adventures together. Happy Birthday!"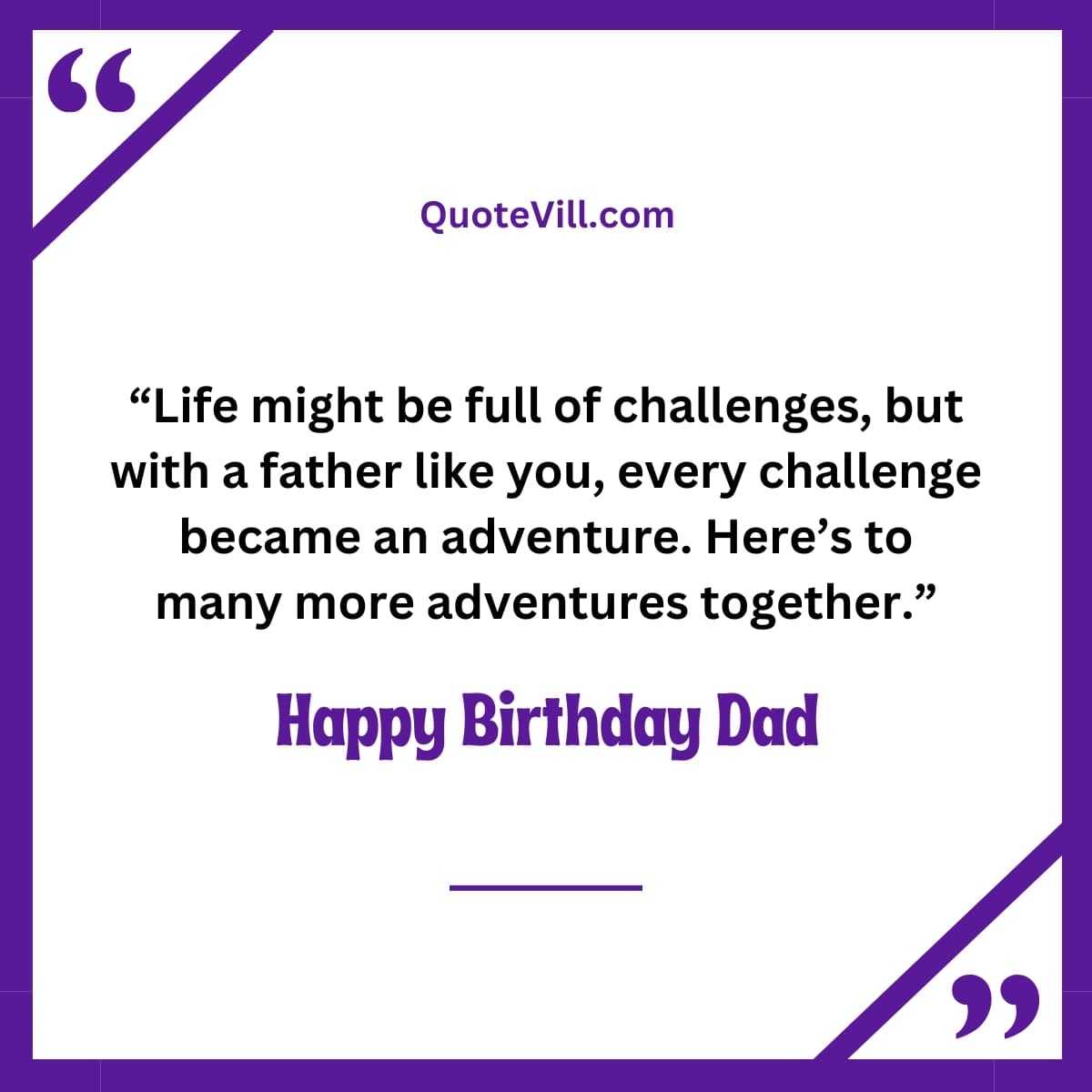 7. "Growing up, I always felt like I had a superhero by my side. Turns out, I did. It was you, Dad. Wishing you the happiest of birthdays!"
8. "From the roots of your wisdom, I've grown. To the wings of your guidance, I owe my flight. Here's to the wind beneath my wings. Happy Birthday, Dad!"
9. "Another year older, another year wiser, and another year of amazing dad moments. Here's to you and all the joy you bring into our lives!"
10. "Dad, your life story is my favorite book. Each chapter, a lesson; each page, an inspiration. Here's to the story that keeps getting better. Happy Birthday!"
Romantic Birthday Quotes
1. "Today is the day you came into this world, and somehow, you became my whole world. Being with you is like living in a dream, and today, we celebrate that dream. Happy Birthday, love."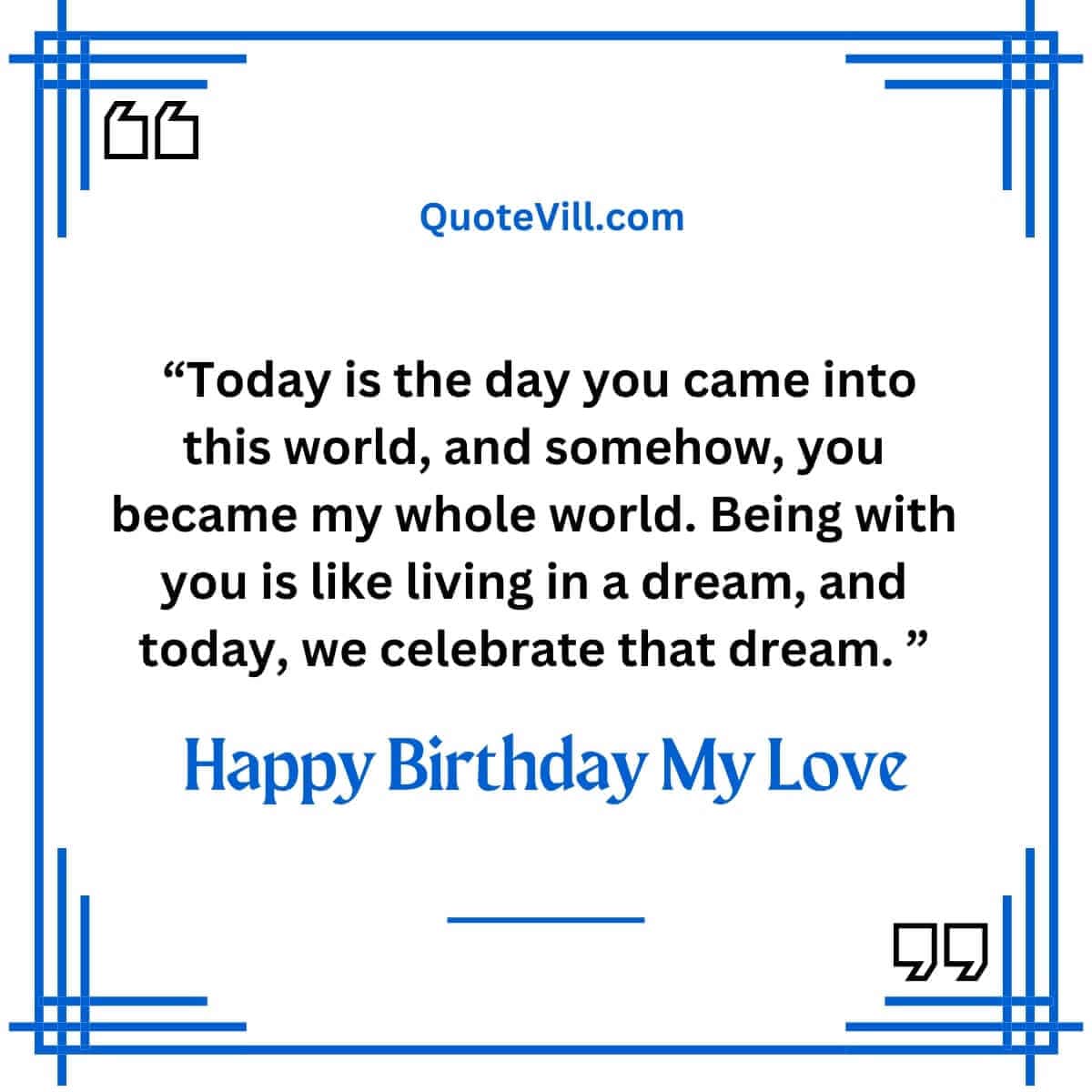 2. "They say true love grows deeper with time. Every year, every day, every heartbeat with you proves that. Here's to all our moments, past and future. Happy Birthday."
3. "Our love story is my favorite. Every year, we add another beautiful chapter, and today is no different. Here's to more adventures and memories. Happy Birthday, love."
4. "Through quiet moments and the hustle and bustle of life, we've always found our way back to each other. Today, we celebrate not just your birthday, but 'us'. Cheers to the journey ahead."
5. "With every sunrise and sunset, I find more reasons to be grateful for you. Every moment I've spent with you feels like a precious gift. Happy birthday to the person who continually warms my heart and makes each day brighter."
6. "Today isn't just another date on the calendar. It signifies the day when the world became a little brighter, all thanks to your presence. Not only are you my partner, but you're my confidant, my laugh track, and my better half. Happy birthday, my cherished love."
7. "Among the billions of souls roaming this planet, it's with you that I found an unmatched harmony. As you turn another year wiser, I wish you a birthday filled with every joy, laughter, and those little moments that make life memorable."
8. "You've always been the piece that completes my life's puzzle, turning chaos into order and sadness into joy. Celebrating your birthday isn't just about another year; it's a tribute to the love we share, a love that's enduring and pure. Happy birthday, my soulmate."
9. "Reflecting on our journey, from shared secrets to dreams we're yet to fulfill, your birthday stands as a milestone marking the love we've shared and the brighter days ahead. Here's raising a toast to us, our love, and the many more birthdays we'll celebrate together."
Humorous Happy Birthday Quotes
1. "Age is merely the number of years the world has been enjoying you. Cheers to you and your contribution to the global happiness quota!"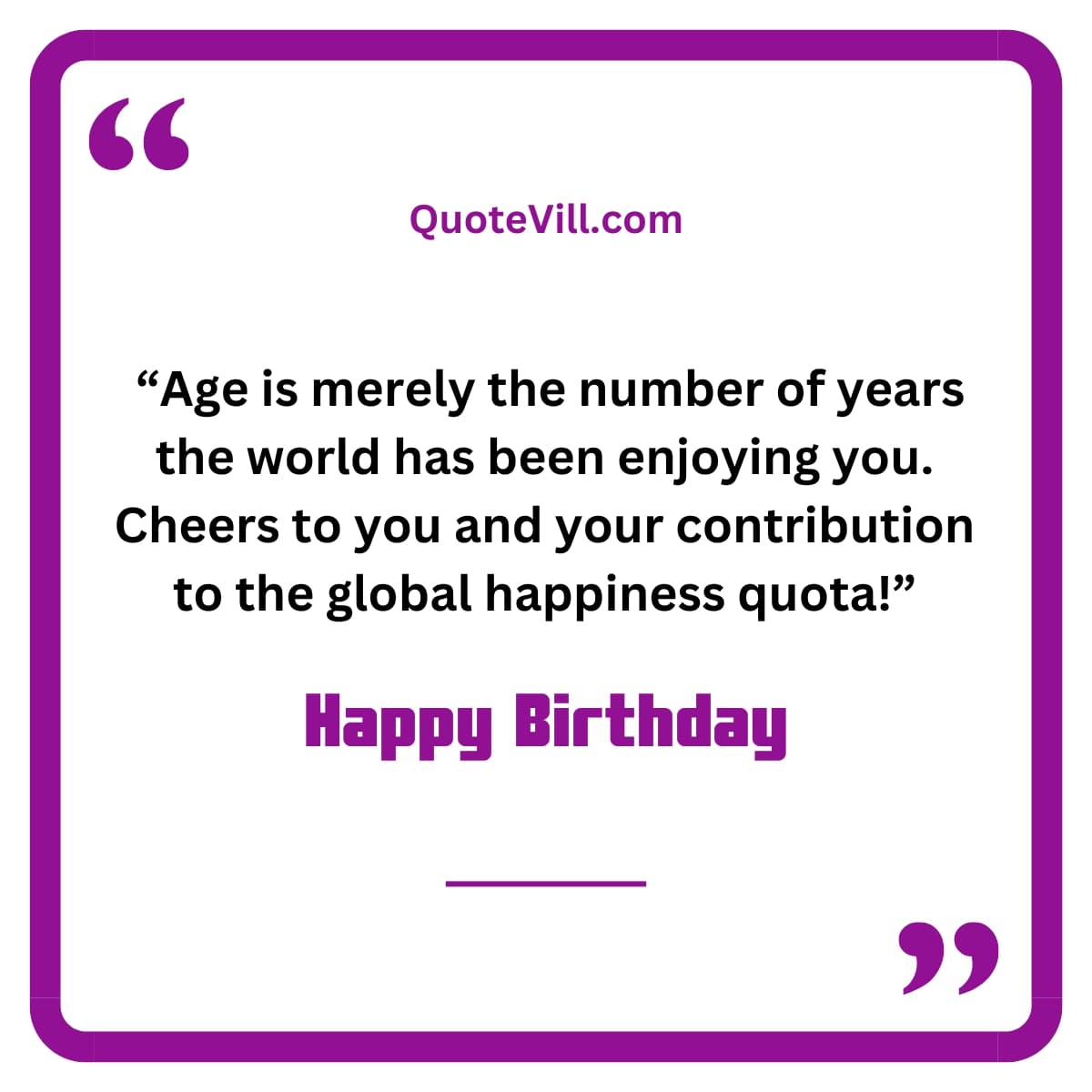 2. "Remember when we were kids and thought people our age were adults? Were we ever wrong! Happy 'Don't Have to Act Your Age' Day!"
3. "Happy Birthday! May your day be more beautiful than a unicorn farting rainbows."
4. "Congrats on reaching the age where your back goes out more than you do. Party responsibly!"
5. "Another year older, but definitely not wiser. That's a relief, isn't it? Happy Fun-filled Birthday!"
6. "Happy Birthday! You know you're getting old when the candles cost more than the cake."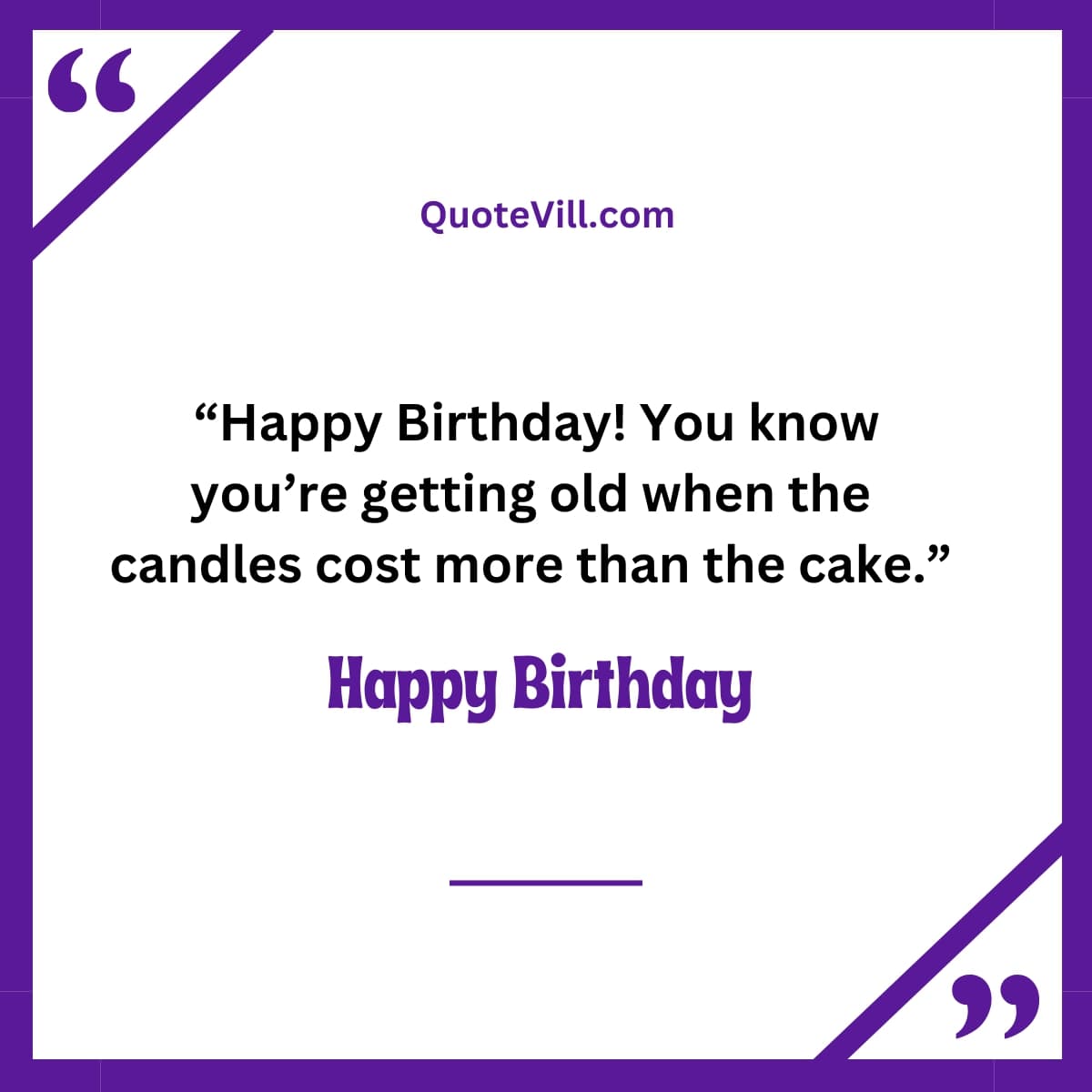 7. "You've officially reached the age where if you manage to keep a plant alive for more than a month, you're certified as a responsible adult. Happy Growing Up Day!"
8. "Remember when a late night was partying till dawn? Now it's staying up to watch the late-night news. Cheers to your evolving bedtime!"
9. "Like a fine wine, we get better with age… or maybe we just feel better about our age after a glass of wine! Happy Birthday and cheers to liquid optimism!"
10. "Happy Birthday! I was going to joke about getting older, but then I remembered you're older than me. So… Happy Birthday, Elder!"
Happy Birthday Quotes For Best Friend
1. "Happy Birthday, my dear friend! Throughout our journey together, I've realized that people like you – genuine, warm, and irreplaceable – truly come once in a lifetime. Here's to the countless memories we've created and the many more to come."
2. "Today isn't just another day. It's a celebration of every moment when you've brightened up the world around you simply by being yourself. Wishing you a day as luminous and heartwarming as the joy you bring to everyone."
3. "Another spin around the sun and you haven't changed a bit; still the same amazing friend who's been with me through thick and thin. I'm so grateful for every memory we've crafted, and I'm excited for all the adventures that await us."
4. "Your birthday isn't just a day on the calendar; it's a reminder of our shared stories, our mutual laughter, and the future tales we're yet to weave. Here's to more beautiful chapters in the book of our friendship!"
5. "Happy Birthday! Through highs and lows, jokes and heart-to-hearts, our bond has only strengthened. Like the finest wine, our friendship has matured beautifully, becoming richer and deeper with time."
6. "Each year, as we celebrate your special day, I count my blessings twice. Once, for the world having you, and once more, for me having you as my best friend. Here's to celebrating the remarkable person you've always been."
7. "There's a special kind of happiness that you always bring into my life, effortlessly and genuinely. Wishing you a day filled with all that warmth, love, and a sprinkle of our shared mischiefs."
8. "Another year, another adventure! Happy birthday to my partner in crime. Thank you for always being up for crazy adventures, spontaneous road trips, and unforgettable experiences. Here's to many more incredible journeys together. Happy birthday, best friend!"
9. "On your special day, I want to remind you of the incredible impact you've had on my life. You've been there through thick and thin, and I'm forever grateful for your friendship. Happy birthday, best friend. May this year be your best one yet!"
10. "To the person who understands my silence, finishes my sentences, and knows me better than I know myself – happy birthday! Thank you for being my constant source of love, support, and laughter. Here's to another year of amazing memories together."
11. "Happy birthday to my partner in crime, my confidant, and my forever best friend. I'm grateful for every moment we've shared, and I can't wait to create many more amazing memories together. Cheers to another year of adventures!"
Birthday Message For Colleagues
1. "Happy Birthday! Working alongside you has always been a great pleasure. Here's to another year of success and collaboration!"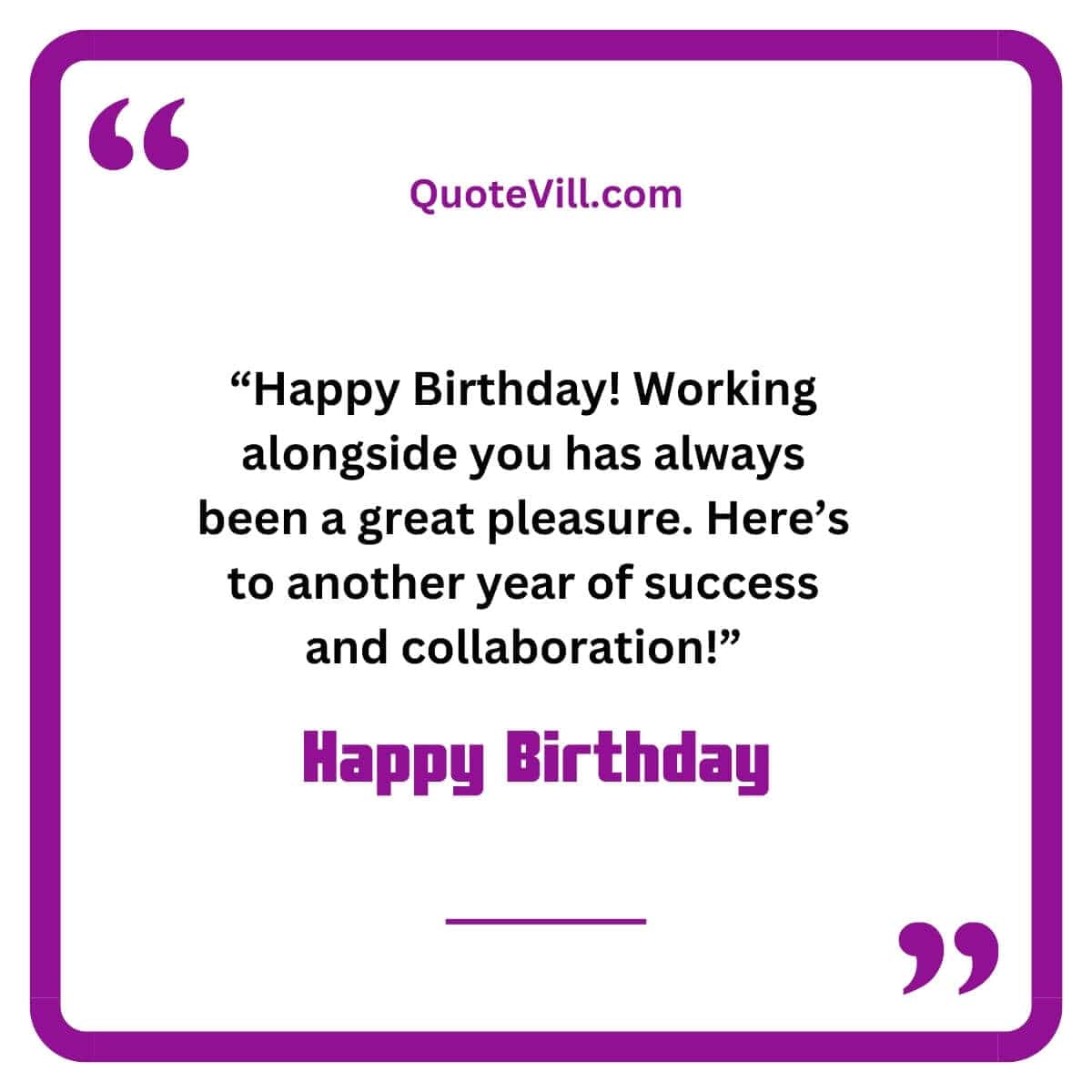 2. "May your special day be packed with the same joy and enthusiasm you bring to the office every day. Happy Birthday!"
3. "You're not just a colleague but an inspiration to many of us. Wishing you a year ahead filled with achievements and new adventures. Happy Birthday!"
4. "Here's to celebrating one of the brightest minds in the office! May your birthday be as delightful and rewarding as working with you has been."
5. "Birthdays are nature's way of telling us to take a break and enjoy a piece of cake (or two). Wishing you a day filled with sweet moments and pleasant surprises!"
6. "Another year older and wiser! Well, at least older. 😉 Happy Birthday! May your day be filled with fun and the warmth of good company."
7. "Cheers to a colleague who adds a touch of humor and professionalism in equal measure! Here's to celebrating you today and always. Happy Birthday!"
8. "To the person who knows how to turn challenges into opportunities, wishing you a fantastic birthday filled with all the happiness you deserve."
9. "From team meetings to coffee breaks, every moment at work has been better because of you. Here's wishing you the happiest of birthdays and a year full of promise!"
10. "Wishing you a day filled with happiness, laughter, and some quiet time to reflect on the amazing person you are. Happy Birthday, colleague!"
Birthday Gratitude Quotes
1. "On my birthday, I'm reminded of all the blessings that surround me. It's less about the years added to life, but the life added to those years. Grateful for every moment."
2. "Each year, another chapter unfolds. Immensely thankful for the love and stories that have shaped my journey so far."
3. "Celebrating another year of life and feeling profoundly grateful for every lesson, laughter, and love that has come my way."
4. "Another birthday, another year to be thankful for. The true gift isn't in the presents, but in the presence of loved ones who make this journey worthwhile."
5. "Each birthday is not just a reminder of growing older, but a milestone of gratitude, acknowledging every person and experience that has added color to my canvas of life."
6. "As I celebrate another year, my heart overflows with gratitude for the moments that shaped me, the challenges that strengthened me, and the love that carried me through."
7. "Birthdays are nature's way of celebrating life. Grateful for every sunrise I've witnessed and every sunset I'm yet to see. Here's to embracing every moment with a heart full of thanks."