To a mother, Son's birthday is always special. So, celebrate this day by telling your son how precious they are to you with these Happy Birthday Wishes for Son from Mom.
The nature of every relationship is unique. Therefore, birthdays can serve as a day to celebrate your mother-son relationship. Take this occasion to tell your son how precious their presence is in your life.
A heartfelt birthday note can bring a big smile to their face. If they live away from home, then your birthday message will feel like a warm hug to them.
Whether you want to use your humor to make them laugh or write a sentimental message to express your love for them, your heartfelt words will always touch their heart.
If your son's birthday is around the corner, express your love on their birthday with these Birthday Wishes for Son from Mom. Use it as a text or write on the birthday cards.
How Can A Mother Wish Her Son Happy Birthday?
Personalized Birthday Card: Creating a personalized birthday card allows a mother to pour out her feelings into words. Whether you craft it by hand or design it digitally, your heartfelt message will shine through, making it an invaluable keepsake for your son.
Memory Collage: As a special treat, combine the birthday wish with a collage or slideshow of pictures from your son's life, from babyhood to the present day. The visual element will add depth and emotion to your birthday message.
Special Birthday Tradition: Create a unique birthday tradition, such as serving breakfast in bed or letting him choose the dinner menu. This, combined with your birthday wish, can make the day even more memorable.
Video Message: In today's digital world, a video message can be an incredibly heartfelt way to wish your son a happy birthday. Seeing and hearing you deliver your message can make it all the more impactful.
Social Media Shoutout: If your son is active on social media, a public birthday wish on his favorite platform could be a fun surprise. This also allows your friends and family to join in the birthday wishes, making his day even more special.
Special Birthday Outing: Plan a day out or a special activity that he enjoys. You can start the day by expressing your heartfelt birthday wishes, followed by the planned activity. The combination of your words and actions will make his birthday truly unforgettable.
Unique Happy Birthday Wishes for Son from Mom
1. Happy Birthday, my superhero! Ever since the day you arrived, you've been a bundle of joy that just keeps on giving. You might be taller than me now, but you'll always be my little guy. Rock on this new year, my lovely boy. Mom loves you to infinity and beyond!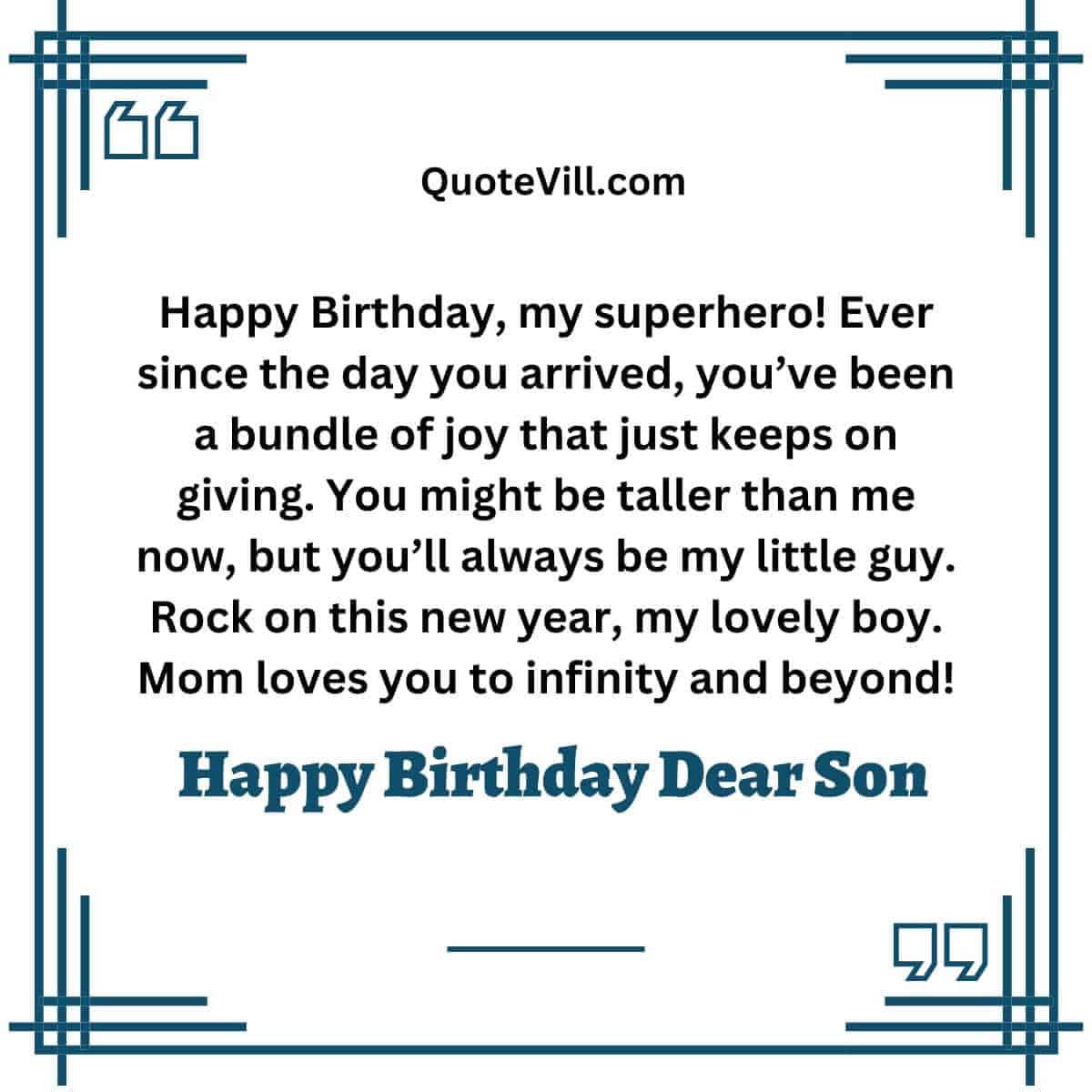 2. To the beat of my heart and the twinkle in my eye, Happy Birthday! My life was like a black-and-white movie until you colored it with your vibrant hues. You are and always will be the best thing I've ever done. Love you to the moon and back, kiddo!
3. Hey champ, it's your day! You are a testament to everything right I've done in my life. You are my strength, my sunshine, and my endless love. Here's to another year of you being you – extraordinary and beloved. Happy birthday, my precious boy!
4. Birthday cheers to my main man! Your laughter is the sweetest melody and your smile, my favorite sight. No matter how old you get, never stop laughing and spreading joy, my happy boy. You're the real MVP, son! Happy Birthday!
5. Happy Birthday, my little explorer! Every day with you is an adventure. From scraped knees to first heartbreaks, we've sailed through it all. Here's to exploring more of life's big and small adventures together. I'm proud of you, son!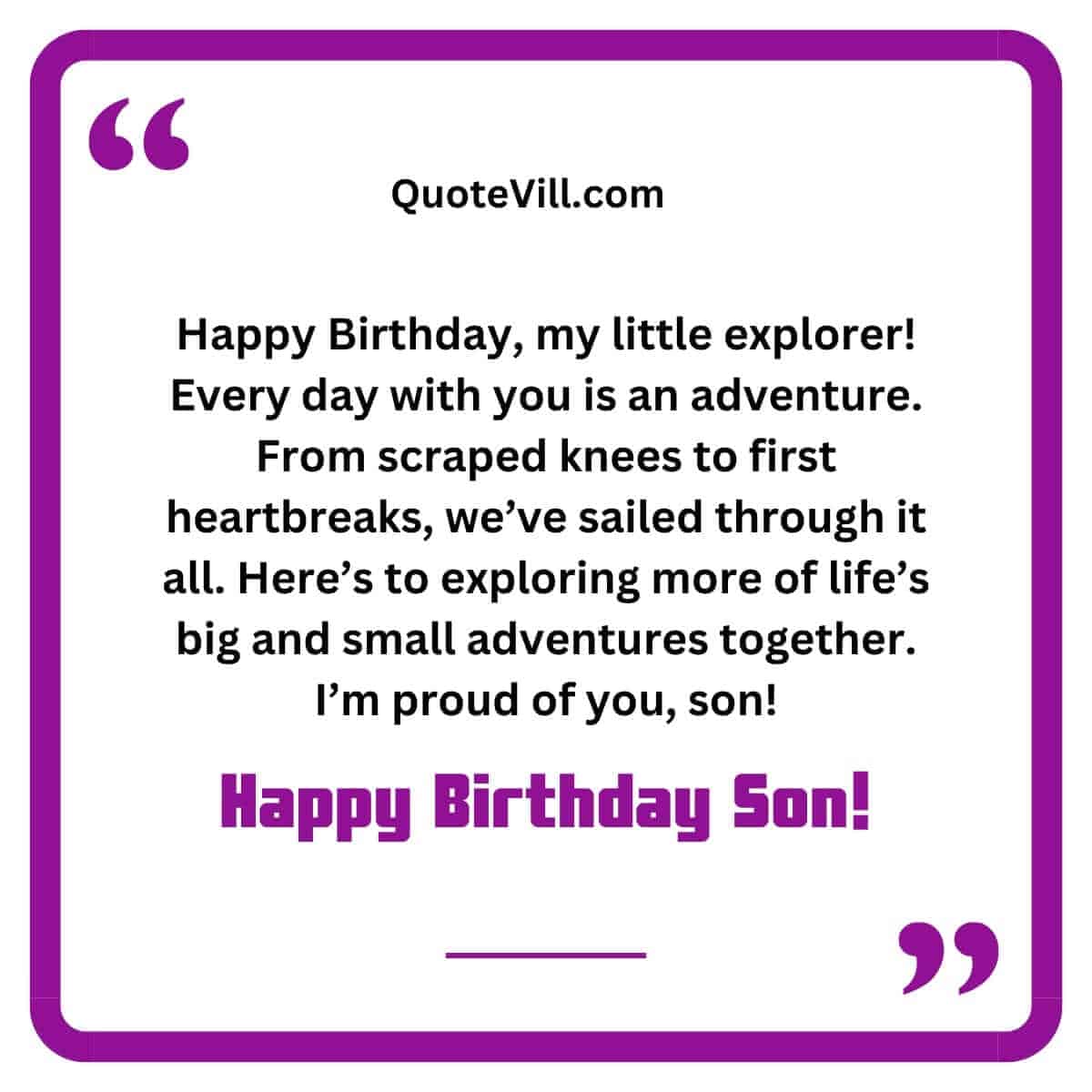 6. To the one who lights up my darkest nights, Happy Birthday! Your spirit, your courage, and your resilience inspire me every day. As you blow your candles today, remember that my love for you is like a candle – it will never stop burning.
7. Birthday wishes to my deep-thinker! I'm so proud to see you grow into a thoughtful and compassionate man. Continue to share your wisdom with the world and never let anything dull your brilliant mind. You're doing great, sweetie!
8. Happy Birthday to my pride and joy! Each page of your life is a chapter in my heart, filled with love, pride, and the occasional bout of mom-worries. You are the best story I've ever told. Here's to writing another beautiful chapter together!
9. A very happy birthday, my radiant boy! You fill my life with warmth and light just like a sunny day. May your life be as bright as your smile and as warm as your heart. You light up my world, son!
10. "Happy birthday, my cherished boy! Your presence has filled my life with pure joy and boundless love. Each moment spent with you is a gift. Here's hoping your day is as remarkable as you."
See: Happy 21st Birthday Wishes For Son
Happy Birthday Messages for Son from Mom
1. A massive happy birthday to my not-so-little man! You've grown up, but in my eyes, you'll always be my adorable baby. Embrace this magical journey of life, son. Remember, mom's got your back, always and forever!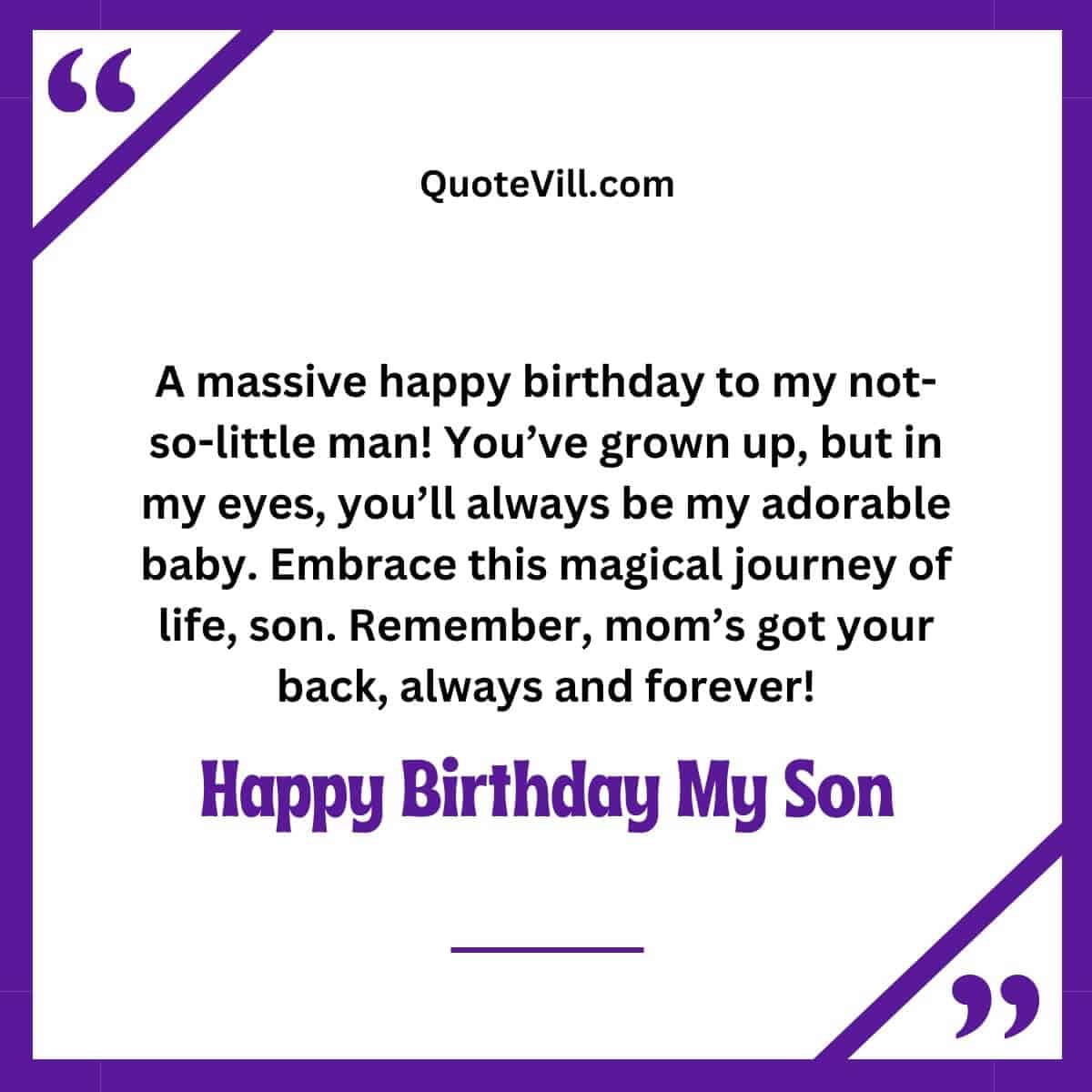 2. "My beloved son, thank you for adding joy and happiness to our lives. Wishing you an incredible year ahead! Happy Birthday!"
3. A joyful birthday to my radiant son! Your smile lights up my world, and your laughter is the sweetest sound. Here's to a year filled with as much joy as you bring to me every day. Shine on, my little sunshine!
4. "For my sweet, loving son: You're like a shining star in the sky that keeps lighting up my life's darkest corners. Have a wonderful birthday!
5. "No amount of love or words can describe how much I care about my baby boy/girl no matter his age..Can't believe it's already been [years since his birth]!.Happy special day my love! May all your dreams come true this year.
6. Cheers to another year, my brave boy! Your courage and strength inspire me every day. As you add another year to your life's journey, remember that bravery isn't the absence of fear but the ability to move forward despite it. You make me proud, son!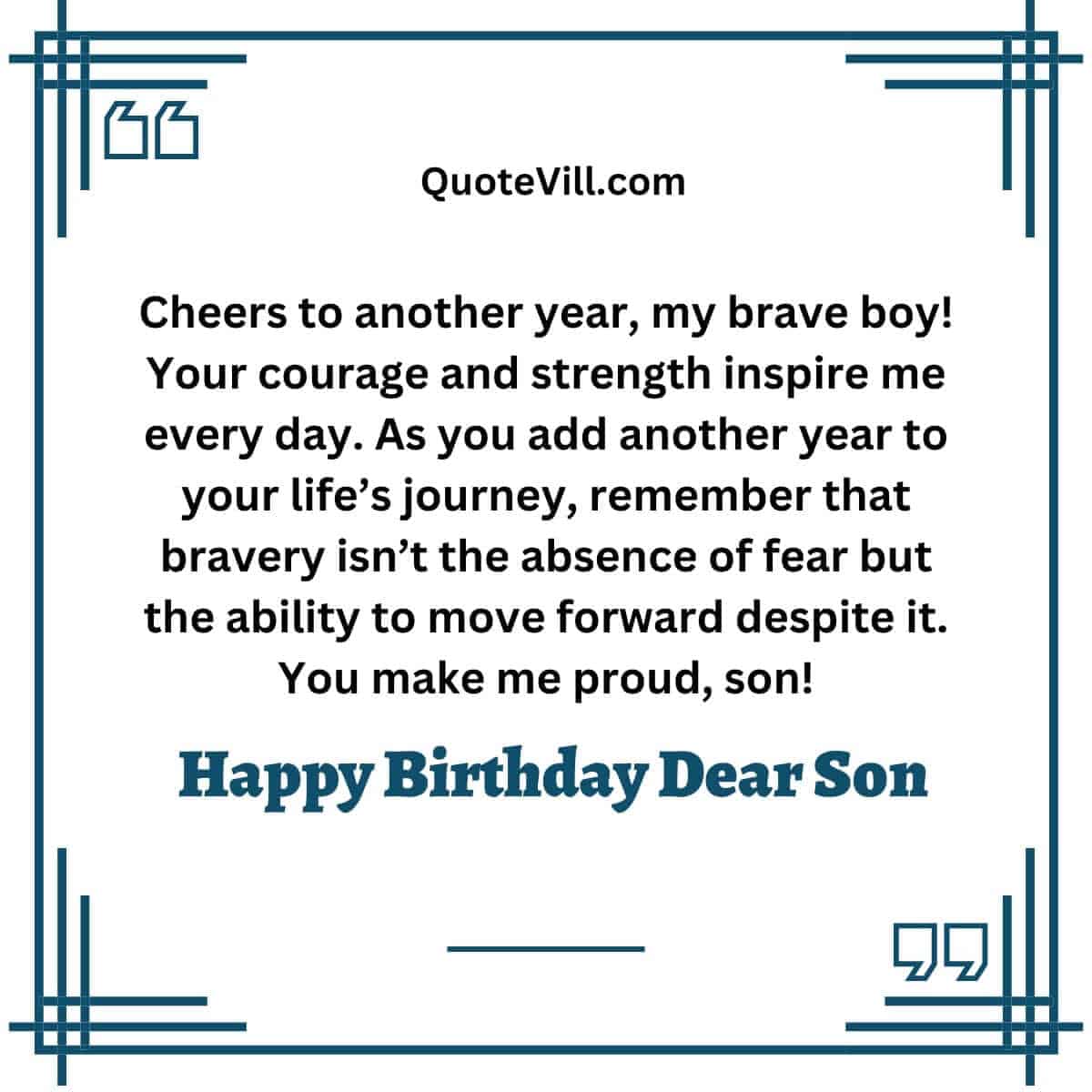 7. Happy birthday, my thoughtful one! Your wisdom and depth never cease to astound me. Continue to explore, question, and learn. Keep sharing your wisdom with the world. You're doing great, sweetie!
8. "It doesn't matter if today is your [age]th birthday or if it is 100th..no one has ever been as happy with growing up as I am.I am so proud of who you have grown up to be….Happy Birthday Son!"
9. Today is special not only because it marks one more year in your life but also because it celebrates the day when we first got the honor of knowing our amazing, beautiful and talented child…Happy birthday dearest!"
10. "As you blow out the candles on your cake today, know that I enjoyed every moment spent raising u & watching u grow…Wishing u an awesome bday!"
See More: One Month Birthday Wishes for Baby Boy
Heartfelt Happy Birthday Wishes for Son from Mom
1. A blessed Happy Birthday, my angel! You are God's most precious gift to me, a joy that knows no bounds. May the divine love guide you and keep you always. Remember, my love for you is as endless as the skies.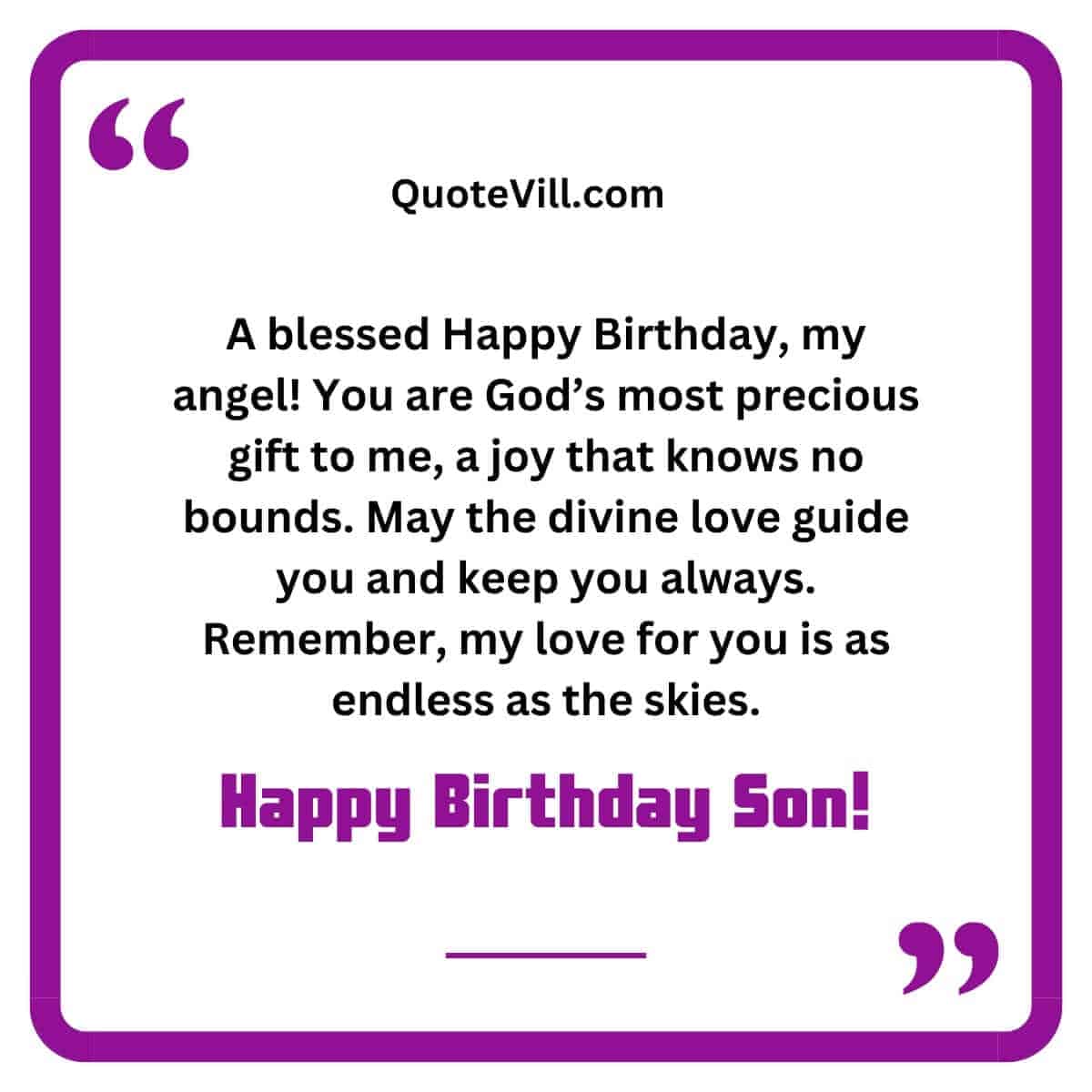 2. A joyous birthday to my pride and joy! Your laughter is my sweetest melody, your happiness, my greatest wish. May your days be filled with joy and peace, my lovely boy. Keep spreading your cheer, son!
3. A very happy birthday to my miracle! Your birth marked the start of a journey of love, laughter, and learning. Seeing you grow and blossom is my heart's greatest joy. Stay wonderful, my beloved son.
4. Happy Birthday to my perfect creation! You're my masterpiece, the best part of my life's canvas. As you add another year to your life, may it be as beautiful and unique as you are, my darling boy.
5. "A very happy birthday to my superhero of a son! Your love and resilience possess the magic to make everything better. May this day shower you with all the happiness you're worthy of."
6. "To my handsome young man, a joyous birthday! You've matured into an amazing individual, and my heart swells with pride. May this coming year unlock countless doors to success for you."
7. "Happy birthday to you, my beloved son! Witnessing your growth into the wonderful human being you are today has been my life's greatest delight. May your day be brimming with love, hearty laughter, and moments to treasure."
8. My dear son, Happy Birthday! Your existence has been a beacon, guiding me through life's ups and downs. You are my strength, my inspiration, and my biggest cheer. Shine bright, my guiding light!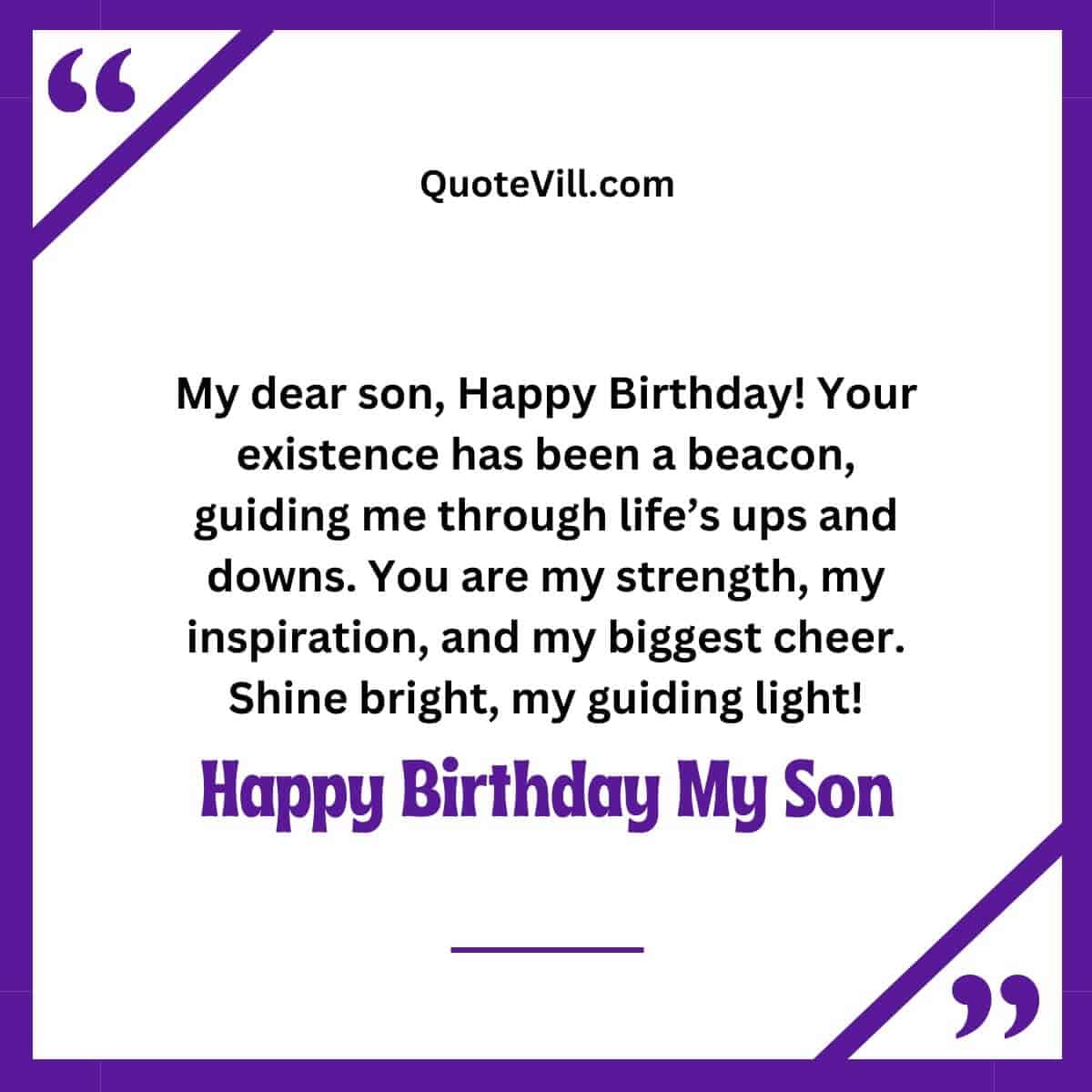 9. "On this special day of yours, let me reaffirm the depth of my love and affection for you. A very happy birthday, my sweet boy! Here's to a year blessed with endless joy and countless blessings."
10. "Happy birthday to my extraordinary son! You inject our lives with abundant laughter and happiness. Always remember how deeply you are loved. May your day be as wonderful as you."
11. "Wishing my extraordinary son a wonderful birthday! Your compassionate soul and gentle demeanor enrich our world. May your birthday overflow with love, hearty laughter, and the comforting presence of family and friends."
12. "On this remarkable day, I want to express the immense pride I feel in being your mom. Witnessing your growth into a kind-hearted, responsible, and loving person is the greatest honor I've experienced. Happy birthday to my cherished son!"
13. "To the little man who stole my heart from his very first breath, happy birthday! You've brought endless joy and boundless love into my life. I hope your birthday is as enchanting as the love you've spread in our family."
Check: 50 Cute Happy 1st Birthday Wishes For Son For A Year Of Wonder
Emotional Birthday Wishes for Son from Mom
1. Happy Birthday, my darling! From your first steps to your first heartbreak, I've been there through it all. Watching you grow into a compassionate young man fills my heart with such pride. I love you more than words can express, my precious boy.
2. "On this special occasion, I want to remind you that you're the sunshine in my life. Your laughter and unshakeable kindness and tenacity inspire me every day. I hope this birthday is as full of love and happiness as you've brought into our lives."
3. A very happy birthday, my dear! The day you were born, my life was filled with a joy I could never have imagined. You are my miracle, my unexpected blessing. Watching you grow is my life's greatest joy.
4. Happy Birthday, my sweet boy! You've transformed my life into an unforgettable journey of love and laughter. You are my world, my most cherished journey. Every moment spent with you is a memory I hold close to my heart.
5. "Happy birthday, my little hero! You've faced obstacles and surmounted them with courage and grit. Your resilience is awe-inspiring, and I have faith in your ability to conquer anything you aspire to. Continue to shine bright!"
6. "A very happy birthday to you, my precious boy! From the moment I cradled you in my arms, my heart has been brimming with love and sheer happiness. Being your mom is the greatest blessing I've received, and I cherish it every day."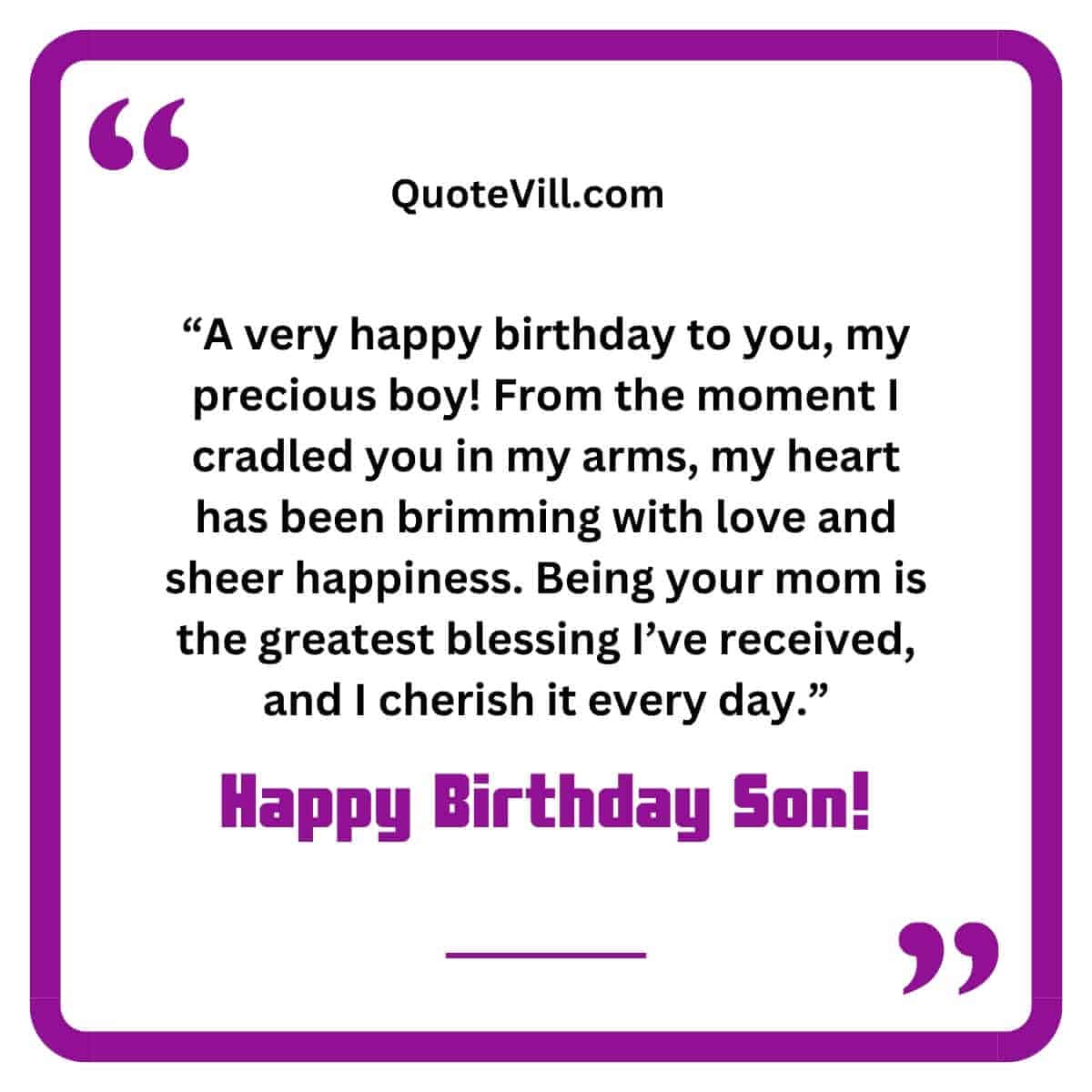 7. A blessed birthday, my lovely son! You are the whisper of love in my heart, the song in my soul. Your birth brought a harmony to my life that I had never known. You are my melody, my silent whisper.
8. Happy Birthday, my sweet son! You are my hope, my light in the darkest storms. Your courage and resilience have taught me the true meaning of hope. Keep shining bright, my brave boy.
9. "As you extinguish the candles on your cake, remember my wish for you: to chase your passions and realize your dreams relentlessly. Always remember, you have the potential to make a significant impact on this world. Have a spectacular birthday, my son!"
10. "Here's wishing the most wonderful son a mom could dream of a very happy birthday! Your compassionate heart, perseverance, and zeal inspire me daily. May the year ahead fulfill all your heart's yearnings for success and joy."
See More: 57 Birthday Wishes For Son In Law To Make Him Feel Special
Birthday Blessings for Son from Mom
1. Happy Birthday, buddy! May life's journey always lead you to beautiful discoveries. And remember, whatever path you choose, I'll always be cheering you on. Stay adventurous!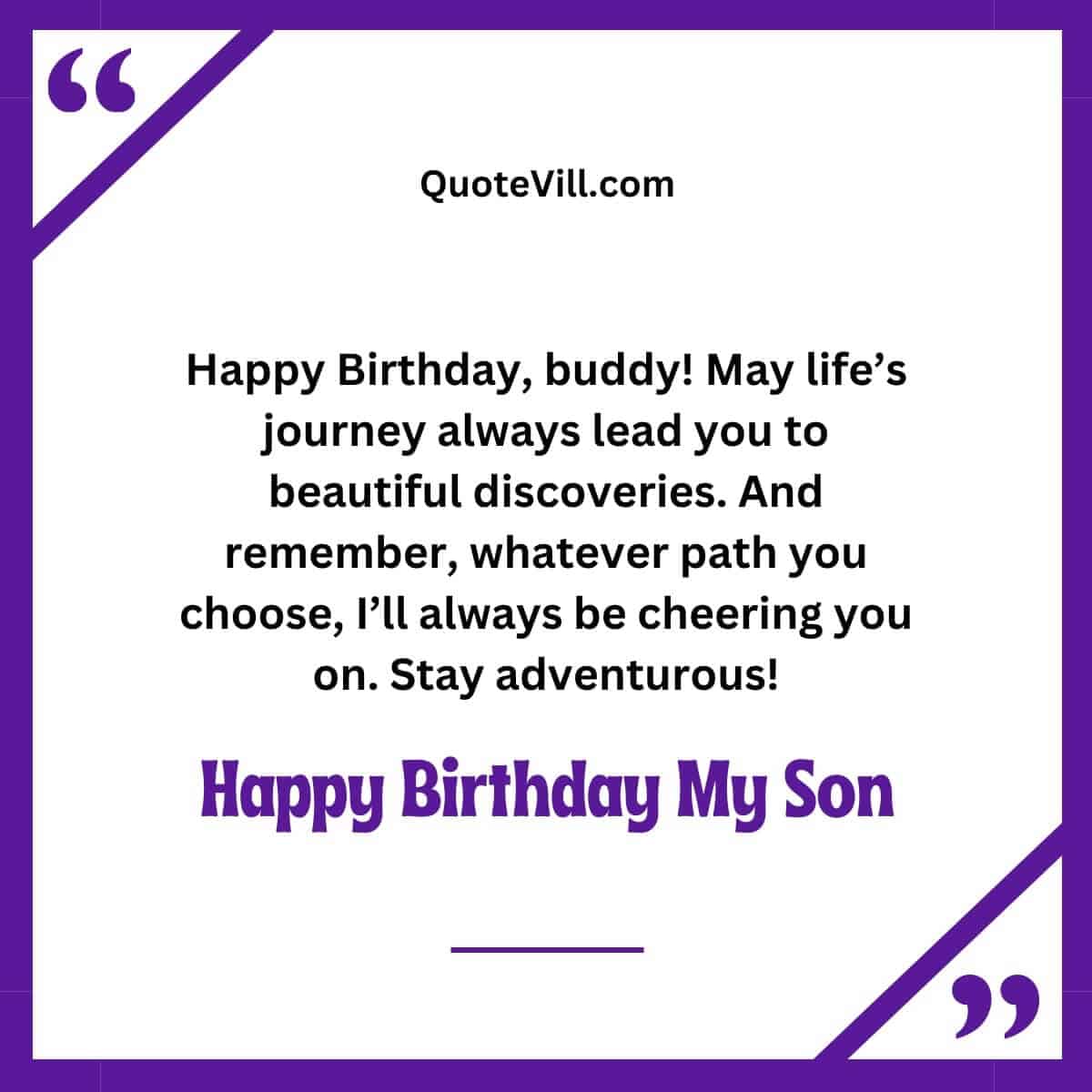 2. Happy Birthday, my champ! May life pitch you more victories than you can count. No matter the game, remember you're always my number one player. Keep hitting those home runs!
3. Happy Birthday to my genius! May you continue to explore the realms of knowledge and innovation. May your curiosity continue to grow, just like my love for you. Keep asking those questions, my bright boy!
4. Happy Birthday, my sweet son! Just like a flower blooming in the sun, may you continue to grow and blossom in love and happiness. And remember, every season brings new growth. Keep blooming, kiddo!
5. Happy Birthday, my shining star! May you continue to light up our lives with your love and laughter. Your shine has brightened even the darkest days. Keep glowing, my little lighthouse!
6. Happy Birthday, my musical maestro! May your life be a symphony of joy, love, and laughter. Keep making music, son. Your tune is our family's favorite soundtrack!
7. Happy Birthday, my energizer bunny! May your energy and zest for life continue to fill our days with joy. Keep buzzing around, my dear! You're the best charge a mom could ever ask for!
Funny Happy Birthday Wishes for Son from Mom
1. Happy Birthday, my son! Always remember that in the face of every challenge, there is an opportunity for growth. Keep reaching for the stars!" This wish can inspire resilience and ambition in your son.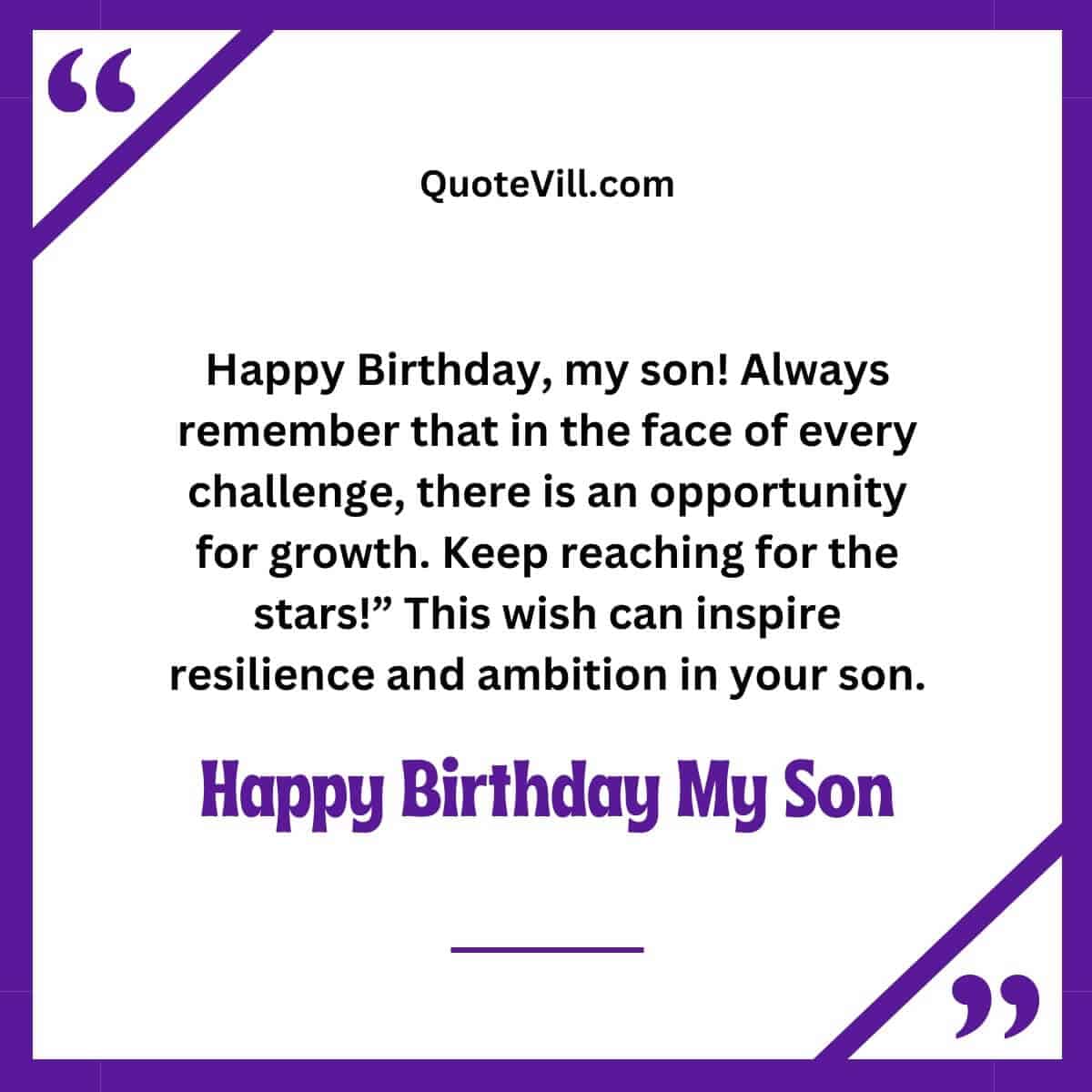 2. Son, you're the reason I know all the lyrics to silly cartoon theme songs. Now, I consider that a gift! Happy Birthday!
3. Happy Birthday! Just remember, you're not getting older, you're getting… Okay, who am I kidding? You're getting older!
4. Happy Birthday, son! Remember, you can't soar like an eagle when you hang out with turkeys. So choose your friends wisely!
5. Happy Birthday, son! If you think I'm going to sing 'Happy Birthday' to you, you're sorely mistaken. That's your present!"
Final Thoughts:
Birthdays are special occasions that deserve heartfelt and sincere wishes. A mother's love is unlike any other, and expressing it through birthday wishes can be a beautiful way to show how much your son means to you. This list of Happy Birthday Wishes for Son from Mom offers a variety of sentiments that will help make your son's birthday unforgettable.
No matter what words you choose, the most important thing is that they come from the heart. After all, a mother's love knows no bounds.