"Have a good day at work texts" can really lift up someone's spirit when they are at work. It doesn't matter if they are having a fabulous day or a super bad day at the office; such a small text from someone they care about and love can improve their mood in no time.
And if you are looking for such adorable texts to send someone you care about, we have a wonderful collection for you. Whether it's a friend, family member, lover, or colleague, these thoughtful messages can help set the tone for the rest of the day.
Even when they couldn't start the day on a happy, satisfying note, your sweet, kind words (through a simple text) can give someone a boost of positivity and encouragement.
So, don't delay sending such a wonderful text to someone you love and care for. You might never know the wonders your words can do!
What Exactly "Have A Good Day At Work Texts" means?
"Have A Good Day At Work Texts" are brief, thoughtfully crafted messages designed to bring a smile to the recipient's face and infuse their workday with positivity. It's an opportunity to express your love, care, and support, which can significantly improve their day.
How to Craft "Have A Good Day At Work Texts"?
Here are a few tips to help you craft the perfect "Have A Good Day At Work Texts":
Personalize: Make your text personal and genuine. Use their name and refer to specific details you both share.
Positive Wishes: Always wish them a good day at work. This simple wish can make a big difference.
Encouragement: If they're facing a tough day, offer words of encouragement. Remind them of their strengths and capabilities.
Humor: Light-hearted jokes or funny quotes can uplift their mood and make them laugh.
Express Love/Care: A simple "I love you" or "I care about you" can warm their hearts and make their day.
Have A Good Day At Work Texts
1. "Good morning, [Name]! Just imagine: you're the leading character in today's work story. Shine as bright as you always do! 😉"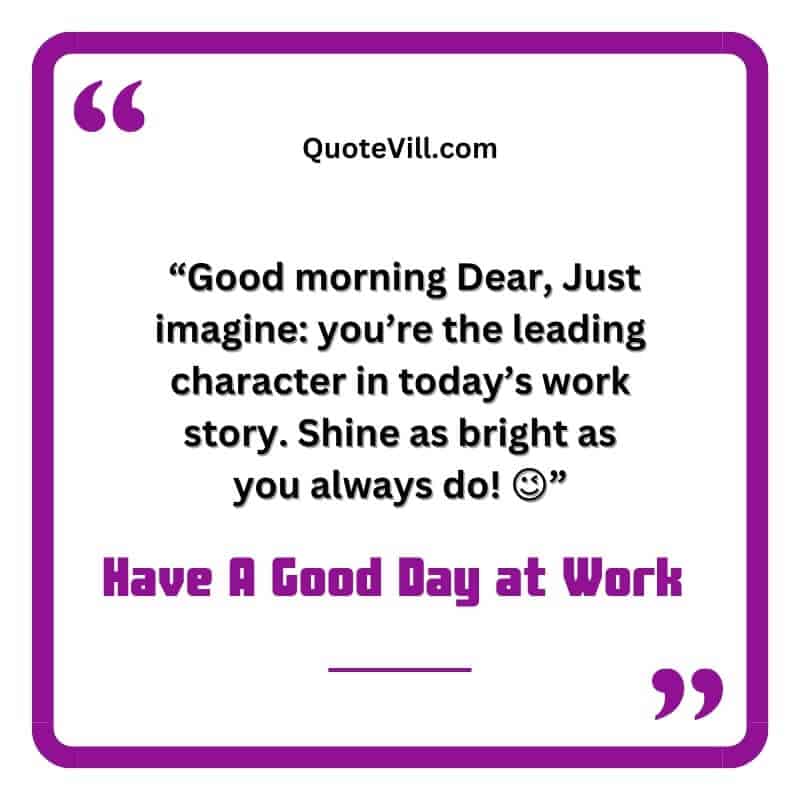 2. "Hey, [Name]! Just like my morning coffee, you're strong and invigorating. You're capable of turning any day around. Have a wonderful day at work!"
3. "Hello there! Just a gentle reminder that you're equipped to tackle anything that comes your way today. Keep going strong!"
4. "Hey [Name], your work ethic is contagious, just like laughter in a comedy show. Keep spreading your awesomeness around!"
5. "Morning, [Name]! Here's to strong coffee, short Mondays, and a workday filled with victories. Have a fantastic day!"
6. "Good morning! Today's mission, if you choose to accept, is to have an extraordinarily fulfilling day at work. This message will disappear in 5, 4, 3, 2… 🕵️‍♀️"
7. "Hey, remember, your workday is like a novel. It might start slow, but there's always potential for a fantastic ending. Make it a great day!"
8. "Good morning, [Name]! Here's a little joke to kickstart your day: Why don't we gossip at work? It's a 'workplace', not a 'whisper-place'! 😄 Enjoy your day!"
9. "Good morning, [Name]! Remember, every day is a chance to create something amazing. So let's make today incredible at work!"
10. "Hey there! Even though work can be tough, remember that diamonds are made under pressure. Shine on!"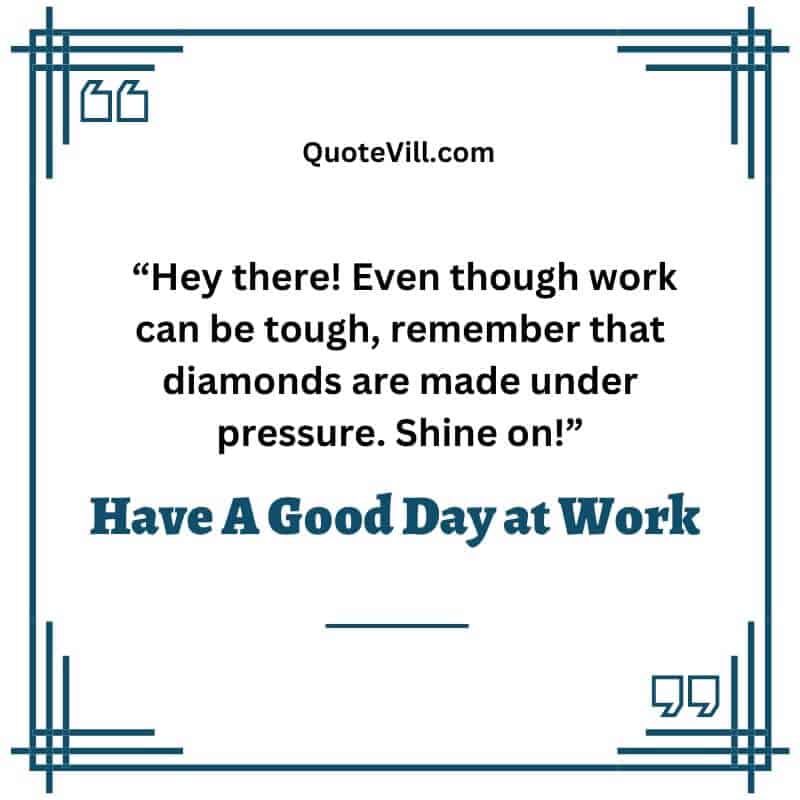 11. "Hey [Name], you're like the main character in a movie when it comes to your job. Keep making every scene count! Have an exciting day!"
12. "Good morning, [Name]! Keep in mind, you're as essential at work as a morning coffee is to a coffee lover. Make it a great day!"
13. "Hey, [Name]! Here's a riddle to start your day: I speak without a mouth and hear without ears. What am I? An echo! 😄 Have a fun day at work!"
14. "Good morning, [Name]! Just a reminder that your hard work is like a seed that will soon grow into a tree of success. Keep planting those seeds today!"
See: 100 Uplifting Have A Beautiful Day Quotes To Share Positive Thinking
Good Day At Work Texts For Him
1. "Hey, handsome! Just wanted to let you know how much I admire your hard work and dedication. You're doing amazing things. Here's to another great day at work!"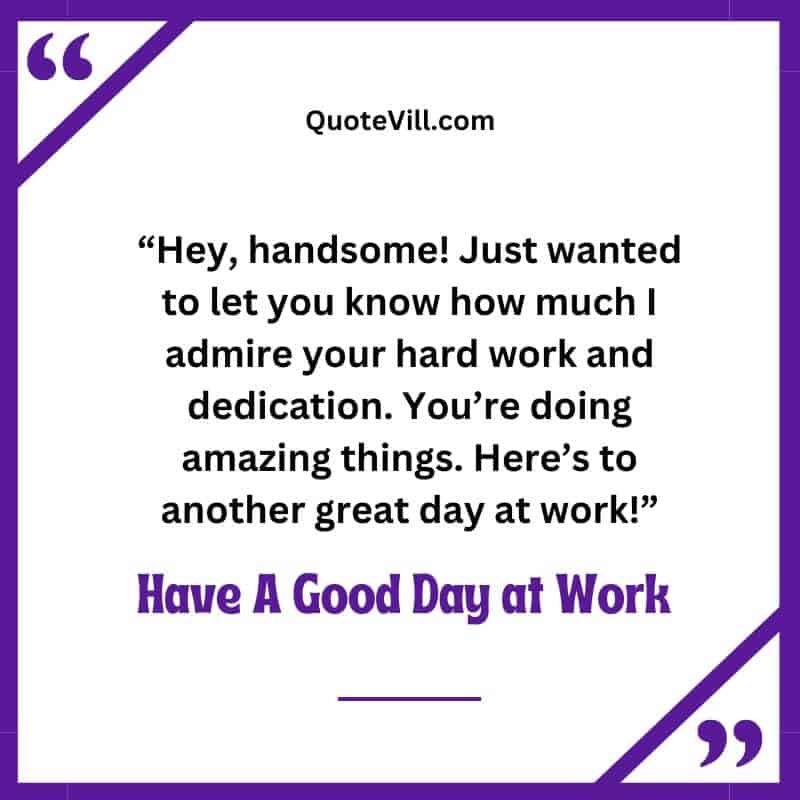 2. "Good morning, babe! I hope your workday is as brilliant as your smile that always brightens my day. Sending all my love and good vibes your way."
3. "Hey there, my superhero! As you tackle another day at work, remember that your passion and determination never fail to amaze me. Go out there and own the day!"
4. "Morning, darling! You're like the strong coffee that kick-starts my day. Now, it's your turn to bring that energy to your workplace. Have a fantastic day!"
5. "Hey, love! Just a little reminder that you're the perfect fit in my life, just like a puzzle piece. I know you're just as perfect at your job. Have a wonderful day at work!"
6. "Good morning, my sunshine! Just as the sun lights up the day, you light up every room you enter. Keep shining at work today. Sending you all my love."
7. "Hello, my hero! Each day you set off to work, you inspire me with your dedication. You mean the world to me. Go out there and make today extraordinary!"
8. "Morning, love! Remember, you're my champion. Tackle today like the pro you are. Can't wait to hear about your wins later!"
9. "Hey, handsome! Your dedication always leaves me in awe. Here's to another day of you doing amazing things at work!"
10. "Good morning, babe! I hope your day is as beautiful and bright as your smile. Sending you all my love and positivity."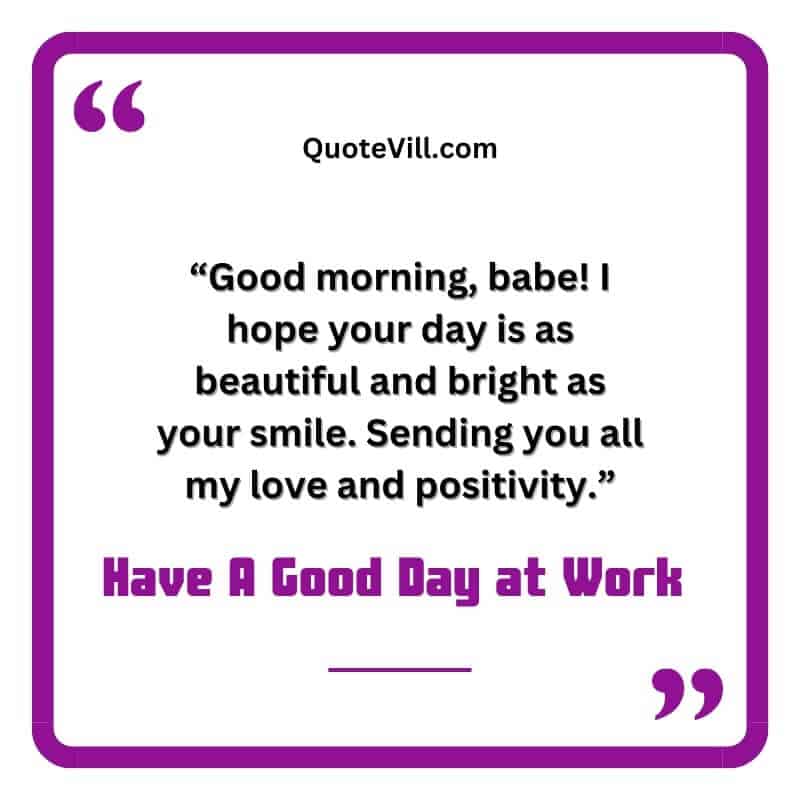 11. "Hey there, superhero! Your passion for your work inspires me every day. Go rock your workday!"
12. "Morning, darling! You're the strong coffee that gets my day started. Now go bring that energy to your workplace. Have a fantastic day!"
13. "Hey, love! Just like a puzzle piece, you fit perfectly into every situation. I know you'll do the same at work today. Have a wonderful day!"
14. "Good morning, my sunshine! Keep lighting up your workplace just like you light up my life. Sending you all my love."
15. "Hey, sweetheart! Your hard work is the secret sauce to your success. Can't wait to hear about your accomplishments today. Have an awesome day at work!"
16. "Morning, love! You always lift my spirits – now bring that uplifting energy to your work. Have a great day!"
17. "Hello, my hero! You inspire me with your dedication every single day. Go out there and make today extraordinary!"
See More: 115 Best Work Friends Quotes to Share With Your Office Squad
Have A Wonderful Day At Work Texts For Her
1. "Good morning, my love! You face every challenge with such grace, and I believe today will be no different. Let your strengths guide you and your passion propel you forward. Here's to a day of success and fulfillment at work!"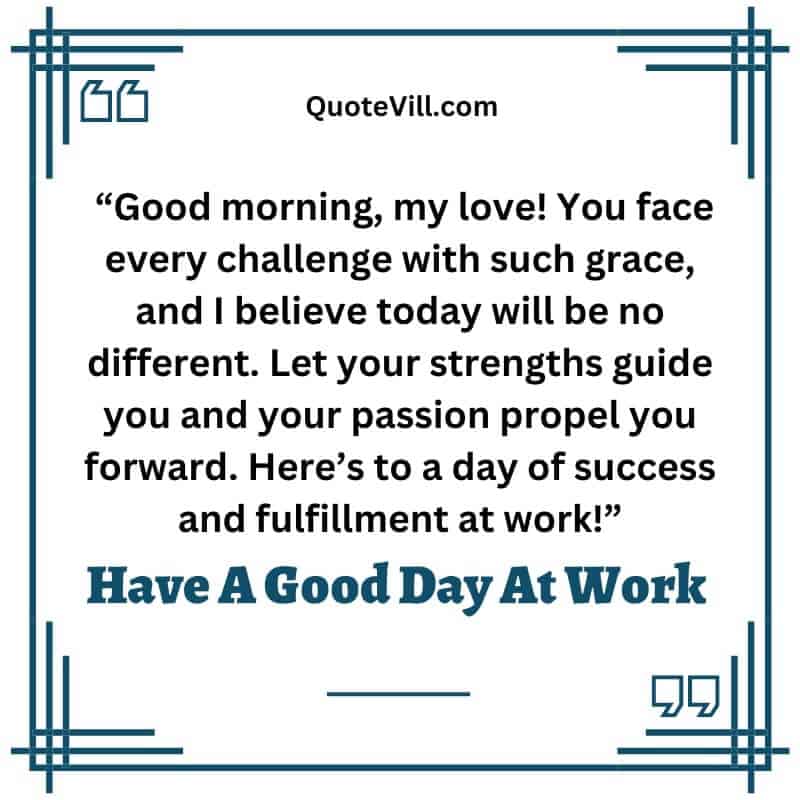 2. "Hello, beautiful! Remember, you possess a rare blend of wisdom and resilience. I'm constantly in awe of your ability to handle work situations. So, as you embark on another workday, keep in mind that you're incredible. Have an amazing day!"
3. "Darling, your passion for work is truly inspiring. You tackle challenges head-on and turn them into opportunities. So, as you navigate through your workday, remember, you're a force to reckon with. Have a productive day at work!"
4. "Morning, love! You're my daily source of inspiration, and now it's my turn to motivate you. I have no doubt that you'll make a significant impact at work today. Keep striving for greatness. Have a wonderful day!"
5. "Hello, love! Just like a puzzle piece, you fit perfectly into my life. I'm confident that you bring the same perfection to your work. Your dedication is admirable, and I'm here cheering for you. Have an exceptional day at work!"
6. "Good morning, love! Your spirit lifts me up just like the chorus of a favorite song. Now it's your turn to spread that positive energy at work. You're made for greatness. Have an incredible day!"
7. "Hey, my heroine! As you set off for work, know that your resilience inspires me every day. I'm incredibly proud of you. Go out there and make today another extraordinary day. You've got this!"
8. "Good morning, my treasure! Remember, your abilities extend far beyond what you can see. You're a powerhouse of talent and today, just like every day, you're going to do great things. Have a fantastic day at work!"
9. "Hello, my star! You shine brighter than all the constellations in the night sky. So, as you step into work today, remember to let your brilliance illuminate your path. I'm so proud of you. Have a wonderful day!"
10. "Morning, sweetheart! Your resilience is like a sturdy ship, sailing through any storm with grace. As you navigate your workday, know that I'm here, cheering you on. Have a fabulous day at work!"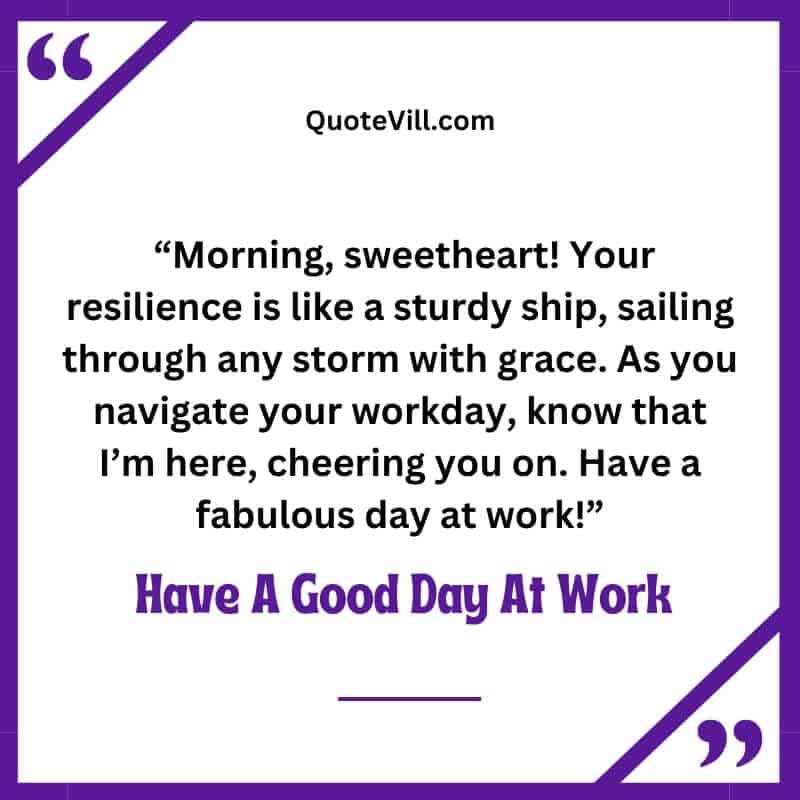 11. "Hey, my queen! You turn challenges into stepping stones with your unique blend of determination and finesse. I can't wait to hear about the mountains you move today. Have an extraordinary day at work!"
12. "Hello, sunshine! You light up my world and I'm confident that you brighten up your workplace too. Keep shining, my love. You're doing amazing. Have a fantastic day at work!"
13. "Morning, my inspiration! Your dedication paints a beautiful picture of success, one stroke at a time. Today, you're going to add more colors to that canvas. I believe in you. Have a wonderful day at work!"
14. "Hello, my dream! As you set off for another workday, remember you're made of magic and resilience. You inspire me every day, and I can't wait to hear about your accomplishments. Have an excellent day at work!"
15. "Good morning, my heartbeat! You're my daily dose of courage and inspiration. As you face the day, remember, you're capable of remarkable things. I'm cheering for you. Have a productive day at work!"
16. "Hey, my angel! Your hard work and dedication are like wings that help you soar higher each day. I'm here, admiring your flight and cheering you on. You're incredible. Have a fabulous day at work!"
Cute Have A Great Day At Work Texts
1. "Good morning, my champ! Just as the coffee brews, let your ideas brew at work today. Your creativity and resourcefulness are your superpowers. Here's to a productive day at work!"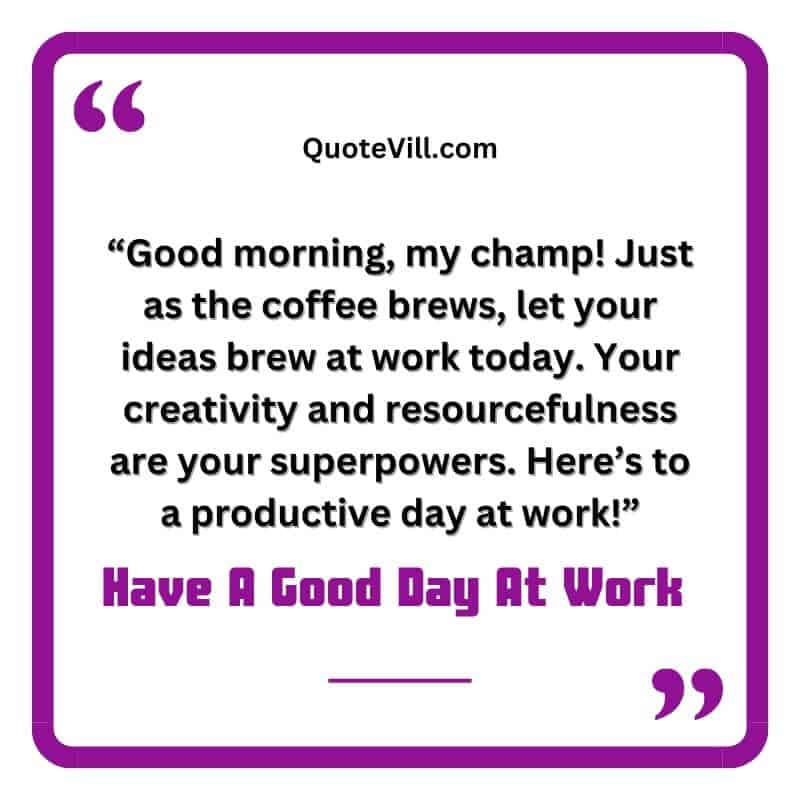 2. "Hey, love! The chirping birds are sending their sweet symphony your way to inspire your day. Let their song remind you of your own harmony at work. Have a lovely day!"
3. "Good morning, my inspiration! As the morning dew freshens the leaves, let your fresh ideas invigorate your workplace. I'm cheering for you. Have an excellent day at work!"
4. "Hello, my rockstar! The morning sun is spreading its warm rays, just like your hard work and dedication spread positivity at work. Keep shining and have a wonderful day!"
5. "Morning, my hero! You conquer every day with your hard work and perseverance, just like the sun conquers the sky at dawn. Here's to another day of you being amazing at work. Have a fantastic day!"
6. "Hey, sweetheart! Just like the morning is incomplete without coffee, your workplace is incomplete without your charm and charisma. Make your mark today. Have a beautiful day at work!"
Have A Good Day At Work Texts For Crush
1. "Good morning! You know, every hurdle at work is just a stepping stone towards something great. And your strength? It's as invincible as that smile of yours. Here's to a day full of joy and success!"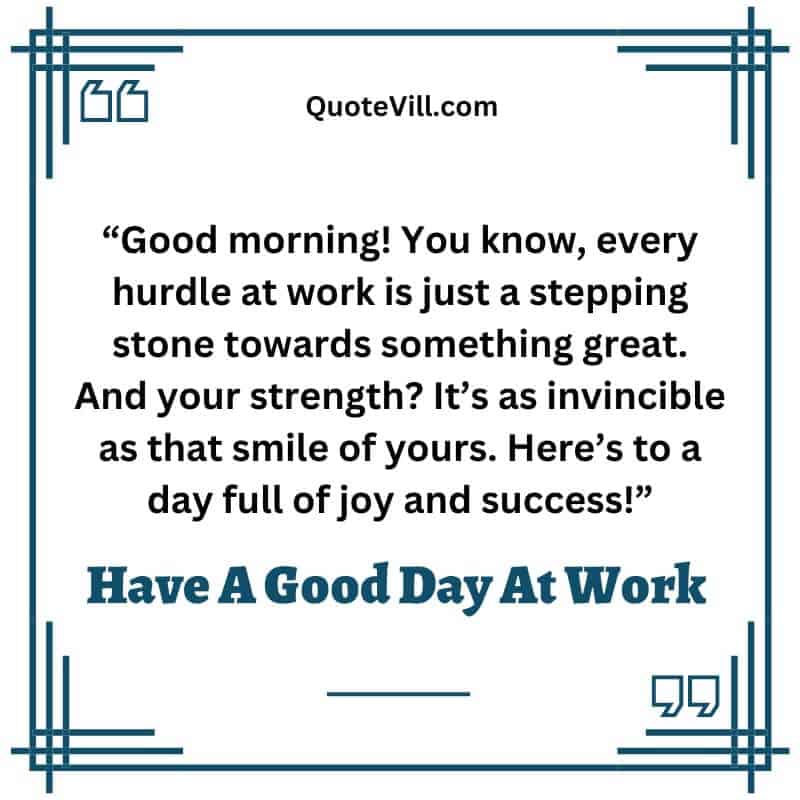 2. "Hey, I hope this little text lights up your face with a smile! You know you light up every place you go, just like the sun. Have a fantastic day at work, I know you're going to ace it!"
3. "Good morning! You're like a songbird, always bringing harmony wherever you go. Today, I hope your workday is a symphony of success. You've got the talent to turn every challenge into an opportunity. Have an amazing day!"
4. "Hello! I just wanted to say that your dedication and hard work are really impressive. You're like sunshine on a cloudy day, making everything better. Wishing you a workday as awesome as you are!"
5. "Good morning! Just like a strong cup of coffee kickstarts the day, let your energy and passion drive you at work today. You've totally got this. Have an amazing day!"
6. "Good morning! Remember, your passion is your power. Just like the morning sun, let your energy light up your workplace. Wishing you a day full of wins!"
7. "Hey! Just like coffee, you bring a unique flavor to every place you go. Keep spreading your positivity and charm at work. Have an amazing day!"
8. "Good morning! As you set out for another day at work, remember that your hard work and dedication are your superpowers. You've got this. Have a fantastic day at work!"
9. "Good morning! Just like a sunrise, you bring a new light to everything you touch. Shine bright at work today. Have an amazing day!"
10. "Hey! Your work ethic is like the perfect brew, strong and invigorating. Keep brewing success. Wishing you a fantastic day at work!"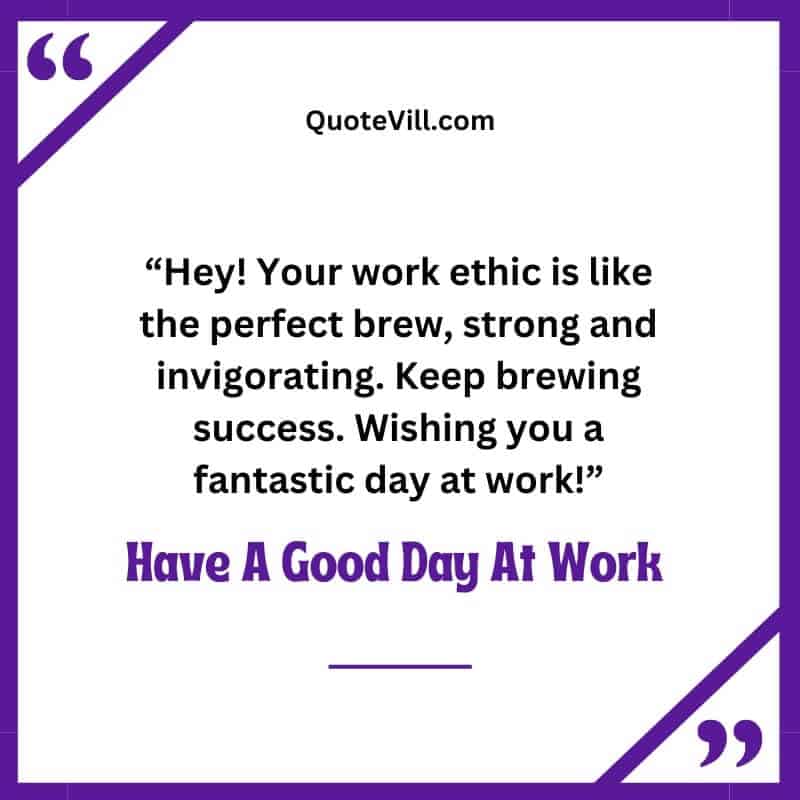 11. "Good morning! Remember, every challenge is just an opportunity to shine. With your resilience, I know you'll conquer the day. Have a wonderful day at work!"
12. "Hello! As you step into another workday, remember that your dedication and hard work are truly impressive. I believe in you. Have an amazing day at work!"
13. "Good morning! You're like the sweetest cup of coffee, adding flavor and warmth to everyone's day. Keep spreading your charm at work. Wishing you a fantastic day!"
14. "Hey! Just wanted to let you know that you're capable of turning every challenge into a triumph. I'm cheering for you. Have an incredible day at work!"
Nice Day At Work Texts For Friends
1. "Good morning, buddy! Remember, work is just a way to fund your coffee addiction. Here's to a day as strong and invigorating as your caffeine fix. Can't wait for our weekend shenanigans!"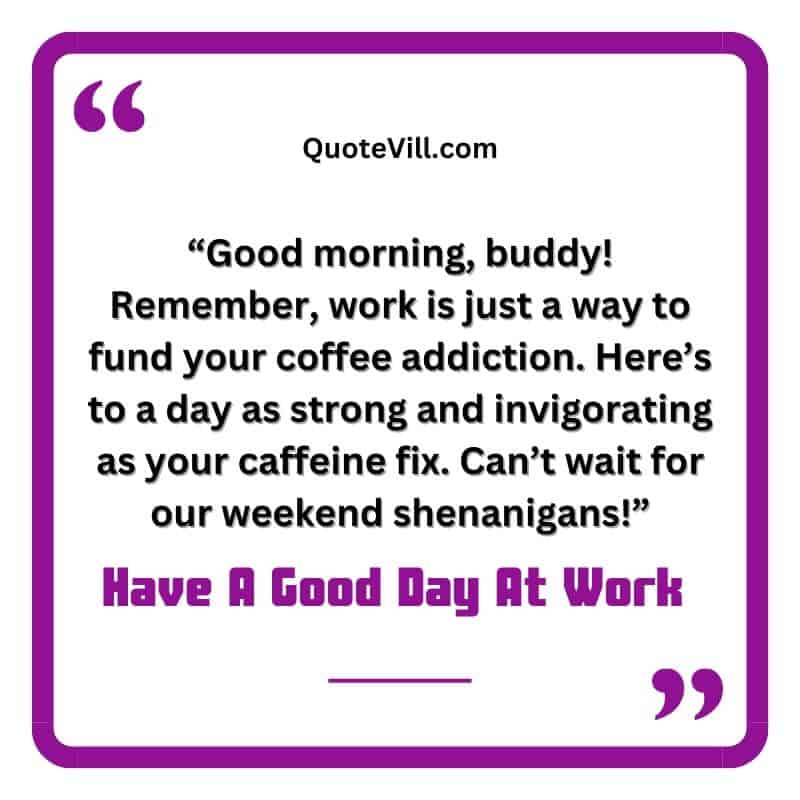 2. "Hey! Just like a superhero, you tackle every challenge at work with grace. Now, if only you could find your misplaced car keys with such ease! Have an amazing day at work."
3. "Good morning! Wishing you a day as smooth as your office elevator ride. But remember, even if it gets bumpy, you've got the skills to hit the emergency button. Looking forward to catching up this weekend!"
4. "Hello! Your work ethic is as strong as your Wi-Fi connection. May your day be as lag-free as your internet. Have a fantastic day at work!"
5. "Good morning! You're like a cup of strong coffee, waking up every task with your energy. But remember, don't gulp down too much coffee, or you'll be wide awake for our weekend movie marathon!"
6. "Hey! As you dive into another workday, remember, you're as essential as 'Ctrl + Z' on a hectic day. Keep undoing problems and have a great day at work!"
7. "Good morning! You're the 'Shift' to the 'Caps Lock' world of work. Keep balancing things out. Can't wait to hear all about it over the weekend. Have an amazing day!"
8. "Hello! Your dedication to work is like a perfect meme, bringing smiles and lightening the mood. Keep spreading your positivity. Wishing you a day as awesome as you are!"
9. "Good morning! Here's to hoping your day at work is as short as the time it takes for our weekend plans to go off the rails. Have a fantastic day at work!"
10. "Hey! As you step into another day at work, remember, every challenge is just another story for our weekend catch-ups. I'm cheering for you. Have an incredible day at work!"