Are you hoping to throw a birthday bash that gives you a fun, nostalgic ride but is also so groovy for everyone? Then, you've landed right where you should've.
From how to organise a decade-themed birthday bash to the tips and ideas to make it more kicking, this blog post has covered every tiny detail so that you don't have to!
As much as we're moving along with time, trends from the back then are finding their way around! Legends and dare I say, research also says that we're in the revamping era, and it is not going to go away any sooner. So, why not ride along and revisit the old,  good times in the best, fun ways possible? Here is your guide on how to!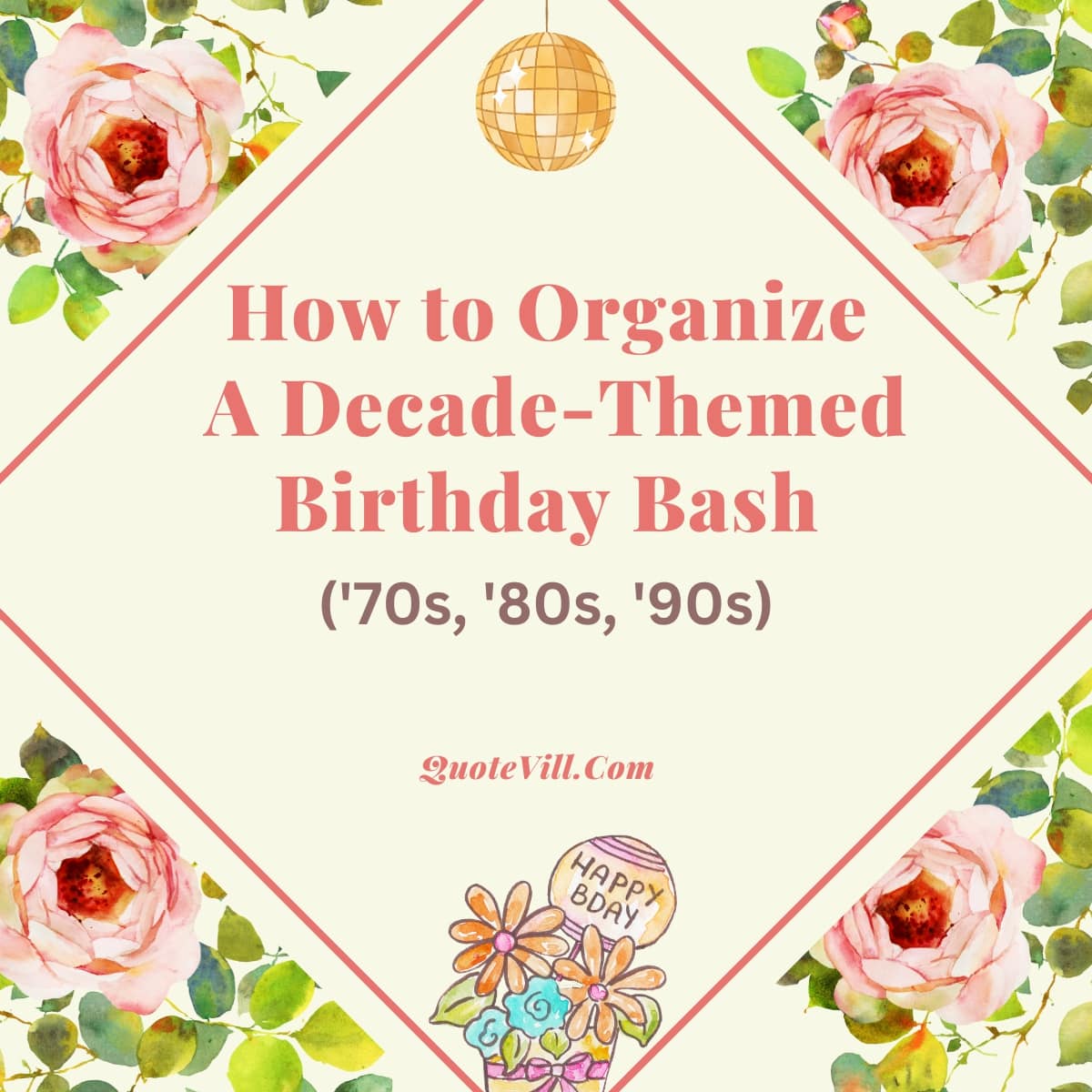 Send the Vibes With Decade-Themed Birthday Invites
Invites should scream the vibe of the decade you've chosen to celebrate along with your birthday. Invites aren't only about telling your guests the set location and dress code but also about letting them guess at first sight before they even read. As we said, send the vibes with invites.
For the '70s you can make your invite all about retro, disco theme by adding little crafty graphics of disco balls, retro signers, and using bright colours.
Your invites for an '80s theme party can be all about record players, cassette taps, Rubik's cubes and all the pop colours but mainly neon and fluorescent.
For the '90s theme party, you can go with a dark colour palette and let the small, cool graphics of beach waves, palm trees, headphones, record players, and video games, do the magic.
Time to Display Your Best Decor Skills
Now, let's make your place a town of nostalgia. Here are some ideas that you can take inspiration from:
The '70s
To bring the essence of this era, of course, you can't skip using disco balls, sequins, and shimmering lights but only the extra flashy ones!
Make space for the groovy dancers with a multi-coloured, small, disco platform. If that is slightly out of budget or simply you don't have enough time to arrange it, multi-coloured lights will do just fine.
Other than that, you can add little details to your decor, for example, gold records were a thing in the '70s, so you can use them in your wall decor or you can get creative by adding other elements such as mini, DIY polyester suits and shoes, retro tissues. When it comes to a colour palette, you can go with dark, earthy tones and bright colours.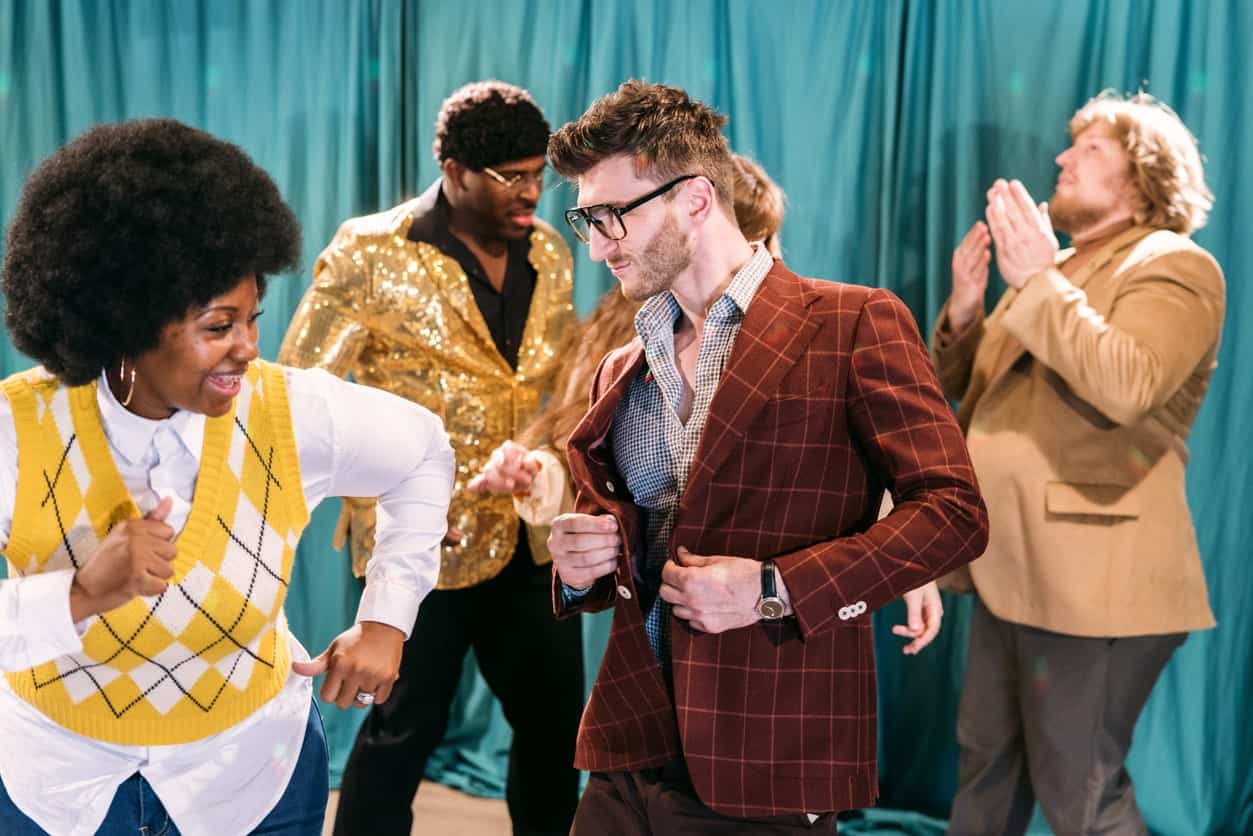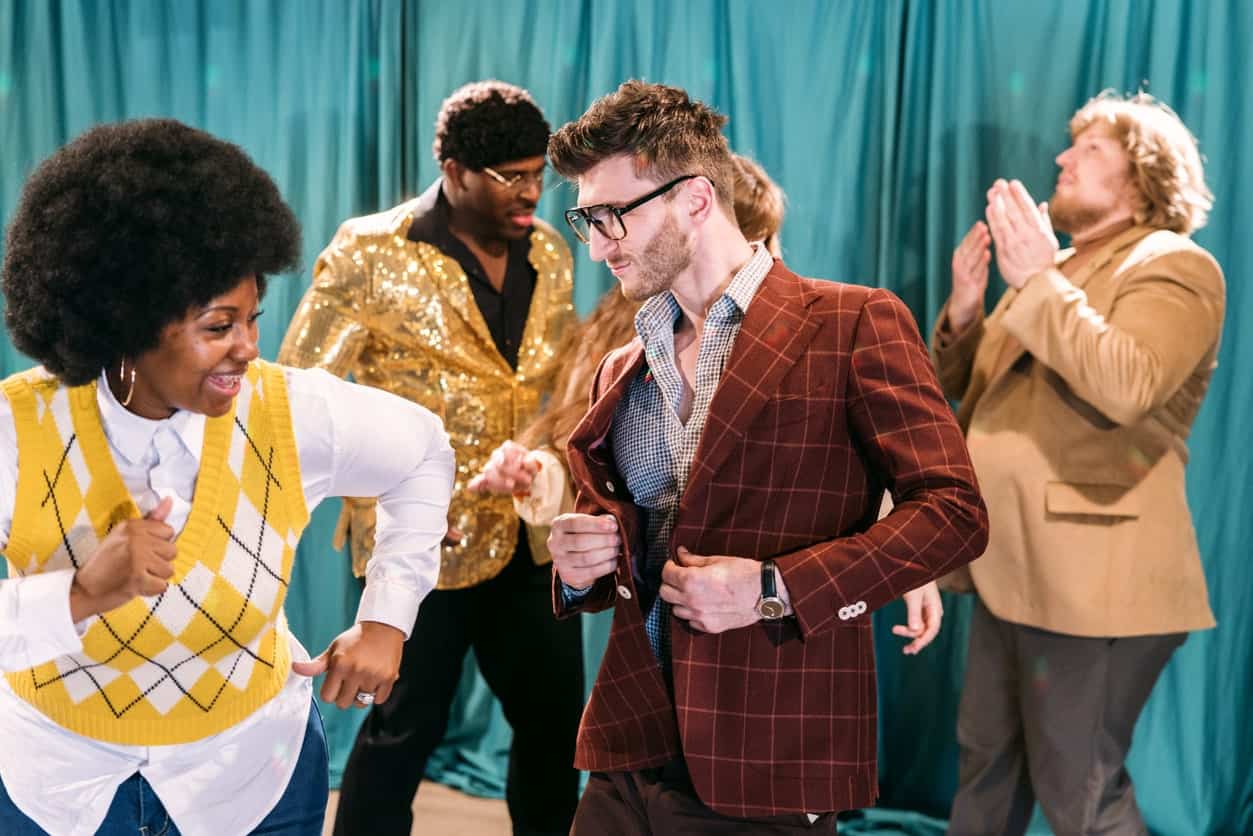 The '80s
When it comes to an 80s-theme party, you have quite a few elements to play with and certainly a LOT of colours! The '80s were all about MTV, and hence music, and cassette tapes, but also about arcade games, funky sunglasses, and rollerblade skates.
To bring that era alive is to bring the beats of hip-hop alive. The DIY posters about these themes or the '80s decor that you can buy from Amazon will majorly help you set the tone. But other than that you can go a little extra and bring arcade games like Ms. pac man to your place or set up simple but fun games like beer pong!
The '90s
To bring people back to the time of Polly Pockets, you certainly have to play with various geometric shapes, patterns and primary colours.
As long as your decoration is centred around record players, trolls and little cupcake cards with "as if" written on them, people would love to relive this era with you!
Simply, turn to iconic movies and fashion moments of the '90s to get your major inspiration because they ruled this era.
Music, Food and Drinks
For The '70s
Music:
To set the groovy mood at your '70s-themed party, you'll want to have the right tunes spinning. And for that, these are the classics you must have on your playlist:
– "Stayin' Alive" by Bee Gees
– "Dancing Queen" by Abba
– "September" by Earth, Wind & Fire
– "Le Freak" by Chic
Food:
When it comes to grabs, the '70s had some iconic dishes that will transport your taste buds back in time. Here's a list of popular foods from that era:
Cheesy Fondue
Savoury Quiche
Moist and flavorful Carrot Cake
Watergate Salad
Colourful Jelly Molds
Savoury Barbecued Meatballs
Decadent Oyster Cheese Appetizer Log
Feel free to expand your menu with additional '70s favourites to cater to your guests' tastes.
Drinks:
Don't forget the drinks! To keep the retro vibes flowing, serve up these classic disco cocktails:
Chic Cosmopolitan
Zesty Margarita
Elegant Shrimp Cocktail.
Some other '70s-inspired beverages:
Tropical Pina Colada
Boozy White Russian
Bittersweet Negroni
Timeless Old Fashioned
Fruity Sloe Gin Fizz
(PS- Use these adjectives as the cocktails' names on your menu to make it more fun.)
With this lineup of music, food, and drinks, your '70s theme party is sure to be a nostalgic hit!
For The '80s
Music:
Get your party guests into the '80s groove with these iconic tunes:
– "Girls Just Want to Have Fun" by Cyndi Lauper
– "Billie Jean" by Michael Jackson
– "Material Girl" by Madonna
Food:
Travel back in time with a mouthwatering selection of '80s classics to satisfy your guests' cravings. Here's a delicious lineup:
Delicate Mini Quiches
Crispy Chicken Fingers
Irresistible Pizza
Hearty and Savory 7-Layer Dip
Creamy Oyster Sour Cream Dip on Toast
Indulgent Mud Pie
Crispy and Loaded Potato Skins
Creamy French Onion Dip
Crusty and Filling Cob Loaves
Comforting Shepherd's Pie
Drinks:
Keep the '80s spirit alive with these signature cocktails:
Strong and Refreshing Long Island Iced Tea
Seductive Sex on the Beach
Vibrant Blue Hawaiian
These drink options will surely transport your guests back to the era of big hair and neon lights.
For The '90s
Music:
Get the party vibe going with these iconic '90s hits:
– "Baby Got Back" by Sir Mix-A-Lot
– "Groove Is In The Heart" by Deee-Lite
– "Vogue" by Madonna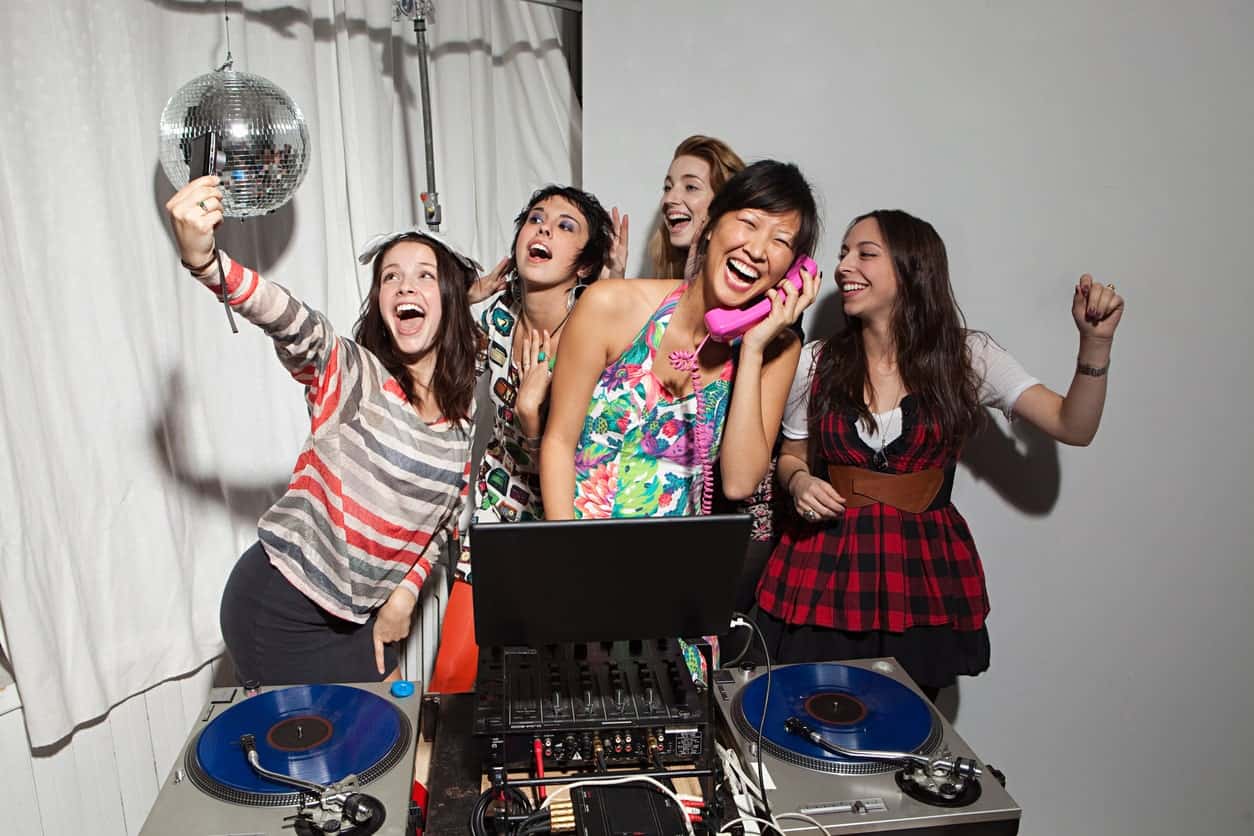 Food:
Here's a '90s' tasty lineup:
– Flavorful Mini Pizzas
– Bite-sized Chicken Nuggets
– Macaroni and Cheese
– Classic Burgers and Chips
– Nostalgic Microwave Meals
– Elegant Mini Quiches
– Mini Neenish Tarts
– Addictive Lay's Potato Chips
– Flaming Hot Cheetos
– Fruit Roll-Ups
– Dippably Delicious Dunkaroos Cookies
Drinks:
Keep the '90s spirit alive with these signature cocktails:
– Fruity Fuzzy Navel
– Sleek Martini
– Bold Bloody Mary
– Rich Espresso Martini
– Berry-Licious Bramble
– Citrusy Cable Car
These drink choices will transport your guests back to the era of grunge and hip-hop.
Your Goodies
These are some extra tips to elevate the fun factor of your party so that you can throw the best decade-theme party ever!
You can also give the guests a moment to get crafty and thoughtful by giving them the freedom to dress as their favourite pop star or role model from that unforgettable decade.  It's also a surefire way to add a whole new layer of authenticity to the party.
If you want to rock the house, consider hiring a live rock band from the era you're celebrating. The energy and nostalgia they'll bring to your bash will be unmatched.
Now, just like we gave you goodies, make sure you don't forget to give your guests party favours. Send them home with goodies that are an absolute blast from the past, so much so that they'll stay in your party fever for another week.
Final Thoughts
In conclusion, we hope this guide has been your compass to navigate the exciting world of decade-themed birthday bashes.
Remember, adding your personal touch, allowing your guests to bring their touch, and getting a little crafty are the things that make a decade-themed party truly shine. So, go forth, party planner extraordinaire, and bring the blast from the past and create a town of nostalgia that will stay fresh in your guests' heads for another year to come.