Are you fond of music?Did you get connected sometimes on the lines of those lyrics that actually you are going through in your life?This is interesting as well as crazy to hear that Kurt Cobain quotes always remind us to face the difficulties that actually we experience in our life through his songs.
Kurt Cobain, the late lead singer and guitarist of the iconic rock band Nirvana, left us with a lasting impression on music and culture.His excellent music and memorable lyrics continue to inspire the fans worldwide.
In this article,we'll focus on several quotes on Kurt Cobain such as life,love,music & different funny quotes as well.These quotes provide his experiences and views of life's struggle,also revealing the complexity of the man behind the music.
So,from the thoughts of Music and art to the vision of life and death,let's have a look at the Kurt Cobain quotes to create a new outlook in our life.
Kurt Cobain Quotes on Life 
1. "Life is a waste of time, and time is a waste of life. Get wasted all the time, and you'll have the time of your life." ― Kurt Cobain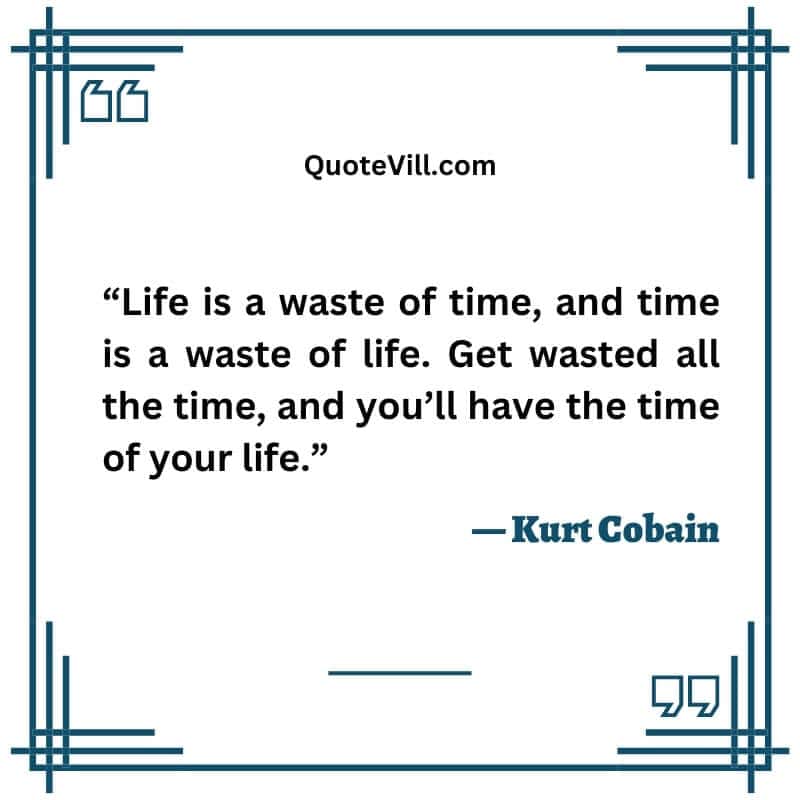 2. "I'm so happy because today I found my friends – they're in my head." ― Kurt Cobain
3. "Nobody dies a virgin… Life screws us all." ― Kurt Cobain
4. "We're so trendy we can't even escape ourselves." ― Kurt Cobain
5. "I like to have strong opinions with nothing to back them up with besides my primal sincerity. I like sincerity. I lack sincerity." ― Kurt Cobain
6. "It's better to burn out than fade away." ― Kurt Cobain
7. "Wanting to be someone else is a waste of the person you are." ― Kurt Cobain
8. "We have no right to express an opinion until we know all of the answers." ― Kurt Cobain
9. "If you ever need anything please don't hesitate to ask someone else first." ― Kurt Cobain
10. "If my eyes could show my soul,everyone would cry when they saw me smile." ― Kurt Cobain
11. "Drugs are a waste of time. They destroy your memory and your self-respect and everything that goes along with with your self-esteem. They're no good at all." ― Kurt Cobain
12. "I don't blame the average seventeen-year-old punk-rock kid for calling me a sellout. I understand that. And maybe when they grow up a little bit, they'll realize there's more things to life than living out your rock & roll identity so righteously." ― Kurt Cobain
13. "I like to make people feel happy and superior in their reaction towards my appearance." ― Kurt Cobain
Kurt Cobain Quotes on Love 
14. "I'd rather be hated for who I am, than loved for who I am not." ― Kurt Cobain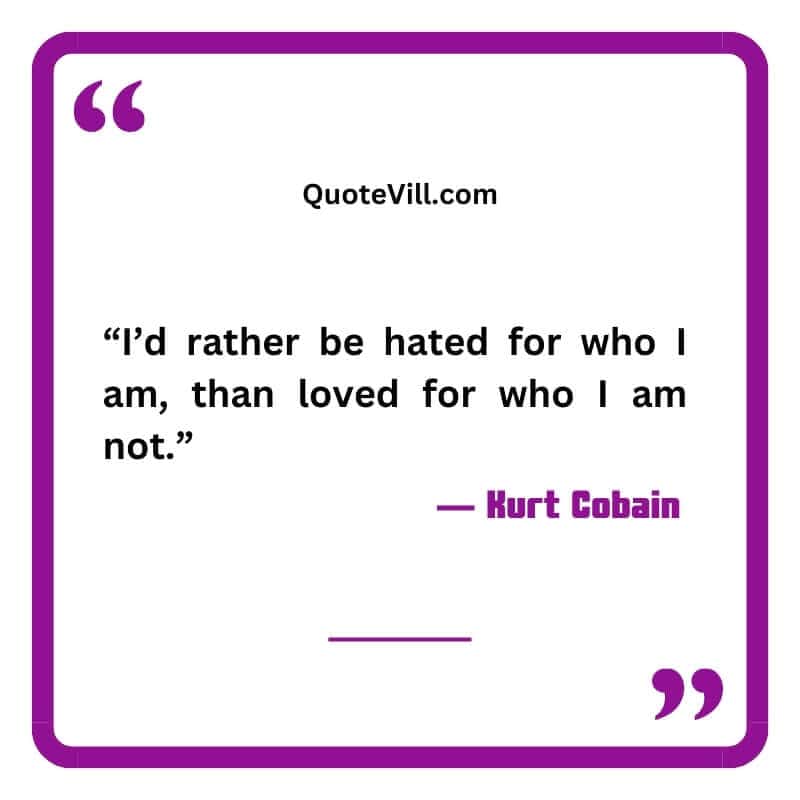 15. "Love is the only thing that can make you happy when you're sad." ― Kurt Cobain
16. "Love, trust, communication – those are the things that girls want." ― Kurt Cobain
17. "My songs have always been frustrating themes, relationships that I've had. And now that I'm in love, I expect it to be really happy, or at least there won't be half as much anger as there was." ― Kurt Cobain
Kurt Cobain quotes on Music
18. "Music comes first; lyrics are secondary." ― Kurt Cobain
19. "I'd rather play a tune on a horn, but I've always felt that I didn't want to train myself. Because when you get a train, you've got to work to live up to that train." ― Kurt Cobain
20. "Music is energy. A mood, atmosphere. Feeling." ― Kurt Cobain
21. "I sing and play the guitar, and I'm a walking, talking bacterial infection." ― Kurt Cobain
22. "Punk is musical freedom. It's saying, doing, and playing what you want. In Webster's terms, 'nirvana' means freedom from pain, suffering, and the external world, and that's pretty close to my definition of punk rock." ― Kurt Cobain
23. "Out of all the guitars in the whole world, the Fender Mustang is my favorite. They're cheap and totally inefficient, and they sound like crap and are very small." ― Kurt Cobain
24. "I have to admit that I'm influenced more by the music from the late '60s, early '70s than today's music." ― Kurt Cobain
25. "John Lennon was definitely my favorite Beatle, hands down." ― Kurt Cobain
26. "I have to admit I've found myself doing the same things that a lot of other rock stars do or are forced to do. Which is not being able to respond to mail, not being able to keep up on current music, and I'm pretty much locked away a lot. The outside world is pretty foreign to me." ― Kurt Cobain
27. "Rap music is the only vital form of music introduced since punk rock." ― Kurt Cobain
28. "I get a thrill meeting kids who are into alternative music." ― Kurt Cobain
29. "I wanted to have the adoration of John Lennon but have the anonymity of Ringo Starr. I didn't want to be a frontman. I just wanted to be back there and still be a rock and roll star at the same time." ― Kurt Cobain
30. "I was looking for something a lot heavier, yet melodic at the same time. Something different from heavy metal, a different attitude." ― Kurt Cobain
31. "I like the comfort in knowing that women are the only future in rock and roll." ― Kurt Cobain
32. "Rock 'n' roll has been exhausted. But that was always male rock 'n' roll. There's a lot of girl groups, just now, within the last few years. The Breeders and the Riot Grrrls all have a hand in it. People are finally accepting women in those kinds of roles." ― Kurt Cobain
Kurt Cobain Quotes on Motivation & Inspiration 
33. "Wanting to be someone else is a waste of the person you are." ― Kurt Cobain
34. "The duty of youth is to challenge corruption." ― Kurt Cobain
35. "They laugh at me because I'm different; I laugh at them because they're all the same." ― Kurt Cobain
36. "Find your place, speak your mind, and follow your heart." ― Kurt Cobain
37. "Sometimes I wish I had taken the Bob Dylan route and sang songs where my voice would not go out on me every night, so I could have a career if I wanted." ― Kurt Cobain
38. "The finest day i ever had was when tomorrow never came" ― Kurt Cobain
39.  "Holding my baby is the best drug in the world." ― Kurt Cobain
40. "My mother encouraged me to be artistic. It was written in a contract at an early age that I would be an artist." ― Kurt Cobain
41. "The sun is gone, but I have a light." ― Kurt Cobain
Kurt Cobain Funny & Savage  Quotes
42. "If you're a really mean person, you're going to come back as a fly and eat poop." ― Kurt Cobain
43. "I like to complain and do nothing to make things better." ― Kurt Cobain
44. "I love the thought of a car crashing into a tree, and then the tree crashes into me." ― Kurt Cobain
45. "I would like to get rid of the homophobes, sexists, and racists in our audience. I know they're out there, and it really bothers me." ― Kurt Cobain
46. "We sound like the Bay City Rollers after an assault by Black Sabbath. And, we vomit onstage better than anyone." ― Kurt Cobain
47.  "Just because you're paranoid doesn't mean they aren't after you." ― Kurt Cobain
48. "I wanted to be in a punk band before I had even heard any punk music." ― Kurt Cobain
49. "Practice makes perfect, but nobody's perfect, so why practice?" ― Kurt Cobain
50. "If it's illegal to rock and roll, throw my ass in jail!" ― Kurt Cobain
51. "I bought a gun and chose drugs instead." ― Kurt Cobain
Kurt Cobain Quotes on Sadness 
52. "It's okay to eat fish because they don't have any feelings." ― Kurt Cobain
53. "A friend is nothing but a known enemy."― Kurt Cobain
54. "I think I simply love people too much, so much that it makes me feel too sad." ― Kurt Cobain
55. "The worst crime is faking it." ― Kurt Cobain
56. "I had a really good childhood up until I was nine, then a classic case of divorce really affected me." ― Kurt Cobain
57. "When I listen to 'Nevermind,' I hate the production, but there's something about it that almost makes me cry at times." ― Kurt Cobain
58. "I was tired of pretending that I was someone else just to get along with people, just for the sake of having friendships." ― Kurt Cobain
59. "Birds scream at the top of their lungs in horrified hellish rage every morning at daybreak to warn us all of the truth, but sadly we don't speak bird." ― Kurt Cobain
60. "I really miss being able to blend in with people." ― Kurt Cobain
61. "I really haven't had that exciting of a life. There are a lot of things I wish I would have done, instead of just sitting around and complaining about having a boring life. So I pretty much like to make it up. I'd rather tell a story about somebody else." ― Kurt Cobain
62. "I've had this terrible stomach problem for years, and that has made touring difficult. People would see me sitting in the corner by myself looking sick and gloomy. The reason is that I was trying to fight against the stomach pain, trying to hold my food down. People looked me and assumed I was some kind of addict." ― Kurt Cobain
Kurt Cobain Quotes on Death
63. "Rather be dead than cool." ― Kurt Cobain
64. "If you die you're completely happy and your soul somewhere lives on. I'm not afraid of dying. Total peace after death, becoming someone else is the best hope I've got." ― Kurt Cobain
65. "Every time I see documentaries or infomercials about little kids with cancer, I just freak out. It affects me on the highest emotional level… Anytime I think about it, it makes me sadder than anything I can think of." ― Kurt Cobain
66. "Before I die many will die with me and they'll deserve it. See you in Hell. " ― Kurt Cobain