If you wish to express your deepest feelings to her in the most enchanting way, then these long paragraphs for her are the perfect ones to take some inspiration from.
The best way to express your love, most times, is to simply communicate but to communicate what feels authentic to you and the other person, which can transcend any barrier and show the other person a reflection of your truest and deepest love, is difficult.
However, with the help of these loving paragraphs for her, you'd be easily able to pen down how much you adore her and love her.
Send these paragraphs to her frequently because a woman can never have enough affirmations of love.
So, by sending these texts, you'd keep her on her toes and make her feel so proud and happy to be your woman.
How Do You Write A Long Love Paragraph?
Creating the perfect Long Paragraph For Her doesn't need to be daunting. Here are simple steps to guide you:
Start with Your Feelings: Clearly express your emotions and be honest.
Recall a Memory: Share a special memory that you both shared.
Compliment Her: Tell her what you love most about her.
End with a Promise: Conclude with a vow or promise for the future.
Love Expression in Long Paragraphs For Her
Want to tell her how much you love her? Here, we've got some sweet and heartfelt paragraphs that say 'I love you' in the most genuine way.
Sweet Long Love Paragraphs For Her:
1. The first time I saw you, it felt like the world stood still. Your smile seemed to light up the entire room, and in that instant, I just knew my life wouldn't be the same. Your laughter was the sweetest melody, and I remember thinking to myself how lucky I'd be if I got to hear it every day.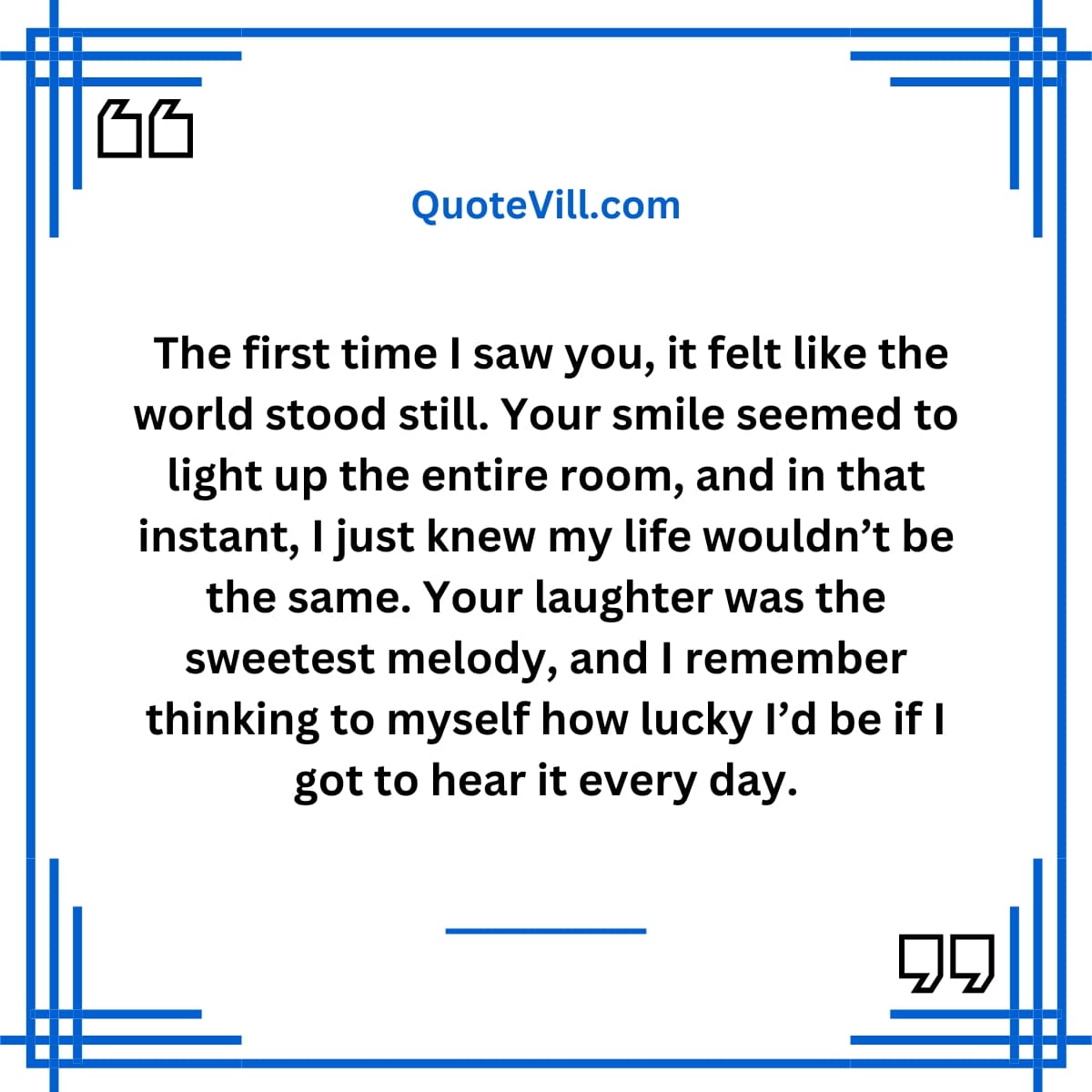 2. Our first date was unforgettable. I was a little nervous, trying to make sure everything was perfect. You looked stunning, and the way you laughed at my corny jokes felt like winning the lottery. We talked for hours, and it felt like we had known each other for years. That day, I went home knowing I had found something special.
3. Remember that night we decided to watch a supposedly scary movie, and it turned out to be the funniest thing we had ever seen? We prepared to be terrified and instead ended up laughing so hard we cried. Your laugh is infectious, and in that moment, I knew I wanted many more nights like that with you.
4. The day you came home upset from work, it broke my heart. I wanted so badly to take all your stress away. I held you close and felt how heavy your world was at that moment. I want you to know that I'm here for you, always, ready to listen and comfort you whenever you need.
5. I cherish our late-night talks, when it's just you and me against the world. In those conversations, we open our souls to each other, discussing everything from our deepest fears to our wildest dreams. It's in those hours that I feel closest to you, and it's a feeling I never want to lose.
6. We were walking, hand in hand, when that sudden downpour caught us. Instead of running for cover, we danced like no one was watching. Soaked to the skin but so incredibly happy – it was raw, spontaneous, and perfect. It's a moment etched in my heart.
7. I hate seeing you this way, so heartbroken and low. I wish I could gather all your pain and toss it into the sea. Please know that I'm here, steadfast, ready to be your rock. We're a team, and teams navigate the tough times together, emerging stronger on the other side.
8. Even our small disagreements, like where to order dinner from, end up feeling special because they're with you. These little moments, though they may seem trivial, are part of our shared story, constantly teaching us more about each other.
9. The first time I saw you in my hoodie, my heart did a little flip. You looked so comfortable, so at home. It was more than a piece of clothing; it was a symbol of you being a part of my world, and that thought made me happier than you could imagine.
10. I'm new at this, and I may not always have the perfect words, but my feelings for you are clear and strong. I'm excited for our future, ready for all the laughs and tears, the quiet mornings and wild nights. I promise to walk this journey with you, loving you more with each passing day.
Read: 29 Emotional Paragraphs to Make Your Girlfriend Cry Tears Of Love
Romantic Long Messages For Her:
1. Hey, I know it's late, but I was scrolling through our old messages and I just couldn't help but smile. Remember the first time we stayed up texting until 4 am? It's crazy how a screen can make me feel so close to you, even when you're miles away.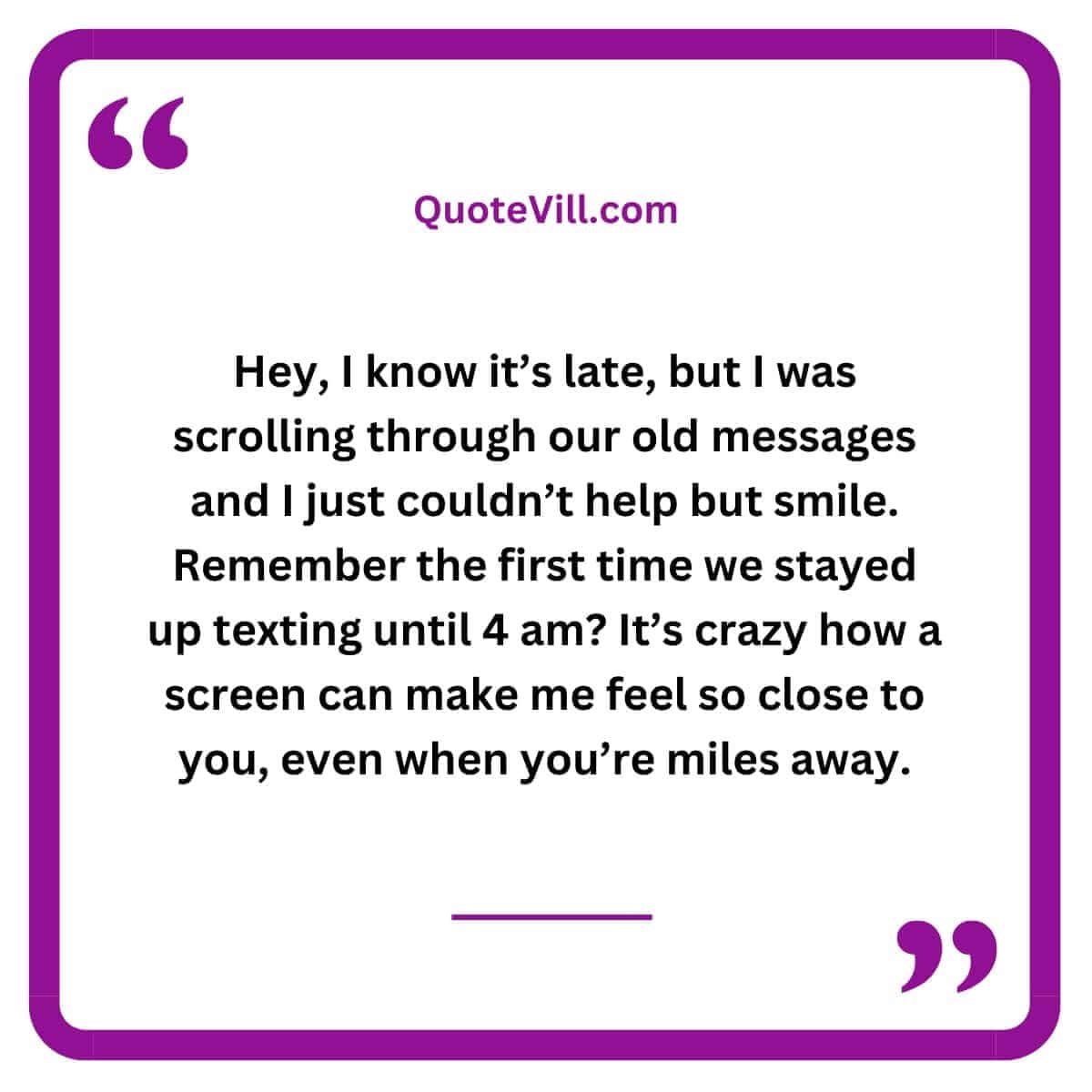 2. Today, Facebook reminded me of that photo we took on our first vacation together. We looked so carefree and happy. Just thinking about how we plan trips by pinning locations in our shared Google Map makes my heart flutter.
3. Even though we're doing this date night over FaceTime tonight, it doesn't make it any less special. Lighting the same scented candle at both our places was a genius idea. It feels like you're right here with me.
4. I spent my evening curating a Spotify playlist just for you – each song reminding me of a different moment we've shared. It's like our love story, but in melodies and lyrics. Can't wait for you to listen and tell me what you think.
5. Every time you post a new photo on Instagram, it lights up my day. Leaving little comments under your selfies is fun, but knowing that my words can make you smile in real life is priceless.
6. In today's team meeting on Zoom, I found myself wishing it was one of our late-night video calls instead. I just kept daydreaming about your laugh and the way you scrunch your nose when you're thinking hard.
7. I know you had a hard day today. If I could, I'd be right there, wrapping you in a big, warm hug. But for now, this message will have to do. Just know that I'm hugging you in my heart.
8. We might not be exchanging handwritten notes, but opening my email to find a long message from you feels just as romantic. It's our modern-day love letter, and each word is a treasure.
9. Who knew that a string of emojis and GIFs could become our own love language? But every time I see that 'heart eyes' emoji from you, it's like a little jolt of happiness.
10. Another Friday, another Netflix party date night. Even though we're watching this new series in different cities, it feels like you're right here beside me, with your virtual reactions making me laugh just as much as the show.
See More: 54 I'm Sorry Paragraphs For Her That Show You Care
Deep Love Paragraphs For Her:
1. Hey, I need to get something off my chest. Every time I see you, my heart races, but I can never seem to find the words to say when you're right in front of me. I've been carrying these feelings for a long time, loving you more every day. I know we're friends, and I don't want to risk our friendship, but I just needed you to know.
2. I can't shake this feeling, and I've tried, believe me. It's been with me since we first met. Every smile you've ever flashed my way, every laugh we've shared, they meant more to me than I ever let on. I deeply love you, and even if you don't feel the same, I needed to be honest with you.
3. Your kindness, your laugh, your unwavering support – it all took me by surprise and turned into something deeper than friendship for me. I adore you. I completely understand if you don't see me in the same way, but I'd kick myself forever if I didn't at least tell you this.
4. You were there for me when no one else was, and somewhere along the way, my gratitude and respect for you grew into love. I'm terrified that this might change our friendship, but you deserve to know how profoundly you've touched my life. I love you, and it's okay if you don't feel the same.
5. From our late-night conversations to our inside jokes and shared dreams, my feelings for you have crossed the line of friendship. I want to be more than just your friend. I want to be the one you turn to for love and support, just as you've been for me. I love you deeply, and I hope that doesn't scare you away.
6. I know we've both been through a lot, especially after our past relationships. But through everything, my love for you has been a constant, steady force. I'm not assuming you feel the same, but I would always wonder 'what if' if I didn't tell you this.
7. I've watched you handle life's challenges with such grace and strength, and it's only made me fall for you more deeply. I love you, and while I don't expect you to magically have the same feelings, I needed you to know how special you are to me.
8. Remember the night we stayed up talking until the sunrise? That was the night I realized my feelings for you were more than just friendly. I've been in love with you since then. It's okay if you don't feel the same, but I couldn't keep pretending that my feelings are platonic.
9. Every moment we've spent together is replayed in my mind, over and over. It's more than a crush. It's a deep, abiding love. If we just remain friends, I'll respect that, but you needed to know that you hold a special place in my heart that no one else ever could.
10. I value our friendship more than anything, and that's why I'm risking it all to tell you this: I love you. In a deep, 'I want to spend my life with you' kind of way. I know things between us might never be the same after this, but I couldn't keep it a secret any longer.
Try: 55 Love Paragraphs for Her: Express Your Love in Romantic Way
Emotional Connection Through Long Paragraphs For Her:
Want to tell her how much you love her? Here, we've got some sweet and heartfelt paragraphs that say 'I love you' in the most genuine way.
Long Paragraphs For Her To Make Her Cry:
1. Babe, every morning I wake up and the weight of the world is on my shoulders, it's your love that gives me the strength to face the day. I can't imagine going through this without you. The way you hold me when I'm falling apart, it's more than I ever hoped for. You're the reason I keep pushing through, and I love you more than words can say.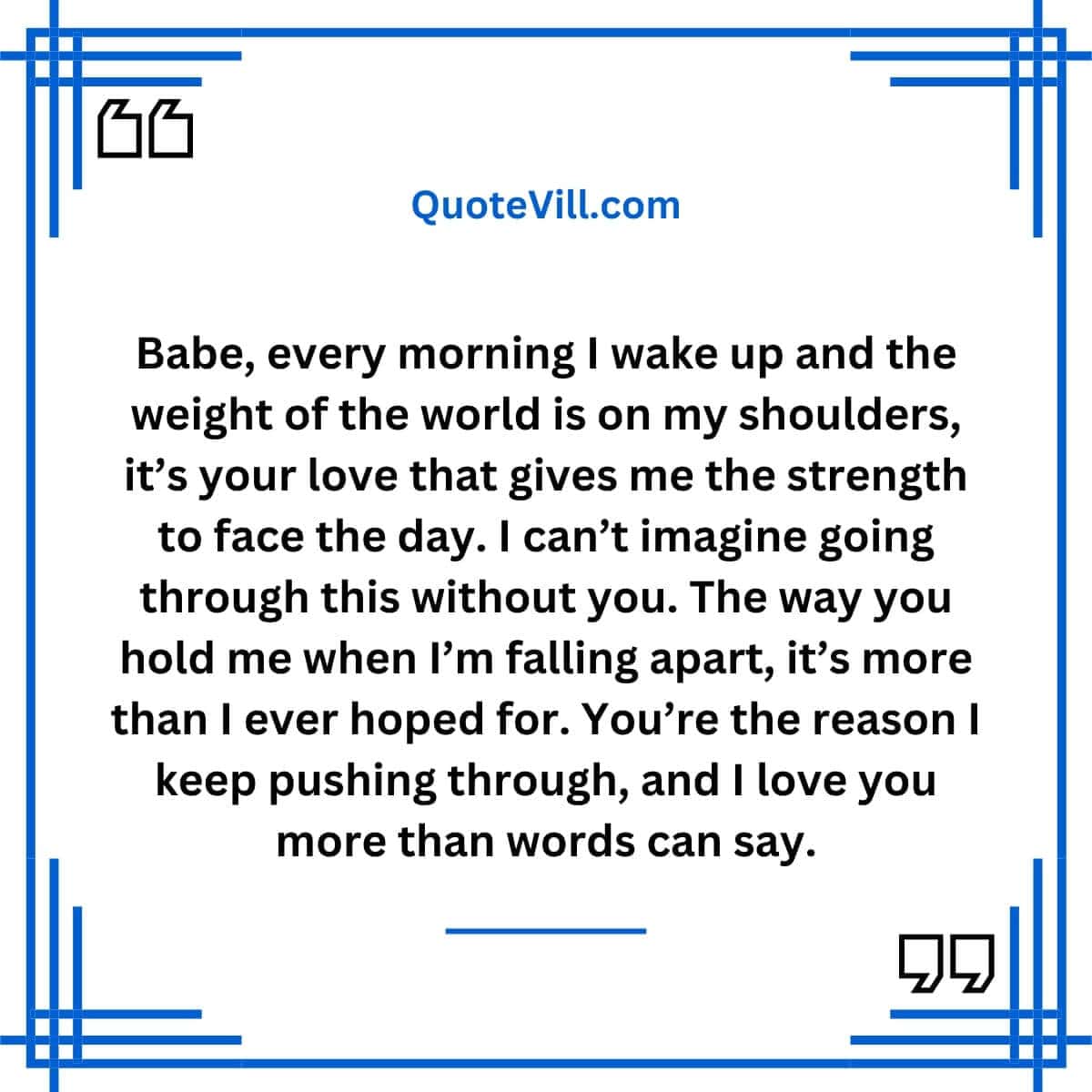 2. Sweetheart, these days are really hard, and you've been right here beside me through it all. You've seen me at my worst and still look at me with love in your eyes. That kindness of yours, it's what's been keeping me going. You're not just my love; you're my hero.
3. Darling, I can't thank you enough for being my steadfast companion during this storm. I know I'm not easy to deal with right now, but you've stayed, unwavering. Every touch, every comforting word is a reminder of why I fell so deeply in love with you.
4. Hey love, I just want you to know, your love has been the silver lining in all of this. Through every tear, every fear, and all the uncertainties, you've been my constant, my solace, my everything. I can't put into words how profoundly you've touched my life.
5. Baby, it's your unwavering love that holds me together when everything is falling apart. I am beyond grateful for every laugh we share, every hug you give me when I'm down, and every 'I love you' that we exchange. You've painted my life with the colors of your love, and I am endlessly in love with you.
6. My dearest, with all this craziness in my life, you've been my peace. Your constant support, the way you reassure me that we'll get through this together, it's everything to me. You are the love of my life, and I am incredibly blessed to have you by my side.
7. Honey, your love has been my most unexpected, yet most cherished gift. I know I've been consumed with my own issues lately, but the way you gently stand by me, with so much grace and patience, makes me fall for you all over again, every single day.
8. Sweetie, when this whirlwind of life tries to knock me down, it's your love that sets me back on my feet. I've lost count of the times you've held me when I was crumbling, and every single time felt like you breathed life back into me. I love you more profoundly and deeply than I can ever articulate.
9. Love, your unwavering faith in me, even when I'm doubting myself, has been my saving grace. Your love shines brighter in my life than I ever thought possible, and I don't know how I got so lucky to have you. I am beyond thankful for your unwavering love, and I cherish you more than you'll ever know.
10. Love, your patience and your warmth during this time have been my rock. You don't know how much it means to me that you sit with me during those long nights. Your presence turns my darkest hours into something bearable, and for that, I love you more than I could ever express.
Long I Love You Paragraphs For Her:
1.  Hey, I've been thinking about us a lot lately. We've shared some incredible times together and honestly, I can't imagine my life without you in it. I love you more than I have ever loved anyone or anything. Will you make me the happiest person in the world and say yes?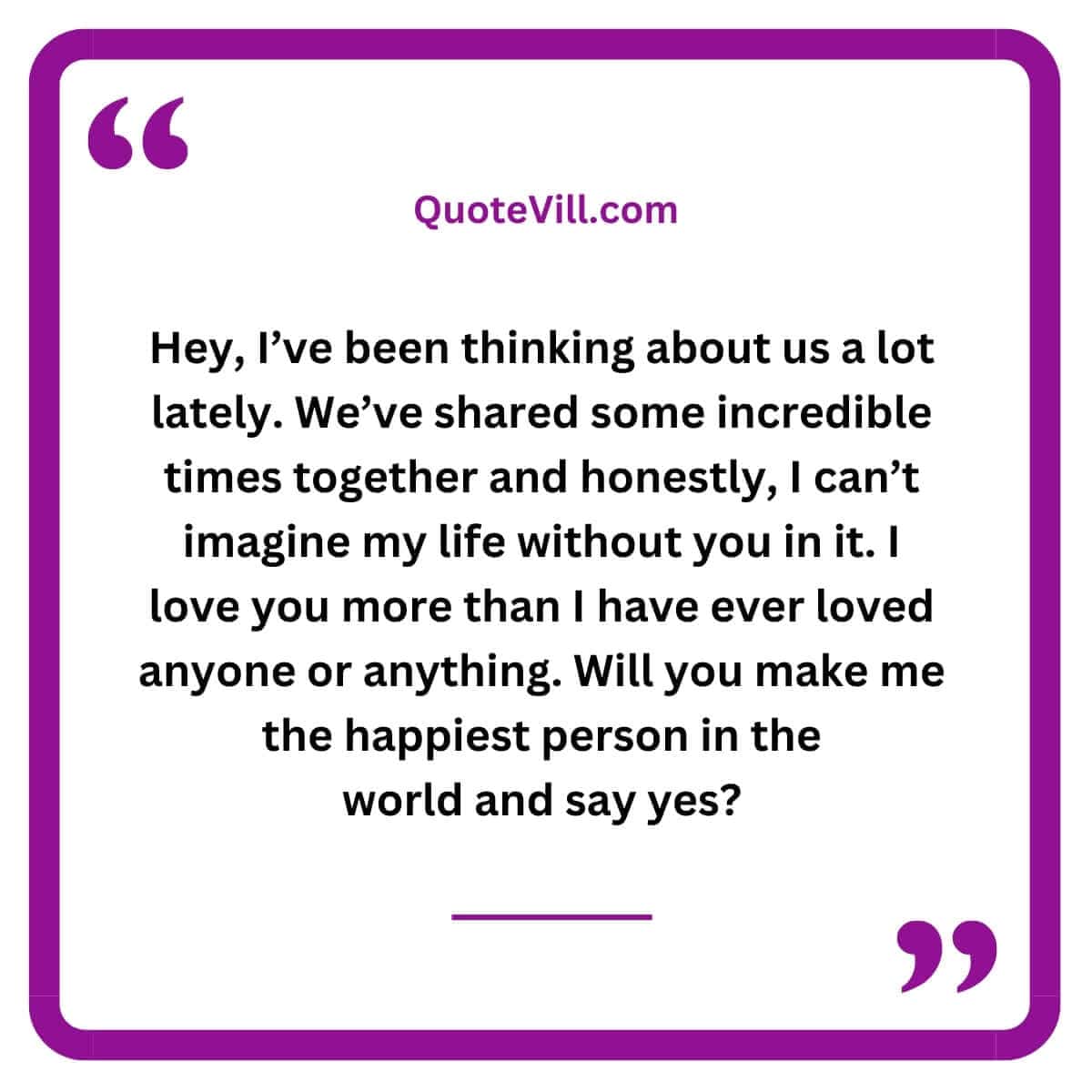 2. As I lay here tonight, I just can't help but think of you. I love how you laugh, how you care, and how you love me back. It's been an amazing journey with you, and I can't wait to see where we go next. I love you more than words can express. Goodnight, my love.
3. Happy Birthday, darling! Today is your special day, but I feel like I'm the one who's been given the world's best gift—you. I cherish every moment we spend together and I want to make this promise on your special day: I will love you, today, tomorrow, and forever.
4. Happy Valentine's Day, my love. Today, the whole world celebrates love, but to me, every day with you feels like a celebration. I fall more in love with you with each passing day. I want to spend every Valentine's Day from here on out with you, only you.
5. Sitting here across from you, seeing the way the light catches your eyes—I can't help it, it just makes me realize how much I love you. I don't ever want to have dinner without you across the table. Will you be my forever date?
6. I can't believe we just laughed that hard. Moments like this remind me of the countless reasons why I am so in love with you. Your laughter is my favorite sound, and I want to keep hearing it for the rest of my life.
7. I hate seeing you so upset. I would take away this pain in a heartbeat if I could. Just know that I am here for you through every low and high. I love you, and I am not going anywhere.
8. Waking up next to you is the best part of my day. Feeling your warmth, seeing your beautiful face as you wake—it's pure happiness. I love you more than I thought possible, and I just needed you to know that.
9. Can you believe it's been this long? Every day spent with you feels like a treasure, and I couldn't have asked for a better partner in this journey of life. I love you more deeply and profoundly as our time together marches on.
10. You've had such a tough day, and yet here you are, still shining. Your strength is one of the many things I love about you. I am here, always, to lift you up when you're feeling down. I love you more than you can imagine.
Surprise Long Love Notes For Her:
1. Her Birthday:
Happy Birthday, my love! Today is all about you. I've arranged a special surprise for every hour of your day. Imagine 24 little surprises, each one to remind you how incredibly special you are to me. I adore you, and I'm determined to make this your best birthday yet.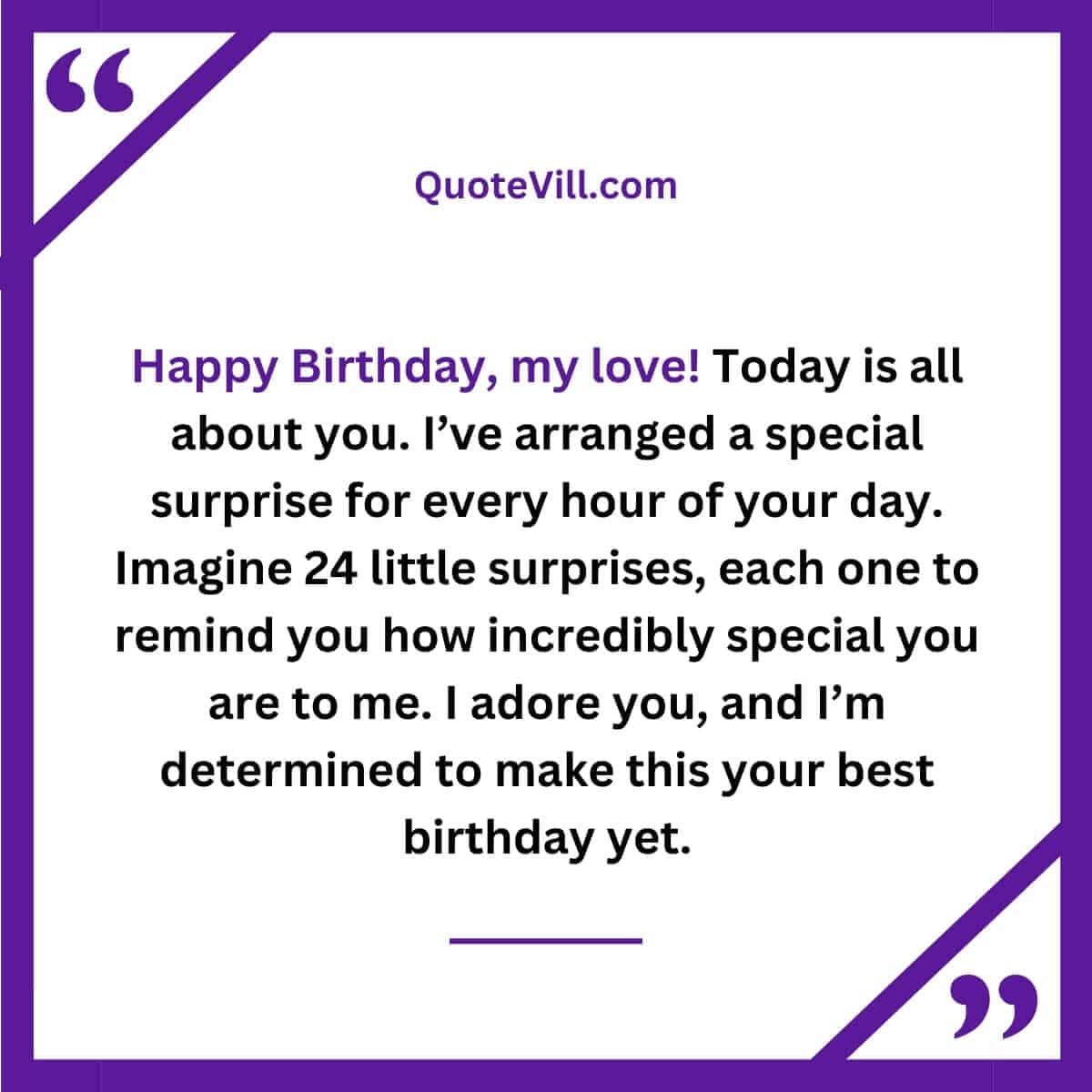 2. Your Anniversary:
Happy Anniversary, sweetheart! It feels like only yesterday that we embarked on this beautiful journey together. Tonight, I've organized a dinner at the place where we had our first date. I want to reminisce, celebrate us, and dream about our future. Here's to forever with you.
3. Dedicating Her Favorite Song:
Guess what's playing on the radio right now? It's your favorite song! Every time I hear it, I can't help but smile and think of you. I've arranged for us to take a dance class tonight, where we can sway to this song, just us, held close together in each other's arms.
4. Ticket to Her Favorite Event:
Surprise! Inside this envelope are two tickets to the event you've been talking about non-stop. Seeing your eyes light up when you're excited is everything to me. I'm thrilled to be your date and share this experience right beside you.
5. Gift Her a Pet with Loving Notes:
Look who's here to join our family! I know you've talked about wanting a pet, and this adorable little friend seemed like the perfect addition. Together, we'll create a loving home for our new buddy, and our lives will be filled with even more warmth and love.
6. Set Up a Romantic Date:
Tonight, clear your evening, my love. I've organized a rooftop dinner under the stars. I want nothing more than to make you feel like the queen you are, on a night that's just as enchanting as you are to me. I can't wait to see you there.
7. Just Because:
Today is an ordinary day, but to me, any day with you in it is extraordinary. I brought home your favorite dessert, and I've planned a cozy night in just for us. It's the simplest, most heartfelt way I could think of to say 'I love you.'
8. On a Rough Day:
Today was tough, and I wish I could have been there to give you a hug. When you get home, I have a warm bath drawn for you, and I'll have our favorite comfort food waiting. Tonight is all about you – unwinding, relaxing, and remembering you're cherished.
9. Surprising Her with a Book:
I came across this book and immediately thought of you, engrossed in every page. I picture you curled up under a blanket, engrossed in this story, and it made me smile. I've marked one chapter with a note, a special message just for my special girl.
10. Planning a Surprise Getaway:
Pack your bags for this weekend! We're going on an adventure, just the two of us. I've arranged for everything – our travel, stay, and a list of fun activities I know you'll love. This is my way of saying you are my world, and I cherish our time together more than anything.
Looking to really connect with her heart? Check out these paragraphs that are all about sharing deep feelings and getting closer than ever.
Cute Long Paragraphs For A New Girlfriend:
1. Good morning, beautiful! I hope you woke up with a smile as big as mine just thinking of you. I'm starting my day with you on my mind and ending it with you in my dreams. I hope today's as radiant as your smile. P.S.: Is it too early for a coffee date?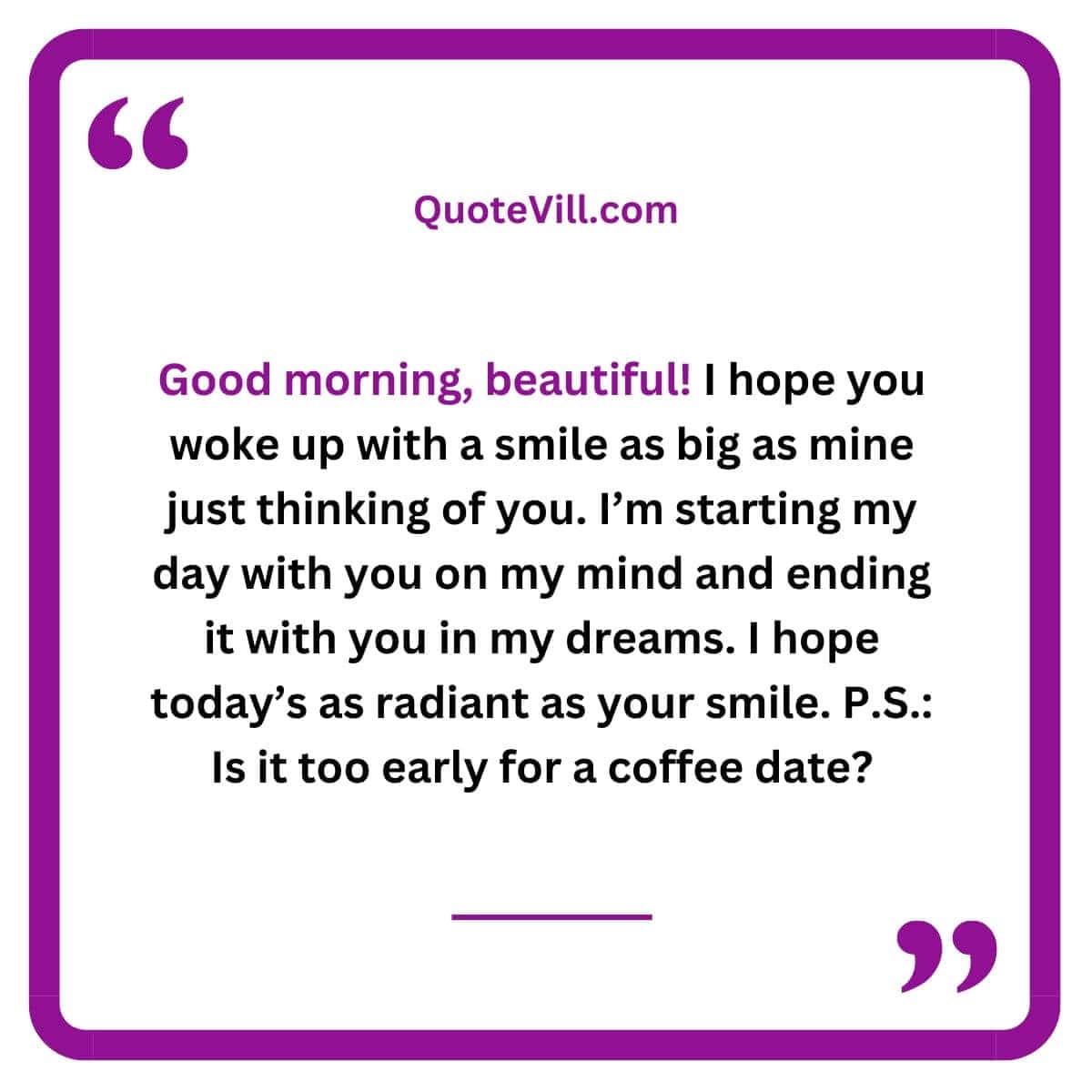 2. You know, life feels like a vivid, beautiful painting ever since you walked into it. Your laughter is the soundtrack of my day. I'm not sure what sorcery you used, but keep it up because I'm utterly enchanted. How about we catch that new movie tonight and share some laughter?
3. Just a midday message to say you're on my mind (surprise, surprise!). How's your day going? Whatever's on your plate, I know you're crushing it. And hey, if your day is half as amazing as you are, you're doing fantastic!
4. So, I was thinking, how about we take a little culinary tour of the city this weekend? We can start with brunch at that cozy café you mentioned, grab some street food for lunch, and cap it off with a candlelit dinner. Will you be the syrup to my pancakes?
5. Every time we talk, I'm struck by your intelligence and wit. You've got this blend of calm confidence and sparkling energy that's absolutely magnetic. It's impossible not to be drawn to you. I hope I'm lucky enough to be your date for every future event we attend.
6. If we were both cats, I reckon we'd purr-fectly adorable. Okay, that might have been a bit cheesy, but hey, it got you smiling, right? I love that I can be my goofy self with you and you still seem to like me.
7. I've got a surprise for you this Saturday. Clear your schedule but keep the details a mystery, deal? All I'll say is: dress comfy and bring your sense of adventure. Can't wait to see your eyes light up when you see what I've planned!
8. Tonight was incredible, just like you. Your eyes were sparkling brighter than the stars, and every word you spoke felt like a melody. Let's make nights like these a habit, shall we? How about a moonlit walk for our next date?
9. I've got to admit, I'm pinching myself a little every day. I keep expecting to wake up from this dream where I've found someone as incredible as you. I genuinely care about you, more than I thought was possible this soon. I hope we continue to grow closer each day.
10. If you were a vegetable, you'd be a 'cute-cumber'! Okay, promise that's the last of my cheesy lines for today. But seriously, I'm so thankful for you and all the joy you've brought into my life. Here's to more adventures, more laughter, and more cheesy jokes (because you secretly love them 😉).
Long Distance Relationship Paragraphs For Her:
1. Hey love, just checking in. It's crazy how much I miss you. Every little thing here reminds me of you, from the morning coffee to the evening stars. It's tough, but we're tougher, right? Counting the days until we're back in each other's arms.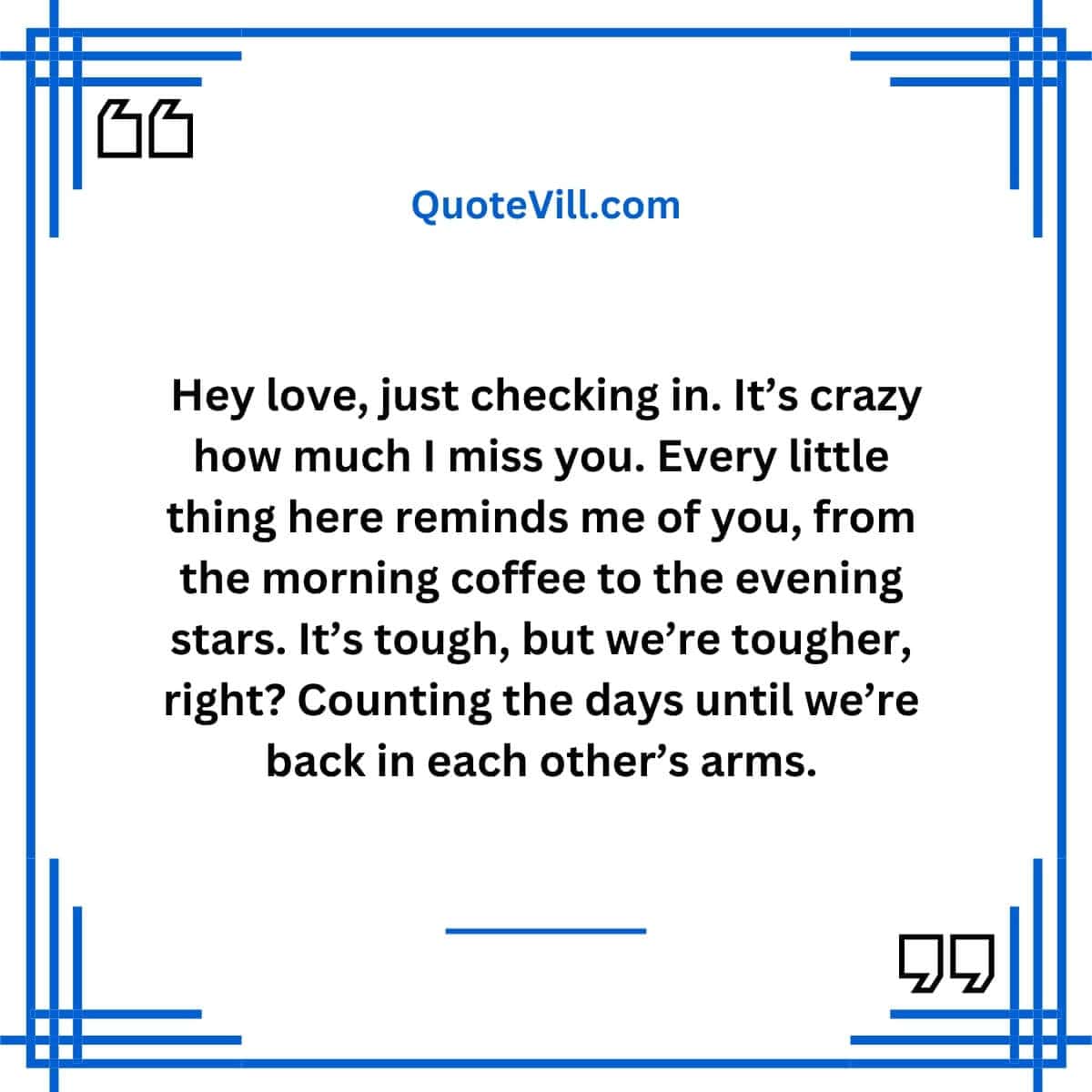 2. Babe, let's start planning our next visit. Having a date to look forward to would be a game changer right now. Imagining the hug at the airport already warms my heart. We'll make every second count, I promise.
3. You know, being in a long-distance relationship is hard, but you make it so worth it. Your texts light up my day and your calls are the highlight of my evenings. You're the best part of my everyday, miles apart or not.
4. I heard about your job presentation, and I know you're going to crush it. I wish I could be there to send you off with a good luck kiss. Just know I'm cheering you on from afar, so loud you might just hear me.
5. I was just reminiscing about that weekend we spent at the lake. Remember the bonfire and the s'mores? Times like that keep me going, knowing we'll have more of them soon. Those memories are my treasures, babe.
6. It's another pillow-hugging night for me, wishing it was you instead. Just sending a whole lot of love your way tonight. Feel it, catch it, and hold it tight until we meet again.
7.  won't lie, today was a tough one without you. Those miles between us felt extra long. But I went through our photos and messages, and it reminded me that we're in this together, for the long haul. I love you, endlessly.
8. How about I just show up at your door next weekend? I can picture your adorable shocked face already. One day, I'm going to make that surprise visit happen, and it's going to be epic.
9. Today, I tried that pasta recipe we found together. Spoiler: It wasn't the same without you. I can't wait until we're in the same kitchen, bumping into each other and stealing kisses between stirs.
10. This distance? It's just a chapter in our story, and we're writing it beautifully, despite the plot twist. I chose you, I choose you now, and I'll keep choosing you, every single day. Here's to us, defying the odds and loving fiercely through the miles.
Long Goodnight Paragraphs For A Lasting Relationship:
1. Goodnight, my love. As I lay here tonight, I'm so grateful for you – for our laughs, our talks, and even our little disagreements. They've all shaped us into the incredible team we are. Sleep well, and dream of us, because I will be.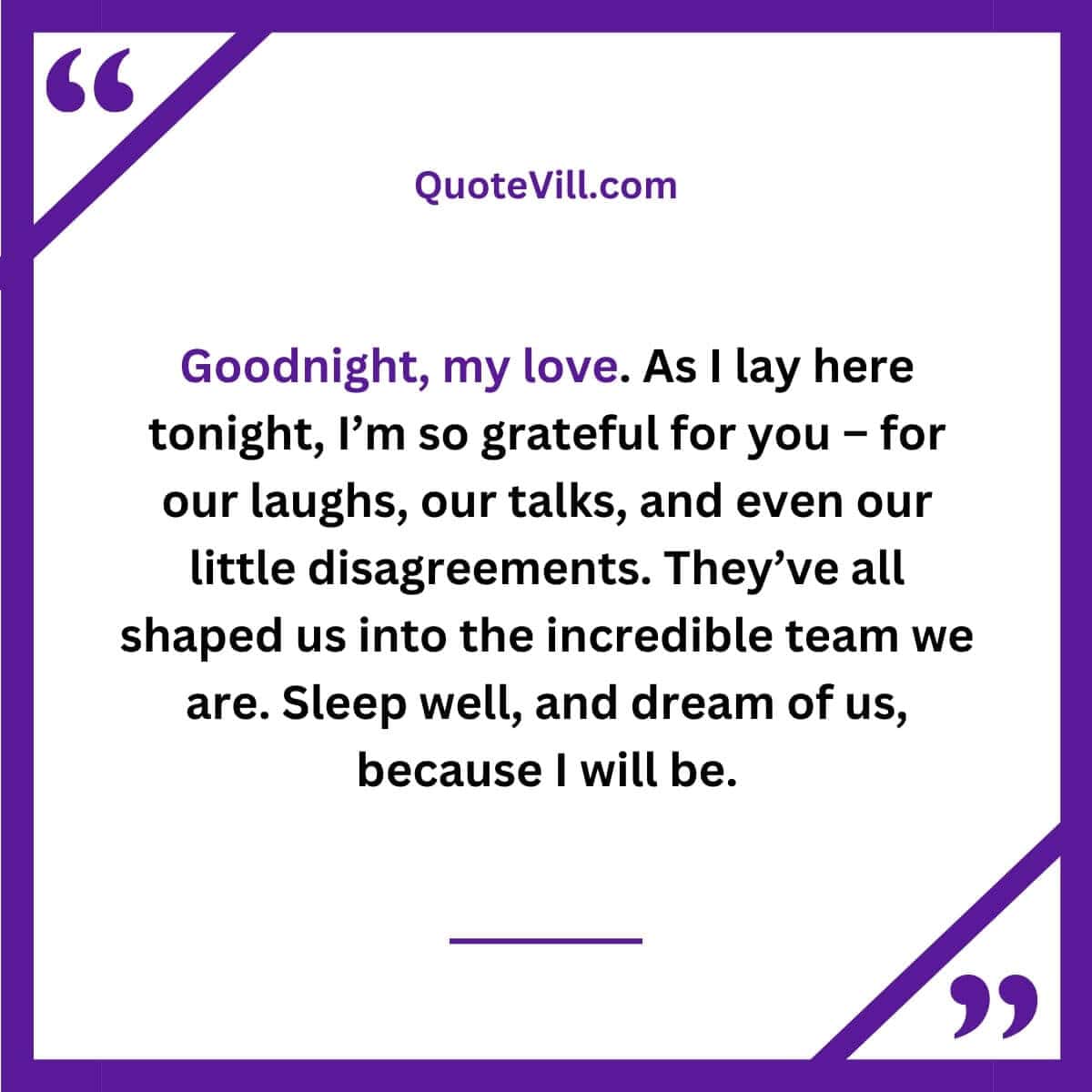 2. Goodnight, sweetheart. Today was another day that I fell more in love with you, even after all this time. Your kindness, your resilience, your humor – they light up my life. I hope you drift off feeling just as cherished as you are.
3. As I say goodnight, I'm picturing our future, all cozy and bright. Falling asleep next to you every night is a dream I'm eager to live. Sleep tight, my forever love. The best is yet to come for us.
4. Goodnight, beautiful. Tonight, as I count my blessings, you're at the top of the list. Every day with you is a day worth celebrating, and I am just so incredibly lucky. Close your eyes and let peaceful dreams carry you away.
5. I wish I could be wrapping you in a warm embrace right now, my love. In my heart, I am. Goodnight, darling. Feel my arms around you and my kiss on your forehead as you drift to sleep.
6. Goodnight, my anchor. When life gets stormy, you're my calm. I hope you sleep with the same comfort and safety you give me every day. Dream sweetly, and know that you are loved beyond words.
7. As the day ends, know that whatever tomorrow brings, we'll handle it together, as we always do. Goodnight, my partner in crime. Sweet dreams of all our tomorrows together.
8. Before you close your eyes, I just want to remind you: you are the love of my life. I cherish you more than you could ever know. Sleep well, my darling, and awaken refreshed for our beautiful journey ahead.
9. It's that time again – time for our goodnight texts, which have become as necessary as breathing. You are the last thought on my mind as I drift off, and the sweetest dream I'll have. Goodnight, my everything.
10. As you head to sleep, my dear, know that my love for you is as vast as the night sky, each star representing a reason I adore you. Goodnight, my eternal love. Here's to more nights and dreams shared in love and harmony.
Convenience & Quick Use of Long Paragraphs For Her
From the early days of butterflies in your stomach to years of deep love and trust, relationships change. These paragraphs are perfect for every step of your journey together.
Long Paragraphs For Her To Copy And Paste
1. Darling, you are the sunshine that brightens my day. The warmth of your love inspires me to become a better person. You don't even have to say a word; your presence alone speaks volumes. Your touch heals my deepest wounds, and your voice is the sweetest melody. There isn't a moment when you aren't on my mind. I treasure our morning texts and late-night conversations. In this hectic life, you are my calm. I promise to love you unconditionally and endlessly, through all of life's chapters. You're my everything.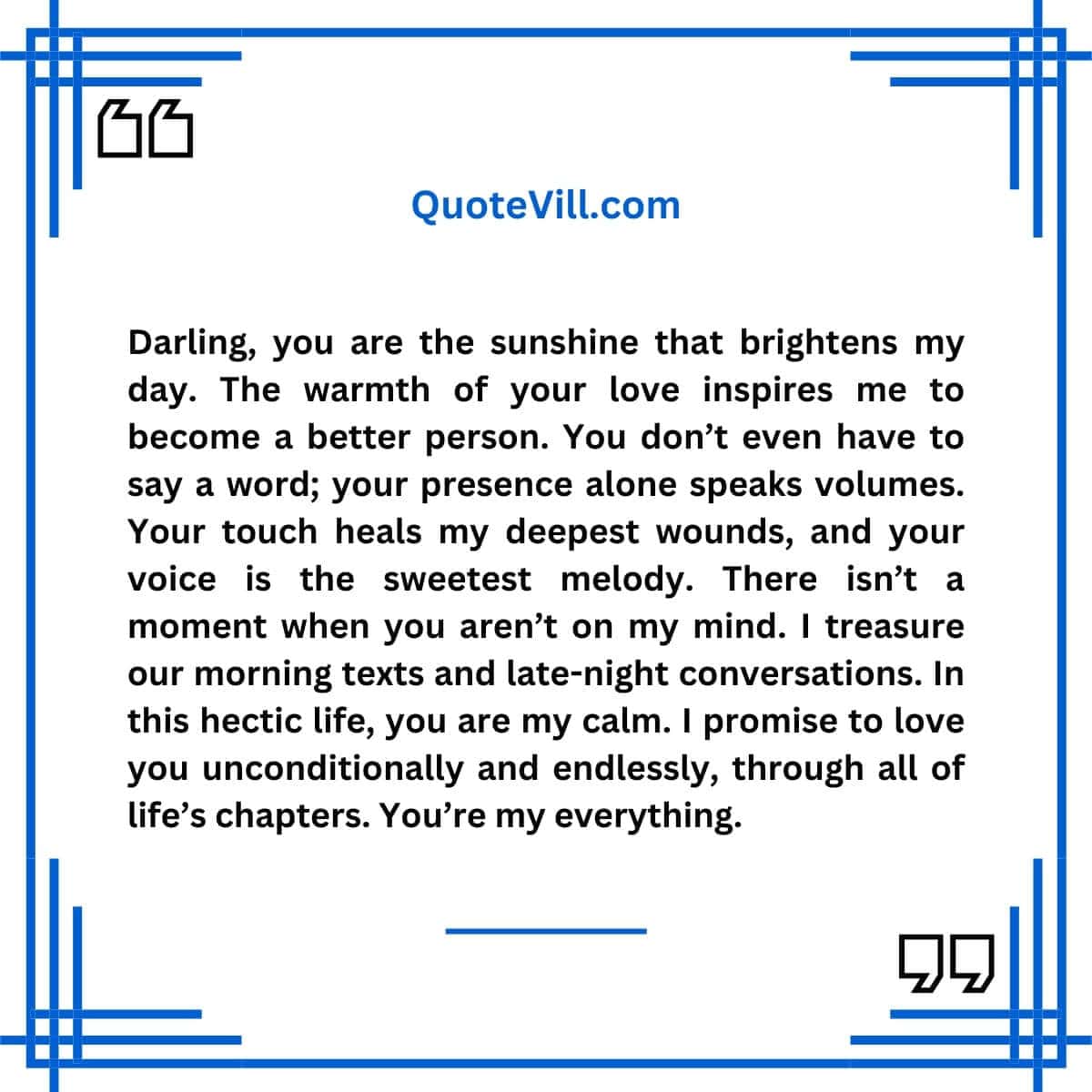 2. Hey, you're not just the love of my life – you're my rock, my go-to person, my all-weather friend. We've been through some crazy storms, haven't we? But you, you've never wavered. Cheering like a superfan at my wins and being the shoulder I can always lean on during the tough times. You make me brave, like I can chase my wildest dreams with you by my side. Your love is like a steady, comforting hug that never ends. It's not just comforting; it's empowering. I'm just crazy about you, more than I can ever put into words.
3. With you, every day feels like an exciting page in our own love story. Remember all those shared laughs, the quiet walks, the inside jokes? Those aren't just moments; they're our story. We're way more than just a couple; we're a dream team. We tackle life together, hands interlocked and full of love. With you, I'm not just living; I'm thriving. You're not just my partner; you're my home, my comfort zone. Seriously, life with you? It's the most epic adventure I could ever imagine.
4. You know, it's funny how we just get each other, right? Words, schmords. You get my silent moments, my weird dances, and all my quirky habits. You have this amazing way of just knowing what I'm thinking, even when I'm saying nothing at all. It's like we're two puzzle pieces that just clicked. We've had our share of tears and triumphs, haven't we? But through all of it, we've been each other's constant. You're not just someone I love; you're a part of me, and for that, I am endlessly grateful.
5. We have our own language, don't we? A look between us can convey more than a thousand words. It's this secret world that we've built just for the two of us, filled with shared memories that we continue to create every day. It's in our private jokes, our shared dreams, and the way you still give me butterflies, every single day. This connection we have is extraordinarily rare, and I cherish it with all my heart.
6.  Every day with you feels like a page from a love story that I had only dreamed of. You shower me with love, patience, and understanding, and you make me feel cherished, respected, and adored. I am immensely grateful for you and for everything we have built together. Your love is the greatest gift I have ever received, and I promise to protect it and cherish it all my days.
7. I want all of my tomorrows to be with you. I want to be there for you, to be your rock, your lover, your partner, your best friend, for all of your days. I want to wake up to your smile and fall asleep to your embrace. Life with you is where I belong, and I promise to be by your side, loving you unconditionally, through every twist and turn on our journey.
8. To me, you are a melody that I could listen to on repeat for the rest of my life. Your laughter is the sweetest symphony, and your eyes sparkle more brightly than any star in the night sky. Every moment with you feels like a beautiful melody, and I am captivated by the music we make together. You're not just my love, you're the song that my heart beats to.
9.  The depth of my love for you is something I can't fully put into words. It's more vast than any ocean and as constant as the rising sun. It's in the way my hand instinctively reaches for yours and how your happiness creates an indescribable joy within me. You're my love, deeper than I ever thought possible.
10. Loving you has brought a warmth and richness to my life that I never knew before. You're the first thought that crosses my mind when I wake and the last thought I entertain before falling asleep. Your happiness is my own, your pain is my pain, and your love is a gift I cherish every day. My love for you is vast, boundless, and it's planted deep within my heart.
Instant Love Notes: Long Paragraphs For Her
1. Today was tough, but having you as my rock made everything bearable. Your texts are like little rays of sunshine on my phone. You turn my worst days into some of my best memories, just like magic.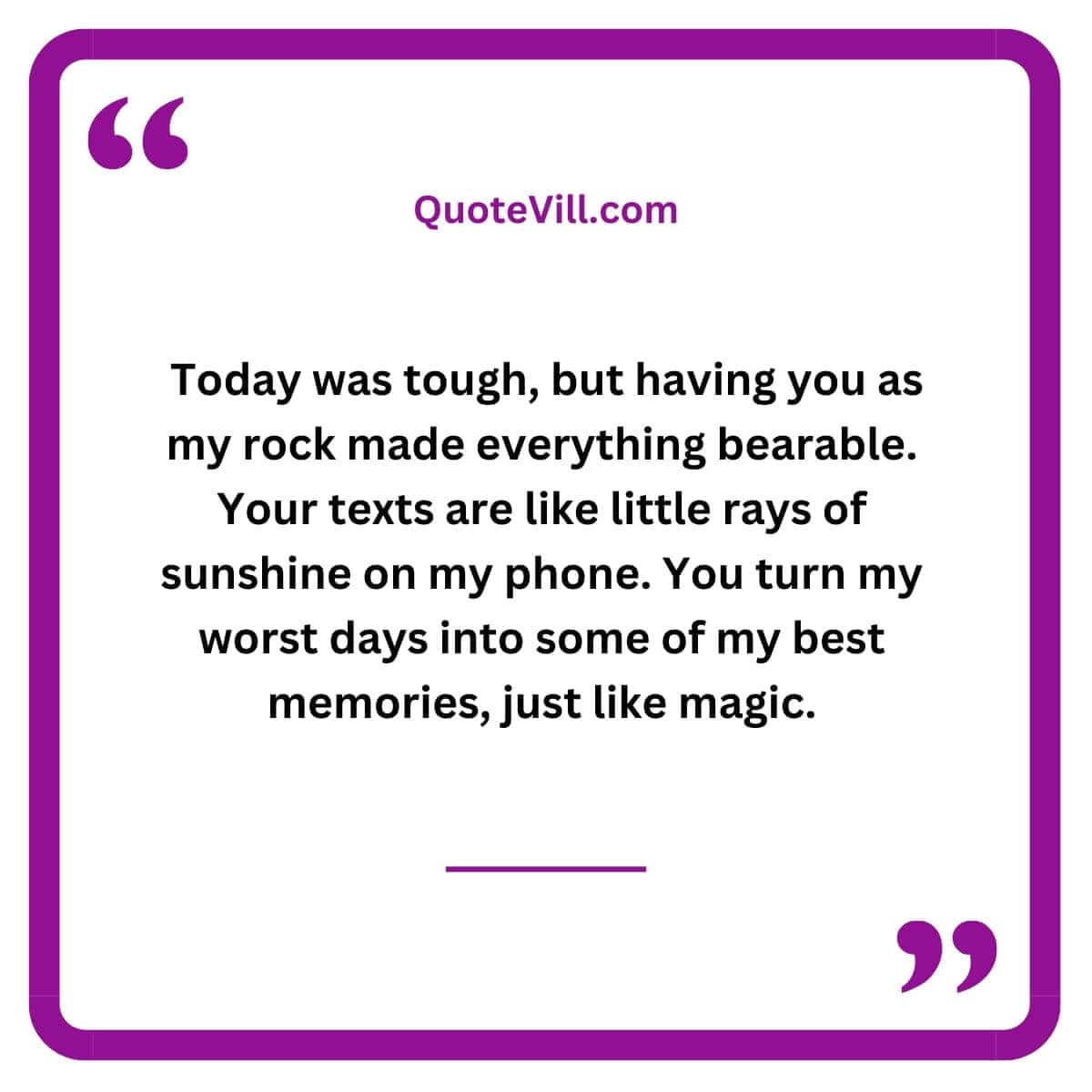 2. I was just thinking about the first time we met. It's crazy how far we've come since then, growing, laughing, and loving together. You've become such a big part of my life, and I cherish you more with each passing day.
3. It's the way you laugh at my jokes, even the bad ones, that gets me. The way your eyes light up when you talk about what you love – that's what I adore about you. You make ordinary things feel extraordinary.
4. Pack your bags for this weekend! I've planned a surprise getaway for us – just a little something to show you how much you mean to me. I can't wait to create more memories with you.
5. Every morning, you're the reason I jump out of bed (okay, maybe after hitting snooze, but still!). You inspire me in every way, and I strive to be the best version of myself because of you.
6. Life has thrown so much our way, but we've weathered every storm together. You've been my unwavering partner through it all, and I just need you to know how deeply I appreciate you.
7. I'm still smiling thinking about our last date night. The way we laughed, shared our food, and just enjoyed each other's company. I fall more in love with you with every moment we spend together.
8. Another year with you, and every day feels like a blessing. Here's to us, to our resilience, our love, our forever. Cheers to many more wonderful years together, my love.
9. Before I met you, I didn't believe in soulmates. Now, I can't imagine my life without you by my side. You complete me in a way that I never thought was possible.
10. As I'm getting ready to sleep, all I can think about is you. I'm sending all my love and warmest hugs your way, hoping you have a night as beautiful as your smile.
5. Wrapping Up
Writing a Long Paragraph For Her is more than just words; it's a symbol of your love and commitment. It's a way to say, 'I love you', 'I appreciate you', and 'I am here for you' – all in one. So pick up that pen or open that messaging app and pour your heart out with sincerity.
Remember, it's the thought and emotion behind the words that counts most. So make it sincere and watch your love blossom further than ever before.
Hopefully, this heartfelt gesture, a Long Paragraph For Her, becomes a regular part of your expression of love. It's a small action with profound effects, turning ordinary days into extraordinary memories.
Happy writing!