Norma Jeane Mortenson, known as Marilyn Monroe, gained fame for having played many iconic Blonde Bombshell characters. These Marilyn Monroe quotes will tell you precisely how she loved being a woman, how she never understood rules, hence followed none and how she perceived beauty!
She chiefly wanted to be an actress and she did become one, in fact, a very successful one but the recognition she received for her acting is far less than what she received as a sex symbol.
Her admiration for being a woman herself was loud and significant, which reflected precisely in her self-confidence. She was fierce, bold, and also determined to become the best at what she did. She was and still is admired for many reasons and once you go through these quotes, you might find one more reason to adore her.
Marilyn Monroe Inspirational Quotes About Life
1. "I am good, but not an angel. I do sin, but I am not the devil. I am just a small girl in a big world trying to find someone to love."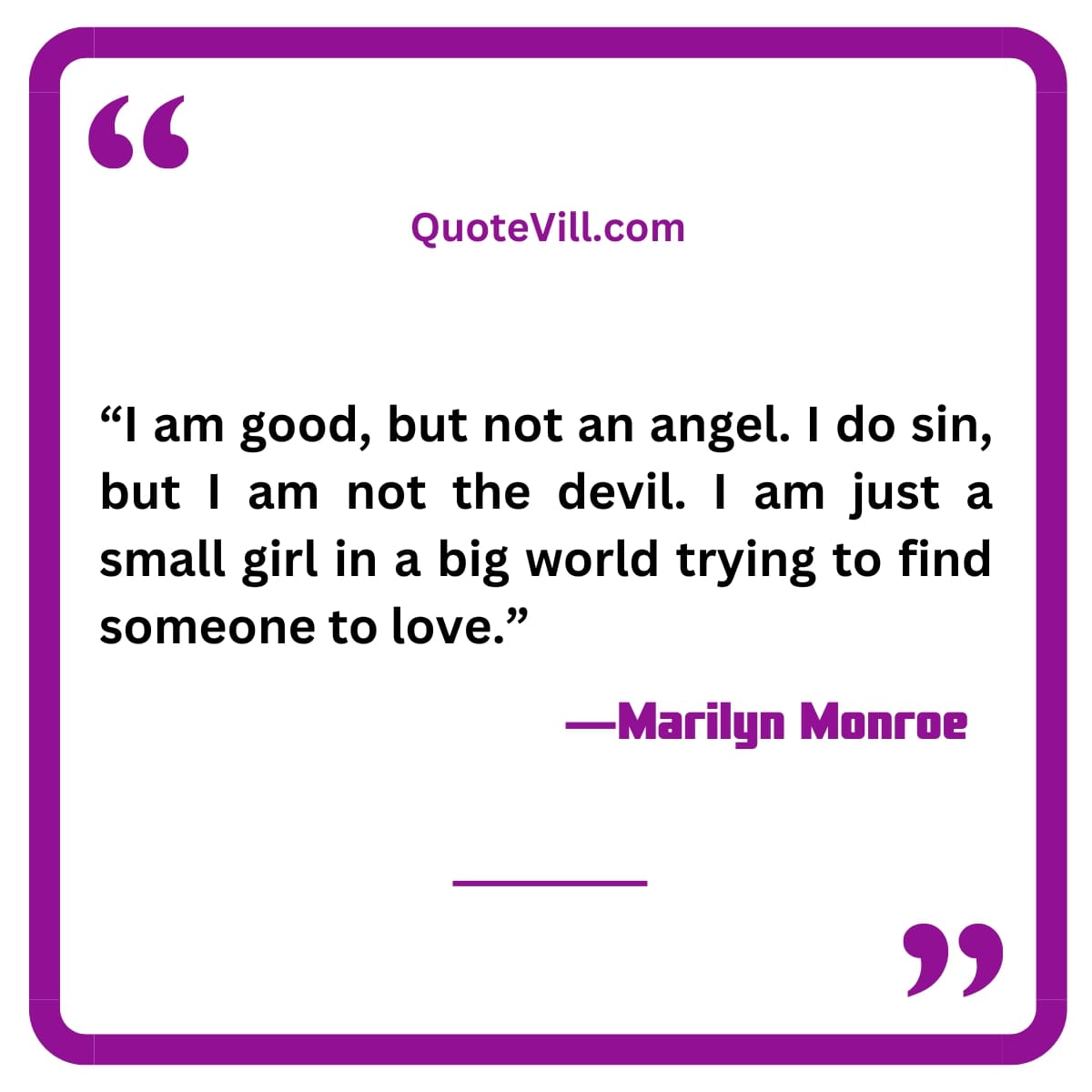 2. "I'm selfish, impatient and a little insecure. I make mistakes, I am out of control and at times hard to handle. But if you can't handle me at my worst, then you sure as hell don't deserve me at my best."
3. "Fear is stupid. So are regrets."
4. "Imperfection is beauty, madness is genius and it's better to be absolutely ridiculous than absolutely boring."
5. "We should all start to live before we get too old. Fear is stupid. So are regrets."
6. "Give a girl the right shoes, and she can conquer the world."
7. "Keep smiling, because life is a beautiful thing and there's so much to smile about."
8. "A wise girl knows her limits, a smart girl knows that she has none."
9. "It's all make believe, isn't it?"
10. "One of the best things that ever happened to me is that I'm a woman. That is the way all females should feel."
11. "Beneath the makeup and behind the smile I am just a girl who wishes for the world."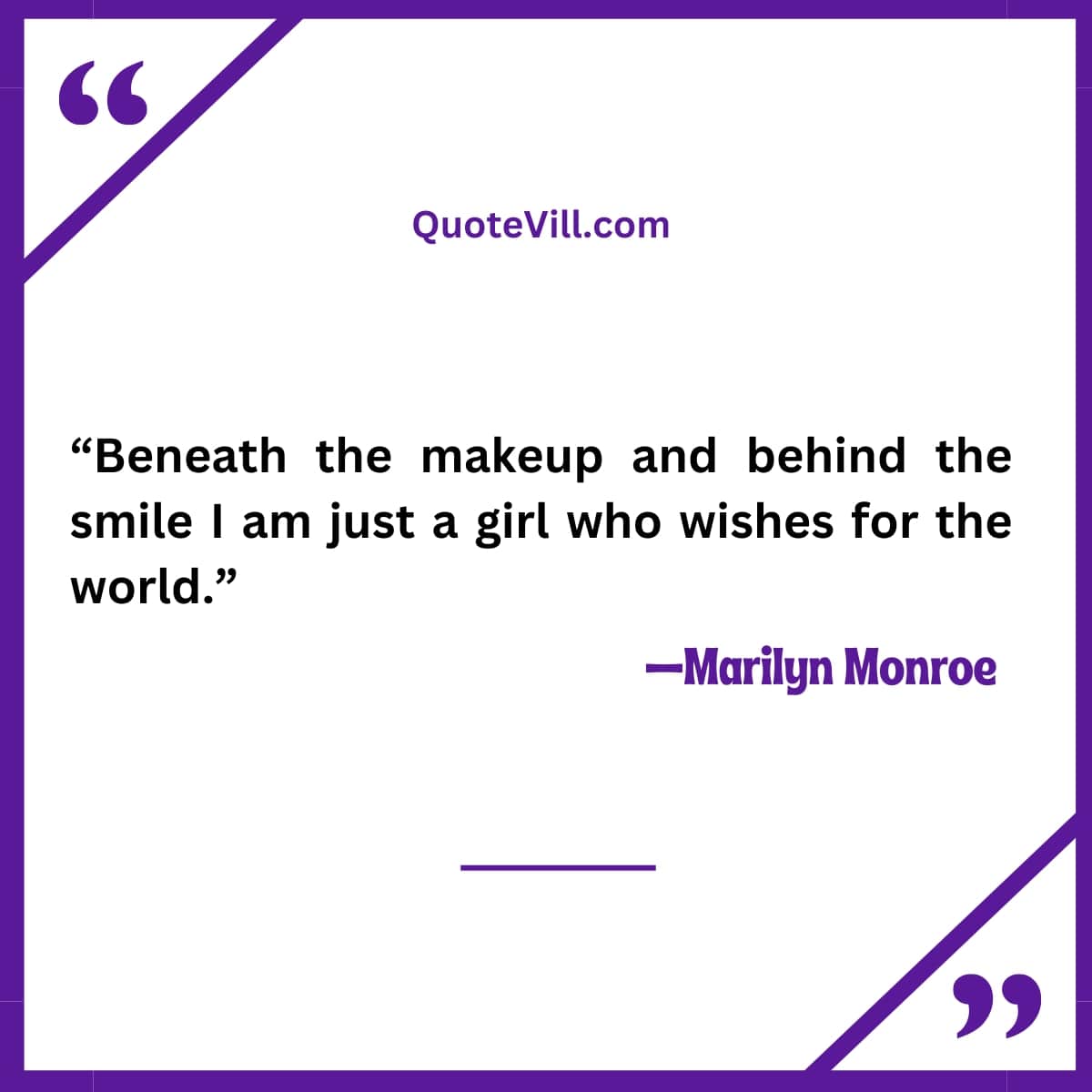 12. "Always, always, always believe in yourself, because if you don't, then who will, sweetie? So keep your head high, keep your chin up, and most importantly, keep smiling, because life's a beautiful thing and there's so much to smile about."
13. "A career is wonderful, but you can't curl up with it on a cold night."
14. "A girl doesn't need anyone who doesn't need her."
15. "Ever notice how 'What the hell' is always the right decision?"
16. "I believe that everything happens for a reason. People change so that you can learn to let go, things go wrong so that you appreciate them when they're right, you believe lies so you eventually learn to trust no one but yourself, and sometimes good things fall apart so better things can fall together."
17. "Dreaming about being an actress is more exciting than being one."
18. "I live to succeed, not to please you or anyone else."
19. "I believe that everything happens for a reason, but I think it's important to seek out that reason; that's how we learn."
20. "I don't mind living in a man's world as long as I can be a woman in it."
Beauty and Self-Esteem Quotes by Marilyn Monroe
1. "Imperfection is beauty, madness is genius and it's better to be absolutely ridiculous than absolutely boring."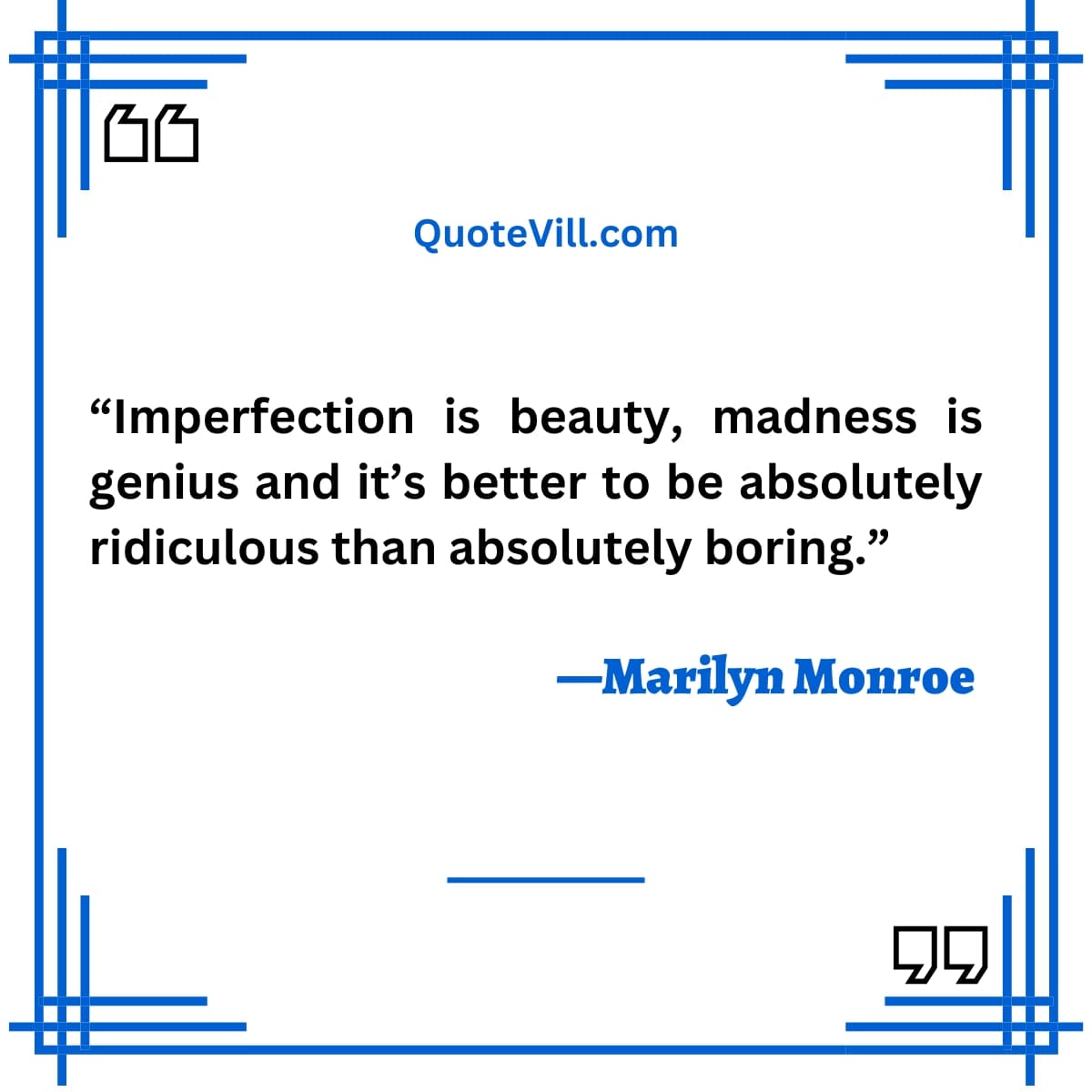 2. "To all the girls that think you're ugly because you're not a size 0, you're the beautiful one. It's society who's ugly."
3. "A smile is the best makeup a girl can wear."
4. "Beauty and femininity are ageless and can't be contrived, and glamour, although the manufacturers won't like this, cannot be manufactured."
5. "There is no cosmetic for beauty like happiness."
6. "A woman is most beautiful when she smiles."
7. "Your clothes should be tight enough to show you're a woman but loose enough to show you're a lady."
8. "The body is meant to be seen, not all covered up."
9. "A woman can bring a new love to each man she loves, providing there are not too many."
10. "Sex is a part of nature. I go along with nature."
Love Quotes from Marilyn Monroe
1. "Sometimes good things fall apart so better things can fall together."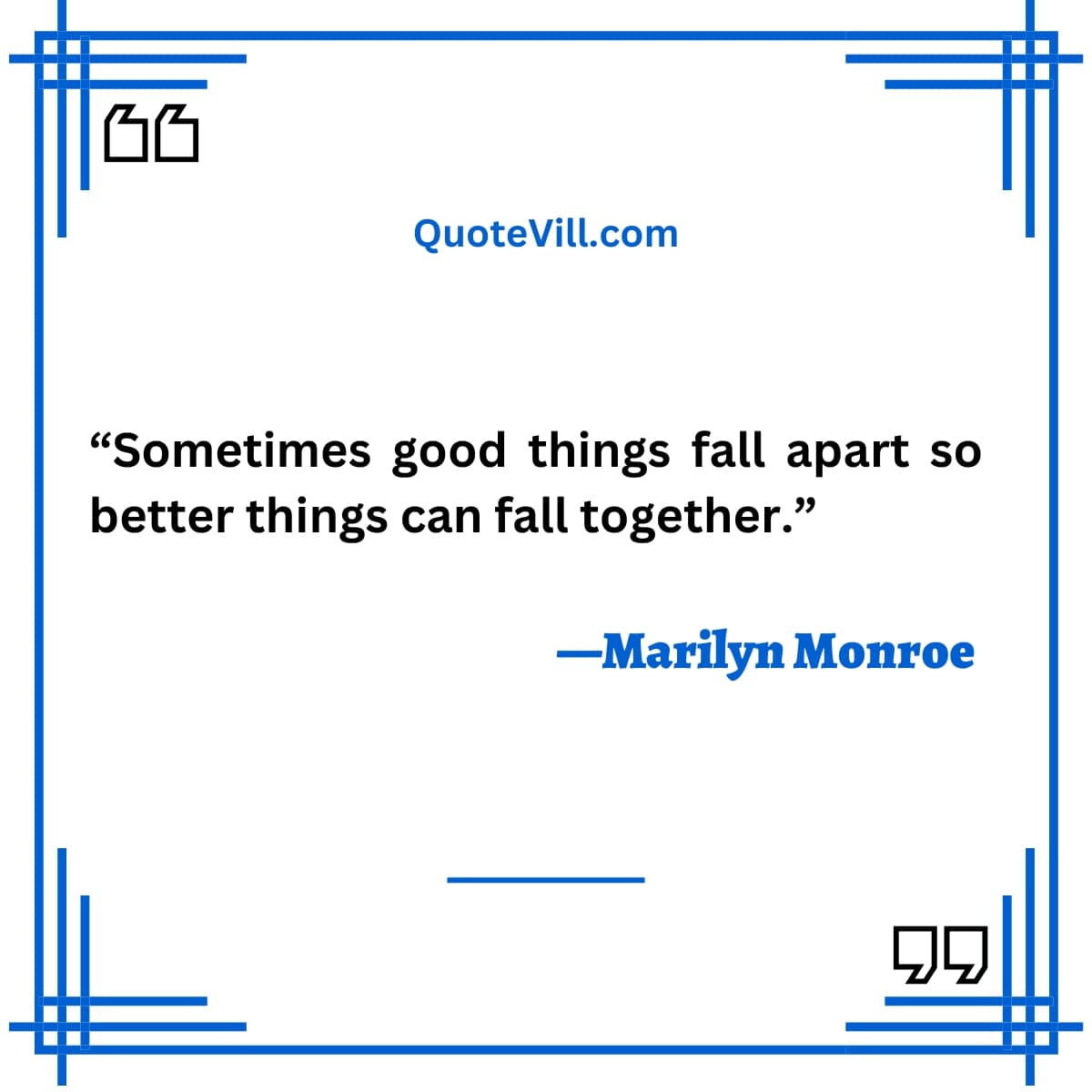 2. "Love is rare, life is strange, nothing lasts, and people change."
3. "I have feelings too. I am still human. All I want is to be loved, for myself and for my talent."
4. "Love and work… work and love, that's all there is."
5. "It's not true I had nothing on, I had the radio on."
6. "I am involved in a freedom ride protesting the loss of the minority rights belonging to the few remaining earthbound stars. All we demanded was our right to twinkle."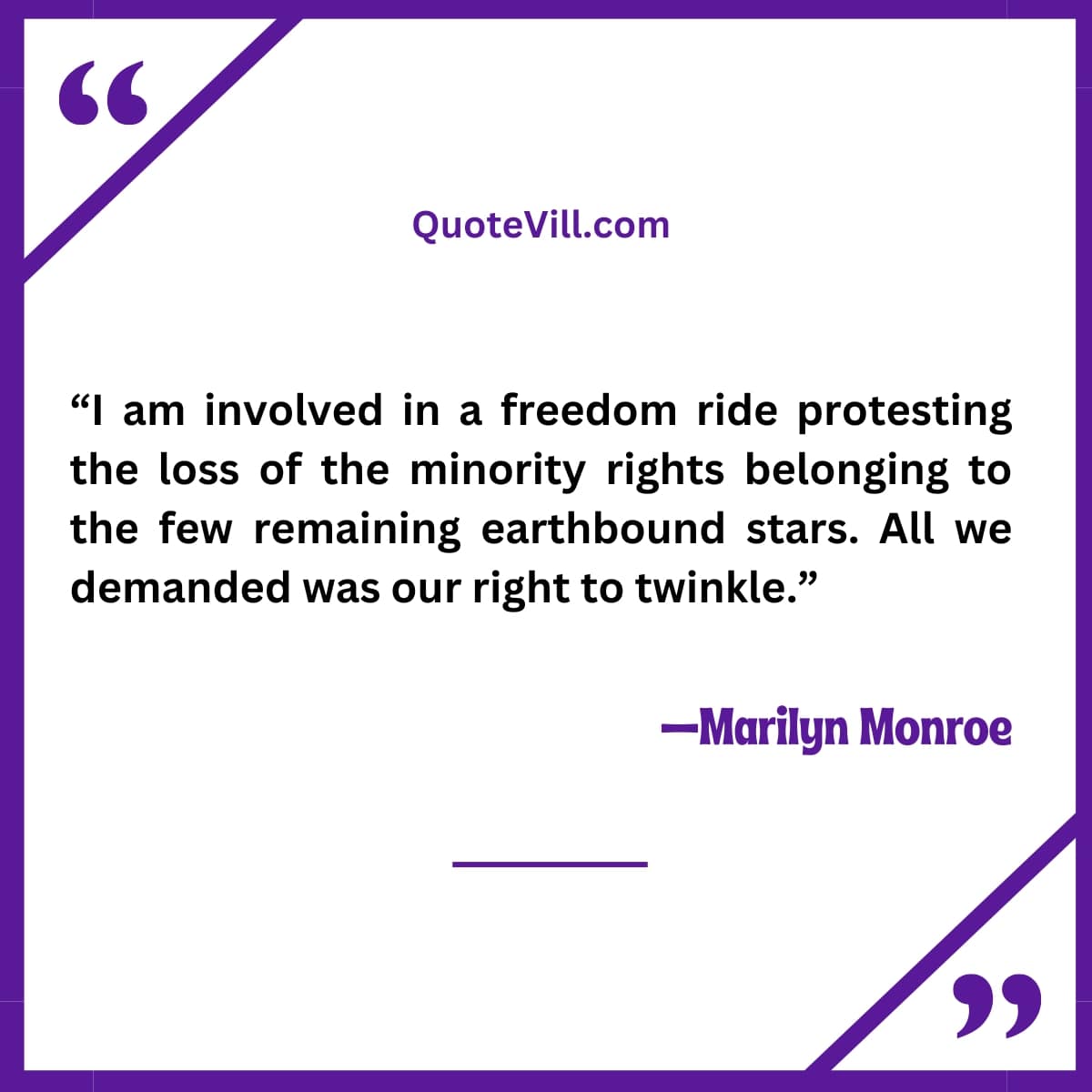 7. "This life is what you make it. Not matter what, you're going to mess up sometimes, it's a universal truth. But the good part is you get to decide how you're going to mess it up."
8. "I used to think as I looked out on the Hollywood night — there must be thousands of girls sitting alone like me, dreaming of becoming a movie star. But I'm not going to worry about them. I'm dreaming the hardest."
9. "I restore myself when I'm alone. A career is born in public — talent in privacy."
10. "I've been on a calendar, but I've never been on time."
Marilyn Monroe's Quotes on Happiness
1. "We are all of us stars, and we deserve to twinkle."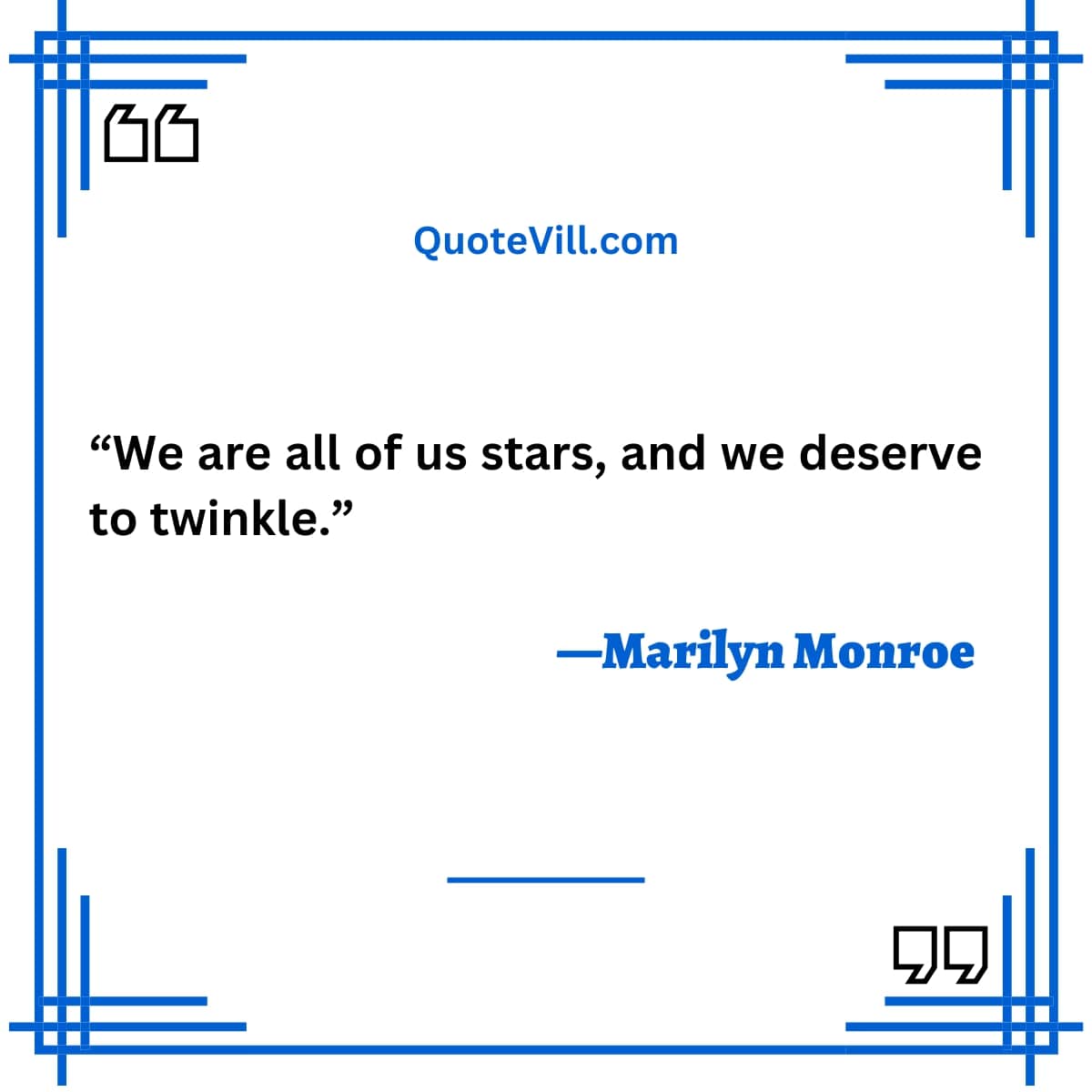 2. "Keep smiling, because life is a beautiful thing and there's so much to smile about."
3. "The nicest thing for me is sleep, then at least I can dream."
4. "Sometimes things fall apart so that better things can fall together."
5. "I think that when you are famous every weakness is exaggerated."
6. "No one ever told me I was pretty when I was a little girl. All little girls should be told they're pretty, even if they aren't."
7. "I want to grow old without facelifts… I want to have the courage to be loyal to the face I've made."
8. "I don't mind making jokes, but I don't want to look like one."
9. "It's all make-believe, isn't it?"
10. "I'm very definitely a woman and I enjoy it."
Self-Confidence Quotes by Marilyn Monroe
1. "Always, always, always believe in yourself, because if you don't, then who will, sweetie?"
2. "Wanting to be someone else is a waste of the person you are."
3. "A girl doesn't need anyone who doesn't need her."
4. "I'm selfish, impatient and a little insecure. I make mistakes, I am out of control and at times hard to handle. But if you can't handle me at my worst, then you sure as hell don't deserve me at my best."
5. "It's better to be unhappy alone than unhappy with someone — so far."
6. "I live to succeed, not to please you or anyone else."
7. "You never know what life is like, until you have lived it."
8. "I don't stop when I'm tired. I only stop when I'm done."
9. "A wise girl knows her limits, a smart girl knows that she has none."
10. "If I'd observed all the rules I'd never have got anywhere."