While we are in this world, we form quite several bonds. Some are platonic, some are romantic, and some are pure bliss. One such bond is the bond that exists between the father and the daughter. Make this bond memorable with these miss you dad quotes from daughter.
The first hero that every daughter has in their life is their father. She is her father's princess and the only man who never breaks her heart. No matter what.
But life sometimes plays tricks. Moreover, if you are a daughter one day or the other, you must move out from your house and embrace someone else's home as your own.
At that time, you will miss your family, especially your dad's guidance, scolding, and those early morning meaningless and silly arguments. Stop brooding and call your dad. Do have a heartfelt chat with him.
If that seems impossible, use one of these, I miss you dad, quotes from daughter, and get relief from your pain a bit.
How Do I Express Feelings For My Missing Father?
Here are some heartfelt ways you can express your feelings of missing your father, whether he is far away, you are estranged, or he has passed on:
Write a Letter: Pen a letter to your dad, expressing your thoughts, emotions, and memories. You can keep it as a personal memento or, if possible, send it to him.
Create a Memory Album: Compile photos and mementos into a scrapbook or digital album, celebrating the good times you had together.
Visit His Favorite Place: Go to a place that was special to you both or was his favorite spot. It might help you feel closer to him.
Create Art: Draw, paint, or craft something that represents your relationship with your father or how you feel without him.
Write a Poem or Song: Even if you're not a writer, try to put your feelings into words through a poem or a song.
Have a Special Day in His Honor:

Choose a day every year to celebrate his life. Cook his favorite meal, watch his favorite movies, or go on a trip he always wanted to take.

Speak to Him in Your Mind:

When you're alone and find yourself missing him, have a mental conversation. Tell him about your day, your dreams, your fears, just as you would if he were physically there.
I Miss You Dad Quotes From Daughter
1. "Dad, being miles away from you on your birthday today makes my heart ache profoundly. I wish we could be sharing this special day together, blowing out the candles and making those memorable family jokes."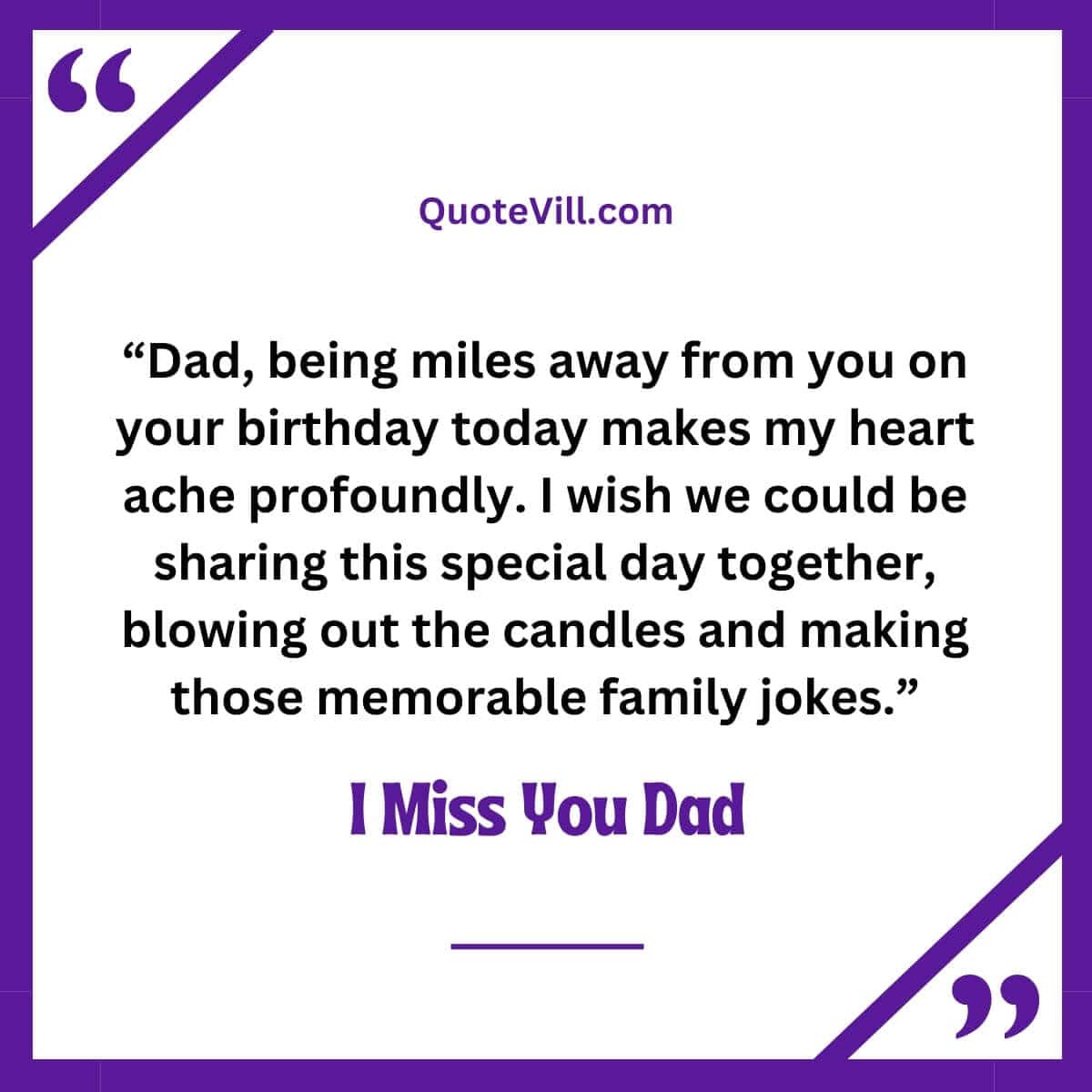 2. "Every time I achieve something, I find myself wishing desperately that you were right here, Dad. I long to see that proud sparkle in your eyes and to hear your hearty congratulations."
3. "The house just doesn't feel like home without you, Dad. I miss our everyday talks, your comforting presence, and the way you made even a simple dinner feel like a special event."
4. "On your death anniversary today, Dad, I feel the void you left in my life more deeply and painfully than ever. I miss you more than words can express, and I would give anything for one more day with you."
5. "Whenever I'm going through a tough time, Dad, I miss your wise words terribly. I miss the way you would calmly guide me through any storm and the reassuring tone of your voice telling me everything will be alright."
6. "Happy Father's Day in heaven, Dad. I hope you know how much I miss you, today and every day. I hope you are proud of me and feel all the love I am sending your way with all my heart."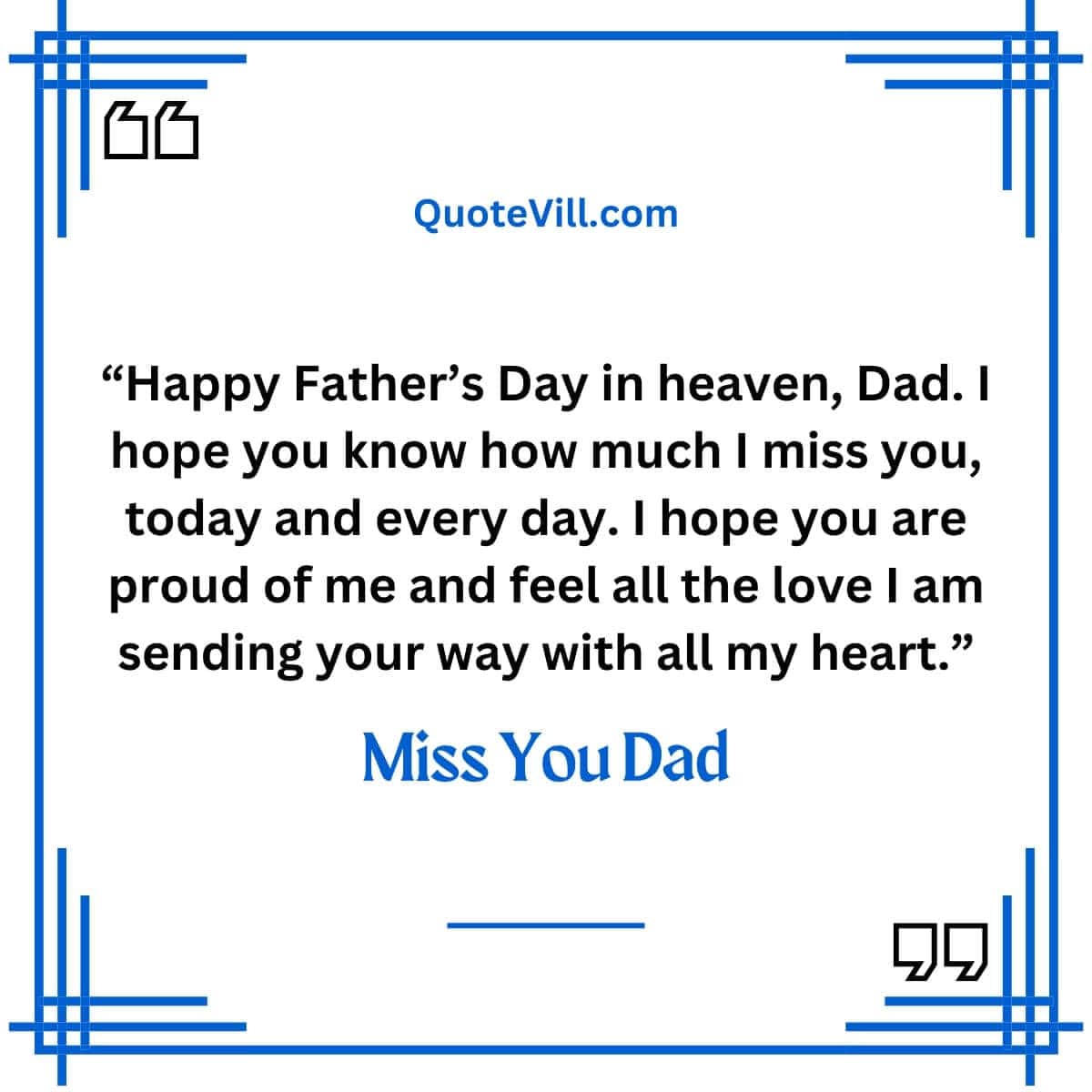 7. "Being in this long-distance relationship with you, Dad, is so hard. I miss your hugs, your voice, and your laughter deeply. I miss that reassuring pat on the back that you always gave me when I saw you."
8. "Dad, as I walked down the aisle, I felt the absence of your arm in mine more than I can explain. I missed you every step of the way, and I could almost hear the tender words you would have whispered to calm my nerves."
9. "On this cold winter night, I find myself missing our warm conversations by the fireplace, Dad. I miss your stories, your wisdom, and the way you made me feel safe and loved. I wish you were still here with me."
10. "Every time I see a father and daughter together, Dad, it reminds me of all our special moments and how much I miss sharing my life with you. I miss your advice, your support, and the unconditional love that only you could give."
Read: 50 Best "I Miss You Mom Quotes From Daughter" To Feel Better
Emotional I Miss You Dad Quotes From a Girl
1. "Dad, as I sat in my first big meeting today, I couldn't help but wish you were here. I remember how you would rehearse my presentations with me when I was nervous. I missed your calming advice today."
2. "Watching my own daughter play in the yard, I ache for you, Dad. I wish she could experience the love and warmth I felt growing up with you as my father."
3. "Every year when your birthday comes around, it's like a silent day for me, Dad. I miss calling you at midnight and hearing that joyful voice of yours."
4. "I had to fix the kitchen sink today, Dad. I remember when we fixed it together last time, your hands guiding mine. I felt lost without you there."
5. "Walking past your empty room in the house we used to share, Dad, is a daily reminder of the massive void you've left behind. It's so hard not having you here."
6. "Dad, as I looked at your chair during dinner today, I was struck by how much I missed your stories and how you'd ask about our days. Dinner doesn't feel the same without you."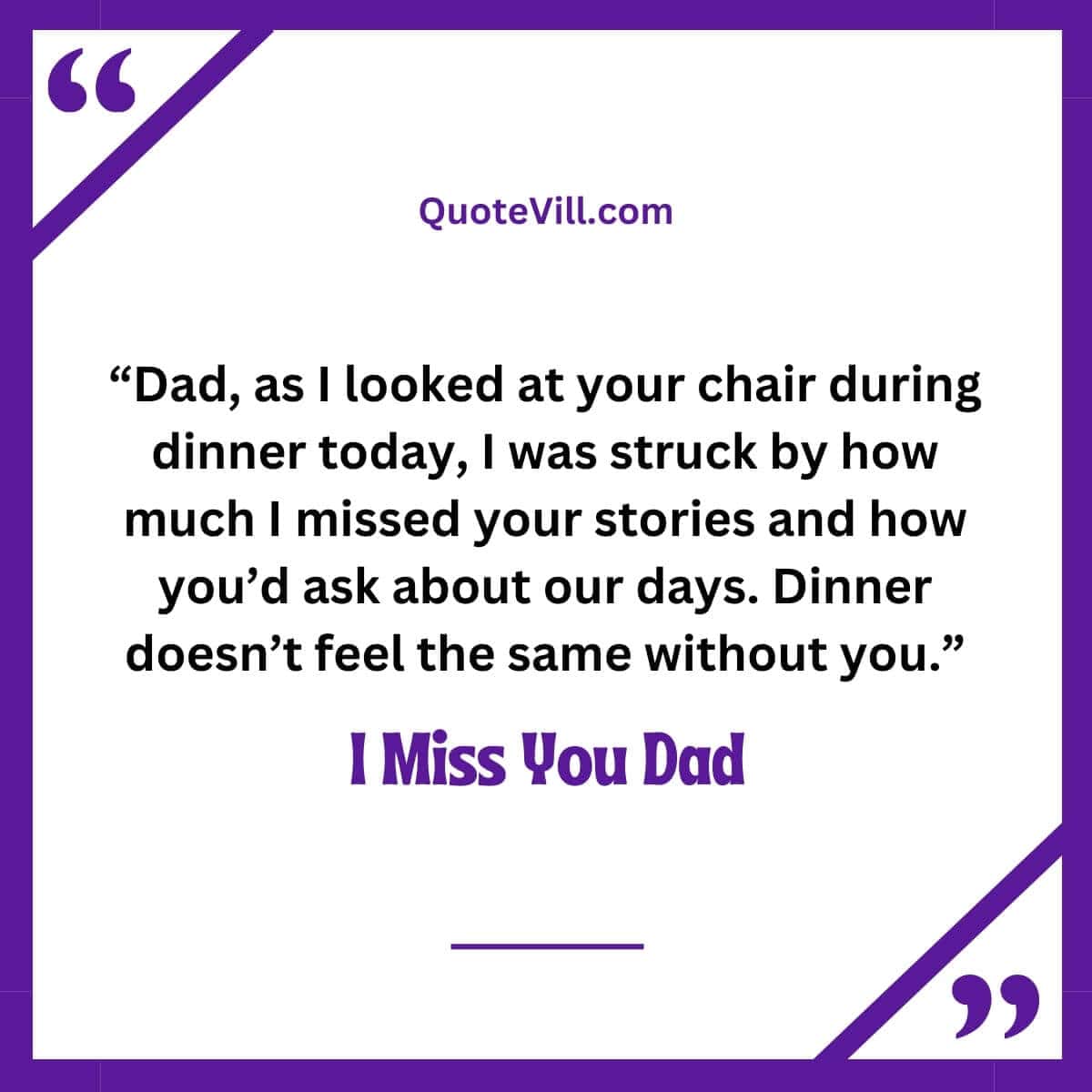 7. "As I held my newborn son for the first time, Dad, tears rolled down my face because you weren't there to hold him too. I wish he could have met his granddad."
8. "Today was a hard day, Dad. I needed to talk to you, to hear you say that things will get better like you always did. I miss your reassurance so much."
9. "As I prepared for my move to the new city, Dad, I found myself longing for your advice and support. You always had a way of turning my nerves into excitement."
10. "On the anniversary of your passing, Dad, the pain feels as fresh as if it were yesterday. I spent the day at our favorite park, wishing more than anything that you were sitting next to me."
See: Miss You Son Quotes
Missing My Dad In Heaven Quotes From Daughter: Honoring His Memory
1. "Death ends a life, not a relationship." – Mitch Albom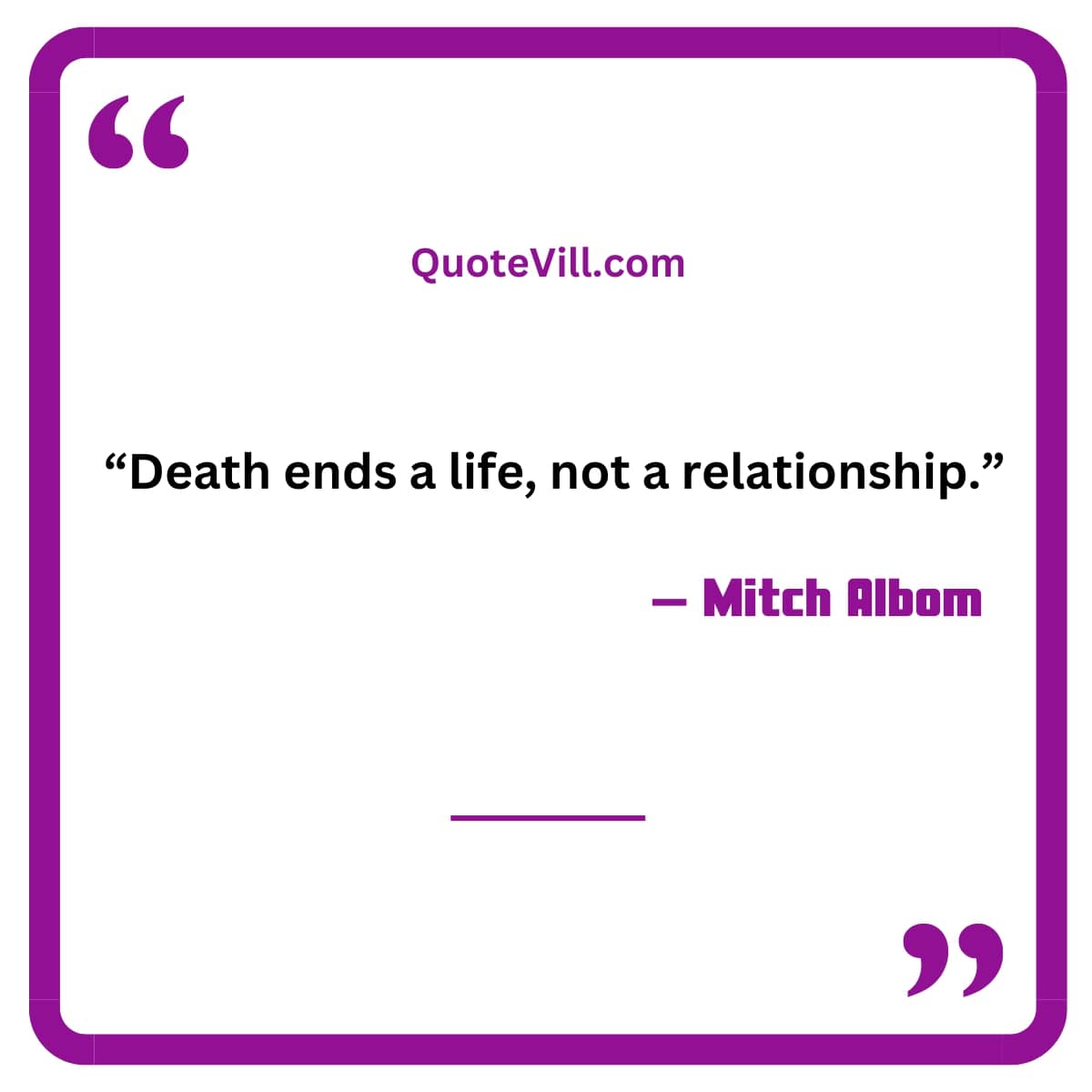 2. "His voice, I still hear it. His laughter, I still can recall. Dad, you're not here, but you're still everywhere." – Maya Angelou
3. "Dad, in your absence, I've found strength I never knew I had, but I'd trade it in a heartbeat to have one more day with you." – J.K. Rowling
4. "The world changes from year to year, our lives from day to day, but the love and memory of you, Dad, shall never pass away." – F. Scott Fitzgerald
5. "Dad, I hold onto your teachings, your wisdom, and your love as my life's precious treasure chest, since you've been gone." – Oprah Winfrey
6. "He didn't tell me how to live; he lived, and let me watch him do it. And I miss that every day." – Clarence Budington Kelland
7. "Dad, your guiding hand on my shoulder will remain with me forever. But oh, how I miss that hand." – Harper Lee
8. "The loss of my father was the most traumatic event in my life – I can't forget his warm hands and face." – Frank Sinatra
9. "Even though I know, in reality, he's gone, when I sit in his chair, I cannot help but feel my dad's presence still right there with me." – Ernest Hemingway
10. "In times of joy and in times of sadness, Dad, I know you're watching me from some place up there." – Marilyn Monroe
11. "I looked up at the stars last night, Dad, and I couldn't help but wonder if you were looking down at the same sky from heaven. I miss you more than words can say."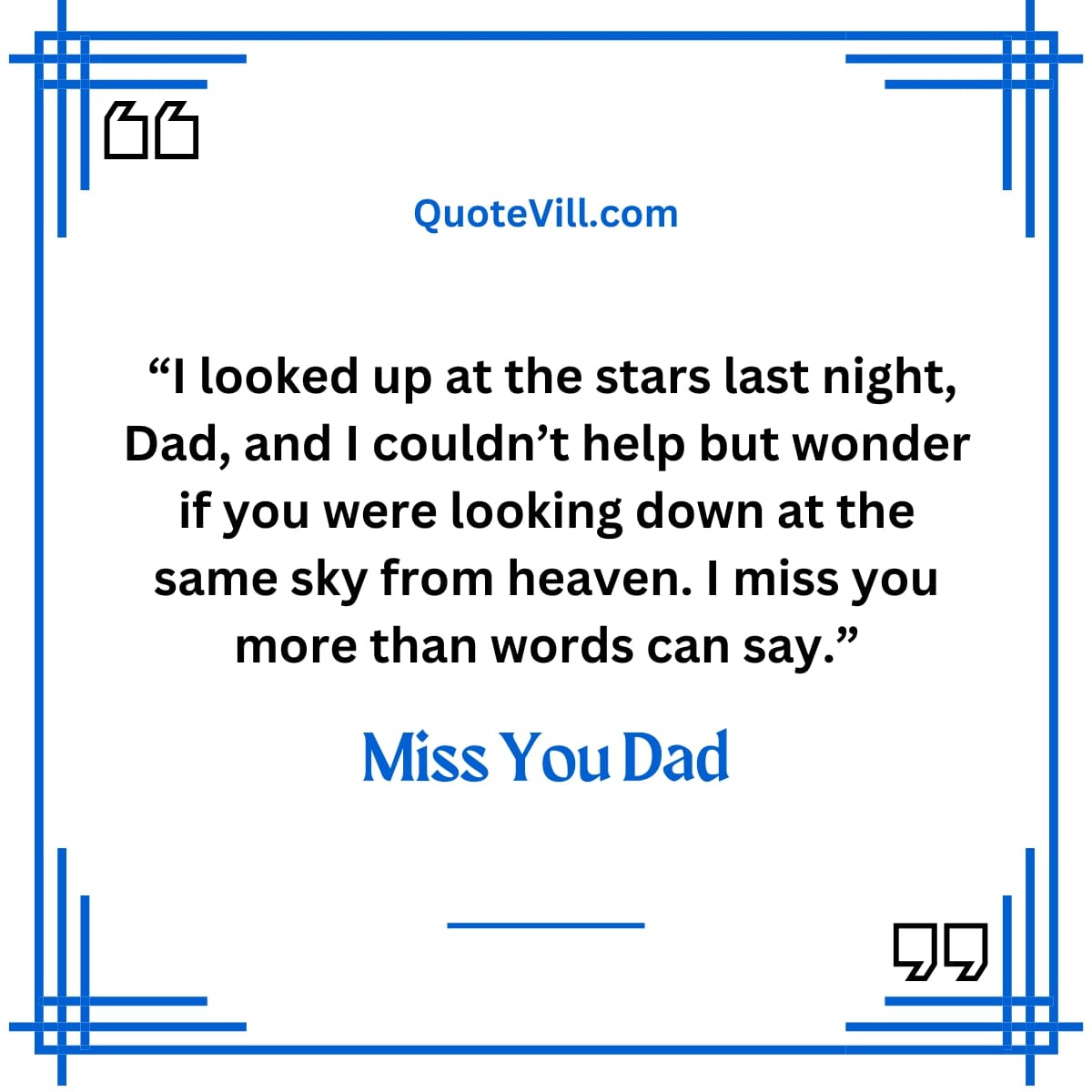 12. "Every significant moment in my life, Dad, feels a little less bright because you're not here to share it with me. I hope you're celebrating with me from above."
13. "Whenever I achieve something great, I instinctively want to call you, Dad. It hits me all over again that you're in heaven, and I can't share my news with you."
14. "Dad, as my own kids grow, I realize more and more the depth of your love for me. How I wish you were here to be the amazing granddad I know you'd be."
15. "Today, Dad, I visited your grave and talked to you like old times. It's not the same as hearing your voice, but it's a comfort in its own way."
16. "Dad, every year when the holidays roll around, the void you left feels even larger. I play your favorite songs and remember our traditions, hoping you're smiling in heaven."
17. "I wore your old watch today, Dad. It makes me feel closer to you, though I know you're far away in heaven. Time doesn't heal all wounds, it seems."
18. "Whenever I'm in a tough spot, Dad, I think about what you would have advised. I miss having my wise and caring father to guide me through life's storms."
19. "Dad, raising my own family, I aim to pass on the love and lessons you gave me. But every bedtime story I tell, every scraped knee I bandage, I wish you were by my side, showing me the way like you used to."
20. "Dad, it's been years since you left for heaven, but not a single day passes without me wishing you could come back, even if just for a moment."
Try: 54 Touching 1 Year Death Anniversary Quotes For Dad
I Miss You Dad Quotes From Daughter When Distance Separates
1. "Hey Dad, as I sit here in this quiet room, miles away, I find myself missing your warm hugs and your reassuring voice more than ever. It feels like a part of me is just missing without you here."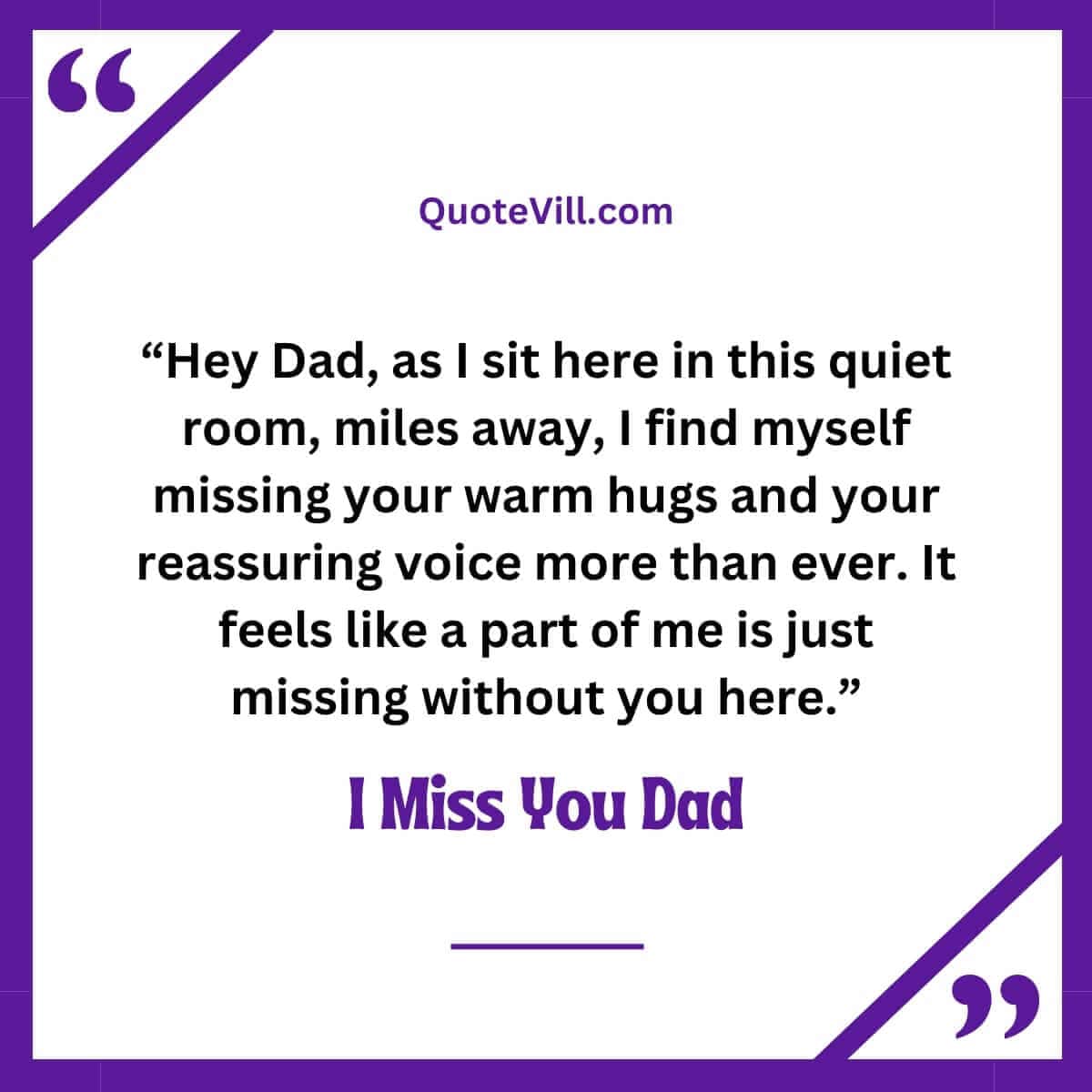 2. "Dad, today was just one of those days when I needed your advice and your wisdom. Life without you close by is harder than I ever imagined it would be. I just miss you, so much more today."
3. "Every night when I look at the stars, Dad, I think about the evenings we spent on the porch, just talking about everything and nothing. I'd give anything for one more of those nights right now."
4. "Dad, when I face something tough, I find myself wishing you were here with me, guiding me like you always have. I miss your strength, your clarity, your love that makes everything feel possible."
5. "Do you know what I miss the most, Dad? Just hearing about your day and sharing mine with you. Simple phone calls that feel like a warm embrace. It's a part of my day that's missing now, and I feel it deeply."
6. "Life is moving so fast, Dad, and without you here, it feels like a whirlwind I can't quite navigate. I miss your steady presence, your calming words that made everything seem manageable."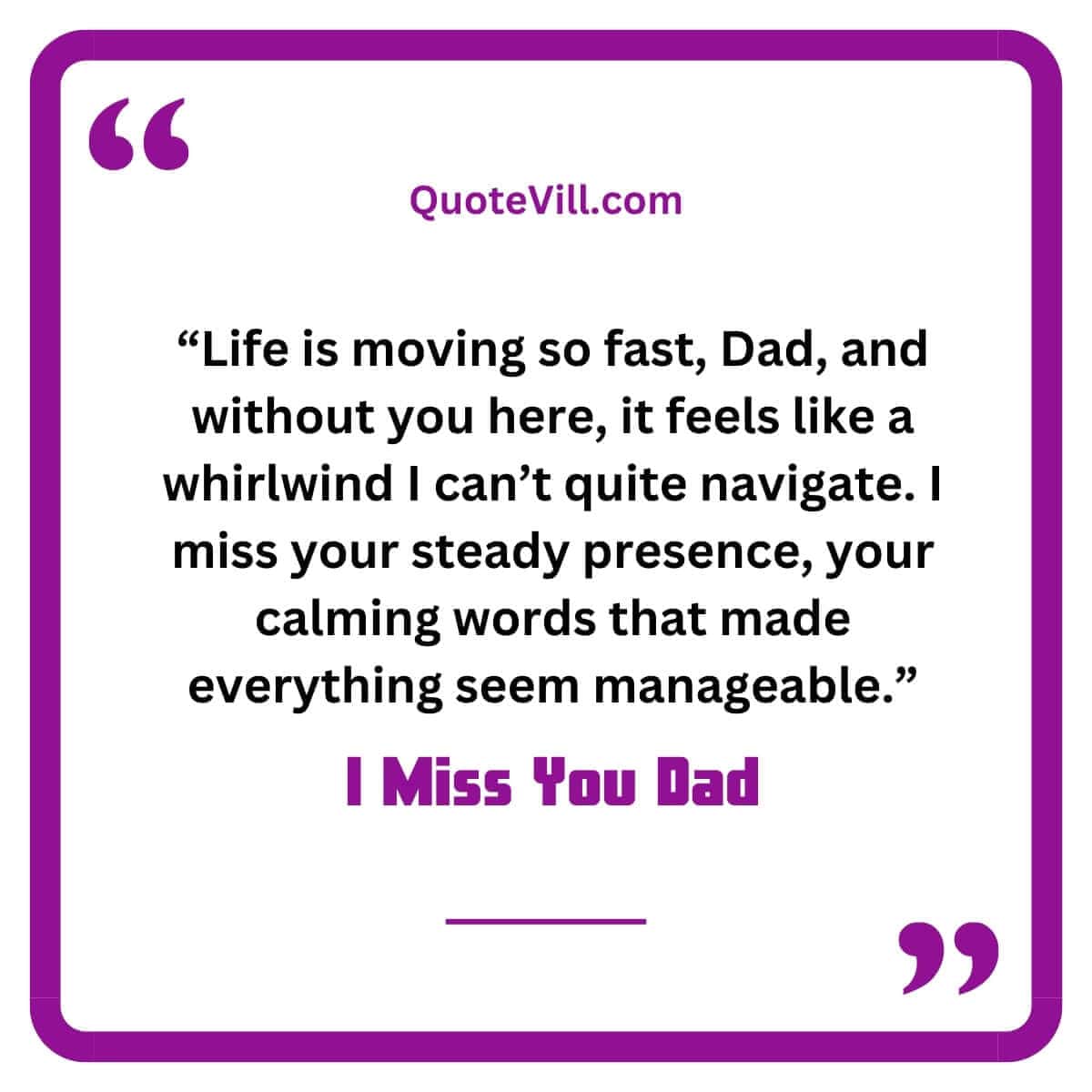 7. "There are so many stories I want to share with you, Dad, so many questions I want to ask, and so many hugs I wish I could give you. Every day without you feels like a year."
8. "Dad, I came across your photo today and found myself just staring at it, remembering your laugh, your voice, your touch. It made me realize how these miles between us are more than just distance. They are a void, a space where you should be."
9. "When things go wrong, Dad, it's your comfort that I long for. It's your reassurance that I seek in my heart, even when I can't hear your voice. And oh, how I wish I could hear your voice right now."
10. "I'm holding back tears as I write this, Dad. Every big moment, every small moment, they all feel incomplete without you. I long for the days when seeing you wasn't a planned event, but just a part of my daily life."
Missing Dad Quotes In Special Moments From Daughter
1. Graduation Day:
"Dad, as I walked across that stage, I kept looking for your face in the crowd. I wish you were here, smiling and clapping just for me."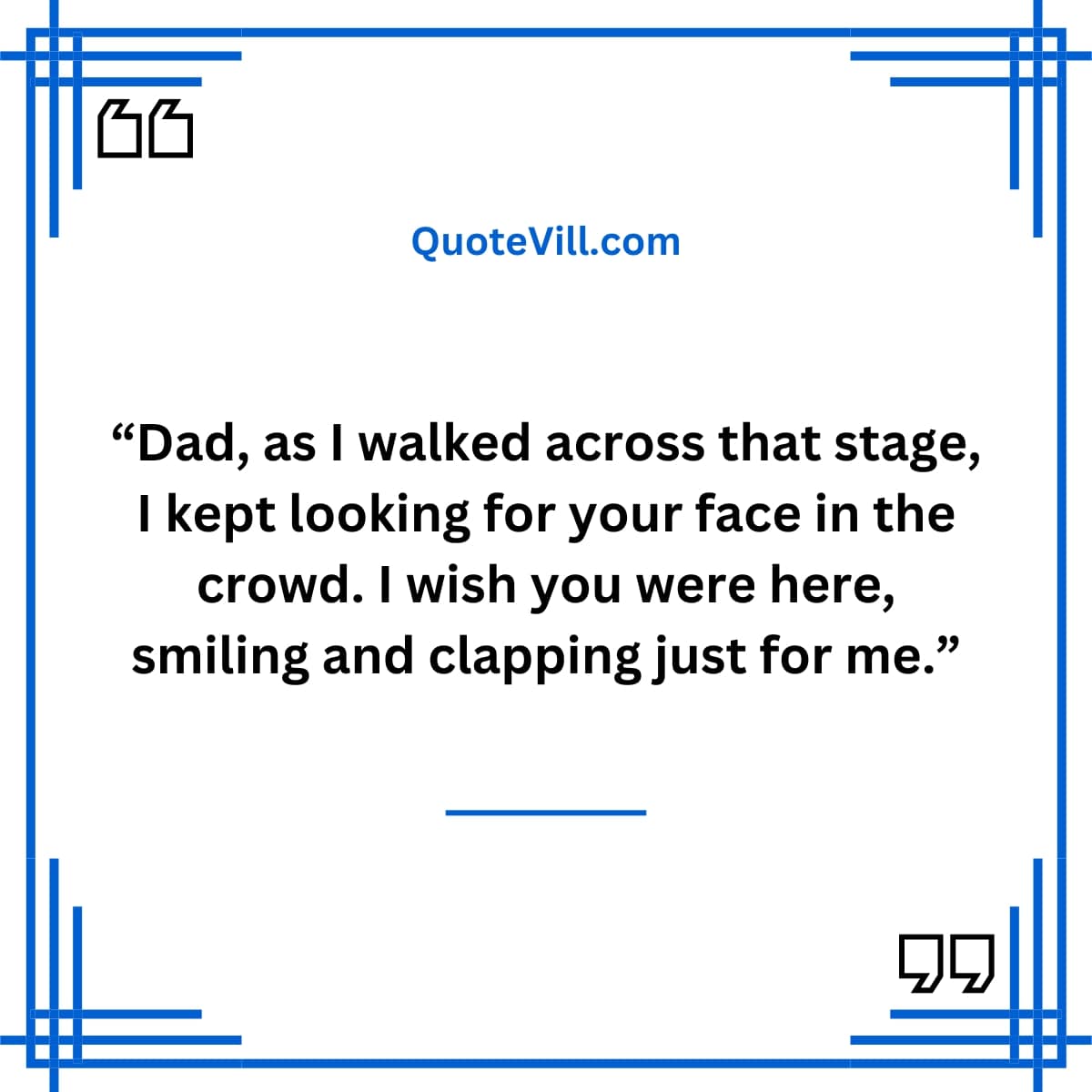 2. Wedding Day:
"When I put on my wedding dress, Dad, I remembered us dancing in the living room when I was a kid. How I wish you were here for our father-daughter dance."
3. Father's Day:
"Dad, Father's Day isn't the same without you. I miss picking out a card for you and seeing you smile as you read it."
4. Birth of First Child:
"Today, Dad, I held my daughter for the first time. I wish you were here to hold her too and be the amazing grandpa I know you'd be."
5. Buying First Home:
"I got the keys to my new house today, Dad. I really wish you were here to walk through it with me and share your thoughts."
6. On His Birthday:
"Dad, on your birthday, I can't help but miss your laughter and the joy we shared on this day. I hope you know how much I'm thinking of you."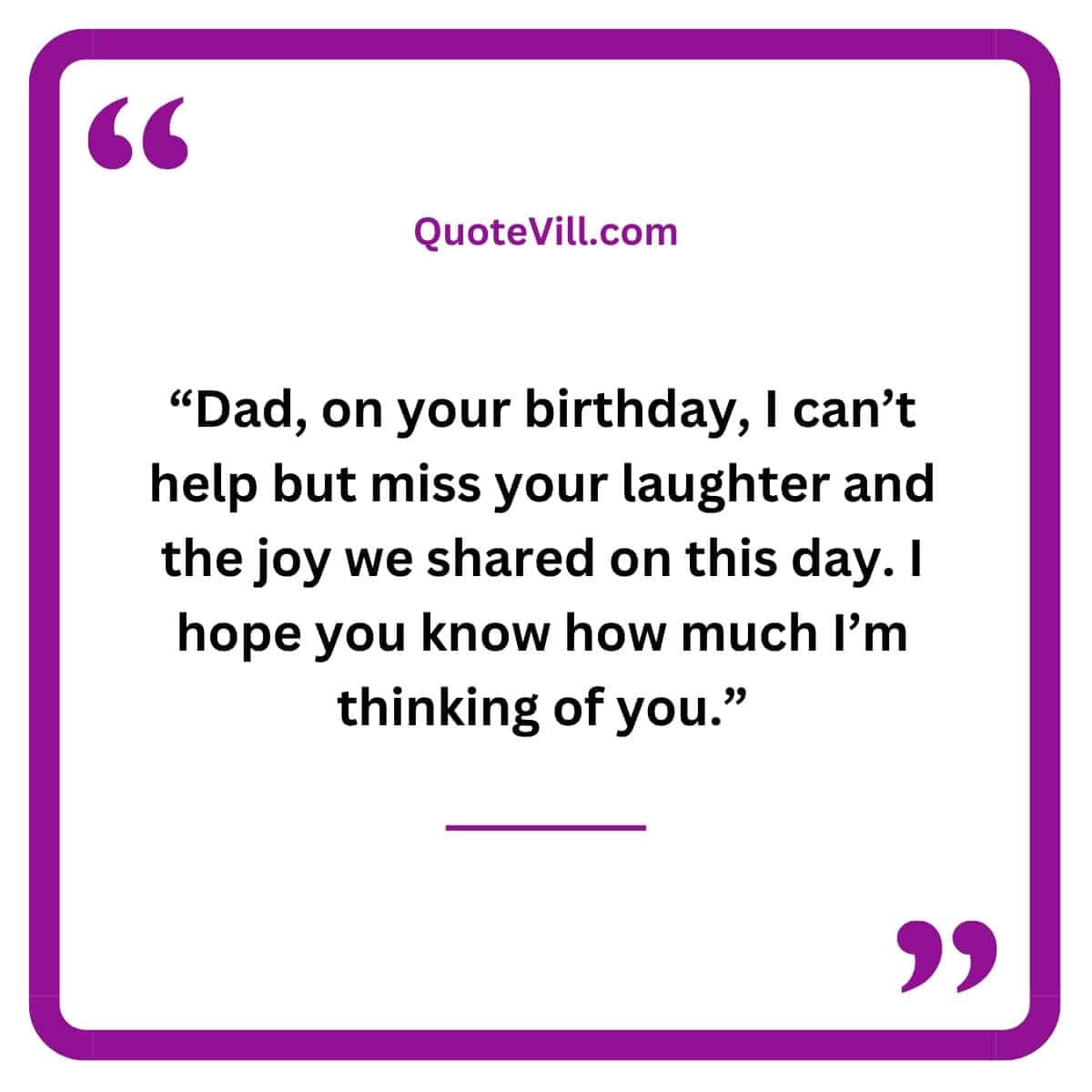 7. Christmas Morning:
"Waking up this Christmas morning, Dad, the house just felt quieter without you. I miss your joy that made the holiday special."
8. Job Promotion Celebration:
"I got the promotion, Dad! I wish we could go to our favorite restaurant tonight and celebrate, just you and me, laughing and sharing stories."
9. Retirement Party:
"At my retirement party, Dad, I found myself wishing so hard that you were there, proud and telling me stories about your own work days."
10. Cooking a Family Recipe:
"I cooked your famous spaghetti tonight, Dad. Each bite took me back to our times in the kitchen. God, I miss cooking with you."
To Conclude
Missing Dad is such a personal, deep ache. Reading  I miss you Dad quotes from daughters like me can be like a little hug to the heart, right? It's like these quotes say, "Hey, love doesn't have an expiration date – not by miles apart or even saying goodbye." These words are more than ink on paper. They're a nod to our awesome dads, who've helped make us who we are in big and small ways.