Napoleon Dynamite is a comic character, famous for his humor and unique personality that influenced others and affected the way they take on things. If someone wants to see how he thinks, they just have to read Napoleon Dynamite quotes and make themselves clear that they can achieve whatever they want.
"Napoleon Dynamite" is a 2004 American comedy film produced by Jeremy Coon, Chris Wyatt, Sean C. Covel, and Jory Weitz, and written by Jared and Jerusha Hess. The title character, played by Jon Heder, is a quirky and socially awkward teenager from a small Idaho town.
According to the story, Napoleon is an alienated student who wanted to do something for his fellow as well as his family. For this, he worked hard and made every effort that is necessary in order to make sure that he could do what he actually wanted. Napoleon Dynamite quotes explain that he was quite a unique person from other people as he used to say things that were not common or people couldn't even think of them in their normal lives.
With Napoleon Dynamite quotes, one thing was clear people should do what they have decided because if they want success and attain a significant position in society, it is important for them to follow their hearts instead of thinking what people would think or say. The rule of thumb is to always remember these quotes if someone doubts how to proceed ahead.
Napoleon Dynamite quotes also give new perspectives on analyzing and examining things. They allow people to think that whatever they see or think, it could be done and problems can be solved. They just have to focus and keep on doing what they have decided. Nothing will go wrong and things will turn out as expected.
Best 20 Napoleon Dynamite quotes
1. "Tina, you fat lard, come get some dinner!" – Napoleon Dynamite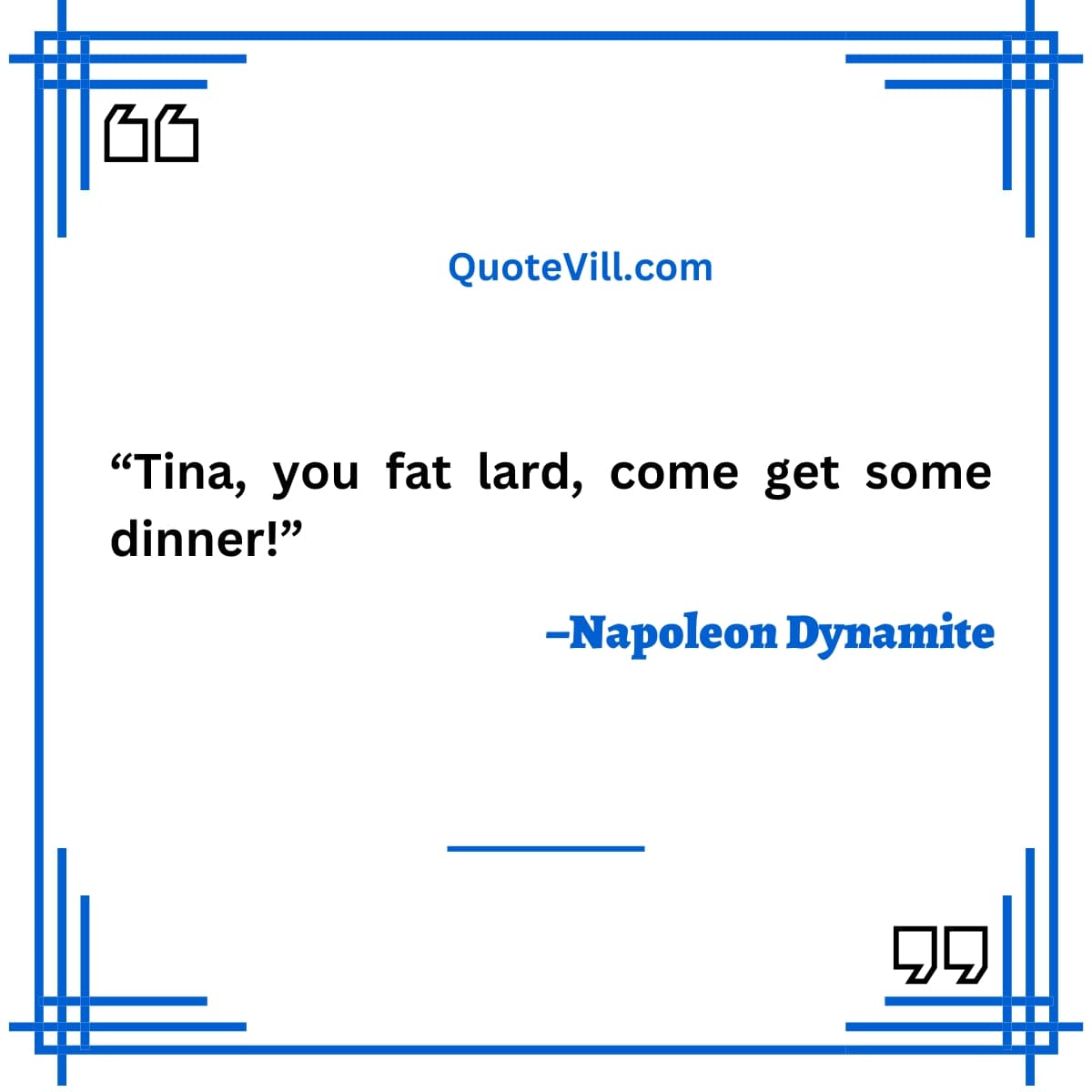 2. "Are you gonna eat your tots?" – Napoleon Dynamite
3. "Gosh!" – Napoleon Dynamite
4. "Vote for Pedro, and all your wildest dreams will come true." – Napoleon Dynamite
5. "It's pretty much my favorite animal. It's like a lion and a tiger mixed… bred for its skills in magic." – Napoleon Dynamite
6. "I caught you a delicious bass." – Napoleon Dynamite
7. "I see you're drinking 1%. Is that 'cause you think you're fat? 'Cause you're not. You could be drinking whole if you wanted to." – Napoleon Dynamite
8. "I don't even have any good skills. You know, like nunchuck skills, bow hunting skills, computer hacking skills." – Napoleon Dynamite
9. "Sweet! What kind of gun did you use?" – Napoleon Dynamite
10. "I spent it with my uncle in Alaska hunting wolverines!" – Napoleon Dynamite
11. "If I win, you can be my secretary or something." – Pedro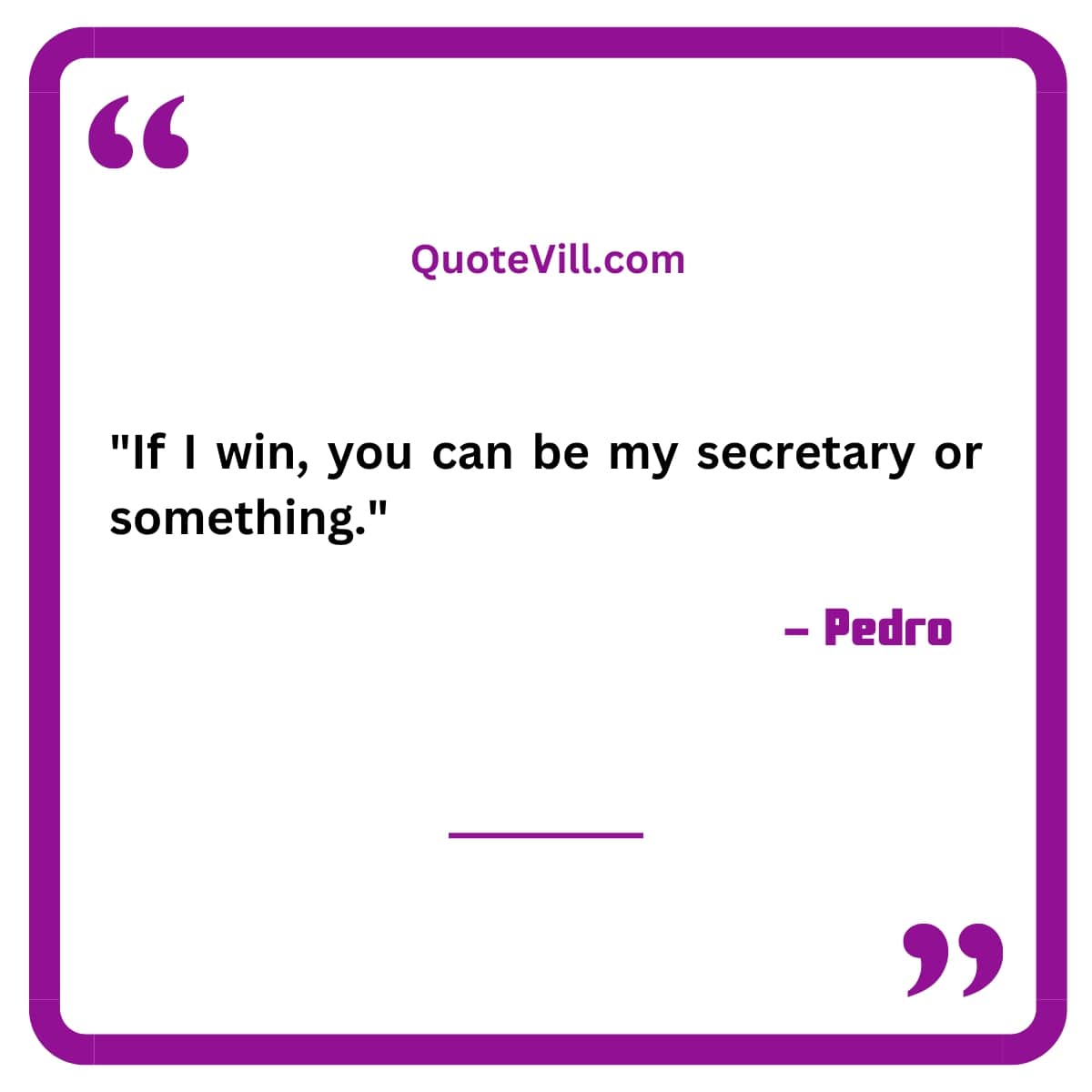 12. "Do you think people will vote for me?" – Pedro
13. "I don't understand a word you just said." – Pedro
14. "I'm trying to earn money for college." – Deb
15. "Your mom goes to college!" – Deb
16. "Back in '82, I used to be able to throw a pigskin a quarter mile." – Uncle Rico
17. "How much you wanna bet I can throw a football over them mountains?" – Uncle Rico
18. "You know, Napoleon, like anyone can even know that." – Uncle Rico
19. "Napoleon, don't be jealous that I've been chatting online with babes all day." – Kip
20. "I love technology, but not as much as you, you see. But I still love technology… Always and forever." – Kip
Hilarious 25 Napoleon Dynamite Quotes
21. "I see you're drinking 1%. Is that 'cause you think you're fat? 'Cause you're not. You could be drinking whole if you wanted to." – Napoleon Dynamite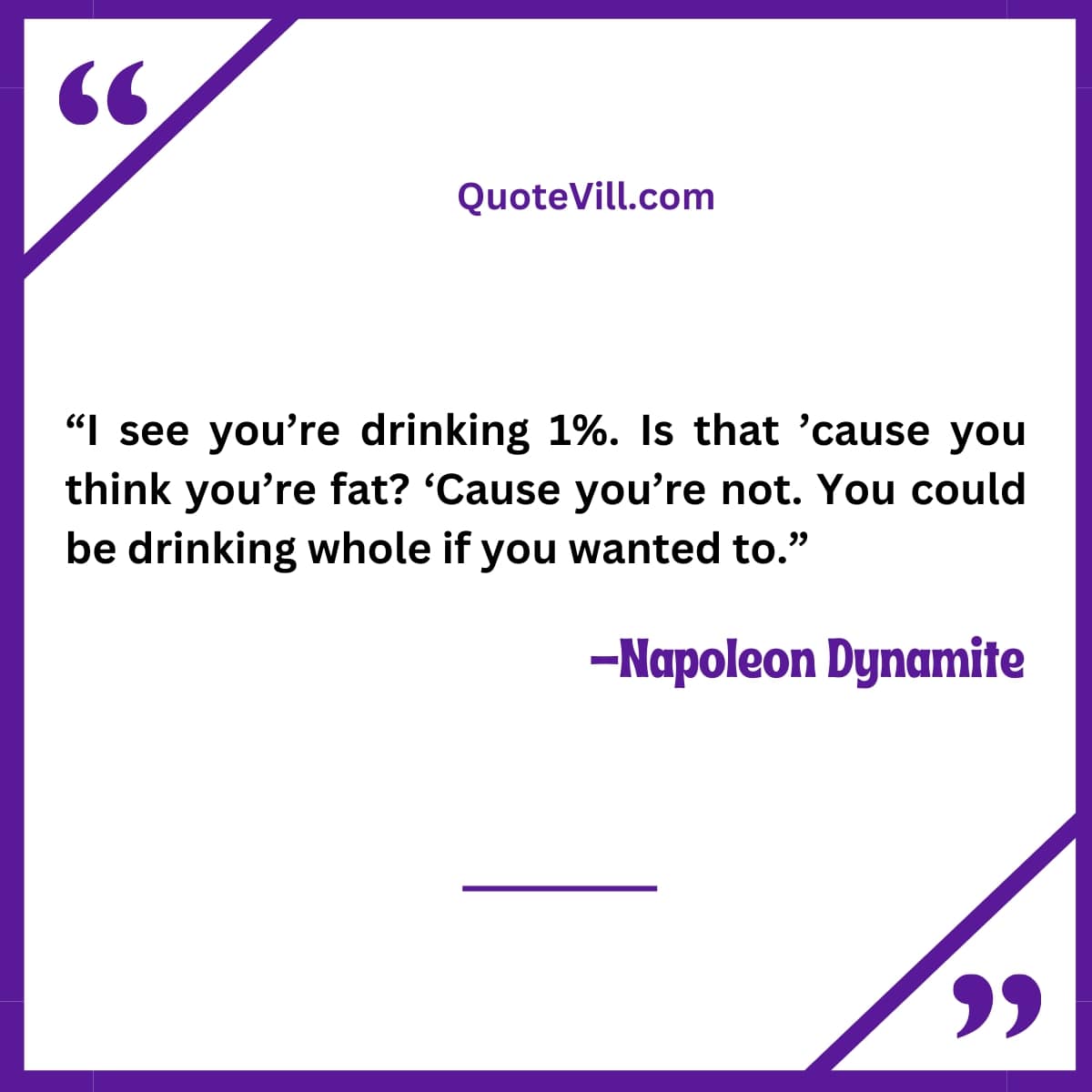 22. "Nunchuck skills… bow hunting skills… computer hacking skills… Girls only want boyfriends who have great skills!" – Napoleon Dynamite
23. "Well, I have all your equipment in my locker. You should probably come get it cause I can't fit my nunchucks in there anymore." – Napoleon Dynamite
24. "Just tell them that their wildest dreams will come true if they vote for you." – Napoleon Dynamite
25. "Last week, Japanese scientists explaced… placed explosive detonators at the bottom of Lake Loch Ness to blow Nessie out of the water. Sir Cort Godfrey of the Nessie Alliance summoned the help of Scotland's local wizards to cast a protective spell over the lake and its local residents and all those who seek for the peaceful existence of our underwater ally." – Napoleon Dynamite
26. "Well, things are getting pretty serious right now. I mean, we chat online for, like, two hours every day so I guess you could say things are gettin' pretty serious." – Kip
27. "Don't be jealous that I've been chatting online with babes all day. Besides, we both know that I'm training to be a cage fighter." – Kip
28. "Why don't you go eat a decroded piece of crap!" – Napoleon Dynamite
29. "I don't have any good skills. You know like nunchuck skills, bow hunting skills, computer hacking skills. Girls only like guys who have great skills!" – Napoleon Dynamite
30. "Your mom goes to college!" – Kip
31. "How much you wanna make a bet I can throw a football over them mountains?" – Uncle Rico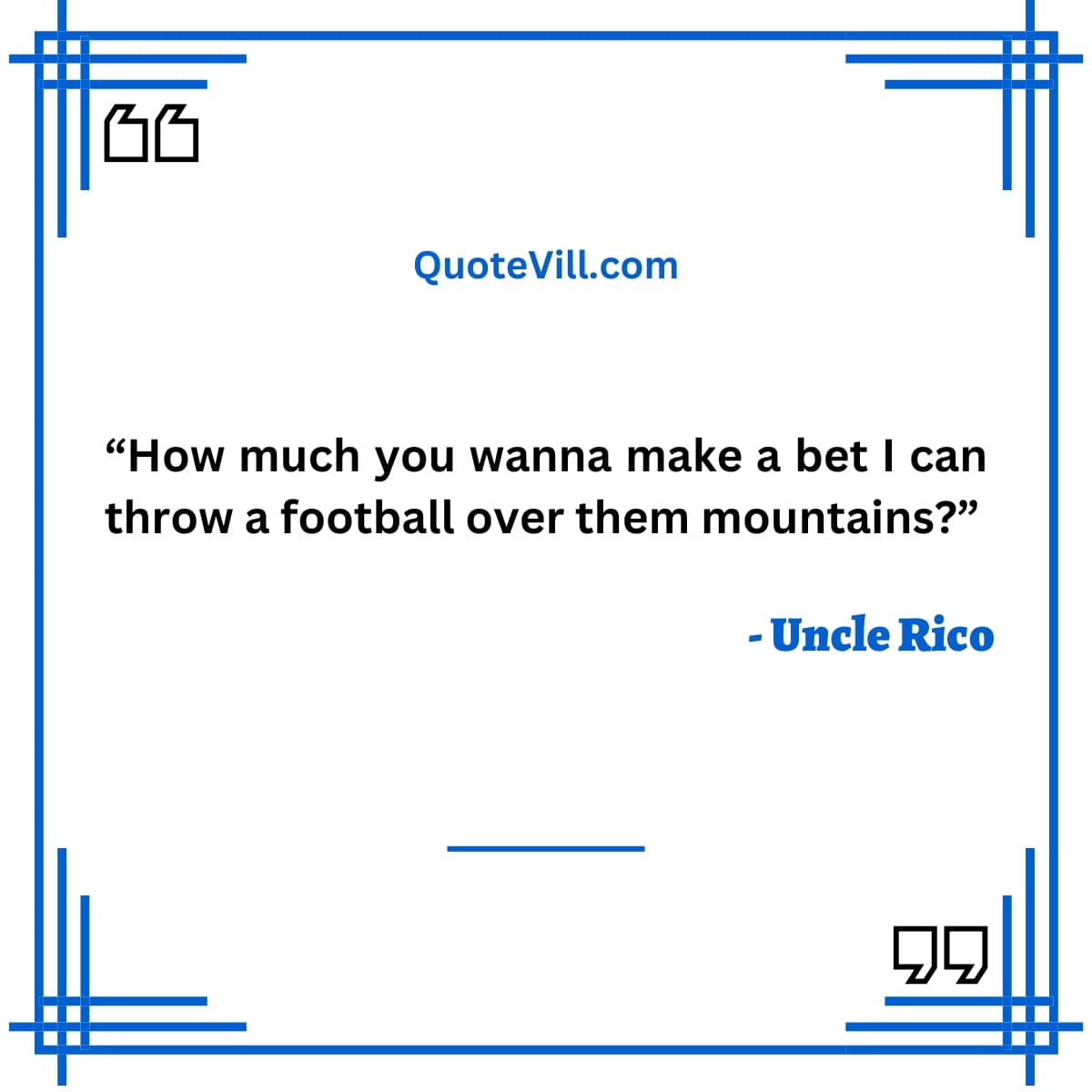 32. "Back in '82, I used to be able to throw a pigskin a quarter mile." – Uncle Rico
33. "It's a free country. I can do whatever I want, get off my back!" – Kip
34. "But my lips hurt real bad!" – Napoleon Dynamite
35. "I told you! I spent it with my uncle in Alaska hunting wolverines!" – Napoleon Dynamite
36. "This one gang kept wanting me to join because I'm pretty good with a bo staff." – Napoleon Dynamite
37. "Well, what is there to eat?" – Napoleon Dynamite
38. "Why do you got your hood on like that?" – Pedro
39. "Well, you have a sweet bike. And you're really good at hooking up with chicks. Plus you're like the only guy at school who has a mustache." – Napoleon Dynamite
40. "You guys are retarded!" – Napoleon Dynamite
41. "Whatever I feel like I wanna do. Gosh!" – Napoleon Dynamite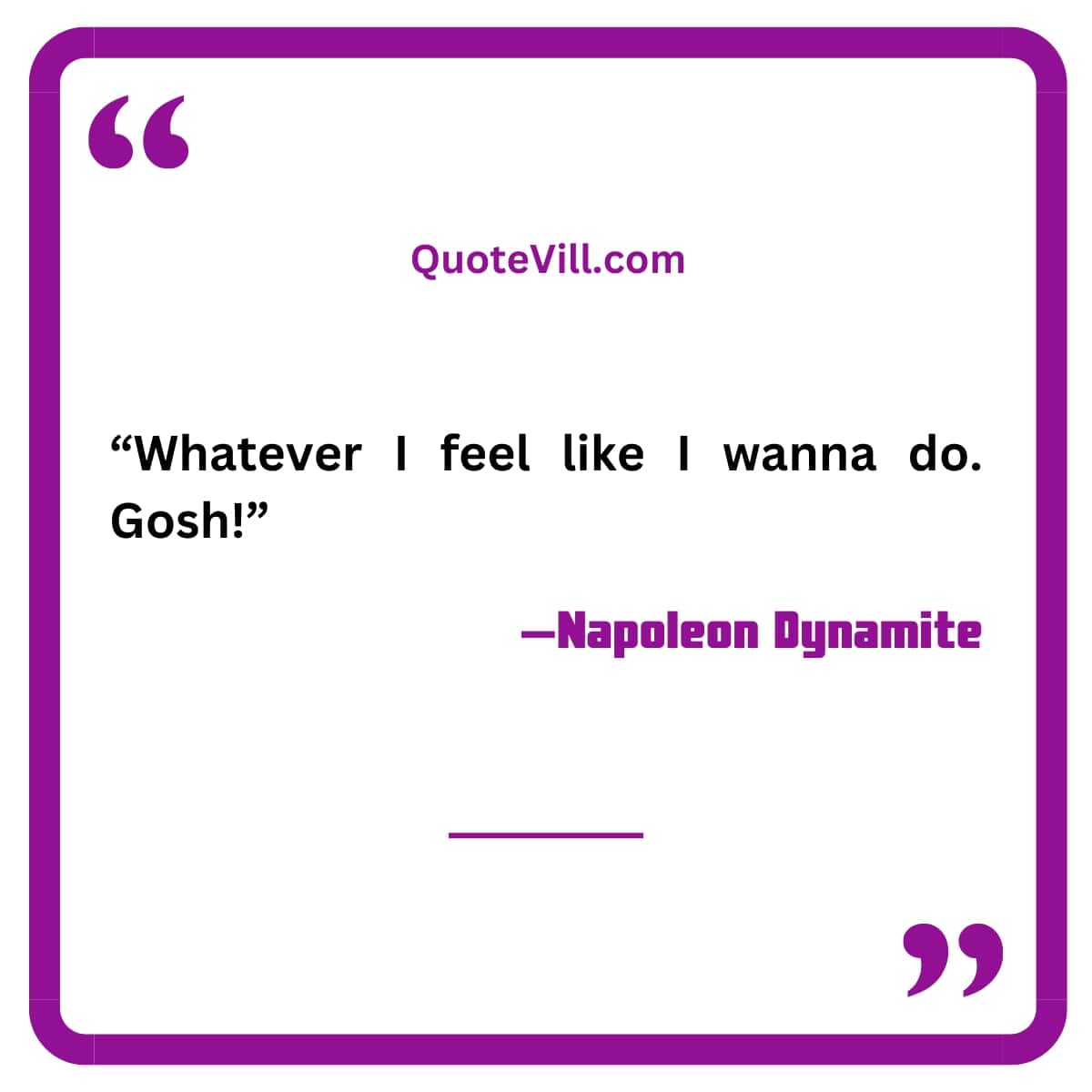 42. "It's called Rex Kwon Do! I'm a sensei. After one week with me in my dojo, you'll be prepared to defend yourself with the strength of a grizzly, the reflexes of a puma, and the wisdom of a man." – Rex
43. "Heck yes! I'd vote for you." – Napoleon Dynamite
44. "Do you think people will vote for me?" – Pedro
45. "Tina, come get some ham!" – Napoleon Dynamite