Do you wish to channel some inspiration because either you have no energy to move forward or no idea about how! Then let these never give up quotes remind you why you started this journey in the first place and that you've got what it takes to take the next step and then the other one!
Sometimes it is easier said than done. When the bills are piling up, everything and everyone seems to get to you, your inbox is flooding, and you start to feel the water rising, it's difficult to keep on going.
And often everything would be going fine yet we don't feel like facing another day. Be it any scenario, these quotes will make you keep going for another day and the day after that and so on.
Motivational Never Give Up Quotes
1. "It's not that I'm so smart, it's just that I stay with problems longer." – Albert Einstein
2. "I have not failed. I've just found 10,000 ways that won't work." – Thomas A. Edison
3. "It always seems impossible until it's done." – Nelson Mandela
4. "It does not matter how slowly you go as long as you do not stop." – Confucius
5. "You just can't beat the person who won't give up." – Babe Ruth
6. "Our greatest weakness lies in giving up. The most certain way to succeed is always to try just one more time." – Thomas Edison
7. "I've missed more than 9000 shots in my career. I've lost almost 300 games. 26 times, I've been trusted to take the game-winning shot and missed. I've failed over and over and over again in my life. And that is why I succeed." – Michael Jordan
8. "Never give in except to convictions of honor and good sense." – Winston Churchill
9. "The difference between a successful person and others is not a lack of strength, not a lack of knowledge, but rather a lack in will." – Vince Lombardi
10. "Perseverance is not a long race; it is many short races one after the other." – Walter Elliot
11. "Do not fear failure but rather fear not trying." – Roy T. Bennett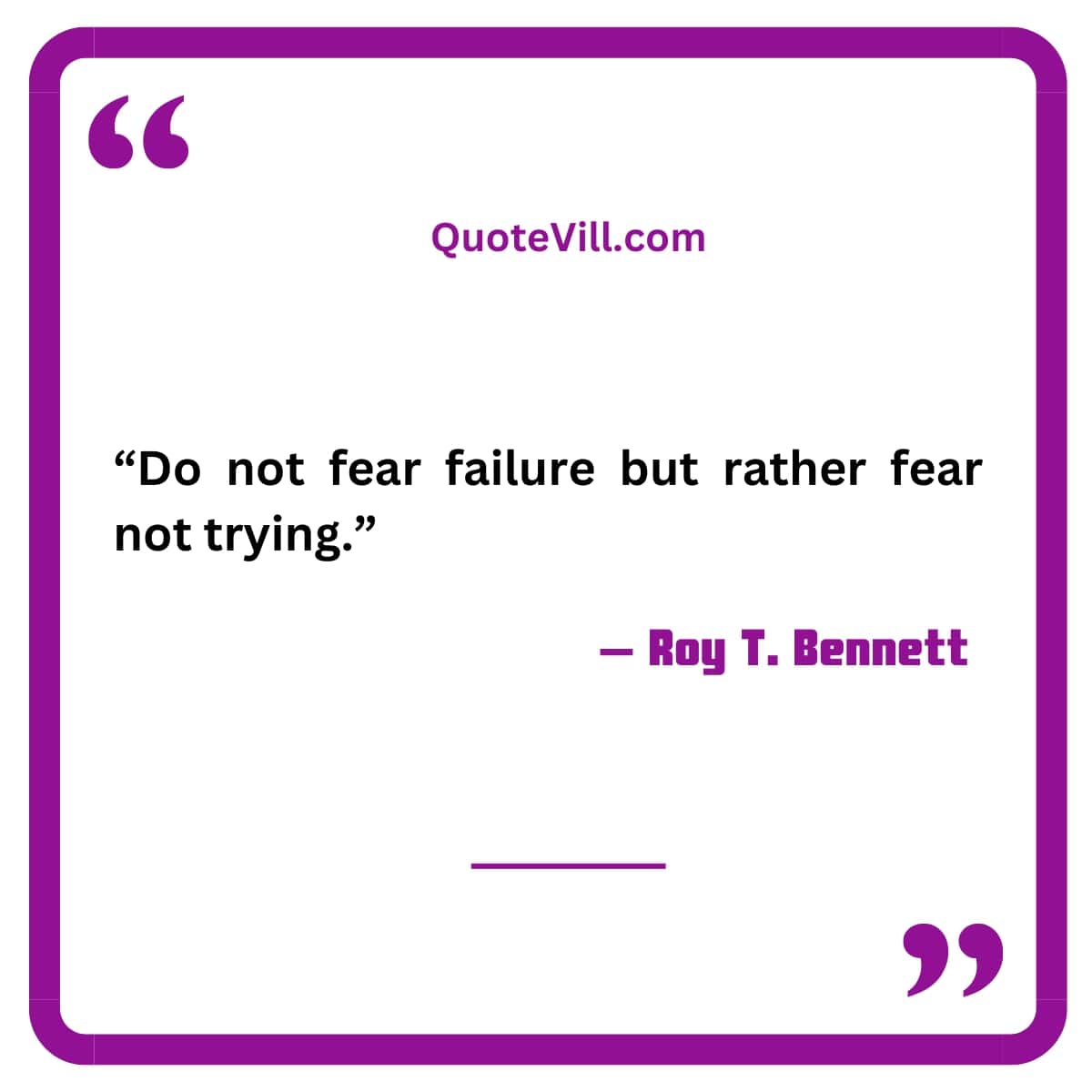 12. "It does not matter how many times you get knocked down, but how many times you get up." – Vince Lombardi
13. "The only thing that stands between you and your dream is the will to try and the belief that it is actually possible." – Joel Brown
14. "In the confrontation between the stream and the rock, the stream always wins- not through strength but by perseverance." – H. Jackson Brown
15. "When you get into a tight place and everything goes against you, till it seems as though you could not hang on a minute longer, never give up then, for that is just the place and time that the tide will turn." – Harriet Beecher Stowe
16. "Our greatest glory is not in never falling, but in rising every time we fall." – Confucius
17. "Most of the important things in the world have been accomplished by people who have kept on trying when there seemed to be no hope at all." – Dale Carnegie
18. "The best way out is always through." – Robert Frost
19. "I can accept failure, everyone fails at something. But I can't accept not trying." – Michael Jordan
20. "A champion is defined not by their wins but by how they can recover when they fall." – Serena Williams
See: 80 Motivational Success Quotes To Give You A Jumpstart
Religious Never Give Up Quotes
1. "I can do all things through Christ who strengthens me." – Philippians 4:13 (Bible)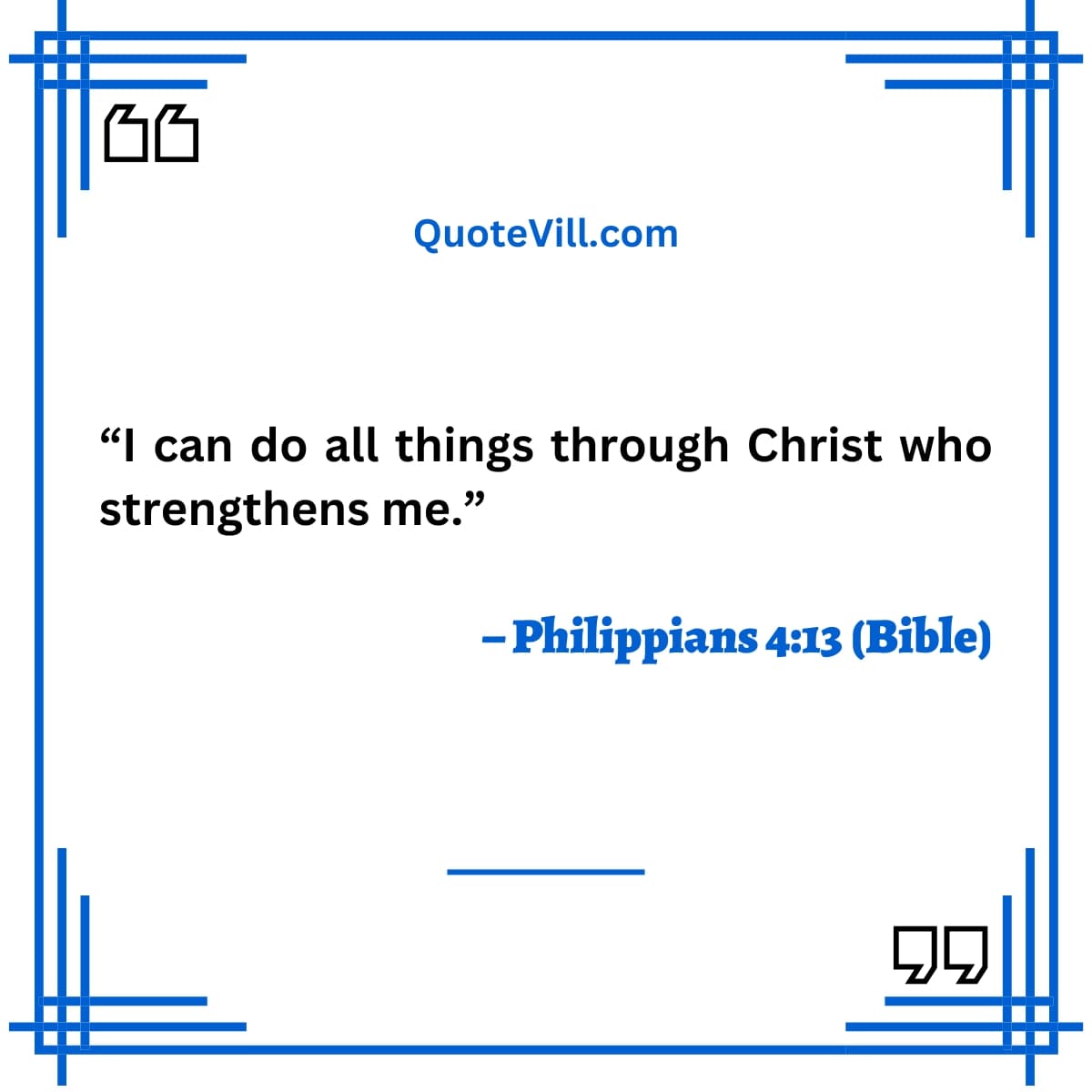 2. "For I know the plans I have for you," declares the LORD, "plans to prosper you and not to harm you, plans to give you hope and a future." – Jeremiah 29:11 (Bible)
3. "Therefore we do not lose heart. Though outwardly we are wasting away, yet inwardly we are being renewed day by day." – 2 Corinthians 4:16 (Bible)
4. "But those who hope in the LORD will renew their strength. They will soar on wings like eagles; they will run and not grow weary, they will walk and not be faint." – Isaiah 40:31 (Bible)
5. "Indeed, Allah is with the patient." – Quran 2:153
6. "And when My servants ask you concerning Me, indeed I am near. I respond to the invocation of the supplicant when he calls upon Me." – Quran 2:186
7. "He gives power to the weak and strength to the powerless." – Isaiah 40:29 (Bible)
8. "And let us not grow weary of doing good, for in due season we will reap, if we do not give up." – Galatians 6:9 (Bible)
9. "The Lord will fight for you; you need only to be still." – Exodus 14:14 (Bible)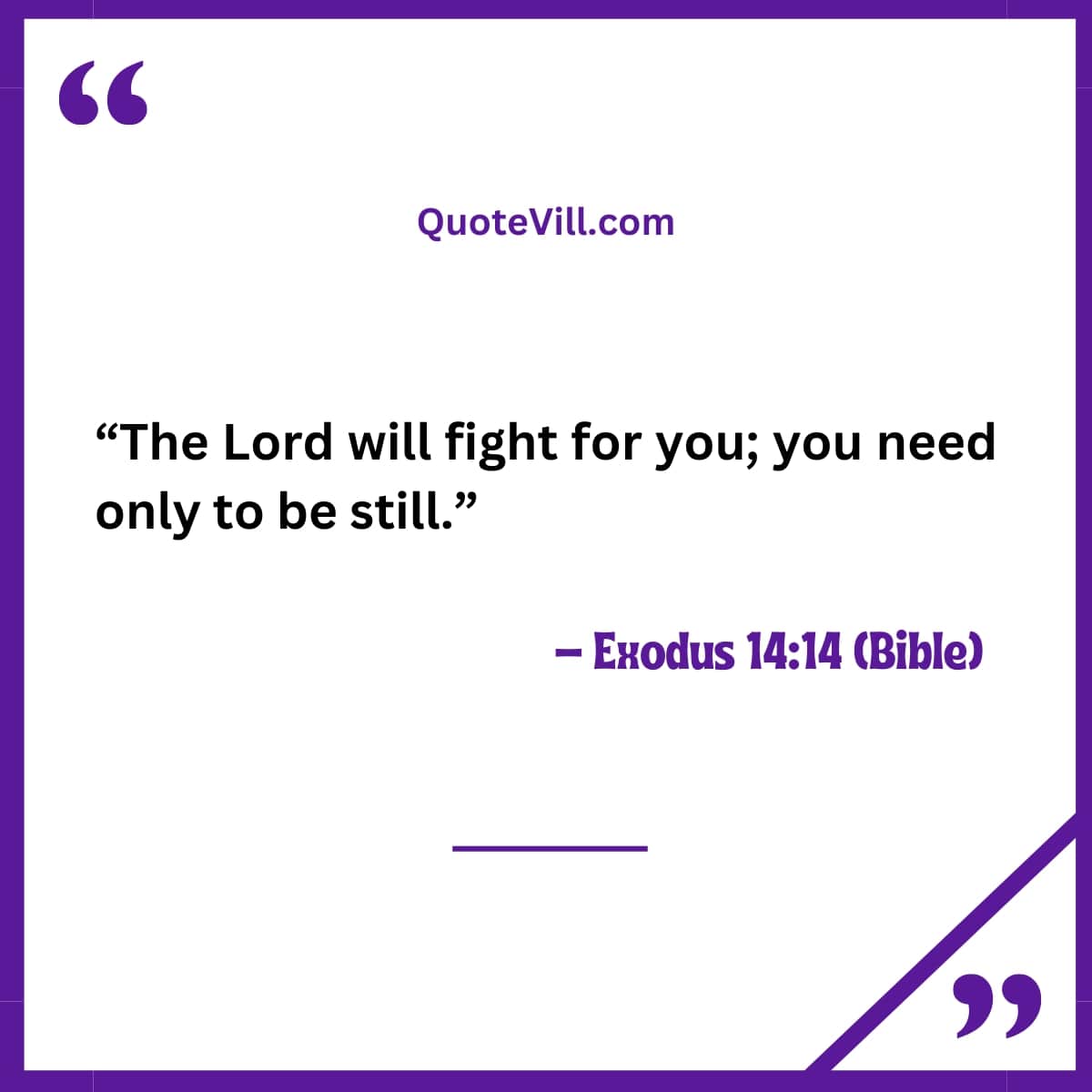 10. "Trust in the LORD with all your heart and lean not on your own understanding; in all your ways submit to him, and he will make your paths straight." – Proverbs 3:5-6 (Bible)
11. "By patience, a commander is induced, and a soft tongue can break a bone." – Proverbs 25:15 (Bible)
12. "Be strong and courageous. Do not be afraid or terrified because of them, for the LORD your God goes with you; he will never leave you nor forsake you." – Deuteronomy 31:6 (Bible)
13. "The tests of life are to make, not break us. Trouble may demolish a man's business but build his character. The blow at the outward man may be the greatest blessing to the inner man." – A.W. Tozer
14. "So do not fear, for I am with you; do not be dismayed, for I am your God. I will strengthen you and help you; I will uphold you with my righteous right hand." – Isaiah 41:10 (Bible)
15. "Endure hardship as discipline; God is treating you as his children. For what children are not disciplined by their father?" – Hebrews 12:7 (Bible)
Never Give Up On Love Quotes
1. "Love is not about giving up, it's about finding the strength to keep going."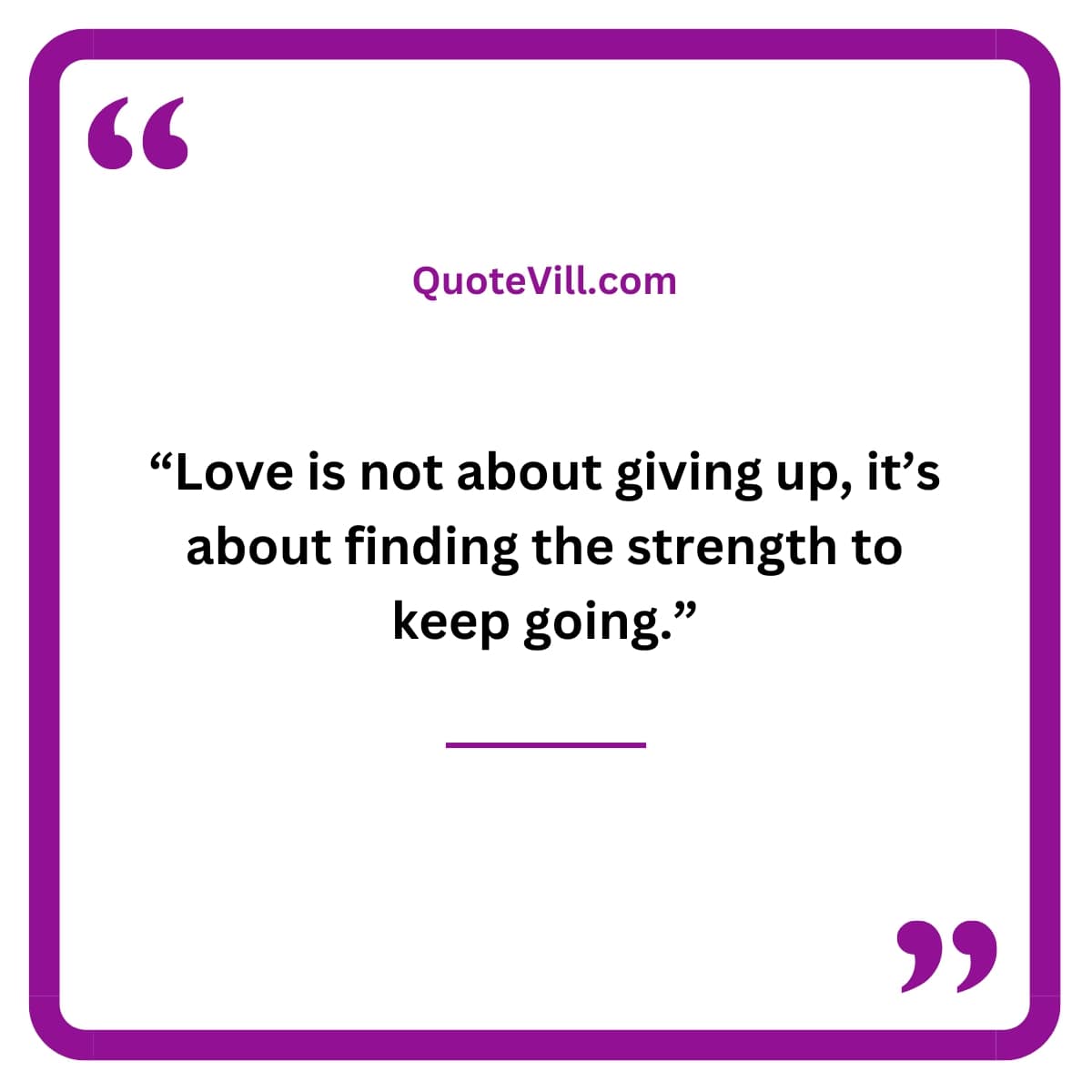 2. "Sometimes, the road to true love is long and challenging, but it's worth every step."
3. "True love is worth fighting for, never give up on it."
4. "When you find love, hold onto it with all your might, never give up on it."
5. "Love isn't always easy, but it's always worth it. Don't give up on it."
6. "The greatest love stories are the ones where they never gave up on each other."
7. "Love is not a game of giving up, it's a game of perseverance."
8. "In the end, love always wins. So never give up on it."
9. "Love is a journey, and even if it gets tough, never give up on it."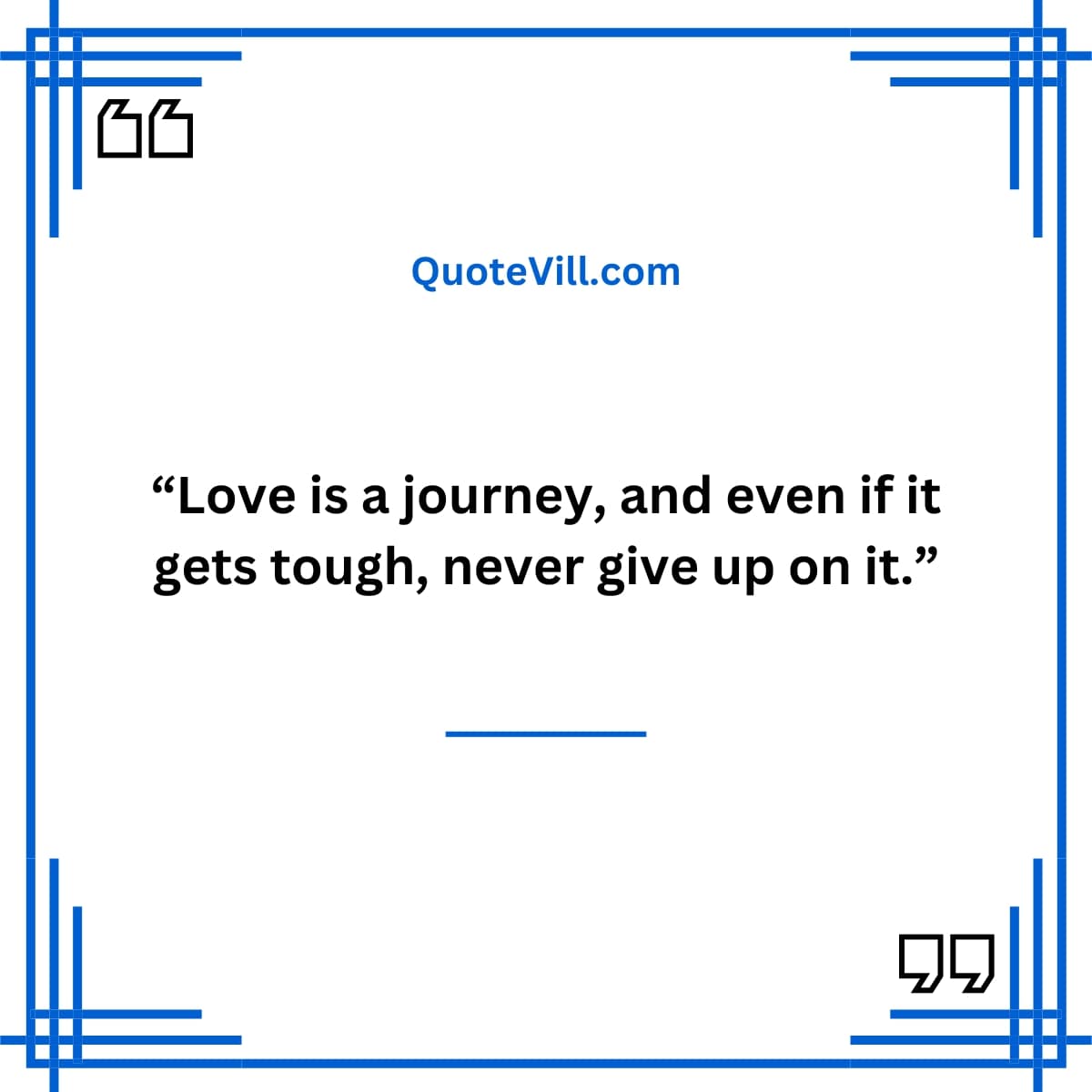 10. "Love doesn't give up, it keeps on hoping and believing."
11. "Love is like a flower, it needs nurturing and care. Don't give up on it."
12. "True love doesn't give up, it fights for what it believes in."
13. "Love is worth every tear, every sacrifice, and every moment of doubt. Never give up on it."
14. "Love is a constant battle, but one that is worth fighting for. Don't give up on it."
15. "Never give up on love, because it's the most beautiful thing that can happen to you."
Final Thoughts
never give up quotes serve as a reminder to persevere even in the face of challenges and setbacks. They inspire us to keep pushing forward, to believe in ourselves, and to stay resilient on our journey towards success. These quotes remind us that failure is not permanent, but rather a stepping stone towards growth and improvement.