Quotes about change will remind you that change is the only constant and that humans are creatures of habit. So, when there is a change, we face a challenge because we always feel secure and comfortable in a consistent life, but change is unsettling.
But we must remember that change can also give us new opportunities. So, to achieve something great, we should always embrace change. We indeed feel nervous and scared whenever we think of change, but sometimes change can be good too.
Positive changes are always welcome, but unwanted ones are tough to accept. But our elders say that everything happens for the good. Thus, even in adverse situations, too, we should see the positive side and hope for a better tomorrow with new possibilities.
Change always brings us out of our comfort zones and makes us explore the unknown. So, here are some Quotes about Change to help you go through the tough times and grow accordingly by adapting to the change.
Inspirational Quotes About Change
1. "Change is the law of life. And those who look only to the past or present are certain to miss the future." – John F. Kennedy
2. "Be the change that you wish to see in the world." – Mahatma Gandhi
3. "Everyone thinks of changing the world, but no one thinks of changing himself." – Leo Tolstoy
4. "The only way to make sense out of change is to plunge into it, move with it, and join the dance." – Alan Watts
5. "You must be the change you want to see in the world." – Mahatma Gandhi
6. "The world as we have created it is a process of our thinking. It cannot be changed without changing our thinking." – Albert Einstein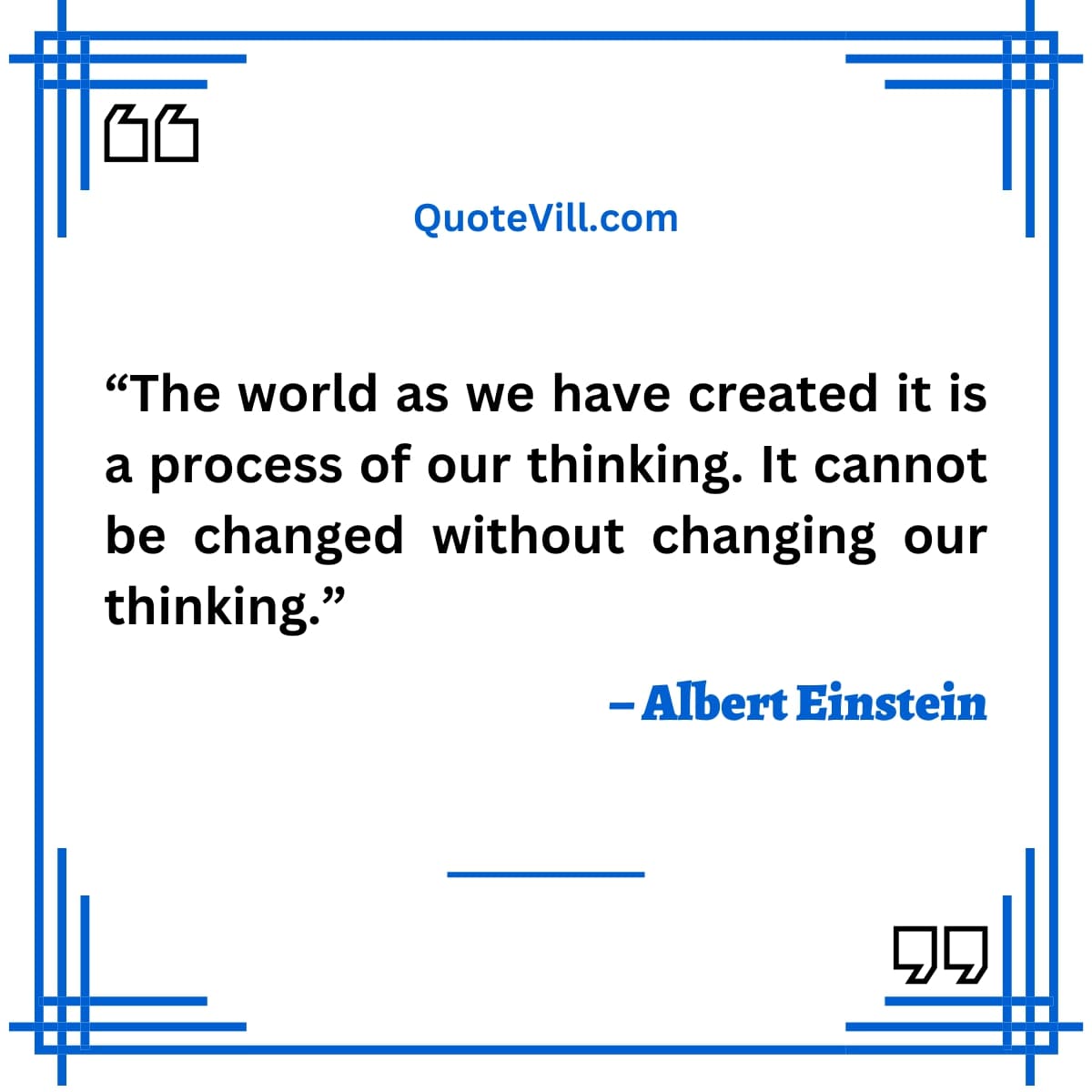 7. "To improve is to change; to be perfect is to change often." – Winston Churchill
8. "Change is inevitable. Growth is optional." – John C. Maxwell
9. "Life is a series of natural and spontaneous changes. Don't resist them; that only creates sorrow. Let reality be reality. Let things flow naturally forward in whatever way they like." – Lao Tzu
10. "If we don't change, we don't grow. If we don't grow, we aren't really living." – Gail Sheehy
Quotes About Change And Growth
1. "Change is inevitable. Growth is intentional." – Gloria Gaither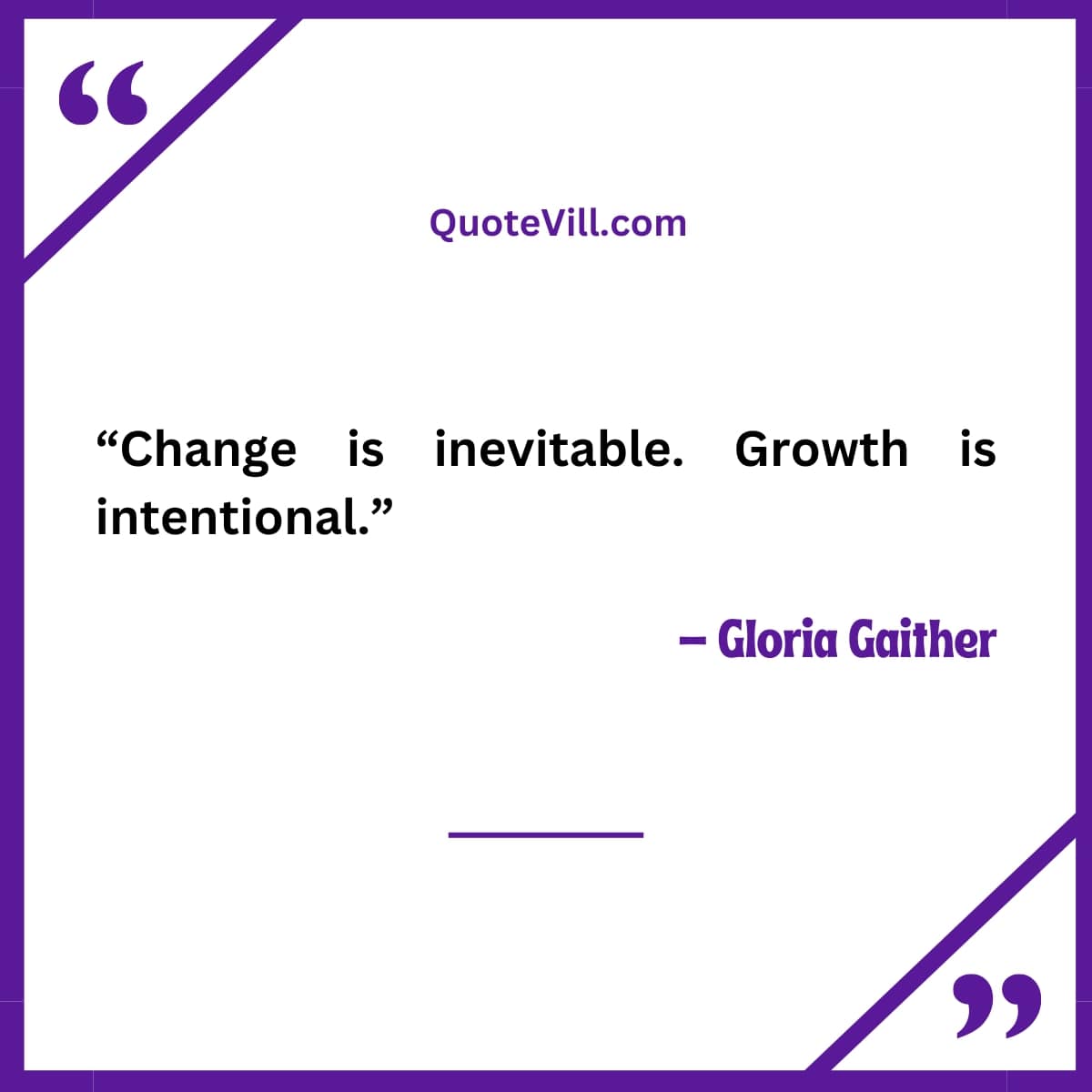 2. "Growth is never by mere chance; it is the result of forces working together." – James Cash Penney
3. "Growth itself contains the germ of happiness." – Pearl S. Buck
4. "Without change, there is no innovation, creativity, or incentive for improvement. Those who initiate change will have a better opportunity to manage the change that is inevitable." – William Pollard
5. "We can't become what we want by remaining what we are." – Max DePree
6. "There are no great limits to growth because there are no limits of human intelligence, imagination, and wonder." – Ronald Reagan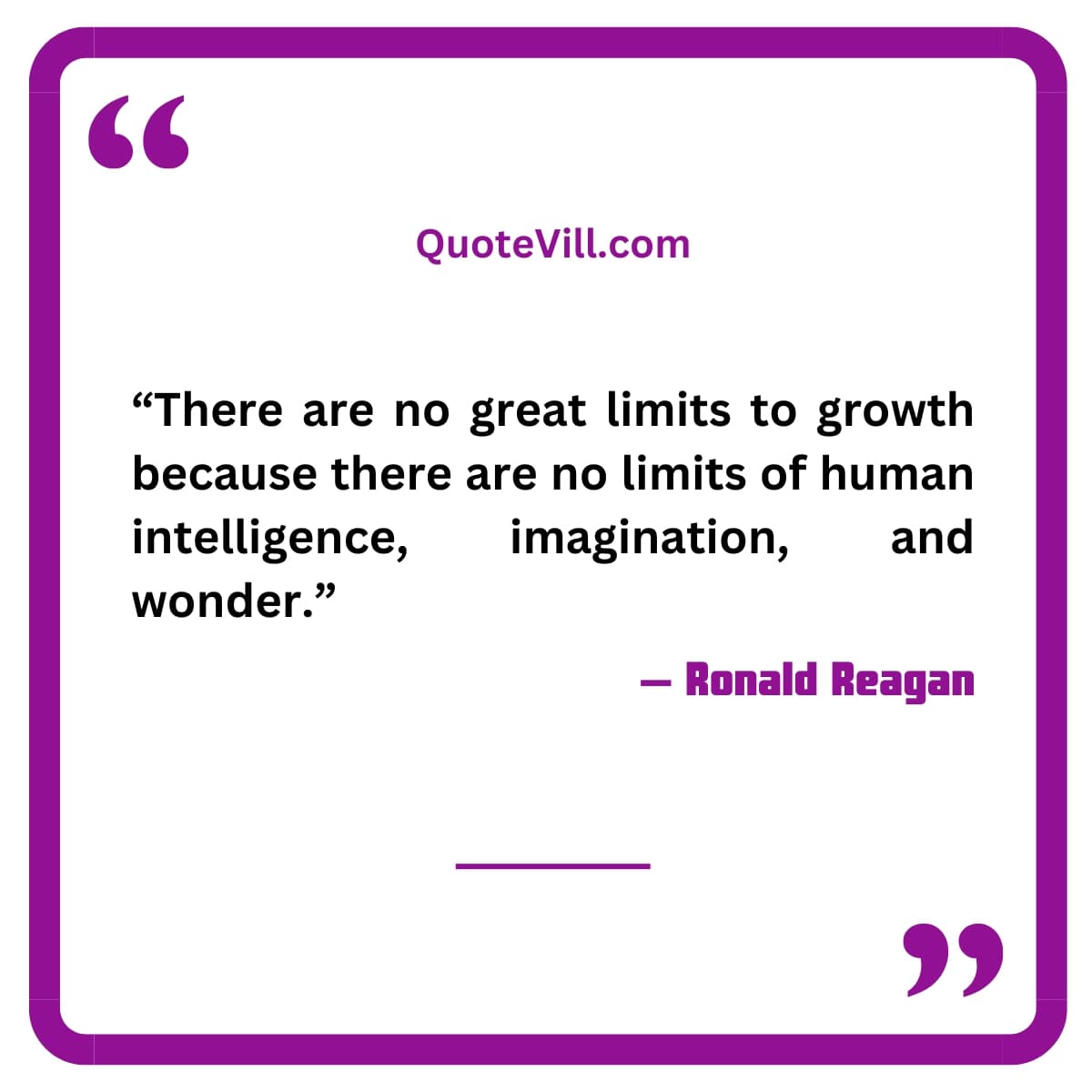 7. "Growth and comfort do not coexist." – Ginni Rometty
8. "The key to growth is the introduction of higher dimensions of consciousness into our awareness." – Lao Tzu
9. "Change is growth. For me it has been a very spiritual and musical rebirth." – Lenny Kravitz
10. "All change is not growth, as all movement is not forward." – Ellen Glasgow
Famous Quotes About Change
1. "It is not the strongest of the species that survive, nor the most intelligent, but the one most responsive to change." – Charles Darwin
2. "Things change. And friends leave. Life doesn't stop for anybody." – Stephen Chbosky, "The Perks of Being a Wallflower"
3. "Change is hard at first, messy in the middle and gorgeous at the end." – Robin Sharma
4. "The only thing that is constant is change." – Heraclitus
5. "When we are no longer able to change a situation, we are challenged to change ourselves." – Viktor E. Frankl
6. "If you change the way you look at things, the things you look at change." – Wayne Dyer
7. "Change your thoughts and you change your world." – Norman Vincent Peale
8. "One day or day one. You decide." – Paulo Coelho
9. "Your life does not get better by chance, it gets better by change." – Jim Rohn
10. "The snake which cannot cast its skin has to die. As well the minds which are prevented from changing their opinions; they cease to be mind." – Friedrich Nietzsche
Motivational Quotes About Transformation
1. "Transformation is not five minutes from now; it's a present activity. In this moment you can make a different choice, and it's these small choices and successes that build up over time to help cultivate a healthy self-image and self-esteem." – Jillian Michaels
2. "Transformation isn't sweet and bright. It's a dark and murky, painful pushing. An unraveling of the untruths you've carried in your body. A practice in facing your own created demons. A complete uprooting, before becoming." – Victoria Erickson
3. "Every next level of your life will demand a different version of you." – Unknown
4. "The wings of transformation are born of patience and struggle." – Janet S. Dickens
5. "Nothing happens until the pain of remaining the same outweighs the pain of change." – Arthur Burt
6. "Personal transformation can and does have global effects. As we go, so goes the world, for the world is us. The revolution that will save the world is ultimately a personal one." – Marianne Williamson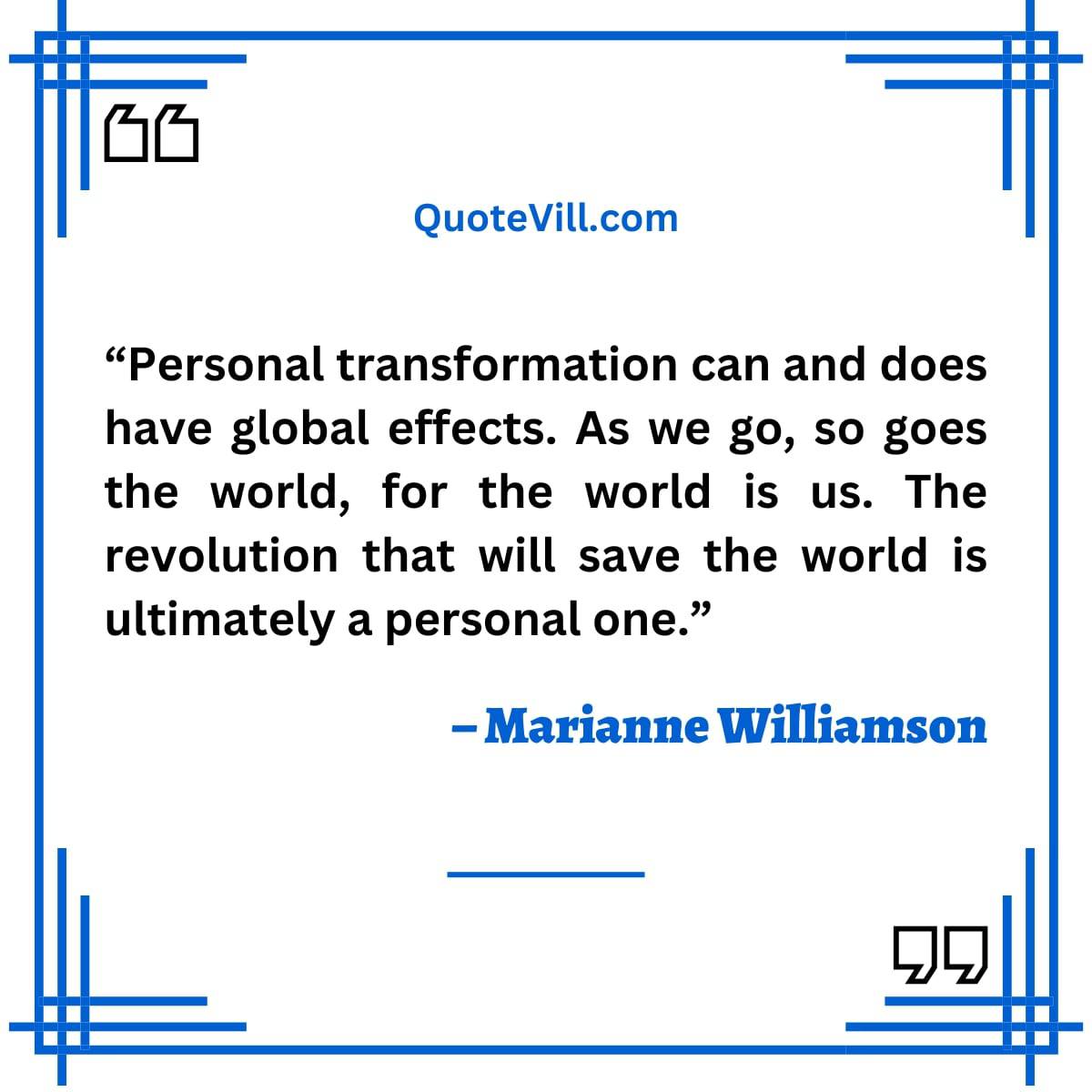 7. "What we fear of doing most is usually what we most need to do." – Ralph Waldo Emerson
8. "Embrace uncertainty. Some of the most beautiful chapters in our lives won't have a title until much later." – Bob Goff
9. "If you always do what you've always done, you'll always be where you've always been." – T.D. Jakes
10. "And the day came when the risk to remain tight in a bud was more painful than the risk it took to blossom." – Anaïs Nin
Life Transition Quotes
1. "There are far better things ahead than any we leave behind." – C.S. Lewis
2. "The only way to make sense out of change is to plunge into it, move with it, and join the dance." – Alan Watts
3. "Growth is painful. Change is painful. But, nothing is as painful as staying stuck where you do not belong." – N. R. Narayana Murthy
4. "Life is a series of natural and spontaneous changes. Don't resist them; that only creates sorrow. Let things flow naturally forward in whatever way they like." – Lao Tzu
5. "Endings to be useful must be inconclusive." – Samuel R. Delany
6. "Transition isn't pretty, but stagnation is hideous." – Nikki Rowe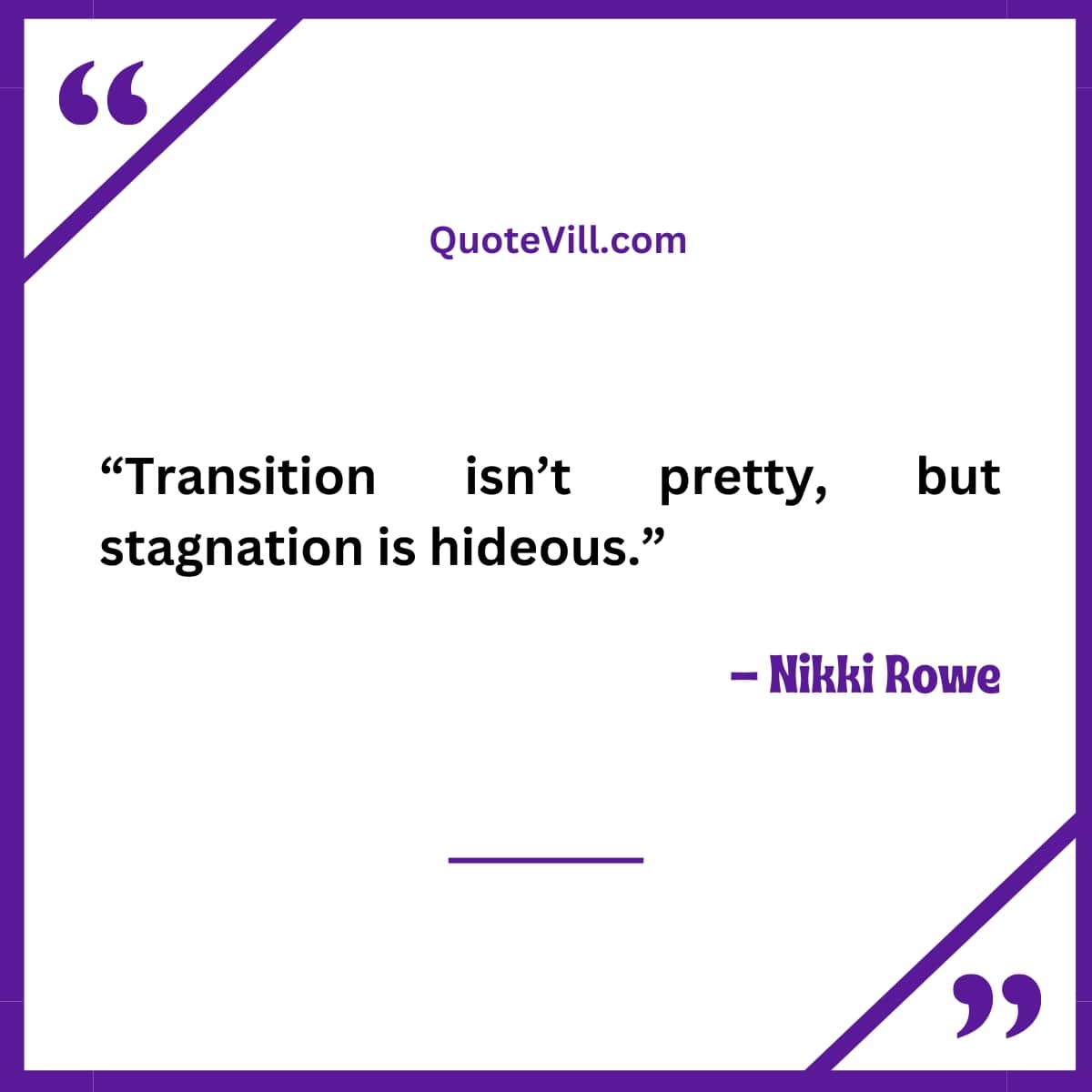 7. "The world is round and the place which may seem like the end may also be the beginning." – Ivy Baker Priest
8. "We must be willing to let go of the life we've planned, so as to have the life that is waiting for us." – Joseph Campbell
9. "Stepping onto a brand-new path is difficult, but not more difficult than remaining in a situation, which is not nurturing to the whole woman." – Maya Angelou
10. "Some of life's best lessons are learned at the worst times." – Unknown
Positive Quotes About Change
1. "Change is the end result of all true learning." – Leo Buscaglia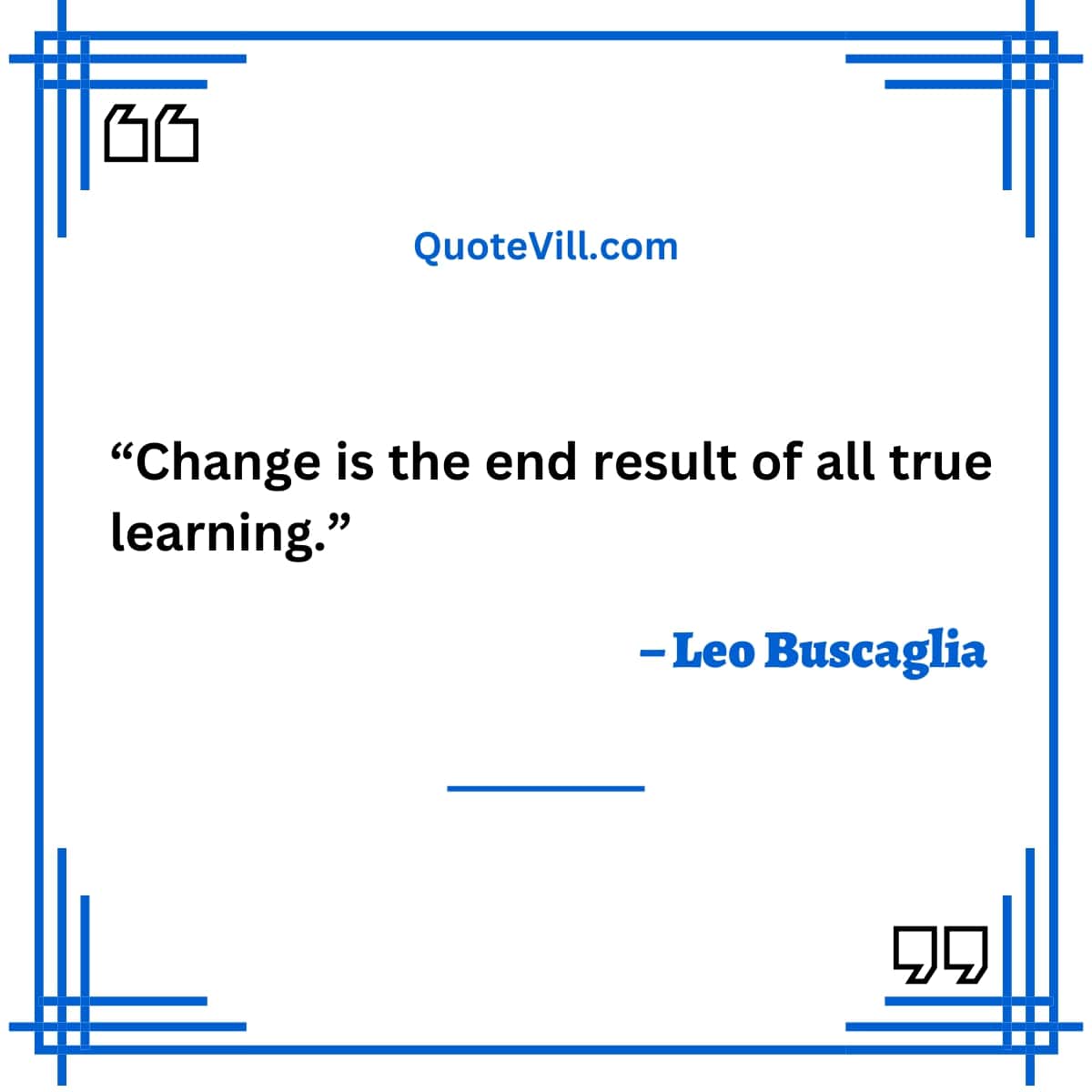 2. "Change your life today. Don't gamble on the future, act now, without delay." – Simone de Beauvoir
3. "The greatest discovery of all time is that a person can change his future by merely changing his attitude." – Oprah Winfrey
4. "Progress is impossible without change, and those who cannot change their minds cannot change anything." – George Bernard Shaw
5. "To change one's life: Start immediately. Do it flamboyantly. No exceptions." – William James
6. "You cannot change your future, but you can change your habits, and surely your habits will change your future." – Dr. A.P.J. Abdul Kalam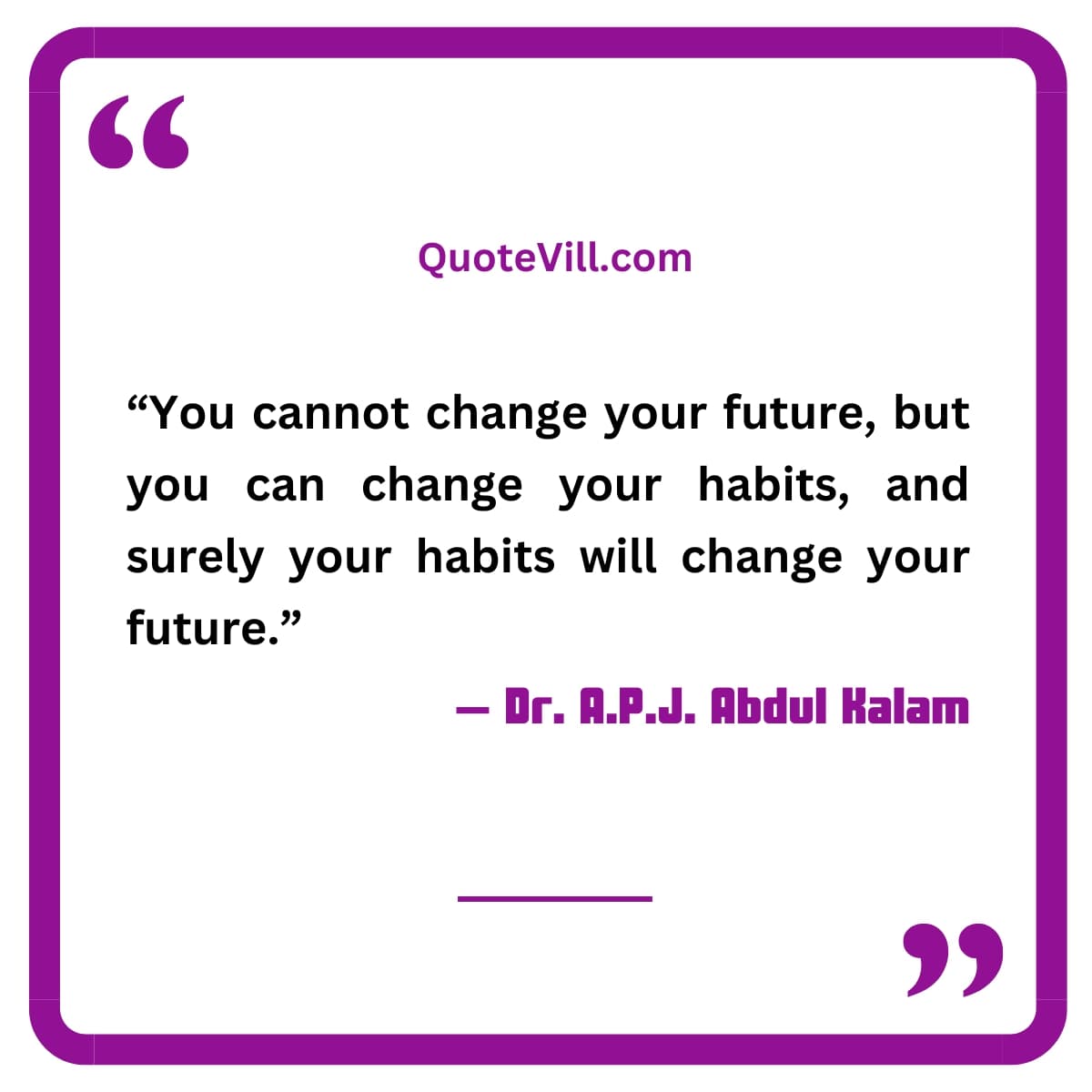 7. "Your life does not get better by chance, it gets better by change." – Jim Rohn
8. "Change is the process by which the future invades our lives, and the past recedes into irrelevance." – Alvin Toffler
9. "Change is inevitable in life. You can either resist it and potentially get run over by it, or you can choose to cooperate with it, adapt to it, and learn how to benefit from it. When you embrace change you will begin to see it as an opportunity for growth." – Jack Canfield
10. "Life will only change when you become more committed to your dreams than you are to your comfort zone." – Billy Cox