Retirement is the beginning of the second innings of your life. So, celebrate it with heartwarming retirement quotes that will recognize your sad emotions and give you hope for a new tomorrow. Thus, retiring from a job is an emotional affair for people who have invested their entire life in their professional sphere.
While working in a professional field, people meet many individuals who become helpful colleagues. Hence, leaving that job feels like saying goodbye to a part of your life.
However, retirement shouldn't be the end of professional commitments and social communication. Instead, use it as an opportunity to find a new unexplored avenue.
Often, people who retire from their jobs feel distressed, and our retirement quotes infuse new inspiration among retired people. If you know someone who is about to retire or has recently retired from their job, send them one of our retirement quotes, and we can assure you that they will feel glad to read our heartwarming quotes.
How Do You Write A Good Retirement Message?
Writing a good retirement message involves expressing appreciation for the retiree's work, acknowledging the significance of the occasion, and wishing the person well in their new chapter of life. Here are some tips to help you write a thoughtful retirement message:
Start with a Personal Greeting: Begin your message with a simple greeting that addresses the retiree by name.
Express Gratitude: Highlight their contributions and thank them for the time and dedication they've put into their work.
Reflect on Memories: If you've shared memorable experiences or learned something valuable from the retiree, mention those moments. This can make your message more personal and meaningful.
Discuss Their Impact: Speak about how the retiree has positively impacted the workplace or your own work experience.
Share Well-Wishes for the Future: Mention some of the retiree's future plans, if you know them, and express your wishes for a relaxing and enjoyable retirement. If you don't know specific plans, general well-wishes for happiness, health, and fulfillment are always appreciated.
Sign Off: End with a warm closing and sign your name. Your closing could be as simple as "Best Wishes," "With appreciation," or "Here's to new adventures!"
20 Inspirational Retirement Quotes
1. "The question isn't at what age I want to retire, it's at what income." – George Foreman
2. "Retirement is not the end of the road. It is the beginning of the open highway." – Unknown
3. "The trouble with retirement is that you never get a day off." – Abe Lemons
4. "Don't simply retire from something; have something to retire to." – Harry Emerson Fosdick
5. "Retirement is a time to experience a fulfilling life derived from many enjoyable and rewarding activities." – Ernie J Zelinski
6. "Retirement means doing whatever I want to do. It means choice." – Dianne Nahirny
7. "There's one thing I always wanted to do before I quit…retire!" – Groucho Marx
8. "There is a whole new kind of life ahead, full of experiences just waiting to happen. Some call it retirement. I call it bliss." – Betty Sullivan
9. "Retirement, a time to enjoy all the things you never had time to do when you worked." – Unknown
10. "Retirement is when you stop living at work and start working at living." – Unknown
11. "Retirement is wonderful if you have two essentials: much to live on and much to live for." – Unknown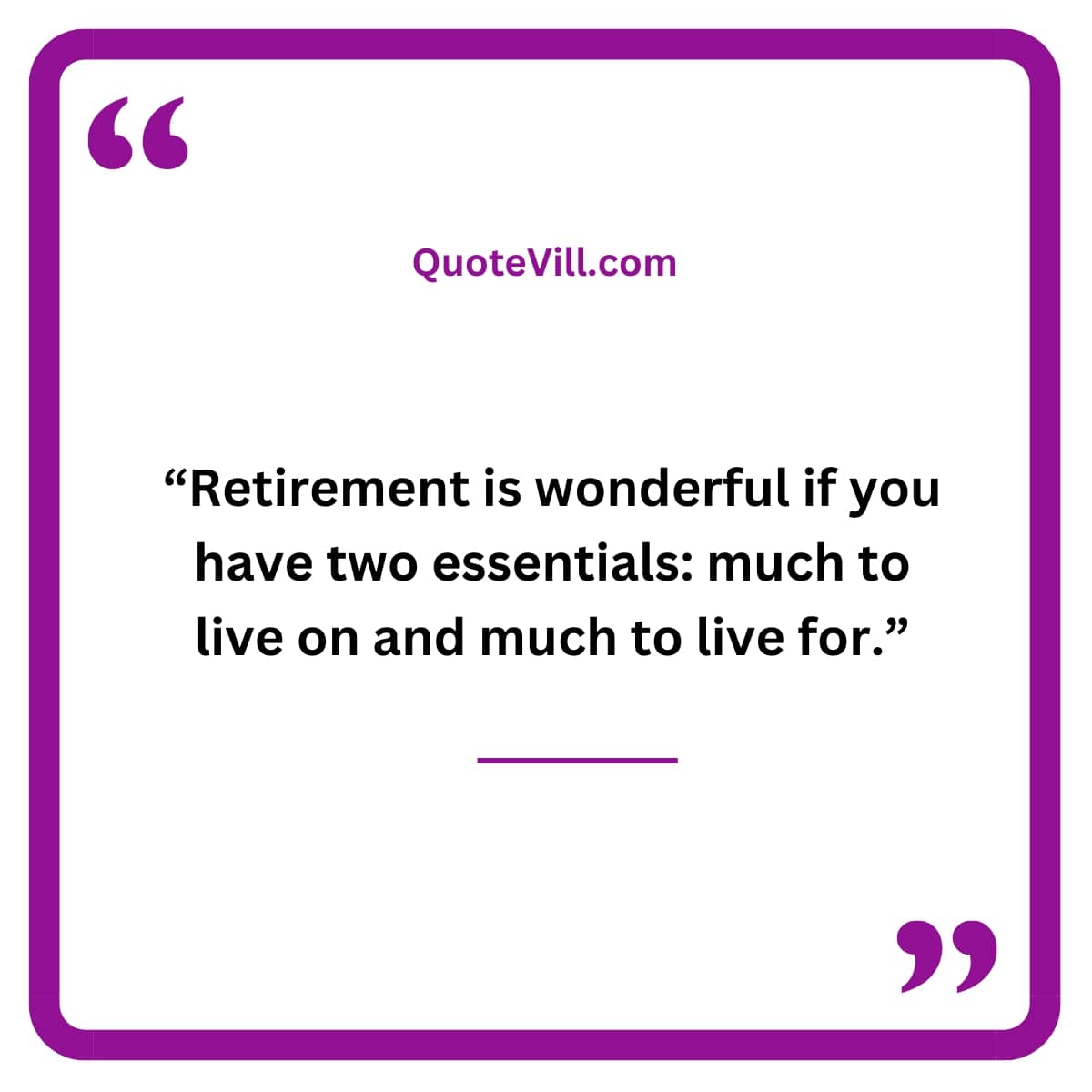 12. "Retirement is the only time in your life when time no longer equals money." – Unknown
13. "I enjoy waking up and not having to go to work. So I do it three or four times a day." – Gene Perret
14. "Retire from work, but not from life." – M.K. Soni
15. "Age is only a number. A man can't retire his experience. He must use it." – Bernard Baruch
16. "Often when you think you're at the end of something, you're at the beginning of something else." – Fred Rogers
17. "I'm retired – goodbye tension, hello pension!" – Unknown
18. "The joy of retirement comes in those everyday pursuits that embrace the joy of life; to experience daily the freedom to invest one's life-long knowledge for the betterment of others." – Byron Pulsifer
19. "You are never too old to set another goal or to dream a new dream." – C.S. Lewis
20. "Retirement is not a life without purpose; it is the on-going purpose that provides meaningfulness." – Robert Rivers
Retirement Quotes For a Friend Who Retired
21. "Retirement, a time to do what you want to do, when you want to do it, where you want to do it, and how you want to do it." – Catherine Pulsifer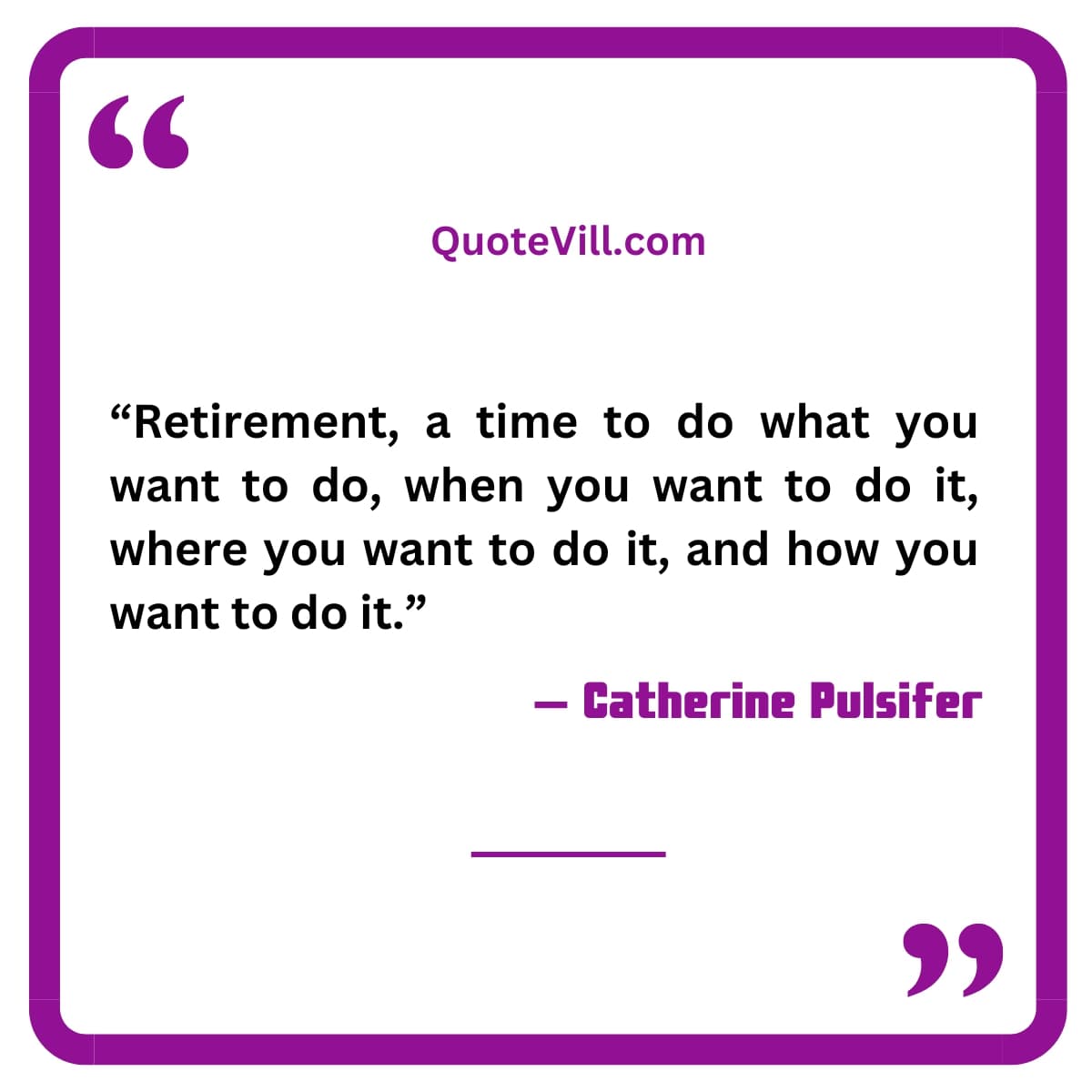 22. "Retirement is not the end of the road. It is the beginning of an open highway. This farewell is not a sign of ending but a promising new start." – Unknown
23. "Retirement is an opportunity to begin life anew. It is an opportunity to reach out for a brighter tomorrow. It is a milestone which makes us realize that even the sweet pleasure of working has to come to an end." – Unknown
24. "As in all successful ventures, the foundation of a good retirement is planning." – Earl Nightingale
25. "Retirement is a new beginning, and that means closing the book on one chapter in order to begin the next." – Sid Miramontes
26. "We work all our lives so we can retire – so we can do what we want with our time – and the way we define or spend our time defines who we are and what we value." – Bruce Linton
27. "Retirement has been a discovery of beauty for me. I never had the time before to notice the beauty of my grandkids, my wife, the tree outside my very own front door. And, the beauty of time itself." – Hartman Jule
28. "Retirement is when having a good time is your only job." – Unknown
29. "Retirement is a journey, not a destination. It is a time to start new endeavors, not cease old ones. It is about experiencing the joy of your time on your terms." – Unknown
30. "To enjoy a long, comfortable retirement, save more today." – Suze Orman
Retirement Quotes for Co-worker
31. "You are never too old to reinvent yourself. Never too late to take up new hobbies. Never too late to pursue your dreams. Your retirement could be a rebirth to a new life full of fun and excitement." – Matthew Loomis
32. "Retirement's the most wonderful thing. I get to enjoy all the things I never stopped to notice on the way up. After an extraordinary life, it's time to enjoy my retirement." – Patrick Macnee
33. "Retirement means no pressure, no stress, no heartache… unless you play golf." – Gene Perret
34. "Retirement is a time to make greater use of your opportunities for leisure, to sample the fruits of your planning and investing, and perhaps to do some things that you had deferred in your earlier years." – A. Lawrence Chickering
35. "Retirement is like a long vacation in Las Vegas. The goal is to enjoy it the fullest, but not so fully that you run out of money." – Jonathan Clements
36. "In retirement, every day is Boss Day and every day is Employee Appreciation Day." – Unknown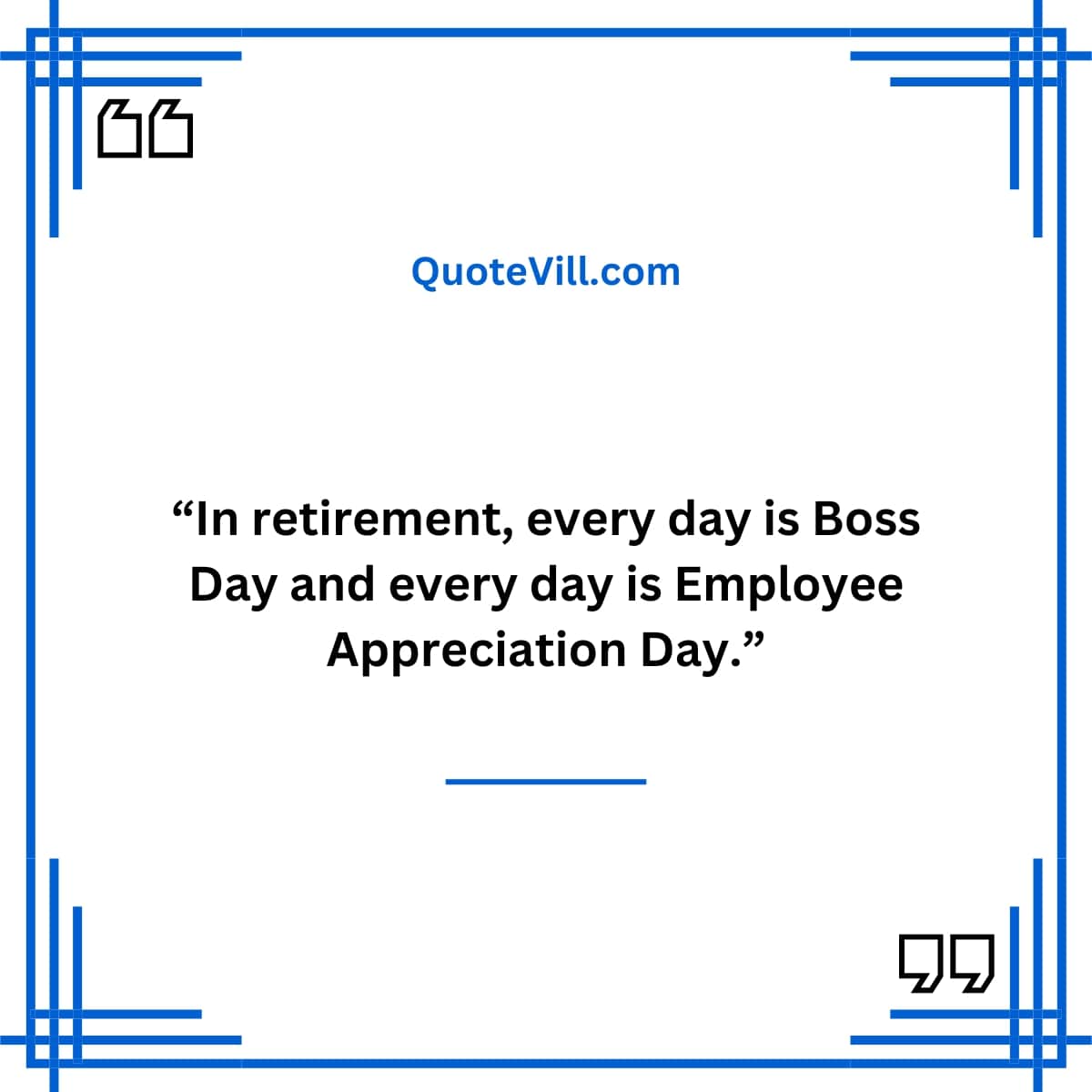 37. "Retirement is supposed to be the great escape from the stresses inherent in most jobs, a time to experience a fulfilling life derived from many enjoyable and rewarding activities." – Ernie J. Zelinski
38. "For many, retirement is a time for personal growth, which becomes the path to greater personal freedom." – Robert Delamontague
39. "Retirement is wonderful. It's doing nothing without worrying about getting caught at it." – Gene Perret
40. "For many people, retirement is a key reward for years of daily work, a time to relax and enjoy a slower pace of life. But remember that if you have not infused anything into your mind to ponder about during your working years, it becomes a fundamental truth of nature that a mind that is a total void will fill itself, and fear will be generated." – John, Duke of Buckingham