Love is a complex and multifaceted emotion that can be challenging to express adequately in words. But, there is something magical about putting pen to paper and pouring out your heart in a short love letter to your girlfriend.
These little notes can carry a lot of weight and show your significant other just how much you care. From simple declarations of affection to more elaborate expressions of your deepest feelings, there are countless ways to pen a love letter that will leave your girlfriend feeling cherished and adored.
In a world where technology has made communication instantaneous, taking the time to write a love letter can make a big impact. It shows your girlfriend that you put thought and effort into expressing your love, which can make her feel cherished and appreciated.
But where to start? With so much to say, it can be tough to know how to condense your emotions into a concise and meaningful message. Fear not! That's why we've put together a list of short and sweet love letters that you can use as inspiration to craft your own heartfelt message for your girlfriend.
In this blog, we'll explore the art of crafting short love letters for girlfriends that pack a punch.
Get ready to unleash your inner romantic and wow your girlfriend with a heartfelt love letter that she'll treasure forever.
Romantic Short Love Letters For Girlfriend
1. "My dearest love,
As I pen this note, I'm struck by the whimsy of the cosmos; how it brought together a clumsy goofball like me with an enchanting enchantress like you. In your presence, my heart skips a beat, and my soul is filled with a joy that's as effervescent as the bubbles in our favorite champagne. I adore you more than words can say, my love.
With Love [……….]."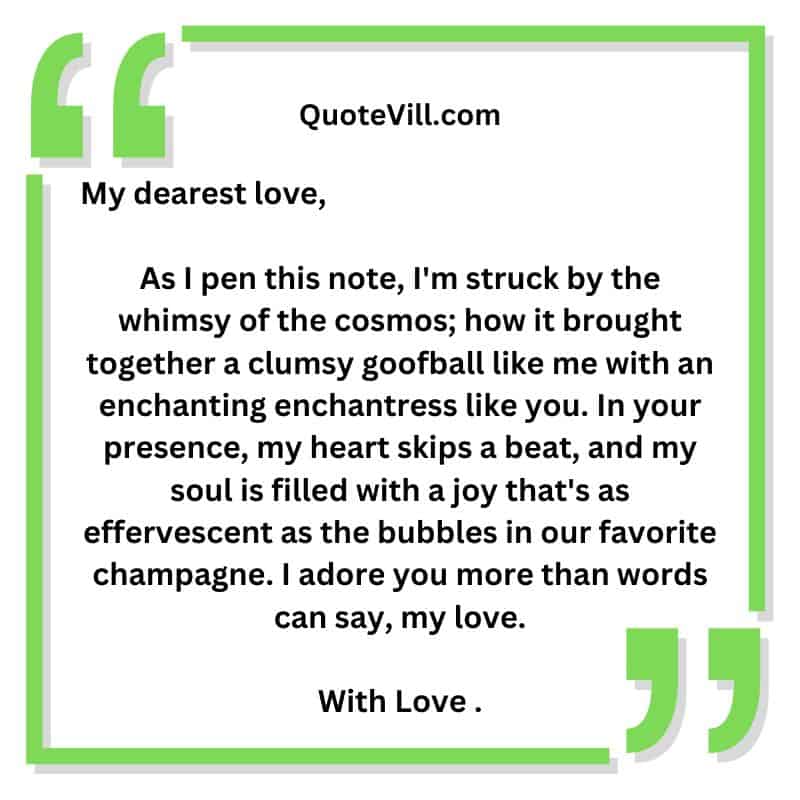 2. "I love you, dear.
You are stunning beyond words. I feel my heart flutter when I see you. I feel as though a dream has come true being with you. I am happy to have you in my life. Without you, I could not imagine living. In every way imaginable, you complete me. I vouch for my love for you today and always.
Greetings, dear significant other."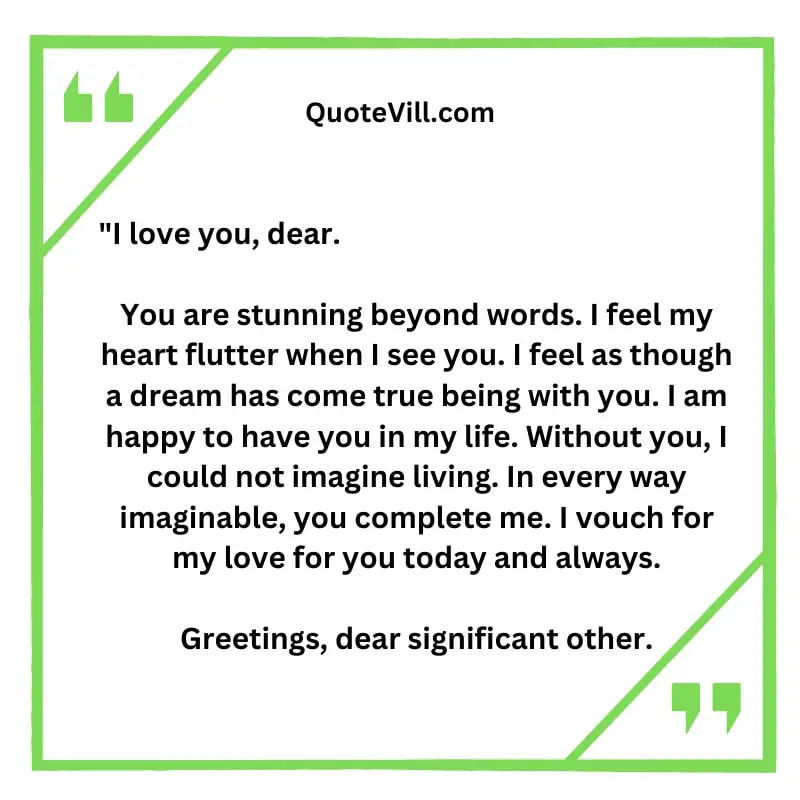 3. "My Dear Love,
I am joyful and content to be here with you. You are everything to me and I love you terribly. I want to make you happy every day and be with you forever. You make the ideal partner, and I am happy to have you in my life.
Greetings, dearest."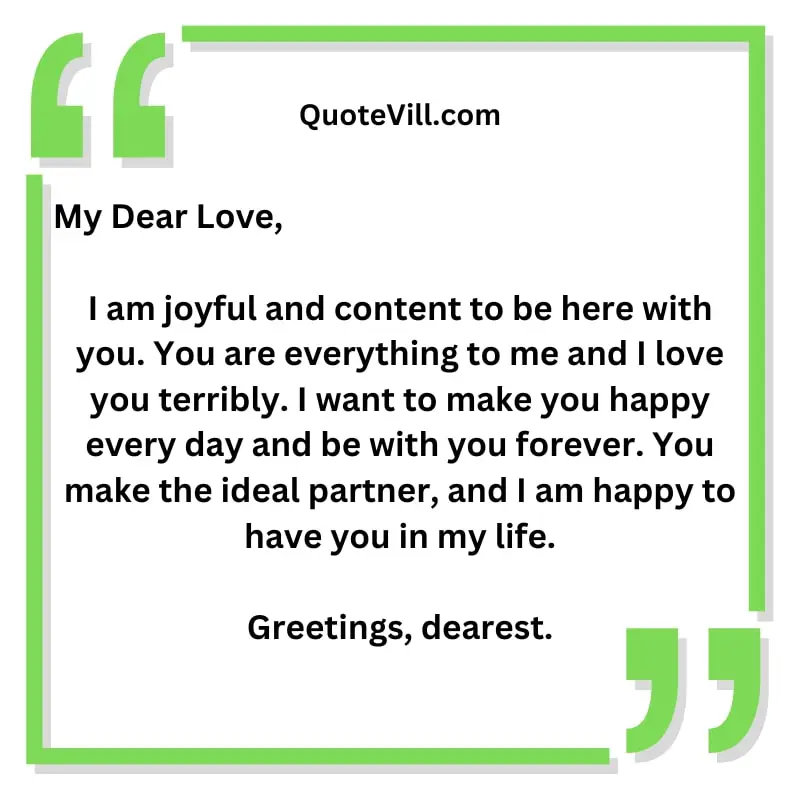 4. "My life has become more exciting and unexpected because of your love. With your smiles and tender moments, you brighten every day. My inspiration comes from you, and it never ends. I'm happy to call you my love."
5. "My love,
you are my source of light. I'm glad because of your love. I want to live out the rest of my days with you. Nobody else compares to you in terms of amazing. You are the love of my life, and I swear to cherish you always.
I love you so much, my sweetheart."
6. "Your charm and wit have had a hugely positive impact on my life. It's fun to see you smile and laugh. I value our time together."
7. "My love, you are my soul mate. Your absence leaves a void in my life. More than words can ever say, I adore you. I appreciate your kindness and beauty. Simply by existing, you improve every day. I swear I'll love you always."
8. "My Sweetheart,
With your wit and charm, you make even the dullest moments enjoyable. I feel like I'm living in a romantic comedy with you, and I never want it to end. Your touch is gentle and mesmerizing, and your laughter enthralls me. The time I spend with you is like living in a fairy tale, and I treasure every second."
9. "You're amazing! Your wit and humor have won my heart. Even our routine conversations feel like extraordinary experiences because of your quick wit and astute rejoinders. I never knew I had this much passion inside of me, but your love has brought it out. Thank you for every day we get to spend together, my love. Your love has given me a newfound sense of purpose."
Related: 55 Love Paragraphs for Her: Express Your Love in Romantic Way
10. "My love,
You are a blessing in my life. Every morning I wake up and every night I go to bed with a smile, because of you. Your love gives me faith that everything will be alright. My life would be meaningless without you. You are my breath, my life, my everything. I hope you know how much you mean to me."
11. "My dearest,
You are the author of the most treasured tale of passion, humor, and adventure in my heart. Your tenderness enfolds me in warmth, your charm and wit keep me enraptured. I can't wait to see where our journey leads, my love. Each day with you feels like a new chapter in our love story."
12. "Hey you!
Just wanted to drop you a quick love note. Gotta say, I lucked out big time by having you in my life. You make me feel like a freaking superstar, and that's not something just anyone can do. Without you, my heart would be like swiss cheese. Full of holes and not nearly as delicious. You're the light of my life, and I'm pretty sure I'd be lost without you. Love you so much, my sweet little muffin.
With Love."
13. "Babe, you're a walking, talking poetic paradox – humor and romance in one hot package. Your laugh fills my heart, and your touch warms my soul. We're a love and laughter symphony, and I never want the show to end. Thanks for being my muse, hot stuff."
14. "Dear,Walking hand in hand with you makes me feel like the strongest and happiest man in the world. Your gaze empowers me to conquer the world. Thank you for always believing in me and bringing out my best. You are my forever love."
15. "My love, your wit and charisma are like a delightful breeze that lifted me off my feet and swept me into the most enthralling love story of all time. We're falling more and more in love every day, and I'm thankful for every second I get to spend with you. I love you more than words can say because you are the epitome of everything funny and romantic."
16. "My heart beats for you alone. My eyes constantly search for you. You, my love, complete me in every sense. No one can compare to the deep love I have for you. I vow to always be by your side, for we are meant to be together till the end of time. My love for you will never falter."
Read: 93 How Special You Are To Me Quotes to Express Appreciation
Funny Short Love Letters For Girlfriend
17. "Dear [Girlfriend's Name],
Roses are red, violets are blue, I'm not a poet, but I'm crazy for you! I know I might not always remember our anniversaries or the exact spot where we first met, but I promise to make you laugh every day, even if it's at my own expense. Love you to the moon and back!
Yours comically,
[Your Name]"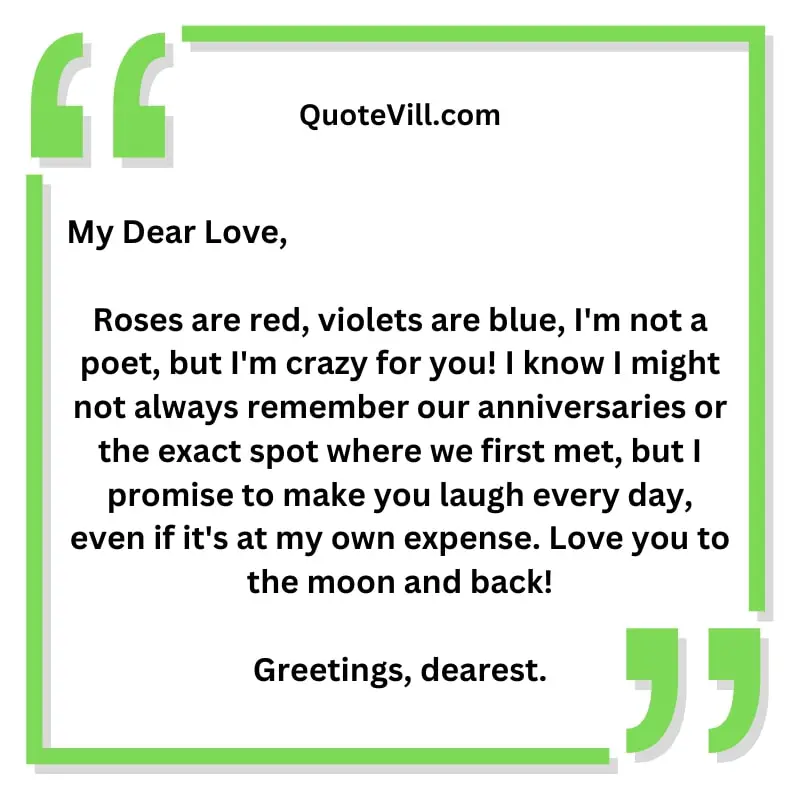 18. "Dear (insert girlfriend's name here),
I love you more than pizza. And that's a lot.
Love, (insert your name here)"
19. "My Dear Love,
I must be visually impaired because a beauty like you picked me as your mate. But hey, I'll take it! I'm a lucky duck that you accepted my love.
Only Yours(insert your name here)"
20. "My Dearest [Girlfriend's Name],
Just a quick note to remind you that you've won the "Best Girlfriend in the Universe" award! There's no trophy or prize money, but you do get to put up with my endless jokes and puns. Lucky you!
Yours with laughter,
[Your Name]"
21. Hey, listen up,
Because I've got some news for you. I've been head over heels in love with you since the first day we met. Can you believe it? I'm putting myself out there as a prospective lover, but we'll have to take it slow. Let's start with a two-month probationary period, and if things go well, we'll discuss a performance review. If you're really lucky, you might even get promoted from lover to spouse. How's that for some romance?"
22. "To my beautiful girlfriend,
You make my heart skip a beat. And sometimes I worry it might be a heart attack. But I'm willing to take that risk for you.
Love, (insert your name here)"
23. "Hey babe,
My heart belongs to you and I hope yours belongs to me too. Let's seal the deal and chuck those keys away, we're in this together!"
24. "Hey [Girlfriend's Name],
I was just thinking how great it is that we can both agree on one thing – I am the funny one in this relationship! Thank you for always being the best audience for my lame jokes. Your laughter is the soundtrack of my life.
Yours in giggles,
[Your Name]"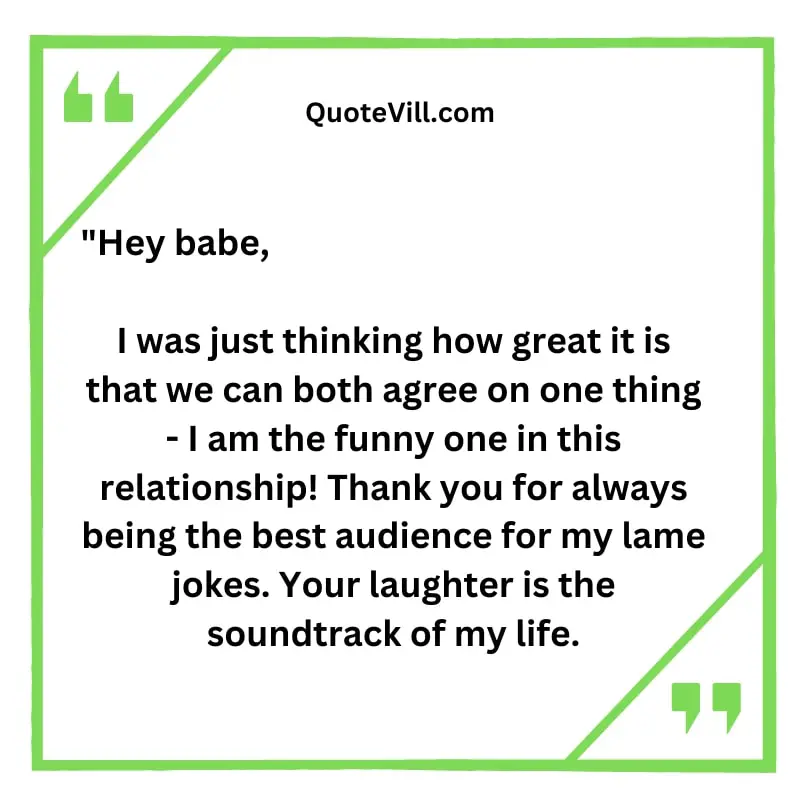 25. "Hey,
let's have a romantic candle-lit dinner. And then…I'll say those magical three words you've been waiting to hear…Pay the bill! Come on, it'll be hilarious."
26. "Hey babe,
I'm not a photographer, but I can definitely picture us together forever.
Love, (insert your name here)"
27. "Dear [Girlfriend's Name],
I must have done something right in a past life to deserve a girlfriend who not only puts up with my sarcasm but finds it funny too. You're truly one in a million, and I promise to keep the laughs coming!
Yours in snarky love,
[Your Name]"
28. Dear Love,
Sometimes I see you and think, damn I hit the jackpot with this girlfriend! But then I look at myself and wonder how you ended up with a dork like me. It's like winning the lottery and then realizing you don't know how to spend the money."
29. "My dearest (insert girlfriend's name here),
Roses are red, violets are blue. I love you more than my Xbox, and that's saying something too.
Love, (insert your name here)"
30. "Hey,
I've been losing sleep over you. But I don't want my kid to go through the same thing for your kid. How about we make them siblings instead? No more sleepless nights, just family love!"
31. "Hello [Girlfriend's Name],
Let's celebrate the fact that we've found each other in this big, crazy world! How lucky are we to share our love, laughter, and my amazing sense of humor? (Okay, okay, your sense of humor is pretty great too.)
Laughingly yours,
[Your Name]
32. "Hey you,
I know I'm not perfect, but you make me feel like I'm the luckiest guy in the world. And that's a pretty big accomplishment.
Love, (insert your name here)"
33. "Dear pumpkin.
If you were cheese, I'd be a mouse nibbling you bit by bit. If you were milk, I'd be a cat sipping you sip by sip. But if you were a mouse, I'd still be a cat devouring you piece by piece. Don't worry, though, I love you!"
34. "To my one and only,
I know I can be a handful at times, but you manage to handle me like a pro. You're like the Tiger Woods of dealing with my nonsense.
Love, (insert your name here)"
35. "Hey [Girlfriend's Name],
I just wanted to tell you that our love story is like a romantic comedy, where I'm the hilarious sidekick and you're the gorgeous leading lady. Together, we make life a whole lot more fun!
Love and laughter,
[Your Name]"
36. "Babe,
I don't need a superhero when I have you by my side. You're like Batman and Wonder Woman rolled into one.
Love, (insert your name here)"
37. "My Dearest [Girlfriend's Name],
Thank you for being the best thing since sliced bread, which is saying something because, you know, I really love bread. I love you more, though. Promise.
Yours affectionately (and hungrily),
[Your Name]"
38. "My sweetie pie,
If loving you was a job, I'd be the CEO. And I'd give myself a raise every day.
Love, (insert your name here)"
39. "Hey [Girlfriend's Name],
I must confess, the love bug has bitten me, and its symptoms include uncontrollable laughter, spontaneous puns, and a strong desire to be with you every day. I hope there's no cure!
Yours infectiously,
[Your Name]"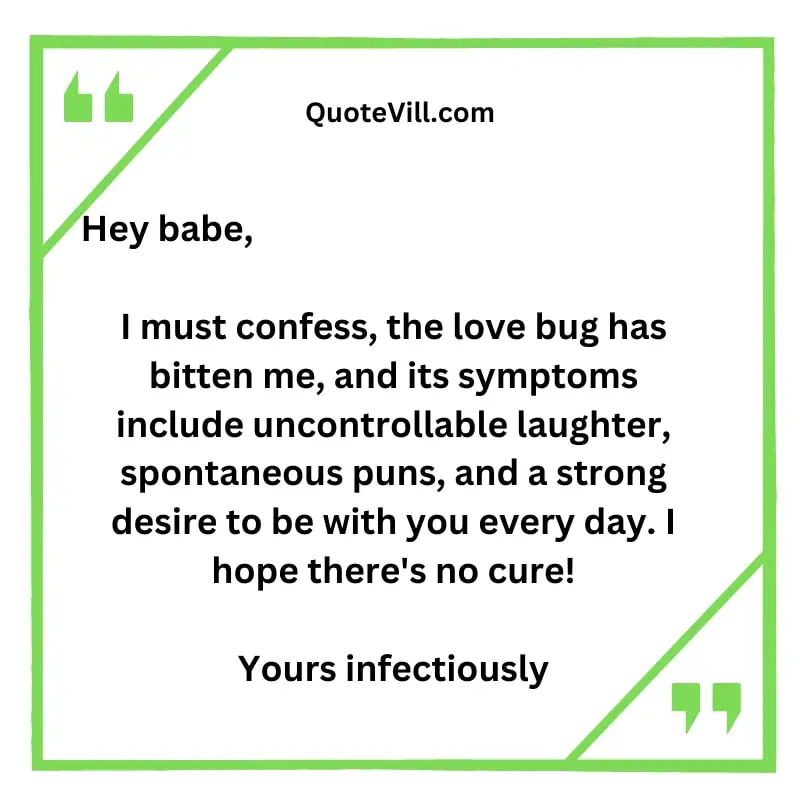 40. "Hey cutie,
You light up my life like a Christmas tree. And I don't even need to plug you in.
Love, (insert your name here)"
41. "Dear [Girlfriend's Name],
They say laughter is the best medicine, and with you by my side, I'm convinced I'll live forever. I promise to be your partner in laughter, love, and all the cheesy jokes you can handle.
Yours in endless giggles,
[Your Name]"
42. "To the love of my life,
I'm pretty sure you're the reason why the sun rises and sets. Because you bring light and warmth to my world every day.
Love, (insert your name here)"
43. "Hey [Girlfriend's Name],
You know what's even better than a love letter? A love letter that makes you laugh! Thank you for being the reason behind my smiles, chuckles, and occasional snorts. Here's to a lifetime of laughter together.
Yours in hilarity,
[Your Name]"
Read: 54 I'm Sorry Paragraphs For Her That Show You Care
Miss You Love Letter For Girlfriend
44. "My love,I think of you every day. Your smile, touch, and warmth are in my heart. I want to hold you close and whisper sweet nothings. I miss you more than words can say."
45. "My heart aches for you constantly. The distance between us seems impossible to overcome. Your absence leaves me feeling empty inside. I long to see your eyes and feel your embrace once again."
46. "Thinking of our moments together brings a bittersweet longing to my heart, my dearest love. I miss your laughter, your touch, your warm embrace, and your radiant soul. My heart aches for our reunion, which I eagerly anticipate with joy."
47. "Oh, my love, you consume my thoughts. The days drag on and the nights are unbearable without you by my side. My heart aches for the warmth of your embrace and the sound of your sweet voice. Every second without you feels like an eternity, and I long for the moment we can be reunited."
48. "I miss you so much. My heart feels empty without your love, kindness, and support. You mean everything to me, and I can't wait until we're together again."
49. "My heart aches without you, my love. Memories of our passion are my only comfort in this unbearable distance. Your presence and devotion are what I crave most. I long to hold you tightly once again, and feel the fire of our love burn bright."
50. "Without you, my emotions are lost at sea. I still remember the sound of your voice, the feel of your skin, and the scent of your perfume. Just the thought of being reunited with you fills me with an indescribable joy that sets my heart aflutter."
Emotional Short Love Letters For Girlfriend
51. "Hi [Girlfriend's Name],
I feel so many emotions writing this to you. Your love is like sunshine on a cold day, warming me up and filling my heart. You make me feel safe, calm, and happy. Being with you is like magic, bringing life to everything around me."
52. "You're the best girlfriend ever. You make me incredibly happy, and I'm so grateful for you. Smile of yours is so pretty and it lights up my life. When I look into your amazing blue eyes, I feel like I'm in heaven. Dear, you're the most beautiful woman in the whole world, and I can't imagine life without you. You'll always be my one true love."
53. Sweet [Girlfriend's Name],
Thinking of you fills my heart with love. Every gentle touch, kind word, and look between us connects us deeply. You're like moonlight on a dark night, guiding me home. For you, I'd write a thousand love songs, showing just how much I adore you."
54. "My Love, Time flies when I'm with you. You're more than a friend or lover – you're my angel. Your amazing love has made my dreams come true, and I'll always treasure it. You deserve the best from me, so I promise to love you today, tomorrow, and forever. You make me happy, and I'll always love you."
55. "Dear [Girlfriend's Name],
Since the first time we saw each other, my life changed forever. It's like my heart went from an empty desert to a beautiful garden. Your presence is like sweet poetry to my soul, and your touch fills me with happiness. I'm thankful for our love with every breath I take."
56. "Your smile makes me so happy. Holding you feels like holding my whole world. Every moment with you is special. I'm lucky to have a girlfriend like you who loves and cares for me, making me feel like the happiest person alive."
57. "My Dearest [Girlfriend's Name],
Can you fathom the depth of my affection for you? Imagine, if you will, a vast, shimmering waterfall cascading with the force of a thousand suns. I am engulfed by its splendor, the torrent of emotion washing over me. Your tender embrace offers solace, a sanctuary where my heart can thrive, nourished by the knowledge that it is loved and cherished. What a precious endowment you've bestowed upon me, my love."
58. "Beloved [Girlfriend's Name],
Our amour, an intricate dance, interweaves the bold intensity of passion with the delicacy of compassion. Hand in hand, we navigate life's labyrinth, the palpable rhythm of our hearts synchronizing as one. As we twirl in this exquisite ballet, I am reminded that our love transcends the ordinary, an everlasting narrative etched in the annals of time."
59. "Dearest [Girlfriend's Name],
In those moments when the universe stills, a hush blanketing all, I am drawn to contemplate the tapestry of our love. It is an intricate mosaic, comprised of joy and sorrow, triumph and tribulation, memories interwoven in a dazzling tableau. With each day, we embellish our masterpiece, the threads of our hearts entwined, forever united by the indelible bond we share."
60. "Beloved [Girlfriend's Name],
Tonight, as I lay in repose, I am enveloped in gratitude. Your love whispers through my soul, a tender zephyr trailing bliss and serenity. The clamor of existence recedes, leaving only the sanctity of our union. You, my precious one, are the very quintessence of life."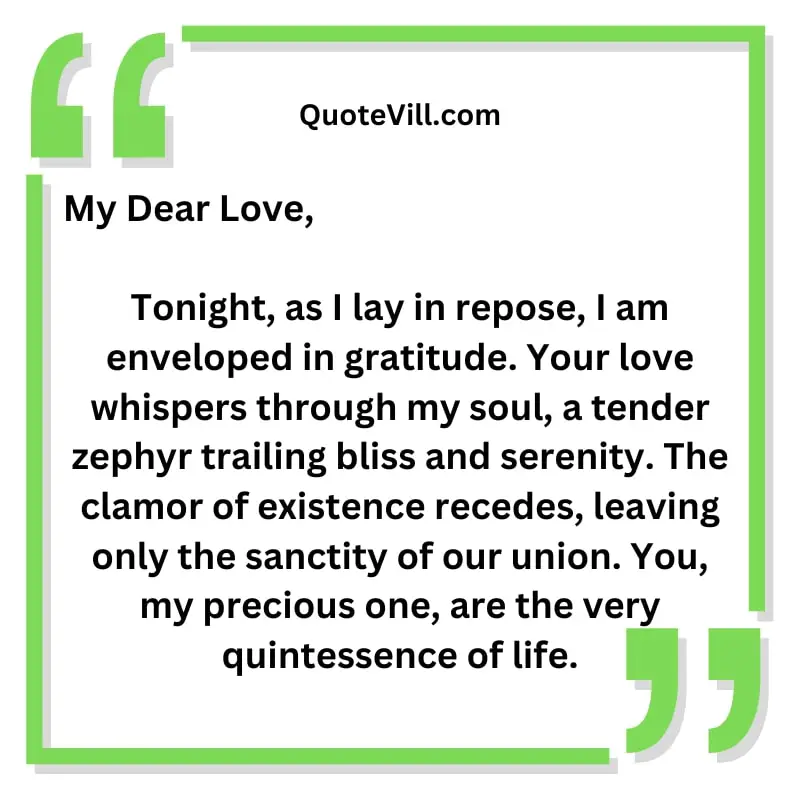 61. "My heart has leaped and tumbled in love's embrace, yet with you, true euphoria is found. You epitomize all that one could ever desire, and I stand humbled by your presence in my world. Our bond is a work of art, and I treasure it with every fiber of my being. My love, words are but a mere shadow of the adoration I hold for you."
62. "Dearest [Girlfriend's Name],
With each sunrise, our affection flourishes, unfurling into a love transcending mortal confines. A lifetime awaits us, delving into our connection's fathomless depths, marveling at the wonder we create. Side by side, we'll forge a testament to love that defies the sands of time."
63. "Hey, sweetheart, you've been on my mind all day. My love for you defies language's limits, and I had to share this with you. You are my everything, and I count my blessings for having you in my world. Your smile, laughter, and tender kisses – I long for them all. My love, you are my universe, and I adore you."
64. "Cherished [Girlfriend's Name],
Our love mirrors a kaleidoscope's shifting beauty, unveiling vibrant hues and intricate designs with each twist. The breathtaking splendor leaves me in awe, captivated by the celestial waltz we perform. Together, we are enchantment incarnate, and I am forever spellbound by the bewitching charm you've woven around my heart."
65. "My sweet, your hand in mine is the fulfillment of my deepest yearning. Your presence makes my life whole, and I eagerly anticipate the journey we'll share, exploring uncharted territories hand in hand. Our adventures and shared joys are the compass that guides me. You, my love, are my everything."