Summer quotes are enough for a person to understand why summer is so important and beautiful, especially when it comes to the nights and hanging out with friends.
Some people do not like sunlight because it fades their complexion but, what they don't realize is that they cannot overlook to add memories into their lives just to keep their complexion. Confused? Well, it means that people should go out, and make memories, without concern about their complexion!
Summer is among the greatest blessings of God that offers a lot of benefits to people. Whether it is about growing crops or fruits, God has given natural resources to make life healthier and refreshing. The best thing about summer is that it is good for all creatures on Earth, whether they are 4-legged animals, sea creatures, or humans- nature has something for everyone! Summer quotes help people to admire God's blessings and find out how they can derive benefits for themselves.
If someone doesn't appreciate the season, summer quotes would be a suitable option for him/her to realize this fact. The season is not only ideal for agriculture and farmers but, it gives a feeling of satisfaction and relaxation as well.
Top 10 Famous Summer Quotes
1. "Summertime is always the best of what might be." – Charles Bowden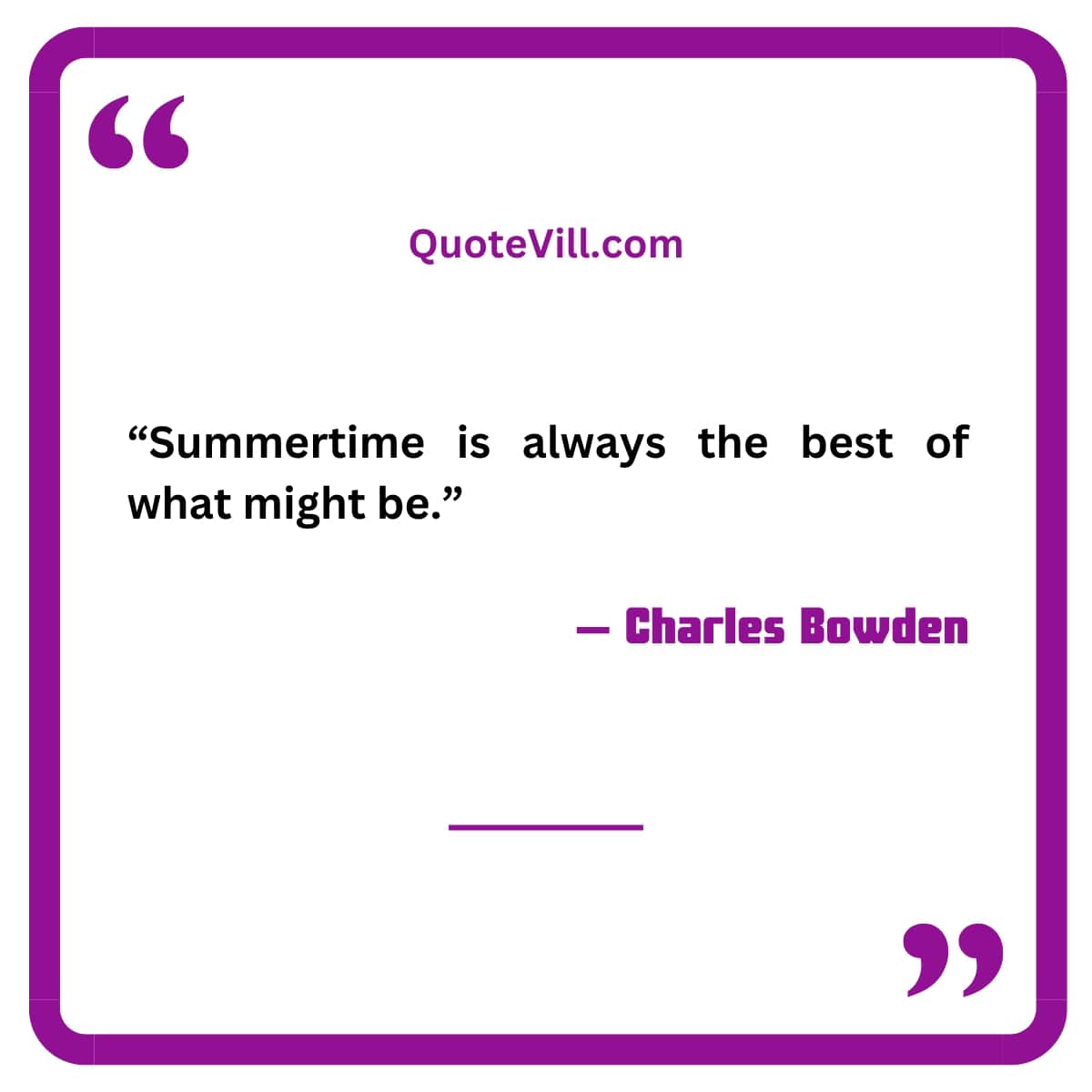 2. "One must maintain a little bit of summer, even in the middle of winter." – Henry David Thoreau
3. "Summer afternoon—summer afternoon; to me those have always been the two most beautiful words in the English language." – Henry James
4. "A life without love is like a year without summer." – Swedish Proverb
5. "In summer, the song sings itself." – William Carlos Williams
6. "I wonder what it would be like to live in a world where it was always June." – L.M. Montgomery
7. "Summer bachelors, like summer breezes, are never as cool as they pretend to be." – Nora Ephron
8. "And so with the sunshine and the great bursts of leaves growing on the trees, just as things grow in fast movies, I had that familiar conviction that life was beginning over again with the summer." – F. Scott Fitzgerald, The Great Gatsby
9. "In the depth of winter, I finally learned that there was in me an invincible summer." – Albert Camus
10. "If it could only be like this always – always summer, always alone, the fruit always ripe…" – Evelyn Waugh
Inspiring Summer Quotes To Enjoy 
1. "Keep your face to the sun and you will never see the shadows." – Helen Keller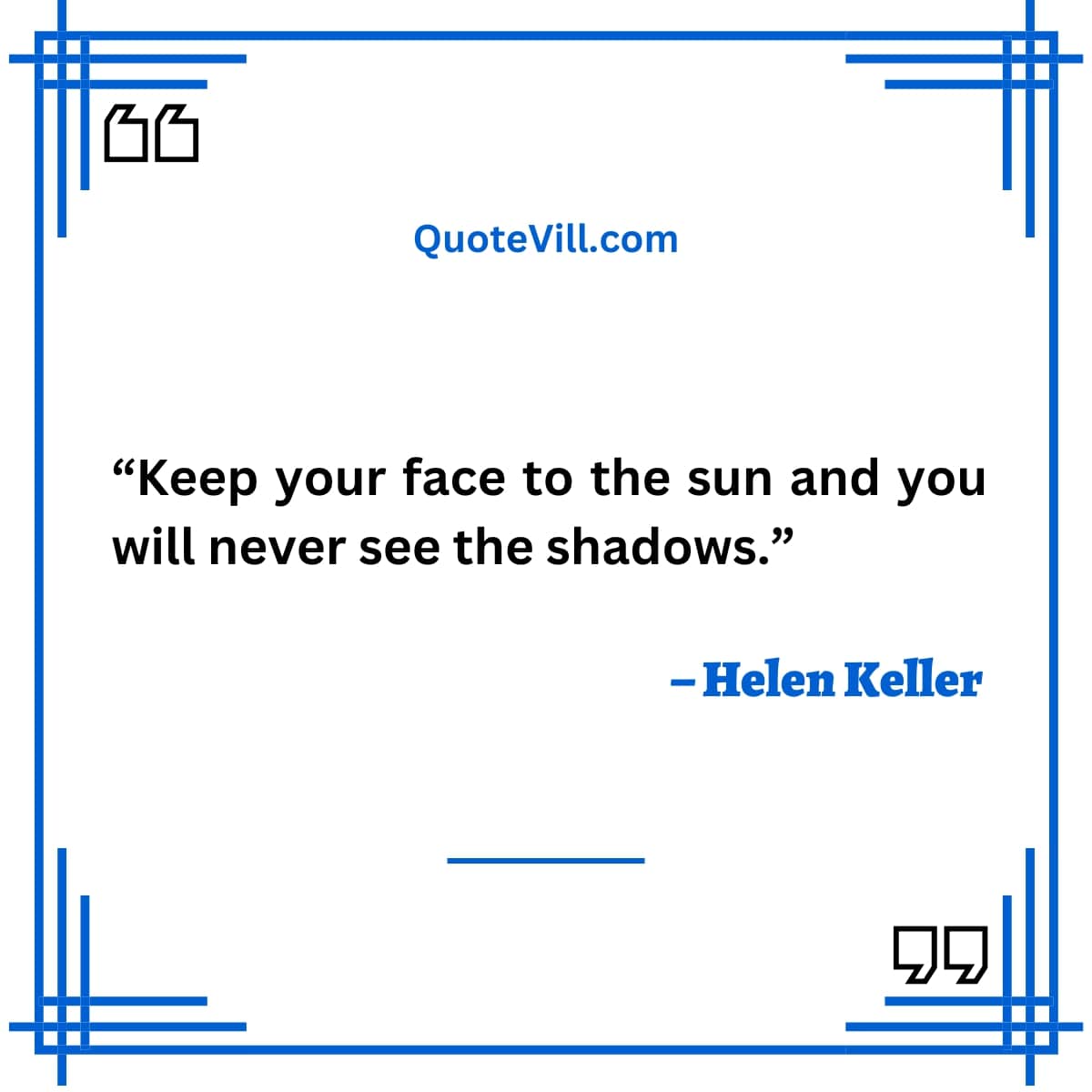 2. "In the summertime, when the weather is hot, you can reach right up and touch the sky." – Mungo Jerry
3. "Summer has a flavor like no other. Always fresh and simmered in sunshine." – Oprah Winfrey
4. "Summertime is a mindset, not a season." – Unknown
5. "Rest is not idleness, and to lie sometimes on the grass under trees on a summer's day, listening to the murmur of the water, or watching the clouds float across the sky, is by no means a waste of time." – John Lubbock
6. "Live in the sunshine, swim in the sea, drink the wild air's salubrity." – Ralph Waldo Emerson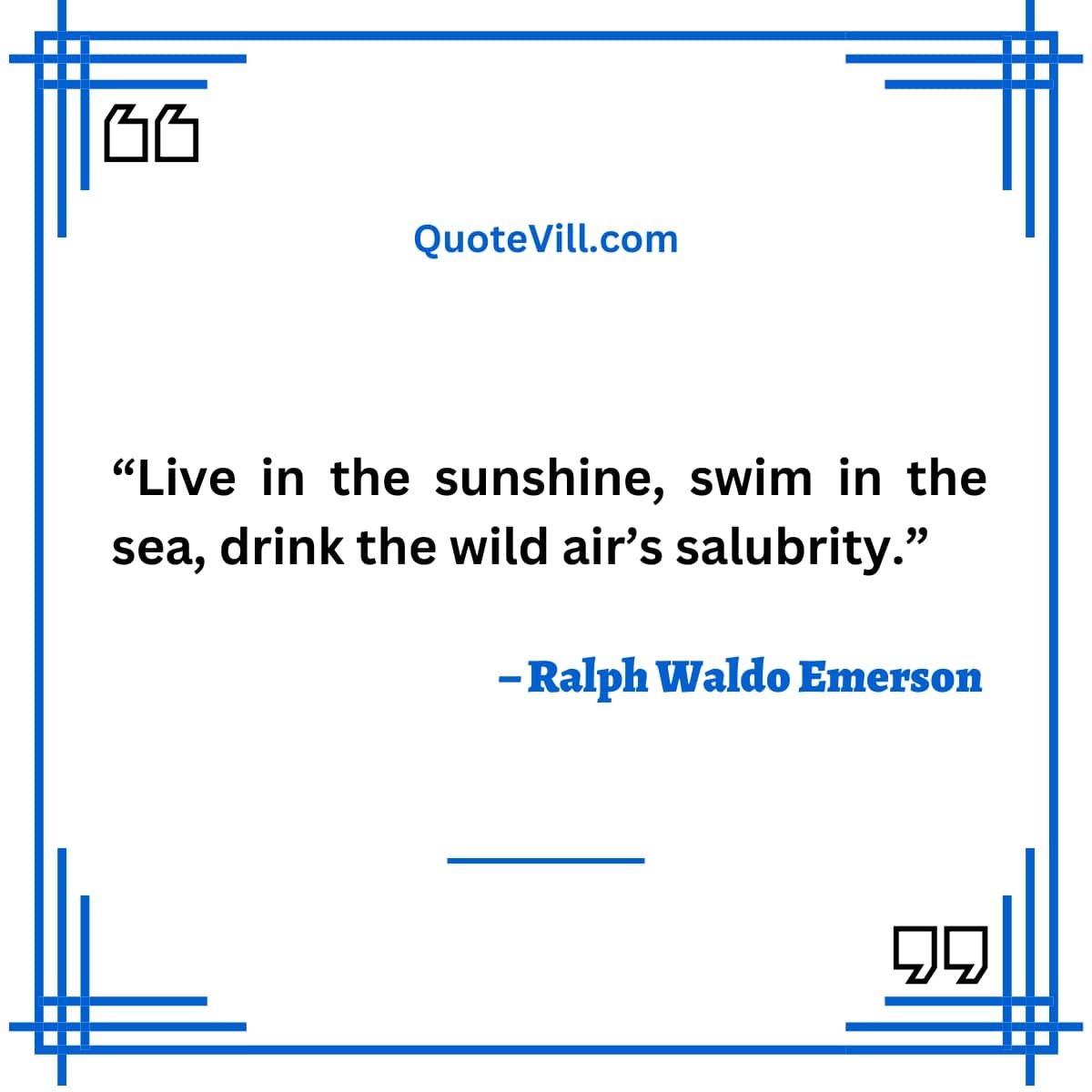 7. "The summer night is like a perfection of thought." – Wallace Stevens
8. "It was June, and the world smelled of roses. The sunshine was like powdered gold over the grassy hillside." – Maud Hart Lovelace
9. "Ah, summer, what power you have to make us suffer and like it." – Russell Baker
10. "Rejoice as summer should…chase away sorrows by living." – Melissa Marr
Fun Time Quotes About Summer
1. "Summer means happy times and good sunshine. It means going to the beach, going to Disneyland, having fun." – Brian Wilson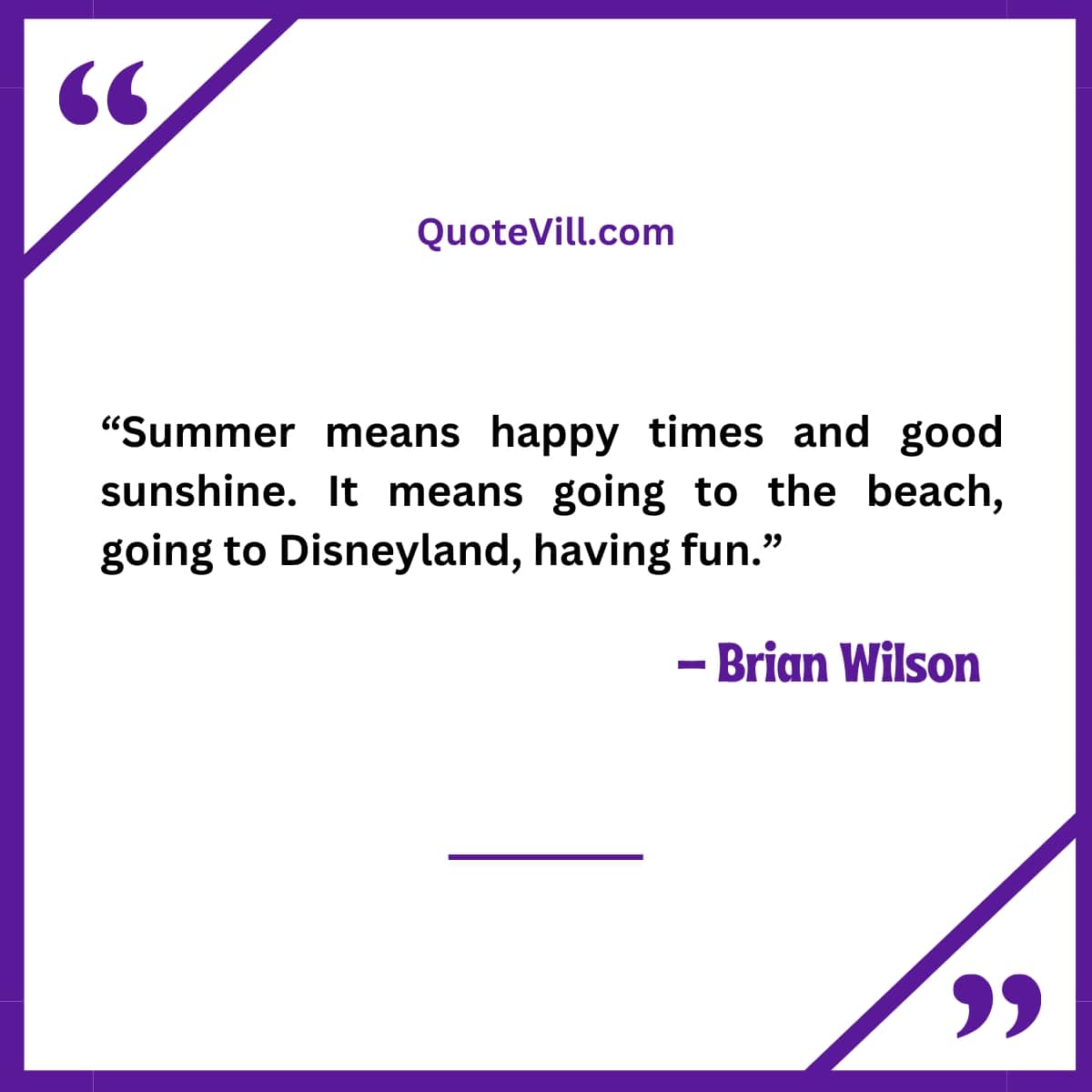 2. "Do what we can, summer will have its flies." – Ralph Waldo Emerson
3. "Hello, summer! Where have you been all my life? Now, let's dive right into the heart of joy and pull out the biggest, brightest sunshine we can find!"
4. "Summer is where the living's breezy! Pass the sunblock and bring on those lazy afternoons!"
5. "Oh, those summer nights! Filled with starry dreams and firefly whispers, let's make this season a canvas of our memories."
6. "Flip-flops, sandy toes, sun-kissed nose – yep, sounds like summer to me!"
7. "Catch me by the sea, I'll be sipping sunshine and gulping down the warm breeze. Yes, you guessed it right, it's summertime!"
8. "A perfect summer day is when the sun is shining, the breeze is blowing, the birds are singing, and the lawn mower is broken." – James Dent
9. "Summer: Hair gets lighter. Skin gets darker. Water gets warmer. Drinks get colder. Music gets louder. Nights get longer. Life gets better."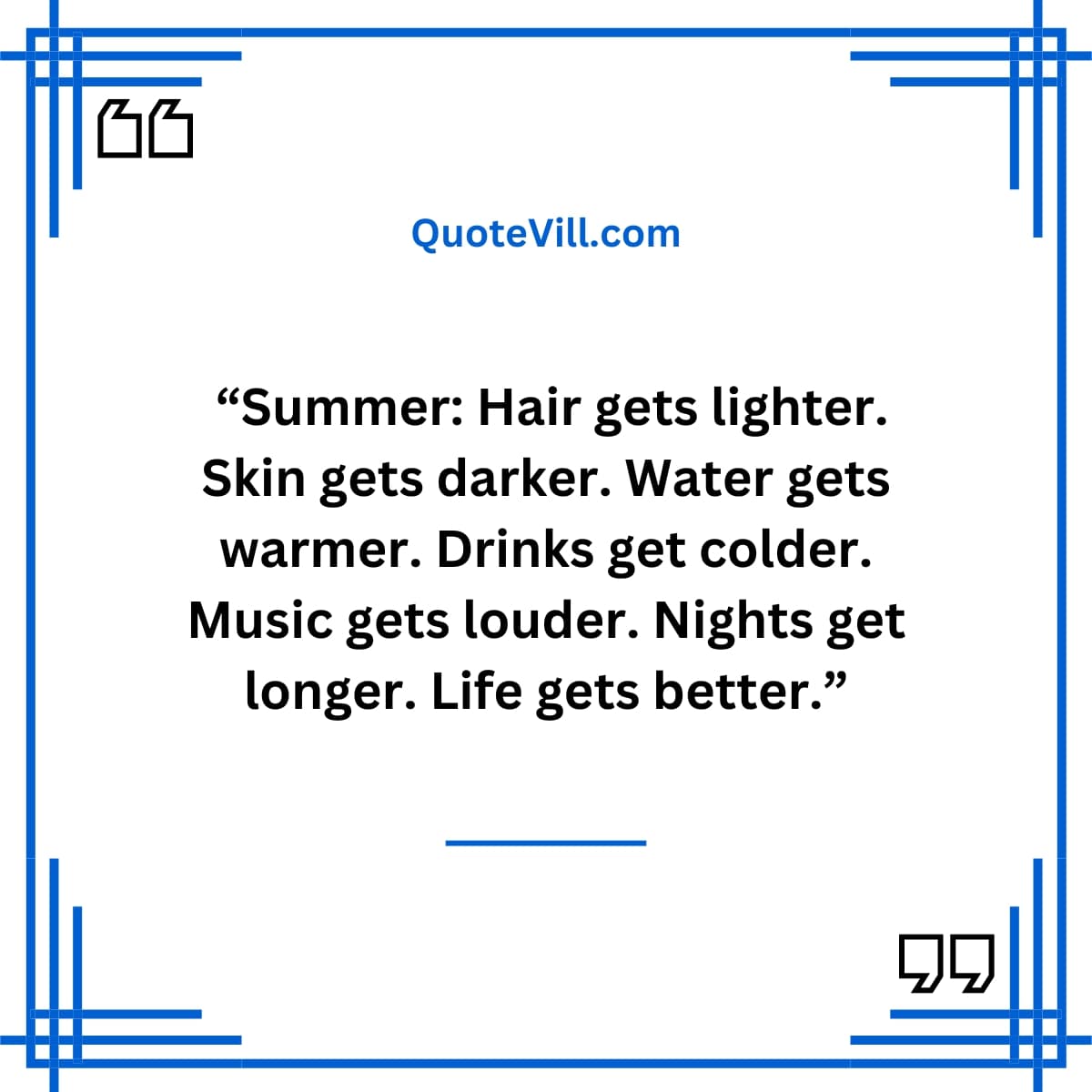 10. "Friends, sun, sand, and sea, that sounds like a summer to me."
11. "Summer: the season when laziness finds respectability, and every sunset feels like a standing ovation. Ready for an encore?"
12. "Sunsets and palm trees. It's more than just a season, it's a feeling. Summer, you're my forever favorite!"
13. "Feeling the sand between your toes and the sun on your nose? That's a perfect summer moment, frozen in time!"
14. "Hello, sun in my face! I'm ready to soak up the summer, one glorious sunbeam at a time!"
15. "Summer, you're like the best scoop of ice cream melting too quickly in the sun. Oh, the sweet, sticky joy you bring!"
Short Summer Captions For Instagram
1. "Here comes the sun, and I say, it's all right." – The Beatles #SunshineBeats
2. "I dream of endless summer days." #EndlessSummerDreams
3. "Make your own sunshine, live in the sun." #CreateSunshine
4. "Chasing the sun, living for fun." #ChaseTheSunshine
5. "Summer: Hair gets lighter, life gets better." #SunkissedLife
6. "Salt in the air, sand in my hair." #BeachyVibes
7. "Smell the sea, feel the sky, let your soul fly." #SeasideSoul
8. "Summer is a state of mind." #SummerMindset
9. "Seas the day, soak up the sun." #SeasTheMoment
10. "Embrace the sand, welcome the tan." #SunkissedGoals
11. "Salty but sweet. #SummerVibes #BeachLife"
12. "Sun-kissed and summer ready! #HelloSunshine #SummerGlow"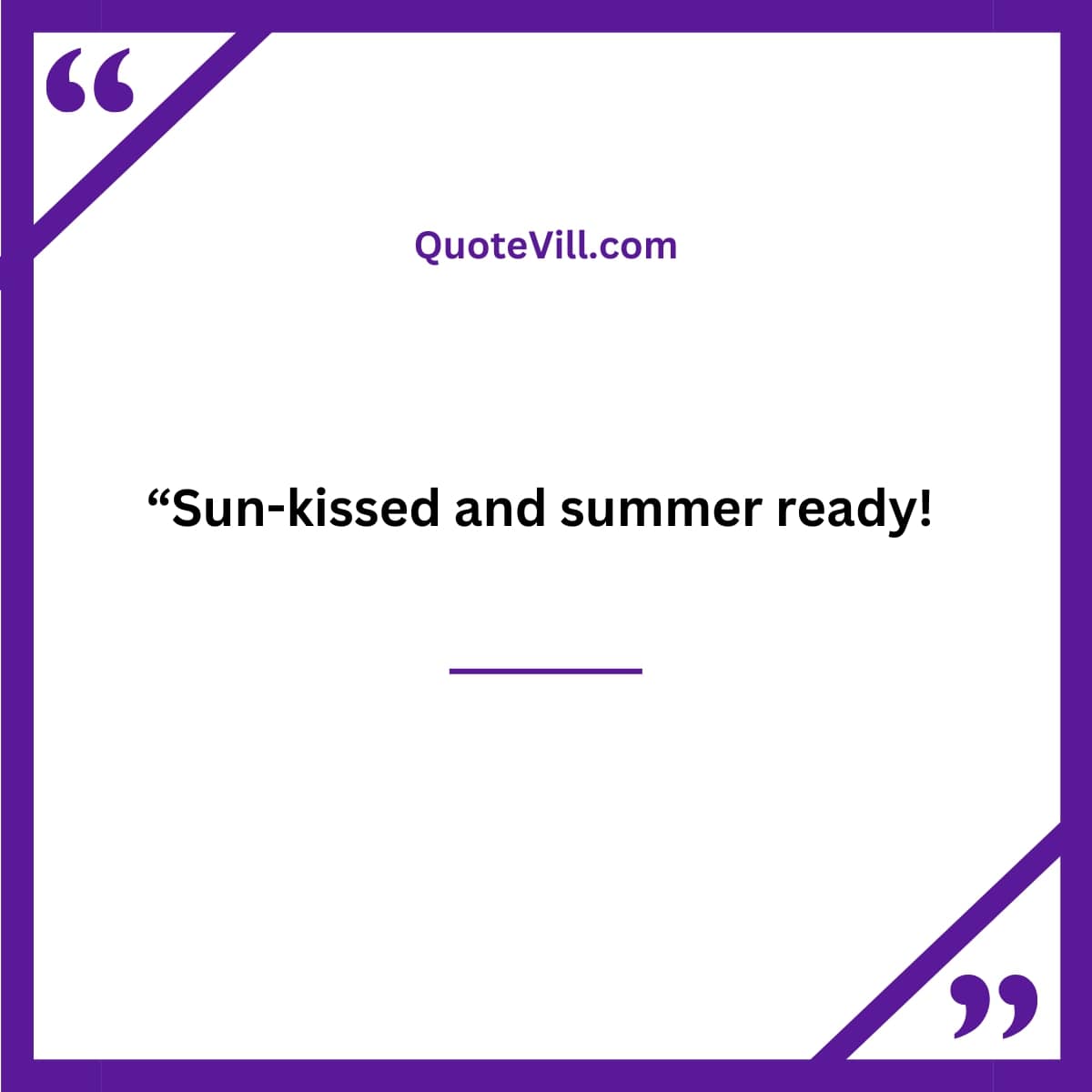 13. "Soaking up every second of summer. #EndlessSummer #LivingEasy"
14. "Ocean air, salty hair, don't care! #BeachBabe #SummerStateOfMind"
15. "Life's a beach, find your wave. #SummerFun #BeachVibes"
16. "Summer lovin', happened so fast. #SummerNights #HotSummer"
17. "Tropic like it's hot! #SummerFeels #TropicalVibes"
18. "Good times and tan lines. #SummerMode #TannedLife"
19. "Catch me by the sea. #BeachLife #SummerTime"
20. "Sea you in the surf. #BeachDay #SummerLove"