Teamwork quotes highlight the actual spirit of working as a team and clarify the fact that if team members do not understand each other, they would not be able to achieve their goals.
When it comes to achieving something big, nothing could be as effective as working with a good team that has understanding, coordination, and knowledge of what others are doing. Teamwork is the only key to making impossible things possible because of most of the time, it's about how the task is carried out, instead of considering how many people did it.
Teamwork actually works on the "Unity Is Strength" approach where, the person takes many people on board, considers their ideas, negotiates, and comes up with the best possible alternative to accomplish the set goals. Teamwork quotes create a spirit among people to hear others' points with patience and try to figure out a way on which, everyone agrees.
The most important thing in teamwork is the respect, trust, and care that people have for each other. If someone doesn't trust others or has no respect for what they have to say, then the team would not be able to succeed.
Teamwork quotes have the ability to drive people on the road to success and encourage them to support each other in different ways to keep their work effective and result-oriented.
Top 20 Teamwork Quotes For Unity
1. "Alone we can do so little; together we can do so much." – Helen Keller
2. "Coming together is a beginning, staying together is progress, and working together is success." – Henry Ford
3. "The strength of the team is each individual member. The strength of each member is the team." – Phil Jackson
4. "Talent wins games, but teamwork and intelligence win championships." – Michael Jordan
5. "If everyone is moving forward together, then success takes care of itself." – Henry Ford
6. "Great things in business are never done by one person; they're done by a team of people." – Steve Jobs
7. "Unity is strength… when there is teamwork and collaboration, wonderful things can be achieved." – Mattie Stepanek
8. "Remember, teamwork begins by building trust. And the only way to do that is to overcome our need for invulnerability." – Patrick Lencioni
9. "Teamwork is the ability to work together toward a common vision. The ability to direct individual accomplishments toward organizational objectives. It is the fuel that allows common people to attain uncommon results." – Andrew Carnegie
10. "Find a group of people who challenge and inspire you, spend a lot of time with them, and it will change your life." – Amy Poehler
11. "The main ingredient of stardom is the rest of the team. In truth, the only real satisfaction you get out of an achievement is the satisfaction that you've done it with others, and that collectively, you've reached a point that separately, none could have reached." – John Wooden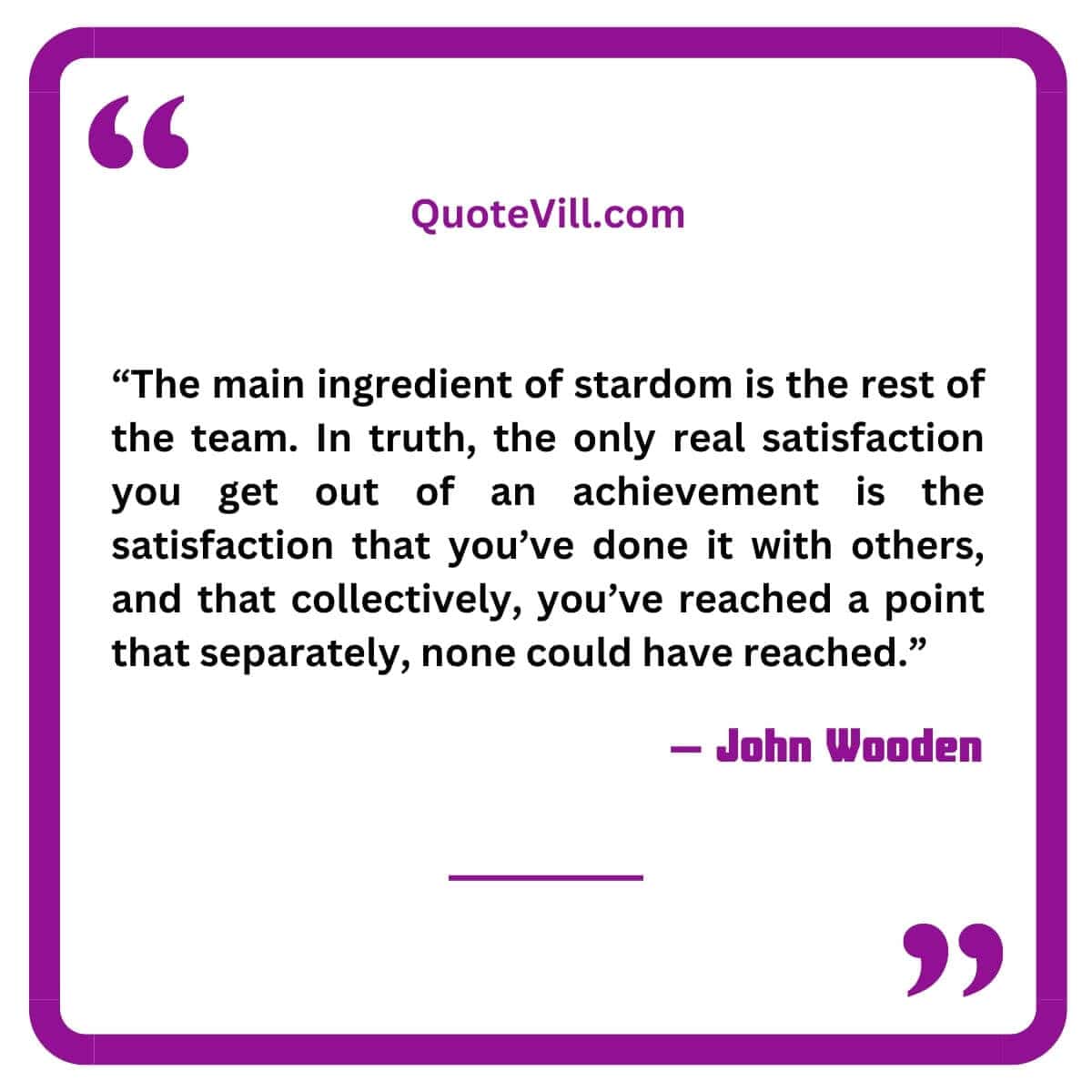 12. "Individually, we are one drop. Together, we are an ocean. Synergy is the highest activity of life; it creates new untapped alternatives; it values and exploits the mental, emotional, and psychological differences between people." – Ryunosuke Satoro
13. "Interdependent people combine their own efforts with the efforts of others to achieve their greatest success. If you do the little jobs well, the big ones will tend to take care of themselves. The whole is greater than the sum of its parts." – Stephen Covey
`14. "The path to greatness is along with others. To accomplish great things, we must not only act, but also dream, not only plan, but also believe. Individuals play the game, but teams beat the odds." – Unknown Author
15. "The best teamwork comes from men who are working independently toward one goal in unison. There is an incredible power when a group of people with similar interests gets together to work toward the same goals. When we all help one another, everybody wins." – James Cash Penney
16. "In the long history of humankind (and animal kind, too) those who learned to collaborate and improvise most effectively have prevailed. It is literally true that you can succeed best and quickest by helping others to succeed." – Charles Darwin
17. "No one can whistle a symphony. It takes a whole orchestra to play it. The larger the island of knowledge, the longer the shoreline of wonder. The speed of the boss is the speed of the team." – H.E. Luccock
18. "Good teams incorporate teamwork into their culture, creating the building blocks for success. It is not enough to be busy; so are the ants. The question is: What are we busy about? None of us, including me, ever do great things. But we can all do small things, with great love, and together we can do something wonderful." – Mother Teresa
19. "The ratio of We's to I's is the best indicator of the development of a team. If I could solve all the problems myself, I would. But, many heads are always better than one. As you navigate through the rest of your life, be open to collaboration. Other people and other people's ideas are often better than your own. Find a group of people who challenge and inspire you, spend a lot of time with them, and it will change your life." – Amy Poehler
20. "Teamwork is so important that it is virtually impossible for you to reach the heights of your capabilities or make the money that you want without becoming very good at it. Remember upon the conduct of each depends the fate of all." – Brian Tracy
Motivational Teamwork Quotes For Office 
1. "Coming together is a beginning. Keeping together is progress. Working together is success." – Henry Ford
2. "If everyone is moving forward together, then success takes care of itself." – Henry Ford
3. "Teamwork is the ability to work together toward a common vision. The ability to direct individual accomplishments toward organizational objectives. It is the fuel that allows common people to attain uncommon results." – Andrew Carnegie
4. "None of us is as smart as all of us." – Ken Blanchard
5. "Alone we can do so little; together we can do so much." – Helen Keller
6. "Team, remember this, every one of us has a role to play, a contribution to make. Alone, our impact may be limited, but when we unite our efforts, we create something that far surpasses what any of us could do alone."
7. "We're on this journey together, and each of us has a part in it. We each have our individual strengths, but when we bring them together, that's where the magic happens. Our collective wisdom and creativity are our greatest assets. Trust in them, and let's create something extraordinary."
8. "We're not just colleagues, we're a team, a powerhouse of talent and determination. Our strength isn't just in our numbers, it's in our unity, our shared vision. When we pool our efforts and row together, we can cross any sea and overcome any challenge."
9. "This isn't just about ticking boxes and meeting deadlines. It's about coming together to build something meaningful, something exceptional. So, let's dig deep, unleash our collective creativity, and make a real difference!"
10. "It is literally true that you can succeed best and quickest by helping others to succeed." – Napoleon Hill
11. "The strength of the team is each individual member. The strength of each member is the team." – Phil Jackson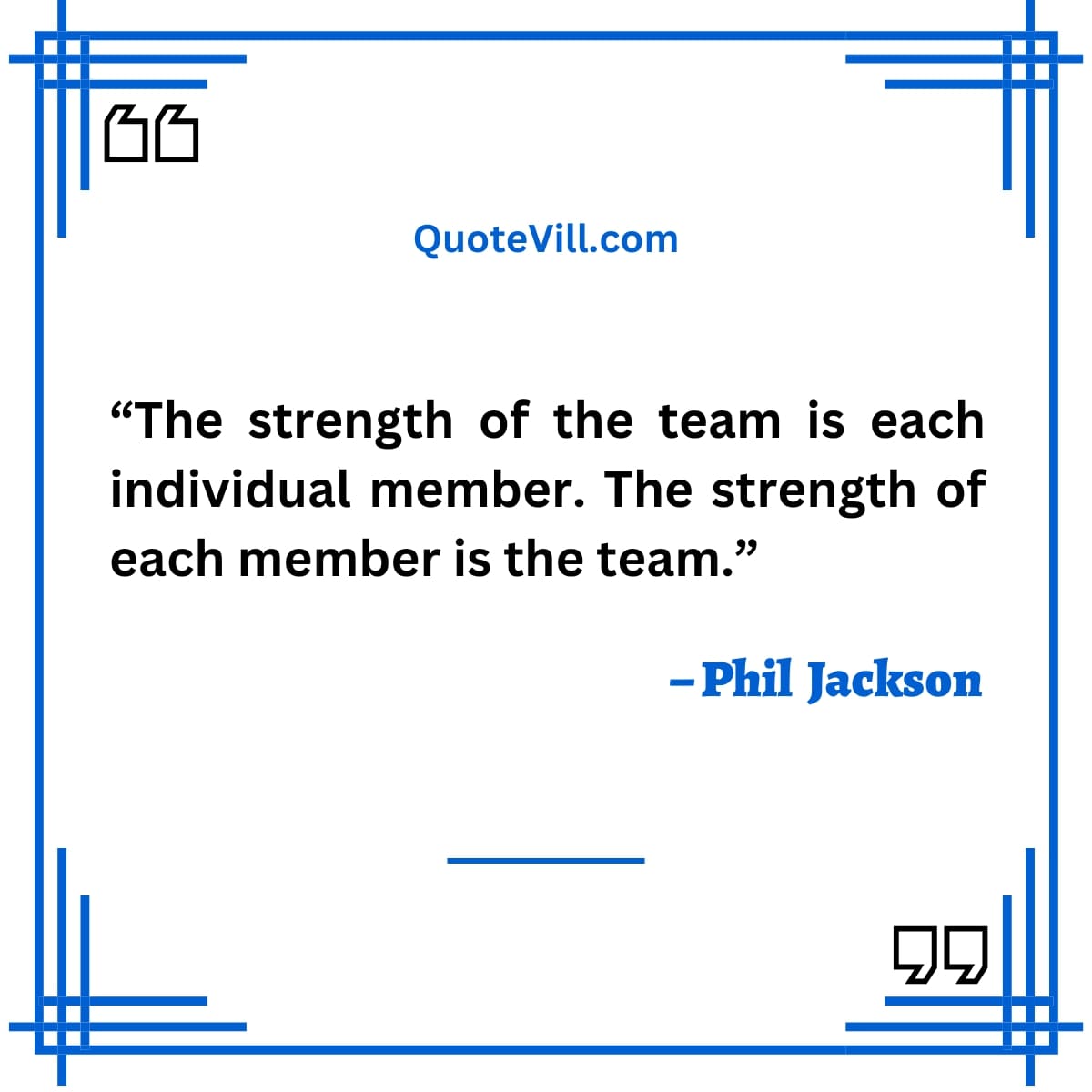 12. "The best teamwork comes from men who are working independently toward one goal in unison." – James Cash Penney
13. "Talent wins games, but teamwork and intelligence win championships." – Michael Jordan
14. "Remember, teamwork begins by building trust. And the only way to do that is to overcome our need for invulnerability." – Patrick Lencioni
15. "Every day we join forces, not just as coworkers but as a team, driven by a common goal. In this journey, there will be obstacles, and there will be triumphs. But, remember, the experience we gain and the bonds we forge make it all worth it."
16. "We're more than just a team; we're a harmonious ensemble. Each of us brings our unique talents to the table, contributing to the success of our projects. Remember, our strength lies not in our solo performances, but in how well we collaborate and support one another."
17. "Our project is not just a task; it's a mission. We are the agents of change. Each of us has a unique role, and it's the combination of our efforts that will drive this mission to success. So, let's get to work and make history!"
18. "We've got challenges to face, but remember, overcoming hurdles is part of the journey to success. Every step we take together gets us closer to our goal. Let's keep moving, keep innovating, and most importantly, let's enjoy the process."
19. "As a team, we form a strong foundation. Each of us is a vital component. If one of us falters, it affects the entire structure. But when we stand firm together, we create something not only solid but also extraordinary."
20. "Imagine us in a relay race, not against other teams, but against the challenge at hand. Each of us plays a part, giving our best. It's in our coordination and smooth exchange of responsibilities that we outpace the challenge. That's us, we're in this together, and together, we're unstoppable."
Teamwork Quotes For Sports Team To Boost
1. "Teamwork makes the dream work, but a vision becomes a nightmare when the leader has a big dream and a bad team." – John C. Maxwell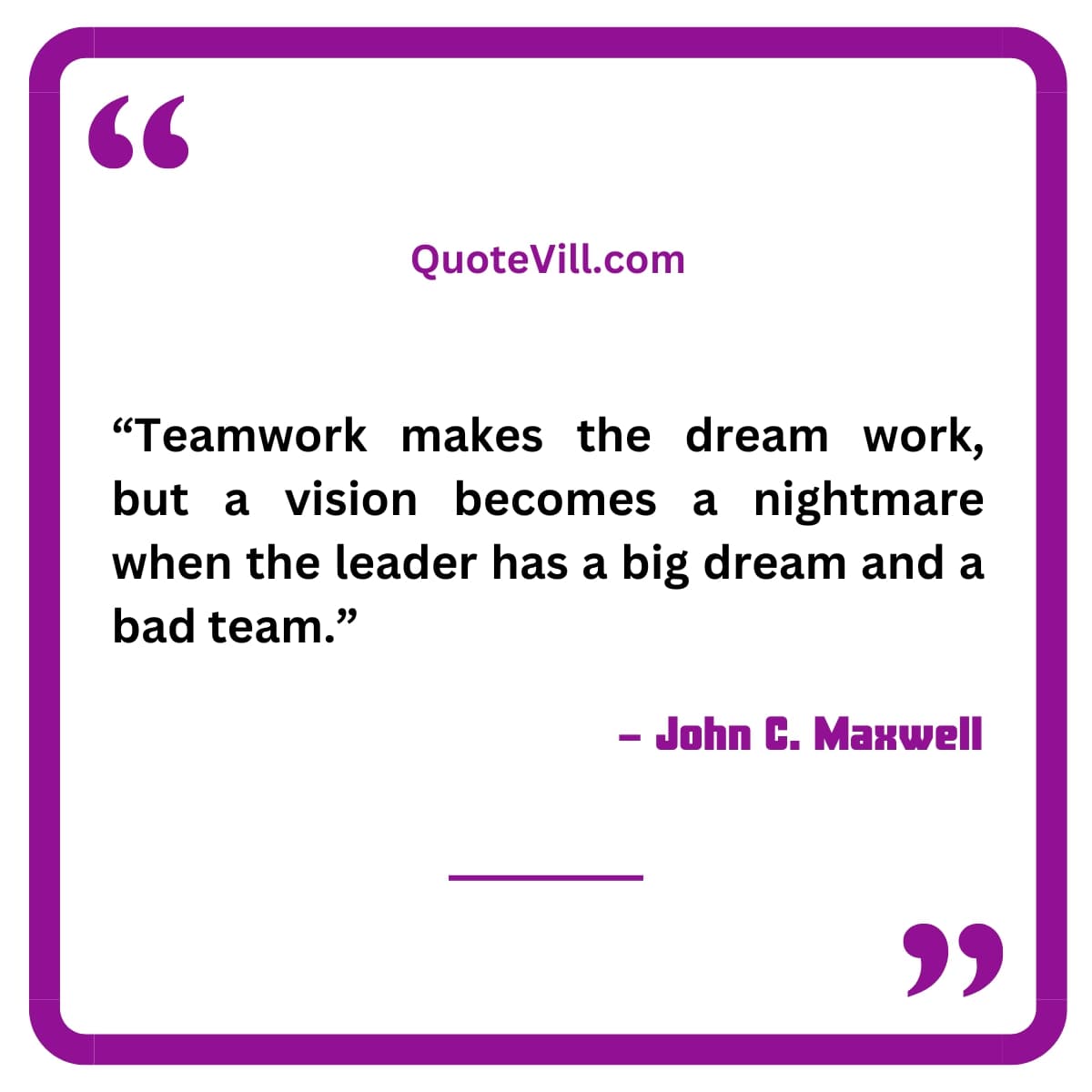 2. "Unity is strength… when there is teamwork and collaboration, wonderful things can be achieved." – Mattie Stepanek
3. "Good teams incorporate teamwork into their culture, creating the building blocks for success." – Ted Sundquist
4. "I found that while life drags on when you're losing, it marches on when you're winning." – Tony La Russa
5. "There's no substitute for a great love who says, 'No matter what's wrong with you, you're welcome at this table.'" – Tom Hanks
6. "A champion team needs only a modest performance from each team member, but the synergy will produce outstanding results." – Buzz Aldrin
7. "A single arrow is easily broken, but not ten in a bundle." – Japanese Proverb
8. "Great teams do not hold back with one another. They are unafraid to air their dirty laundry. They admit their mistakes, their weaknesses, and their concerns without fear of reprisal." – Patrick Lencioni
9. "The secret to success is good leadership, and good leadership is all about making the lives of your team members or workers better." – Tony Dungy
10. "Just as a basketball team needs five players on the court, understand that your success is going to come as a result of your team." – Zig Ziglar
11. "One man can be a crucial ingredient on a team, but one man cannot make a team." – Kareem Abdul-Jabbar
12. "Victory is in having done your best. If you've done your best, you've won." – Bill Bowerman
13. "The principle is competing against yourself. It's about self-improvement, about being better than you were the day before." – Steve Young
14. "You are never really playing an opponent. You are playing yourself, your own highest standards, and when you reach your limits, that is a real joy." – Arthur Ashe
15. "Champions keep playing until they get it right." – Billie Jean King
16. "The harder the battle, the sweeter the victory." – Les Brown
17. "I can't do it never yet accomplished anything – I will try has performed miracles." – George P. Burnham
18. "A player who makes a team great is more valuable than a great player." – John Wooden
19. "The secret to winning is constant, consistent management." – Tom Landry
20. "If a team is to reach its potential, each player must be willing to subordinate his personal goals to the good of the team." – Bud Wilkinson
Short Teamwork Captions For Social Media
1. "No one can whistle a symphony. It takes a whole orchestra to play it." – H.E. Luccock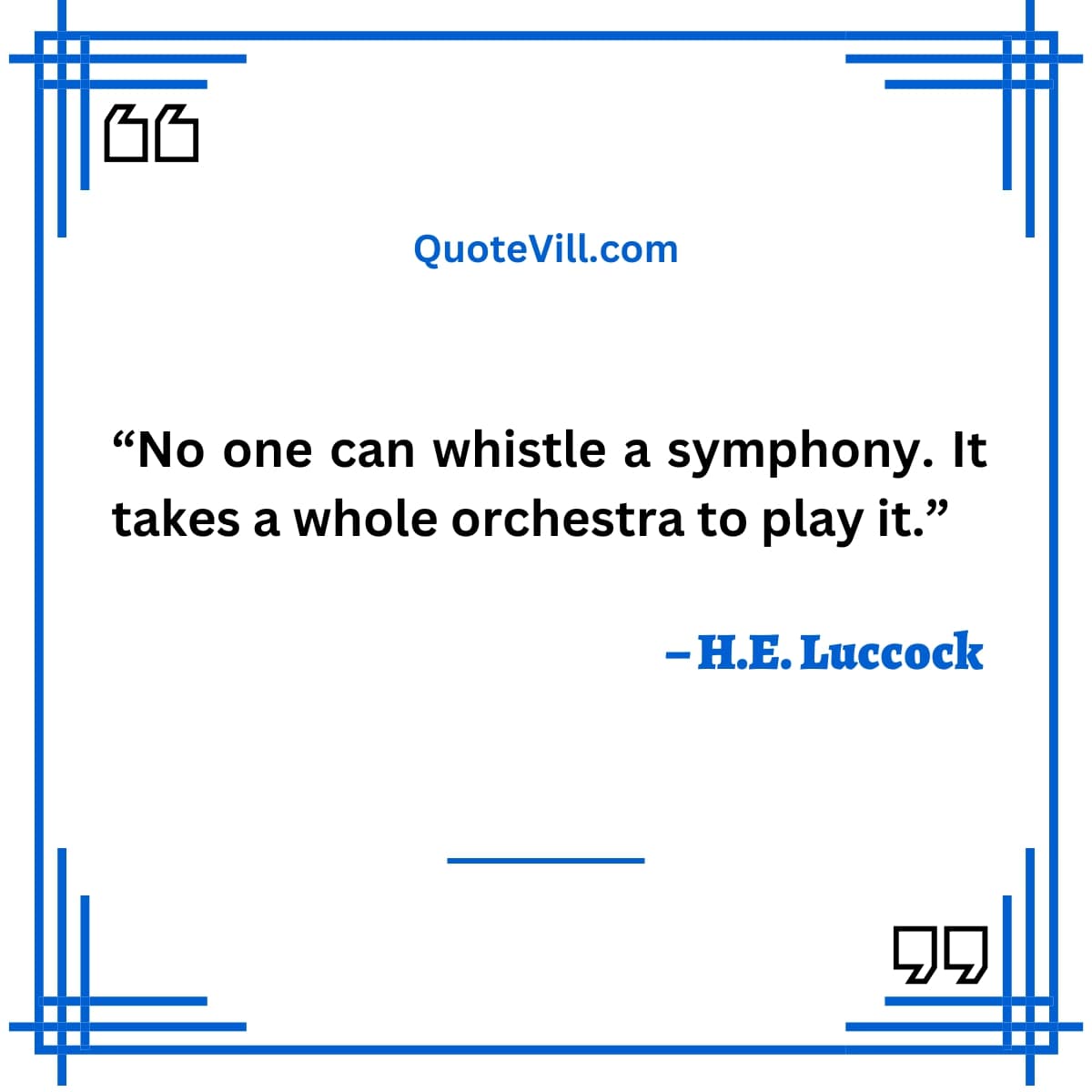 2. "Coming together is a beginning; keeping together is progress; working together is success." – Edward Everett Hale
3. "The whole is other than the sum of the parts." – Kurt Koffka
4. "Teamwork: Simply stated, it is less me and more we."
5. "Remember, the goal is to build up the team, not your ego."
6. "A group becomes a team when all members are sure enough of themselves to praise the skills of others." – Norman Shidle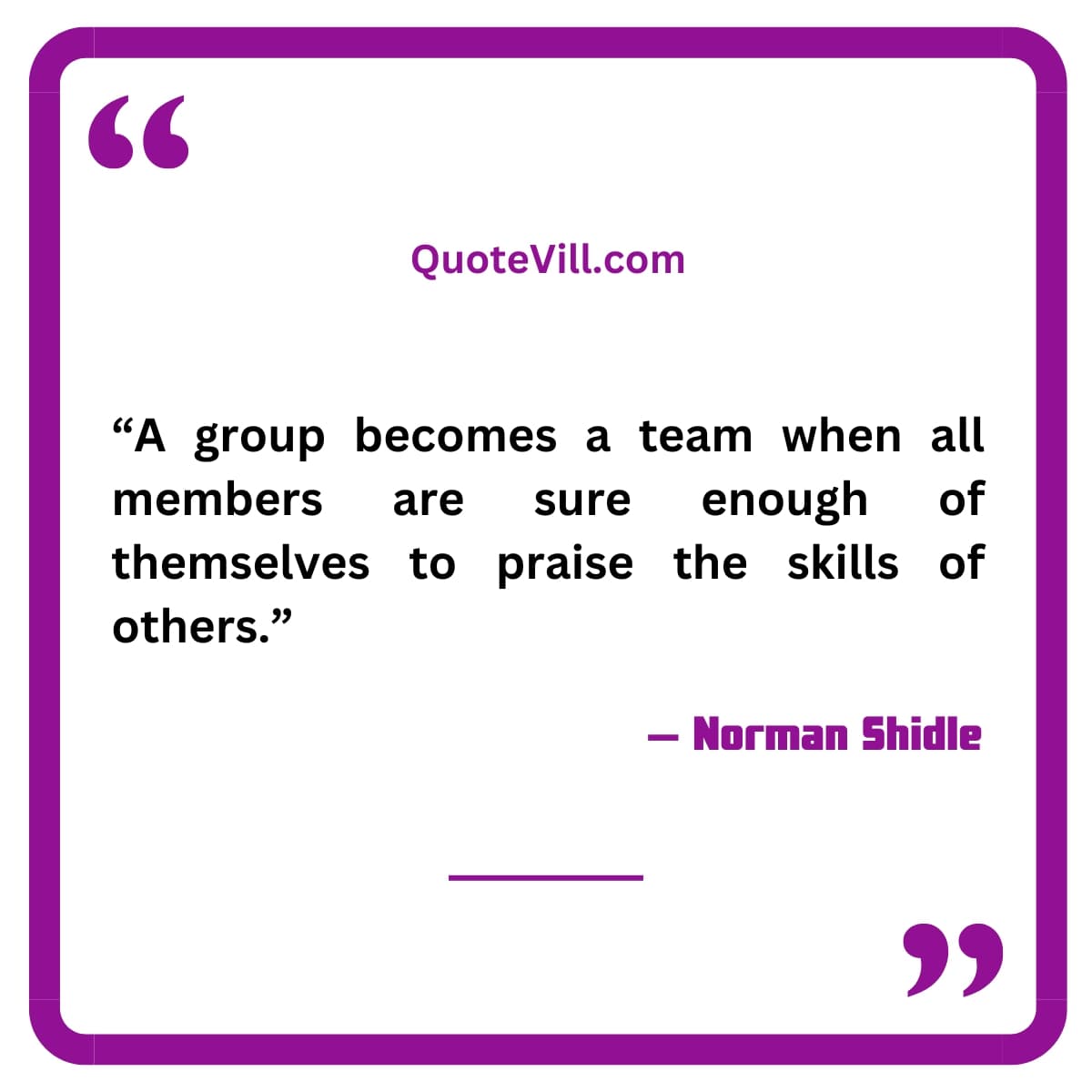 7. "We = Power."
8. "Cooperation is the thorough conviction that nobody can get there unless everybody gets there." – Virginia Burden
9. "Many hands make light work." – John Heywood
10. "Together everyone achieves more."