What is life without gratitude? Thus, our Thanksgiving quotes are ideal for describing your earnest appreciation, and these also depict a sense of gratefulness that you can enjoy with sumptuous meals and colorful parades, as these quotes imbue the celebration with deeper meaning.
Thanksgiving is a national day in countries such as The United States of America, Liberia, Canada, Lucia, Grenada, etc. It is an official holiday and is celebrated primarily during the autumn season.
The date varies depending on the country, but the emotion behind Thanksgiving remains the same. That is to acknowledge and appreciate Nature's bounty following the harvest season. In Canada, it is celebrated in October, whereas in the USA, they celebrate it in November.
Our Thanksgiving quotes can show gratitude through words if you cannot physically meet your family during Thanksgiving week. Begin the Thanksgiving dinner with these quotes and help those in need while offering a meal to less fortunate people. Your kind words combined with a home-cooked meal are nothing less than a boon for people who can't afford it.
Inspirational Quotes About Thanksgiving
1. "Gratitude can transform common days into thanksgivings, turn routine jobs into joy, and change ordinary opportunities into blessings." — William Arthur Ward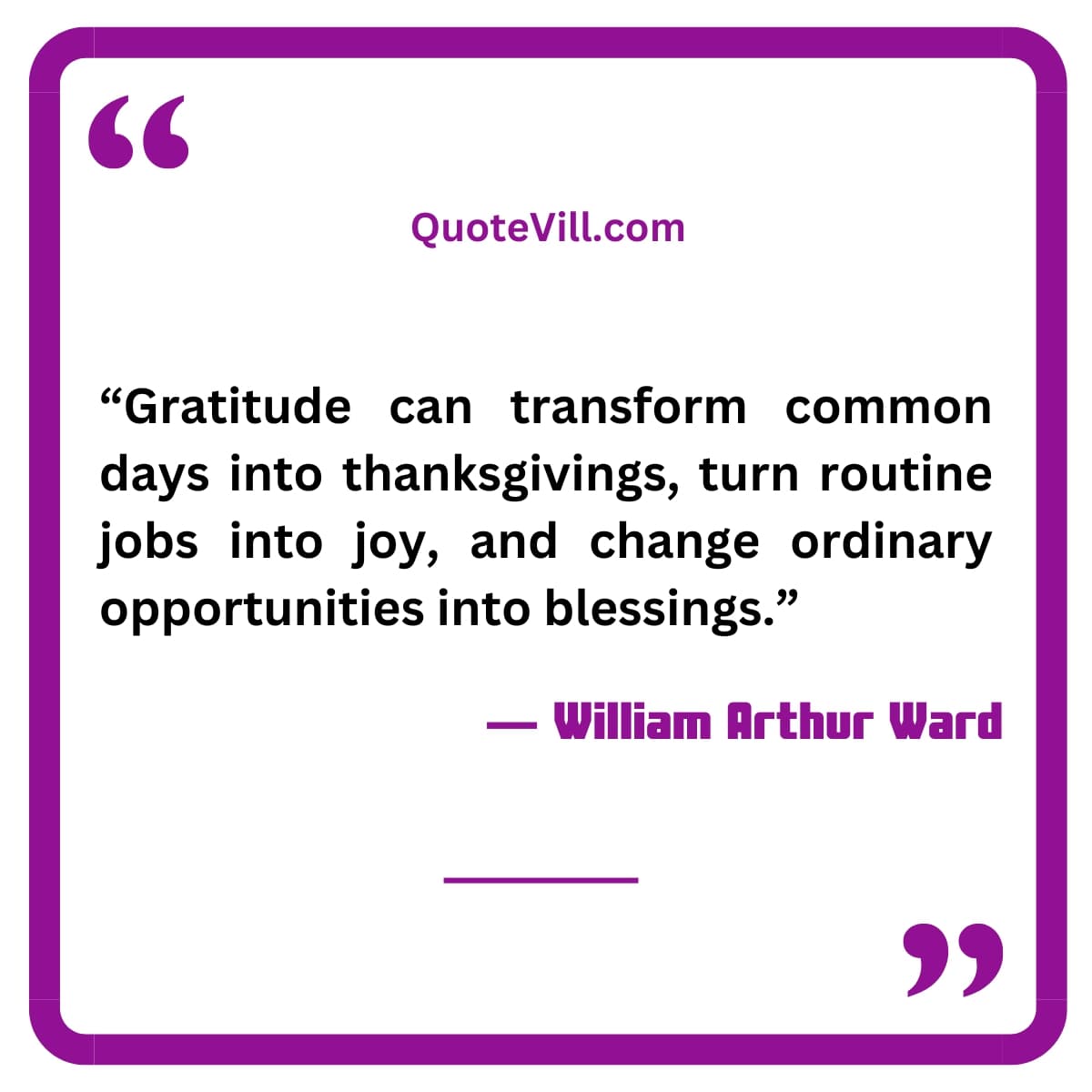 2. "Thanksgiving is a time of togetherness and gratitude." — Nigel Hamilton
3. "The roots of all goodness lie in the soil of appreciation for goodness." — Dalai Lama
4. "Not what we say about our blessings, but how we use them, is the true measure of our Thanksgiving." — W.T. Purkiser
5. "Give thanks not just on Thanksgiving Day, but every day of your life. Appreciate and never take for granted all that you have." — Catherine Pulsifer
6. "Gratitude is not only the greatest of virtues but the parent of all others." — Cicero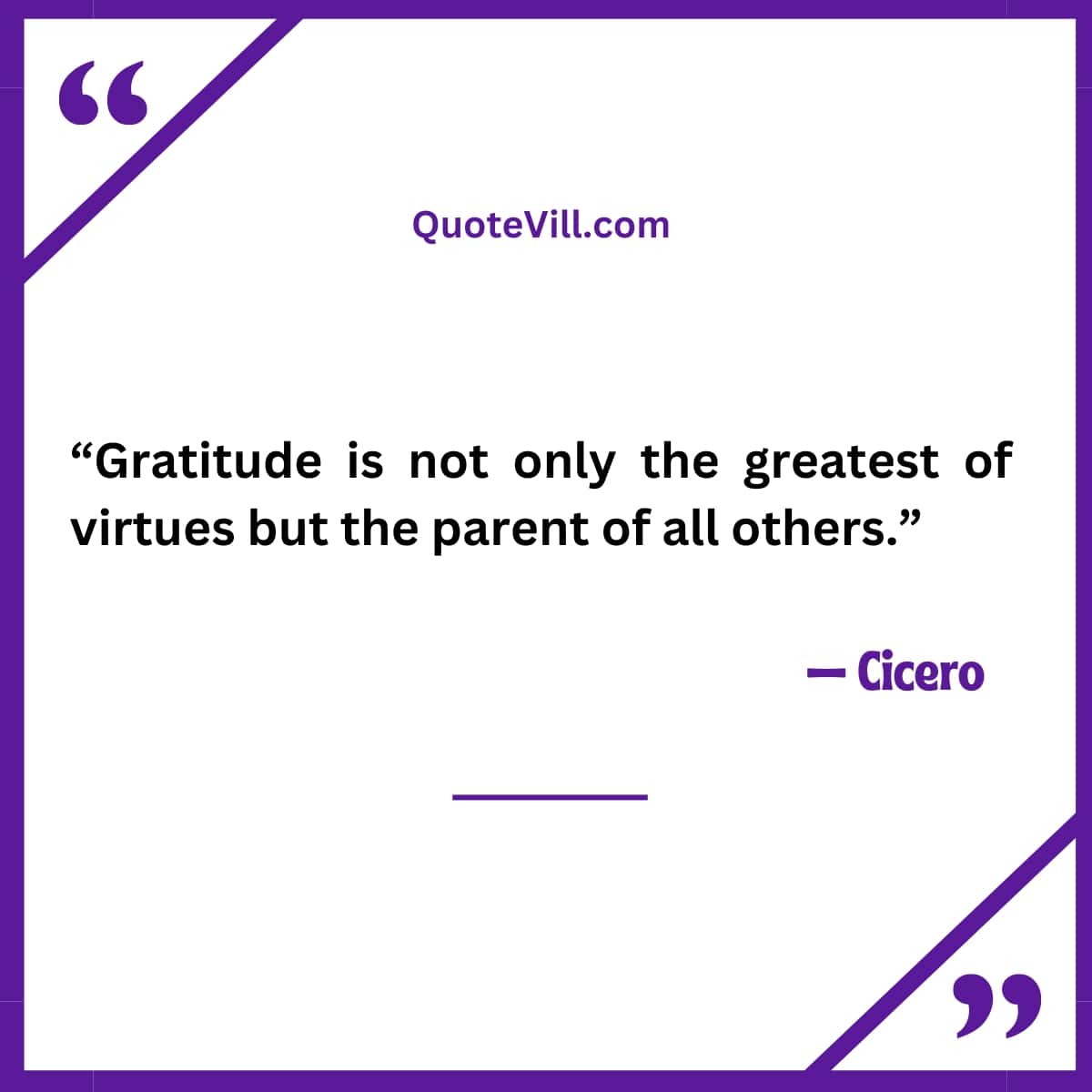 7. "Thanksgiving isn't just a day. It's a way we can live our lives every day." — Katrina Mayer
8. "At the heart of every family tradition is a meaningful experience." — Unknown
9. "As we express our gratitude, we must never forget that the highest appreciation is not to utter words, but to live by them." — John F. Kennedy
10. "Let us remember that, as much has been given us, much will be expected from us, and that true homage comes from the heart as well as from the lips, and shows itself in deeds." — Theodore Roosevelt
Thanksgiving Quotes For Family
1. "The love of a family is life's greatest blessing. We gather on this day to be thankful for what we have, for the family we love, the friends we cherish, and for the blessings that will come."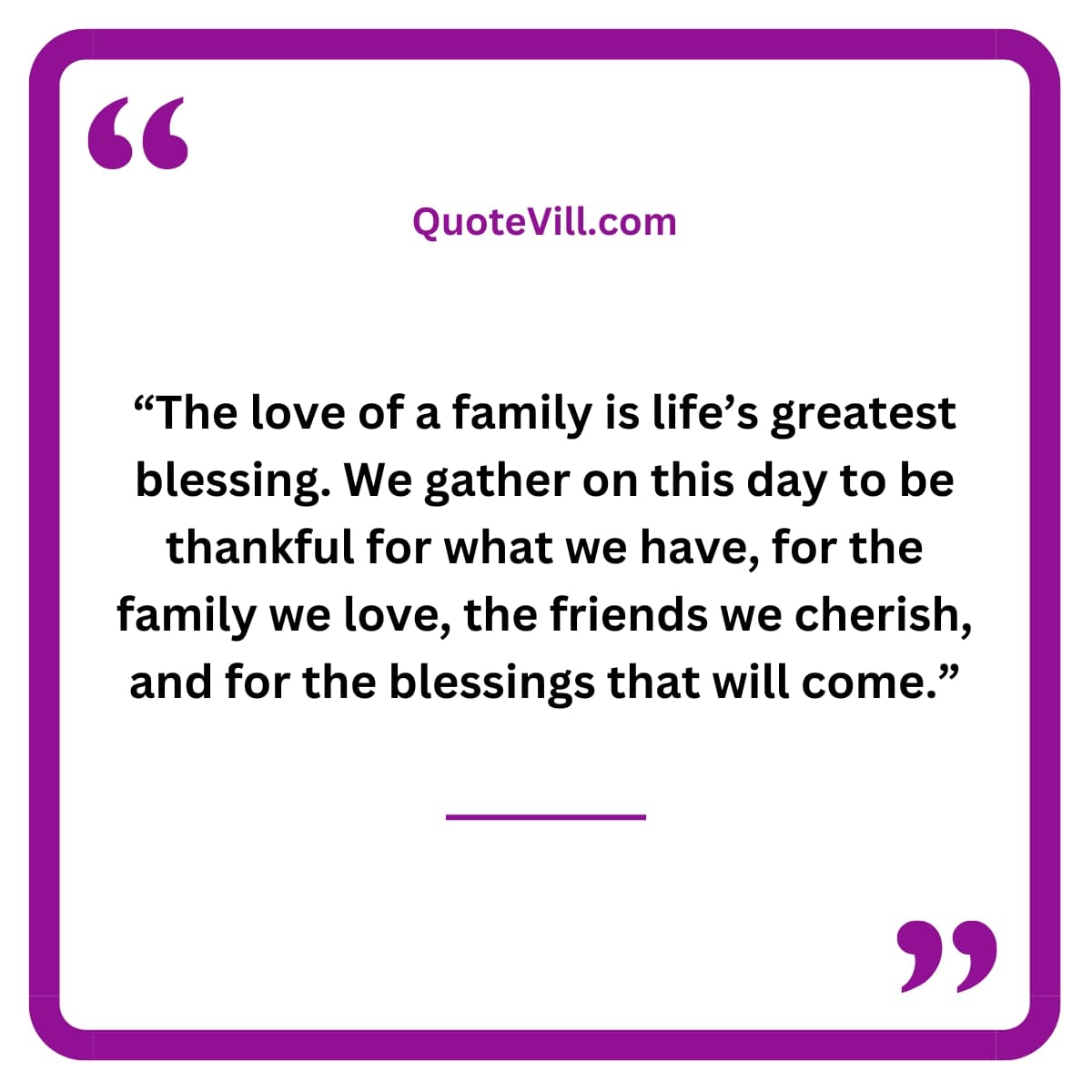 2. "In the end, it's not the years in your life that count. It's the life in your years. Gathered around the Thanksgiving table, family is what we cherish most of all."
3. "The family is the heart of the Thanksgiving celebration and the reason we give our thanks."
4. "Families are like branches on a tree. We grow in different directions yet our roots remain as one. Every Thanksgiving, we're reminded of the strength of these roots."
5. "Thanksgiving is a time to give, a time to love, and a time to reflect on the things that matter most in life — family and friends." — Danielle Duckery
6. "What we're really talking about is a wonderful day set aside on the fourth Thursday of November when no one diets. I mean, why else would they call it Thanksgiving?" — Erma Bombeck
7. "No Thanksgiving would be complete without thanking the people who make my life special. So, thank you all for being in my life. Family is the gift that lasts forever."
8. "Thanksgiving Day is a good day to recommit our energies to giving thanks and just giving." — Amy Grant
9. "Around this table, we see the gift of family and friends. Let us cherish the moments, the laughter, and the memories. For these are the blessings of a lifetime."
10. "On Thanksgiving and always, may you and your loved ones savor all that is rich, may the festivities come alive with the cornucopia of hope, faith, and goodwill."
Famous Thanksgiving Quotes From Movies
1. "Home for the Holidays" (1995):
"Nobody means what they say on Thanksgiving, Mom. You know that. That's what the day's supposed to be all about, right? Torture."
2. "Pieces of April" (2003):
"You are the first boyfriend she's ever brought home, ever. It's a big deal – Thanksgiving with my family!"
3. "Scent of a Woman" (1992):
"If I were the man I was five years ago, I'd take a flamethrower to this place! All right, I'm going upstairs to partake in one of the most famous illegal traditions: pre-dinner Thanksgiving cigar."
4. "Hannah and Her Sisters" (1986):
"I love Thanksgiving. It's just my favorite. I can cook, people actually like the cooking, I love Christmas too, but Thanksgiving was always a little bit more my holiday."
5. "Son in Law" (1993):
"My first Thanksgiving, there was like forty people jammed into our apartment. And my grandma Sluggo actually started a grease fire, trying to deep-fry this turkey."
6. "The Blind Side" (2009)
"Do you even know how much that's gonna cost?"
"Do you have any idea how much adoption costs?"
7. "Rocky" (1976)
"To you, it's Thanksgiving; to me, it's Thursday."
8. "Dutch" (1991)
"I say to the good Lord every morning, 'Lord, I am not worthy of this bounty. Amen.'"
9. "A Charlie Brown Thanksgiving" (1973)
"What's Thanksgiving without a little emotional scarring?"
10. "You've Got Mail" (1998)
"I love daisies. They're so friendly. Don't you think that daisies are the friendliest flower?"
Thanksgiving Quotes For Friends
1. "Thanksgiving comes to us out of the prehistoric dimness, universal to all ages and all faiths. At whatever straws we must grasp, there is always a time for gratitude and new beginnings." — J. Robert Moskin
2. "Blessed are those that can give without remembering and receive without forgetting." — Unknown
3. "Friendship is the wine of life. This Thanksgiving, may you be bountiful in both." — Unknown
4. "There is always something to be thankful for. I am thankful for nights that turned into mornings, friends that turned into family, and dreams that turned into reality."
5. "Gratitude is the heart's memory. This Thanksgiving, I remember all the times and reasons we've been thankful for each other." — Jean Baptiste Massieu
6. "Friends are the fruitcake of our lives – some nutty, some soaked in alcohol, some sweet. But mix them together and they're my friends. Happy Thanksgiving!"
7. "The best part about Thanksgiving is the company of good friends and family that surrounds us. It's not what we have in life, but who we have in our life that matters."
8. "Thanksgiving is more than the festivities, it gives us time to reflect upon what lessons we have learned and how we can spread happiness around, to look back at all the great memories and good people who came into our lives. I appreciate you so much. Happy Thanksgiving Day to you and your loved ones."
9. "Thanksgiving day comes, by statute, once a year; but, for an honest man, it comes as frequently as the heart of gratitude will allow. For friends like you, every day is a day of giving thanks."
10. "True friendship multiplies the good in life and divides its evils. This Thanksgiving, I count you among my richest blessings."
Religious Thanksgiving quotes
1. "O Give thanks unto the Lord, for he is good: for his mercy endureth forever." — Psalm 107:1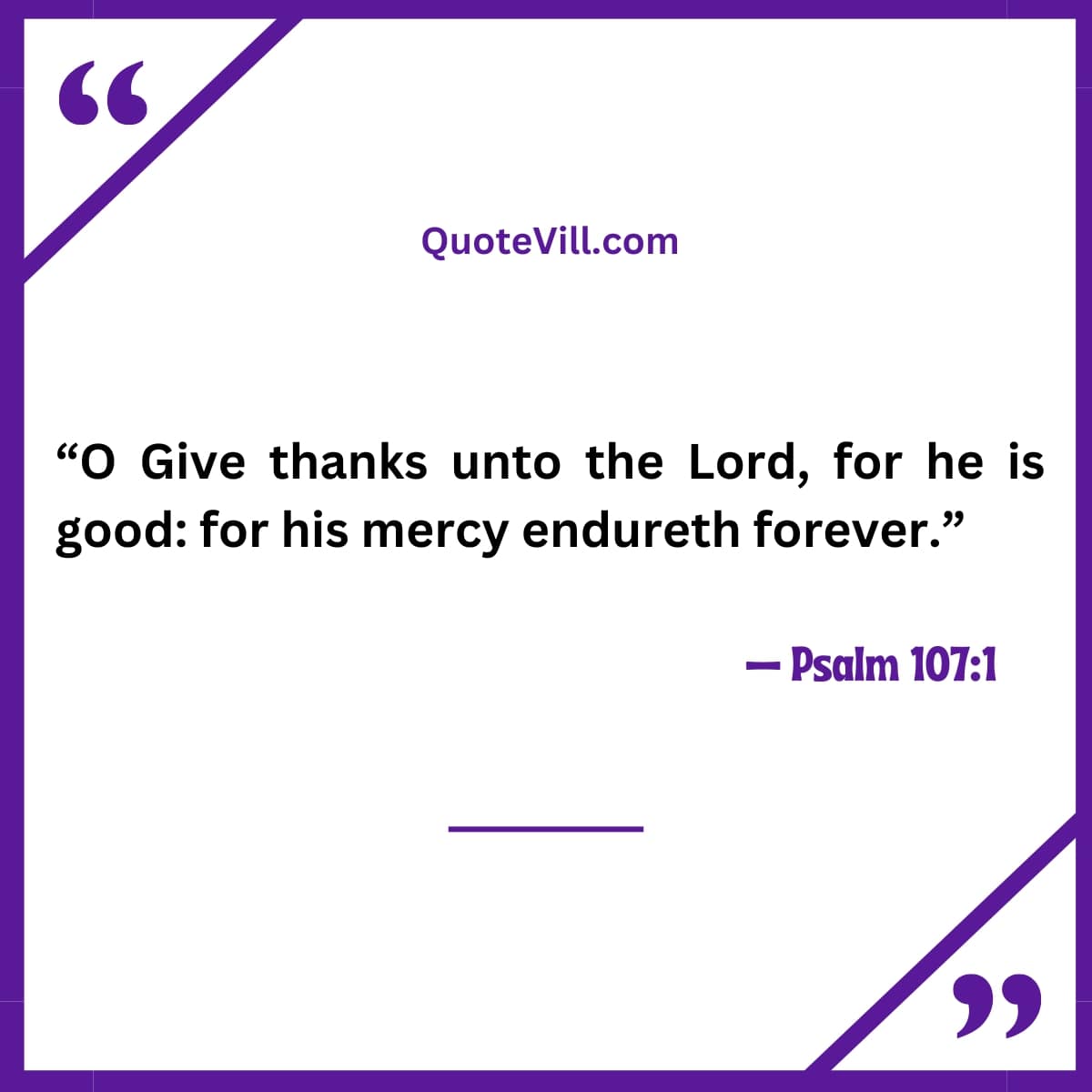 2. "Enter his gates with thanksgiving and his courts with praise; give thanks to him and praise his name." — Psalm 100:4
3. "In every thing give thanks: for this is the will of God in Christ Jesus concerning you." — 1 Thessalonians 5:18
4. "Oh come, let us sing to the Lord; let us make a joyful noise to the rock of our salvation! Let us come into his presence with thanksgiving; let us make a joyful noise to him with songs of praise!" — Psalm 95:1-2
5. "Give thanks in all circumstances; for this is God's will for you in Christ Jesus." — 1 Thessalonians 5:18
6. "And whatever you do, whether in word or deed, do it all in the name of the Lord Jesus, giving thanks to God the Father through him." — Colossians 3:17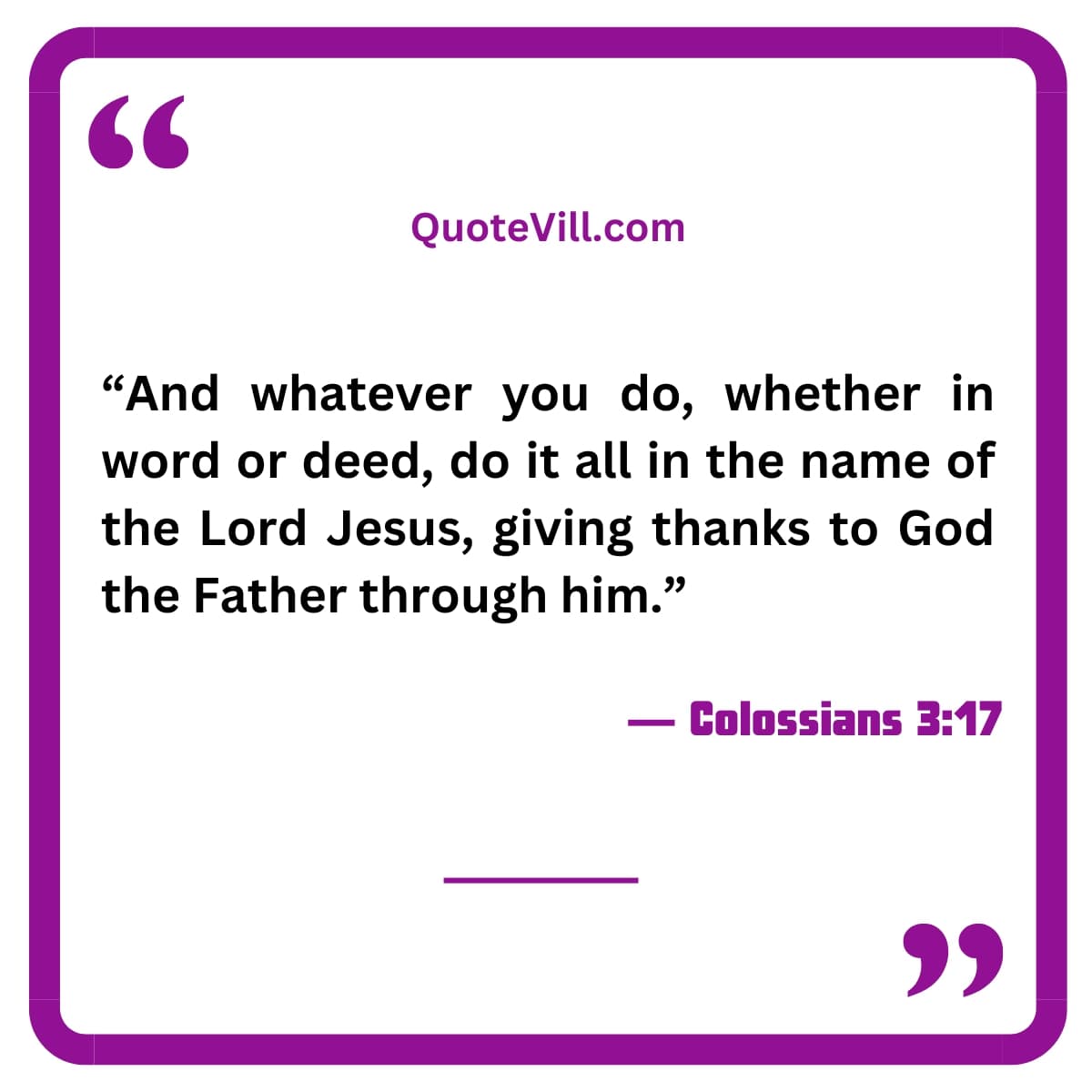 7. "Blessed are you, Lord God of all creation, for it is from your generosity that we have received the bread we offer you: fruit of the earth and work of human hands." — Catholic Eucharistic Prayer
8. "For from him and through him and to him are all things. To him be glory forever. Amen." — Romans 11:36
9. "Therefore, since we are receiving a kingdom that cannot be shaken, let us be thankful, and so worship God acceptably with reverence and awe." — Hebrews 12:28
10. "Praise the Lord. Give thanks to the Lord, for he is good; his love endures forever." — Psalm 106:1