Trust quotes underscore the complexity of earning and maintaining others' trust. These profound sayings serve as reminders that we must think rationally and act appropriately to preserve the trust others place in us.
The essence of maintaining trust lies in honesty and sincerity. Selfishness hampers the process of gaining trust, as it typically flourishes when we serve others selflessly. Trust quotes illustrate that it's not just about making promises, but also about demonstrating our integrity and sincerity.
These quotes also highlight the importance of steering situations down the right path, reminding us that positive outcomes often stem from placing faith in others.
Trust isn't something we can simply talk about; we must prove our trustworthiness through our actions. As the famous proverb, "Actions speak louder than words," suggests, we must act in ways that help foster trust.
This collection of sensible trust quotes offers insights, perspectives, and guidance that can help us navigate the complexities of trust and make informed choices.
Best Trust Quotes To Build Trusts
1. "Trust is the glue of life. It's the most essential ingredient in effective communication. It's the foundational principle that holds all relationships." – Stephen R. Covey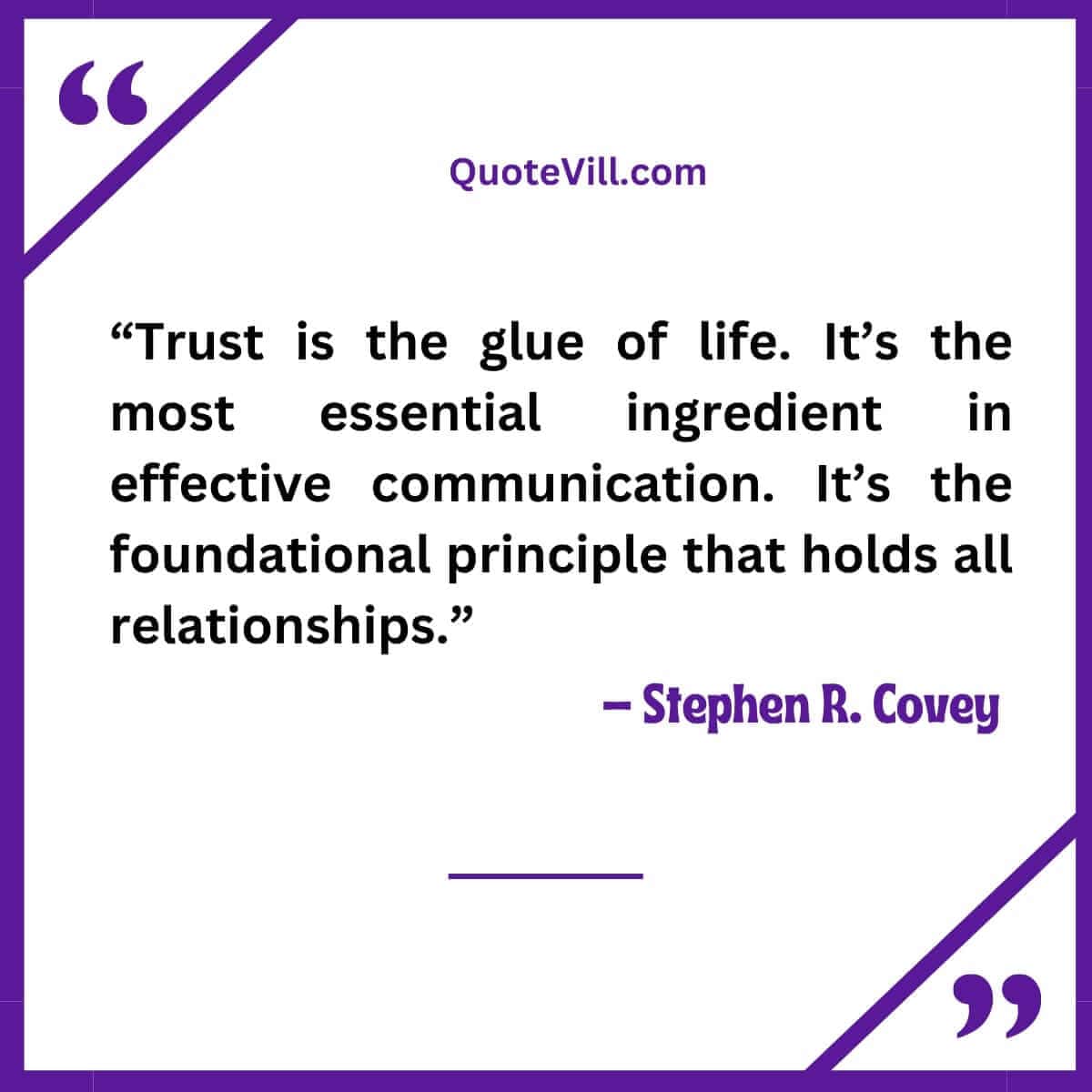 2. "The best way to find out if you can trust somebody is to trust them." – Ernest Hemingway
3. "Trust, but verify." – Ronald Reagan
4. "The trust of the innocent is the liar's most useful tool." – Stephen King
5. "You must trust and believe in people, or life becomes impossible." – Anton Chekhov
6. "Trust is the easiest thing in the world to lose, and the hardest thing in the world to get back." – R. Williams
7. "Trust is like blood pressure. It's silent, vital to good health, and if abused, it can be deadly." – Frank Sonnenberg
8. "I'm not upset that you lied to me, I'm upset that from now on I can't believe you." – Friedrich Nietzsche
9. "It takes 20 years to build a reputation and five minutes to ruin it. If you think about that, you'll do things differently." – Warren Buffett
10. "Trust is built with consistency." – Lincoln Chafee
11. "Few delights can equal the mere presence of someone we utterly trust." – George MacDonald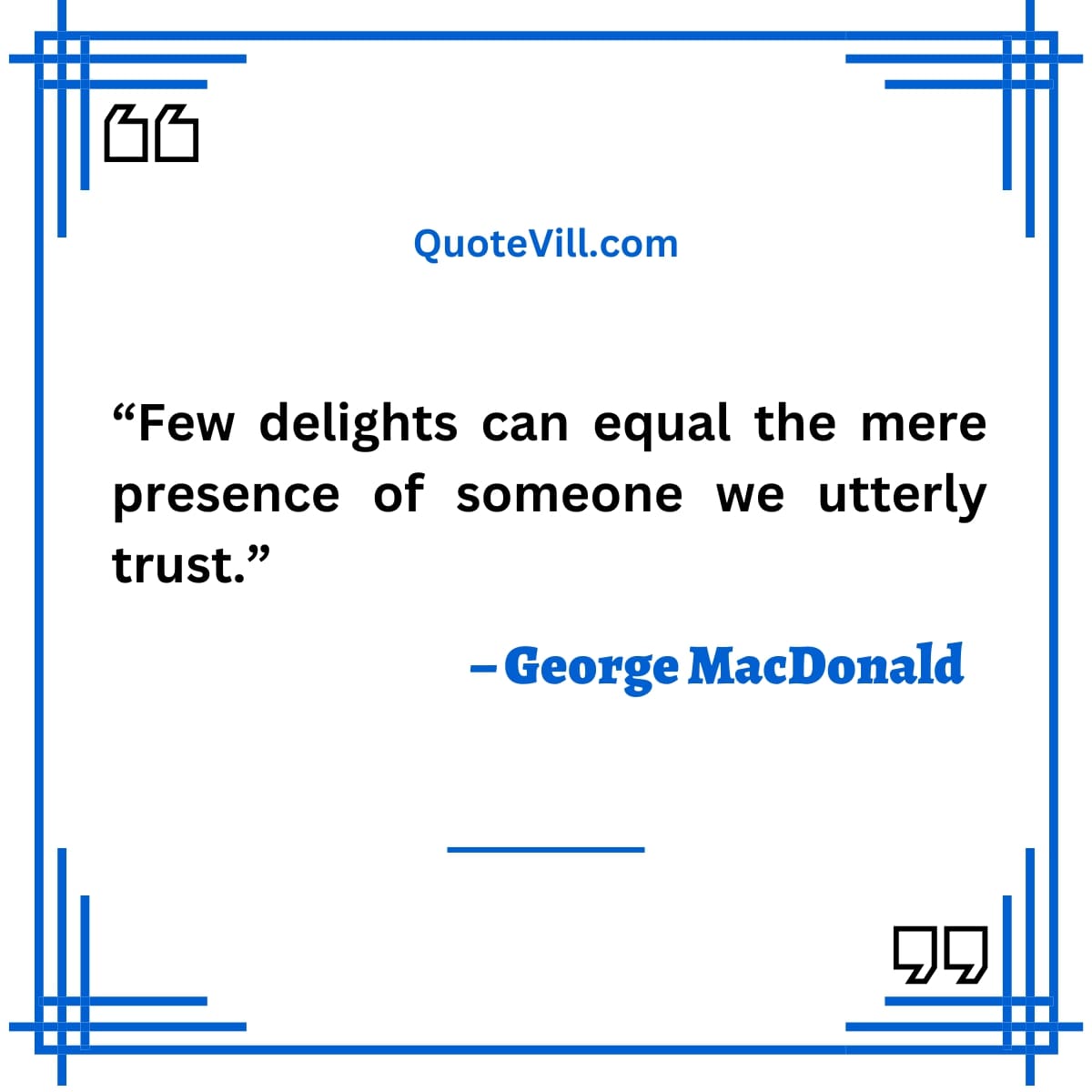 12. "He who does not trust enough, will not be trusted." – Lao Tzu
13. "Trust has to be earned, and should come only after the passage of time." – Arthur Ashe
14. "Trust is built when someone is vulnerable and not taken advantage of." – Bob Vanourek
15. "Trust starts with truth and ends with truth." – Santosh Kalwar
16. "Trust yourself, you know more than you think you do." – Benjamin Spock
17. "Trust is not simply a matter of truthfulness, or even constancy. It is also a matter of amity and goodwill. We trust those who have our best interests at heart, and mistrust those who seem deaf to our concerns." – Gary Hamel
18. "Trust is letting go of needing to know all the details before you open your heart." – Anonymous
19. "Trust is hard to come by. That's why my circle is small and tight. I'm kind of funny about making new friends." – Eminem
20. "Trust yourself. Create the kind of self that you will be happy to live with all your life. Make the most of yourself by fanning the tiny, inner sparks of possibility into flames of achievement." – Golda Meir
Read: 160 Inspiring 4 Word Short Deep Quotes To Reflect On
Trust Quotes for Relationships
1. "We're never so vulnerable than when we trust someone – but paradoxically, if we cannot trust, neither can we find love or joy." – Walter Anderson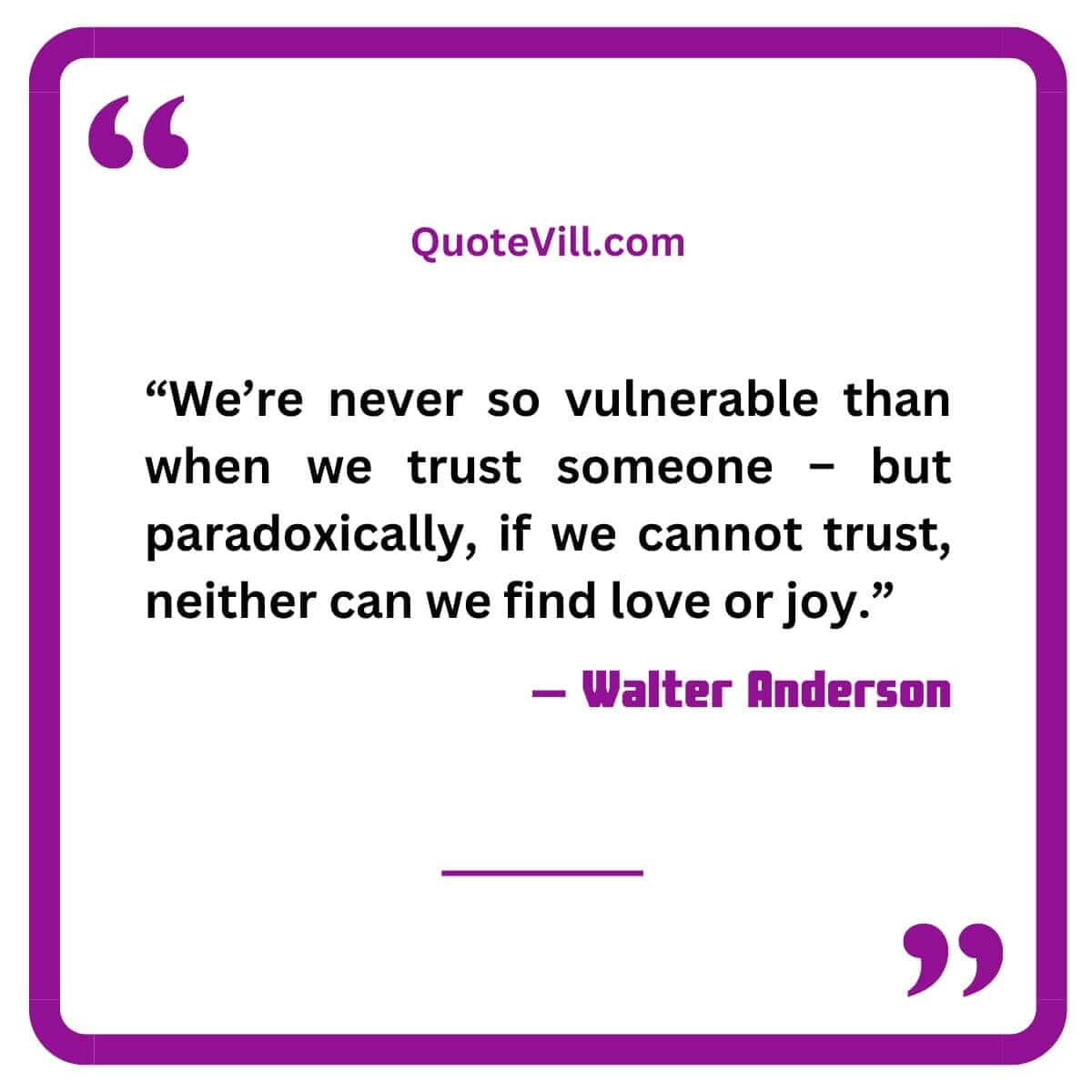 2. "A relationship with no trust is like a cell phone with no service, all you can do is play games." – Unknown
3. "Trust is the fruit of a relationship in which you know you are loved." – Wm. Paul Young
4. "When the trust account is high, communication is easy, instant, and effective." – Stephen R. Covey
5. "Without communication, there is no relationship. Without respect, there is no love. Without trust, there's no reason to continue." – Unknown
6. "Trust is the highest form of human motivation. It brings out the very best in people." – Stephen R. Covey
7. "It's good to trust others, but, not to do so is much better." – Benito Mussolini
8. "Trust each other again and again. When the trust level gets high enough, people transcend apparent limits, discovering new and awesome abilities of which they were previously unaware." – David Armistead
9. "Love all, trust a few." – William Shakespeare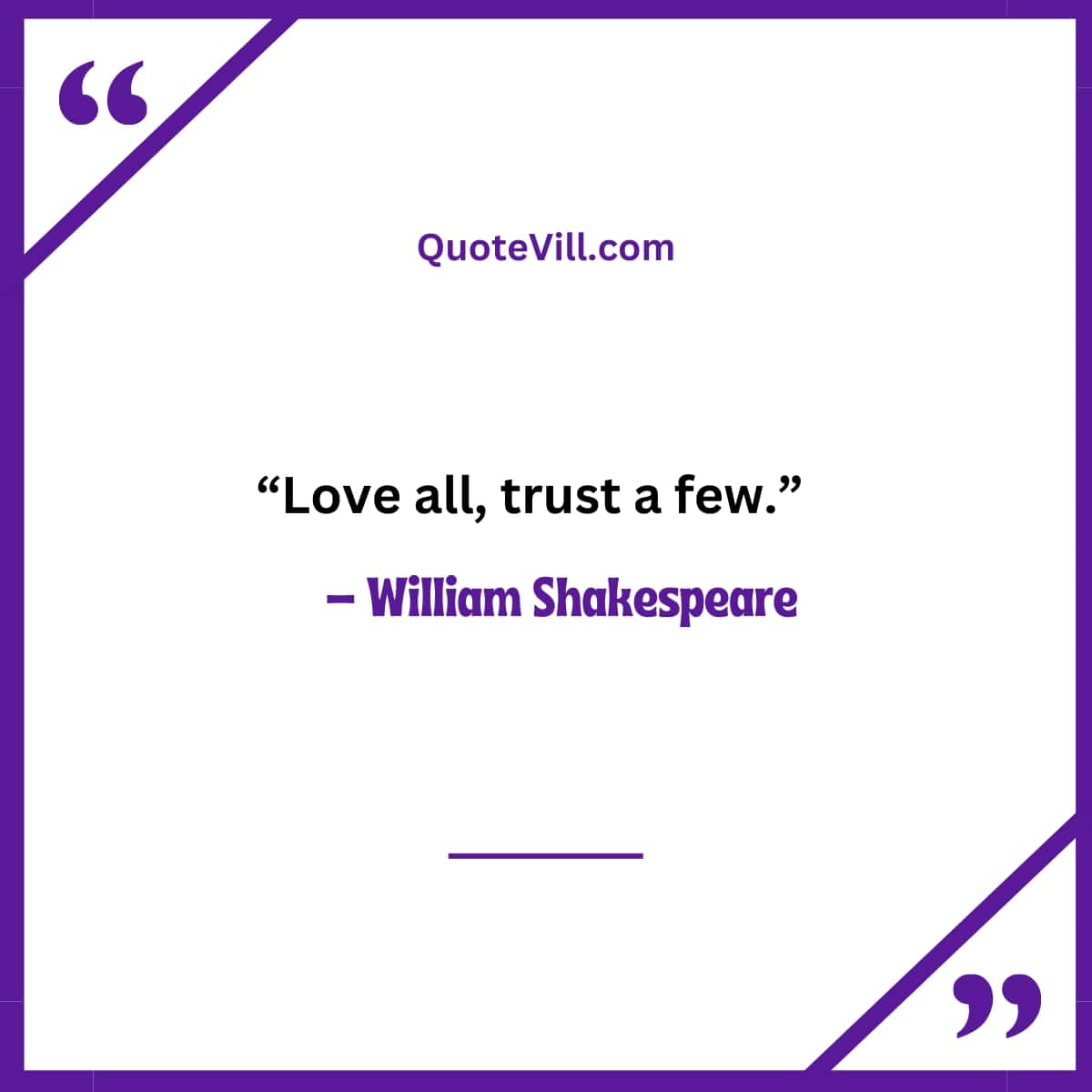 10. "In a relationship, trust is more important than love. Trust will enhance your love." – Unknown
11. "A good relationship is with someone who knows all your insecurities and imperfections but still loves you for who you are." – Unknown
12. "All relationships have one law: never make the one you love feel alone, especially when you're there." – Unknown
13. "Trust is involved in all the basic elements of a healthy relationship: namely, love (respect and consideration for another person), communication, commitment and honesty." – Harold Duarte-Bernhardt
14. "Trust is something that two people in love can't do without. Without it, everything else will begin to break down." – Unknown
15. "In the end, you have to choose whether or not to trust someone." – Sophie Kinsella
Trust Quotes For Love
1. "To be trusted is a greater compliment than being loved." – George MacDonald
2. "Love means to commit oneself without guarantee, to give oneself completely in the hope that our love will produce love in the loved person. Love is an act of faith, and whoever is of little faith is also of little love." – Erich Fromm
3. "Trust is the first step to love." – Munshi Premchand
4. "Trust your heart if the seas catch fire, live by love though the stars walk backward." – E.E. Cummings
5. "You may not always trust the person you love, but you can always love the person you trust." – Unknown
6. "Love all, trust a few, do wrong to none." – William Shakespeare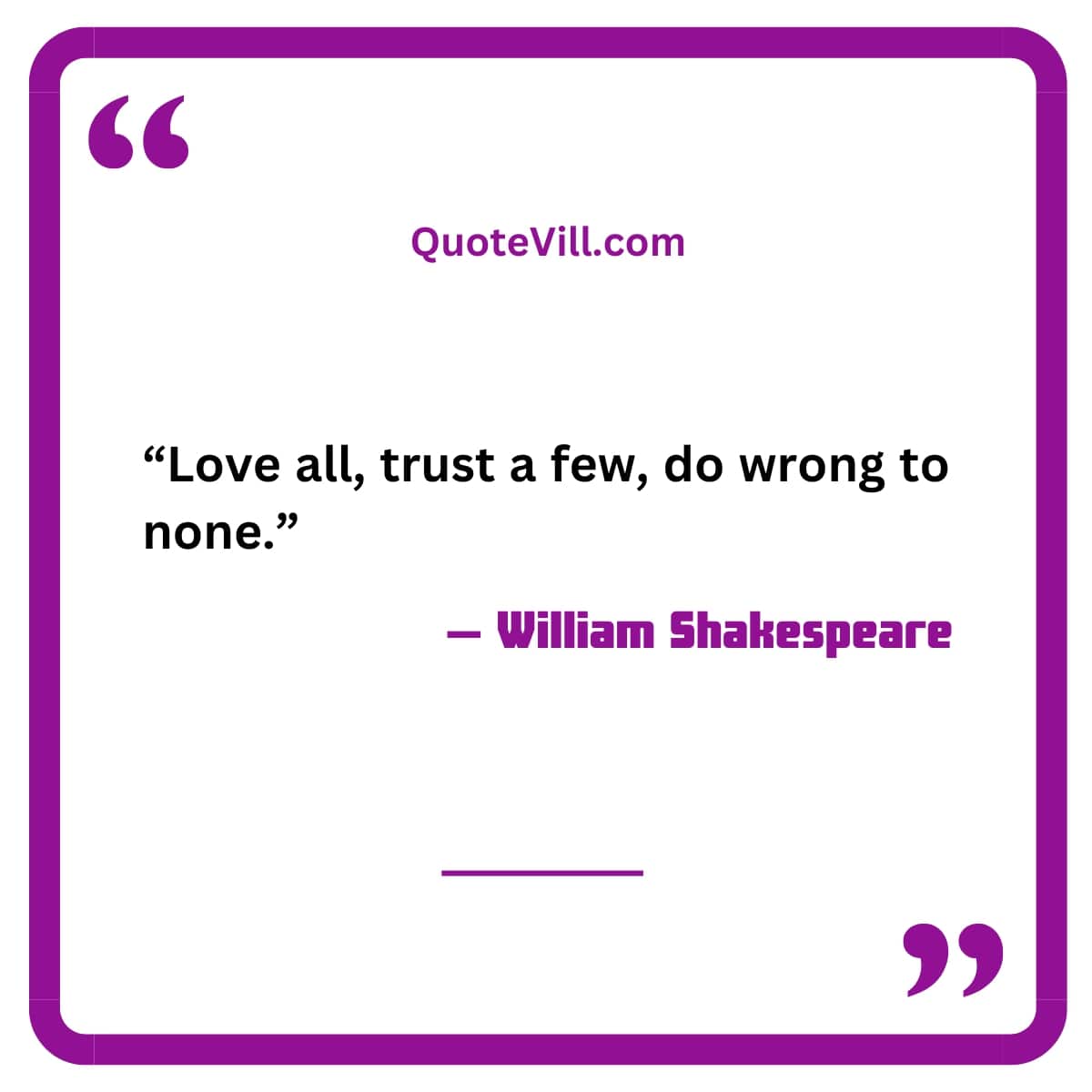 7. "The best proof of love is trust." – Joyce Brothers
8. "Have enough courage to trust love one more time and always one more time." – Maya Angelou
9. "Trust is like a vase, once it's broken, though you can fix it, the vase will never be the same again." – Walter Anderson
10. "Love cannot live where there is no trust." – Edith Hamilton
See: 53 Powerful "Goodbye Toxic Relationship Quotes" To Move Forward
Trust Quotes For Friends
1. "Friendship is born at that moment when one person says to another, 'What! You too? I thought I was the only one.'" – C.S. Lewis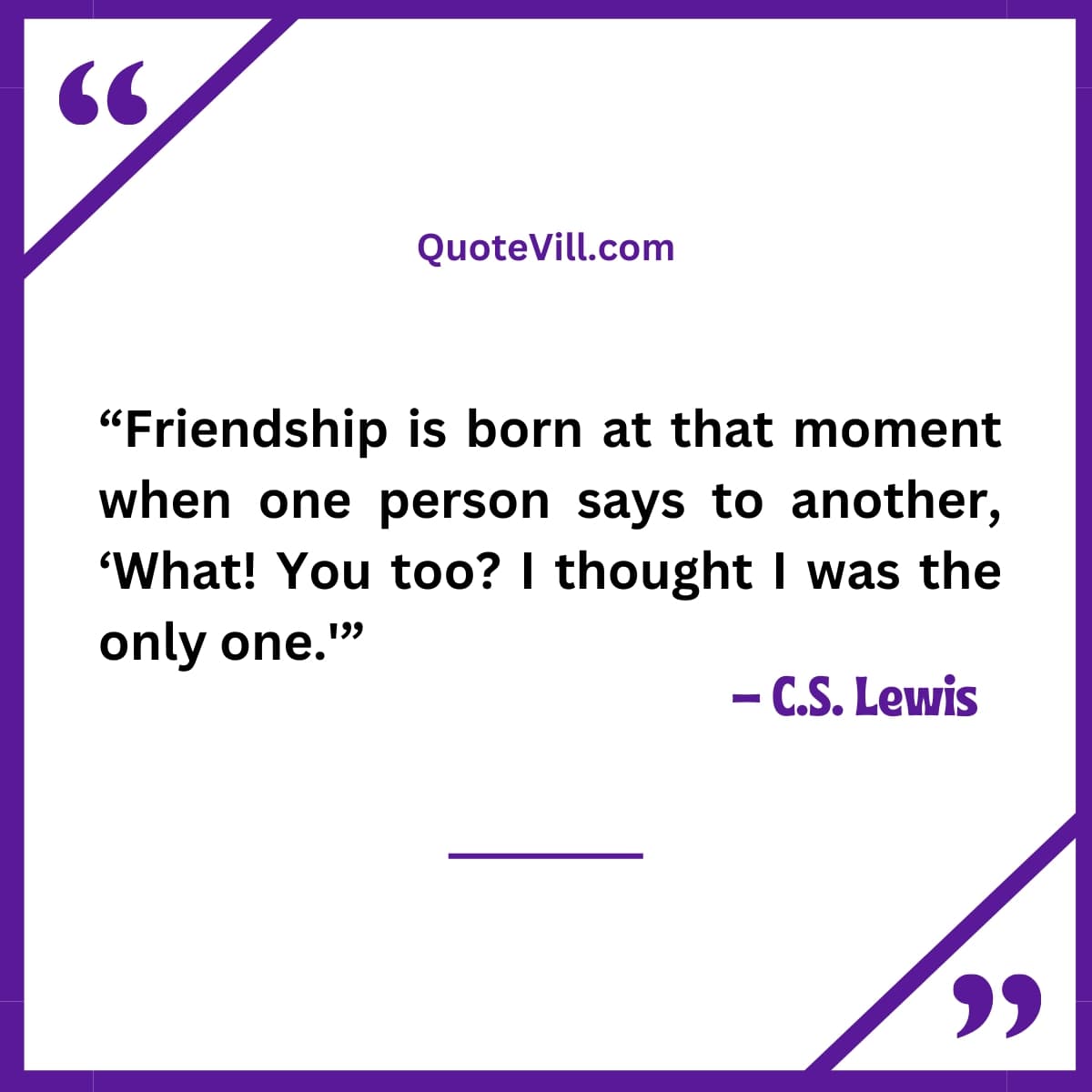 2. "A true friend is someone who is always there for you, through the good times and the bad times." – Unknown
4. "Friendship is built on trust, honesty, and mutual understanding." – Unknown
6. "True friendship is not about being inseparable, but about being separated and nothing changes." – Unknown
7. "Friendship is built on two things: respect and trust." – Unknown
8. "Friendship is based on trust, without it there is nothing." – Unknown
9. "Trust is the key to friendship. Without it, there is no foundation to build upon." – Unknown
10. "A true friend is someone you can trust with all your secrets and know they will always keep them." – Unknown
11. "Trust is the foundation of every strong friendship. Without it, the relationship crumbles." – Unknown
12. "Friendship means understanding, not agreement. It means forgiveness, not forgetting. It means the memories last, even if contact is lost." – Unknown
13. "True friendship is a plant of slow growth, and must undergo and withstand the shocks of adversity before it is entitled to the appellation." – George Washington
14. "Trust is the most valuable asset you can have in a friendship. It takes years to build, but only seconds to destroy." – Unknown
15. "Friendship is built on trust, loyalty, and support. It is a bond that withstands the test of time." – Unknown