For most people, marriage is a once-in-a-lifetime event that everybody wants to live to the fullest. After spending one year, the couple celebrates their union on the same date, which is called the anniversary.
There are a lot of feelings, unsaid thoughts, and emotions that people say through anniversary quotes. The best thing about these quotes is that they can deliver feelings in the best way and have suitable words to say what a person feels but does not find words to express to his/her partner.
Wedding Anniversary quotes strengthen and even add more beautiful moments and keep the relationship lively. Since they are designed by people, they have all the emotions, experiences, and expressions that a partner wants to say to the other.
Whether it is about saying I LOVE YOU or wishing the partner on this special day, these quotes have everything that a person wants. All they have to do is to find out appropriate quotes and send them to the companion.
Cute Wedding Anniversary Quotes For Couples
1. "Grow old with me, the best is yet to be." – Robert Browning
2. "In all the world, there is no heart for me like yours. In all the world, there is no love for you like mine." – Maya Angelou
3. "Love is not about how many days, months, or years you have been together. Love is about how much you love each other every single day."
4. "The best thing to hold onto in life is each other." – Audrey Hepburn
5. "Through the good times and the bad, you've been the constant thread of love that's kept us together."
6. "An anniversary is a time to celebrate the joys of today, the memories of yesterday, and the hopes of tomorrow."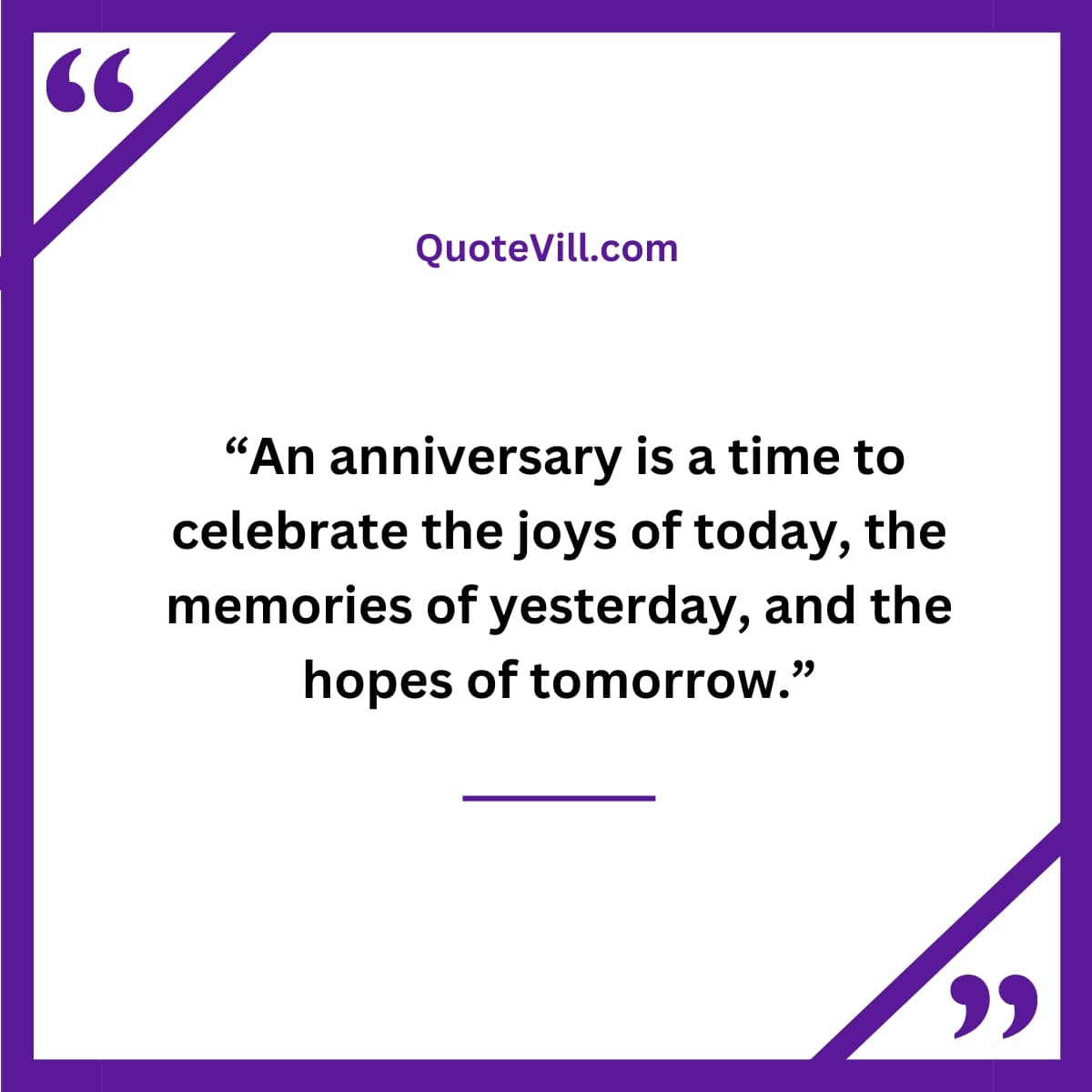 7. "Love grows more tremendously full, swift, poignant, as the years multiply." – Zane Grey
8. "Forever is a long time, but I wouldn't mind spending it by your side."
9. "Another year, another set of beautiful memories, another set of challenges overcome, and another year of love."
10. "Anniversaries are milestones where you can pause and look back at your life – to cherish all the beautiful memories and bind yourselves to all the wonderful promises that are yet to be fulfilled."
Wedding Anniversary Quotes For Wife
1. "If life was a book, every day with you would be a fairy tale. Happy anniversary to the woman who still makes my heart skip a beat."
2. "From Netflix binges to those late-night ice cream runs – every moment with you is my favorite chapter. Cheers to our never-ending story!"
3. "Babe, every day I spend with you feels like stealing a candy from the candy shop – oh so sweet and always wanting more!"
4. "Remember that time we got caught in the rain and danced like no one was watching? Every day with you feels like that. Happy anniversary, my love."
5. "To my gorgeous partner-in-crime: Thank you for turning my life into a rom-com. Cheers to many more years of laughter, love, and late-night pizza!"
6. "Each year with you feels like a sweet wine getting better. And let's be honest, darling, we're aging way better than those grapes."
7. "If I could, I'd pluck the stars from the sky to spell out just how much I adore you. But since I can't, I'll just remind you every day. Happy anniversary!"
8. "Honey, thanks for being the cherry on top of my sundae, the marshmallow in my cocoa, and the love song in my heart."
9. "From stolen glances to deep embraces, our journey feels like a cozy blanket on a chilly night. Thanks for wrapping me in your love, year after year."
10. "Every sunrise with you reminds me of our first date, and every sunset, of our promises. Here's to painting many more horizons together. Happy anniversary, darling."
Wedding Anniversary Quotes For Husband
1. "To the man who still gives me butterflies: every day with you feels like the first date. Happy anniversary, love!"
2. "Each year with you is like adding another layer to our beautiful love story. Cheers to all our plot twists and dreamy chapters."
3. "From lazy Sunday mornings to spontaneous road trips, every moment with you has been my favorite adventure. Happy anniversary to my forever co-pilot!"
4. "Hey, handsome! Another year, and you still make my heart race like that cute barista from our local café. But don't worry, you're my only latte."
5. "With every laugh, every dance, every shared sandwich – you've turned ordinary moments into magic. Cheers to a lifetime more of these 'remember when' stories."
6. "Being with you feels like catching the golden snitch – rare, thrilling, and a game-changer. Here's to many more magical years together."
7. "Through every challenge and celebration, you've been my rock and my confetti. Happy anniversary to the man who completes my story."
8. "The best part of every day? Those quiet moments, where it's just you, me, and our shared dreams. Happy anniversary, my dream-catcher."
9. "Here's to the man who's turned our everyday life into the kind of love story that would give rom-coms a run for their money!"
10. "Being your wife feels like I've won the love lottery every single day. Happy anniversary, my forever jackpot!"
Famous Wedding Anniversary Quotes
1. "A successful marriage requires falling in love many times, always with the same person." – Mignon McLaughlin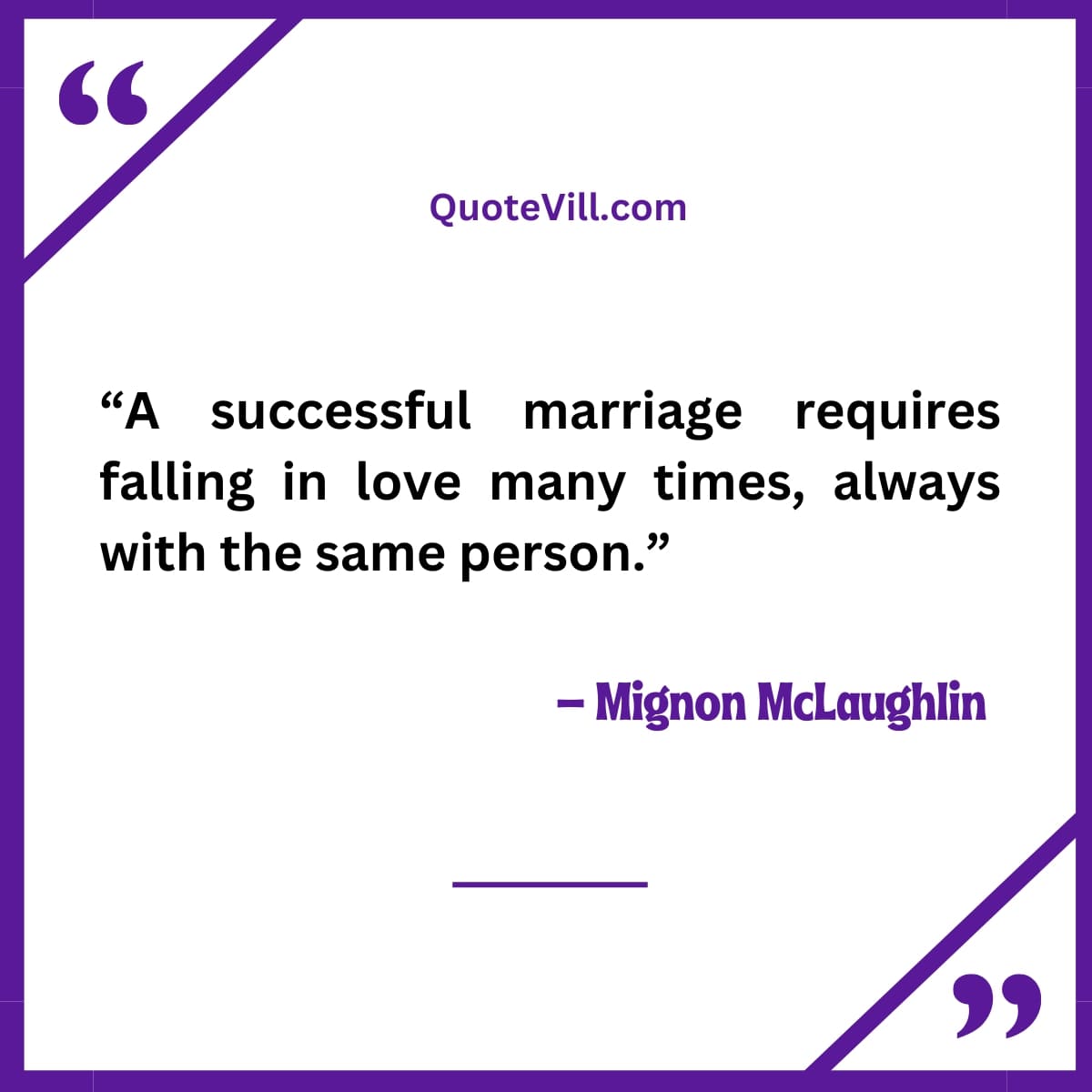 2. "The highest happiness on earth is the happiness of marriage." – William Lyon Phelps
3. "Chains do not hold a marriage together. It is threads, hundreds of tiny threads, which sew people together through the years." – Simone Signoret
4. "There is no more lovely, friendly and charming relationship, communion or company than a good marriage." – Martin Luther
5. "We are not the same persons this year as last; nor are those we love. It is a happy chance if we, changing, continue to love a changed person." – W. Somerset Maugham
6. "Real love stories never have endings." – Richard Bach
7. "A great marriage is not when the 'perfect couple' comes together. It is when an imperfect couple learns to enjoy their differences." – Dave Meurer
8. "Marriage is the most natural state of man, and the state in which you will find solid happiness." – Benjamin Franklin
9. "The bonds of matrimony are like any other bonds – they mature slowly." – Peter De Vries
10. "An anniversary is a reminder as to why you love and married this person." – Zoe Foster Blake
Funny Quotes For Wedding Anniversary
1. "Marriage is like a deck of cards. At the start, all you need is two hearts and a diamond. By the end, you're looking for a club and a spade."
2. "Happy anniversary! Let's celebrate the best decision you ever made—marrying me!"
3. "Another year, and you're still keeping me around. Good job on your persistence!"
4. "On our anniversary, remember: Laugh at the bad times and hold hands through the flatulent ones."
5. "Married life teaches one invaluable lesson: to think of things far enough ahead not to say them."
6. "Honey, I've loved you for another full spin around the sun. Here's to hoping I don't get too dizzy!"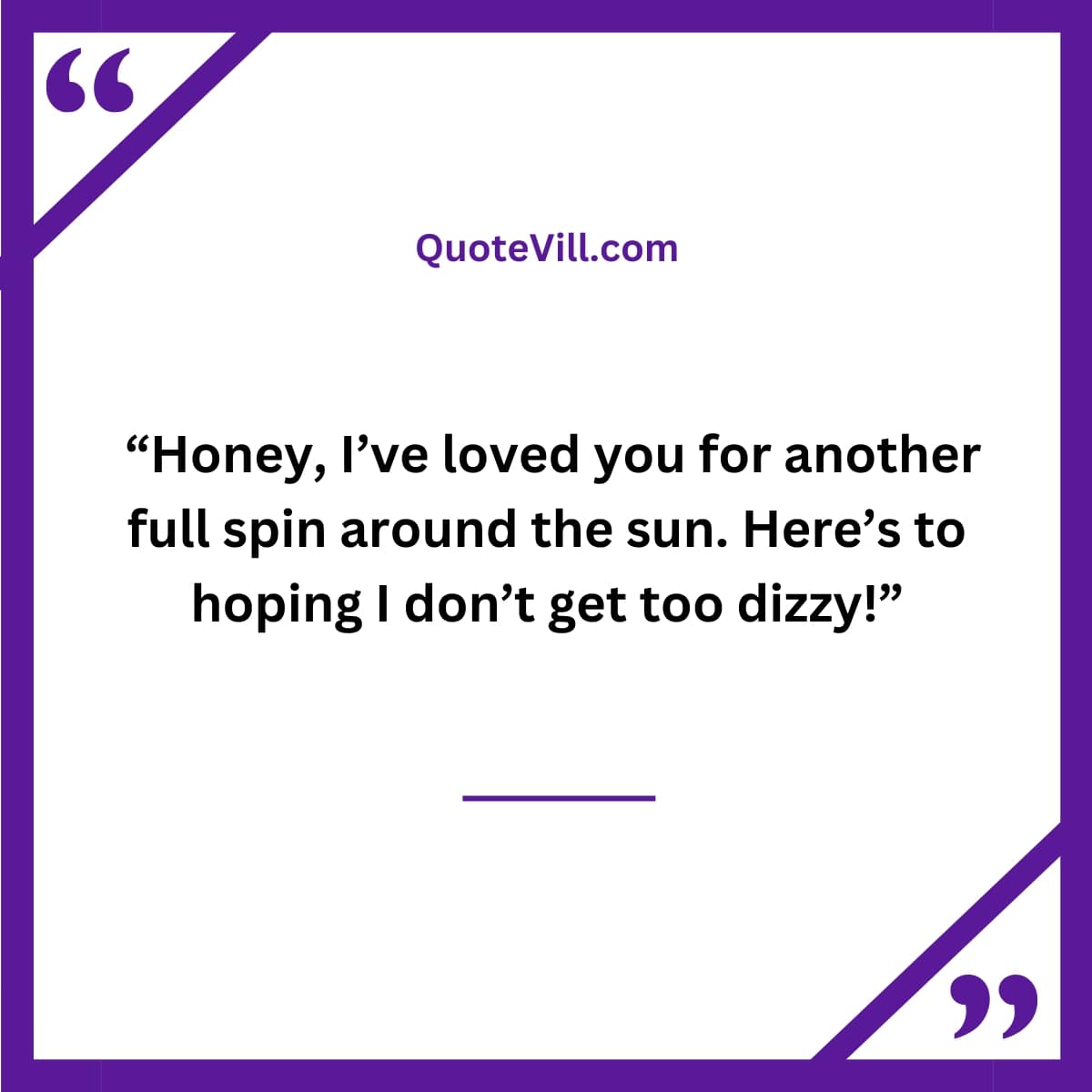 7. "Happy anniversary! Here's to two imperfect pieces fitting perfectly together."
8. "They say the key to a successful marriage is to keep things exciting. Living with me must be an adrenaline rush every day!"
9. "Another year down, forever to go. The journey's better with snacks, so where's our anniversary cake?"
10. "Happy anniversary! They said we wouldn't make it this far, and by 'they,' I mean our younger, naive selves."
Friends Wedding Anniversary Quotes 
1. "To two of the most genuine hearts I know – here's to the love that you both glow! Happy anniversary, dear friends!"
2. "Some matches are made in heaven, but yours was forged in the land of endless laughter and unforgettable adventures. Happy anniversary!"
3. "Your love story is my favorite among all the books on my shelf. Happy anniversary to my favorite duo!"
4. "You two give fairy tales a run for their money. Cheers to another chapter of your beautiful love story!"
5. "From double dates to third-wheeling on your adventures, here's to celebrating one more year of your contagious love. Happy anniversary!"
6. "Together, you're not just a couple, but an inspiration. May your anniversary be as bright and bubbly as both of you!"
7. "Your love story isn't just about fairy tales and stardust; it's about stealing each other's fries and binge-watching shows. Cheers to real love and your anniversary!"
8. "Every year, you two prove that love isn't about grand gestures, but about the little moments and shared smiles. Happy anniversary, dear friends!"
9. "As you celebrate another year of love, remember that your journey together isn't just an inspiration to you, but to all of us who know you. Happy anniversary!"
10. "From sharing secrets to sharing memories, here's to another year of watching the two of you write your forever story. Happy anniversary!"