Often people may judge you for celebrating your child's month's birthday. They may say, "Why don't you celebrate 12 birthdays in 12 months," or "It's not only you who is having kids. Many have. They don't overdo things." Let them say what they want to say. You do what you want to do. Celebrate your princess's one-month journey with these one month birthday wishes for your baby girl.
Welcoming a new life is the most exciting and joyous occasion. It is something that every parent experiences.
So, celebrate this joyous occasion like you want, and if that means celebrating the first month's remarkable journey of your parenthood, go for it.
Don't be shy. Expressing your emotions perfectly with these one month birthday wishes for baby girl.
Mesmerizing 1 Month Birthday Wishes For Your Dear Baby Girl
1. I can't believe it's your first month's birthday, baby. The time has flown by so quickly. I hope you always remain happy and enjoy each moment, dearie.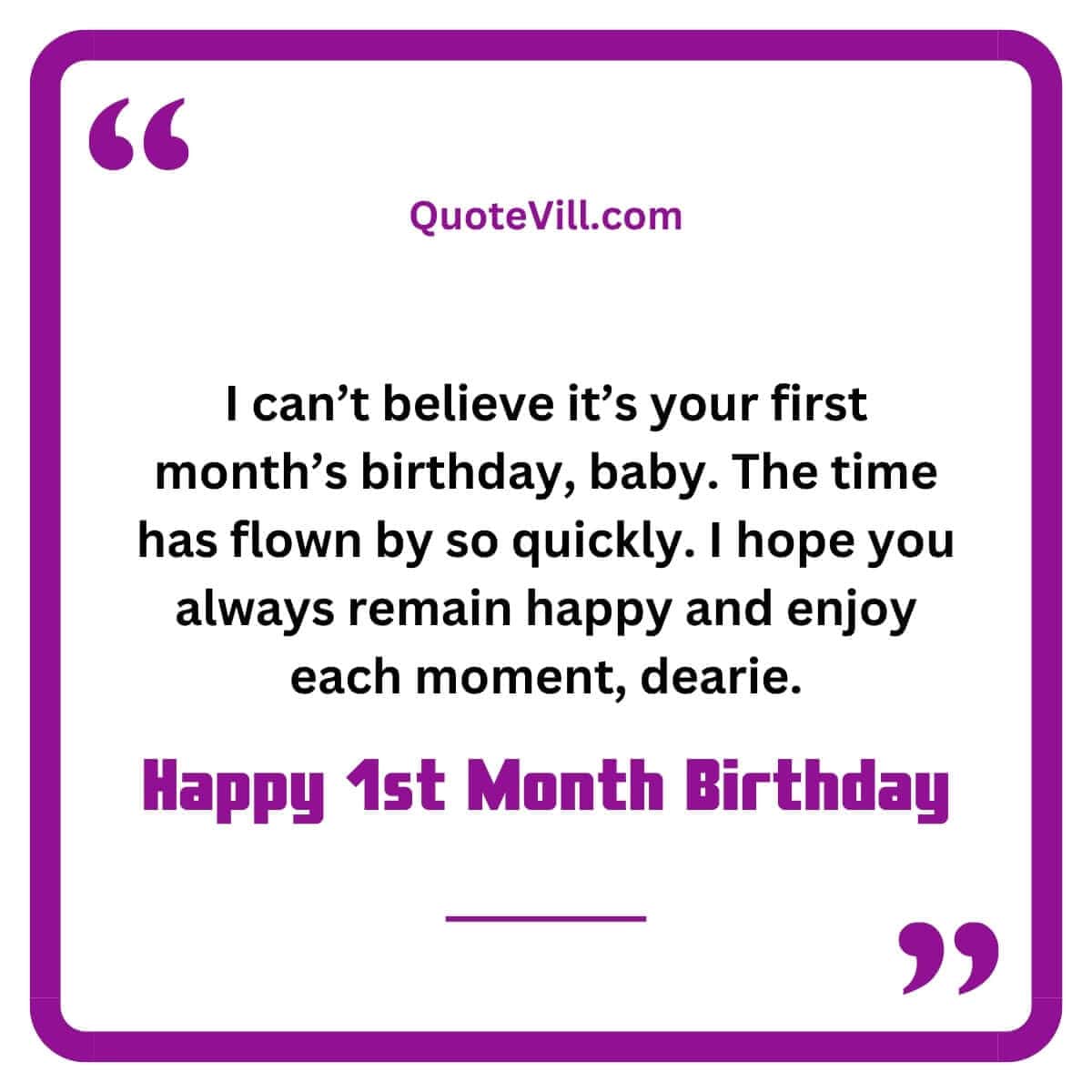 2. Today my baby completed 30 days in this world. I can't contain my excitement for making my life getting twirled. Baby, enjoy each day in this world.
3. Just before 1 month, when we saw your face for the first time, from that moment onwards, we have been over the moon about raising our miracle baby in this beautiful world.
4. Happy 1st month to our baby. We can't wait to watch you grow and introduce you to this unique tiny world of mommy and daddy. Mommy wishes you a happy month, and may you always remain healthy.
5. It is said that a picture is worth a thousand words. But for new parents like us, every moment with our baby is a story worth a thousand pictures of our world.
6. Watching your baby grow from day one in all their joy and wonder is the best thing for a parent. Baby, you are a blessing to us and your grandparents.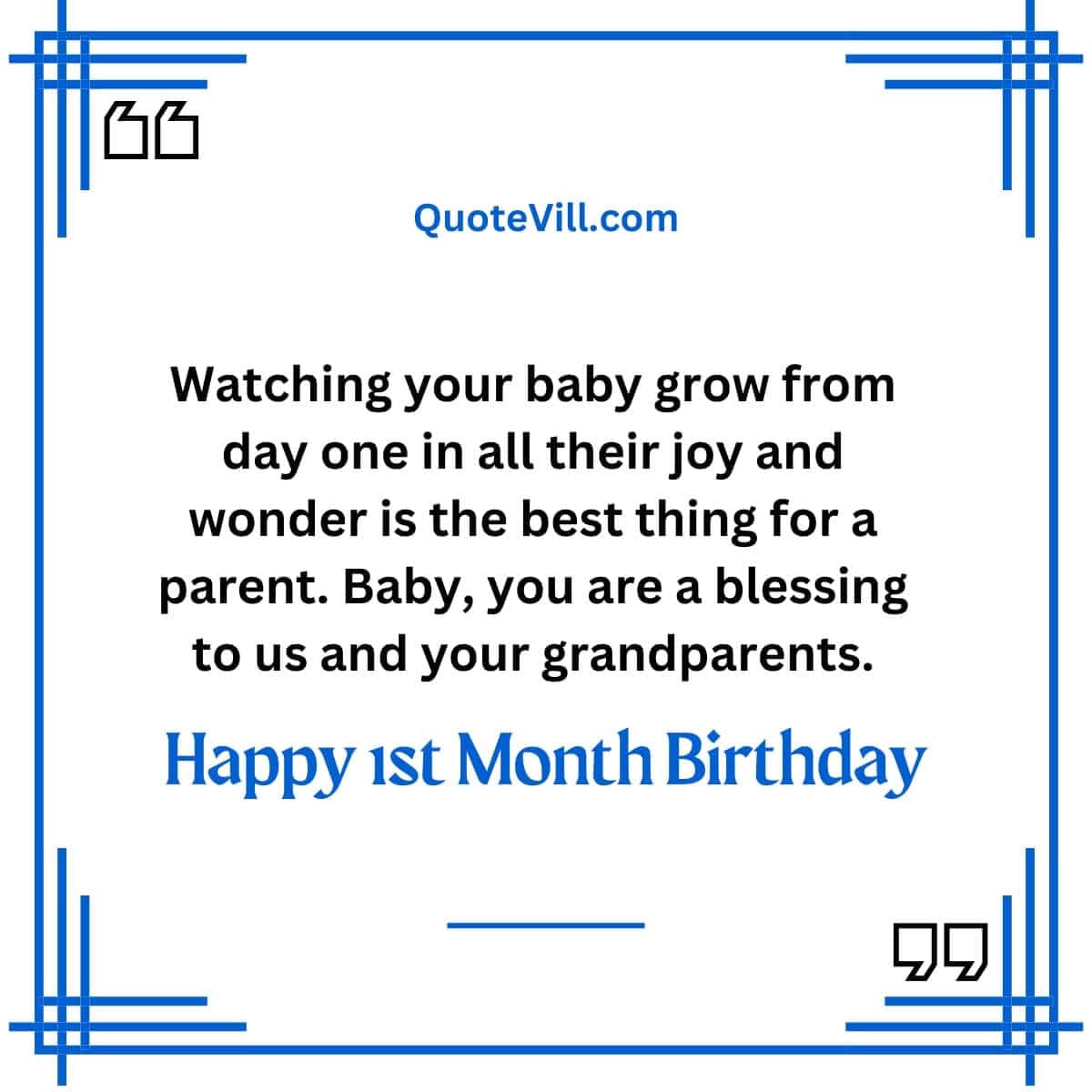 7. You know, baby, this first month with you has been the best time of our lives. We love you very much and thank you for coming into our lives.
8. We forget our fears whenever we hold you in our arms and look into those beautiful eyes with our tears. Happy 1st month birthday to the result of our prayers.
9. Our little cutie turned one month today. Baby, you are my world, my everything, and I am getting to know you little by little every day. You know you are naughtier than my ex-bae.
10. Baby, I loved you at first sight, and I love you even more in this first month of the coming years. I eagerly wait as you grow and become healthier. Sooner, I know I will know you better.
See: 35 Cute 6 Month Birthday Wishes For a Baby Boy
Adorable Birthday Wishes For One Month Old Baby Girl
1. You are the most precious gift of my life. I will cherish you two forever, my sweet princess and beautiful wife. Celebrate a fantastic one-month birthday, my baby. Forget all worry and be merry.
2. No matter what happens, you will always have us by your side. Whenever you need us, we will give you a loyal ride. Happy birthday, dear. Always smile without fear.
3. I hope your life will be filled with happiness and all things good. I pray you will always sleep peacefully and be in a jolly mood. Celebrate the happiest birthday, dear kid. Remember, you will always get praised for your every good deed.
4. I hope your life will be prosperous with several good things in it. I know that you will be a good kid. Have a great birthday, my dear princess. I know life is a mess, but you must not take stress.
5. You came to me at a crucial time of my life, my dear. You completely changed me into a better person, and that's clear. Have the happiest birthday, baby girl. I will always be behind you, so never fear to fall.
6. Many, many happy returns of the day, my dear child. Your presence has made our lives wild. May you have a great birthday, baby. We're always here with you, pretty lady.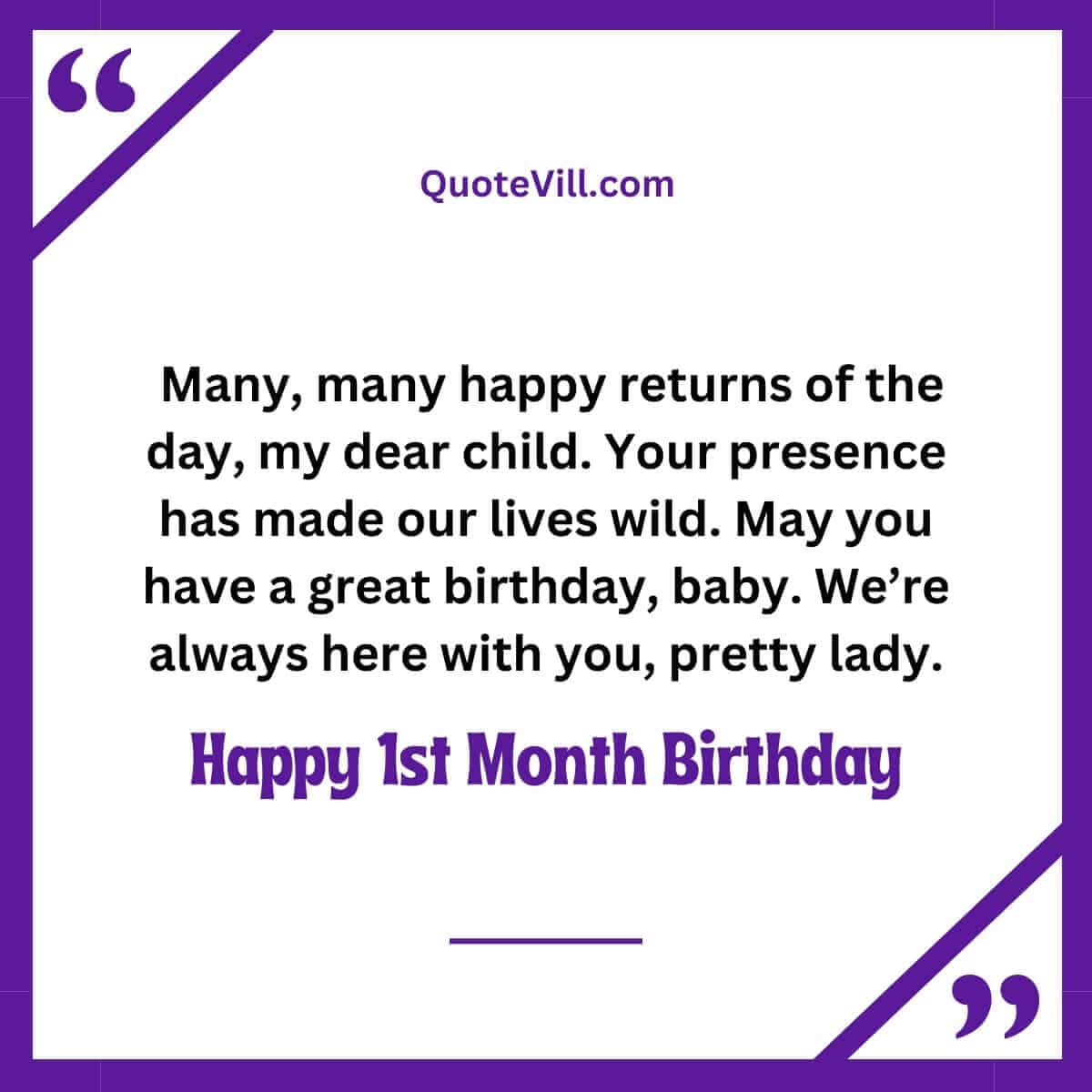 7. I cannot even imagine a life without you anymore. You have occupied my heart's deepest core. You are crucial to both of us. Celebrate a happy birthday, darling, and freely make a fuss.
8. I will pray to God that all your wishes and dreams come true. Always know that we both love you. Happy one-month anniversary, little darling. I know you will keep shining.
9. I know you'll grow up to become a strong and independent woman. You will know your self-worth is no less than man. Fly high without much stress. Happy birthday, princess.
10. I know you'll shine like the brightest star in the sky. I know you'll reach those milestones in your life, which are very high. Happy birthday, dear daughter. Enjoy your first month anniversary with your mother and father.
See More: 50 Cute One Month Birthday Wishes for Baby Boy
1 Month Birthday Wish For Baby Girl From Mom
1. Your first month has flown by so fast, my cute baby girl. It's been such a fun ride with you every morning, seeing your beautiful eyes covered with a pretty curl.
2. Happy 1st month to my precious pearl. I can't believe it's been a month with my sweet baby girl. I must confess that you will forever be my favorite person of all.
3. I am so happy that my baby girl is celebrating her 1st month. May all your firsts bring you immense joy and fill your heart with great warmth.
4. Everyone knows the world's best feeling is to hold your baby in both arms. I love you unconditionally, and that's what is your charm. I pray to God to protect you from all harm.
5. This 1st month was like a breeze with my adorable baby. We are so lucky that you are a part of this family. May God always keep your smile intact without any agony.
6. The most joyous feeling is to see you grow and change from the very first day of your birth. Every day, I feel thankful for being blessed with the best kid on this earth.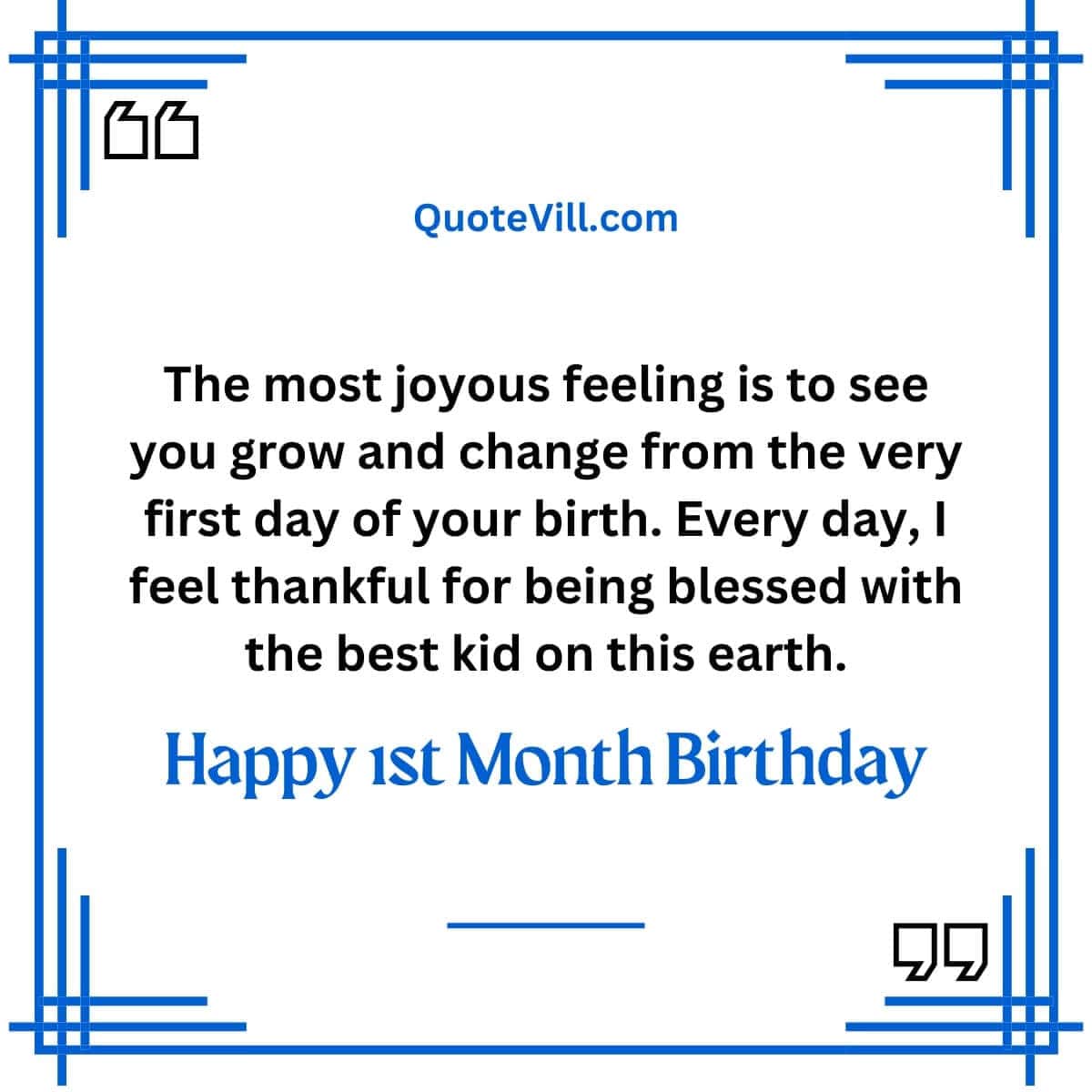 7. Our strong baby girl is only 1 month old, darling. But she is ready for anything and everything. We love you and wish you the best in your life without worrying.
8. I know this is just the beginning of celebrations, but I still want to celebrate your 1st month with much love and excitement. God bless you and your every small achievement.
9. Happy 1st month birthday to my little baby doll. May your world be filled with laughter, joy, and endless kisses from all. I can't wait to see what the next month brings, my girl.
10. You must know that we have been dreaming of you for a lifetime. But now we feel blessed to finally have you, our little sunshine.