Have you ever realized how dull your day would have been without their silly jokes, stupid and wise advice, comments on your dressing style, and complaints about random stuff? Feels bland, doesn't it?
So, those who spice your life treat them with the best Birthday Wishes for Best Friend Female that will perfectly tell what your heart feels about them.
Though she possibly smiles with an eye-roll at all the antics you pull, what harm lies in making her smile with a birthday wish on her special day?
Here is a collection of some lovely birthday wishes for Best Friend Female; make sure to send them before you ask for a treat, or things may get chaotic while deciding how to celebrate their birthday. You may also tweak them to carry the essence of your special bond.
Heart Melting Birthday Wishes for Best friend Female
1. You are the person who can accurately predict when I am down and what can make my day—Happy birthday to my cute best friend who resembles the brightest sun of May.
2. I know you are a girl boss, but how do you manage to be so perfect every time! Happy birthday to the queen sent by God to be my partner in crime.
3. Sometimes I wonder what I would have done without you. Who would have scolded me for my silly mistakes like you do? Or, give me a birthday treat? Or lecture me on staying fit? Happy birthday dear bestie, and only this message is your birthday gift.
4. Hats off to your unique mind that knows to create masterpieces out of the mess! You make the world a better place where everyone can live without stress. Happy birthday, princess.
5. From playfights to severe discussions about life, we traveled a long way together. Let's grow old and stay like 'two peas in a pod' forever. I wish you a fabulous birthday, bestie, and always stay near.
6. Happy birthday, bestie, and I wish you to be merry. If you are waiting for your birthday gift, know I would give you the world if I could, but you have got me, so cherish me as you should.
7. We started as classmates, and now you have become my happy pill. Thank you for always being there for me and saving my money on the therapy bill. Enjoy your birthday, bestie, while time stands still.
8. They say with age comes wisdom, but you are proving them wrong. Please always stay like this, sweet, genuine, and spontaneous as a charming, heartfelt song. Enjoy your birthday, buddy, and live long.
9. Hey bestie, thanks for making my life adventurous and creating our weirdo two-women crew. May you have a happy birthday with all your birthday wishes coming true.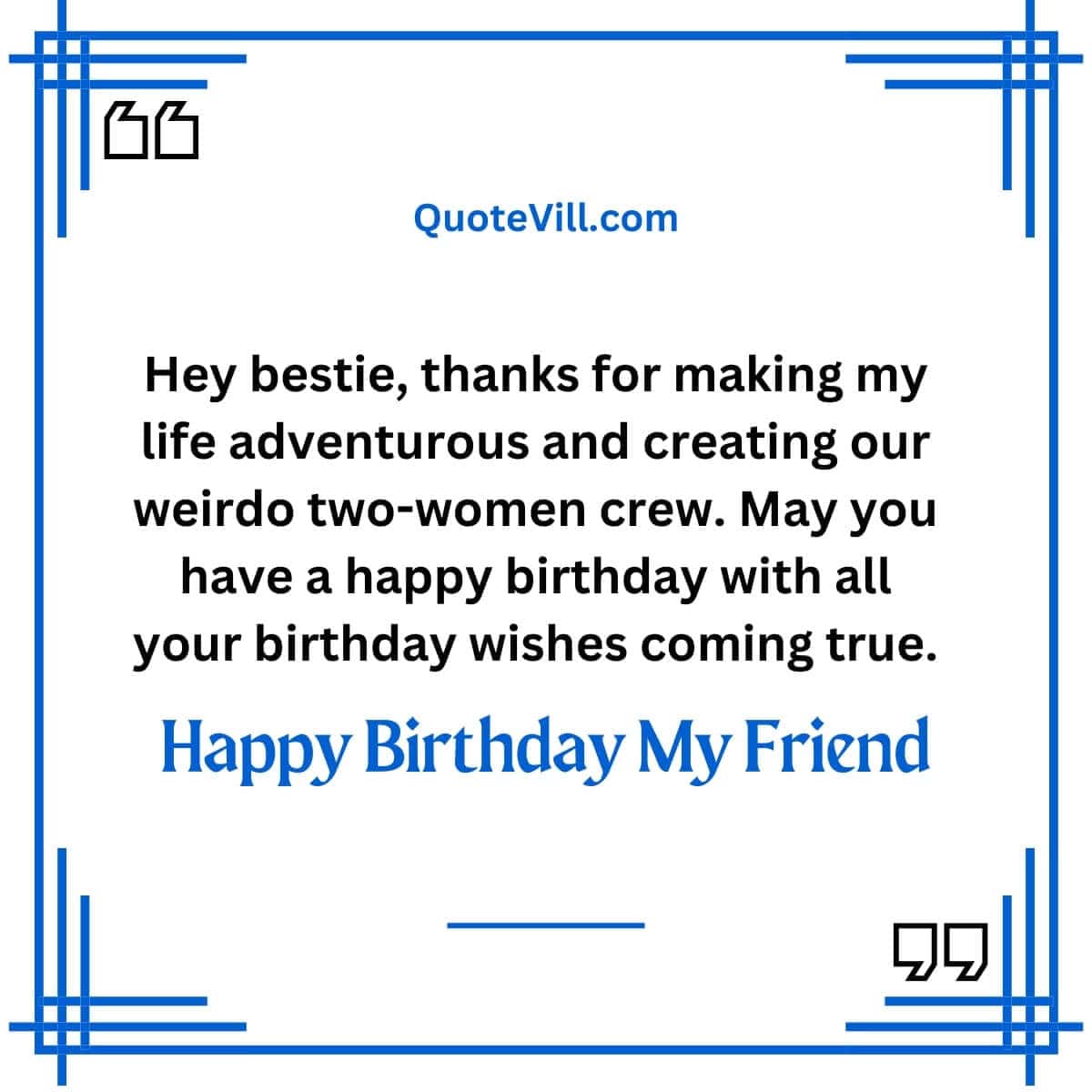 10. Happy birthday to the person who makes me laugh when I feel like crying and makes me cry while I try to laugh. Without your existence, life would have been tough.
11. Happiest Birthday to the one who lightens my world with her unique and genuine spirit. May your life be filled with creativity and imagination while you enjoy every minute.
12. I wish my best friend a birthday with extraordinary moments and exciting adventures. You make my life more exciting, filled with moments worthy of capture.
13. Today is the birthday of my best friend. May your birthday be as exceptional and remarkable as you are, a God send. Always keep shining without any end.
14. Happy Birthday to the girl who dances to the beat of her drum without fearing everyone's presence. I like you because you embrace your individuality with confidence. Do not ever stop being unapologetically you with all the consequences.
15. On your birthday, I want to tell you I have never seen an authentic person like you, my dear best friend. I pray that your birthday is filled with splendid surprises and that you keep receiving them until the day's end.
See: 50 Cute & Catchy Happy Birthday Pick Up Lines
Birthday Wishes For Best Friend Female Because They Are Special
1. My best friend has mastered creating her own path in life. Happy Birthday to the one whose personality inspires me every day and helps me to remain alive.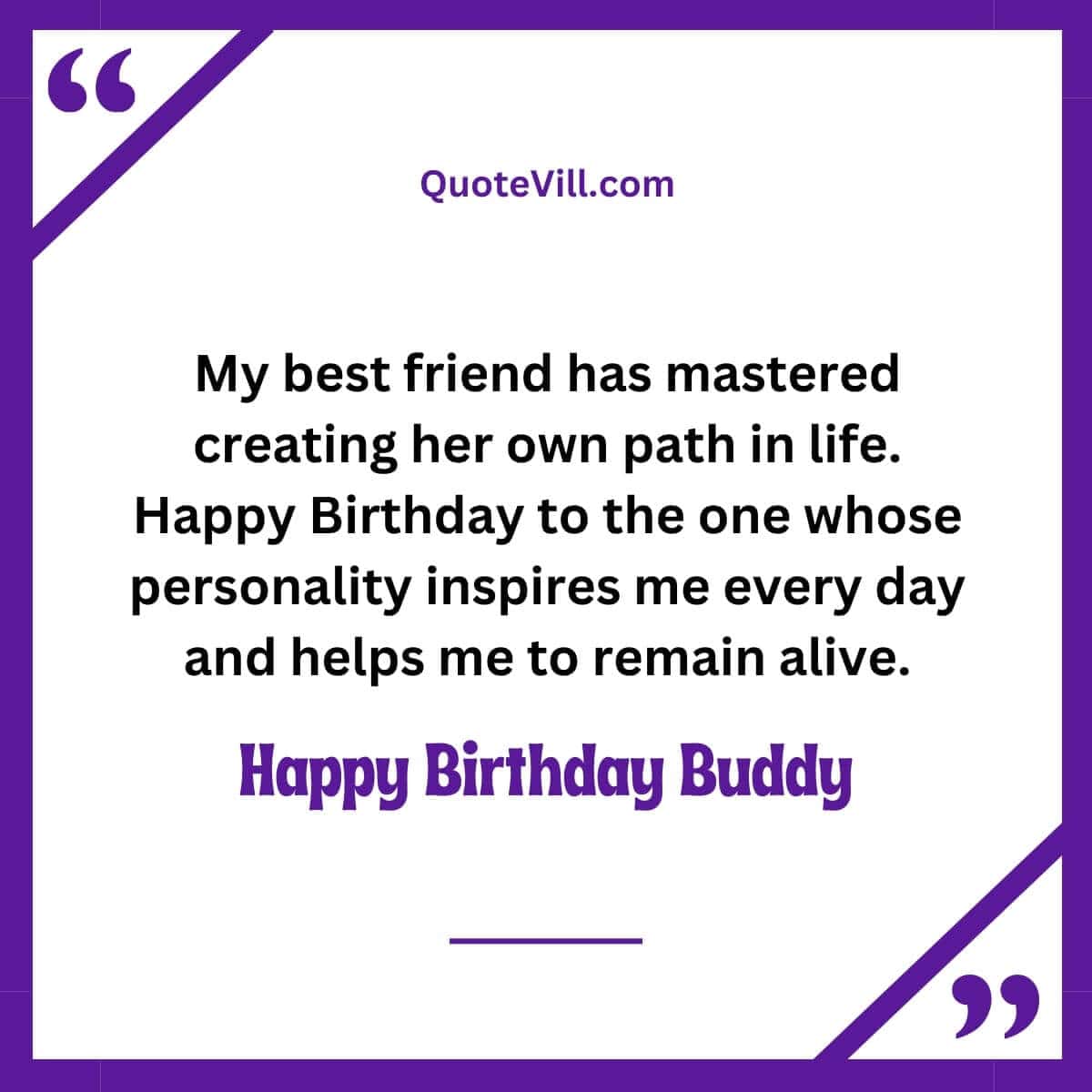 2. Happiest Birthday to my brilliantly creative best friend, whose imaginative power knows no bounds. This year may your dreams take flight while you learn to fight the hounds. Cheers to another year of breaking ground.
3. I have never seen a girl like you with such innovative perspectives regarding everything. You really have the power to change the world, and that's fascinating. So go out and make a difference without worrying.
4. I wish a fantastic birthday to the girl who colors the world with her lovely nature. May your special day be a masterpiece of love, joy, and endless adventure.
5. Today I want to celebrate the birth of the fascinating soul of my best friend. Keep accepting your peculiarities, angry fiend. It is really an honor to be your friend.
6. Sending warm birthday wishes to my favorite partner in crime. Keep being true to yourself every single time. I lack words to praise you in this rhyme.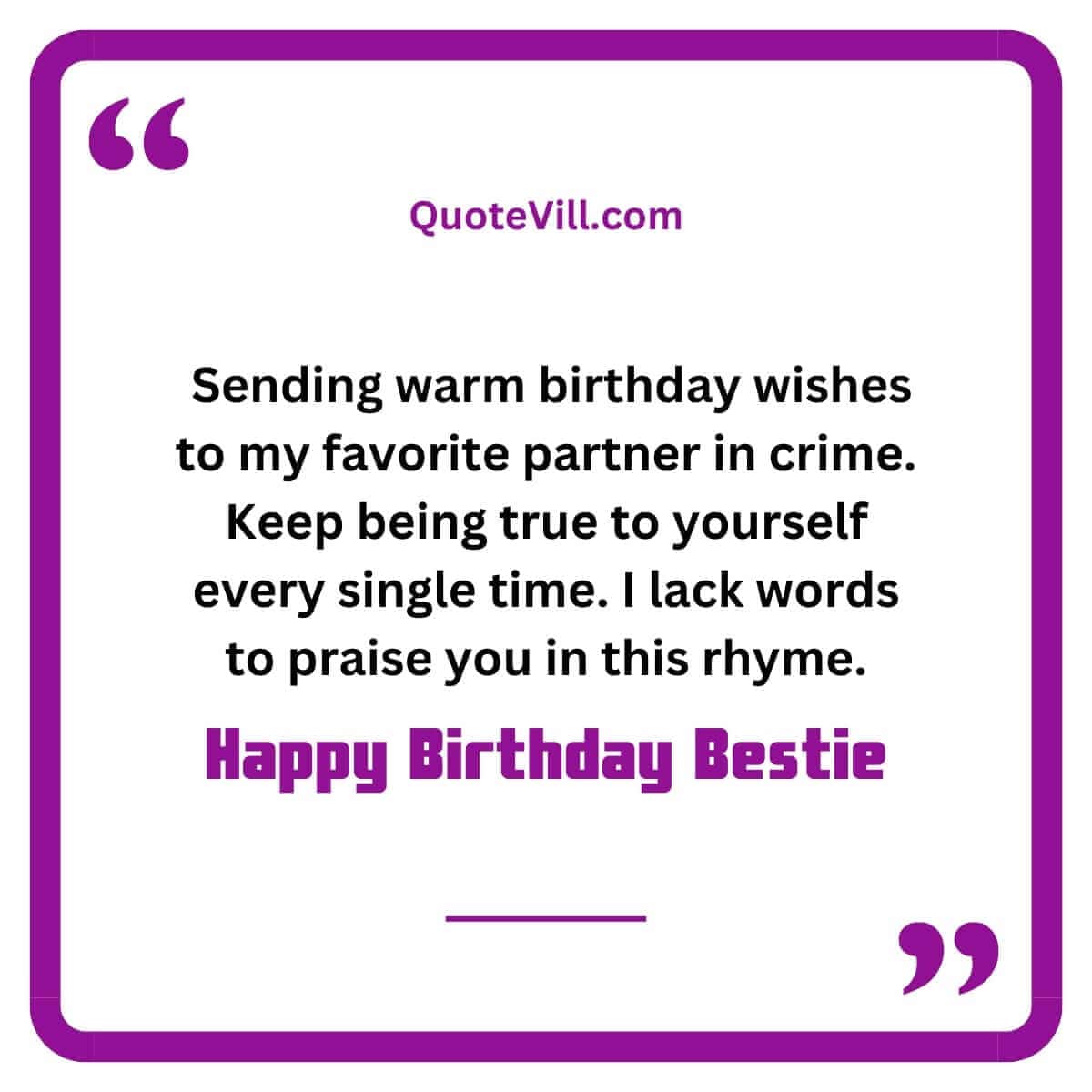 7. Let's celebrate the birthday of my fearless best friend today. Thank you so much, dear, for always bringing something new and unique to our friendship in every possible way.
8. Happy Birthday to the best friend with a mind-blowing mind to see beauty in the unconventional and the extraordinary in the ordinary. This is so rare and legendary.
9. Happiest Birthday to my wonderful best friend, adding a touch of originality to everything she does. Your this originality is a gift to the world, and someday it will create a buzz.
10. The main motto of our friendship is that we will stick together longer than forever. Have a superb birthday filled with numerous opportunities to express your true self further.
See More: 68 Happy Birthday To A Strong Woman
Birthday Blessings for Best Friend Female 
1. Life can be full of misfortune and disorder. I want to thank God for bringing a friend like you on my journey who made life bearable with pleasure. Happy Birthday dear.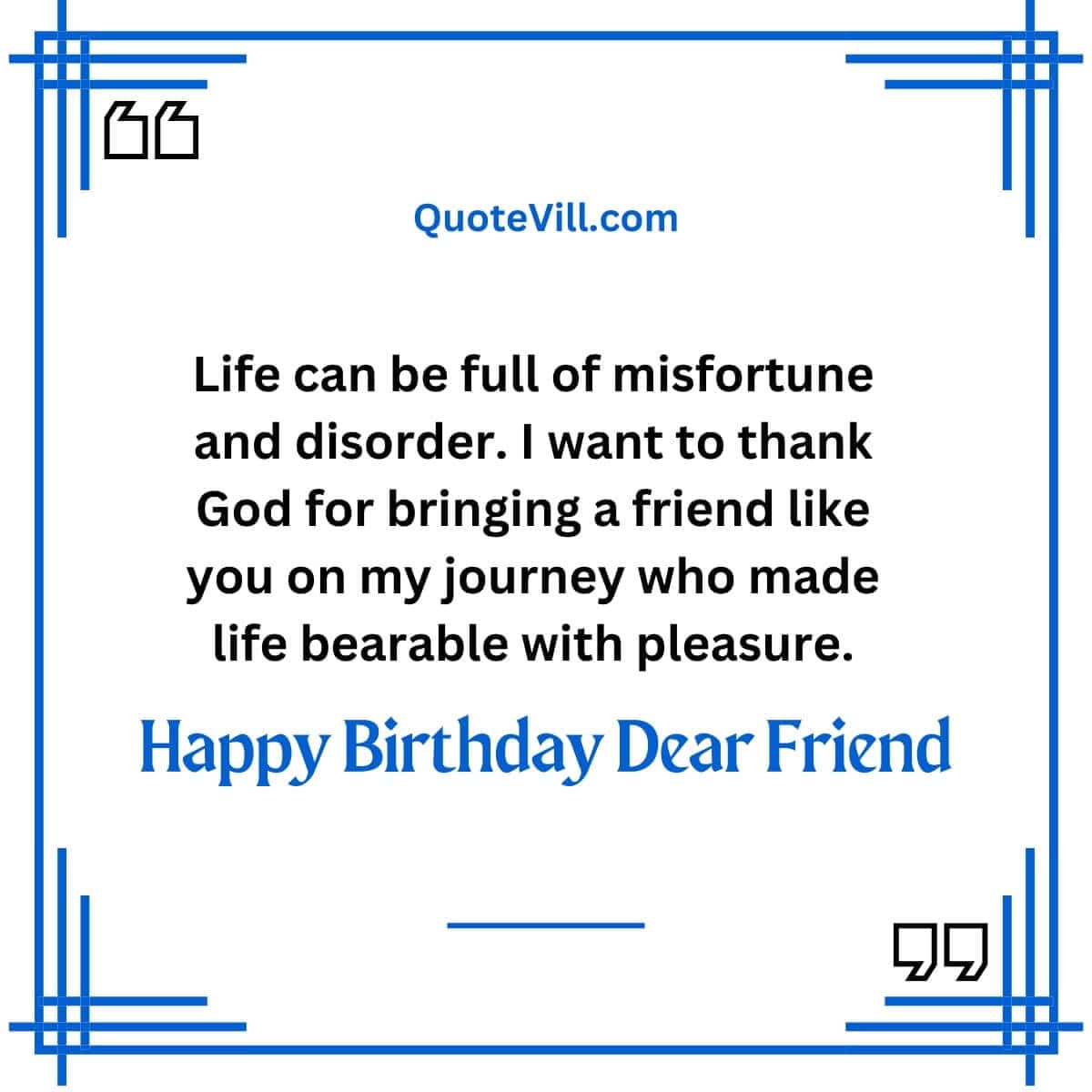 2. Happy birthday, buddy, and thank you for filling every corner of my life with your craziness, excitement, joy, and adventure. I cannot express my gratitude to you, dear. Indeed, you are a giver.
3. You are one of my closest friends who knows me inside and out. Happiest Birthday to the one who has been with me in the good and the bad throughout.
4. I wish a splendid birthday to the greatest friend of my life. I must admit this today, I can't imagine my life without you, my partner-in-crime.
5. On your birthday, I wish we grow old together and always have each other's back. I would have undoubtedly dated you if you had been a man in black. After all, in you, I do not find a single drawback.
6. I hope you know our friendship is like the stars in the skies. Even if you can't see them, the stars lie behind the clouds in disguise. Happy Birthday, my buddy, and always remain cheery.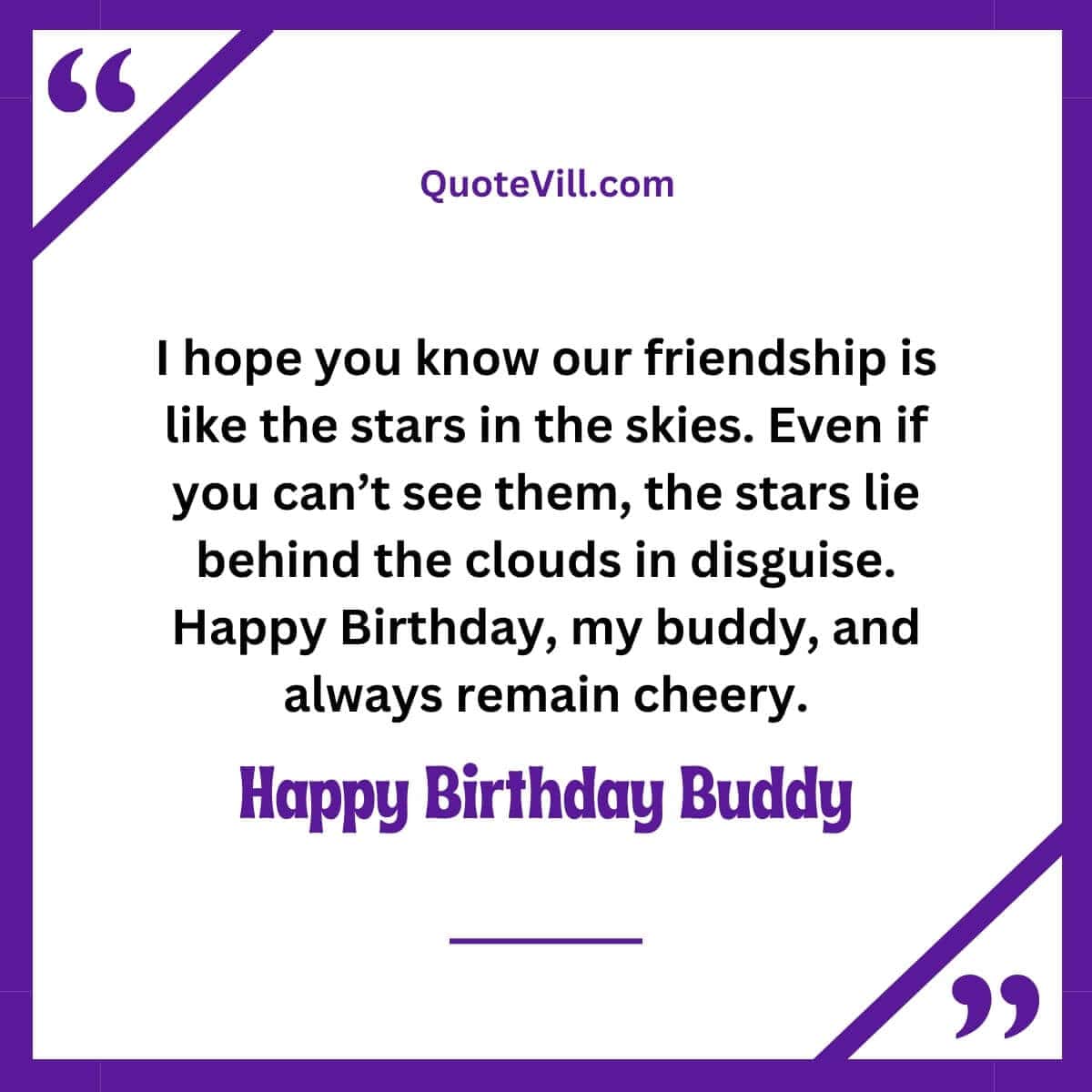 7. I always wish us to be each other's bridesmaids at our weddings and that our kids should become best friends. Happiest Birthday to my forever best friend.
8. Have a fantastic birthday, my dear best friend. You and I will always be in trend. I know you will always be a significant part of my future until my life ends.
9. I always wanted a best friend to make my best memories, and my wish came true when I met you. Happy Birthday, dear, and may God bless you.
10. Happiest Birthday to the fearless girl who does not want to remain confined by societal norms. May your day be as bright and beautiful as you are in all forms.