Death can leave a heartache that nothing can heal, but love can leave memories that no one can steal. Losing a brother can be an incredibly hard experience, and marking the anniversary of their death can stir up a myriad of emotions. It's often difficult to find the right words to express what we're feeling.
To assist, we've curated a list of Death Anniversary Quotes For Brother to commemorate the beautiful bond you once shared.
How to Give a Tribute to Your Late Brother?
Start With Your Feelings: The emotions you're feeling are the starting point for your tribute. Begin by acknowledging your grief, love, and the emptiness caused by the absence of your brother.
Share Memories: Share specific memories that capture the essence of your brother. It could be a funny story, a shared experience, or an achievement he was proud of. These memories paint a picture of your brother's life and keep his spirit alive.
Speak of His Qualities: Remember the qualities that made your brother unique. It could be his sense of humor, generosity, determination, or other traits that made him special to you.
Discuss His Impact: Discuss the impact your brother had on your life and the lives of others. How did he influence or change you? How is he being missed in the community, within the family, or among friends?
Express Your Missed Future: Talk about the dreams and plans you had together that will now go unfulfilled. This reflection can provide a poignant view into the relationship you shared.
End on a Positive Note: While this is a tribute to your brother's life, it can also be a source of comfort for you and those who read it. End on a hopeful note, such as a lesson your brother taught you or a way his spirit continues to inspire you.
Share Your Tribute: Once you're satisfied with your tribute, share it with family and friends. This can be done during a memorial service, or you can publish it online or in a community forum.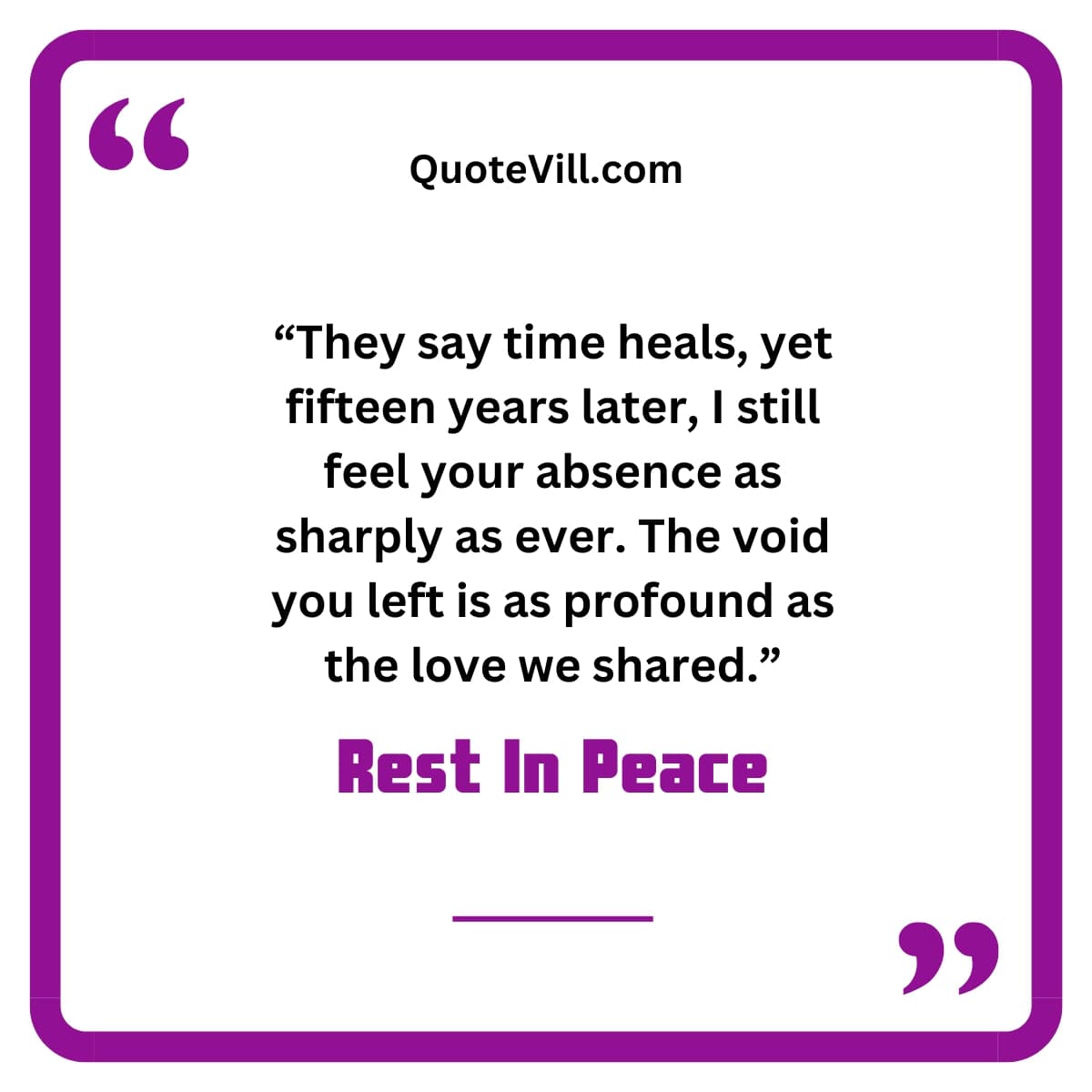 Death Anniversary Quotes For Brother
"They say time heals, yet fifteen years later, I still feel your absence as sharply as ever. The void you left is as profound as the love we shared."
"I've learned to dance in the rain, yet the storm that took you away still casts its shadow. My joy is my defiance, my tribute to you, my beloved brother."
"Through the ebb and flow of life, your memory remains my anchor. Our shared laughter, our unspoken words, keep me afloat."
"Life moves forward, brother, but your absence is a hurdle I leap over every day. You're no longer here, yet you live on through the stories I share."
"Fifteen years have passed, and my laughter is back, but the echoes of your laughter remain irreplaceable. Brother, your memory is the sweetest song that softens the harshest notes of life."
"Do you remember our epic water balloon fights every summer, brother? You always managed to be on the winning side, but I suspect now that you let me win a few times. I miss those warm, laughter-filled afternoons."
"The hours we spent mastering the art of the perfect paper airplane – those were the days! Your plane always flew the furthest, but mine did the most somersaults. I still find myself folding a paper plane, wishing you were here to see it soar."
"Your inventive pranks were legendary! I can still recall the morning you replaced my alarm sound with the loud, terrifying roar of a T-Rex. My shriek could have woken up the entire neighborhood! That was so 'you', always keeping life entertaining."
"Remember our weekend marathons of comic book reading? We'd argue over who was the best superhero, but for me, you always were, and will continue to be, my real-life superhero."
"The countless games of hide and seek we played – you always found the best hiding spots. I laugh when I remember finding you squeezed in the tiniest corner of the attic, a triumphant grin on your face."
See: 53 Heartfelt Death Anniversary Quotes For Sister
1st year Death Anniversary Quotes For Brother
1. "365 days without you, bro. Feels like I've lost a part of me. Your spirit lives on, in each sunrise and every starlit night."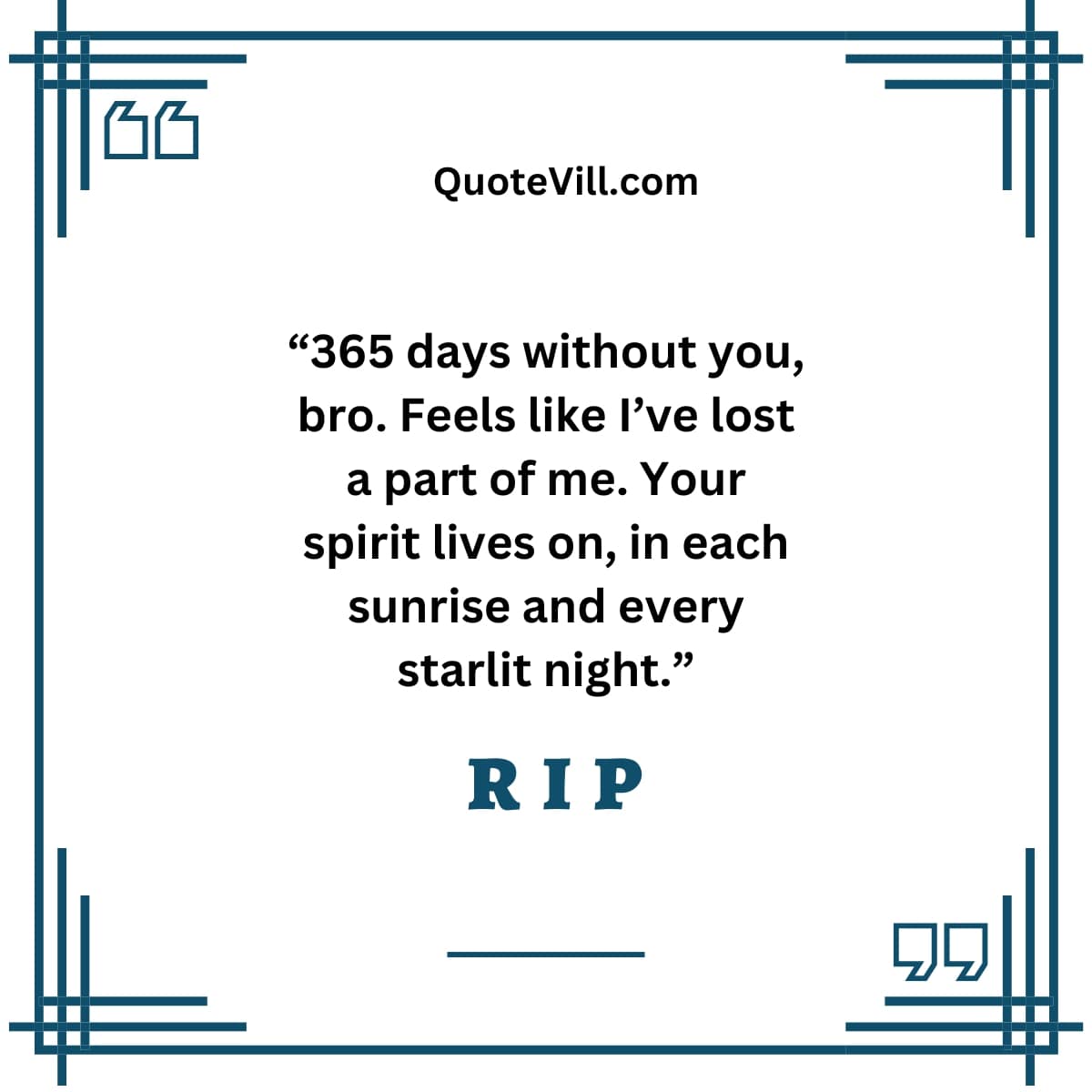 2. "Time flies, they say. But each day without you feels like an eternity, brother. It's been a year and I still reach out to dial your number."
3. "A year ago, we shared our last conversation. Today, I hold onto that memory, cherishing the sound of your voice, and your hearty laughter. You are missed, dear brother."
4. "A year ago, we lost you. But brother, we never lost the love you left behind. Your memory shines bright, guiding us through the darkest days."
5. "Twelve months, 52 weeks, 365 days, every moment without you, brother, has been a battle. But your love continues to uplift us, your strength continues to inspire us."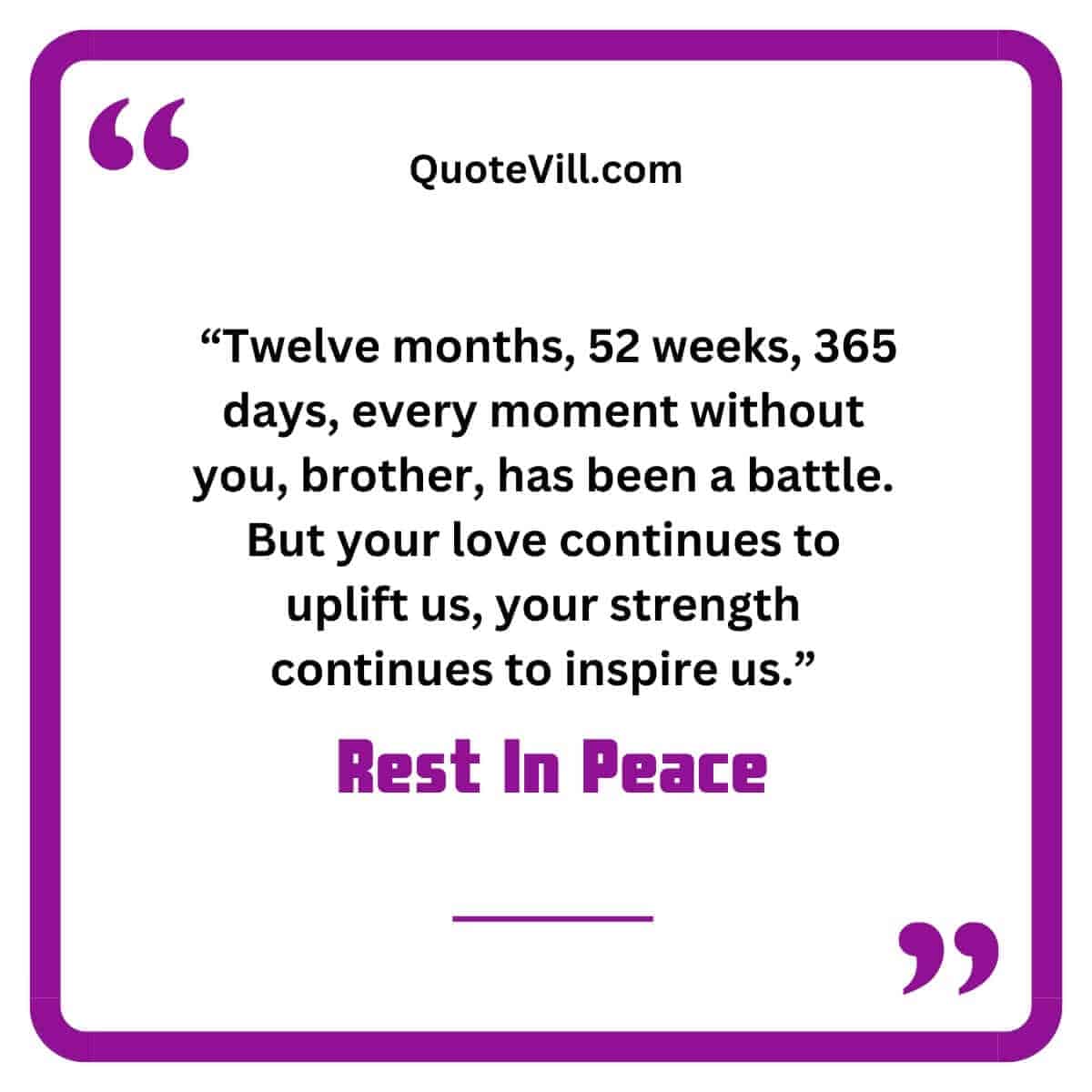 6. "The world kept moving this past year, brother, but our lives paused the day you left. Your legacy lives on in every life you touched."
7. "One year later, and it still feels surreal. You were the light in our lives, brother. Now, you're the brightest star in our sky."
8. "365 days have passed since that dreadful day. 365 days of holding onto the memories we shared, the dreams we had. Life keeps pushing forward, but there's a part of me that's still stuck on that day, the day I lost my brother. Your loss is a wound that time can't heal."
9. "A year has gone by since we last heard your laughter, since we last saw your smile. But your spirit, brother, it's still here, it's everywhere. It's in every joke we share, in every story we tell, in every single thing we do. And while we miss you terribly, we know that you're still with us, and that gives us strength."
10. "One year without you, brother. Feels like a lifetime. And though we've tried to fill the days with laughter and love, there's always that part of us, that part of me, that just feels incomplete. Your memory is a flame that will forever burn bright, casting a warm glow on the darkest of days."
Read: 62 Emotional Death Anniversary Quotes For Mother
Brother Death Anniversary Quotes From Sister
1. "My brother, my friend, my guide. Your departure may have snatched you from my sight, but not from my heart."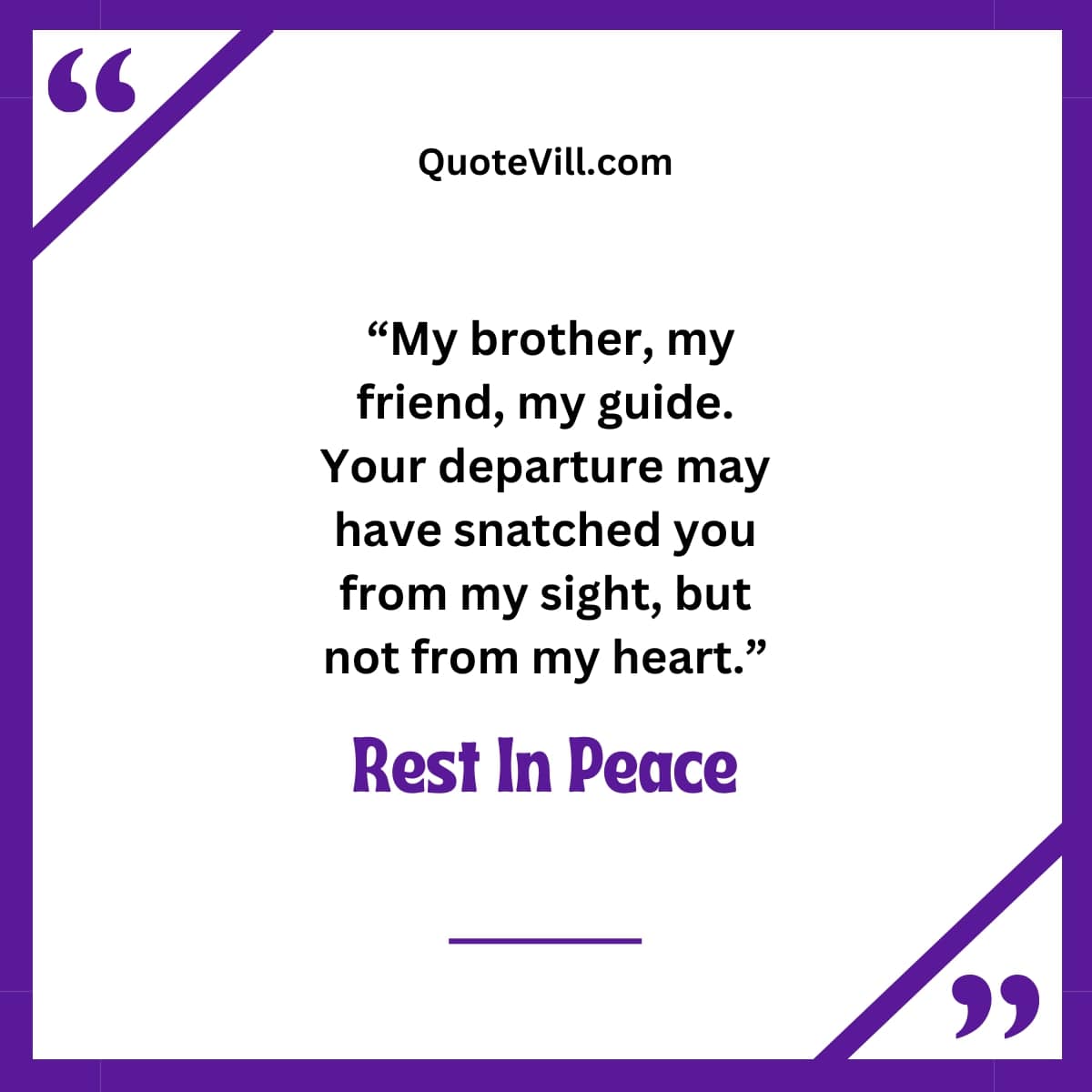 2. "Dear brother, you were my first friend, my partner in crime, my rock. There's no one who can fill the space you left behind. I find solace in our shared memories, our inside jokes, and our shared dreams.Rest in peace, dear brother."
3. "Our relationship was stronger and more precious than the most priceless diamond. Losing you, brother, felt like losing a piece of myself. But the love and memories you left behind continue to shine brightly, guiding me through the darkest days."
4. "Dear brother, we fought like cats and dogs, yet, I knew you always had my back. Now, as I walk the world without you, I feel a profound absence, a silent whisper that keeps reminding me of you. I miss you, brother, every single day."
5. "The world knew you as my brother, but you were so much more. You were my confidant, my cheerleader, my protector. Losing you feels like losing my shadow. Yet, the love you left behind lights my way and keeps me strong."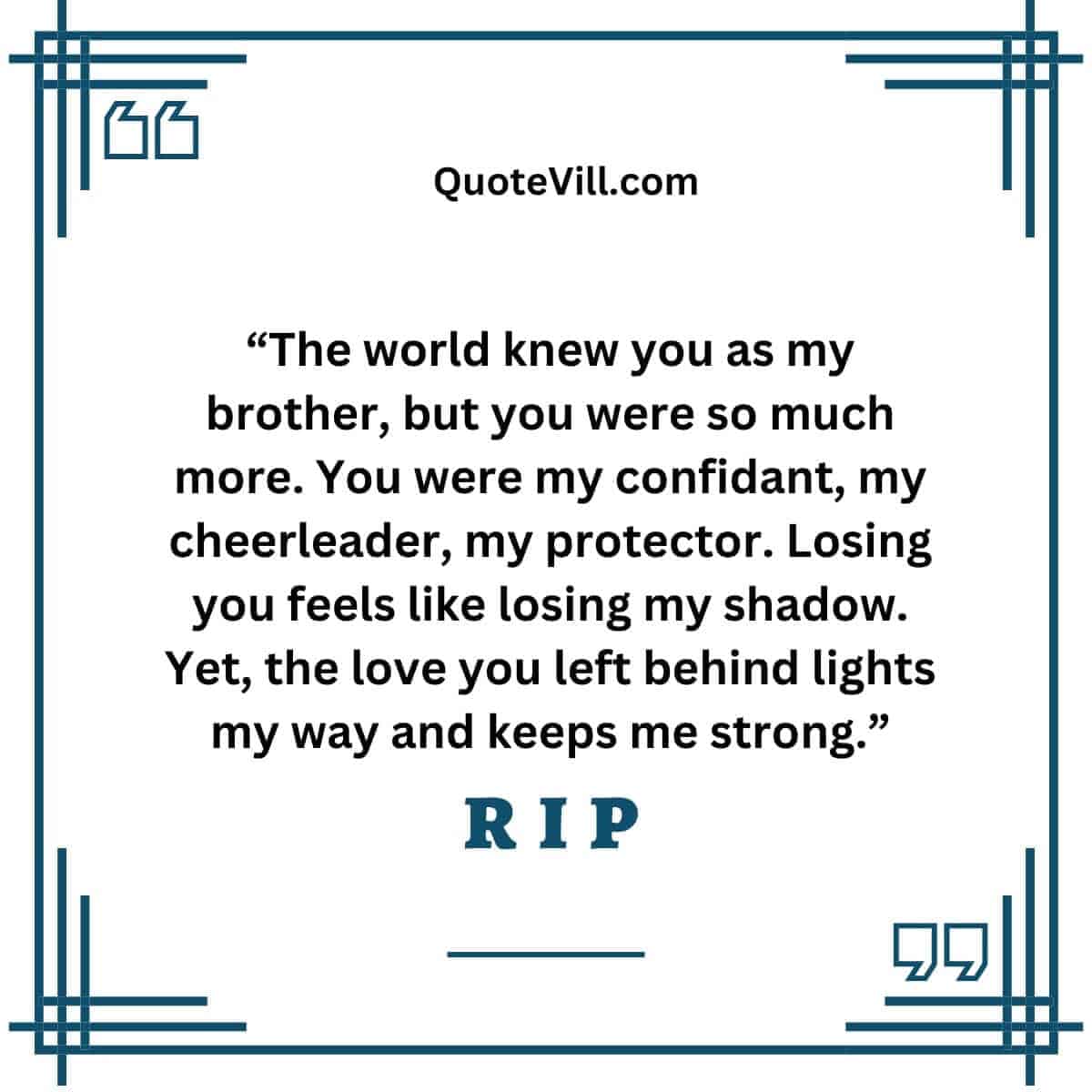 6. "Your laughter was my favorite symphony, brother. A year has passed, but I can still hear it echoing in the halls of my heart. I miss our shared jokes, our shared dreams. You were, and will always be, irreplaceable."
7. "Every day without you, brother, feels like an empty page in the book of life. You were the color, the rhythm, the melody. As your sister, I carry your memory in every step I take, every decision I make. Miss you, dear brother."
8. "A sister's bond with her brother is like a rainbow – bright, colorful, full of ups and downs. Losing you, brother, was like losing a vital color from my rainbow. Yet, in every sunset, in every rainfall, I see you and I miss you."
9. "Every memory of you, dear brother, is a treasure I hold close to my heart. I remember our childhood games, our shared dreams, our laughter, our tears. It's been a year since you left, yet it feels like yesterday. I miss you, brother, more than words can express."
10. "In your absence, I've discovered a strength I didn't know I had. But, dear brother, how I wish I didn't have to. How I wish you were still here, guiding me, laughing with me, dreaming with me. I miss you every single day."
11. "As we mark your death anniversary, I pray for your soul's peace and tranquility. You brought so much love and joy into our lives, brother, and you are missed every single day."
See More:  54 Touching 1 Year Death Anniversary Quotes For Dad
Death Anniversary Prayer Quotes For Brother
1. "On this solemn anniversary of your departure, dear brother, I pray for your eternal peace. May the heavens be filled with your laughter, and may your soul find the tranquility it deserves."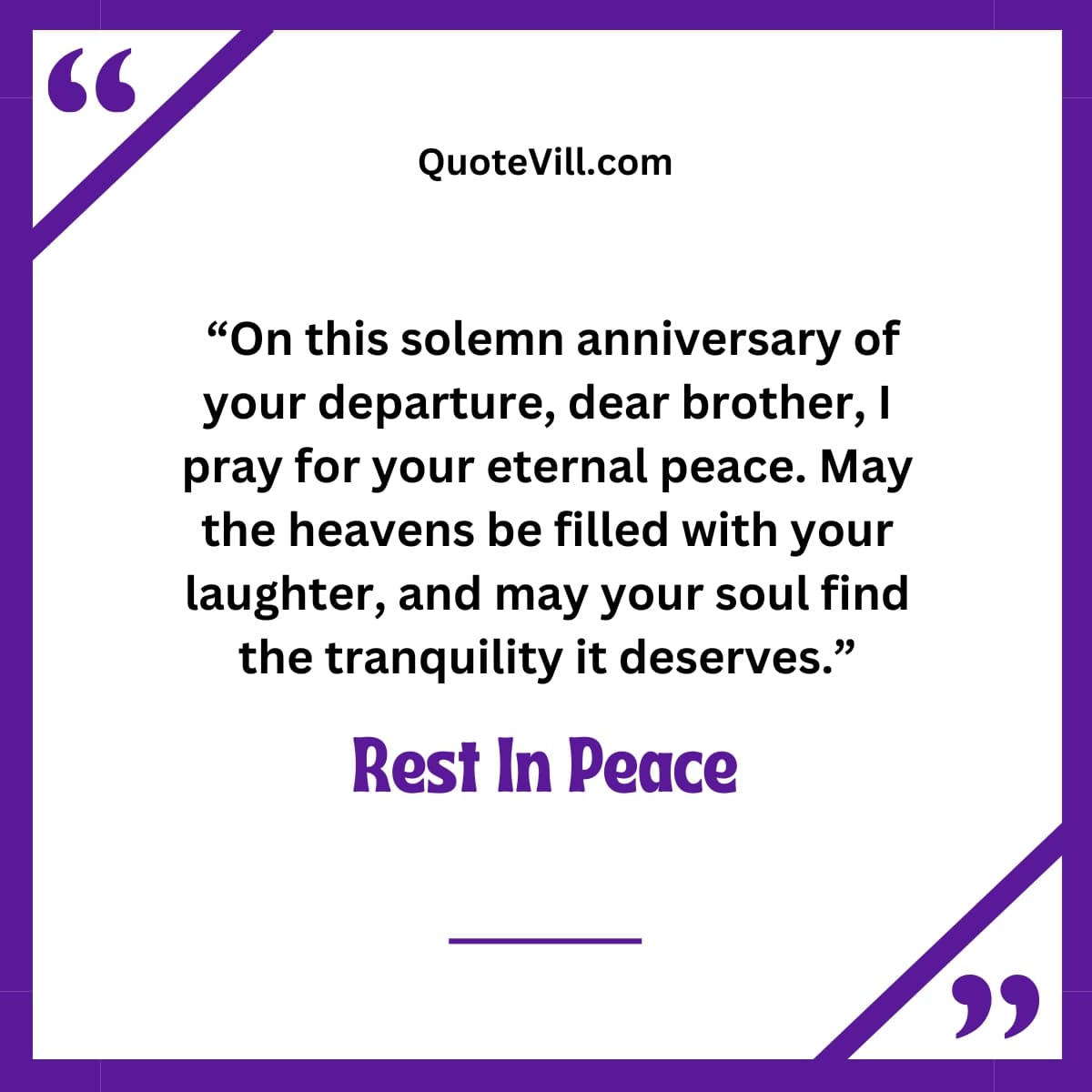 2. "On this day, dear brother, I find solace in prayer. May your soul rest in eternal peace and may the divine comfort us in our grief. Your memory lives on in our hearts."
3. "On your death anniversary, my prayer for you, dear brother, is a simple one. May you find peace, love, and joy in the arms of the divine. Your absence is felt, but your spirit lives on."
4. "Dear brother, on this day of your death anniversary, I lift my eyes to the Lord and pray for your eternal peace. May God's infinite love surround you in heaven as we remember you here on earth."
5. "On this solemn occasion, dear brother, I find comfort in the words of the Lord. 'Blessed are those who mourn, for they will be comforted.' On your death anniversary, I pray for your heavenly happiness and our earthly solace."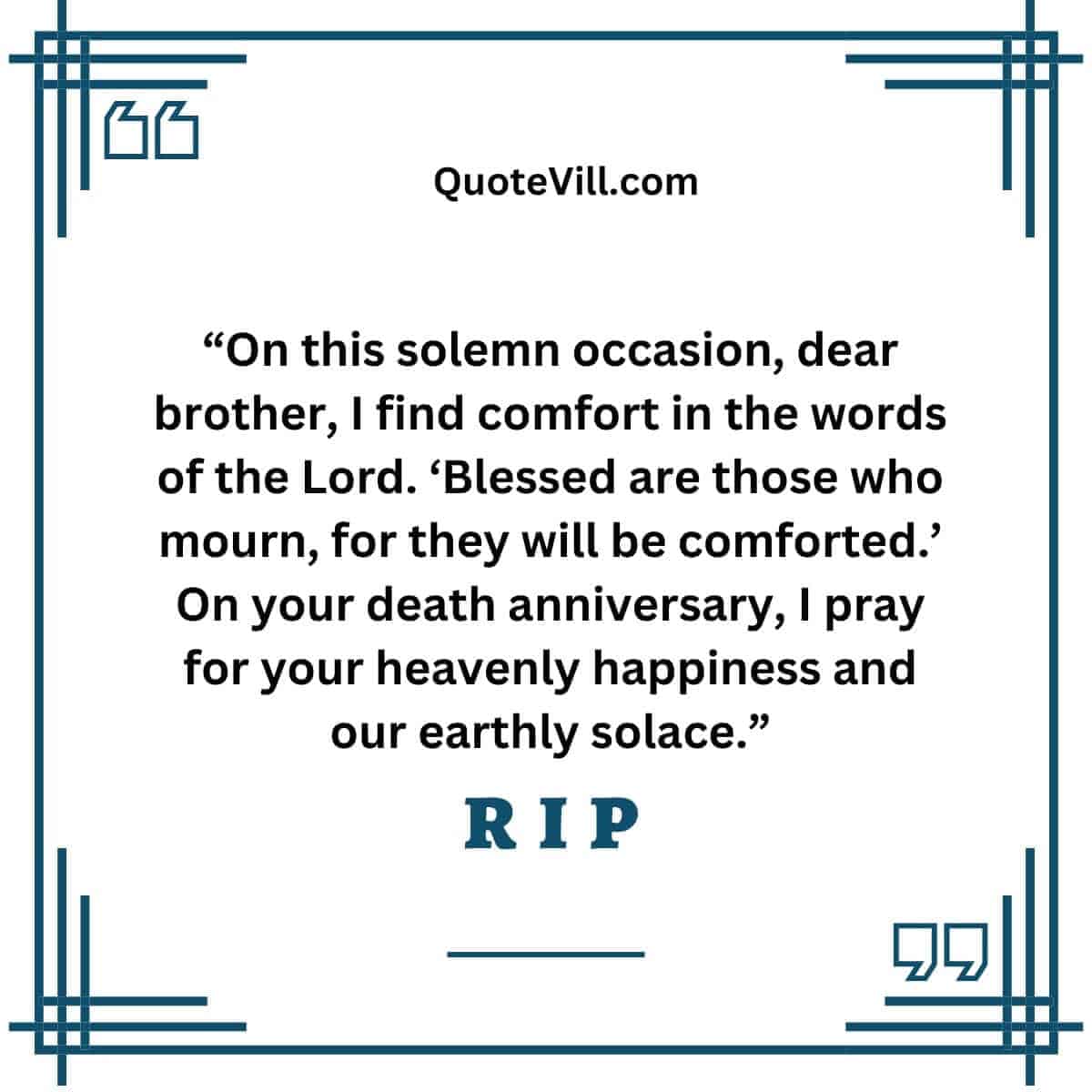 6. "Remembering you on your death anniversary, dear brother, I call upon the Lord for his divine mercy. May God welcome you into His eternal paradise and may your soul find the happiness you so richly deserve."
7. "Dear brother, as we mark your death anniversary, my prayer is this: 'May the Lord bless you and keep you; the Lord make his face to shine upon you.' May your soul find peace and joy in the heavenly realms."
8. "Today, as we mark your death anniversary, I turn to the Lord in prayer. May God bless your soul with everlasting peace and happiness. You have left a void in our hearts, dear brother, but your spirit lives on in our memories."
Missing My Brother Quotes On His Death Anniversary
1. "It's been a year since you've been gone, brother, and yet the pain feels as fresh as ever. On this day, I remember your laughter, your kindness, your love, and I miss you more than words can express."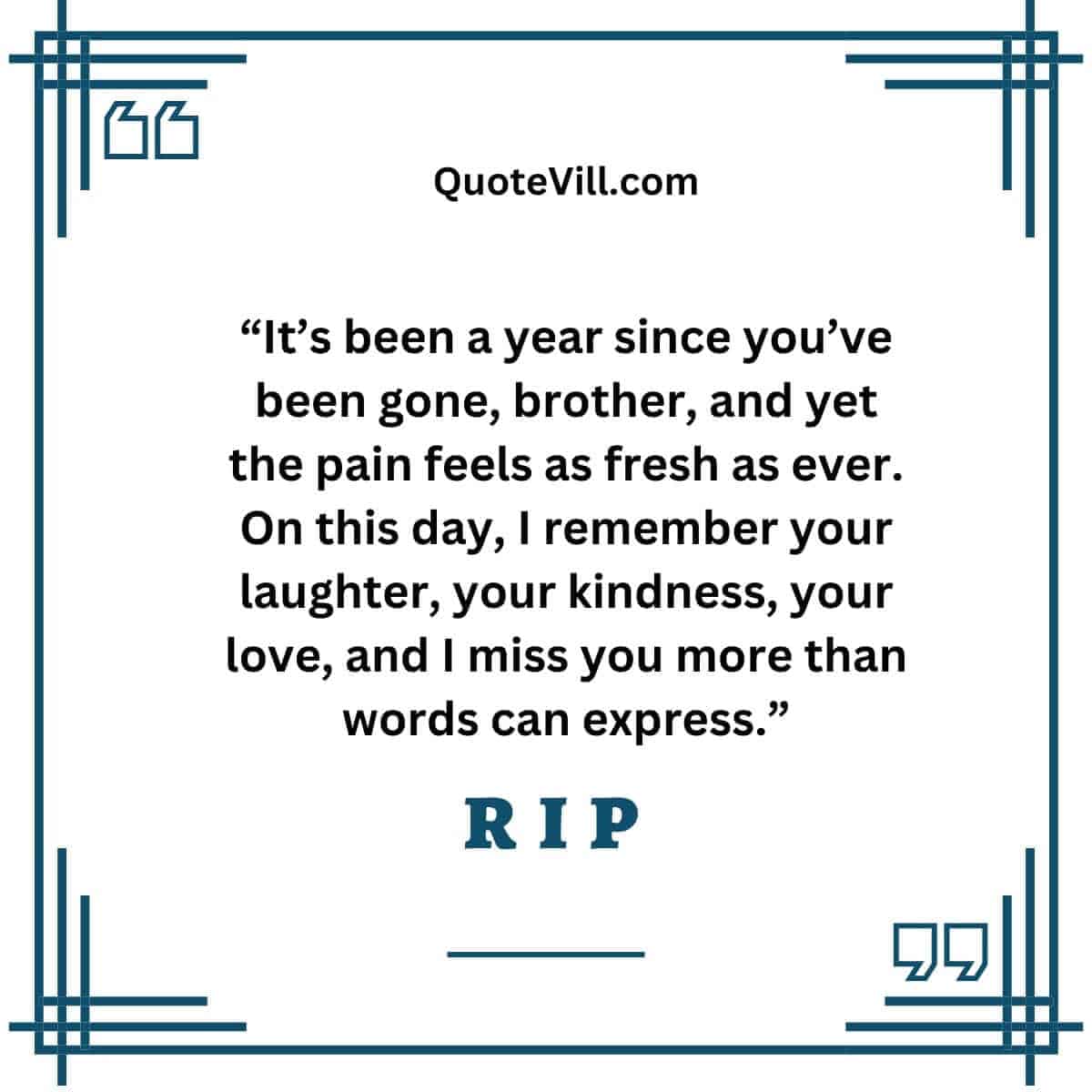 2. "Your death anniversary brings back so many memories, brother. Memories of our shared laughter, shared dreams, shared secrets. In this quiet moment, I realize just how much I miss you."
3. "On this solemn day, your death anniversary, I remember you, dear brother. I remember your infectious laughter, your unwavering courage, and your kind heart. The void you left is impossible to fill. I miss you deeply."
4. "Every day has been a struggle without you, brother. But your death anniversary amplifies the pain, the loss, the emptiness. I miss your presence, your voice, your guidance."5. "On your death anniversary, I can't help but remember our childhood, our bond, our shared dreams. Your absence is a silent pain, a constant longing. Brother, I miss you more than I could have ever imagined."
6. "Time's a funny thing, isn't it? It's been a year since we said goodbye, but it feels like just yesterday we were planning our next great adventure. You were always the explorer, ready to face any challenge. I miss your courage, I miss your spirit. I miss my brother."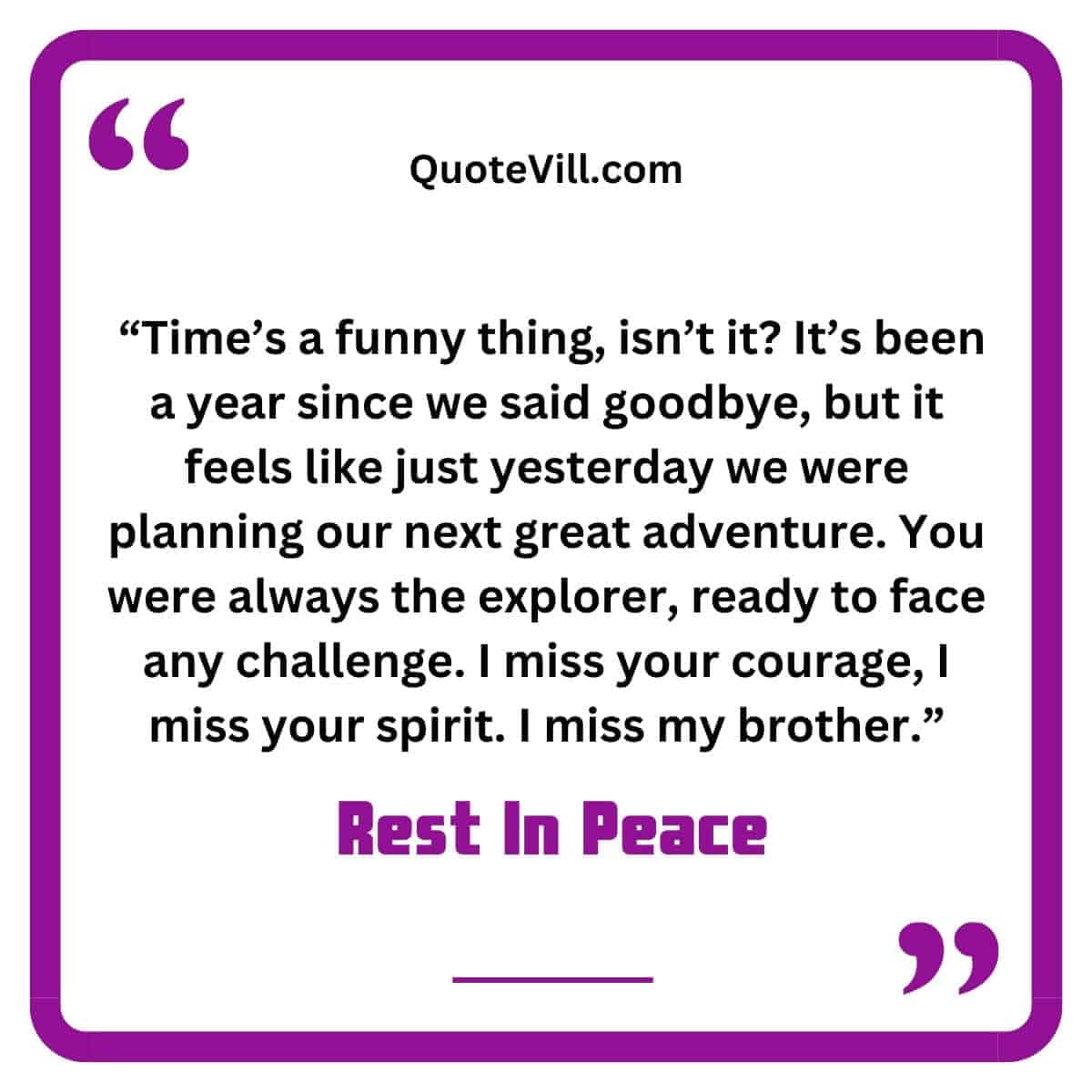 7. "One year down the line, and I still reach for the phone to share a funny story or a random thought, forgetting for a moment that you're not here. It's in these ordinary moments that your absence is felt the most. Brother, you took a piece of me with you, and I miss you, every single day."
8. "Today marks one year since you departed from this world, bro. And yet, there's not a single day that I don't feel your presence. In the wind that rustles the leaves, in the sun that warms my skin, in the rain that touches my face – you're there. I miss you, brother, but I take solace in knowing that you're always with me."
9. "Every time I look up at the night sky, I think of you. A year ago, we lost you to the stars, and life has never been the same since. But in the quiet moments, when I see that one star twinkling a bit brighter, I feel you near. Miss you, brother."