Mothers are angels sent from above. Their love, care, and devotion to their children are incomparable. However, when we lose our mothers, we are often left with a void that's difficult to fill. The pain never truly fades away; it just becomes a part of us. Losing them brings deep sorrow that may take time to heal, but with time, we learn to cherish the beautiful memories we have of them.
Here are some touching Death Anniversary Quotes for Mother that you can use to remember and honor her love.
How Do I Wish My Mom Rest In Peace?
Crafting a Personal Message: When wishing your mom rest in peace, it is always special to create a personal message. This could be a heartfelt letter or a prayer, where you share your feelings, experiences, and the impact she had on your life.
Creating a Memorial or Tribute: Another way to wish your mom rest in peace is to create a tangible memorial or tribute to her. This could be a photo album, a dedicated space in your home, or a tribute on social media.
Holding a Memorial Service: Holding a memorial service on her death anniversary can be another way to wish your mom peace. It can be a quiet, intimate gathering of family and friends, where everyone can share memories and stories about your mom. You can conclude the service by saying a prayer or releasing a bouquet of her favorite flowers into the sea, symbolizing your ongoing love and wishes for her peaceful journey.
Death Anniversary Quotes For Mother
1. "Your laughter, Mom, was our favorite symphony. Even now, it echoes in our ears, playing a comforting melody that softly eases our sorrow."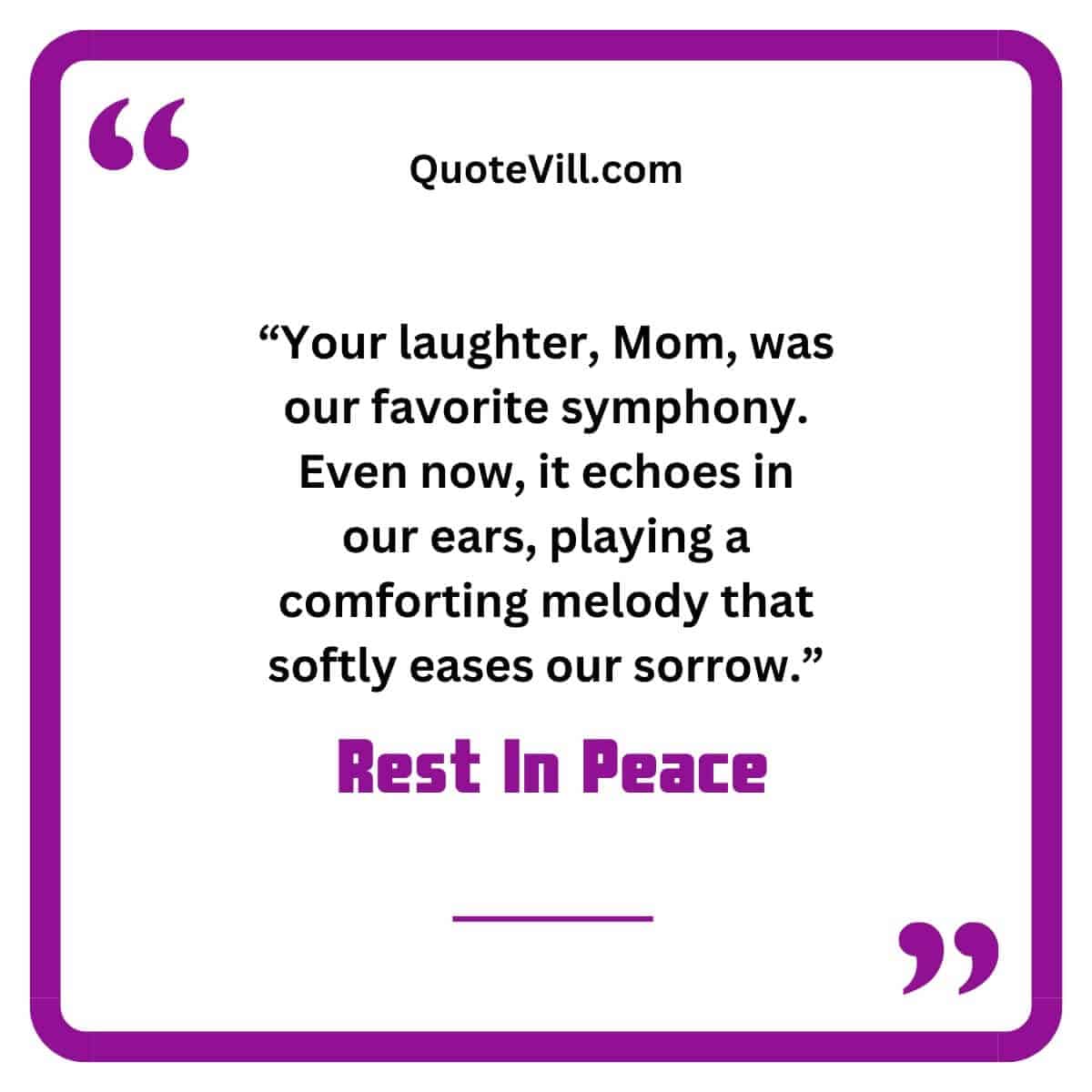 2. "In our garden of memories, Mom, you're the most beautiful bloom. The love you planted continues to grow, filling our hearts with your everlasting fragrance."
3. "With each fluttering leaf, we hear the rustle of your comforting words, Mom. You might have changed seasons, but your advice remains evergreen in our hearts."
4. "The stars twinkle a little less without your lullabies, Mom. But every night, we gaze at the sky, knowing you're up there, singing us to sleep."
5. "No matter the heavenly peace you now enjoy, I can't help but believe you miss us, just as we miss your guiding light every day. Our hearts forever hold a place for you, Mom."
6. "Whenever this day comes, I feel the tug of countless memories we shared. The laughter, the tears, the love – it's overwhelming. Rest peacefully in heaven, Mom."
7. "No matter the heavenly joys that now surround you, I know you're looking down upon us, missing us just as we miss you every moment. Your love is deeply missed, Mom."
8. "Regardless of the celestial comfort you now enjoy, I know you miss us, just as we miss the comforting presence you once were. You are forever in our hearts, Mom."
9. "No matter how divine the peace around you, I feel certain that you miss us, just as we long for your presence. Your love and light are missed each day, dear Mom."
10. "Two years have slipped away since you left us, Mom, but your comforting presence still lingers. I miss your bedtime stories, your warm smile, your loving touch. You may be absent in form, but your spirit continues to live on within me."
See: 54 Touching 1 Year Death Anniversary Quotes For Dad
1 Year Death Anniversary Quotes For Mother
1. "Mom, it's been a year without you, a year of missing the woman who knew me before I knew myself. Your loving memory lives on, a lighthouse guiding me through life's stormy waters."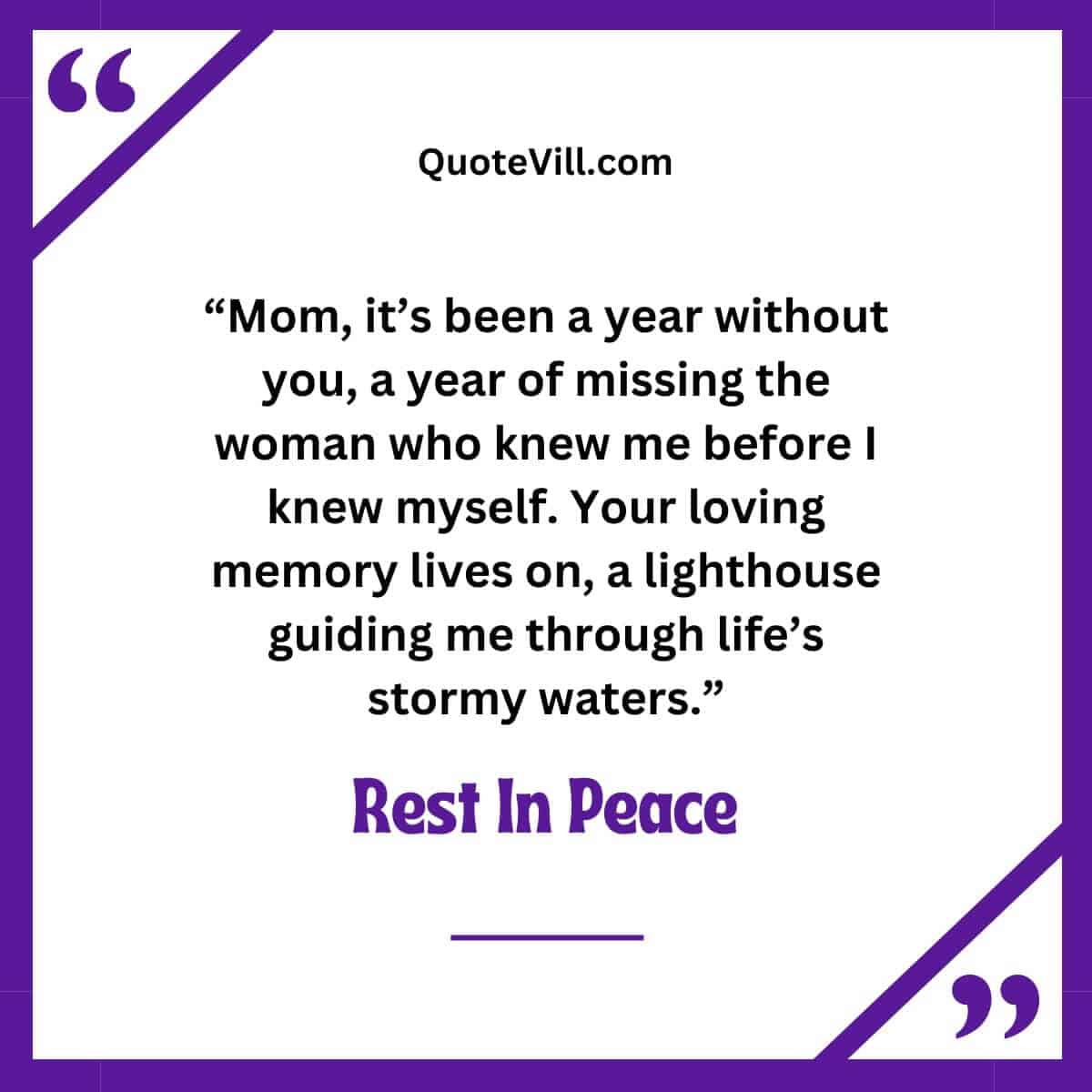 2. "One year has passed, and not a day goes by without me longing for your warmth, Mom. Every blanket I add during cold nights is a silent testament to your ceaseless care."
3. "Today marks a year, Mom, since you left us. I miss how you cheered for my smallest victories and comforted my hardest falls. Your spirit is etched in every step I take."
4. "Mom, it's been 365 days, each day echoing with the void of your absence. The joy you felt when I got my first job is a memory I hold dear, a source of strength and motivation."
5. "One year ago, you began your heavenly journey, Mom. Yet your unconditional love, the sacrifices you made, the life lessons you taught, remain as fresh as if it was yesterday."
6. "It's been a year, Mom, and the pain is still as real. Each tear I shed is a testament to the love you gave, the life you lived. Your memories guide me, even through the darkest nights."
7. "A year without you, Mom, feels like an eternity. You taught me how to face life's rollercoasters, and now, your strength carries me through my own. Your love remains, a constant in my ever-changing world."
8. "One year without your presence, Mom, and the void is felt with each passing moment. Every strand of hair I comb, I miss your gentle touch, the way you used to care. Your love, your devotion, continues to inspire me."
9. "Mom, it's been a year since your laughter turned into a memory, since your loving advice turned into echoes in my heart. Yet, every step I take, every decision I make, is imbued with your wisdom."
10. "It's been a year, yet it feels as if time stood still the day you left us, Mom. I miss our little celebrations, your happy dance with every achievement. You continue to be my biggest cheerleader, urging me on from above."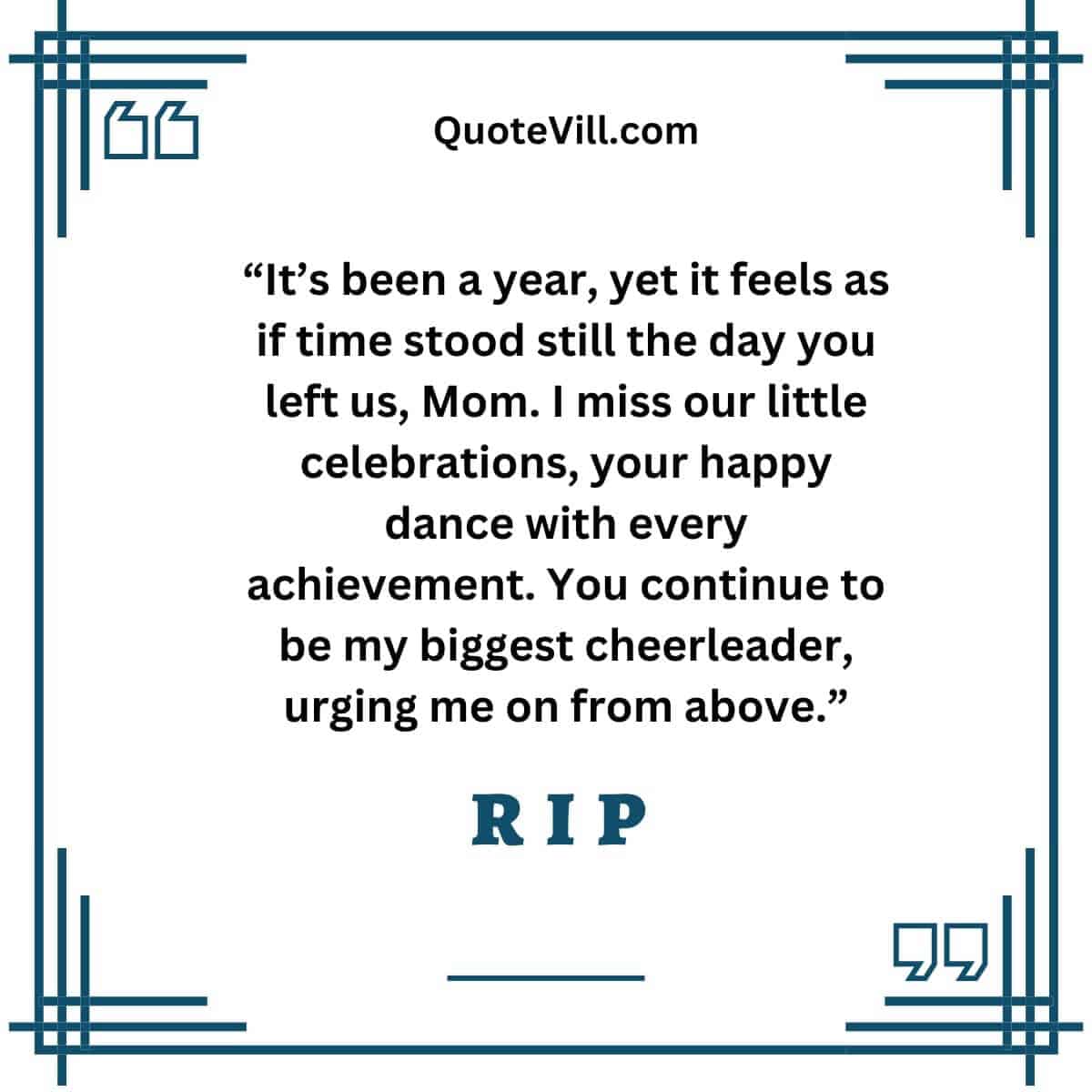 11. "One year, Mom, one long year without you. I miss the unconditional love that flowed from your eyes, the way you used to listen to my endless chatter. Your spirit continues to accompany me, silently whispering words of comfort."
12. "Today, a year ago, you started your journey in the heavenly abode, Mom. I miss the toys you bought me, the school shopping sprees we shared. Every memory is a timeless treasure, a testament to your unwavering love."
See more: 48 Death Anniversary Quotes For Brother:A Tribute to My Brother
Death Anniversary Quotes For Mother From Daughter
1. "One year, Mom, one year since your beautiful smile faded. Your words of wisdom, your funny anecdotes still inspire me, make me chuckle, even through my tears."
2. "Mom, it's been a year, but your memory lives on in every lily that blooms. Your love for gardening, your thrill at the sight of the first spring blossom, still makes me smile
3. "Mom, a whole year has passed without you and each day brings back the memories of your selfless love. I miss our bonding over gardening, your happiness when the first rose bloomed. Your green thumb left not just a blossoming garden but a blossoming heart within me."
4. "A year, Mom, a year since you left us, but your love still fills our home. I miss your happy dance on 'cleaning day,' your funny sing-along sessions. In the mundanity of chores, you taught me to find joy."
5. "It's been a year, Mom, but your tender care still nurtures me. I miss our Sunday brunches, your special pancakes, your bright smile when I asked for seconds. Your love was the secret ingredient that made every meal special."
6. "One year without you, Mom, but your kind-hearted nature lives on in my actions. I miss our charity visits, the happiness in your eyes when helping others. You taught me the joy of giving, and that lesson has stayed."
7. "Mom, a year has passed, yet your wisdom continues to guide me. I miss our heart-to-heart talks, your understanding nods, your comforting words. You were my compass in life's journey, and I still navigate by your teachings."
See More: 53 Heartfelt Death Anniversary Quotes For Sister
Death Anniversary Quotes For Mother From Son
1. "So Many years has passed since you left us, Mom. I thought I was strong, but your absence has taught me the depth of my love for you. Your presence lingers, a comforting balm on the wound of loss."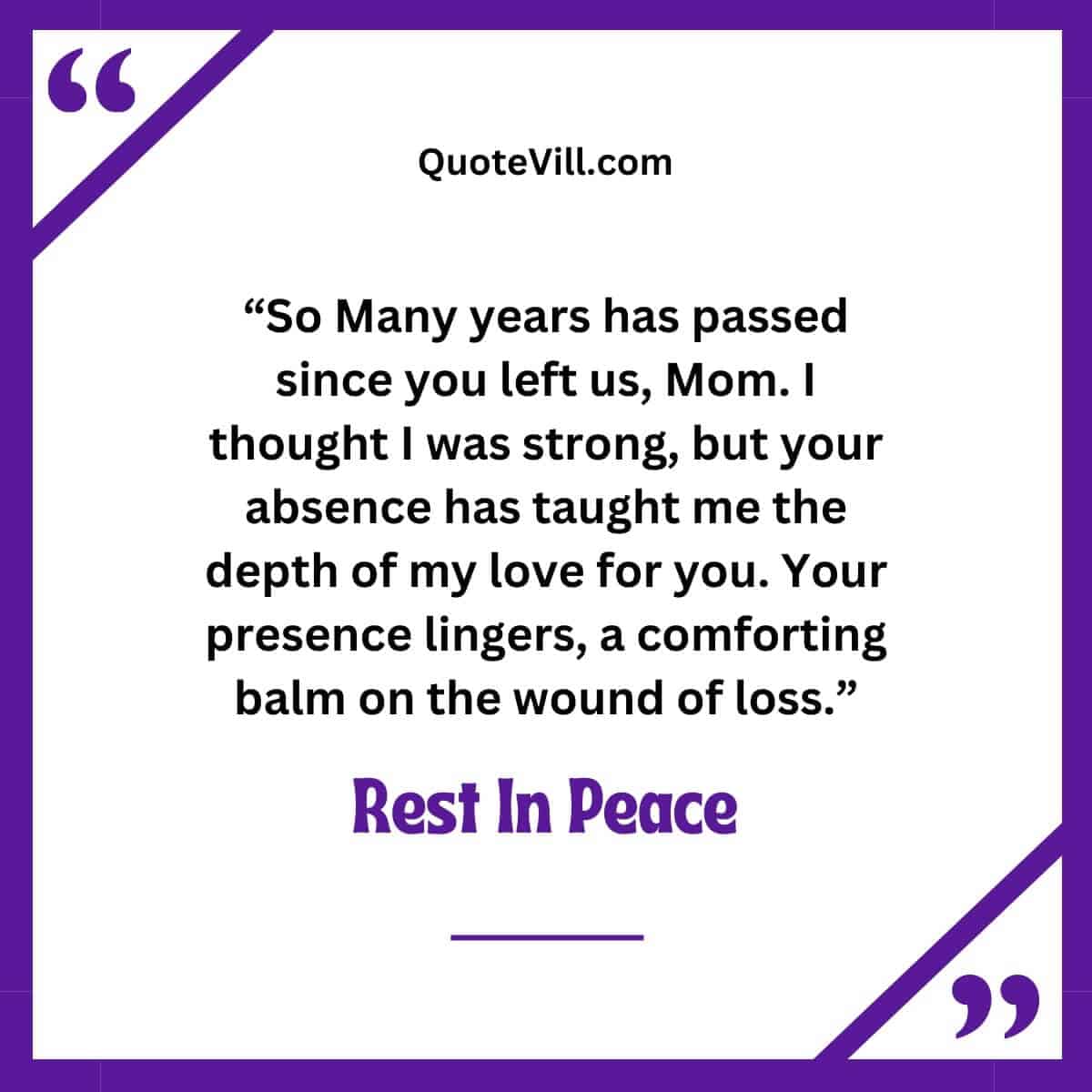 2. "It's been a six year, Mom, but your love still permeates my life. I miss sharing my world with you, our chats about my work, my studies. You may not have understood it all, but your delight in my achievements was undeniable."
3. "Today marks one year without you, Mom. As a son, I thought I'd done enough, but I'd give anything for another day to show you my love, to care for you as you cared for me."
4. "One year without you, Mom, and I still find myself reaching for the phone to share my day with you. Your chair may be empty, but the place you hold in my heart is eternal."
5. "A year has passed since you left us, Mom. Every memento of you, every unworn gift, still speaks of your eternal love, your selfless nature. Your spirit continues to guide me."
6. "It's been a year, Mom, a year of missing my friend, my confidante, my cheerleader. Your unwavering faith in me continues to guide me, your love continues to inspire me."
7. "A full year without you, Mom, yet your spirit lingers. We've always been more than mother and son; we were friends, companions. I miss sharing my dreams, my hopes, and my fears with you."
8. "It's been a year, Mom and your life insurance policies lay untouched. They're painful reminders of your selfless love, your constant desire to provide, even when you wouldn't be around to witness it."
9. "A year without you, Mom, and I still feel the warmth of your presence in every room. The things you never asked for but cherished are not just objects, they are symbols of our shared joy."
10. "It's been so many years, Mom, I miss our bedtime stories, your magical tales, your imaginative characters. You sparked my love for stories, and now they serve as my solace."
Death Anniversary Prayer Quotes For Mother 
1. "Heavenly Father, as I commemorate my mother's departure from this world, I pray that her soul is encased in your tender mercy. May she rejoice in eternal serenity, enveloped by your divine grace. Let her rest in your eternal love, my Lord."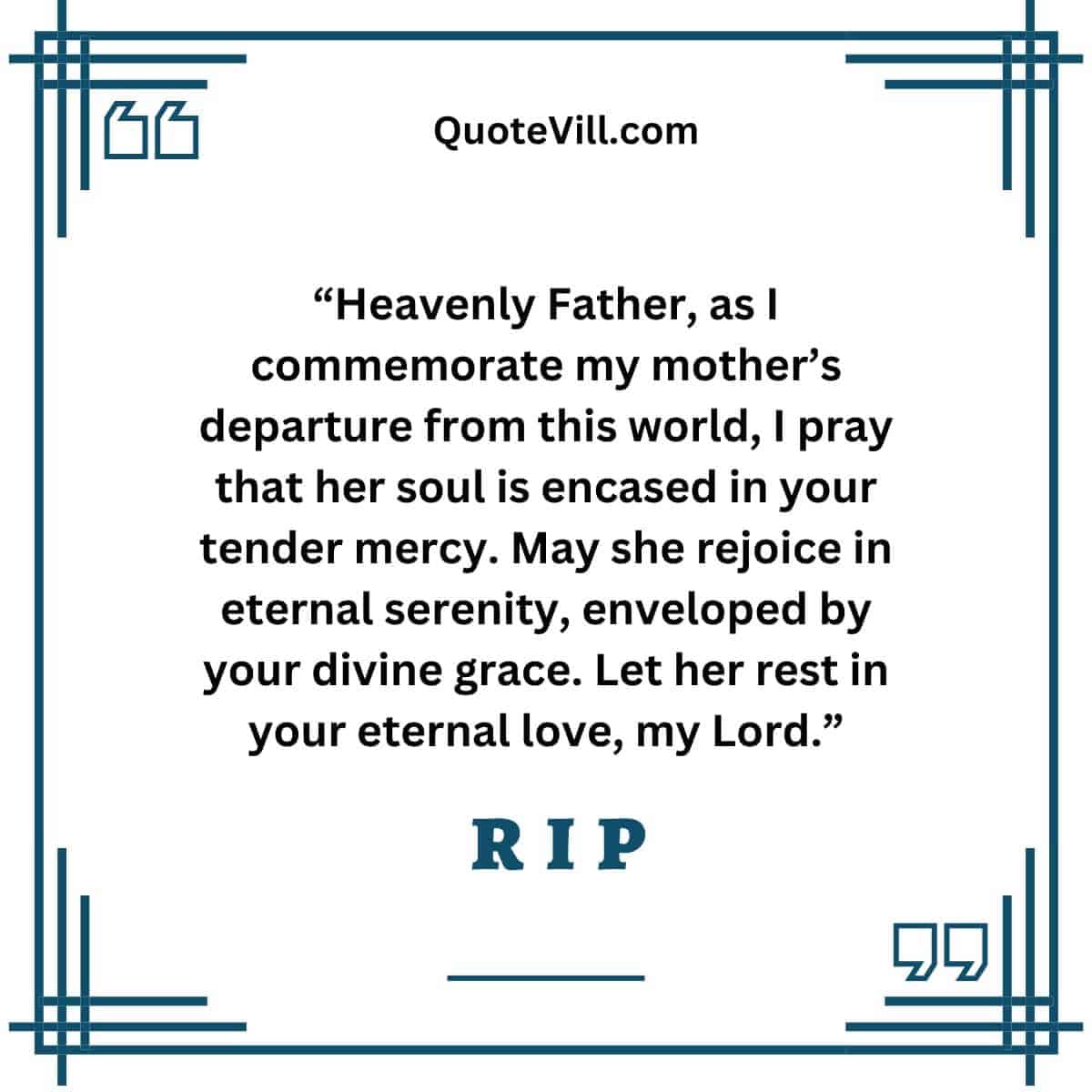 2. "God of infinite love and light, my heart longs for my mother who resides in your celestial kingdom. I pray that you grant her unending peace and joy. Let her soul be free of any worldly ties, and may she exist in pure bliss under your nurturing care."
3. "Almighty Creator, I beseech you to cradle my mother's soul in your divine love. May her journey in the afterlife be filled with peace and joy, just as her love filled my life with warmth and comfort. Grant her eternal tranquility, Lord."
4. "Lord of all comfort and peace, as another year passes since my mother's departure, I pray for her soul's eternal peace. May her spirit dance in the unending light of your love. May she find eternal joy in your divine presence."
5. "Divine Master, on this solemn day of remembrance, I pray for my mother's soul. May she find solace in your divine embrace, experiencing everlasting peace and happiness. Let her spirit glow in the eternal light of your love."
6. "God of love and mercy, on this day, I remember my mother and pray for her soul's eternal rest. May she revel in the beauty of your divine kingdom, living in everlasting peace and joy. In her memory, I ask for your blessings and grace."
7. "Dear Lord, on this day of remembrance, I pray for my beloved mother. I thank you for granting her peace and solace in your heavenly abode. May her spirit remain unburdened, experiencing the serenity of your divine love."
8. "Heavenly Father, my heart clings to the memories of my dear mother. I seek your divine mercy on her soul, praying that she rests in eternal peace and joy. May your love permeate every corner of her heavenly dwelling."
9. "Almighty Creator, today I remember my mother with gratitude. May she enjoy the eternal peace and comfort of your divine kingdom. May your divine grace brighten her journey, filling it with boundless joy and tranquility."
10. "Divine Father, on this solemn day, I pray for my mother's soul. May she find absolute peace and serenity in your loving embrace. Grant her an eternal home in your kingdom, filled with endless love and joy."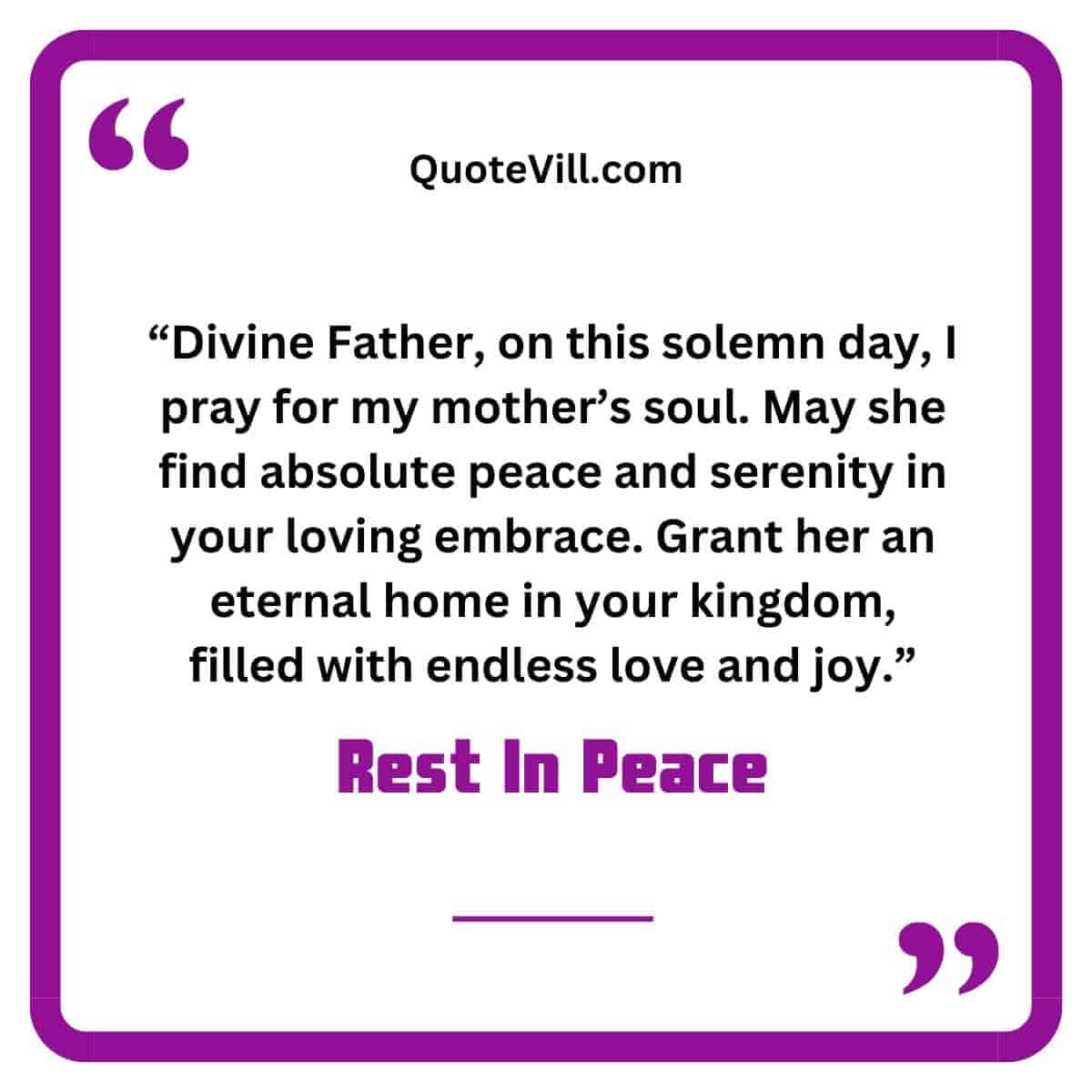 11. "Dear God, as I honor the memory of my mother, I seek your blessings for her soul. May she find eternal rest and boundless joy in your divine presence. I pray that her spirit feels the warmth of your undying love, now and forever."
12. "Heavenly Father, today, my heart yearns for my mother. I pray that she finds everlasting comfort and joy in your divine embrace. May her journey in the afterlife be lightened by your boundless love and grace."
13. "Almighty Lord, as I remember my mother, I pray for her eternal peace. May your divine love surround her, offering comfort and joy. May her soul rest in tranquility under your compassionate gaze, forever and always."
Missing Mom Quotes On Her Death Anniversary
1. "Mom, your absence still tugs at my heartstrings. It's been three years since you left us, yet your laughter, the sound of your footsteps, your comforting voice, they still echo in my mind. The void you left behind is immeasurable and each day is a testament of your missed presence."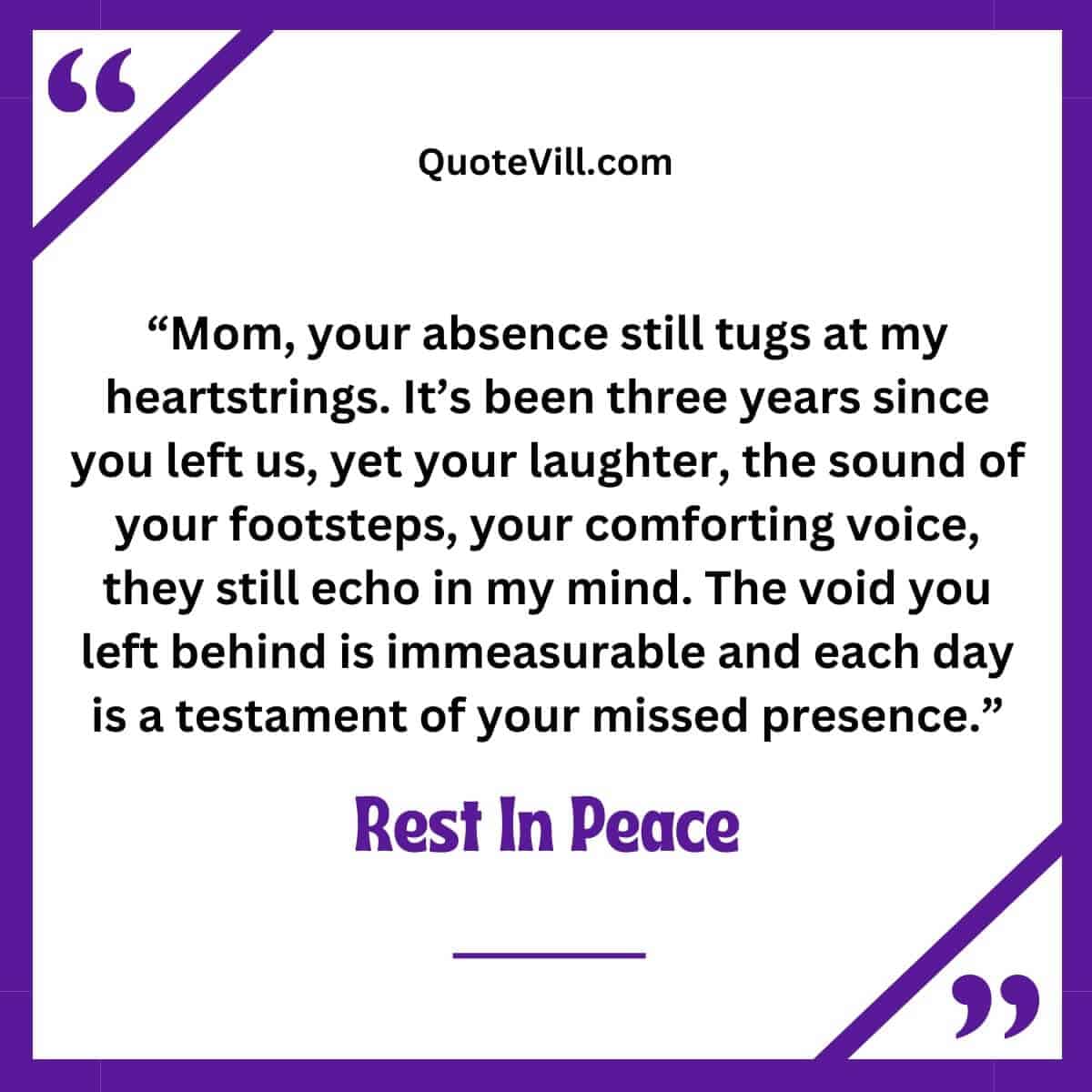 2. "Five years ago today, you traded the earthly realm for a heavenly one, Mom. Yet, the essence of your love continues to fill every corner of our home. Your giggles, your advice, your warm hugs – they are missed more than words can express."
3. "Mom, it's been seven long years without you and not a day passes by when your wisdom doesn't guide me. I miss our long talks over steaming cups of coffee, your gentle reminders, your infectious optimism. You taught me to bloom in adversity and I try every day."
4. "Ten years, Mom, a whole decade has passed since you left us, yet, I can feel your love in every quiet moment. Your radiant smile, your gentle caress, your unwavering support, the memories are vivid as ever. You're missing  more with each passing day."
5. "Six years, Mom, six years since you traded this world for a better place, yet your teachings continue to be my guiding light. I miss your bedtime stories, your warm cuddles, your encouraging smiles. Your absence has taught me the real value of your presence."
6. "Eight years on, Mom, and I still reach out to dial your number when I'm low. I miss your consoling words, your healing touch, your unwavering faith in me. Your memories are the solace in my solitude."
7. "It's the 10th anniversary of your heavenly journey, Mom. A decade without your physical presence, yet, your love and spirit continue to guide us. I miss your comforting hugs, your uplifting words, your unending faith. Even in your absence, you continue to be my pillar of strength."
8. "It's been six long years, Mom. Your love still feels like a warm blanket on a cold winter's day. I miss our silly dances, your tender care, your boundless faith in me. You are gone, yet your love continues to be the compass of my life."
9. "Nine years, Mom, but your love is as alive as ever. I miss our long walks, your delicious meals, your comforting lullabies. Even in your absence, you continue to be my safe harbor."
10. "Mom, it's been a decade since you were called home. Yet, your radiant love continues to warm my soul. I miss your encouraging words, your gentle reprimands, your loving embraces. In your absence, I have learnt to hold onto your teachings as my guiding light."