In remembrance of your grandmother, pay your respect to her with these death anniversary quotes for grandmother. A nurturing, kind, and caring spirit like every grandmother's, she might have played a significant role in being your second mother. Or maybe your best friend.
Regardless of the scenario, give your tribute to the woman who made your childhood better. Honour a life she led but also a part of your life that she helped you lead. When you look back today with a hint of sadness, shedding a few tears, don't forget to feel grateful for all the wonderful moments you got to spend with her.
These loss of Grandmother quotes will comfort you, help you find solace in the present and make you realise how your grandmother is not here but a fraction of her everlasting love will always be with you.
In Remembrance of Grandmother: Heartfelt Death Anniversary Quotes
1. You're far away from us like stars but still, you're so close to our hearts. Today on your death anniversary we remember you with love and honour.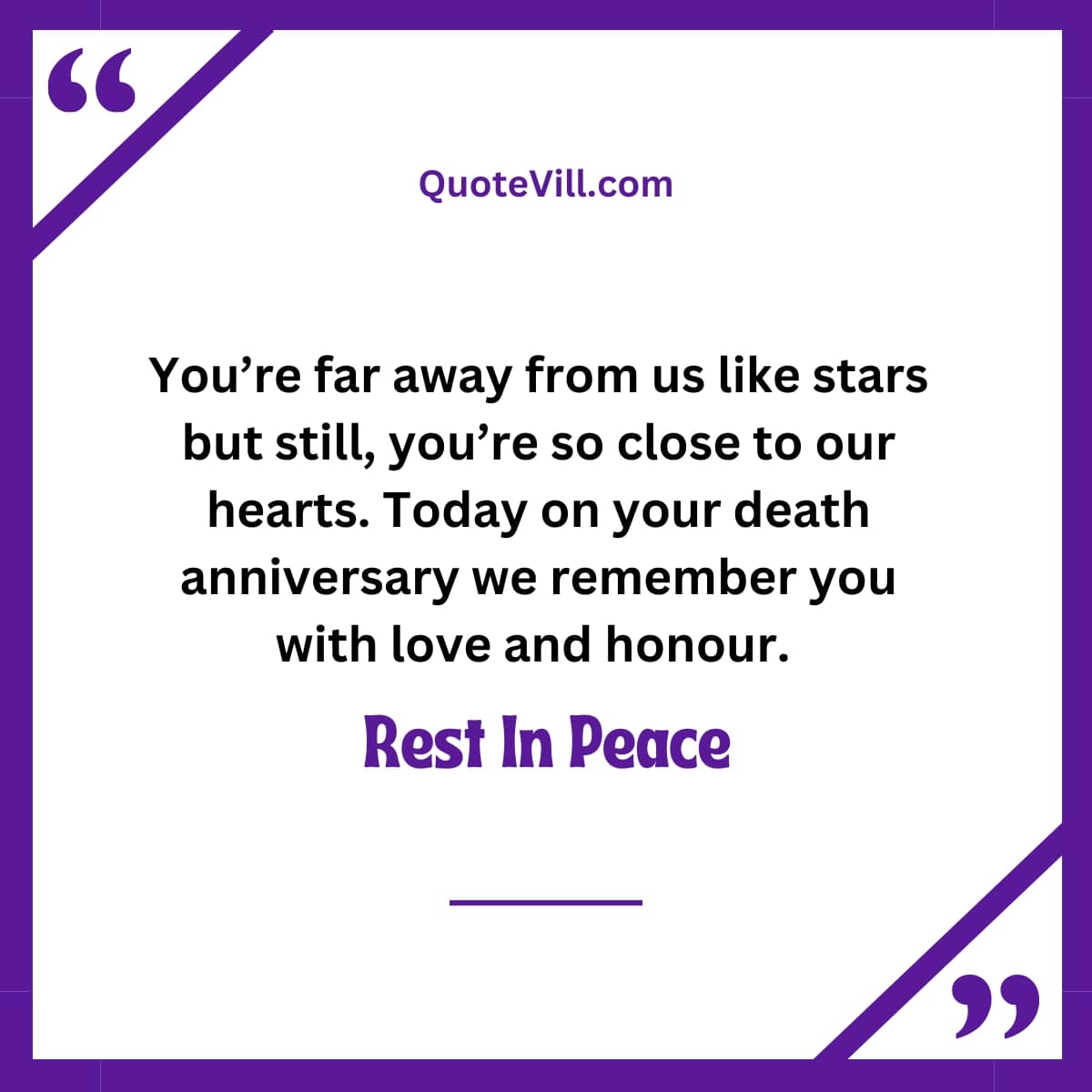 2. Your journey here on earth was remarkable and we consider ourselves fortunate to have seen it first-hand, we miss you, Grandma! Sending our love to you in heaven.
3. The beauty of your soul is imprinted in our hearts. You're not here but when in doubt we follow our hearts believing you're guiding us!
4. My grandmother's death anniversary always comes with waves of happiness and sadness! And I miss her so dearly even when I know she is somehow always with me.
5. Your absence is felt deeply every day but the presence of your everlasting love lessens the pain we feel especially today on your death anniversary.
6. My Grandmother's death anniversary brings a reminder that the more meaningful moments you spend with your loved ones, the more solace you'll be able to find in the memories when they're no longer with you.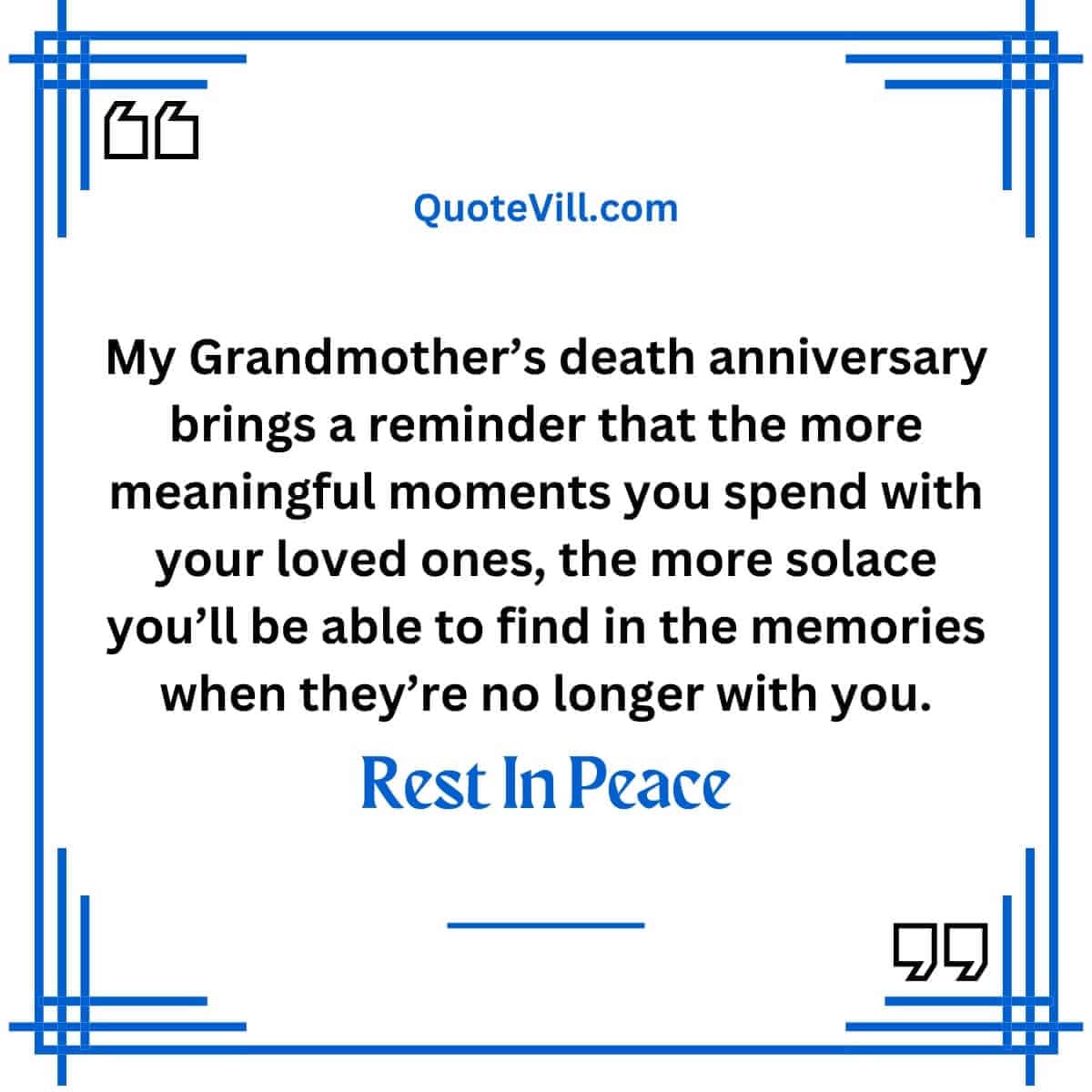 7. Today we hold your memories closer and remind ourselves that our grandma left a legacy behind that we get to cherish.
8. The wisdom you passed on us, the love you shared with us, the light and hope you filled our lives with help us find solace on days like today when it's a little difficult.
9. Today on your death anniversary, Grandma, we remember you with overly grateful hearts keeping love at the centre of them.
10. You're not here but deeply rooted and etched in our memories and hearts to not feel your presence. Grandma, an essence of you is eternal for us and hence your love.
Read: 62 Emotional Death Anniversary Quotes For Mother
Death Anniversary Quotes to Honour Your Grandmother
1. You left before we could show you how we turned out to be your reflection but we hope from somewhere, you'll look at us and be the happiest, and that is where our contentment lies.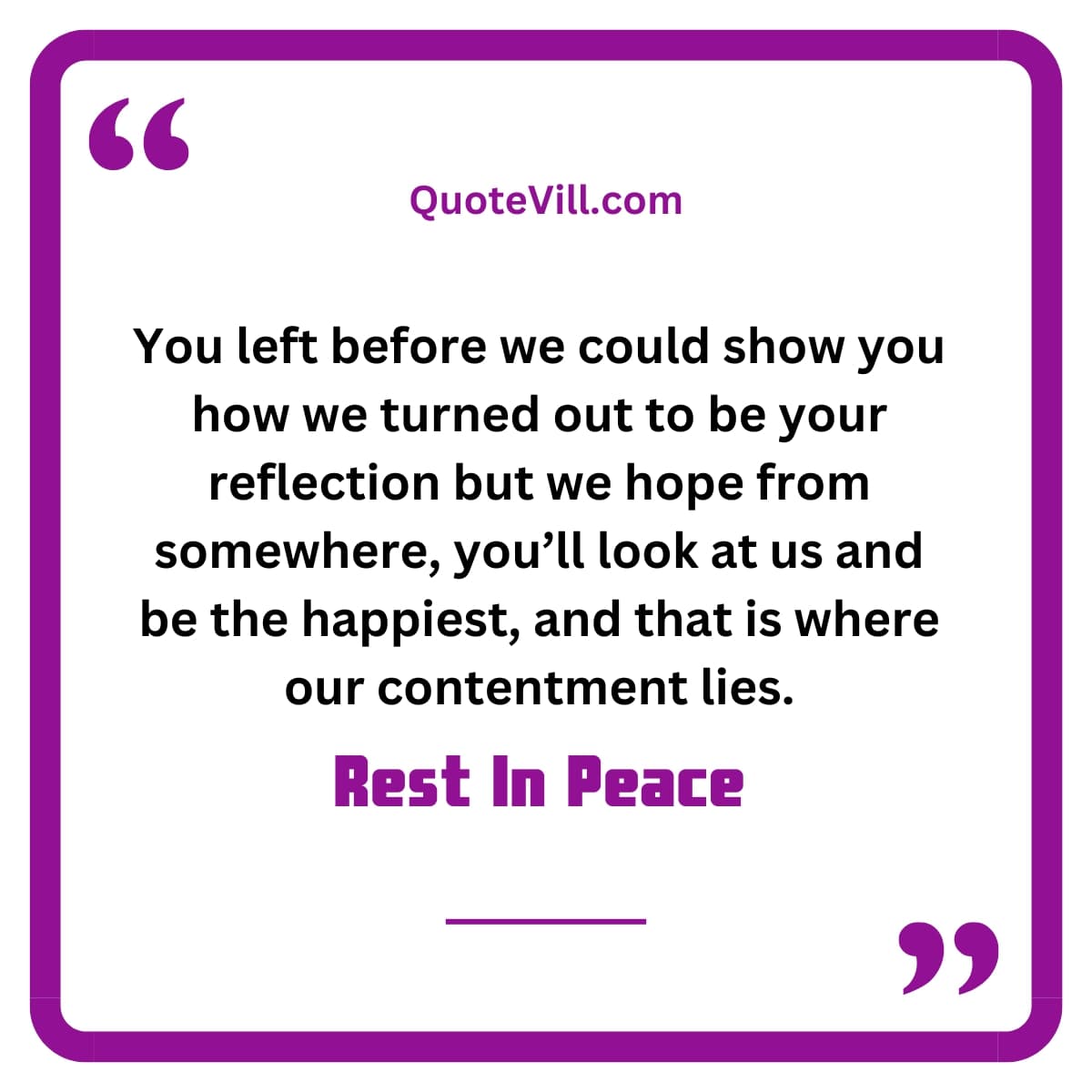 2. On the ___th death anniversary of our grandmother, we take a moment to remember her and reminisce about our childhood which was beautiful because of her love and warmth. We miss you, granny!
3. Today we gather to celebrate you. Your death anniversary brings the waves of agony to the surface and we realise how much we miss you, how our life is incomplete without you.
4. To the woman who made us the women we are today, we gather here on your death anniversary to honour the time you shared with us and the beliefs and traditions you empowered us with!
5. The presence we feel of our grandmother's love lessens the pain of her physical absence, it's how we've made peace with an unfortunate event and found solace knowing in some essence she's still with us.
6. On this day of remembrance, we send our warm love to thank you for having given us all the beauty and knitting secrets; we're so turning into you!
7. We're sending you an extra bundle of love and courage on your grandmother's death anniversary. Find solace in knowing wherever she is, she would be proud of you.
8. In the tapestry of our family history, you've left your remarkable footprints such that our future, grand-grandchildren will admire you and honour the legacy you've left behind.
9. On this death anniversary of our dear grandmother, we honour her kinder-hearted spirit, fierce heart, and the lessons she taught us. Her loving memories are woven into our very fabric of living.
10. In the tapestry of our family, a pull of your thread will lead one to an honourable life filled with remarkable moments that you lived to the fullest. You'll be forever missed, grandmother.
See: Touching 1 Year Death Anniversary Quotes For Dad
Loss of a Grandmother Quotes 
1. Remembering our wonderful grandmother today we cherish the moments we spent with her and treasure the values she bestowed upon us.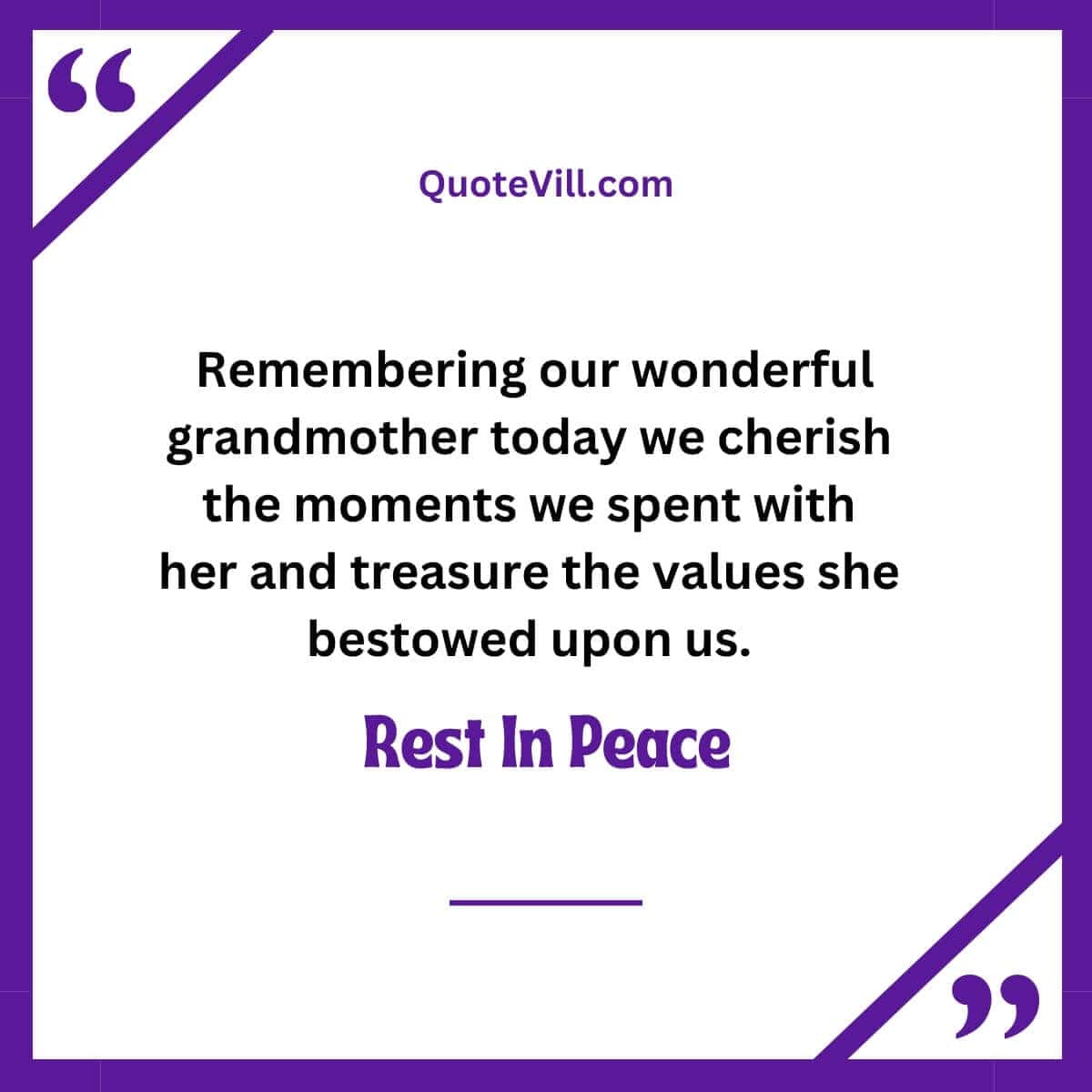 2. Grandparents contribute significantly to making the childhood of a little being better and our grandmother certainly did that the best. On her death anniversary, we give tribute to her for everything she's done for us.
3. On my grandmother's death anniversary, I find solace in remembering the lullaby she used to sing and the tales she used to tell.
4. As a child, my life revolved around my grandma and she made it beautiful. I wish she was still here to make everything right. I miss you, grandmother, so much!
5. I believe my actions are guided by my grandmother's love and light. And that belief makes me keep going, even by being in heaven, she makes things right for me.
6. My Grandmother's hands, and words had a healing effect on me. Her existence was comforting. She was the only one who could ground me and now as she is in heaven, I miss her tons.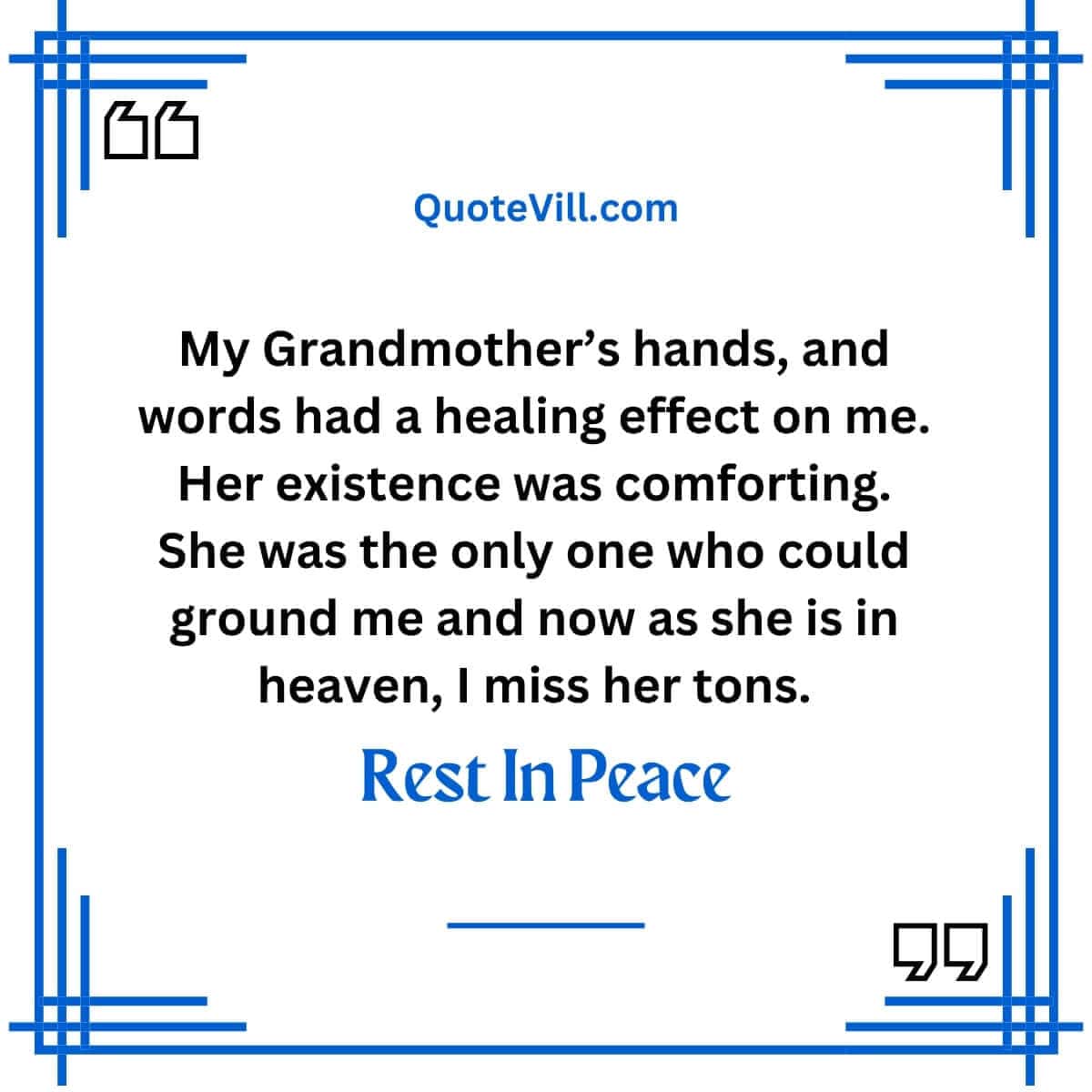 7. Years have passed but that part of the past spent with our grandmother remains as fresh as these daisies in our garden.
8. Today on my Grandmother's death anniversary, I look back and reflect on the sweeter parts of the past and all I feel is gratitude and love.
9. In loving memories of our grandmother, we take a moment today on her death anniversary to cherish and honour the legacy she left behind.
10. Love, laughter, and lessons. Her heart poured an abundance of love into us, her tales made us laugh, cry, or sometimes learn. Here's to our late grandmother who was our best childhood guardian.