A good boss can play a crucial role in one's life and be a role model for an employee. They can be your guardian, a friend, a philosopher, and a guide indeed. So, acknowledge their efforts with these good boss quotes.
A good boss leads by setting an example, not by force. They trust their employees, boost their confidence and guide them when they get stuck in a mess.
They inspire their employees towards self-development, show ways to set goals, and achieve the same. Constructive criticism from a good boss teaches you introspection and improvement.
The perfect leader or boss cheers you and keeps your spirit high no matter the challenges they encounter while achieving a particular result.
A good boss is a good confidante who understands your problems and helps you out precisely the way the situation demands. They throw challenges only to make their employees more competent.
So, appreciate their efforts with these good boss quotes.
Top 10 Good Boss Quotes
1. "A good boss is a person who can tolerate my complaints and still manage to say hello to me every day."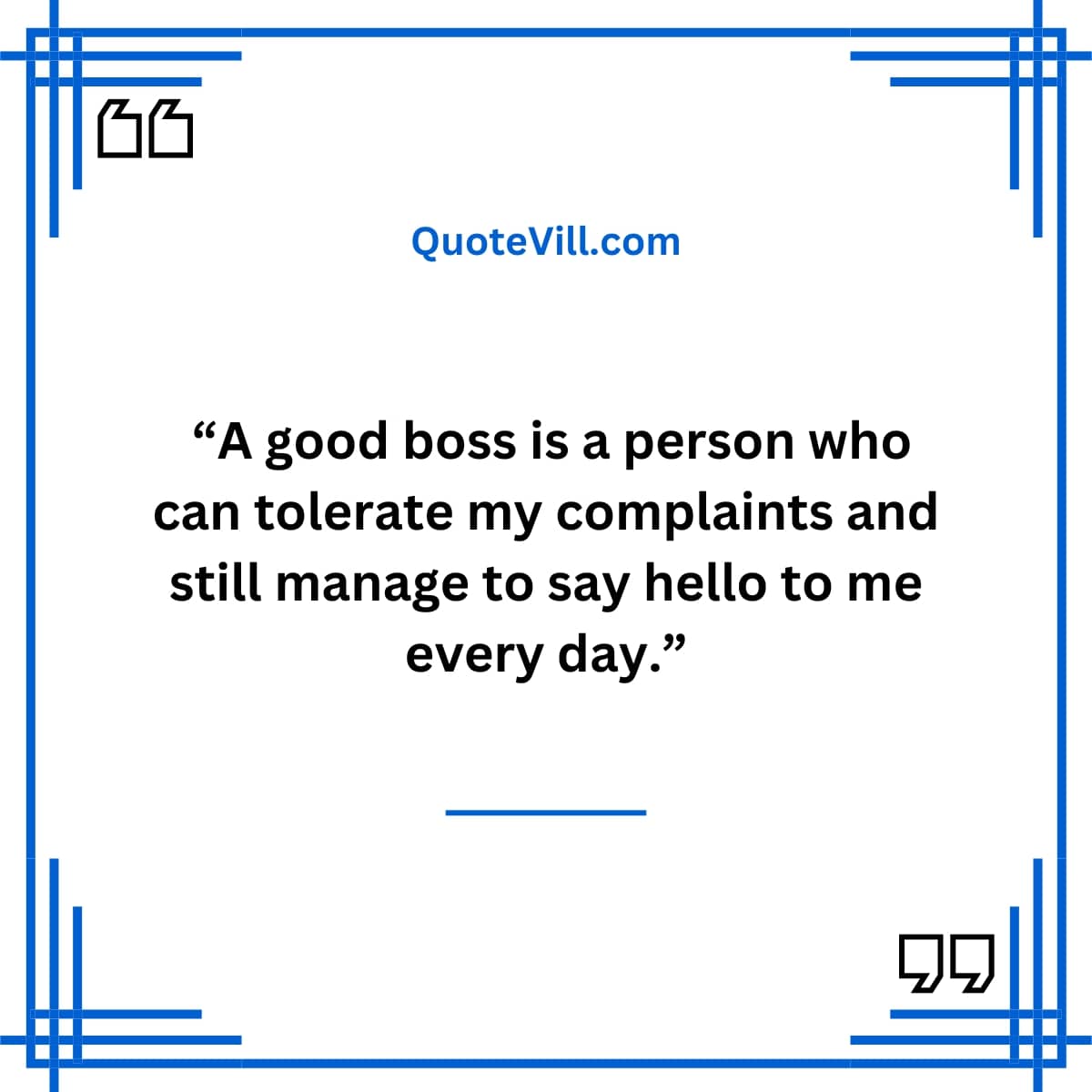 2. "People ask the difference between a leader and a boss. The leader leads, and the boss drives."
3. "The greatest gift of leadership is a boss who wants you to be successful."
4. "A good boss makes his men realize they have more ability than they think they have so that they consistently do better work than they thought they could."
5. "A boss says 'Go!' – A leader says 'Let's go!'."
6. "A good boss realizes that they can also learn from those they work with."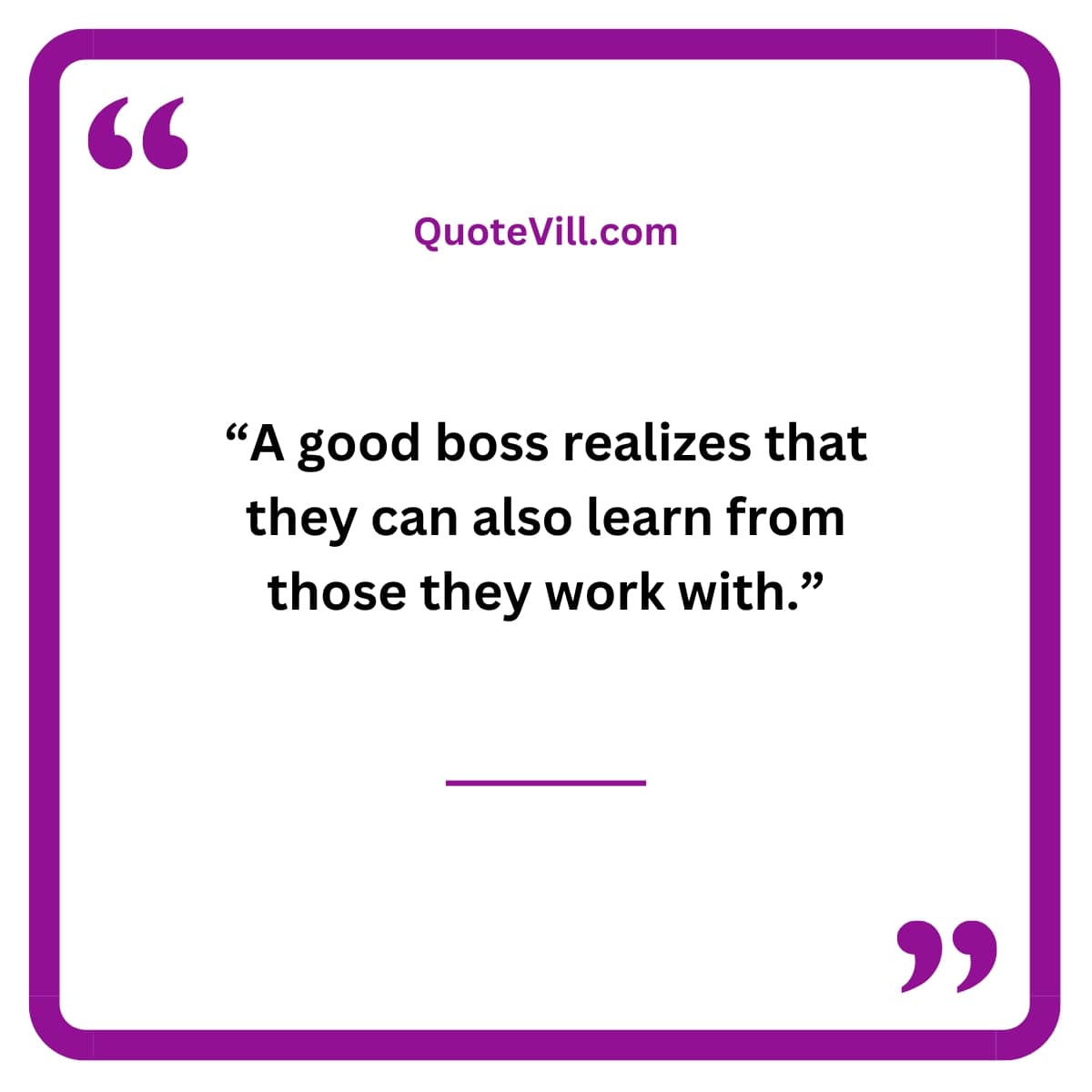 7. "The best boss is the one who has sense enough to pick good men to do what he wants done, and the self-restraint to keep from meddling with them while they do it."
8. "Behind every great team is a great boss."
9. "A true leader is someone who is humble enough to admit their mistakes."
10. "The key to being a good manager is keeping the people who hate you away from those who are still undecided."
Check: Inspirational Bad Boss Quotes For Dealing With Office Life
Good Boss Appreciation Quotes for Exceptional Leaders
1. "You're not just a boss, you're a mentor and a leader. You've shaped this place into something amazing, and we're all better professionals because of your guidance."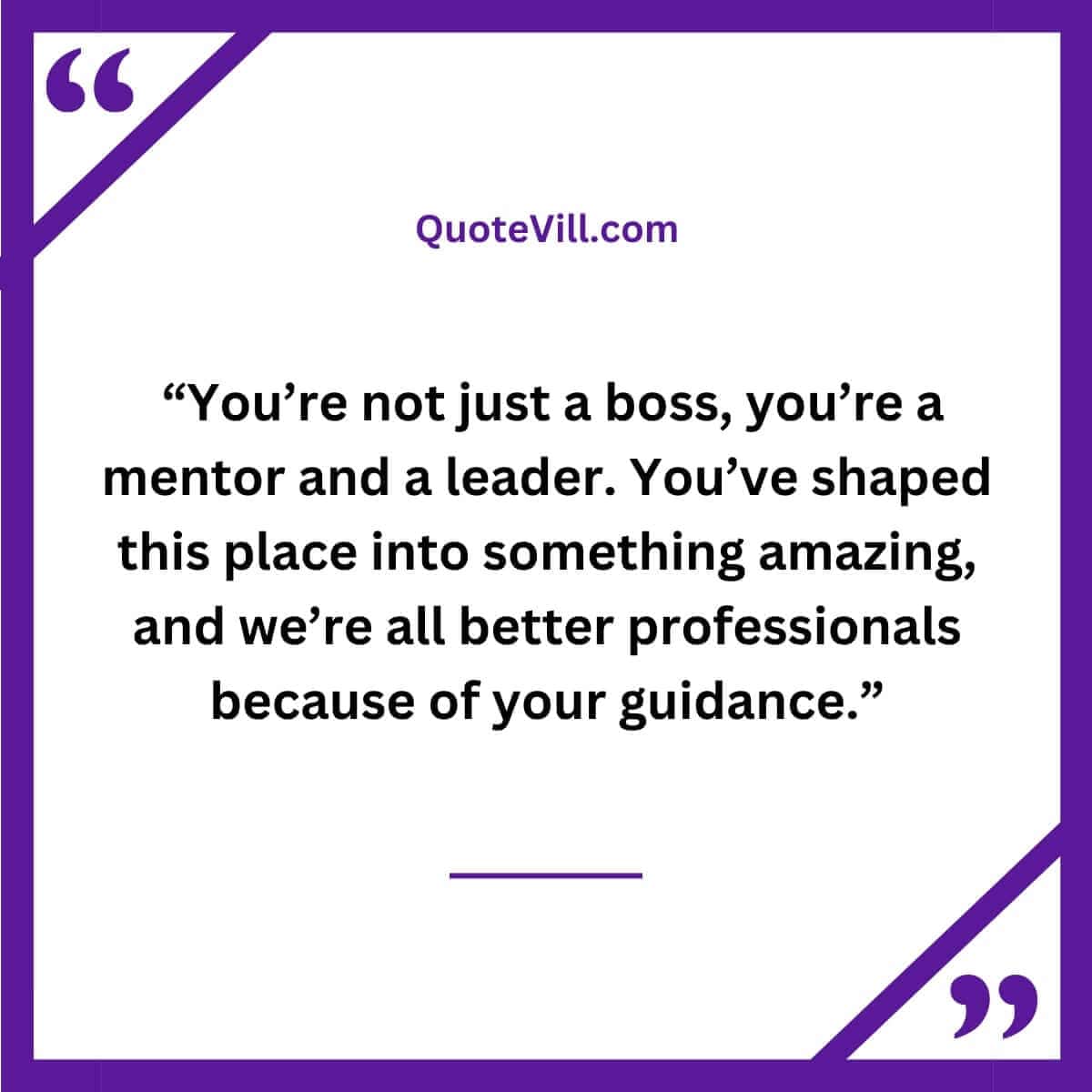 2. "Your energy and vision are contagious. It's clear to see how your dedication has propelled our company to the top. We're all lucky to be part of this team under your leadership."
3. "You always lead by example, not just words. That's something truly special and not everyone in your position does that. It's inspiring."
4. "Thank you for always having an open door and a listening ear. It's incredible how you manage to be so accessible, even with everything you have on your plate."
5. "Your intelligence and insight turn problems into opportunities, and challenges into triumphs. It's an art, and you've mastered it."
6. "You're the kind of boss who knows how to bring out the best in people, in a way that's genuine and meaningful. That's a rare talent, and it doesn't go unnoticed."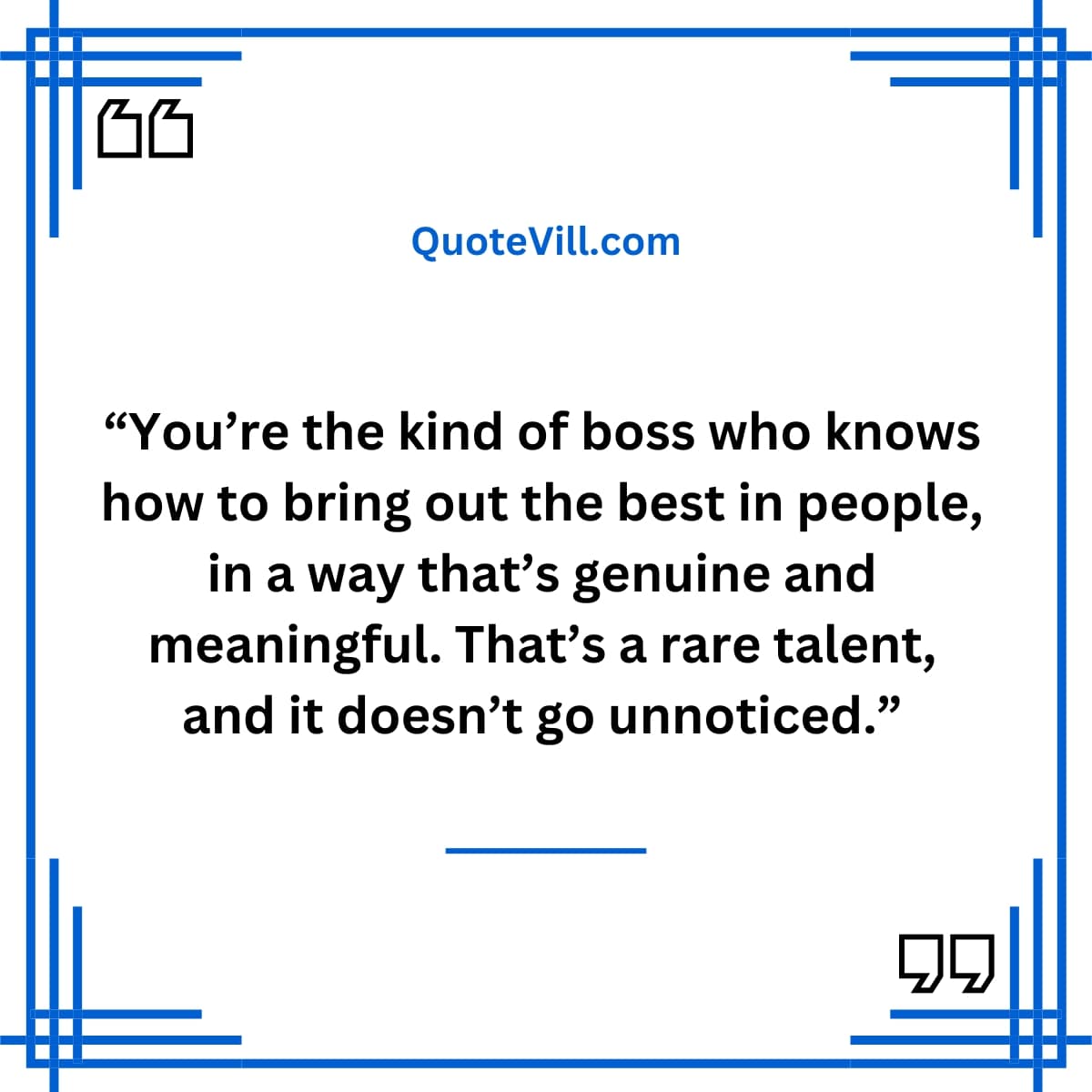 7. "Your positive attitude and faith in us go a long way. When you believe in us, it makes us believe in ourselves, and that's when we do our best work."
8. "I've never seen someone handle pressure the way you do – calm, composed, and focused. It's a reassurance that we are in safe hands."
9. "Your feedback, as direct as it is, is always constructive and given with good intentions. It's a key part of why we've all grown so much here."
10. "You're the real deal – smart, compassionate, and dedicated. We're not just here to work; we're here to excel, and that's because you set that example every day."
See: 60 Famous Leadership Quotes
Show Gratitude and Respect: Positive Quotes for Your Boss
1. "Your leadership isn't about making us follow you; it's about empowering us to lead alongside you. Here's to your boundless energy and vision."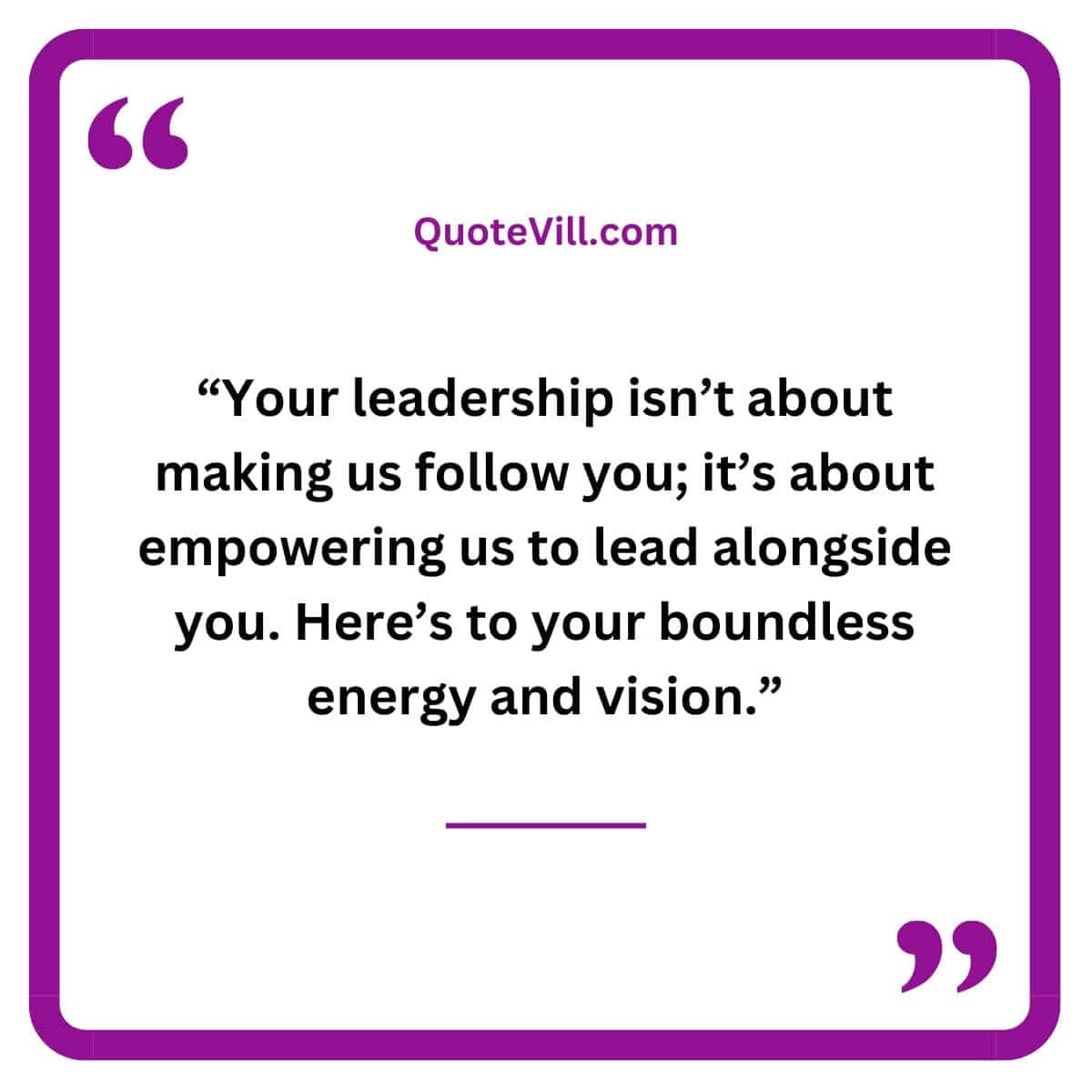 2. "You create a culture of respect and support. Your kindness and fairness resonate throughout the entire team."
3. "Your approachability and easy-going demeanor make this a comfortable and enjoyable workplace. You truly are a people's leader."
4. "Your guidance is a compass that steers us toward success, even in turbulent times. We are grateful for your steady hand."
5. "Your positive and encouraging feedback lights the path for us to grow professionally and personally. You're a mentor in every sense."
6. "You blend intelligence with grace and empathy — it's no wonder we all feel so motivated under your wing."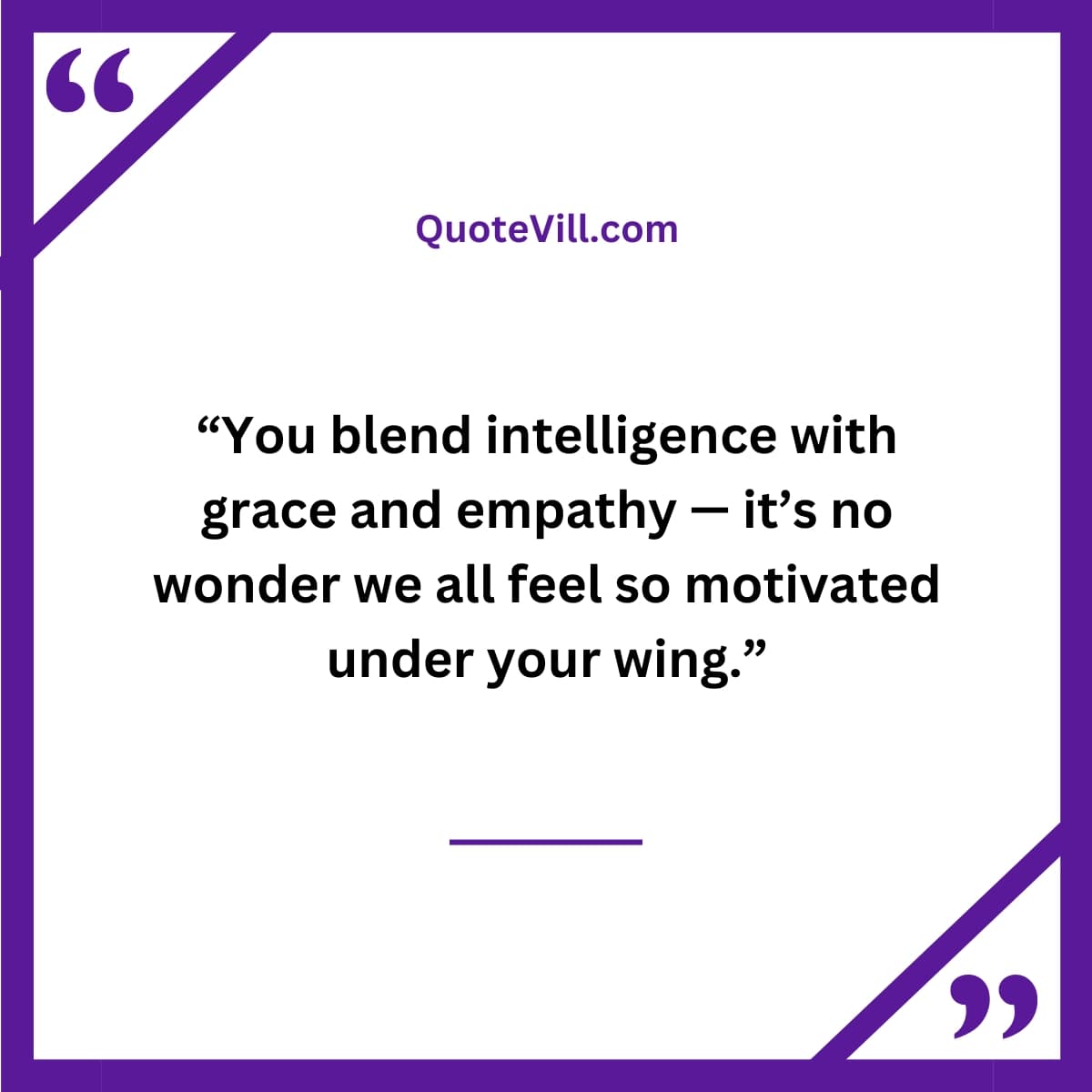 7. "Your door is always open; your ear, always willing to listen. Your compassionate leadership is a daily inspiration to us all."
8. "With your strong ethical foundation and consistent fairness, you've built more than a team – you've built a family. Here's to many more years of leading with integrity."
9. "You're a leader who understands the power of patience, kindness, and positivity. Wishing you the continued success that your hard work and good character deserve."
10. "May your future be as bright and generous as the path you've set for us. Here's to you, a boss who doesn't just set the bar, but continually raises it."
Read: 60 Heartfelt Gratitude Quotes for Daily Inspiration
Leadership Quotes From a Good Boss
1. "My job isn't to have all the answers, it's to create an environment where you can find them. That means giving you the freedom to explore, fail, and then learn from those experiences."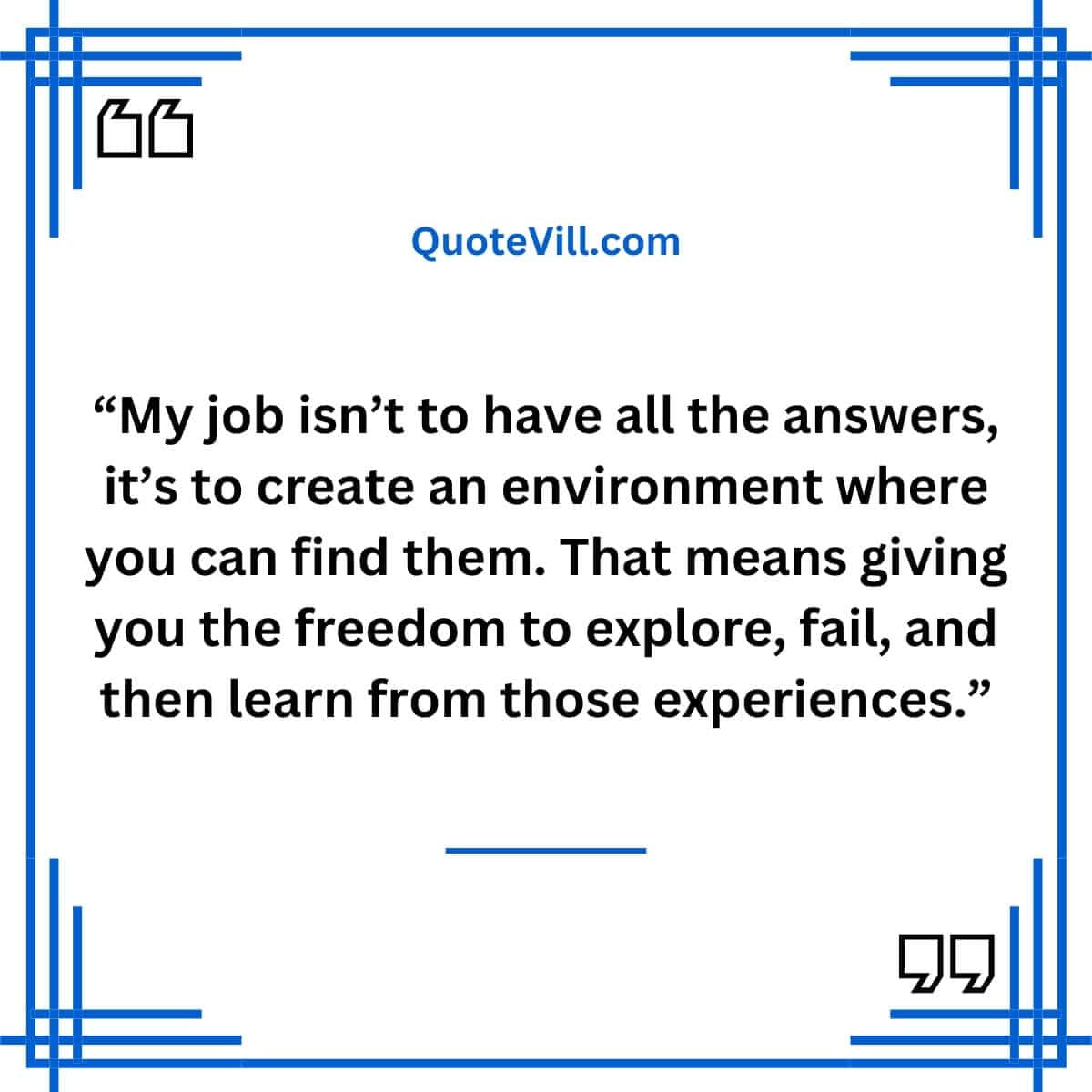 2. "I don't build a business; I build people, and they build the business. It's a team effort all the way. Your growth and success are our growth and success."
3. "Success here isn't just about what I achieve; it's about what we all achieve together. We win as a team, and we learn as a team, every single day."
4. "I trust you – that's why you're here. Use that trust, take initiative, and let's make great things happen. I hired you for your skills and your perspective, so let them shine."
5. "My door is always open, not just for work talk, but for life talk too. We're people first, employees second, and I genuinely care about your wellbeing."
6. "I'll have your back when you take risks and when you fail, because that's when we learn the most. Failure isn't the end; it's just a step on the path forward."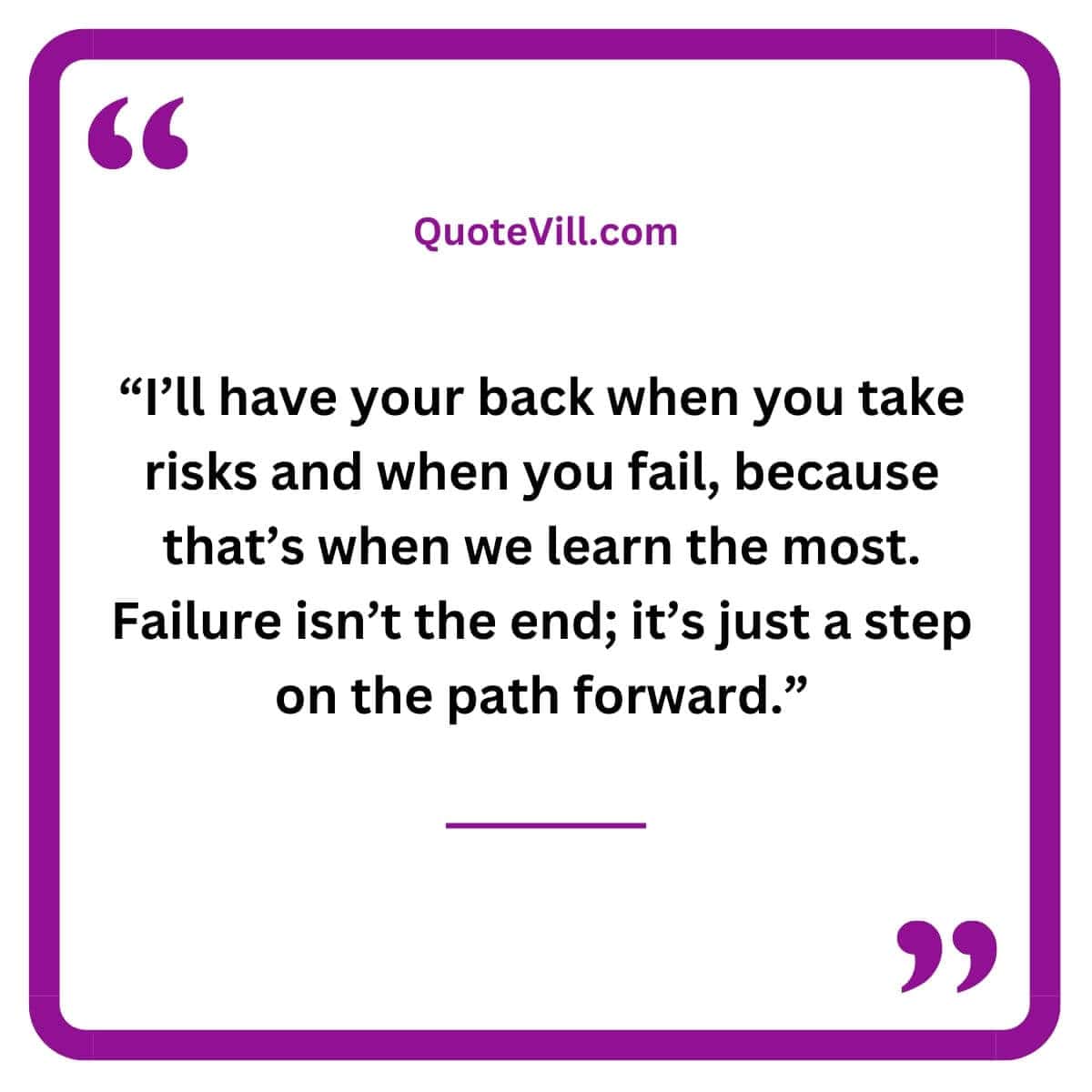 7. "My role isn't to micromanage, but to guide and support. You have the wheel – I'm just your GPS when you need direction, and your cheerleader, celebrating you along the way."
8. "It's not about me leading the way; it's about us paving the way together. Your ideas and input are the fuel for our collective journey, so speak up and steer."
9. "I care about your well-being, not just your output. Life is bigger than work, and I want this to be a place where you feel that balance, where you can bring your full self and thrive."
10. "Your growth is my priority. The more you learn and excel, the brighter we all shine. I'm here to help clear the path for you, so that you can reach your fullest potential."
Memorable Good Boss Farewell Quotes
1. "You've been more than a boss – you've been a mentor and a friend. We'll miss your leadership. Wishing you nothing but the best in your next chapter."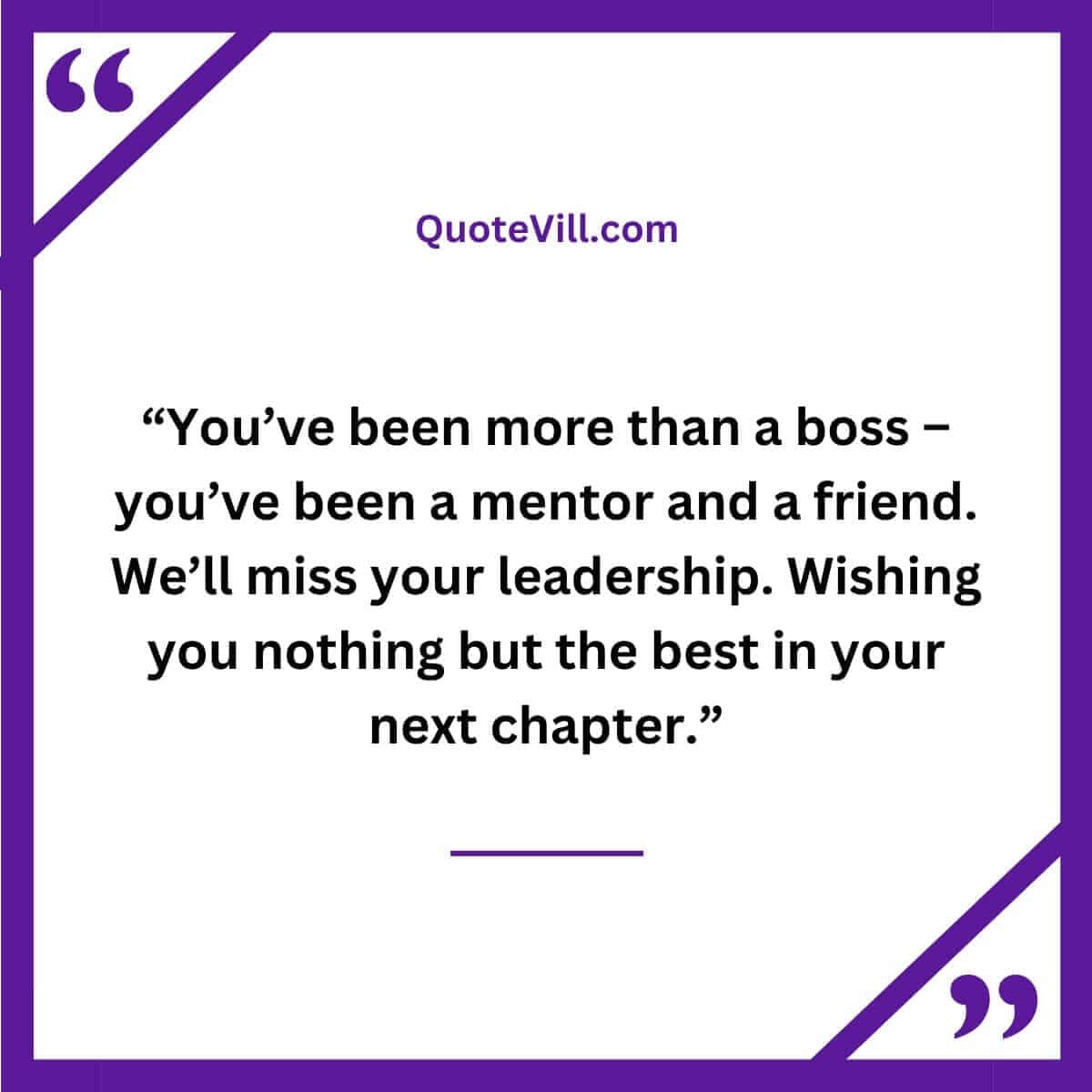 2. "Remember that time we pulled off the impossible project? That was all you steering us. We're going to miss that guidance. Enjoy your well-deserved retirement!"
3. "It's hard to imagine this place without you. Thanks for all the laughs, lessons, and lunches. Best of luck with everything that lies ahead!"
4. "You turned Monday mornings into a welcome start, not a dreaded moment. I hope your next chapter is as rewarding as you've made our work here."
5. "Your door was always open, and that made all the difference. Here's to new beginnings and fantastic adventures ahead!"
6. "Who will keep us grounded when things get hectic now? You've been our rock. Wishing you tons of happiness as you start this new journey."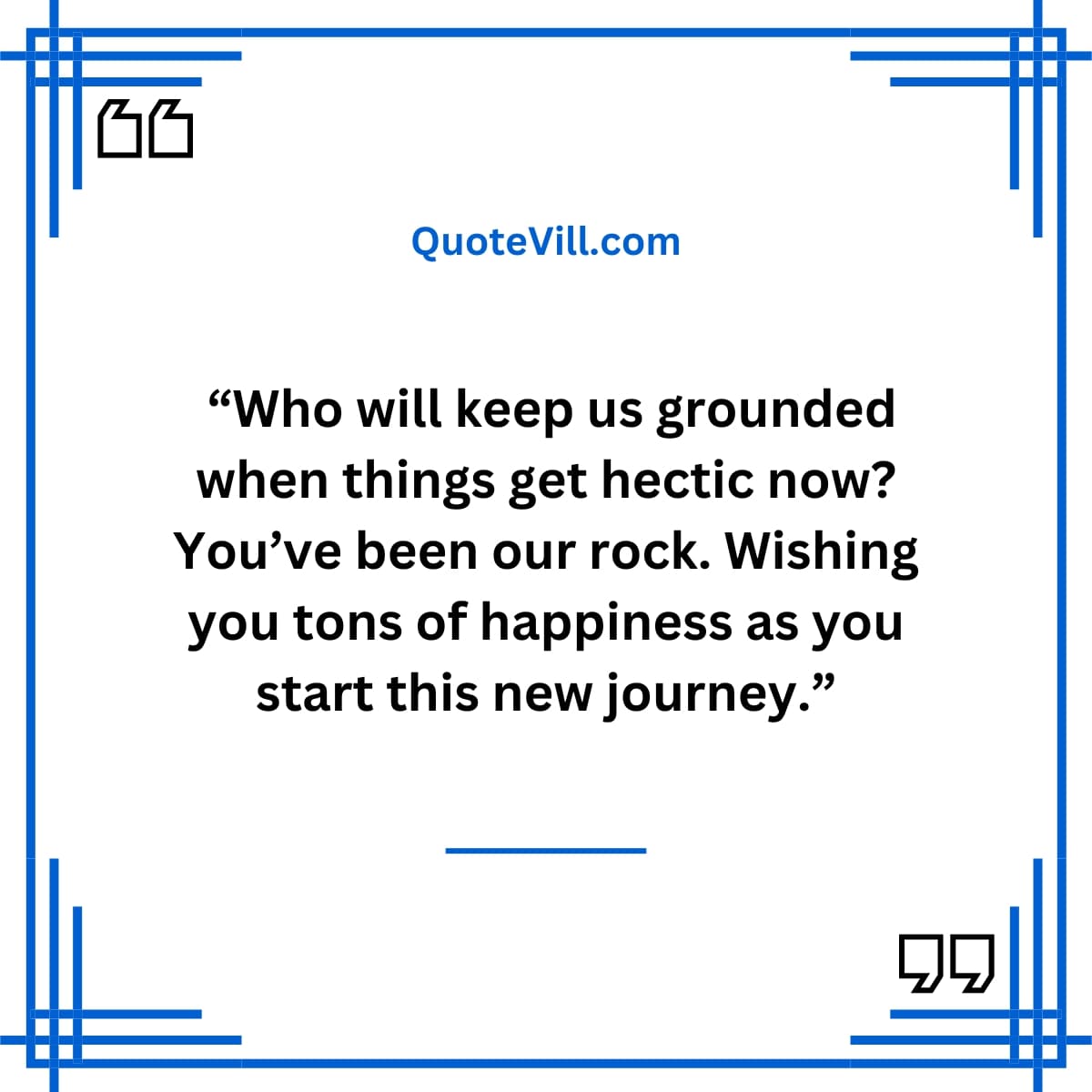 7. "The coffee breaks won't be the same without our chats. Wishing you relaxation, fun, and all the happiness retirement can bring!"
8. "You made this office feel like a team, not just a workplace. That's something we'll hold onto. Cheers to your future and all the excitement it holds!"
9. "From office potlucks to those unforgettable team-building days, you've made this more than just a job. Happy retirement – you've earned every moment."
10. "You're leaving some big shoes to fill here. We'll miss your wisdom and warmth. Best wishes as you sail into this exciting new phase of life!"
Short Inspirational Quotes for Your Boss
1. "Your vision lights our path. Thank you for leading the way."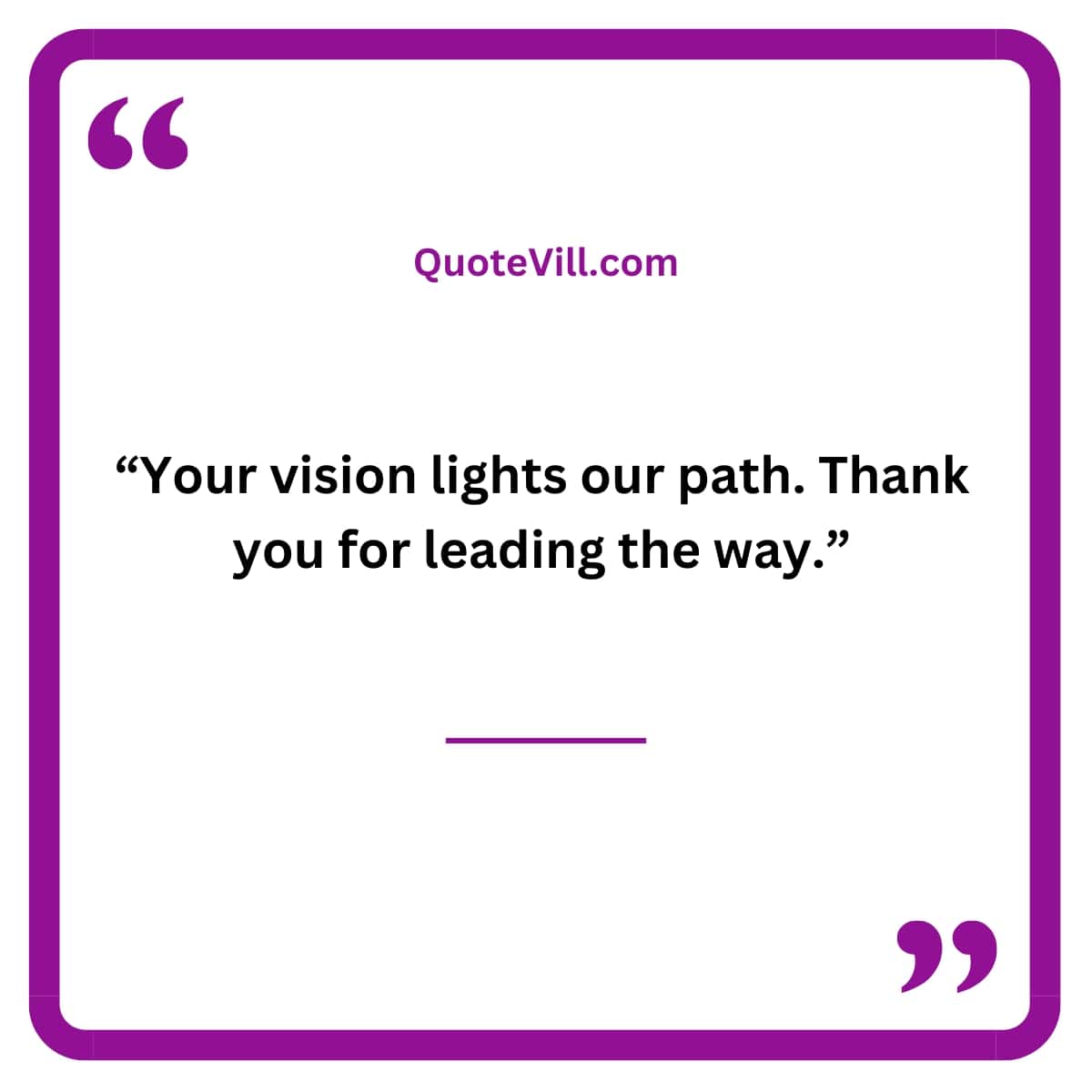 2. "You turn challenges into stepping stones. Truly inspiring."
3. "In your leadership, we find our best selves."
4. "You don't just manage; you inspire. That's real leadership."
5. "With you at the helm, anything feels possible."
6. "Your integrity in leadership is our daily inspiration."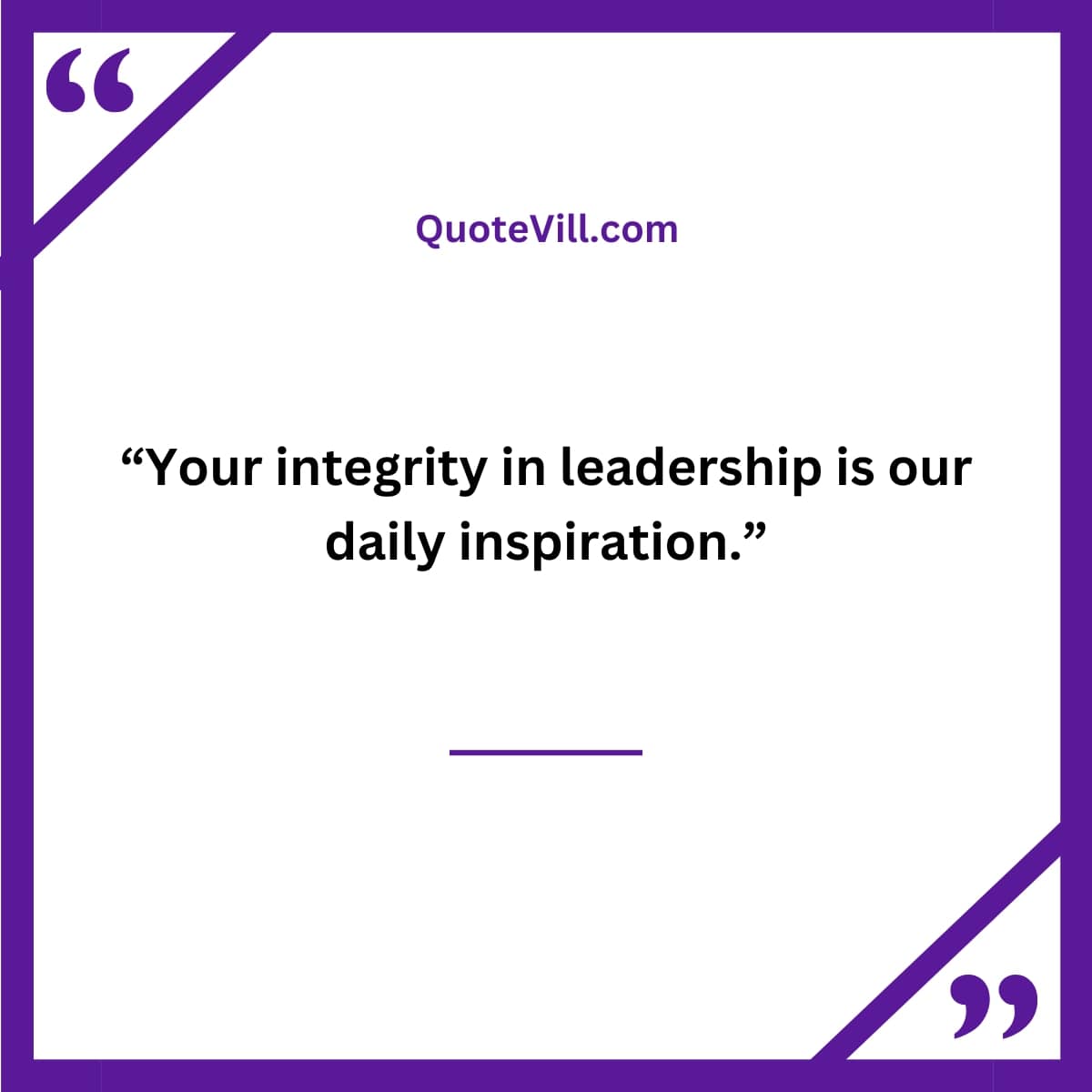 7. "You're not just a boss, you're a mentor. Priceless."
8. "Your actions inspire us to dream more and do more."
9. "In every challenge, you see opportunity. That's contagious."
10. "You set the bar high and then raise it. Exceptional."