Missing him and letting him know that you do, when he is asleep, is the cutest way to make him feel special. Hence, below-mentioned I know you're asleep but… text messages for him will surely lead you to the passage of his heart.
Late-night texts will make him feel comforted and loved the next morning and he will begin his day on a beautiful, romantic note, which eventually will make you happy too.
When a couple's emotional intimacy is off the chart, they without a doubt live very fulfilling, healthy, romantic lives.
Crafting a long late-night text for him is a way to tell him that you love him so much that even when he is asleep, you care about letting him know your thoughts, steering emotions that you're feeling and not gate-keeping him from your heart.
I Know You're Asleep But Text Messages For Him
1. "I know you're asleep right now, but I just wanted you to know that I love and cherish every moment I spend with you. You mean more than words can express. Don't worry, when we wake up in the morning I'll tell you again! Sweet dreams my love."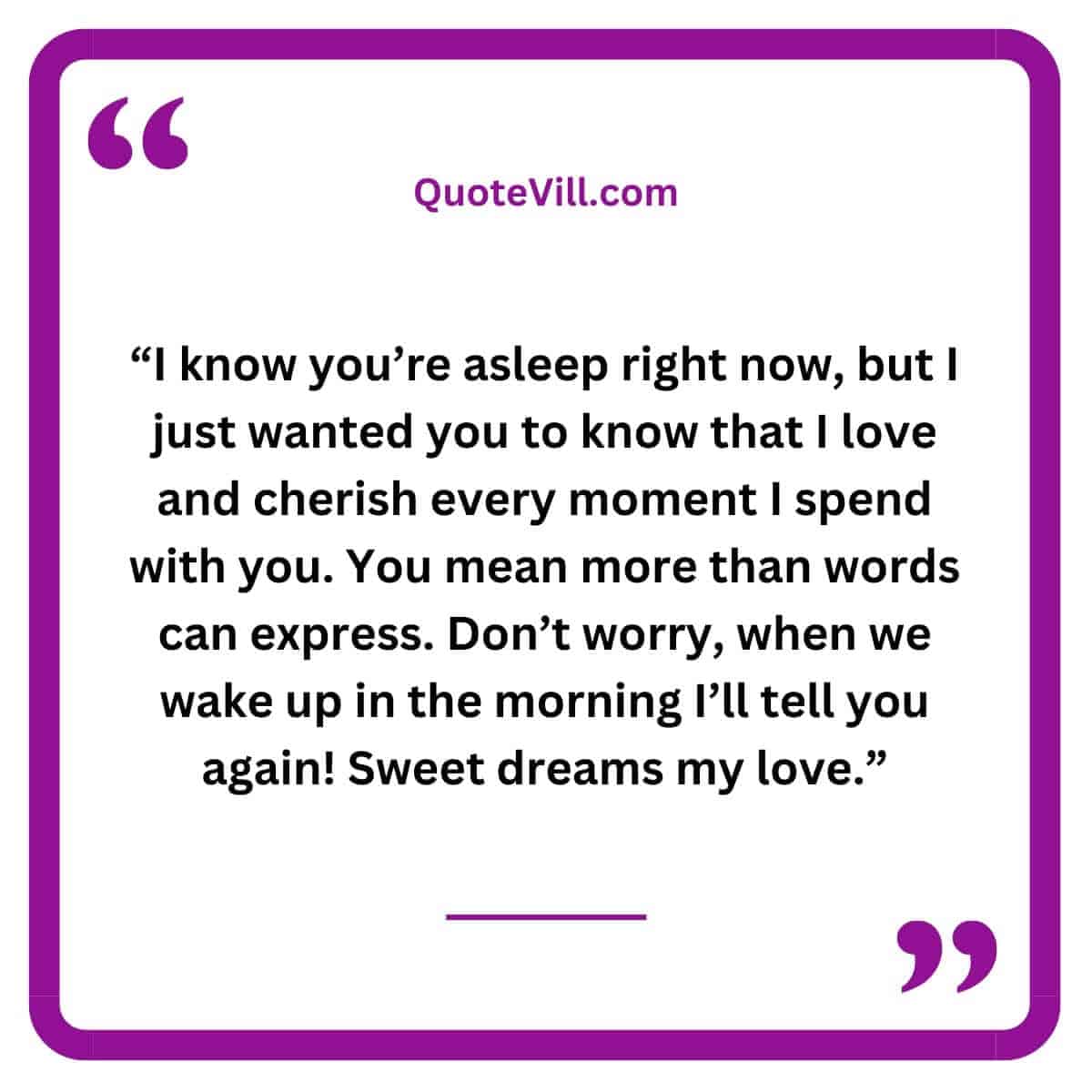 2. "Hey love, I know you're probably fast asleep, but I just wanted to remind you how much you mean to me. Can't wait to share another day with you."
3. "Just thinking out loud here, though you're catching Z's… It's surreal how lucky I feel having you. Looking forward to tomorrow's adventures with you."
4. "Thoughts of you keep me up at night, so I just wanted to let you know even though it's late, that all I ever want is for us to stay together forever and have a wonderful life together. Sweet dreams my love, until we get there together!"
5. "Even when we don't talk often and miles keep us apart, just know that my thoughts of us together always filling me with joy. Goodnight my love – wishing sweet dreams filled with lots of love."
6. "Babe, you're likely dreaming sweetly, but I wanted to tell you that you're simply the best thing that's happened to me. Waking up to your smile brightens my day."
7. "You must be out cold by now, but don't forget when you wake up, how much you light up my life. Can't wait to spend another day loving you."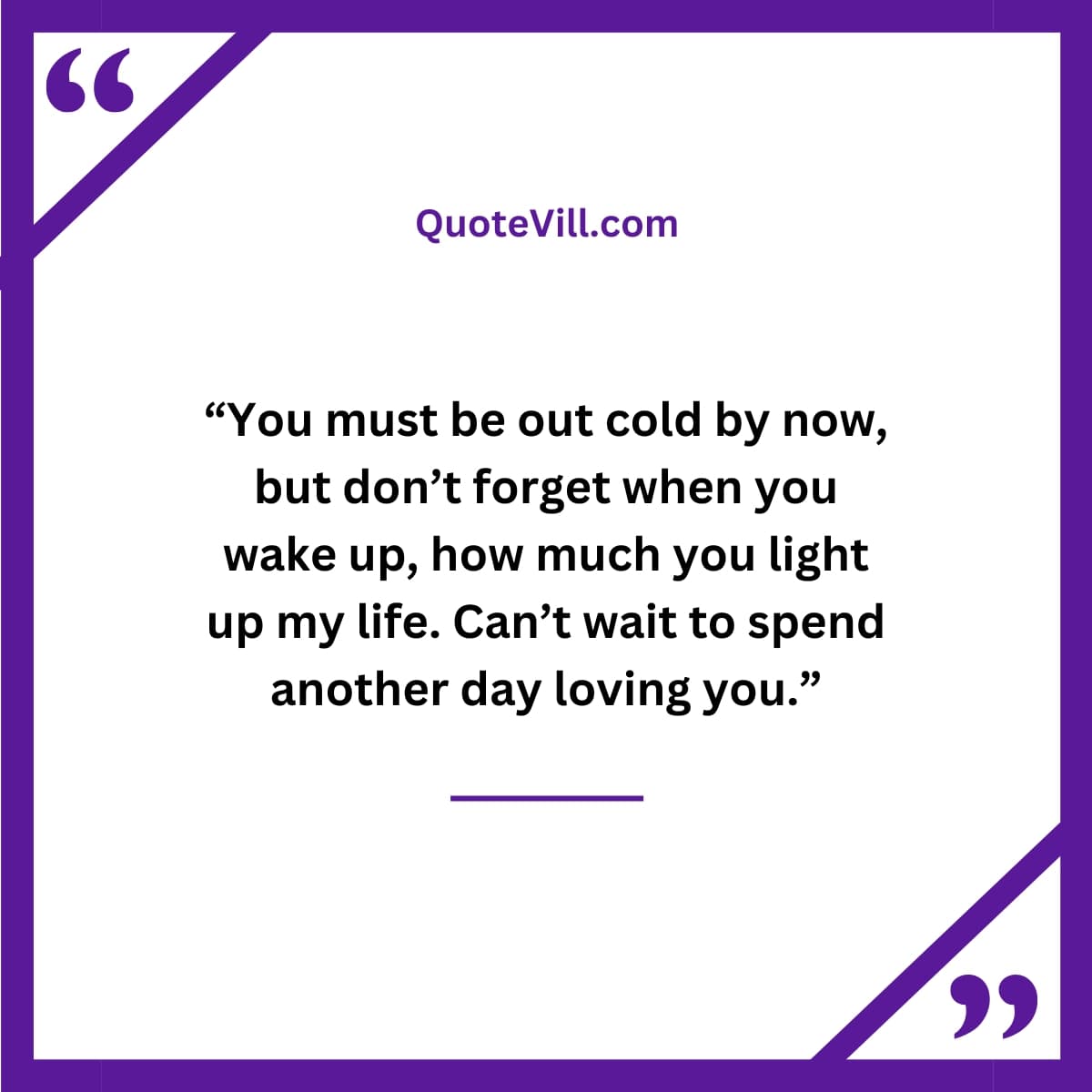 8. "I'm so thankful for the warmth of this relationship – thank you for putting up with all my craziness and loving me no matter what crazy thing comes out of my mouth 🙂 Goodnight, don't forget how much I treasure our time together."
9. "Night, night, love. I just can't help but appreciate the sheer happiness you bring into my life. Each new day is another day closer to forever with you."
10. "As you're wrapped up in dreamland, I wanted to say how every moment with you is a dream to me. Here's to another day filled with laughter and love."
11. "Just wanted to remind when everything's falling apart that we have eachother – because having someone who not only hears what I cannot say but gets me through even on the darkest days means more than anything else in this world! Good night sweetheart!"
12. "You make every day brighter and fill my life with happiness- thank heavens for our relationship! Even though right now we're far apart from one another physically, remember this: wherever you go, whatever happens, nothing will change the fact that I am always yours too ♥ Sleep tight!"
13. "Your hugs wrap around me like a blanket- they provide warmth in a cool room during winter or cover sweat from overdone summer activities in one single embrace 😉 No matter what: precious memories will linger on forever!"
14. "It's times like these when everything is chaotic yet peaceful at once cuz while life moves on unforeseen paths-you make mine move forward in a more brighter direction by being by my side ♥ Have sweet dreams dear!"
15. "Sweet dreams, love. Just a little reminder that my heart beats for you. You're the calm in my storm and my moonlight in the darkest nights."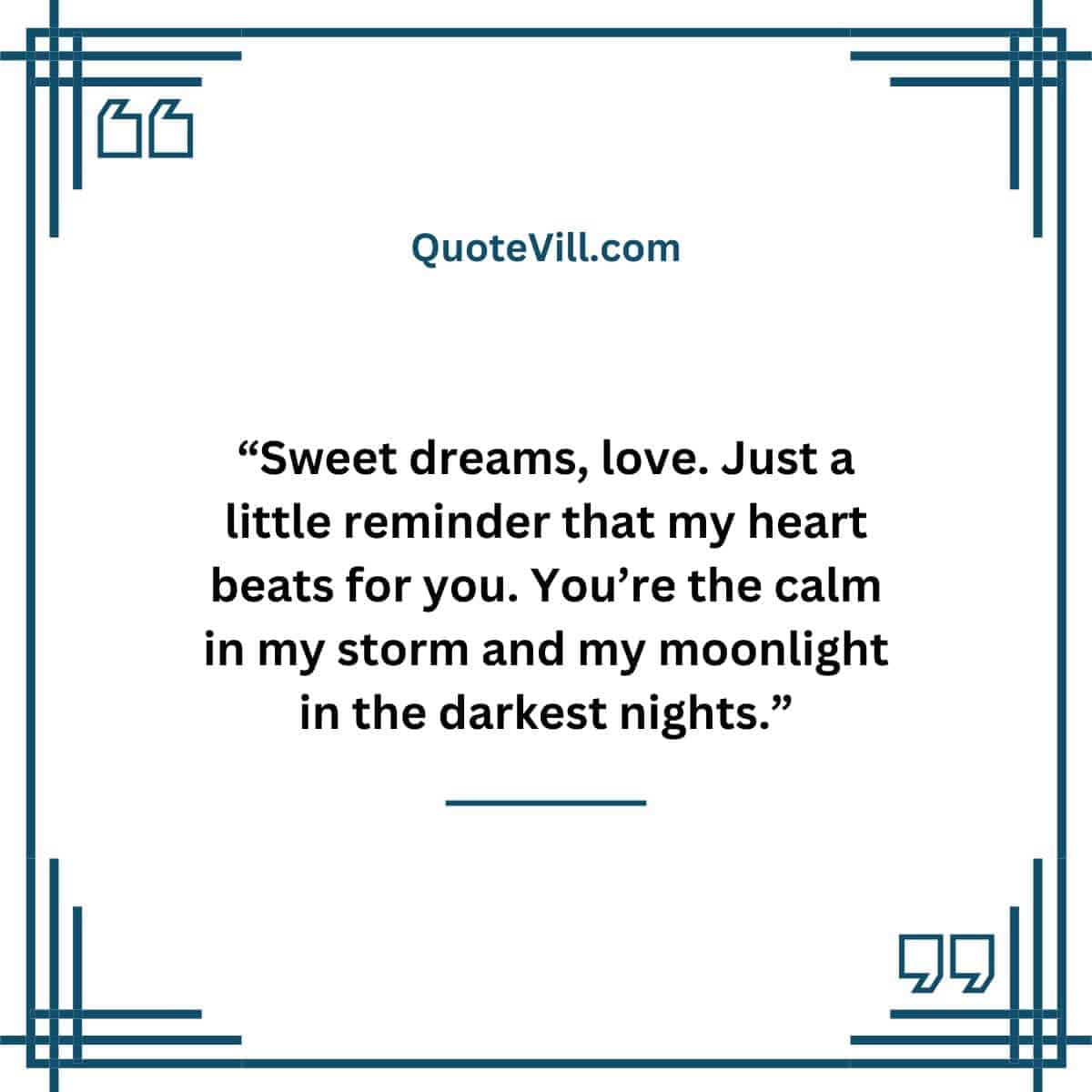 16. "No matter how chaotic life may seem sometimes-just remember me holding your hand as we take those steps towards making new adventures 😉 Sleep tight knowing tomorrow brings new beginnings!"
17. "Sleep well, darling. When you wake up, know this: You're the reason I smile and my eyes sparkle. Can't wait for another sunrise with you."
18. "Sometimes moments pass quickly but others simply melt away making time stand still-like having conversations while taking walks along cliff shorelines or sharing secrets & stories under starry nights ;). Stay safe & dream tonight xx "
19. "Hope you're having sweet dreams, but remember, each moment with you adds beauty to my life. Looking forward to waking up beside you tomorrow."
20. "Night, love. Just wanted to say: I find new reasons to fall in love with you every day. Waking up to your face is the best start to my day."
See: 45 Love-Filled Romantic Long Paragraphs For Him
Good Night Messages While He's Sleeping
1. "I know You're Asleep but I miss you so much already, just wanted to say good night my love. Sweet dreams.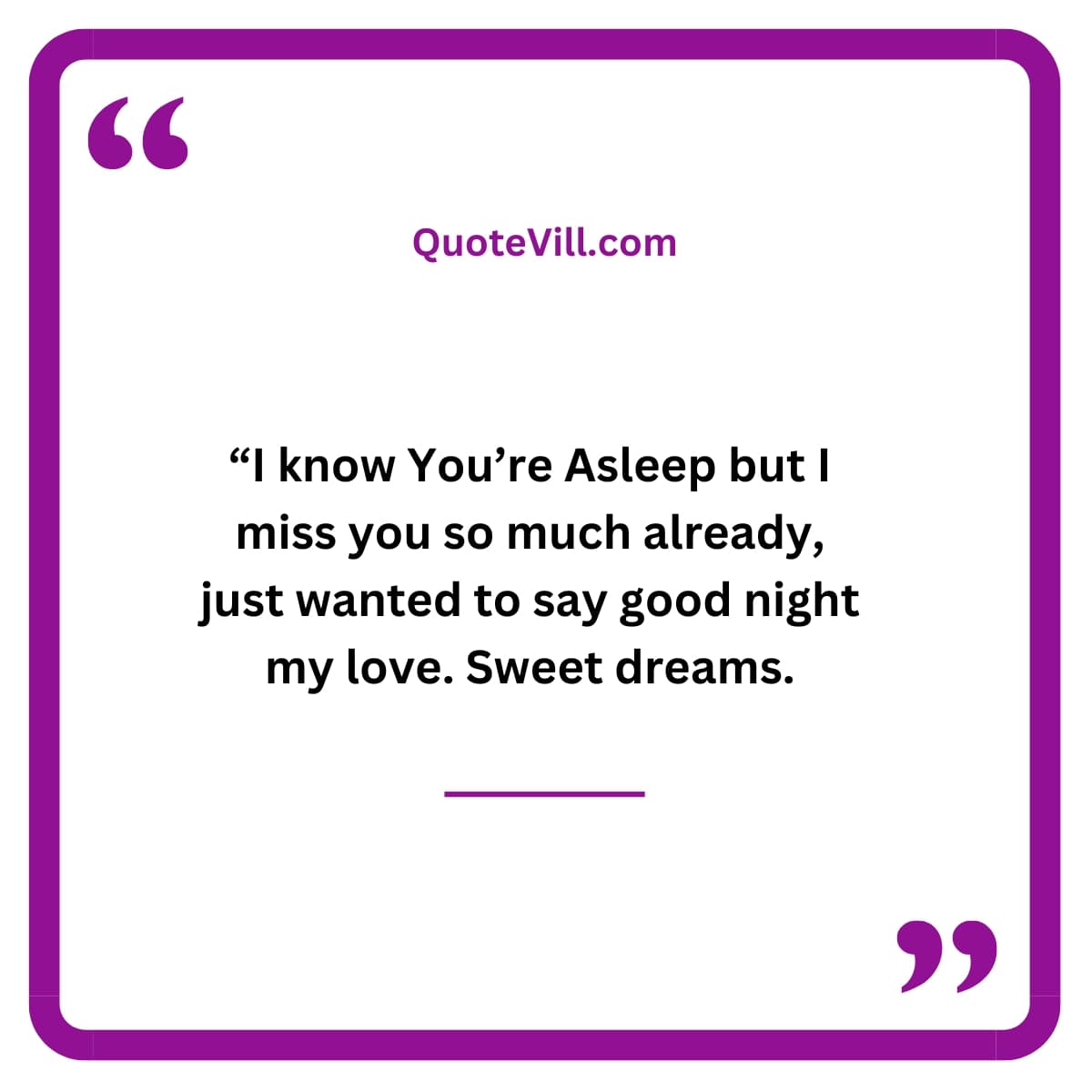 2. "Hey you! Just wanted to let you know that I'm always here if you need me and I hope all your dreams come true tonight. Goodnight my sweetheart. "
3. "I know you're off in dreamland, but I wanted to tell you that thinking of you keeps me up. Eventually, I do give in to sleep, but not before my heart whispers how much it misses you. Sweet dreams, handsome!"
4. "You're probably asleep right nw, but I wanted to remind you that no matter what tomorrow brings, we'll face it together. Just keep your spirits high like today. Goodnight, my love."5. "Every day that passes by feels like an eternity without you here by my sideI hope we can kiss each other goodbye soon so I cankeep counting the days until I see again; good night! "
5. "When stars appear up in the sky tonight, look up at them because they have been sent from me wishing nothing more than lots of love and joy — good night honey!"
6. "Only thinking of sleeping but can't pass one single minute without telling how much I love u..Goodnight Sweety:) _/\_ ."
7. "I know You're Asleep but I hope this message reaches your heart while it's still dark outside my love;prepare yourself for tomorrow because nothing will stop us from achieving our dreams together – goodnight!! "
8. "Goodnight, may the stars guide your dreams as they always guide mine; soon enough will be joining each other in a journey full of surprises and joy—are you ready? It's going to be epic! "
9. "Love is special only when shared with someone willing to listen and embrace its power – thank u for letting me do exactly this every single day,have sweet dreams my prince charming(; "
See More: 50 Cute Love Paragraphs for Him to Make him Smile & Blush
Good Morning Messages While He's Still Sleeping
1. "Hey there, my love! Just a little note for you to wake up to. I really miss you, you know? Your smile, your laugh – they're like a light in my world. I hope you have the most amazing day, handsome."
2."Time to rise and shine, my sweetheart! Imagine the sun outside is me, whispering in your ear just how much I'm missing you. You're my own personal ray of sunshine. Wishing you the most wonderful day!"
3. "Hey sunshine! Just as the morning sun splashes its warmth on Earth, your love showers me with a similar comfort. Every day feels like a bonus when I get to love and be loved by someone as special as you. Even though we're miles apart right now, you are still in m thought. You change my life in unimaginable ways, adding those vibrant colors and transforming it into a better version. Can't wait for you to roll out of the covers and get started on your day. "
4. "Hello, my charming prince. While you're lost in your dreams, I'm here, thinking about you. Wish I could see the look on your face when you read this in the morning. Here's to a beautiful day filled with love, my darling. "
5. "Wake up, my heart's sweet craving! As the world springs to life, my mind brims with you. Your love outshines the sun, shower a glow over my every day. You are my solid rock, my Polaris, and I can't express how much your love means to me. Missing you is an understatement, and I'm counting seconds until we're cocooned in each other's arms again. Your love paints my world with colors, and my day wouldn't be whole until I see your smile radiate. Hope your day is as magical as you are."
6."As you blink your eyes open to this gorgeous morning, I need you to feel how precious you are to me. Your love sings in my heart like a ballerina, lighting up my world and painting all my impossibles possible. My affection for you is as faithful as the sunrise. Wake up and Enjoy your day, Mr. Dashing."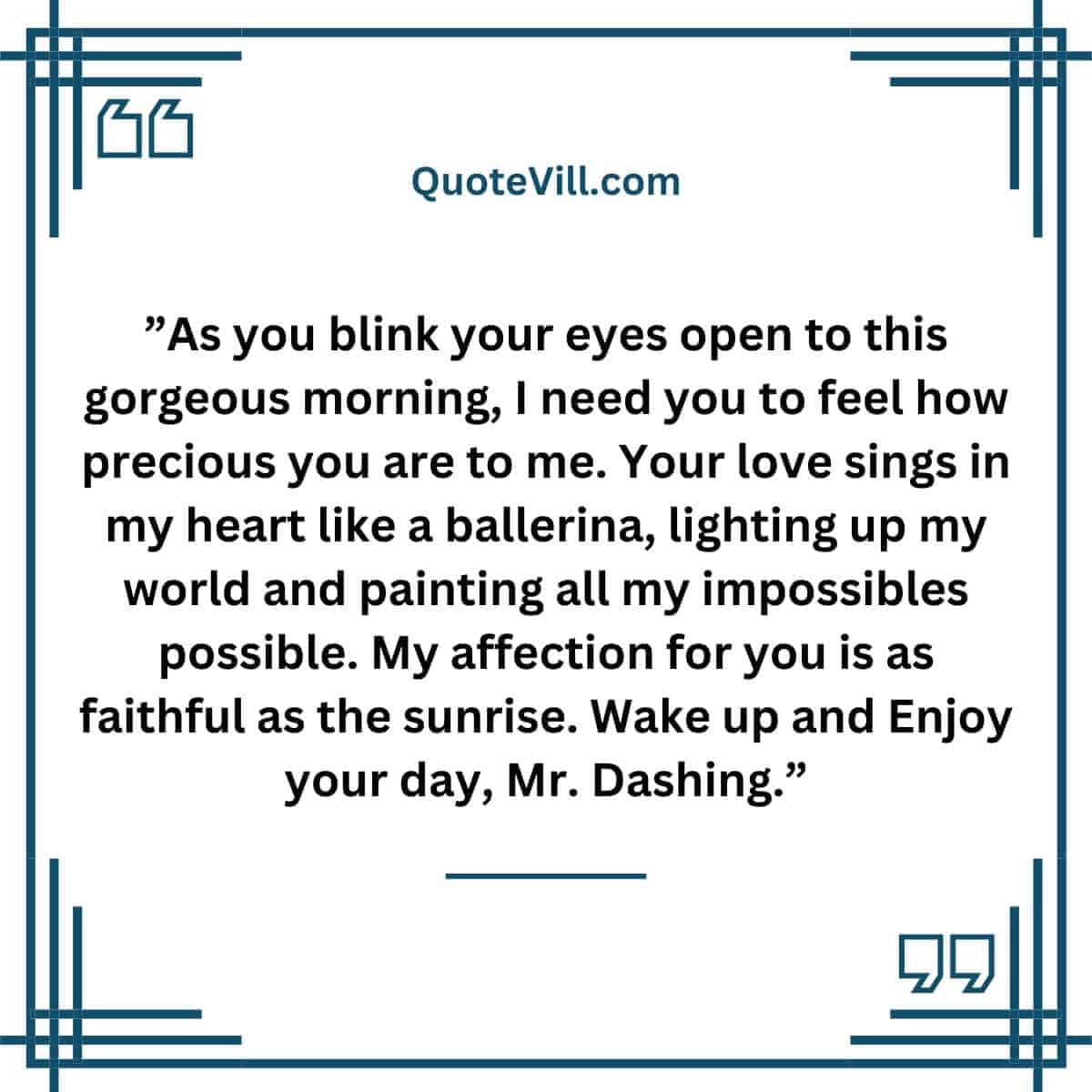 7. "Morning's here, my love. If only I could be waking up next to you right now. You've changed me in more ways than I can count, and I'm so grateful for you. Hope your day's as wonderful as you've made my life! "
8. "I know you are asleep but as you welcome this crisp morning, know that you're the reason behind my happy morning face. You're my sanctuary, my heaven. I treasure all our shared moments and eagerly await the upcoming ones. My affection for you is as bright as the morning sun and as infinite as the cosmos. Even though a sea of distance floats us apart, you're an unwavering resident of my thoughts and dreams. Have a picture-perfect day, my sweetheart. "
9. "Good morning, my darling! Wanted you to know that you're the first thing I thought of today, just like every other day. You're my strength, my inspiration. I'm so excited to see you! Have a great day. "
10. "Morning, my dear. As I pen this, I'm awash with love for you. Your kindness, compassion, and wisdom are my daily muse. As you rise and shine and read this, know that someone cherishes you more than words can ever express. I crave for your chuckles, your sweet tones, and your comforting touch. Yet, the expectation of our reunion is a joy in itself. Here's to your day being as luminous and fantastic as you are. "
Try: 50 Touching Love Letters For Him To Make Him Cry
I Know You're Asleep But Text Messages For Your Crush
1. "Hello there, I just wanted you to know that even in my sleep, my thoughts are of you. Sweet dreams!"
2. "Hey, if you were here right now I would be telling you all about my day and why things happened the way they did. Can't wait for morning!"
3. "Goodnight! I know we're apart tonight but just thought I'd remind you that I am always here for you no matter what."
4. "I'm aware you're probably sleeping, but I just wanted to assure you that in the whirlwind of life's trials, I will always be a comforting presence for you."
5. "I know you're fast asleep, but I'm sending thoughts your way, hoping your night is sprinkled with dreams of us united. Sleep peacefully!"
6. "I know you're asleep, but sometimes my thoughts wander back to those moments we spent together, leaving me with a sense of solitude. Wishing you sweet dreams…"
7. "I know you're resting now, but I just wanted to express that even though distance separates us, our souls won't rest until reunited…goodnight my love."
8. "Knowing you're asleep, I still want to tell you that even amidst life's difficulties, the thought of having you by my side lights up my world…sweet dreams, my love!"
9. "Although you're sleeping, remember that our hearts are forever attached, standing strong against whatever life throws at us…goodnight!"
10. "Hey there love of mine – stay strong as sleep takes away this moment and yet all will be alright as tomorrow will bring another day where we can meet once more…sweet dreams darling!"
Late Night Love Messages For Him When He Asleep
1. "Hey sleeping beauty, just letting you know, even the moon's jealous of the way you light up my world. Goodnight, my star."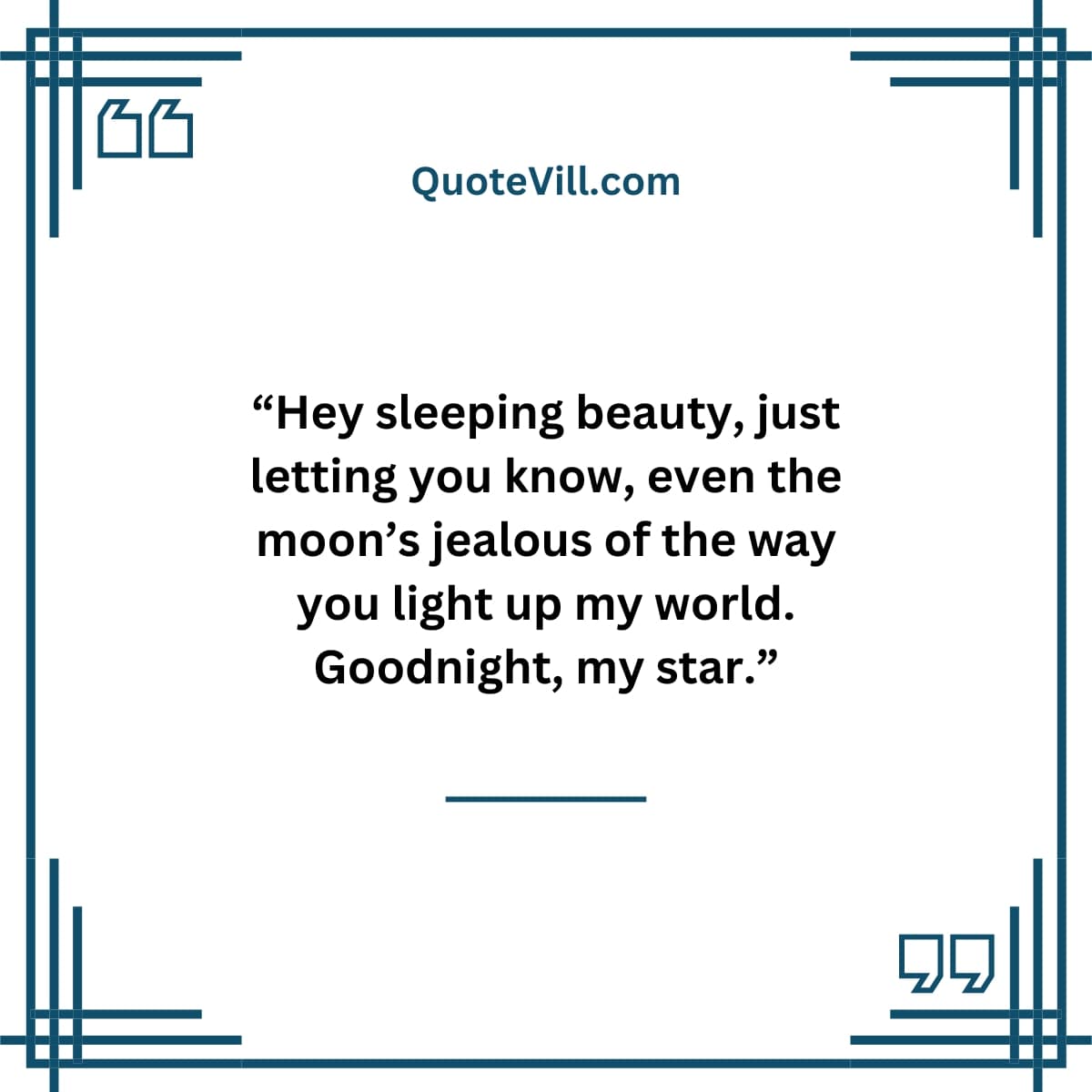 2. "Lost in a dream world, are we? Hope it's half as magical as you are. Sleep tight, dreamer!"
3. "If dreams were text messages, I'd spam yours with sweet nothings. Sweet dreams, love."
4. "So, guess what? You're the best thing that's happened to my life, hands down. Sleep well, my knight in shining armor."
5. "While you're busy exploring dreamland, remember, you've already conquered my heart. Goodnight, my king."
6. "Battling pillow monsters, my brave one? If you need any rescuing, you know who to call. Wishing you sweet dreams."
7. "Hey, your smile is my favorite constellation, and tonight, the stars must be missing it. Rest well, my universe."
8. "As you drift away into dreamland, remember I've reserved a spot for myself in your dreams. Sleep tight, love."
9. "In case you're wondering, you're the 'why' behind my every 'goodnight'. Rest well, my moonlight."
10. "Goodnight, Mr. Charming! Just a friendly reminder that someone's dreaming of you tonight, and spoiler alert – it's me!"
Flirty Messages For Him When is Asleep
1. Hi handsome, I hope you're having sweet dreams about us!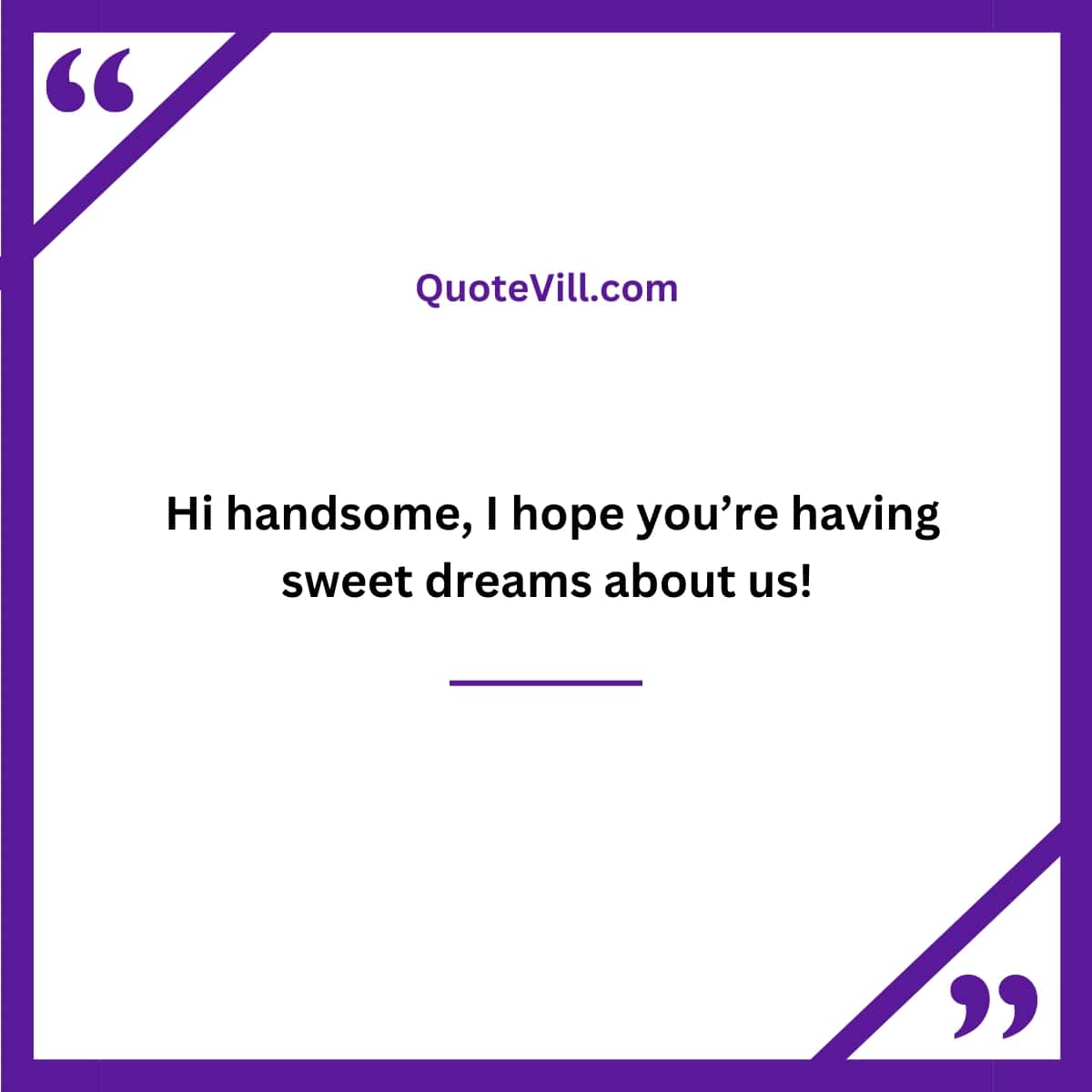 2. "I know you're asleep, but just wanted to say… you owe me a sunrise, because your thoughts kept me up all night."
3. I just got off work and all I can think about is coming home and snuggling up next to you.
4. Goodnight my love! Hope you sleep tight and have some naughty dreams about us 😉
5. "So, you're asleep. Bet you're dreaming of the next Marvel movie, not knowing you're the superhero of my real-life story."
6. Just wanted to let you know that I miss your handsome face terribly tonight – can't wait till morning!
7. Going B-R-A-V-E tonight!! Sending out lots of XOXO's…while you sleep peacefully…
8. Can't stop thinking of all the naughty things we could do together once our eyes meet again…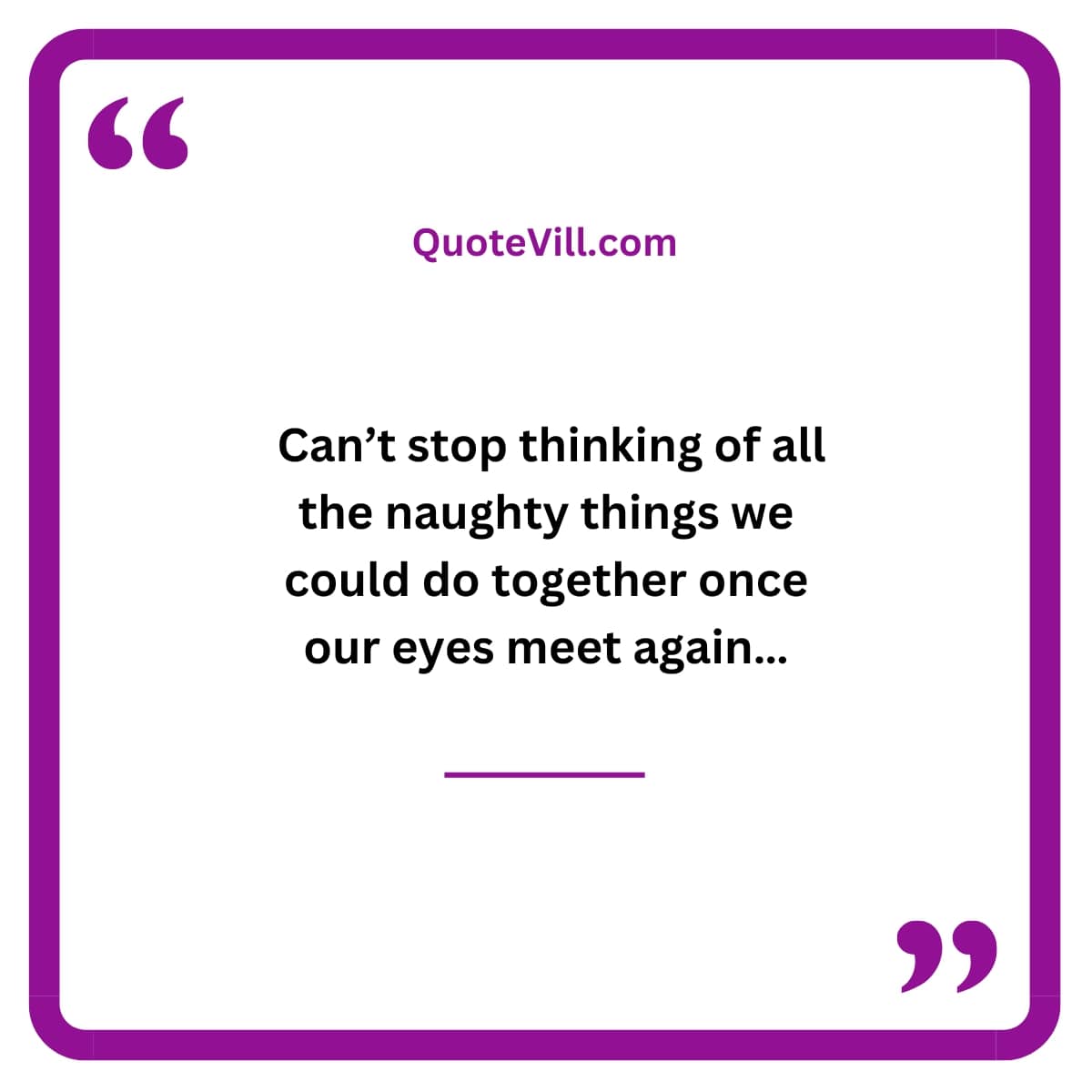 9. "I'm fully aware you're sleeping, yet here I am, texting just to tell you… you've been cast as the lead role in my dreams tonight."
10. No one deserves a peaceful dream quite like an amazing guy like you…. Sweetest dreams <3
11. "Hey there, sleepyhead! Couldn't help but sneak a message into your dream inbox. PS: I accept kisses as a response."
12. May your night be as magical as our love! You make me smile, even in my sleep…
13. Nighty night, my love! All the stars in the sky remind me of why I like spending time with you so much..
14. Last thought before bedtime goes out to the best thing that has ever happened in my life – YOU!. Love u now and forever <3
15. "Although you're sleeping, I thought I'd remind you that the stars called – they want their sparkle back. Blame your eyes, not me."