Birthdays are ideal for engaging in optimum celebrations with friends and family members. And now you can add the requisite spark to such celebrations with our November Birthday Wishes, Messages, and Quotes.
Birthdays are special days. So, try to make this day as memorable as possible for them. Gifts and parties are common on birthdays. Often, people focus on expensive presents but forget that words can be used in equal measure and can be a person's costliest treasure.
Birthday wishes might seem insubstantial before a costly gift item, but we can vouch that a unique birthday message from you accompanying your gift is invaluable.
As a well-wisher, you can wish your friend and/or relative with our November Birthday Wishes, Messages, and Quotes. We assure you that your loved ones will be overwhelmed to receive these birthday messages.
The Charm of November Born
Those born in November carry with them the mystique of autumn. They possess the vivacity of falling leaves and the serenity of the impending winter. Before diving into our curated list of wishes, it's essential to understand the persona of November-born individuals.
Loyalty: Like the trees that stand tall, shedding their leaves, November-borns exhibit unwavering loyalty.
Passion: Their spirit can be compared to the fiery hues of the fall foliage.
Mystery: Just as November carries the secret of the winter, these individuals have a mysterious charm about them.
Wish Your Beloved People With November Birthday Quotes
1. November is the best month of the year. After all, it's your birthday month, my dear. I wish for your prosperity and good health. God will bestow upon you His wealth.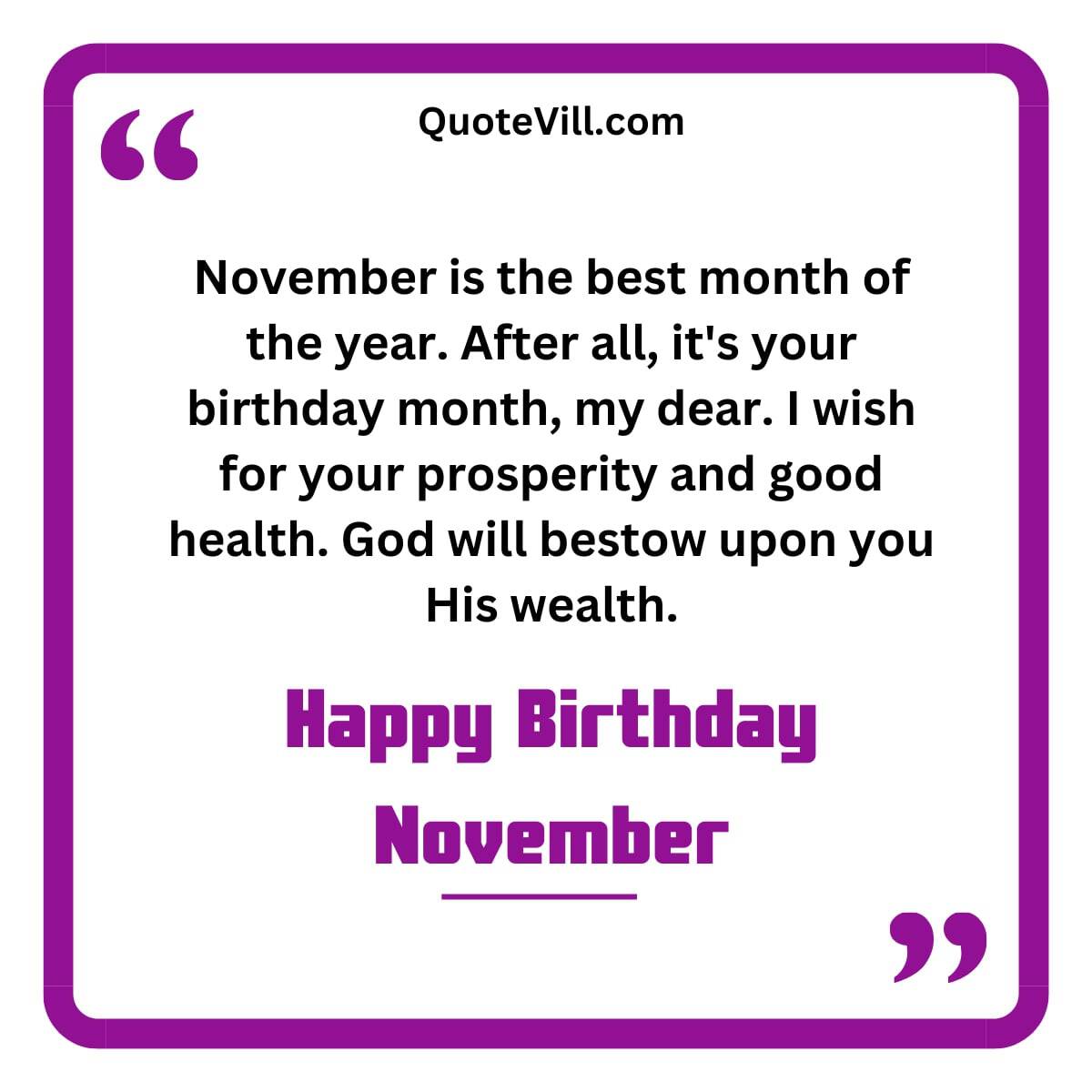 2. My dear, the month of November is finally here. Your birthday is also near. Let's celebrate your birthday with absolute cheer. Open the champagne bottle without fear!
3. November is here. Thus, I scream, you scream, and we all scream because it is your birthday, my dear. So, get ready to hear the birthday bells loud and clear.
4. November is my favorite month of the year. Do you know why it is so dear? Of course, because your birthday is in this month per the calendar. May God bless you and save you from each danger.
5. It is that time of the year when your birthday is near, and I am ready to throw a party and offer the loudest cheer without any fear.
6. Last November, we had a blast, so celebrating it in a dazzling way this year is a must. You are a November girl. So, your birthday is special.
7. November is the second-last month of the year, but for me, it is the best month in the entire year. So, let us celebrate your birthday this November with pomp and cheer.
8. Wherever I go, I shall never forget your birthday. After all, you were born on a chilly and sunny morning while brightening our November day.
9. We shall have a huge party this November and make others happy with your smile. I know, November girl, you will travel a long mile.
10. Celebrating your birthday this November is the most important thing this year. Let us enjoy and make your birthday the most memorable, my dreamer.
Read: How to Organize A Decade-Themed Birthday Bash('70s, '80s, '90s)
Unique November Birthday Sayings & Phrases
1. "Remember that chilly November evening we shared, wrapped in blankets and watching the leaves fall? Another November is here, marking not just the beauty of the season but also the beauty of your existence. Happy Birthday!"
2. "Hey! Your birthday always takes me back to those November family dinners when the aroma of roasted turkey mingled with the laughter of our family. Here's to another year and another memory. Happy Birthday!"
3. "November's magic is unmatched, just like you! From those long walks we took under the rustling trees, to the warm cocoa nights. As the days get shorter, my wishes for your happiness only grow longer. Happy Birthday!"
4. "The best thing about November? It gave us you. Remember those birthday bonfires where stories flowed brighter than the flames? Here's to adding another chapter to our book of memories!"
5. "Every November, as the world prepares to embrace winter, we get to celebrate the warmest person in our lives. From those movie marathons to late-night heart-to-hearts, your birthday month has always been special. Cheers to another fantastic year!"
6. "November has its own rhythm, a gentle reminder of change and new beginnings. Just like that memorable road trip we took, exploring the golden hues of fall. This month, as we celebrate you, I hope you embrace every new adventure that comes your way."
7. "The crisp November air, the sound of leaves under our feet, and the anticipation of holidays right around the corner. But first, we toast to you – the star of the month! May this birthday be as unforgettable as our November escapades."
8. "Amidst the November chill, your birthday always brings warmth to our hearts. Like that weekend getaway when we witnessed the first snowfall of the season together. May this year be filled with countless more such heartwarming memories."
9. "From bundling up in cozy sweaters to sipping on pumpkin-spiced everything, November has given us some of the best moments. But the best gift of all? Celebrating you. Here's to the love, laughter, and countless memories we've shared!"
10. "In a month known for its gratitude, I'm most thankful for the November day you came into this world. Those moments we've cherished, the laughter, the stories, and the dreams we've shared – here's to making more of them as you embrace another year."
Check: 60 Unique Birthday Wishes for Coworkers & Colleagues
Special Messages For November Born Friends
1. "Hey! As the November cold rolls in, I'm reminded of that one time we tried making our own hot cocoa and… well, let's just say we've had better ideas. 😂 Happy Birthday! Here's to more questionable kitchen experiments."
2. "Oh man, another November, another year I have to admit you were right about layering up before our camping trip. Can't believe I was freezing while you were cozy. Happy Birthday to my always-prepared buddy!"
3. "Every time November hits, I think about our crazy Thanksgiving mishaps. Remember when we tried deep frying a turkey in the backyard? 🔥 Now that was a November to remember! Happy Birthday, partner-in-crime!"
4. "Here comes your month! November has always been special because it's when the world gifted us the 'Best Buddy Ever' title holder. P.S. I'm still borrowing your sweaters. Happy Birthday!"
5. "Happy Birthday! November just reminds me of all those times we'd rake up leaves only to jump in and make a mess again. Some things never change, just like our friendship."
6. "To my favorite November-born friend: Do you remember the time we got lost on our autumn hike and ended up having a picnic in the middle of nowhere? Best unplanned adventure ever! Happy Birthday and cheers to more misadventures!"
7. "The world gets a little colder in November, but your birthday always brings warmth to my heart. Here's to the funniest, craziest, and most dependable friend I have. Let's make this one a birthday to remember!"
8. "It's your special month! And no, it's not because of the pumpkin pie, or the Thanksgiving turkey, or even the early Christmas shopping. It's because it's the month the world was blessed with YOU. Happy Birthday!"
9. "Happy Birthday! Whenever November rolls around, I think of our epic board game nights and how you always seem to win… suspiciously. Ready for a rematch this year?"
10. "Is it just me, or do all the cool people get born in November? 😉 Happy Birthday to the one who's been with me through thick and thin, through snow, rain, and those weirdly warm November days. Let's make more memories!"
November Birthday Greetings For Family
1. "Hey sis, another year, another candle, huh? Happy Birthday! And just for the record, you'll always be mom and dad's second favorite (after me, of course) 😉."
2. "Dad, whenever November rolls in, it always reminds me of your warm hugs on those cold mornings. Cheers to more laughter, dad jokes, and of course, your never-ending wisdom. Happy Birthday!"
3. "Can't believe how fast time flies, niece! It seems like just yesterday you arrived on a chilly November day, lighting up our world. No matter how grown up you get, you'll always be our special November blessing. Happy Birthday!"
4. "Grandpa, every November, your tales and giggles make the family get-togethers so much more special. A toast to the evergreen storyteller of our clan. Happy Birthday!"
5. "Auntie, do you recall our baking adventures every November? Your birthday always takes me down the memory lane of sweet scents and sweeter moments. Here's to more love, joy, and of course, cookies!"
6. "Dearest cousin, thinking of November brings back memories of our wild adventures, from those leaf fights to the holiday preparations. As you celebrate today, just a little nudge to remember all those special times. Happy Birthday and here's to creating even more memories!"
7. "Another year, another reason to be awesome, big bro. Happy Birthday! And hey, I'm looking forward to our annual leftover-snatching mission."
8. "Mom, every time November begins, I get that warm, festive feeling, and it's all because of you. Your birthday sets the tone for celebrations in our home. Cheers to the woman who makes everything magical. Happy Birthday!"
9. "Little sis, each November I'm struck by how lucky we are to have you. From our giggles to our secret codes, you make every day brighter. Here's to celebrating you and all the joy you bring!"
10. "Uncle, as the November winds start to howl, I'm always reminded of your epic stories. Happy Birthday! Eagerly waiting for the next chapter of your adventures."
Poems For Someone Born In November
1. Golden leaves and early snow,
Where the end and beginnings flow.
In November's tender seam,
You arrived, like a dream.
2. As trees shed leaves, preparing for rest,
November welcomed its very best.
A spirit, neither timid nor meek,
With passion that makes the world seem weak.
3. The bridge 'tween fall and winter's embrace,
Holds a day that lights up your face.
Born in November's loving fold,
Your story, through the years, is told.
4. November's embrace, both warm and cold,
Crafted you, with heart so bold.
In its dance of shadows and light,
You shine, forever bright.
5. Beneath a sky of cold November blue,
A star was born, shining bright and true.
In autumn's embrace, you came to be,
A gift of joy for all to see.
November Birthday Card Messages
1. "As the leaves turn and the days shorten, your birthday shines as November's beacon. Wishing you all the warmth and joy of the season!"
2. "November's gift is not just the beautiful fall or the early whispers of winter, but also the day you were born. Happy Birthday!"
3. "In a month filled with gratitude, I'm most thankful for your November birthday, because it brought you into our lives. Cheers to you!"
5. "Between the cozy fall nights and the holiday's first light, November chose to bless us with you. Happy Birthday!"
6. "You're the November sparkle amidst the fall leaves. May your birthday be as radiant and special as you are!"
7. "As November paints the world in golden hues, today we celebrate the wonderful masterpiece that is you. Happy Birthday!"
8. "Born in the embrace of November's chill, your warmth and kindness fill our hearts still. Happy Birthday!"
9. "Every year, as the first hints of winter touch November's days, we're reminded of the wonderful gift of you. Here's to another fantastic year ahead!"
10. "Your birthday is a November gem, shining brightly amongst the autumn leaves. Wishing you a day filled with love and glee!"