Perseverance is an essential key that opens the doors to success. If you feel you've lost that key, then these perseverance quotes will help you find it and make you charge forward.
Hard times teach you lessons and things about yourself that you'd never otherwise. The storms come simply to remind you that you've got the courage and inner strength to come out of them.
So, don't fear them and never think that they're here to weaken your ability and lessen your chances to succeed because it's the case otherwise.
As long as you're moving, be it at any pace, it is only a matter of time before you find yourself where you wish to be. Be patient and gentle with yourself, and have faith in your ability to overcome challenges because only these things will help you persevere.
Meaning of perseverance
Perseverance is the quality of persisting in a course of action, belief, or purpose despite difficulties, challenges, or setbacks. It involves maintaining effort and determination in order to achieve a goal or overcome obstacles and adversity. It is often associated with a resilient and determined mindset, as individuals who possess perseverance are willing to continue working towards their objectives even in the face of adversity and setbacks.
Quotes About Perseverance Through Hard Times
1. "Perseverance is not a long race; it is many short races one after the other." – Walter Elliot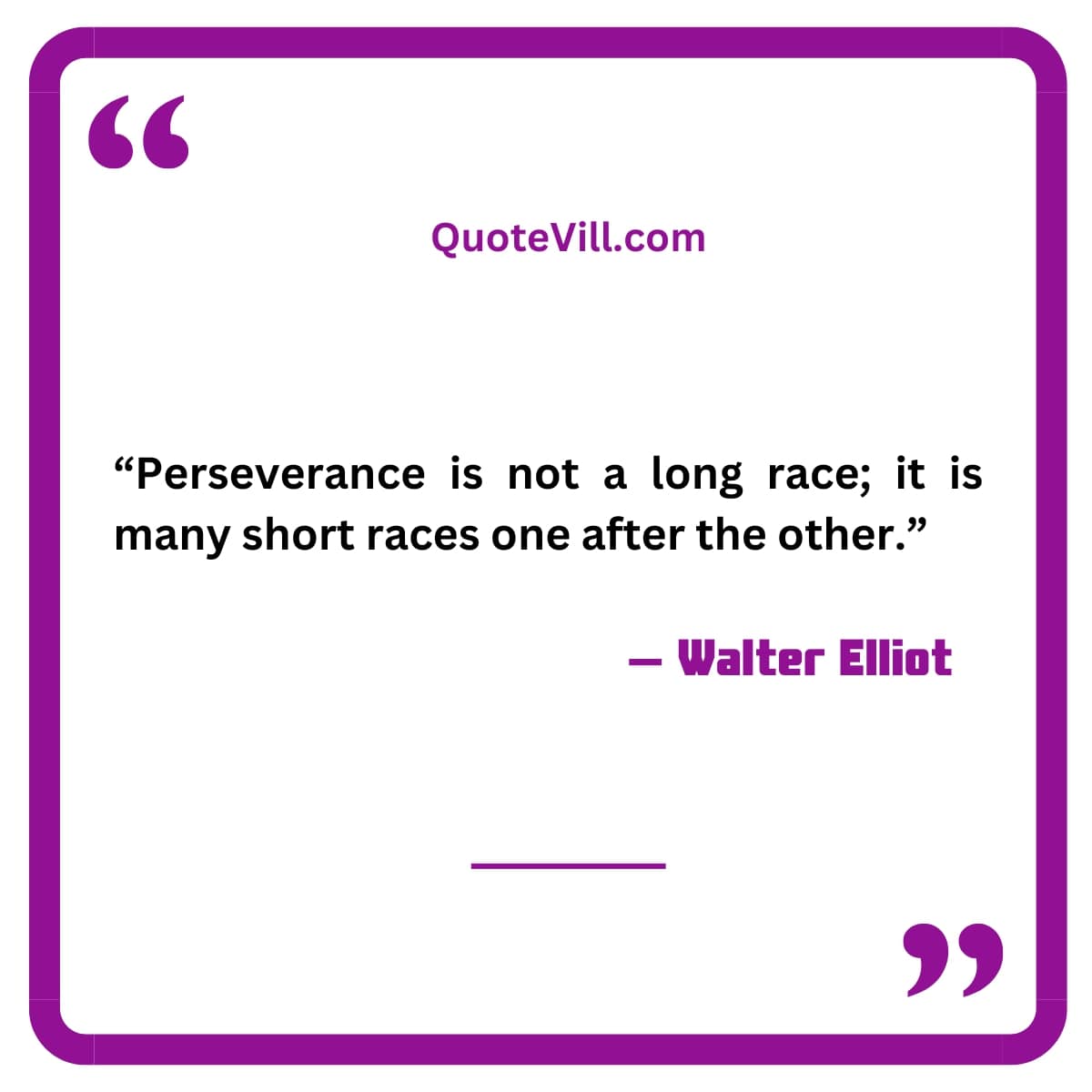 2. "It does not matter how slowly you go as long as you do not stop." – Confucius
3. "Success is not final, failure is not fatal: It is the courage to continue that counts." – Winston Churchill
4. "The difference between a successful person and others is not a lack of strength, not a lack of knowledge, but rather a lack in will." – Vince Lombardi
5. "The only way to achieve the impossible is to believe it is possible." – Charles Kingsleigh
6. "It's not that I'm so smart, it's just that I stay with problems longer." – Albert Einstein
7. "Perseverance is failing 19 times and succeeding the 20th." – Julie Andrews
8. "Character consists of what you do on the third and fourth tries." – James A. Michener
9. "Many of life's failures are people who did not realize how close they were to success when they gave up." – Thomas Edison
10. "Our greatest glory is not in never falling, but in rising every time we fall." – Confucius
11. "I have not failed. I've just found 10,000 ways that won't work." – Thomas A. Edison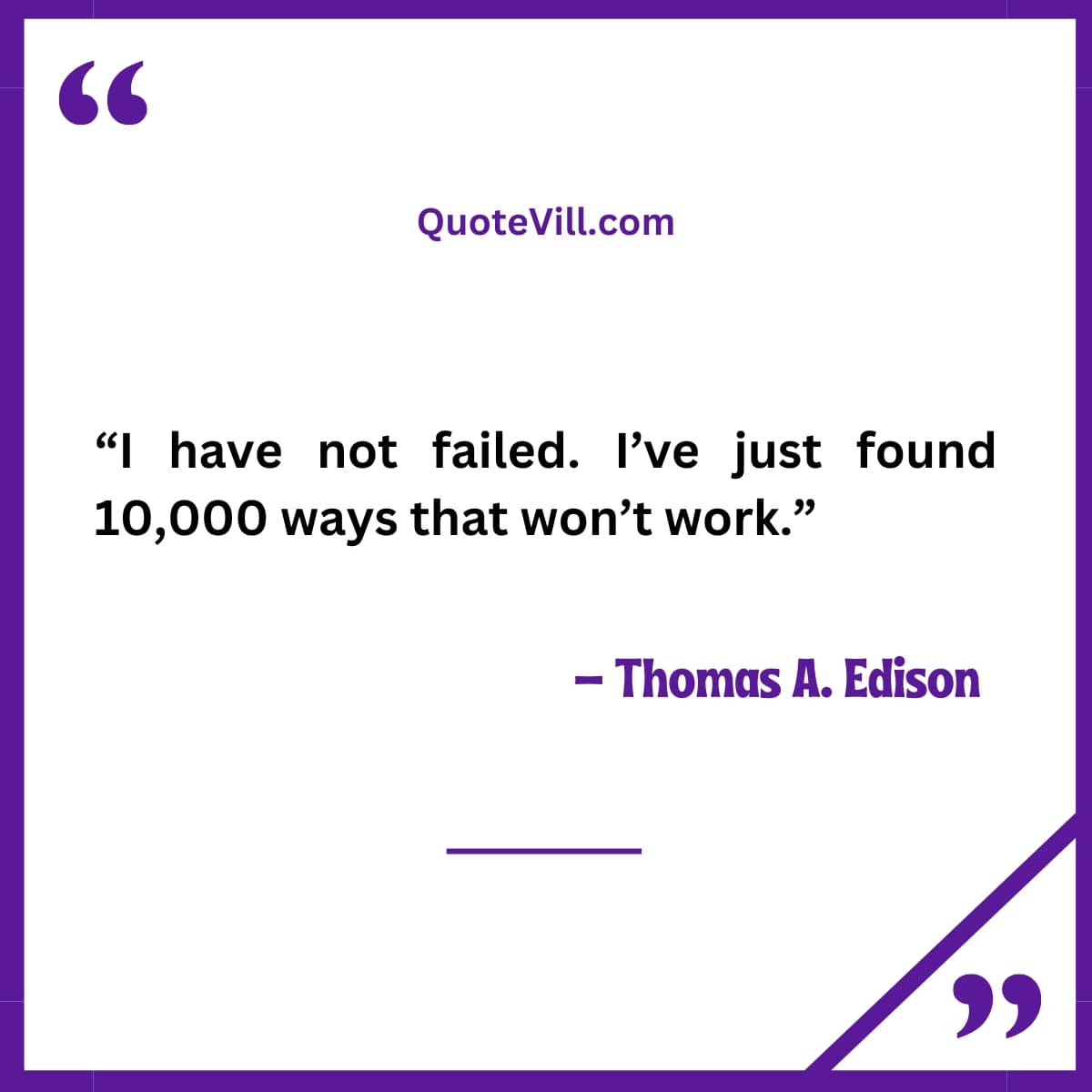 12. "The harder the conflict, the more glorious the triumph." – Thomas Paine
13. "In the confrontation between the stream and the rock, the stream always wins – not through strength but by perseverance." – H. Jackson Brown
14. "The ultimate measure of a man is not where he stands in moments of comfort and convenience, but where he stands at times of challenge and controversy." – Martin Luther King, Jr.
15. "The greatest oak was once a little nut who held its ground." – Anonymous
16. "The only thing that overcomes hard luck is hard work." – Harry Golden
17. "It always seems impossible until it's done." – Nelson Mandela
18. "When you get into a tight place and everything goes against you, till it seems as though you could not hang on a minute longer, never give up then, for that is just the place and time that the tide will turn." – Harriet Beecher Stowe
19. "Fall seven times, stand up eight." – Japanese Proverb
20. "We can do anything we want to if we stick to it long enough." – Helen Keller
See: 160 Inspiring 4 Word Short Deep Quotes To Reflect On
Perseverance Quotes From Bible
1. "Let us not become weary in doing good, for at the proper time we will reap a harvest if we do not give up." – Galatians 6:9
2. "But as for you, be strong and do not give up, for your work will be rewarded." – 2 Chronicles 15:7
3. "Consider it pure joy, my brothers and sisters, whenever you face trials of many kinds, because you know that the testing of your faith produces perseverance." – James 1:2-3
4. "I can do all this through him who gives me strength." – Philippians 4:13
5. "Therefore, since we are surrounded by such a great cloud of witnesses, let us throw off everything that hinders and the sin that so easily entangles. And let us run with perseverance the race marked out for us." – Hebrews 12:1
6. "Clothe yourselves with humility toward one another, because God opposes the proud but shows favor to the humble. Humble yourselves, therefore, under God's mighty hand, that he may lift you up in due time." – 1 Peter 5:5-6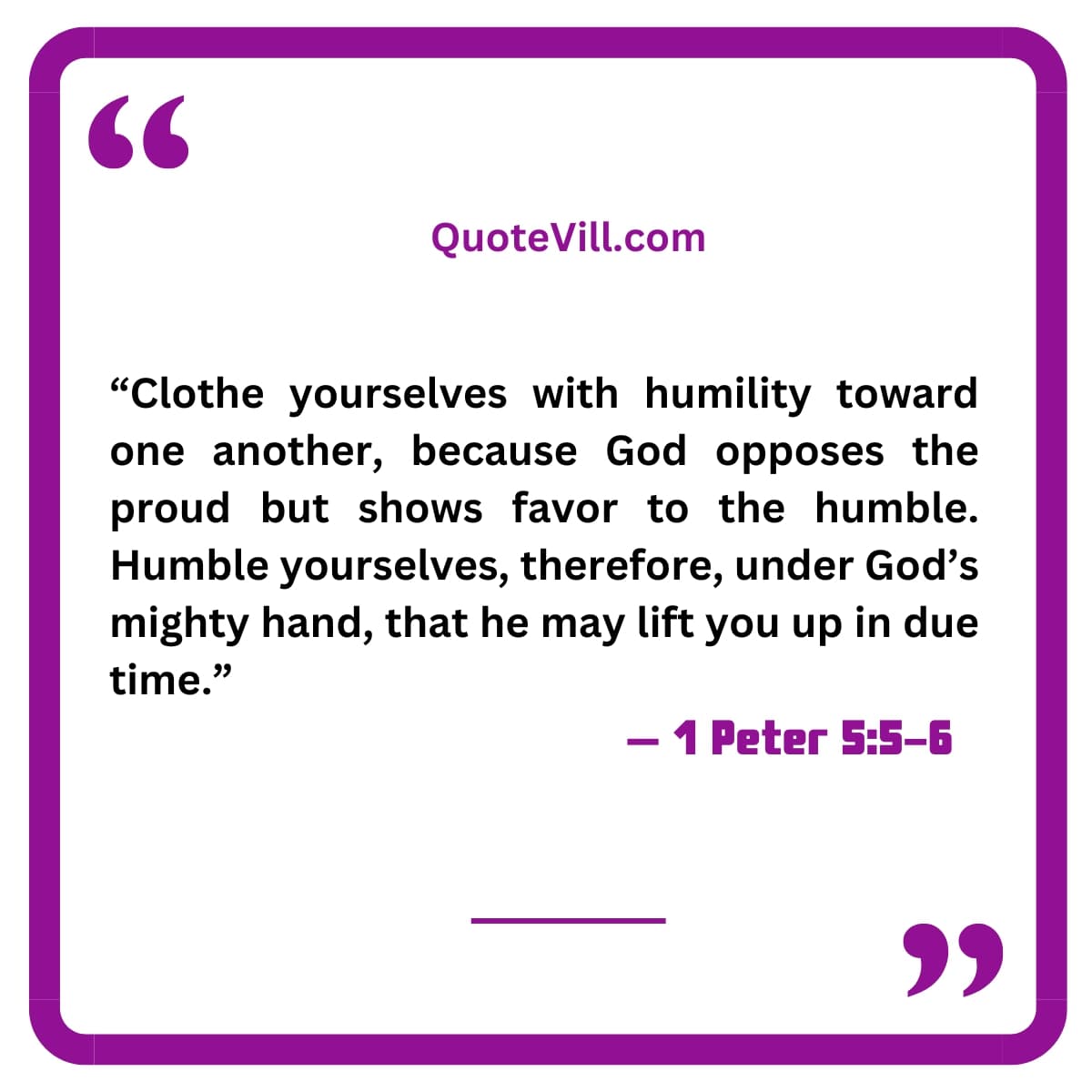 7. "Do not be afraid or discouraged, for the Lord your God is with you wherever you go." – Joshua 1:9
8. "And let us not grow weary of doing good, for in due season we will reap, if we do not give up." – Galatians 6:9
9. "I have fought the good fight, I have finished the race, I have kept the faith." – 2 Timothy 4:7
10. "For I know the plans I have for you," declares the Lord, "plans to prosper you and not to harm you, plans to give you hope and a future." – Jeremiah 29:11
Perseverance Quotes From Quran
1. "Oh you who have believed, persevere and endure and remain stationed and fear Allah that you may be successful." (Quran 3:200)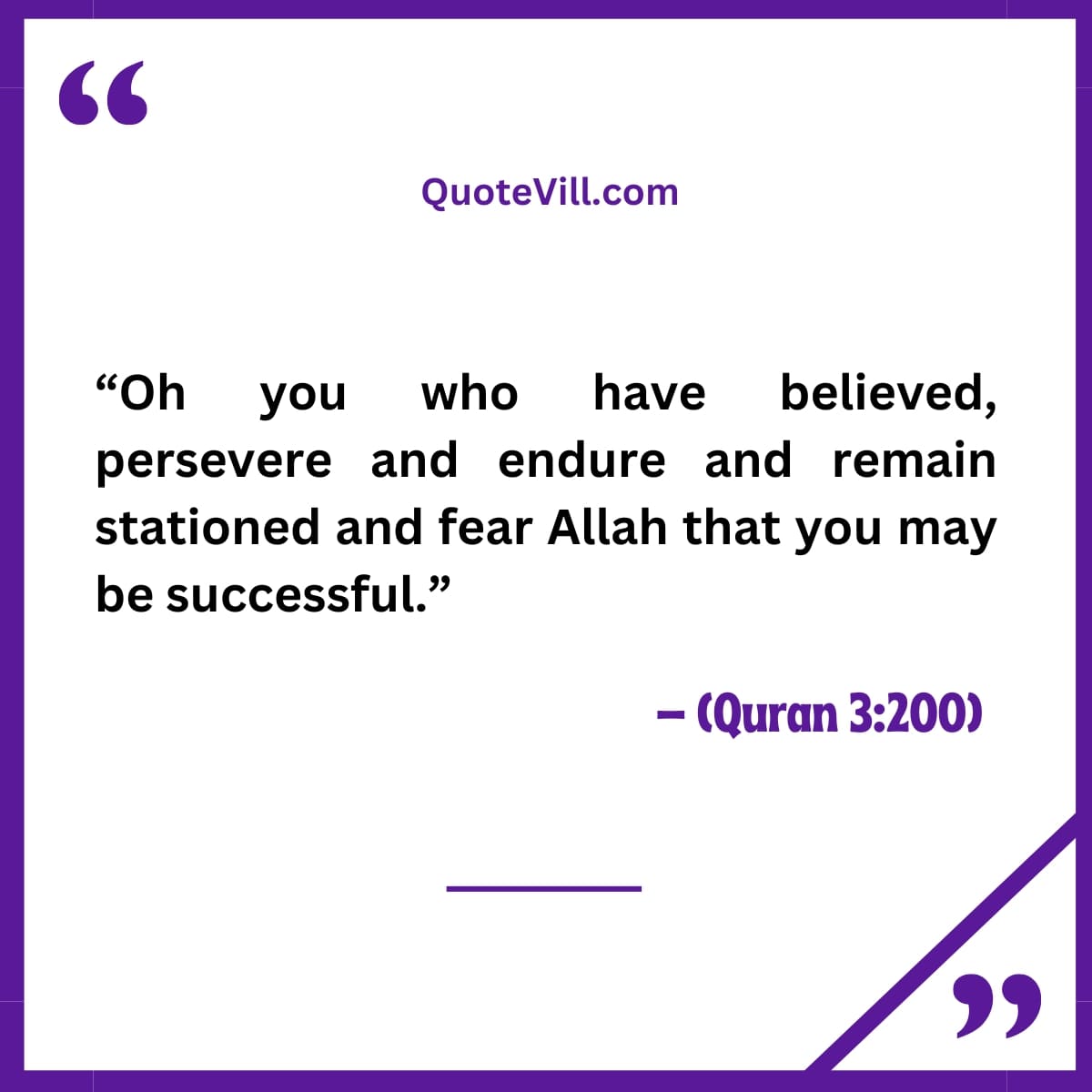 2. "So be patient. Indeed, the promise of Allah is truth." (Quran 30:60)
3. "Indeed, Allah is with those who are patient." (Quran 2:153)
4. "Those who have believed and whose hearts are assured by the remembrance of Allah. Unquestionably, by the remembrance of Allah hearts are assured." (Quran 13:28)
5. "And We will surely test you with something of fear and hunger and a loss of wealth and lives and fruits, but give good tidings to the patient." (Quran 2:155)
6. "And seek help through patience and prayer, and indeed, it is difficult except for the humbly submissive [to Allah]." (Quran 2:45)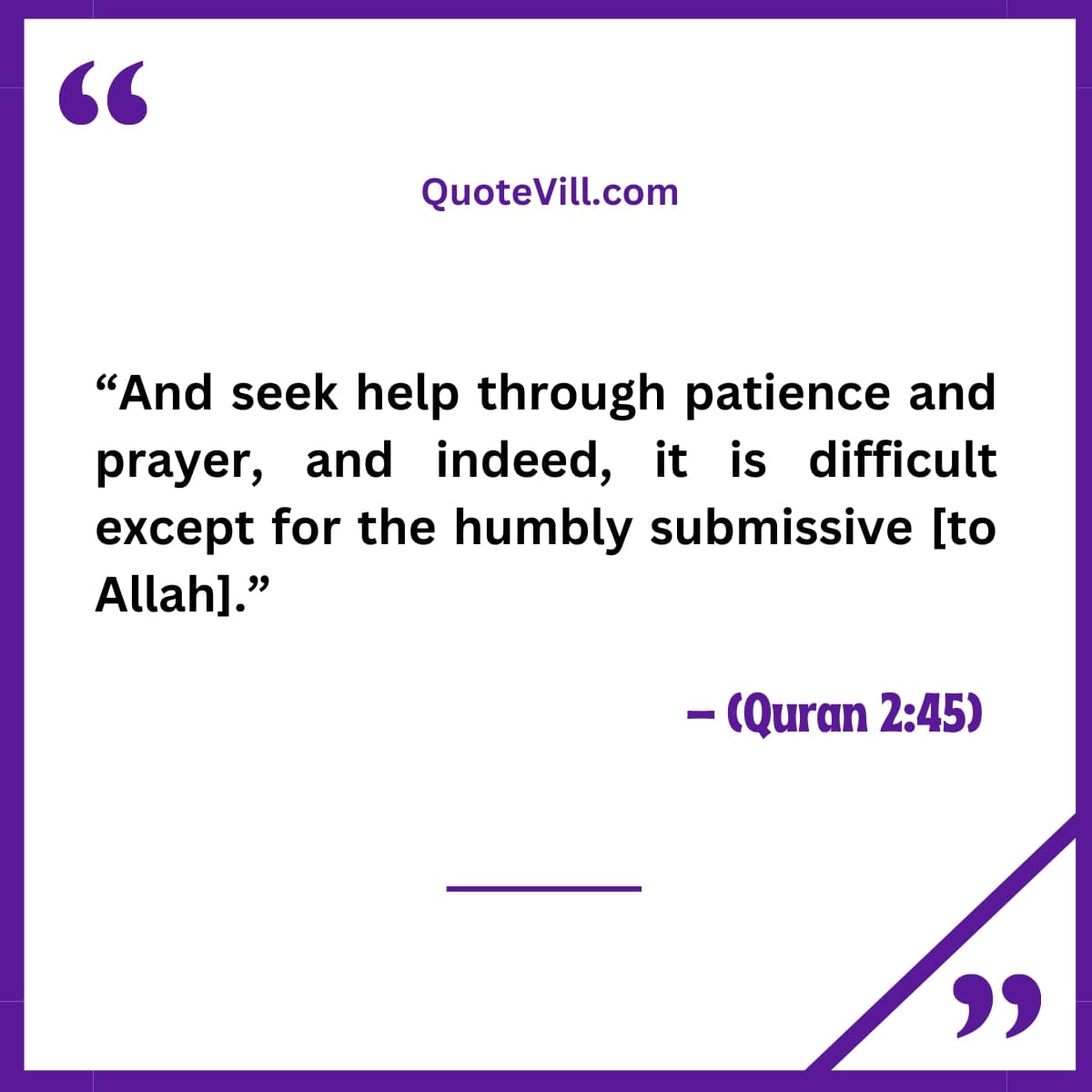 7. "And whoever is patient and forgives – indeed, that is of the matters [requiring] determination." (Quran 42:43)
8. "So be patient, [O Muhammad], over what they say and exalt [Allah] with praise of your Lord before the rising of the sun and before its setting." (Quran 50:39)
9. "So be patient, [O Muhammad]. Indeed, the promise of Allah is truth. And ask forgiveness for your sin and exalt [Allah] with praise of your Lord in the evening and the morning." (Quran 40:55)
10. "Indeed, I have rewarded them this Day for their patient endurance – that they are the ones who are successful." (Quran 23:111)
Final Sayings
Perseverance quotes serve as powerful reminders of our ability to withstand challenges and remain steadfast in our pursuit of goals. They inspire resilience, encourage determination, and highlight the strength found in never giving up. Drawn from diverse cultures, philosophies, and religions, such quotes universally reaffirm the extraordinary potential within us all when we persist through adversity.