One of the best ways to show your loved ones that you're grateful to have them is to be vocal about it. A simple phrase such as Thank you for being in my life can do wonders and make your loved ones feel so special because by saying it like you mean it, you've validated and appreciated their presence in your life.
And what is a better reminder than that?
After all, you wish to be seen, heard, valued, and appreciated by the people you care about and love because you want to hold that special place in their lives that they hold in your life.
Life is tough and good-hearted people who wish to go the distance for you are rare, so, when you have these people around, appreciate them as much as you can and these heart-warming thank you messages would help you do so.
How Do You Say Thank You For Being In My Life With Word?
Crafting the right message is an art. It should be genuine, heartfelt, and tailored to the recipient. Here's a step-by-step guide to help you out:
Begin with a Warm Opening: Starting your message with a personal touch sets the right tone. It could be as simple as "Dear [Name],".
State Your Gratitude Clearly: Use phrases like "I want to sincerely thank you…" or "I cannot express how grateful I am…" to drive your point home.
Share Specific Memories: Personalize your message by recalling fond memories or specific instances that emphasize their importance in your life.
Conclude Thoughtfully: End with a promise, an invitation, or simply a warm sign-off.
Best 20 Messages On Thank You For Being In My Life
1. Every time life threw its wild waves at me, your presence was the anchor that kept me grounded. I can't express just how thankful I am to have you in my corner.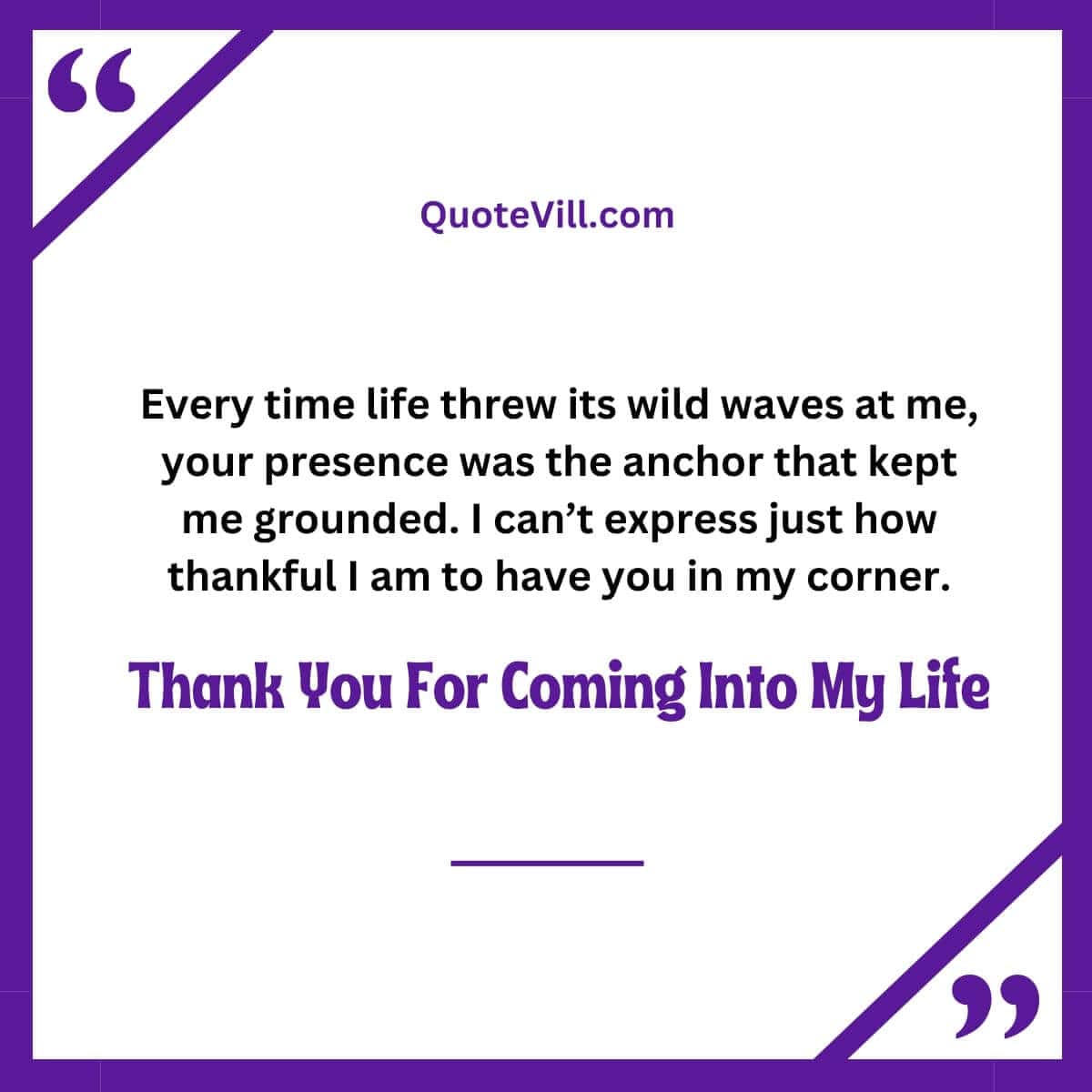 2. From sunny days to stormy nights, having you by my side has made every moment worth living. Here's to every laugh, every tear, and everything in between. Thank you for being my constant.
3. Life can sometimes feel like a cacophony, but your presence has always been that soothing melody that brings everything into harmony. I'm truly blessed to have you.
4. While stories may sing praises of epic heroes, my story would be incomplete without you. Thank you for playing the most vital role in my life.
5. If I were to count the ways you've impacted my life, I'd run out of stars in the sky. From the smallest gesture to the biggest sacrifices, thank you for everything.
6. Every chapter of my life that has you in it is my favorite. Thanks for being such a beautiful part of my story.
7. Even without words, our bond speaks volumes. It's the silent glances, the laughter, and the moments of solace. I am forever grateful to have someone like you who needs no words to understand my heart.
8. Sometimes, I look back and think about all the times we've laughed, cried, and shared memories. I realize just how precious our journey has been. Thank you for walking beside me every step of the way.
9. Whenever the world gets too loud, your presence is like a cozy blanket on a cold night. You bring warmth and comfort to my life, and for that, I can't thank you enough.
10. We don't always need words to communicate. A simple look, a hug, or just sitting silently together has often said more than a thousand words could. Thank you for understanding the unsaid.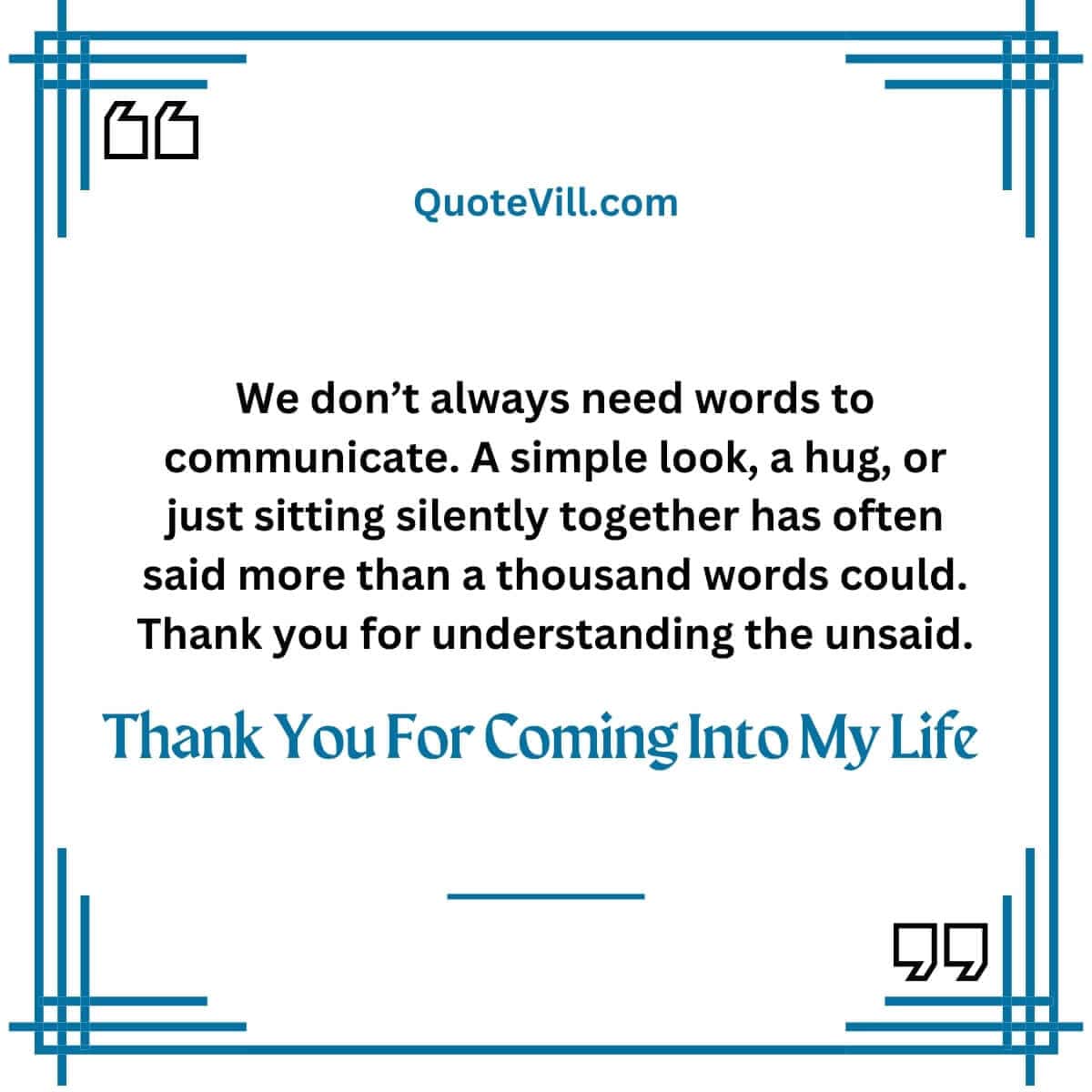 11. Life with you feels like a playlist of my favorite songs — filled with love, warmth, and cherished memories. I'm grateful for all the melodies we've shared.
12. Even on the cloudiest days, you bring a ray of sunshine into my life. Having you around makes everything feel a little better. Thank you for being my sunshine.
13. With you, every day feels like an adventure. The ups, the downs, and everything in between — it's all better with you by my side. Thanks for making life an exciting journey.
14. Whenever I felt alone or lost, you've been the echo of my heart, reminding me of who I truly am. Thank you for always being there, reminding me of my worth.
15. With you, even the most ordinary moments feel extraordinary. From shared coffees to long walks, I cherish every moment. Thank you for making life's simple joys even more special.
16. You've been my compass, guiding me when I felt lost. Your advice, your support, and your love have been invaluable. Thanks for showing me the way, always.
17. Not all silences are empty. With you, they're full of understanding, comfort, and love. Thank you for those peaceful moments that speak volumes.
18. In a world that constantly changes, your unwavering support has been the one thing I could always count on. Thank you for being my rock.
19. From shared dreams to shared memories, it feels like our souls have always been connected. Thank you for being my kindred spirit in this vast world.
20. Every moment with you, whether big or small, is a treasure I hold close to my heart. Thank you for filling my life with memories I'll cherish forever
Read: 35 Unique Thank You Messages For Gifts To Express Gratitude
Thank You For Being a part of My Life journey Messages
1. Hey, whenever I look back on everything we've been through, it hits me. You've always, always been there. Like the person I could always count on. Honestly, I can't even picture what this journey would've been like without you. So, genuinely, thank you from the bottom of my heart.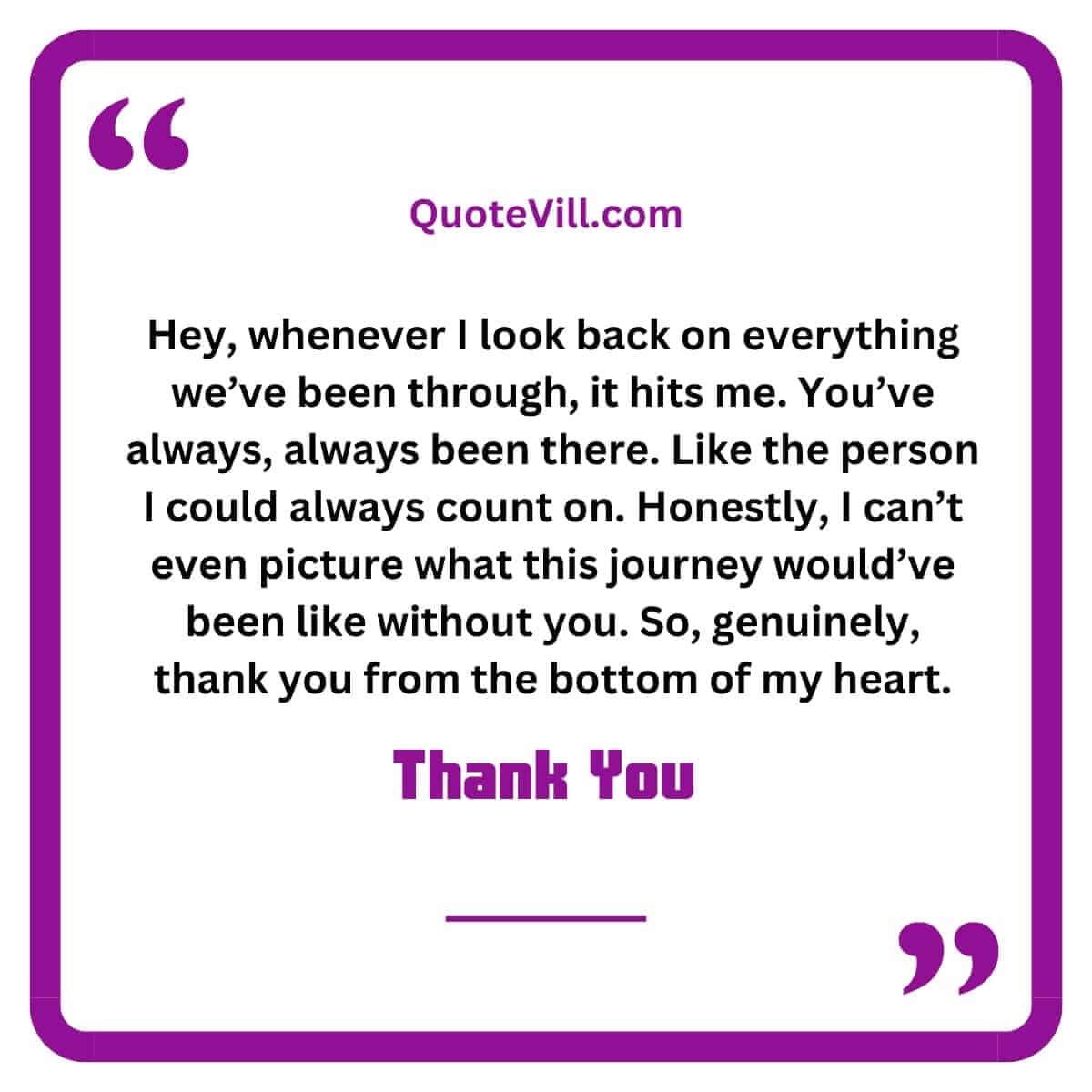 2. Isn't life strange? How our paths just came together? You've been there through all the messy parts, sharing laughs, and even holding me during those tough crying nights. Each moment with you? It's something I hold dear. Thanks for never leaving my side.
3. Remember all those times life tried to mess with me? Every single time, you were my person, lifting my spirits. I can't even measure the strength and comfort you've given me. I feel so lucky to have you on this wild journey with me.
4. Think back to those long nights chatting away or those days we just couldn't stop laughing? Those times, with you, are some of my most treasured memories. I'm just so grateful for you being here with me through it all.
5. There were times I felt completely lost or just so alone. But the moment I thought of you, things somehow seemed okay again. You've been like my lighthouse, you know? I can't thank you enough for being with me every step of the way.
6. When I think of you, I feel this warm and fuzzy feeling inside, a blend of thankfulness, love, and maybe a few happy tears. It's because you've made such a difference in my life journey. Thanks for sharing every high and low with me.
7.  Think of all the challenges and fun adventures we've had! Each one has a special place in my heart. And when I look back, it's your face I always see beside me. I can't even begin to tell you how much our time together means to me.
8. Life's definitely been full of wild ups and downs, right? Through every twist and turn, you've been like my anchor, keeping things stable. I'm so, so grateful for you. Thanks for being such a solid part of my life's journey.
9. We've seen it all, haven't we? From crying our eyes out to celebrating the tiniest victories. Every single moment, you've been right there with me. Honestly, I can't even think of a life without you. Thanks for always sticking around.
10. Words kind of fail when I try to describe our bond. But, I really hope you know just how special you are to me. Having you in my life? It's one of the most beautiful gifts ever. I truly lean on your love, care, and endless support.
Check: 75 You Are My Favorite Person Quotes to Express Deep Affection
Romantic Thank You For Being In My Life Quotes
1. "You know, when I look back on everything, I can't help but think how different my life would be without you. Every shared moment, every laugh, every challenge — they've all been made better because you're here with me. I'm truly grateful for you."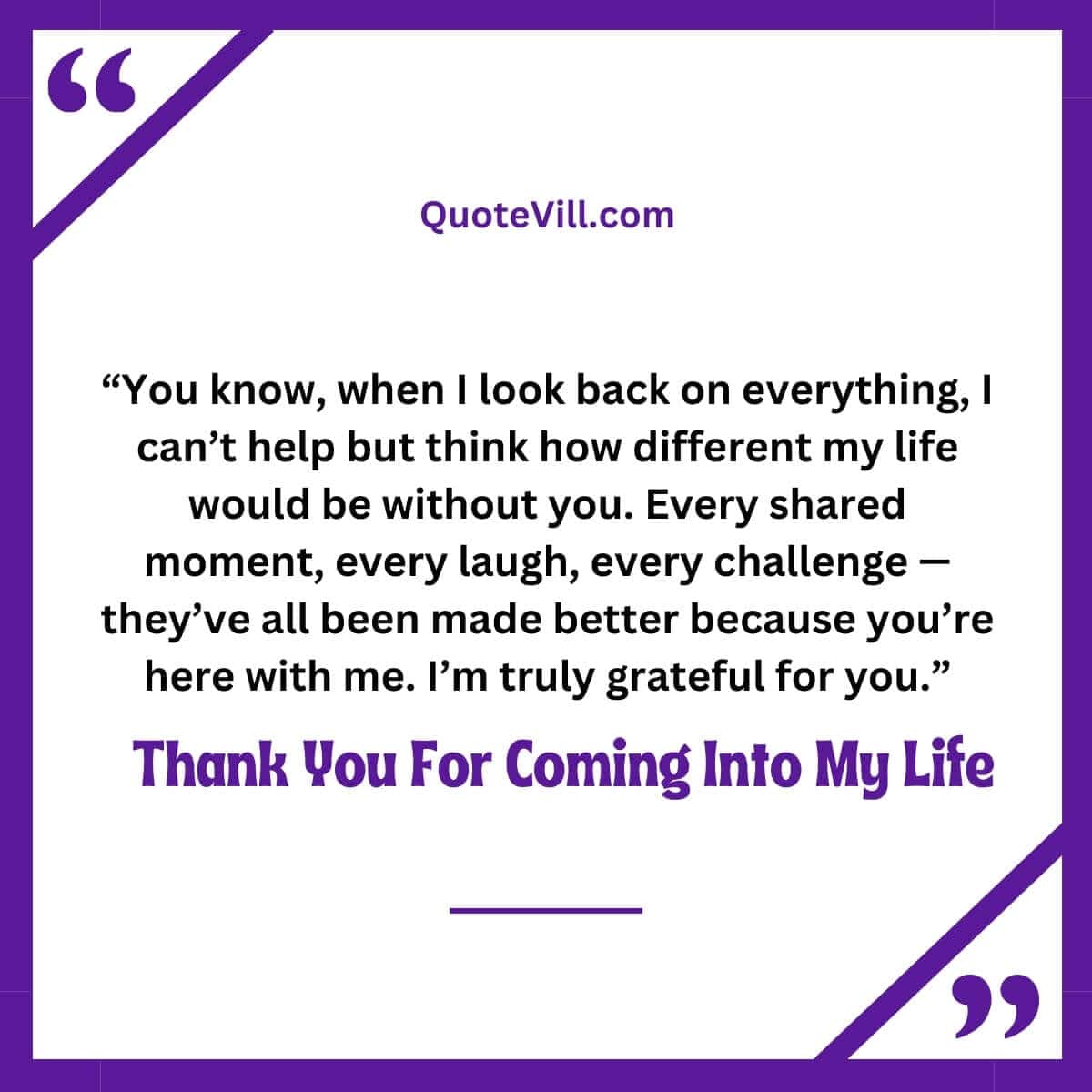 2. "Sometimes, I just stop and think about how you've become such an integral part of my daily routine and thoughts. It's amazing how seamlessly you fit into my life. Thank you for being my everyday joy."
3. "The moments we've spent together? They're not just memories. They're like chapters in my favorite book, and every day with you adds another page. Thank you for being such a huge part of my story."
4. "I remember times when I thought things couldn't get any better, and then there was you. With every shared experience, you've added richness to my life. I'm so grateful for all the colors you've added to my world."
5. "Whenever I'm having a tough day, I just remind myself that at the end of it, there's you. Knowing you're a part of my life makes every challenge seem smaller. Thank you for being my source of strength and happiness."
6. "It's wild to think about life before you. Now, it's like every decision, every moment, is better because I get to share it with you. Thank you for making even the mundane moments feel special."
7. "You know, I've often heard people talk about finding 'their person.' I never really got it until you came into my life. Every day, I'm thankful that we found each other."
8. "Sometimes I find myself smiling for no reason, and then I realize I'm thinking of a moment with you. It's amazing how you've become such a cherished part of my day-to-day. Thank you for filling my life with these little moments of happiness."
9. "It's not just about the big moments or the vacations. It's the small things — the talks, the shared meals, even the disagreements. Every aspect of my life feels richer with you in it. Thank you for being my partner in everything."
10. "Whenever I think about the best parts of my life, there's a common factor — you. From our deep conversations to our shared silences, everything feels better with you. I'm so grateful for the love and depth you bring to my life."
Take A Look: 93 How Special You Are To Me Quotes to Express Appreciation
Thank You For Being In My Life Messages For Your Friend
1. "Hey, have you ever scrolled through our old photos and chats? From those random memes to our deep 2 a.m. talks, life just hits different with you around. Seriously, big thanks for being my ride-or-die."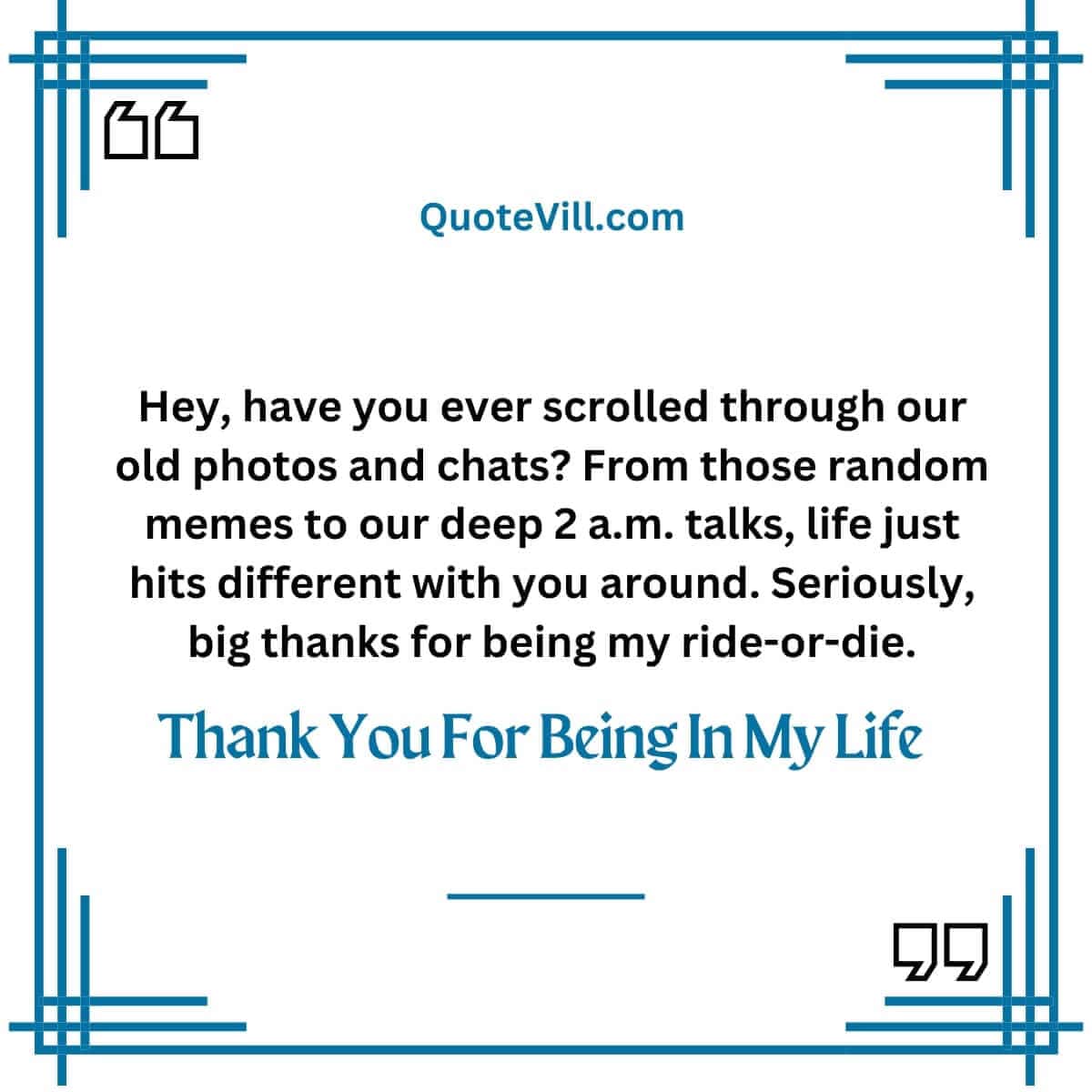 2. "Every time I'm stressing, I remember those pep talks you drop in my DMs or voice notes. It's like having a personal hype-person on speed dial. Thanks for always keeping it real and being there."
3. "Honestly, sometimes I wonder how you handle all my moods and wild ideas. But then I remember all the wild stuff you pull off, too! Cheers to being perfectly weird together. You're the real MVP."
4. "You know, it's not always about those epic nights out. It's those binge-watching sessions, and 'you free?' texts that I cherish the most. Thanks for all the low-key, unforgettable moments."
5. "Flashback to when we said we'd always have each other's backs? You've been nailing that promise, through every facepalm and heart-to-heart. Can't thank you enough for being my rock."
6. "Every time a meme reminds me of an inside joke or a throwback, I'm hit with how fun life is with you in it. Seriously, how dull would my feed be without you? You bring the best vibes."
7. "Think about the number of voice notes, rants, and random texts we've exchanged. You're basically my unofficial therapist. Mad respect for always being there, no judgments."
8. "It's wild thinking about our journey — from cringey stories to those unforgettable nights. Through the highs and lows, you've been solid. Major love for being my constant."
9. "Do you even realize how epic it is to have a friend who's seen all your phases and still sticks around? From awkward selfies to major life updates, thanks for being THAT friend."
10. "When I think about my squad, you're straight-up the heart of it. From our deep dives to those hilarious group chats, you've been 100%. Major thanks for keeping it real."
Thanks For Making My Life Better Messages
For a Best Friend:
1. "Hey there. You remember those times I barely wanted to get out of bed? Somehow, you always knew what to say, or just when to sit in silence with me. I can't even explain how much lighter my world feels with you in it. Seriously, thank you for being my rock."
For a Lover:
2. "I used to think I was destined to be trapped in my own stormy thoughts forever. Then you walked in, with that infectious smile and endless patience, and the clouds started to lift. I feel so blessed every day to have you by my side. You've genuinely made my life so much better."
For a Crush:
3. "Hey, this might come out of the blue, but remember all those chats we've had? They might have seemed simple to you, but they meant the world to me. On many gloomy days, they've been my ray of sunshine. So, thank you for just being you and making life a bit brighter."
For a Colleague:
4. "Work used to be just another place where my thoughts would get the better of me. But having you as a colleague, with our little coffee breaks and chat sessions, changed all that. I can't thank you enough for making my everyday life so much more enjoyable."
For a New Friend:
5. "It's funny how life works. Just when I thought I'd be stuck in my own shadows, you came along with your quirky jokes and those endless stories. I genuinely look forward to our talks now. Thanks for making such a difference in my life."
For a Coworker:
6. "Before you joined, workdays felt endless, and my thoughts were my worst enemy. But now? Our shared tasks, jokes, and even the occasional rants have turned things around for me. You've made a bigger impact than you know. Thank you."
For a Long-time Friend:
7. "We've seen each other through so much, haven't we? Through my darkest times, you never let me face things alone. The weight on my shoulders feels so much lighter because of you. Thank you for being my beacon of hope."
For Someone You Admire:
8. "You might not have realized it, but your positivity and resilience have been like a guiding star for me. Watching you navigate life with such grace has given me hope in my tough moments. I'm genuinely grateful for the influence you've had on me."
For a Neighbor:
9. "Living next to you has been such a blessing. Those casual hellos, small favors, and unexpected chats on the balcony? They've been a steady source of happiness during some of my lowest days. Just wanted to say a big thank you."
For a Mentor:
10. "I came to you for guidance, but what you've given me is so much more. Your patience, advice, and the confidence you instilled in me pulled me from a place I didn't think I could leave. Thank you for making my life not just better, but purposeful."
Messages About Thanking Someone For Changing Your Life
1. "Hey, you remember when we first met? I had no idea then how pivotal that moment would be for me. Your guidance, the way you've always been there, steering me through my messiest moments – I'm not sure where I'd be without you. Thank you for helping me find a better version of myself."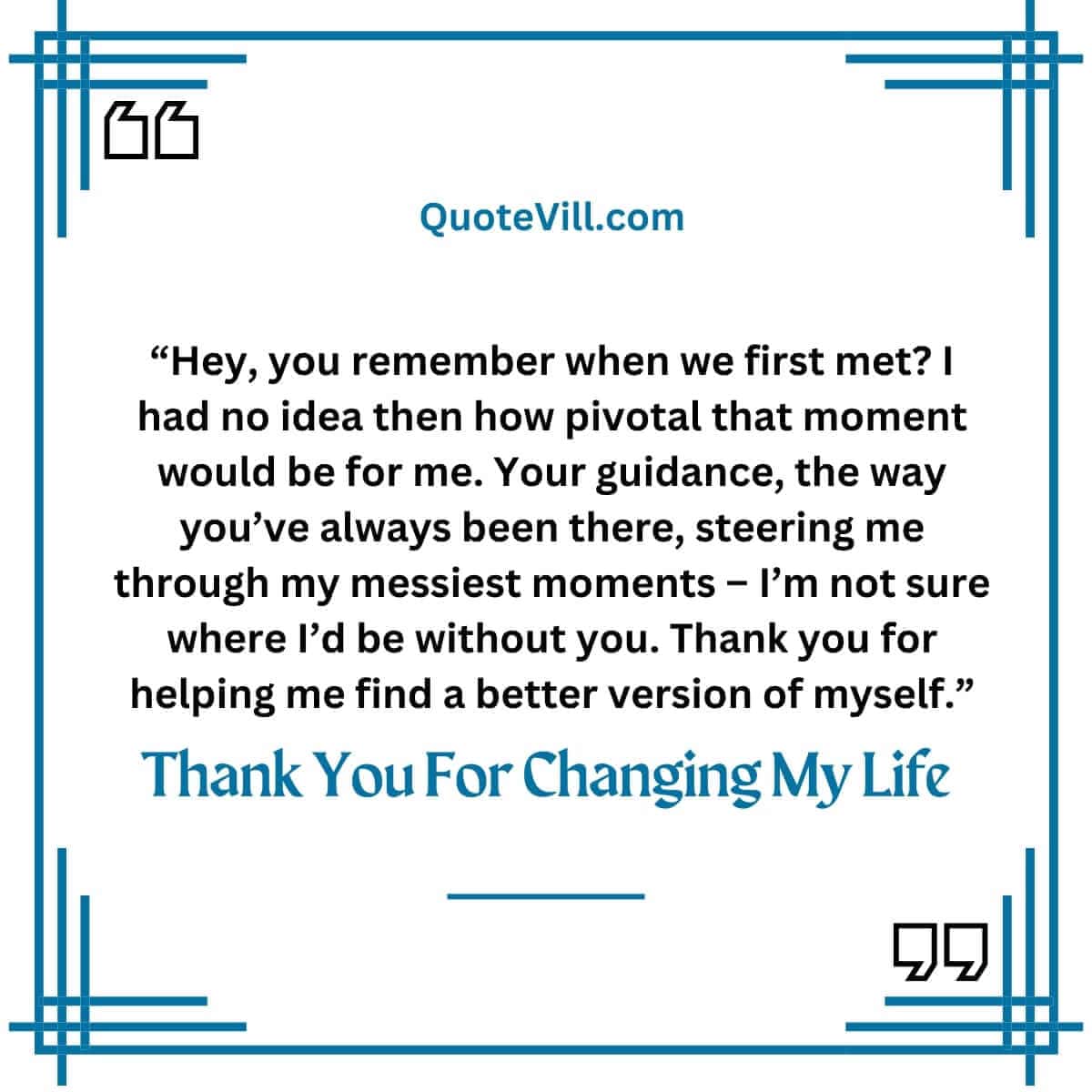 2. "Sometimes I sit back and think about all the decisions I've made since you walked into my life. Honestly, most of them were shaped by your advice and that unyielding belief you have in me. I'm genuinely grateful for the paths you've helped me choose."
3. "You've probably noticed by now, but I'm a lot more confident these days. That's not magic – that's you. Your faith in me, even when I doubted myself, has made all the difference. You've changed so much for me, and I can't thank you enough."
4. "Remember those nights we'd talk for hours? Your words weren't just words; they were life lessons. Lessons that helped me navigate so much. I genuinely don't know how I got so lucky to have someone like you transform my life."
5. "It's funny. I never really believed in 'life-changers' until you came around. The perspective you've given me, the strength you've instilled – it's reshaped my entire world. I want you to know how much that means to me."
6. "Every time I was about to make a wrong turn or doubted myself, there you were, with that calm voice and wise words. I've grown, I've evolved, and so much of that is because of you. Just wanted to say a big thank you for changing the course of my life."
7. "I used to be so hesitant, always second-guessing myself. But having you as my compass, guiding me through decisions and pulling me out of tough spots, has been a game-changer. You've made my life brighter and clearer. Thanks for being my guiding star."
8. "When you came into my life, it felt like I'd been handed a map in a place where I was perpetually lost. Your advice, your care, your push when I needed it – it's transformed me. I hope you know the profound impact you've had."
9. "There were moments I felt like I was sinking, and then you'd appear, throwing me a lifeline every single time. The belief, the compassion, and the unwavering support you've shown have reshaped my world. I can't put into words how thankful I am."
10. "Life's a journey, and I was stumbling a lot before you came along. Now? With you guiding me, helping me believe in myself, showing me the beauty in compassion – I feel like I'm finally walking on the right path. You've changed so much for me, and I'll forever be grateful."
Thank You For Coming In My Life Paragraphs
1. Remember when life felt like I was trying to listen to a song with static interruptions? Then you stepped in and it's like you fine-tuned everything. Suddenly, the music was clearer, the beats more rhythmic, and life had a melody I could dance to. Your positive vibes, endless patience, and hilarious jokes have turned my mundane days into something out of a hit playlist. Honestly, a huge thanks for bringing the good vibes into my life.
2. We've all had those blurry days, right? Days when everything seems a bit 'meh'. But ever since you came around, it feels like someone slapped on a vibrant filter on my life. Our late-night chats, our binge-watching sessions, and even our weird TikTok attempts have added so many colors to my everyday. I genuinely can't imagine what I'd do without you. Cheers to all the brightness you bring!
3. Have you ever tried navigating a new city without a map? That's what life felt like before you. Random turns, confusing junctions, and quite a few dead-ends. But with you, it's like I've found my GPS. Everything's a little clearer, a lot more fun, and definitely more adventurous. I can't thank you enough for being my human guidebook.
4. So, life before you was like an endless loop of the same sitcom episode. Predictable and kinda boring. Now? It's a blockbuster movie with plot twists, epic soundtracks, and an incredible co-star (that's you!). Our shared jokes, the goofy pictures, and even the deep 3 AM conversations have turned my life story into something worth watching. A massive thank you for starring in it with me.
5. I sometimes think of life as this giant puzzle. Before you, I had a lot of pieces that just didn't fit, no matter how hard I tried. But then you walked in, and it's like you had all the missing parts. With your wisdom, your unwavering support, and your knack for turning bad days into good ones, my life's picture is finally coming together. Thanks for helping me see the bigger picture.
6. Life can be a roller coaster, with its crazy highs and scary lows. Before you, I was clutching the safety bars, kinda terrified. But now, with you by my side, every twist and turn is thrilling. Your positive outlook, your infectious laughter, and the way you just 'get me' makes every day feel like an exciting ride. So here's a shoutout for making the ride worthwhile.
7. You ever have one of those outdated apps on your phone, just taking up space? My life felt a bit like that. But then you popped in, like this cool new update, fixing all the bugs and making everything run smoother. Your advice, your shoulder to lean on, and even your bizarre dance moves have optimized my life in ways I never thought possible. A big virtual hug and thanks for the upgrade!
8. I used to think of my life as a monochrome photograph. Classic but kind of lacking in color. With you, it's like someone hit the 'saturation' button. Those lazy Sunday brunches, our shared playlists, and even our debates on the most random topics have added a spectrum of colors to my days. I just wanted to say, thanks for making my life picture-perfect.
9. You know those reality shows where they do room makeovers? Life before you was like the 'before' room—functional but bland. Now, with you and our shared memories, it's like the 'after' reveal. Full of vibrant colors, cozy corners, and a lot of character. Thanks for remodeling my days with your awesomeness.
10. Ever felt like you're reading a book with a lot of difficult words? That was life for me. But you've been this amazing human dictionary, explaining, guiding, and making sense of the tricky parts. With your insights, your unmatched support, and the comfort of knowing you've got my back, my life's story reads a lot better. A heartfelt thank you for editing it with me.
Special Notes To Thank Someone For Their Support
1. Hey [Name],
You remember those days when everything was just… messed up? You came in like a champ and turned things around for me. Honestly, I don't even have the words. You've been everything. Thanks for having my back in ways I never expected.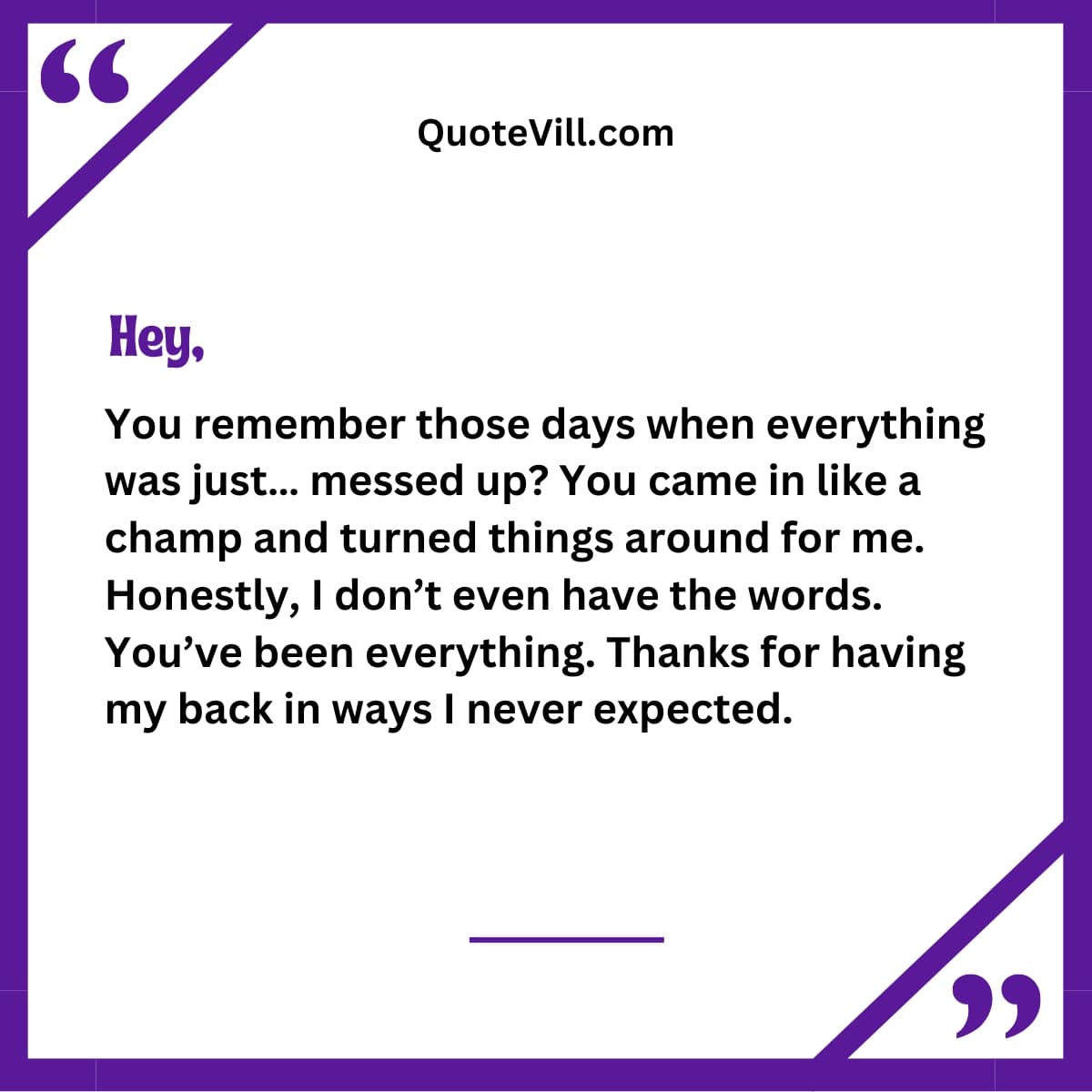 2. Hey,
Man, life sure knows how to pitch some wild ones, right? But with you by my side, it feels like I've got my own secret weapon. Your advice, your presence, it's all been so real. You've no idea how thankful I am.
3. [Name],
It's not just the big heart-to-heart talks. It's those random texts, the quick calls, or just sitting with me doing absolutely nothing. All of that? It's made me see what real friendship looks like. You're the best, honestly.
4. Yo [Name],
Life's a wild ride, isn't it? And you, my friend, are like that trusty old compass I never knew I needed. Whenever I felt lost, you were there. And for that, big thanks!
5. Dear [Name],
Sometimes I wonder if you know the kind of impact you have. Like, your little acts of kindness? They're like big waves in my world. Even when stuff got real, you never bailed. I'm super lucky to have you around. Thanks for being so freaking awesome.
6. Hey!
I don't know how you do it, but every time I'm down, you're there lifting me up. It's like you've got this magic touch making everything feel okay. And for that? A massive thank you and an even bigger virtual hug!
7. [Name],
You ever pick up a book that just changes everything? That's you. You've turned so many of my 'meh' chapters into 'wow' moments. I'm just so grateful for every crazy story we've shared. Thanks for being my unexpected plot twist.