Sometimes, you feel so grateful that words become insufficient to express it. Rarely do you find people who bother to remember and wish you on your anniversaries.
So, to express your gratitude, you can send these Thank You messages for anniversary wishes to those wishing you and let them feel the depth of your sincerity.
There is another angle. Others may think you are unsocial If you fail to be humble or courteous enough to express thankfulness. Appreciating others' kind gestures and concern when they take the pain of remembering an occasion is crucial.
Responses to wishes also count because we depend on each other in this society. Our every word counts in life. So, be humble and grateful, and show your feelings to others with these Thank You messages.
Timeless Thank You For Anniversary Wishes
1. Your sweet messages made our anniversary even more special. They are priceless gifts to us, girl. You were the first person to wish. We were excited when we realized that we meant something in your life, and it was bliss.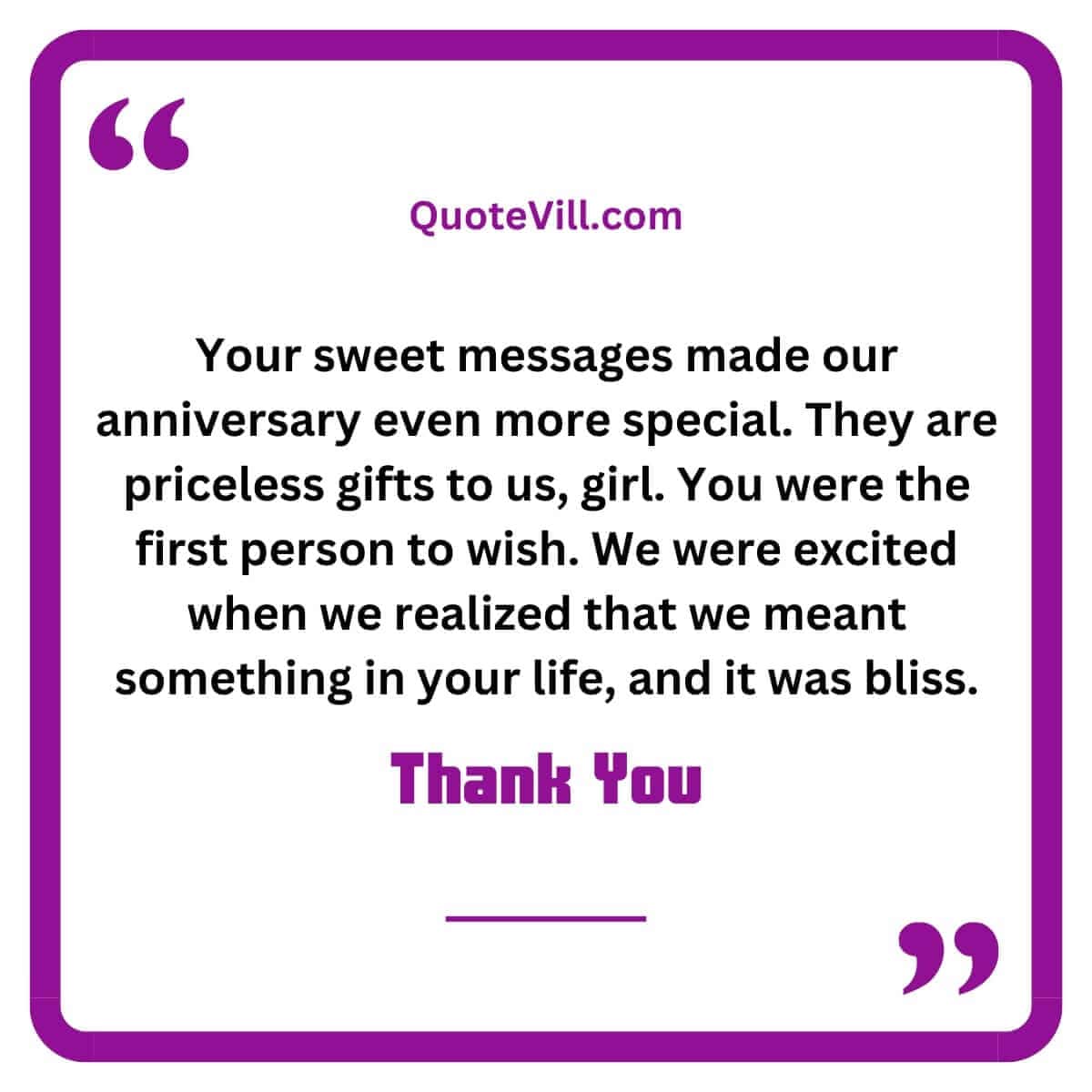 2. We were really delighted by your heartwarming and kind anniversary wishes. It brightened our day and brought a gush of warm feelings when we read your messages.
3. We all jest at you for your forgetfulness. So, it was a special moment when you wished us, and there was no bound to our happiness. We felt blessed and happy that we meant so much to you! I now lack words to say thank you!
4. Thank you very much for your sweet wish, dear! Your kind words and loving thoughts just made our day sunnier. Also, many thanks for this fascinating gift. This beautiful gift brought back so many pleasant memories with it.
5. Thank you both for your thoughtful gift and warm greetings. The feeling of warmth your message conveyed erased the geographical distance existing in between!
6. Your kind words and blessings on our anniversary were so precious that we traveled back to the times spent together. Thank you, dear. I hope we can meet up soon and cherish each moment forever.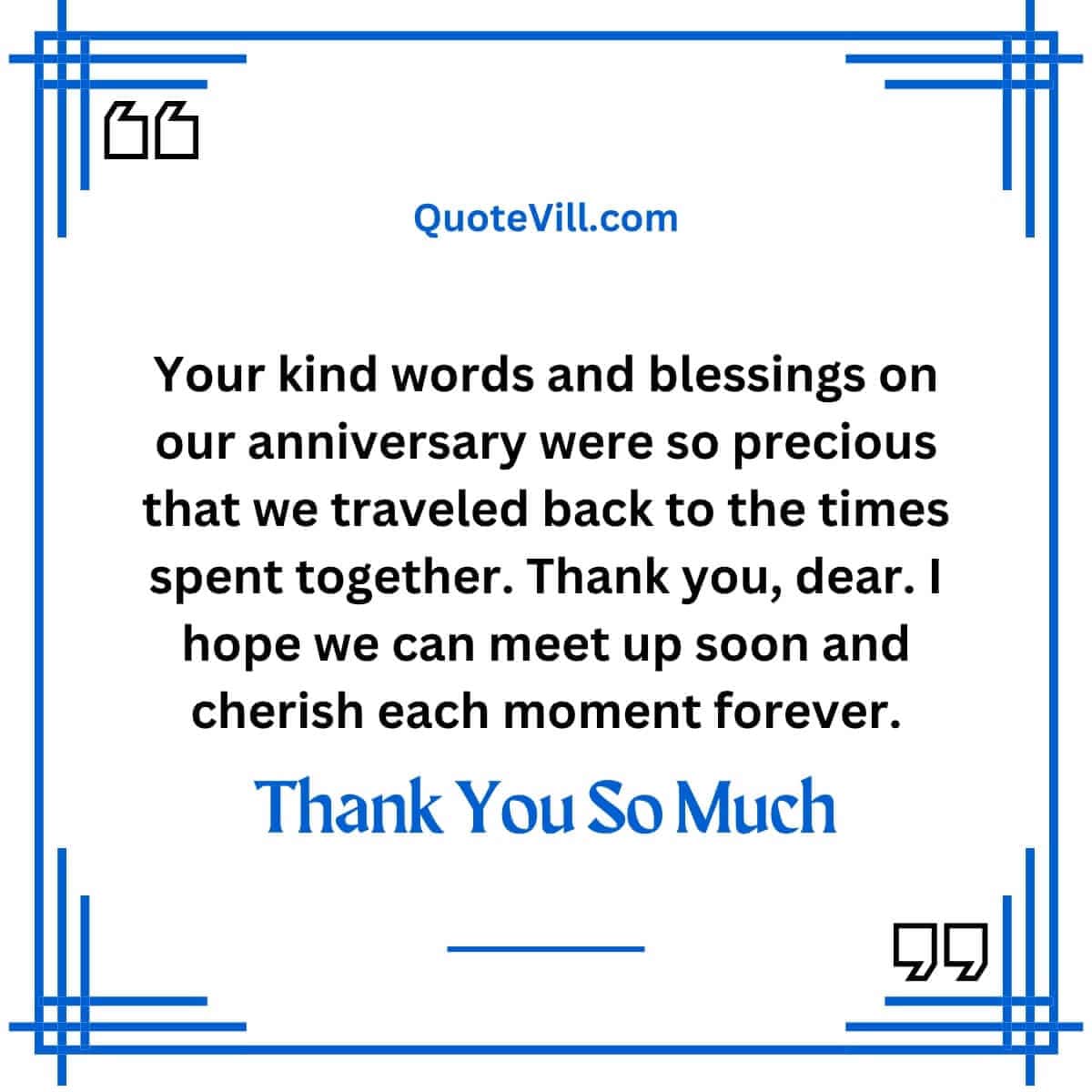 7. We were overjoyed to receive your wishes and lovely present. We sincerely thank you because, amidst your busy schedule, you made time for the event. Your presence brought back the warmth of old times when you used to be our partners in all our crimes.
8. Your wishes meant so much to us. Your gift was so thoughtful and subtle and meant no fuss. We appreciate most sincerely all that you have done for us. Thank you again from the bottom of our hearts.
9. Your presence was a pleasant surprise, as we didn't know you were in town. It is heartwarming to feel the love of such good friends, who are always ready to remove our frown.
10. Your wishes and gifts were most unique and reflected your thoughtfulness and care. We are so grateful to have such a kind and thoughtful neighbor. Thank you for making the day as joyful as ever.
See: 35 Unique Thank You Messages For Gifts To Express Gratitude
Heartfelt Thanks For All Your Anniversary Wishes
1. We are glad you wished us on our anniversary day, and indeed, it was a lovely attitude. Please accept this thank you because we lack ways to show you our gratitude.
2. Your love and support shall be with us forever. Your continuous adoration towards us shall not be forgotten ever. Thank you so much, my dear, for being so wonderful. We are grateful.
3. We don't have the desire to get extravagant gifts from you on our anniversary, but we appreciate simple wishes for a future filled with happiness and without any worry.
4. Your well wishes have undoubtedly made our anniversary so much better. No gift over words can be greater. Thank you so much for all your love and support, dear.
5. We would not have been here living a happy life if we hadn't had our friends and family. Thank you for your heartfelt wishes and for treating us so cordially.
6. We are thankful you remembered our anniversary and sent us warm wishes and love. Your support keeps our hearts warm like a glove.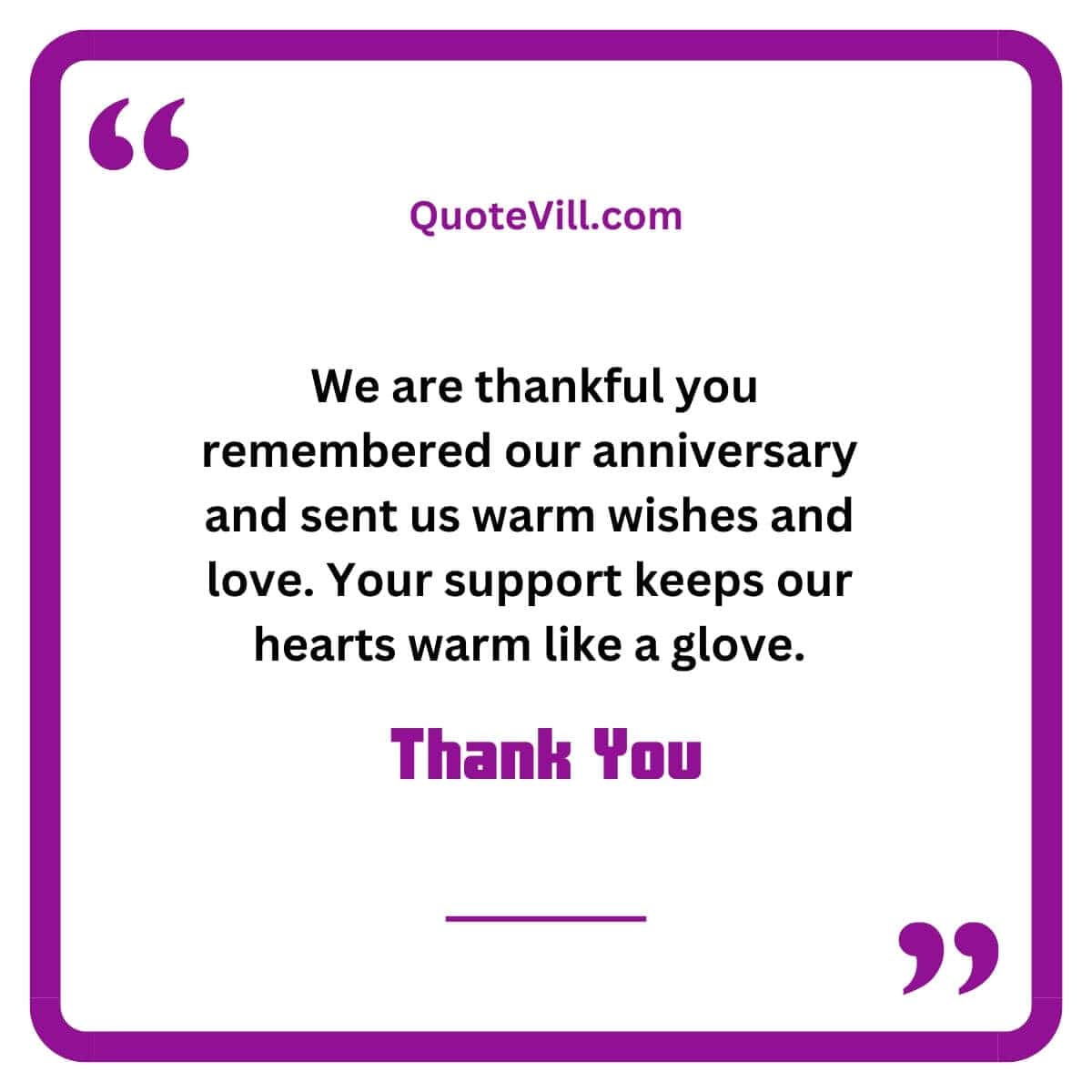 7. We are glad we got to spend our anniversary with those who love us. We are happy to live a happy life without much fuss.
8. I do not have enough words to depict the depth of my gratefulness for your warm, loving wishes. Now, I know that marriage is more than just washing dishes.
9. I'm immensely touched knowing that, after being so busy, you wished us on our special day. Your well wishes, forever with me, will stay.
10. I know the day is already special for us. But your wish has made the day even brighter for us. Thank you, dear, for all your love and care.
Personal Thank You Messages For Anniversary Wishes
1. Thank you so much for your warm anniversary wishes. We are grateful to have such a wonderful friend like you who never forget to reach out to us with their caring messages.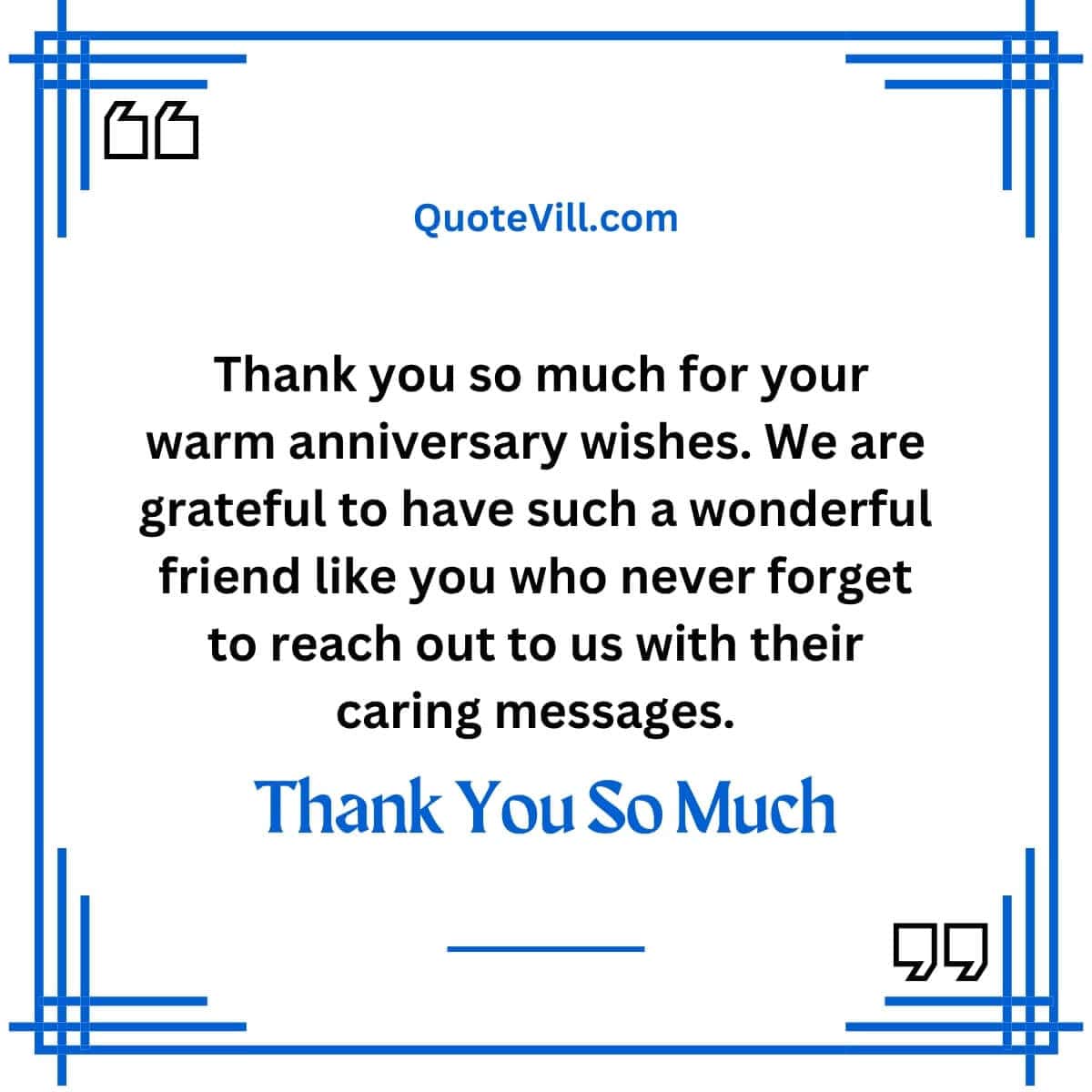 2. Your beautiful words for our anniversary really touched our hearts. Thank you for remembering our special day and becoming an important part, giving us more reason to celebrate. We appreciate your kind gesture from the very start.
3.Your thoughtful anniversary wishes really mean a lot to us. Thank you for being a part of our journey while supporting us from the beginning, which is a bonus.
4. Thank you for your lovely anniversary wishes, which brought immense joy to our hearts. We feel blessed to have such a fascinating person in our lives as a counterpart.
5. We are very grateful for your heartfelt anniversary wishes and for becoming a witness. Thank you so much for your love. Without your personal touch, celebrating this special milestone would have been tough.
6. Your fascinating anniversary wishes made our day even more special. Thank you for being a part of our love story and for making us a bit social.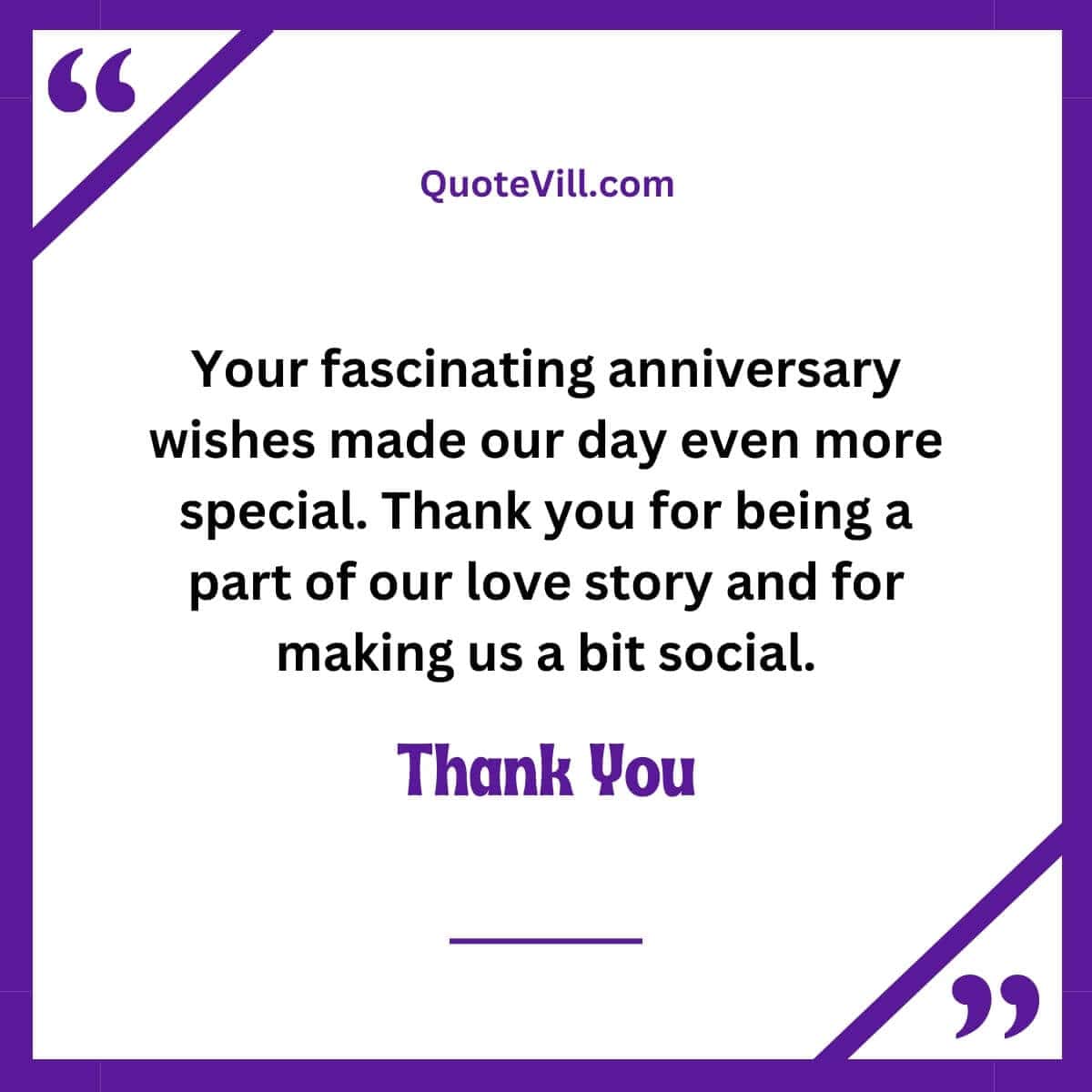 7. We genuinely want to thank you for showering us with your love and blessings through your heart-touching anniversary wish. Your wish brought smiles to our faces, making us pout like fish.
8. Thank you for your love and well wishes. Thank you for being there for us at every step of our journey, and we are truly overwhelmed by your superb anniversary messages.
9. Thank you for your massive support throughout the years. It is really a matter of honor to have someone like you as a part of our lives who truly cares.
10. We want to express our deepest gratitude for your mind-blowing anniversary wishes. Thank you so much for being a part of our happiness.