We celebrate our birthdays and marriage anniversaries every year, but some people remember their loved ones on their death anniversary even after ten years. So, we curated these "10 year death anniversary quotes" for them.
Since death is the most painful truth of our life, we tend to forget the death anniversary of our close ones. However, for some people, it is challenging enough to forget their loved ones, so every year, they remember their death anniversaries.
Without crying out loud and remembering them with agony and pain, you can use these 10-year death anniversary quotes and let your loved ones know you still remember them.
On the death anniversary, some may pray to God for their family member residing in heaven. Others may feel grateful because death freed their loved ones from suffering and sickness.
Our "10-year death anniversary quotes" are for both. Use them and feel solace when the pain becomes unbearable without your near and dear ones.
How Do You Honor A 10 Year Death Anniversary
Organize a Gathering: Bring together friends and family to share stories, laughter, and perhaps tears. This gathering can be a healing experience.
Charitable Contributions: Make a donation or volunteer in their name at a cause they cared about. This can keep their spirit of giving alive.
Visit Their Resting Place: Spend some quiet time at their gravesite, or the place where their ashes were scattered. This private moment can help connect you to their memory.
Candlelight Vigil: Light a candle in their memory. The warm, gentle light is often seen as a symbol of hope and love that endures.
Artistic Tribute: Write a song, paint a picture, or create any form of art that helps you express your feelings and celebrates their life.
10 Year Death Anniversary Quotes
1. "It's been a decade, but feels like yesterday. We still miss you, we still love you, and we still remember every moment with you."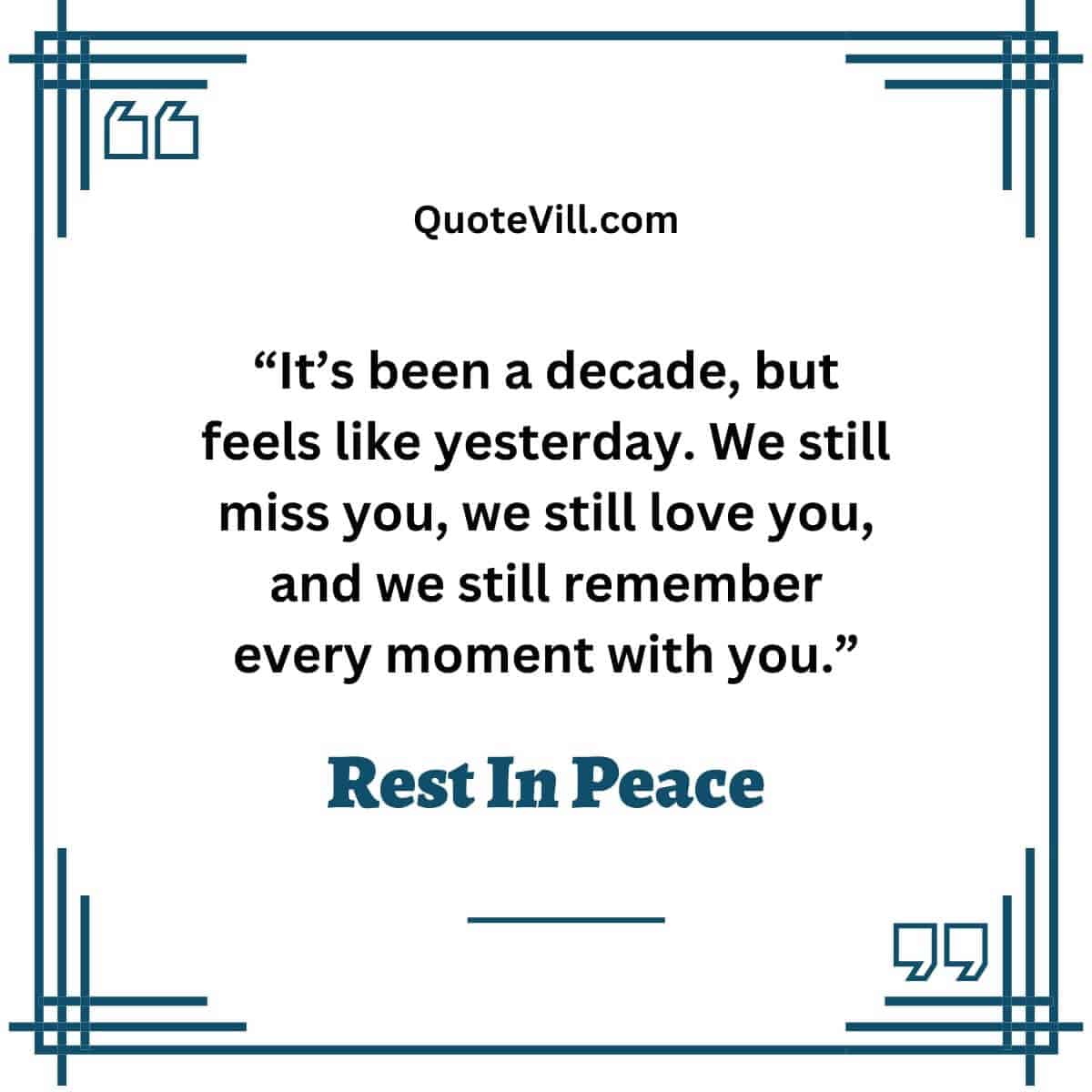 2. "Ten years later, the chair's still empty. But your laughter, love, and wisdom? They're everywhere."
3. "Even after a decade, we still find ourselves reaching for the phone to share a joke, or a story. You're still such a big part of us."
4. "On this day, ten years ago, we shared our last goodbye. You've become the wind that whispers in our ears, the sun that warms us, and the moon that watches over our dreams. We miss you, always."
5. "Death took you from our grasp, but not from our hearts. Ten years later, we continue to carry your memory with us – like a cherished gem that sparkles even in the darkest nights."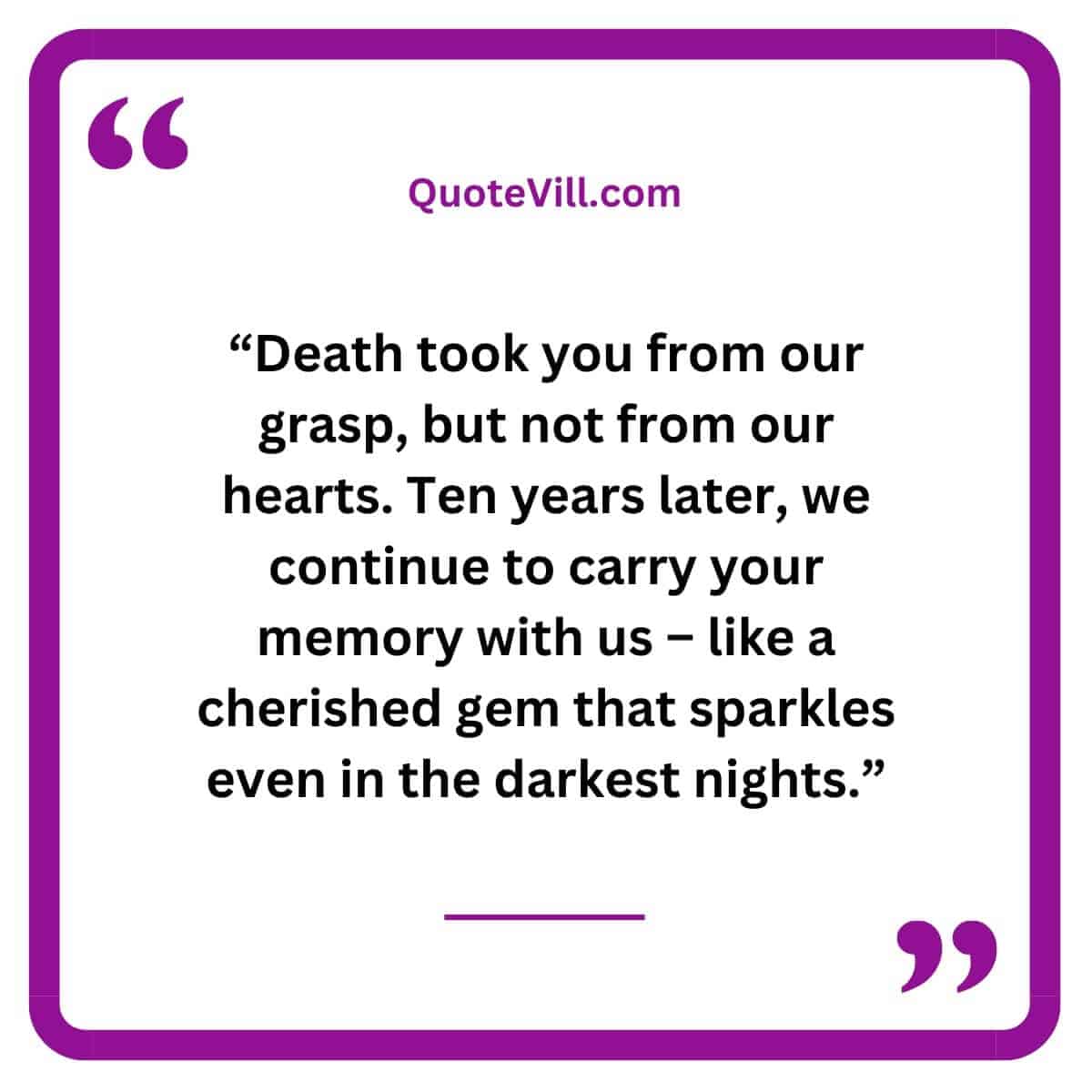 6. "It's been a decade since your journey took you beyond our sight. Today, we remember not your departure, but the countless moments of joy and love that painted our lives in the colors of your spirit."
7. "Ten years may have passed since you danced into the light, but we feel you in every sunrise, every bloom, every quiet moment. You're no longer in our world, but forever in our hearts."
8. "A decade of missing you, yet our love for you hasn't aged a day. The beauty of your soul continues to illuminate our path, guiding us towards love and kindness, just as you did when you were here."
9. "Ten years ago, the heavens gained an angel. Today, we remember not just the sorrow of your parting, but the love you imprinted on our hearts that will stay with us forever."
10. "Time has been a strange thing since you left. It's been ten long years, yet the impressions you left are as fresh as morning dew. We cherish the love and wisdom you've gifted us, your legacy lives on."
10 Year Death Anniversary Quotes For Loved Ones
Reflecting upon and celebrating the life of a loved one is an integral part of healing. Here are some powerful quotes of death anniversary for family members such as Mom, Dad, Brother, Sister & Grandparents, etc that can be used or adapted for memorial services, memory books, or social media tributes:
10 year Death Anniversary Quotes For Mom
1. "Mom, you may be out of sight, but you're forever in my heart. Though it's been years, it still feels like yesterday when your laughter filled our home. Your absence is a silent conversation we carry on in our hearts."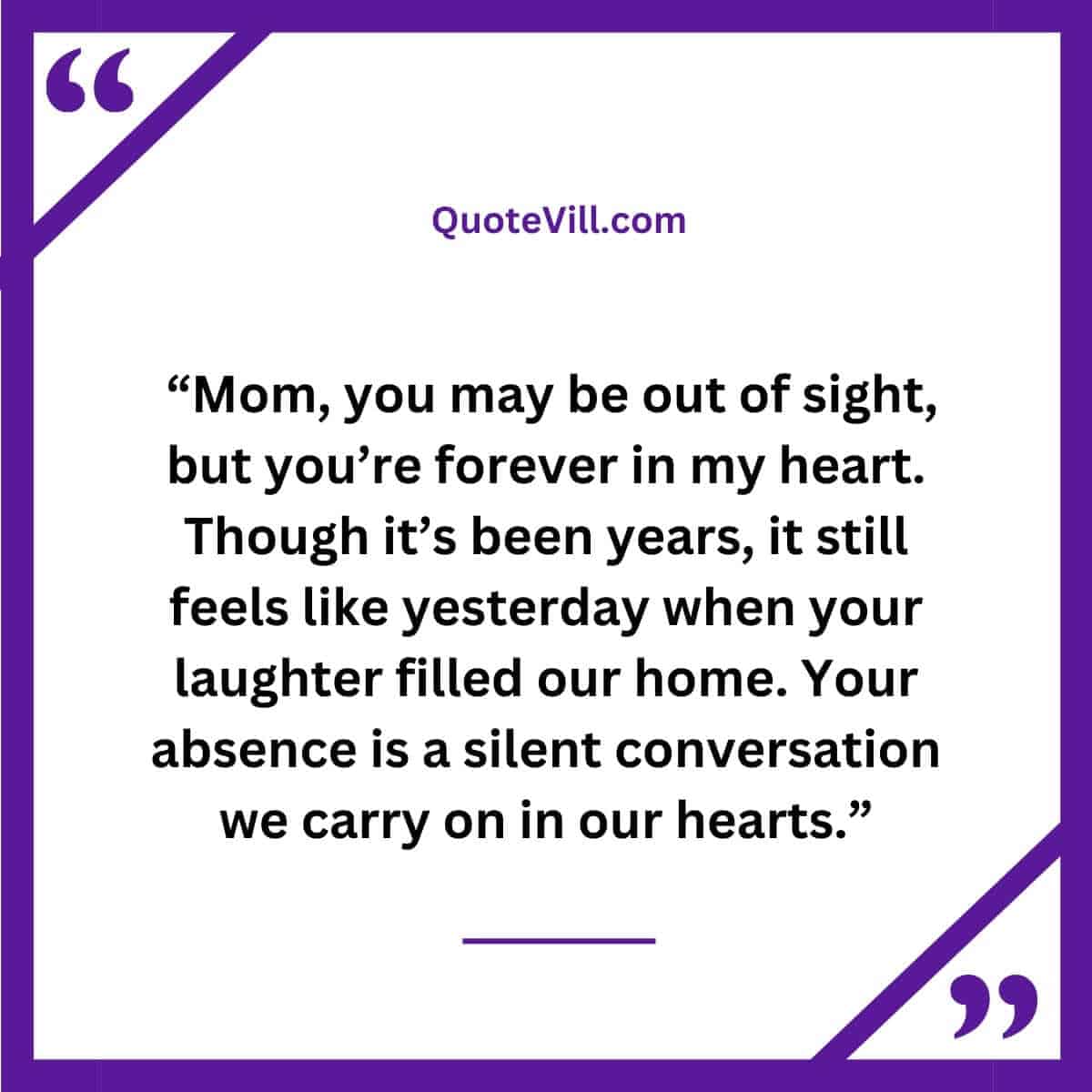 2. "The years have flown by since you left us, but your love has been my compass, guiding me through life's ups and downs. You were, are, and always will be my guiding star, Mom."
3. "Every sunset reminds me of your comforting embrace, and every dawn brings me hope that I'm one day closer to seeing you again. You may not be here in person, Mom, but your spirit is my constant companion."
Related: Emotional Death Anniversary Quotes For Mother
4. "Mom, the tapestry of my life bears your vibrant threads. Even after all these years, your legacy lives on in every decision I make and every dream I pursue."
5. "Mom, you were my first teacher, my first friend, my constant cheerleader. Your love was my strength, and it remains so, even in your absence. Celebrating you today, tomorrow, and always."
10 Year Death Anniversary Quotes For Dad
1. "A decade without you, Dad, and yet I still feel your strong hand guiding me, hear your encouraging words when I need them most. Your love was, and is, my pillar of strength."
2. "Dad, it's been years, but your lessons still guide me. In every hard-earned success, every tough decision, I see your wisdom. Your spirit is etched in every chapter of my life."
3. "Remembering you today, Dad, and feeling grateful for every moment, every memory. Even though you're gone, your spirit dances in every ray of sun, every drop of rain."
4. "Ten years later, your words still ring true, Dad. Your guidance is my compass, your love my shield. In every echo of nature, every whisper of the wind, I feel your presence."
5. "In your absence, Dad, I've come to realize that you never really left. I see your reflection in my deeds, hear your voice in my thoughts. You're still here, guiding me from above."
Check: 1 Year Death Anniversary Quotes For Dad
10th Death Anniversary Quotes For Brother
1. "It's been years, but I still hear your laughter in every joyous moment, feel your strength in every challenge. You've left, brother, but your spirit dances with us in every rhythm of life."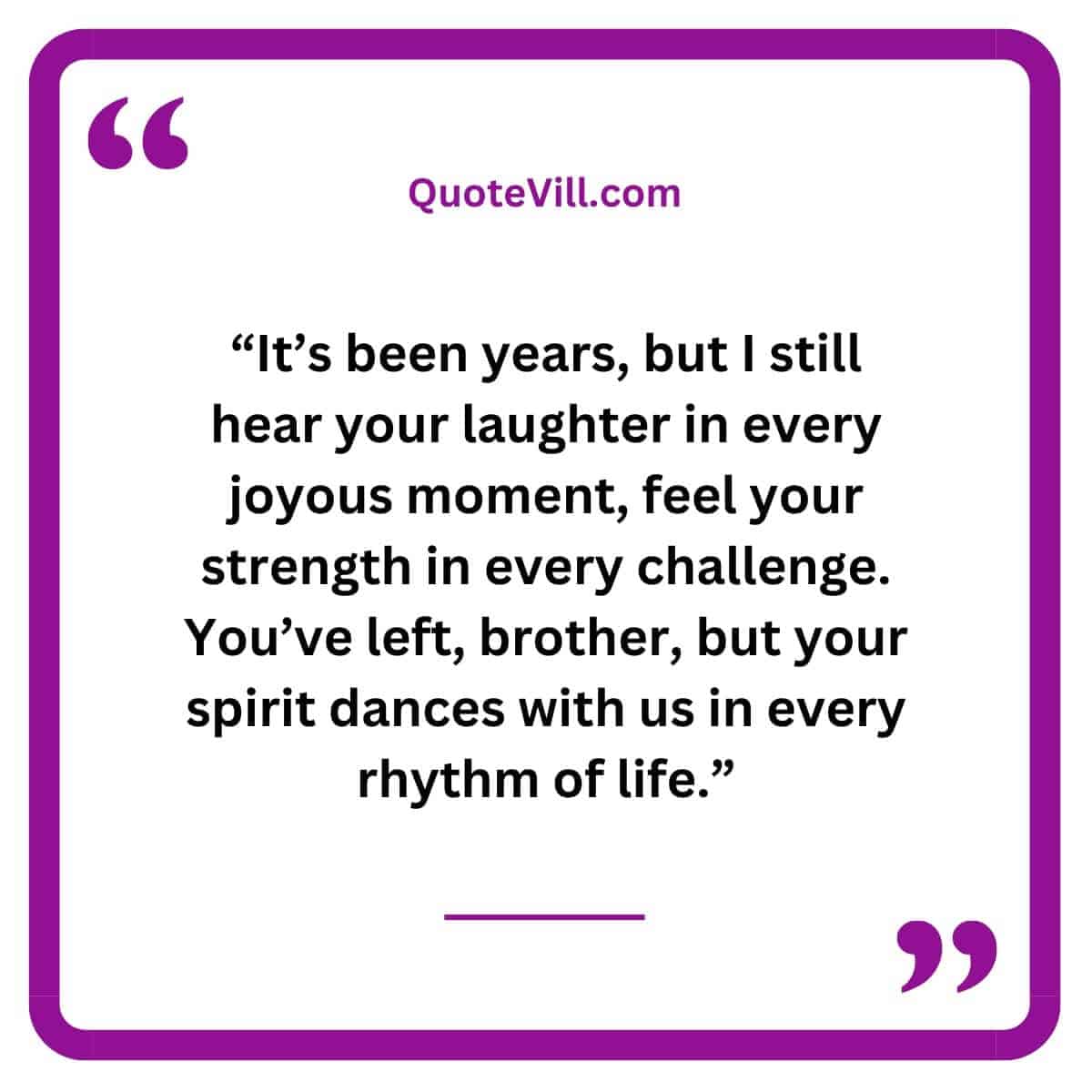 2. "Though we walked different paths, we shared the same sky, the same laughter, the same dreams. Brother, you remain a part of me, an irreplaceable piece of my soul."
3. "They say time heals, but brother, your absence still echoes in the silence of our home. You may be out of sight, but your essence is forever etched in my heart."
Related: Death Anniversary Quotes For Brother
4. "Brother, in every moment of joy, every spark of inspiration, I see your face, hear your laughter. You've been my guide, my friend, my partner in mischief, and I miss you every day."
5. "Your departure doesn't make you absent, brother. You live within our stories, our smiles, our tears. We carry you in our hearts as we walk this journey of life. Missing you, today and always."
Death Anniversary Quotes For Sister
1. "Hey sis, even after all this time, I can't help but miss our gossip sessions and your infectious laugh. You're not here, but man, you're with me in every step I take."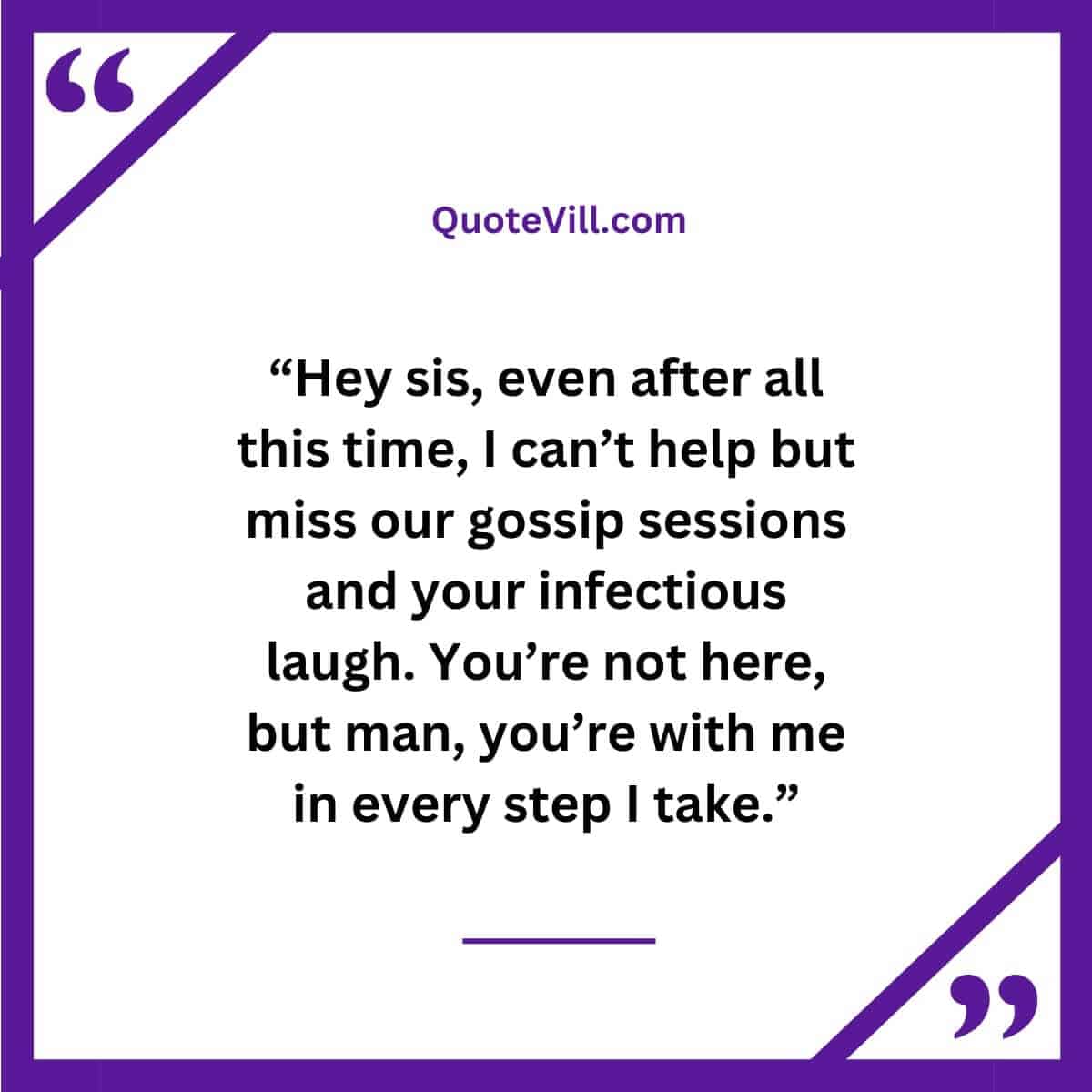 2. "Sister, I miss you. I miss our talks, our jokes, the comfort of just knowing you're around. But I find peace knowing you're up there, looking out for me."
3. "Every time I see a sunrise or a starlit night, I think of you, sis. I miss you more than words can say, but those little reminders of you? They help."
Check: Heartfelt Death Anniversary Quotes For Sister
4. "The world may change with the seasons, but my love for you, sis, that's unchanging. You continue to light up my life, even when you're not here."
5. "The love between us, sis, it's timeless, deep, and unshakeable. Even though you're gone, I feel your spirit in every beat of my heart."
10 Year Death Anniversary Quotes For Grandparents
1. "I'm remembering you today, Grandma and Grandpa. You taught us how to be kind, patient, and to enjoy life's simple things. You're not here, but your lessons are alive in us."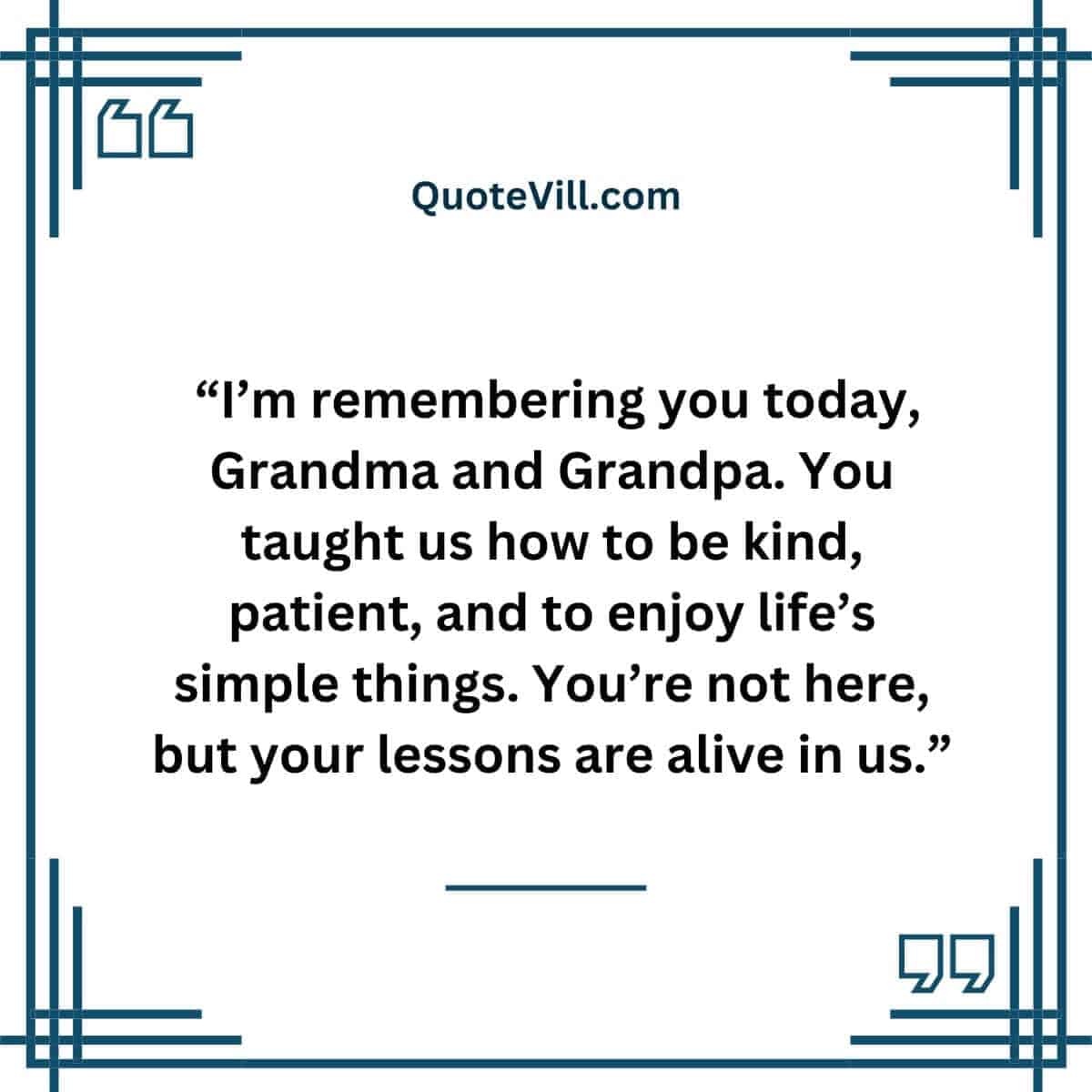 2. "I miss you, Grandpa and Grandma. I miss your stories and your comforting presence. But I know you're still with me, guiding me."
3. "Dear grandparents, you filled my childhood with love and kindness. And even though you're gone, I keep these memories close to my heart. You're missed, every single day."
4. "ou're not here physically, grandparents, but you left an impact on our hearts. Your love and your teachings continue to shape our lives. Here's to you, with love."
5. "You might have left us, Grandpa and Grandma, but you've left footprints of love on our hearts. Your spirit lives on, guiding us and lighting our path. Remembering you with love, today and always."
1. "Missing a friend for ten years is like a long echo, reverberating through the halls of time, whispering in soft undertones, 'I remember you."
2. "A decade has passed, and yet your name still tastes like home on my tongue. Friends like you never really leave, they just take the backstage in our lives."
3. "In the library of life, our chapter ended too soon. But, buddy, every page is well-thumbed, every line cherished."
4. "We stitched our stories in the fabric of time, a tapestry of friendship untouched by ten years of your absence."
5. "You're an echo in my laughter, a shadow in my strides, a gentle whisper in the breeze. A decade without you is a testament to the fact that friendship outlives farewells."
6. "Your memory is a treasured collection, a montage of laughter, shared secrets, and dreams. It's been ten long years, my friend, but you're still the brightest star in my sky of memories."
Words Of Comfort On 10 Year Death Anniversary
1. "Even after a decade, the influence of your loved one's life still shimmers brightly. Their memory continues to inspire, to comfort, to guide. Hold onto those treasured moments."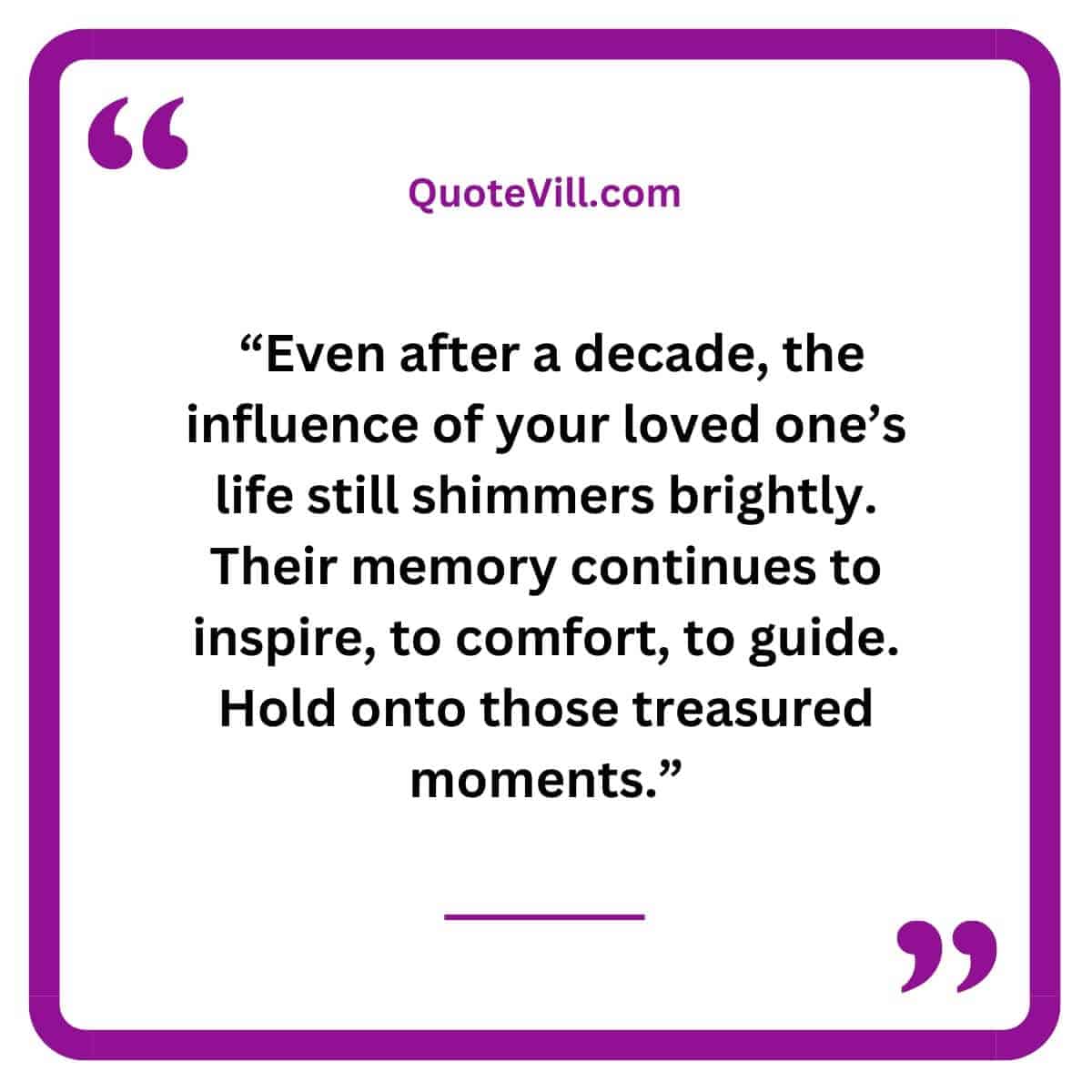 2. "It's been 10 years, but their essence remains woven into the very fabric of your life. Their love continues to bloom in your heart. Remember them with a smile today."
3. "A decade has passed, but the impact of your loved one's life is still felt. Their wisdom, their laughter, their love, they remain a part of your world. Cherish those memories."
4. "Time may fly, but your loved one's influence stands still. A decade later, they still live on in your words, your actions, your dreams. Their spirit is your guiding light."
5. "It's been a decade, but their love endures in your heart. Their memory is your keepsake, and their spirit your strength. You're not alone in remembering them."