It's been two years since you've lost someone dear. We're sorry you had to go through it.
Today, with these 2 year death anniversary quotes, send your love to a soul in heaven or give your regards to their family.
A few words of warmth and love can comfort someone in ways you can't imagine. Sending your condolences to the family who has been through so much already is the best way to show them that they're not alone in this.
When facing the two year death anniversary of a loved one, it can be helpful to turn to meaningful quotes as a way to remember and express our feelings. Quotes have a way of capturing the essence of what we feel when words fail us.
Whether you're looking for inspiration, comfort, or simply a way to keep their memory alive, we've compiled a list of touching 2 year death anniversary quotes for you to use and reflect upon for this important milestone.
Touching 2 Year Death Anniversary Quotes
1. "Two years have passed, yet it feels as though we said goodbye only yesterday. Your absence has created a void, a silence too loud to bear."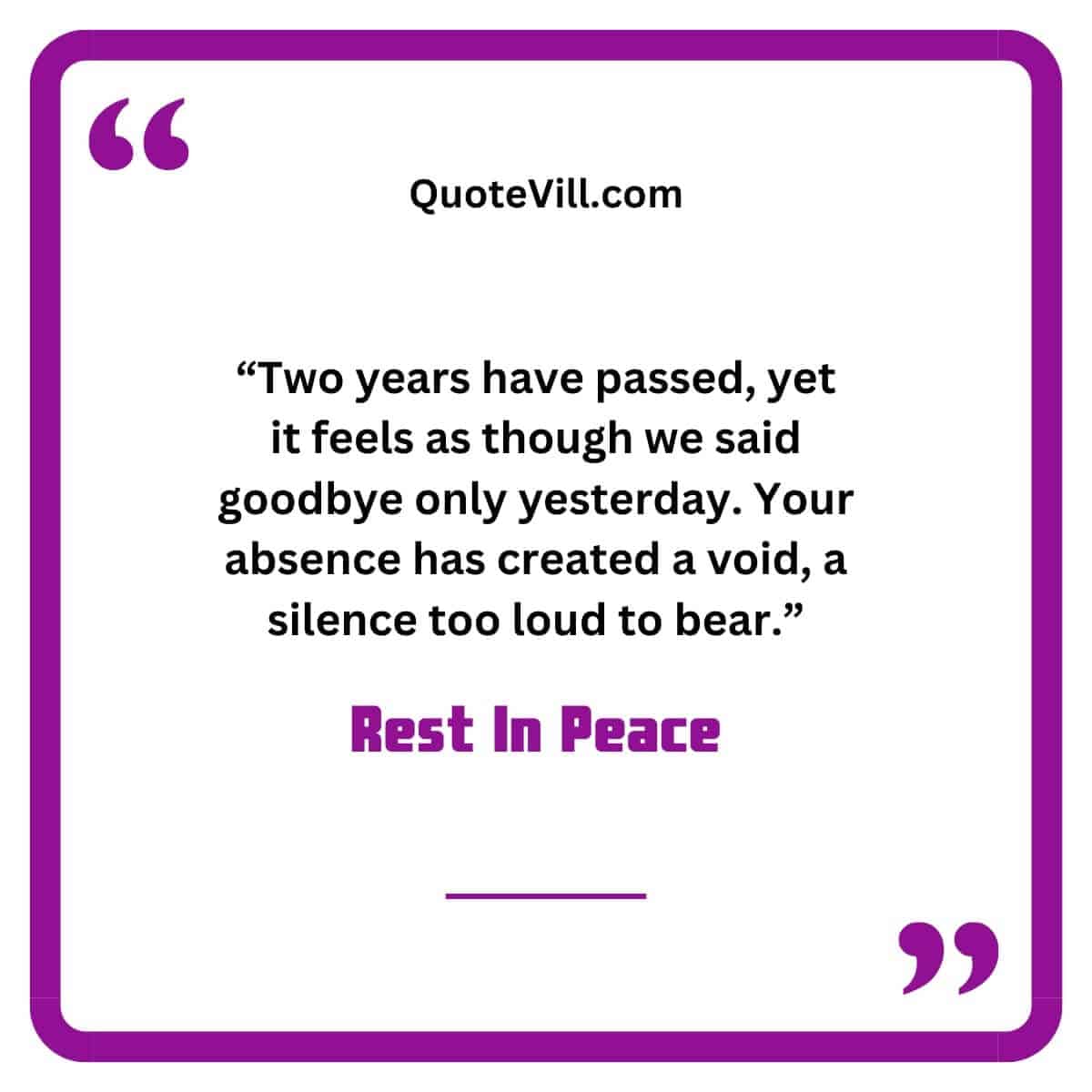 2. "Every day is a reminder of your laugh, your words, your love. Yet, these two years have taught us the art of surviving with a piece missing."
3. "It's been two years since you left us but your memories still stay with us like a blessing. We will always miss you."
4. "Death leaves a heartache no one can heal, love leaves a memory no one can steal. Today marks another year without you, as I stand here longing for your presence like only yesterday."
5. "Your memory, like a constant echo, has followed us through every passing moment, every day of these two years without you."
6. "Two years without your voice, two years without your smile. Grief may have softened, but it hasn't gone away."
7. "In these two years, the world has turned, the seasons have changed, but the space you left in our hearts remains unaltered."
8. "It's been two years Mom/Dad/Grandma/Grandpa – today seems even more difficult compared to the last anniversary. We miss you more than words could ever explain"
9 "Maybe God wanted you back by His side for two short years – so He could show how much he loves you… and how much we miss it too"
10. "In every tear shed, in every silent whisper, your absence resonates. Two years have passed, and still, we miss you as if it were day one."
11. "Two years ago, you took a piece of our hearts with you. Now, every beat echoes your name, every rhythm sings your memory."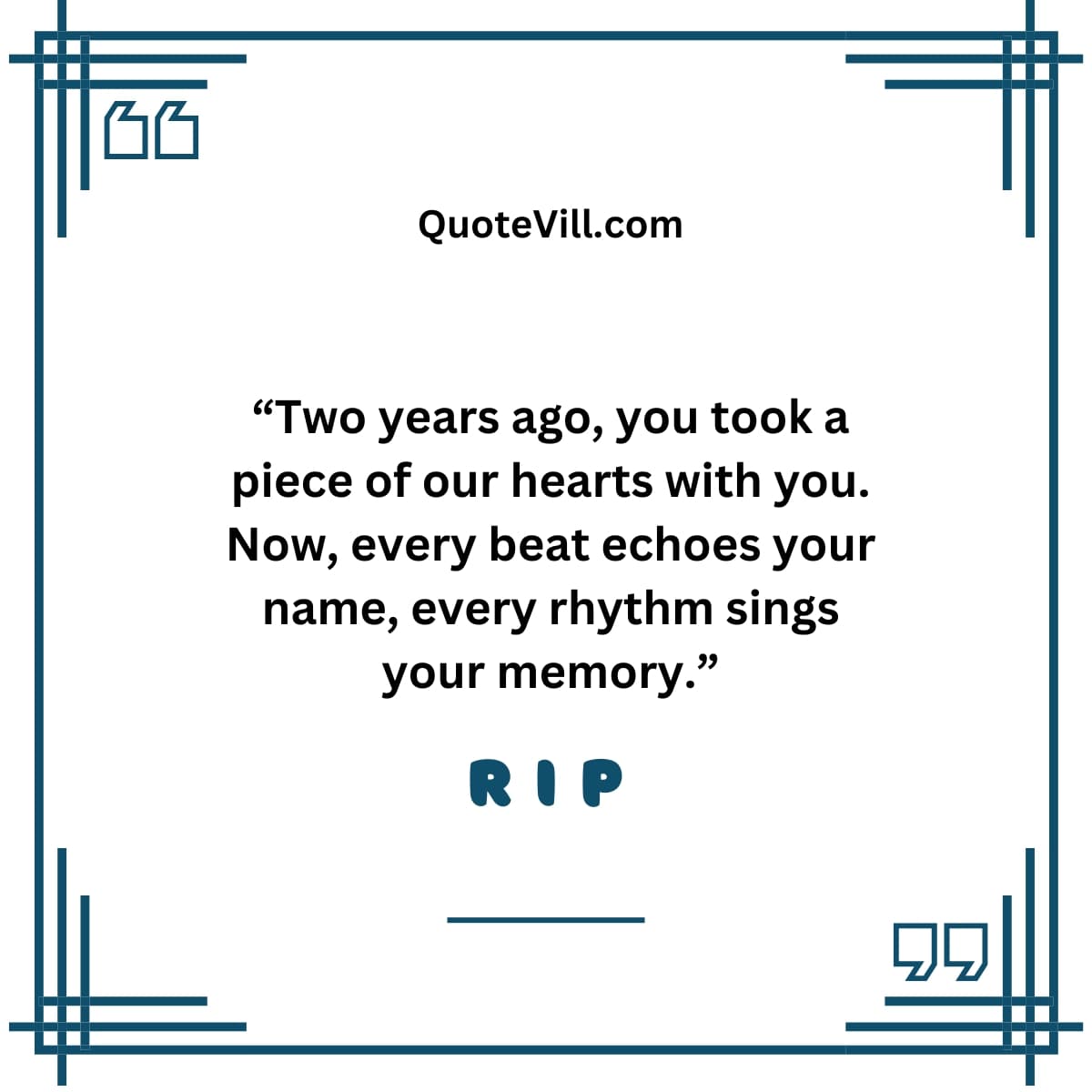 12. "We've journeyed two years without you, learning to dance with the ghost of your memory in the silence of our hearts."
13. "Two years since your laughter faded, two years since your light dimmed. Your absence hasn't become easier; we've just become stronger."
14. "It's been two years, but your spirit lingers, unyielding and profound. Our hearts ache with the memory of you, a sorrow deeper than time."
15. "Two years without you, yet each day echoes with the longing for your touch. Your love remains a deep-rooted part of me."
16. "This day marks our parting, but your laughter, tears, and love still resonate within me. You may have departed, yet your spirit endures."
17. "Two years have evaporated, but my love for you stands still. I cherish our shared moments, keeping your spirit alight in my heart."
See: 10 Year Death Anniversary Quotes To Remember
2 Year Death Anniversary Quotes For Dad
1. "Two years have passed, dear father, yet your lessons echo within my every step. The whispers of your wisdom, like the quiet rustle of leaves in the wind, continue to guide me. I carry your love, wrapped delicately within each beat of my heart."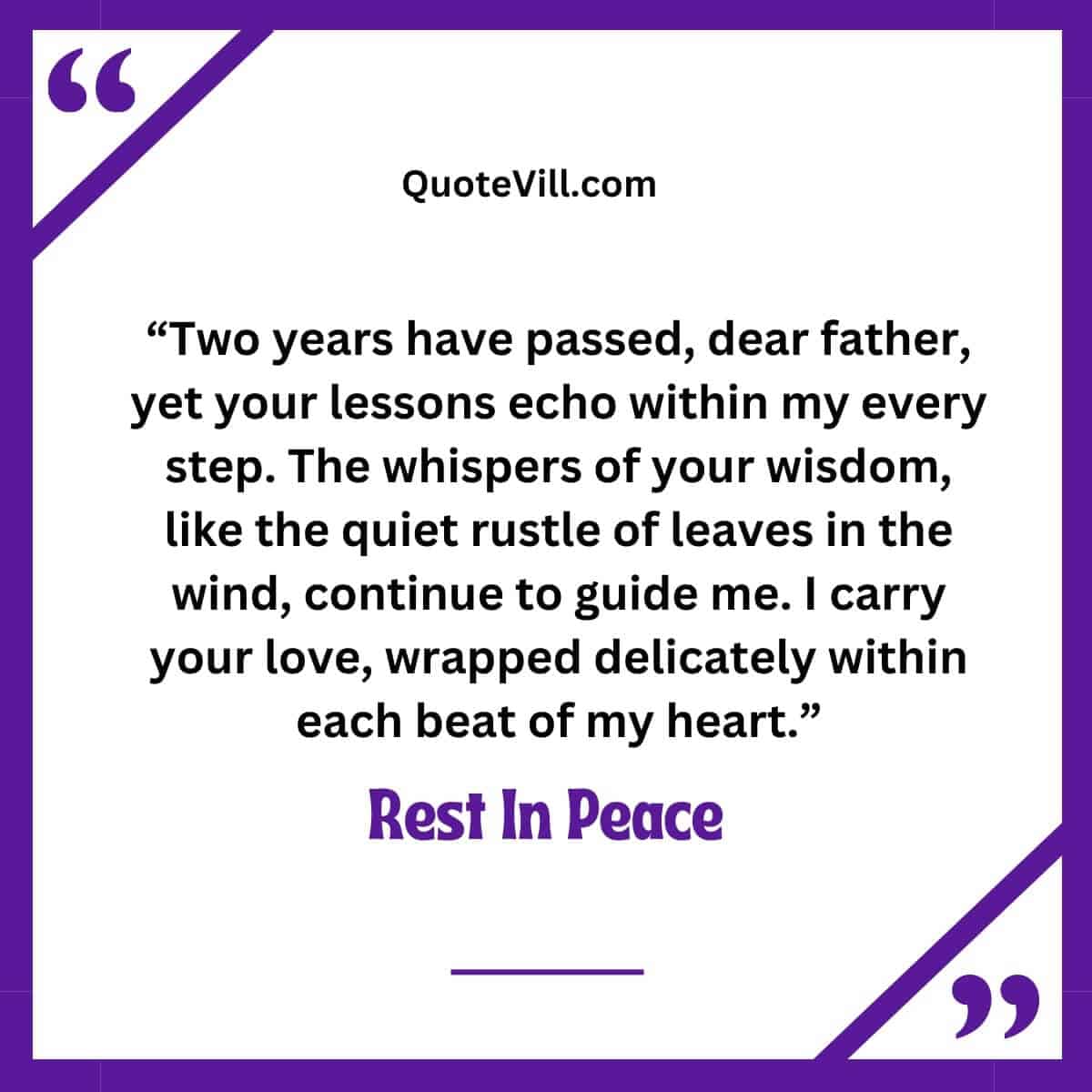 2. "As we mark the second year of your departure, Dad, there's not a single day that's been devoid of your absence. Your guidance, strength, and love continue to light my path, despite your physical absence. Eternally thankful for our shared times, eternally yearning for your presence."
3. "Dad, as I walk through the garden of life, I'm haunted by the emptiness where your laughter used to bloom. Your loving care was my sunshine, your honesty – my true north. Now, I navigate through my journey without you, yet feel you with me, in the hush of the wind, in the serenity of the stars."
4. "Two years have swept by, Dad, but in my deepest sorrow, solace is found in the treasury of our shared moments. Your earthly silhouette may have faded, yet our bond remains unyielding. You're gone, yet your spirit guides me still. My love for you endures, unbound by time."
5. "Today marks the second year of your absence, father. Yet, time hasn't dulled the sharpness of this loss. Your teachings are my shield, your memories are my solace. As I traverse these days, I learn to live not without you, but with the richness of your legacy etched in my soul."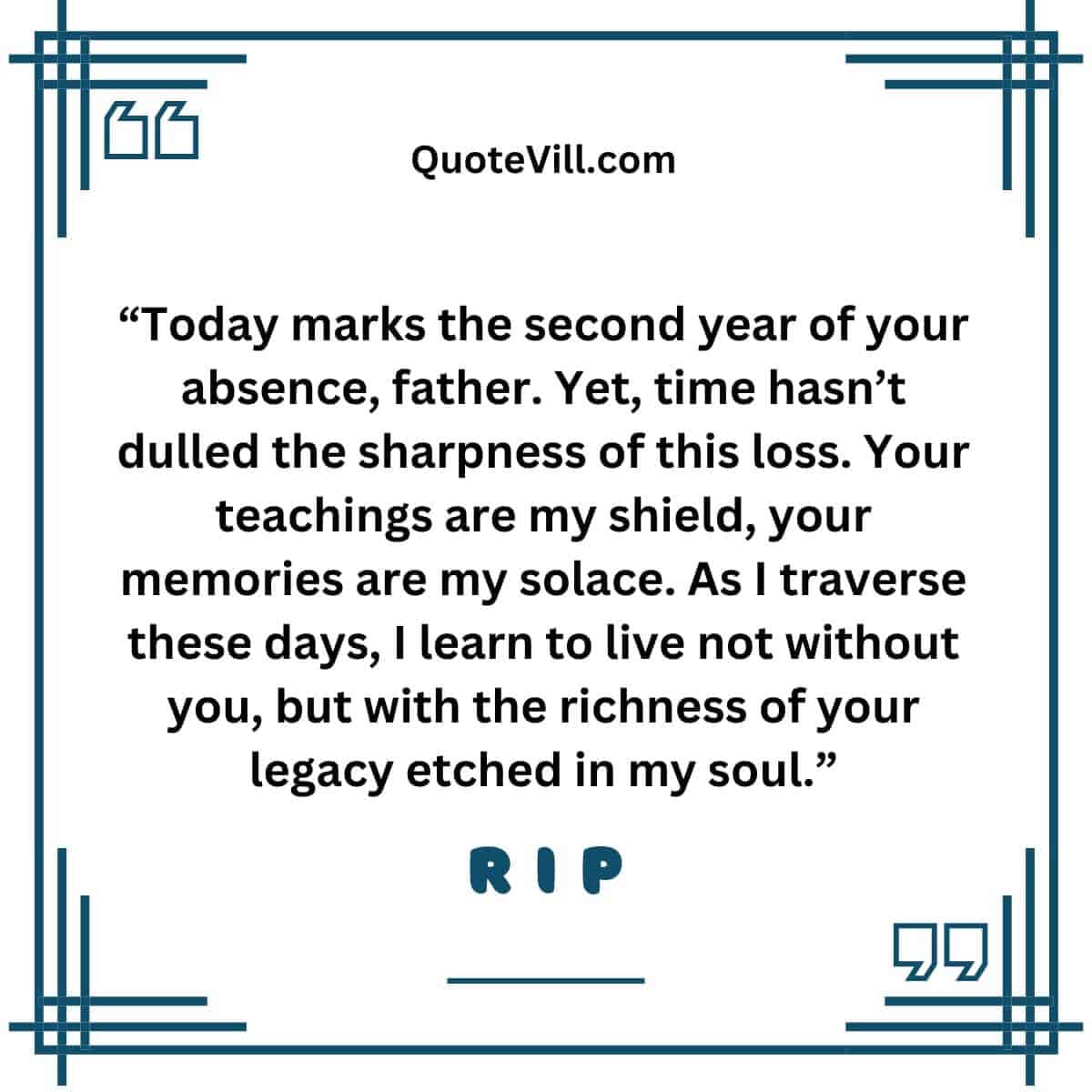 Related: 1 Year Death Anniversary Quotes For Dad
6. "Marking your second anniversary, Dad, your memory remains a cherished jewel in the casket of my heart. Despite time and space unfolding between us, our shared love defies all. Today, as I honor you, my eyes glisten with longing, my lips curve at the thought of our precious memories. You're forever held within my heart."
7. "Two years, and your voice still lingers in the silence of our home, dad. Each corner hums with our shared stories, each room echoes with our laughter. I miss our simple moments, our silent conversations. In my solitude, I've found a kinship with your memory, a silent partner on this road of healing."
8. "Two years without you, Dad, but your memory serves as my rock, my unfaltering strength. I carry your wisdom and love within me, propelling me through each day. Your legacy blossoms within me, a constant reminder of my aspiration to honor your memory."
9. "It's been two years, dad, since you set sail on the ocean of eternity. I am left behind, staring at the horizon, yearning for our shared sunsets. Your honesty, your friendship, your love – they are my anchors, keeping me grounded in a world that seems a little less bright without you. Though the tides of time continue to roll, our bond remains, steadfast and unbroken."
10. "Two years on, and the theory of time healing all wounds feels a myth, for your absence still carves a fresh wound. The tears may have ceased, but the ache endures. Yet, there's solace in believing that you're observing and guiding me from beyond the stars."
2 Year Death Anniversary Quotes For Mom
1. "Mom, as I walk the paths we once shared, I feel the void of your gentle whispers and the warmth of your embrace. Your memory is a cherished melody that echoes in my heart. Two years, yet it seems like yesterday. I miss you more each passing day."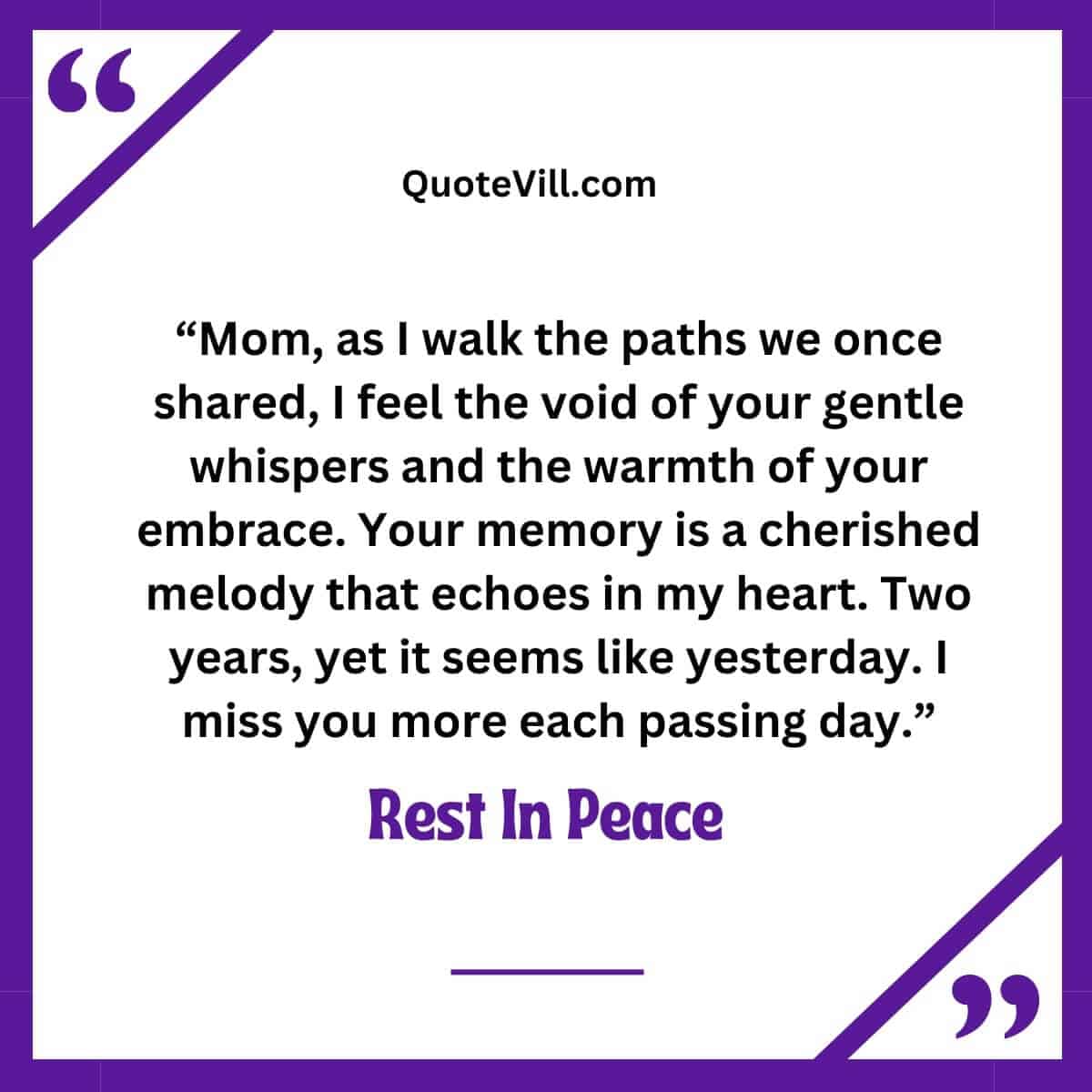 2. "Your love was a lighthouse in the stormy seas of life. The echo of your laughter, the comfort in your touch – all a precious tapestry woven with threads of our shared moments. Two years on, your absence has been a journey of silent tears and hidden smiles. I miss you, mom."
3. "Through these two years, your lessons have been my guiding star, your memory my comfort. I miss your wise words, your tender care, the shared secrets, and the late-night laughter. Your love endures in my heart, my dearest mom."
4. "Time's relentless tide carries us away from the shores of shared moments. Two years, mom, and I miss our shared morning coffees, our silent walks in the park, and the comforting hush of your lullabies. Yet in my heart, you are always with me."
5. "Mom, our shared dreams and hopes still linger in the rooms of my heart. I miss your advice, your shared joy in my success, and even more, your shoulder in my failures. The calendar marks two years, but in my heart, it's only a moment since you've gone."
6. "Two years, mom, and I've learned to laugh and love again. Yet, behind the sunshine, there's always the missing piece, the silence where your voice once lived. I miss our shared stories, the comfort of your presence, the joy of your smiles."
Related: 62 Emotional Death Anniversary Quotes For Mother
7. "Mom, every step I take is a step I wish I could share with you. The absence of your warmth and gentle wisdom is felt deeply. Two years have passed, and every day I remember you with love, longing, and an unending wish for just one more moment."
8. "Our shared dreams, our shared silence, the soft echo of your laughter – they've been my lighthouse through the stormy seas of these past two years. Every day, mom, I miss you a little more and love you a lot more."
9. "Mom, in my dreams, we are together again, walking in the old garden, sharing tales of the day. When I wake, the harsh reality sets in – it's been two years without you. Your memory is my most precious keepsake."
10. "Two years have passed, but time has not dulled the sparkle of your love. Your wisdom, your comfort, your laugh – all are missed, all are cherished. I live my days in your honor, mom, missing you and loving you, always."
1. "Every sunrise brings the painful reminder that you are no longer with us. Your absence fills the world with a silence too loud to bear."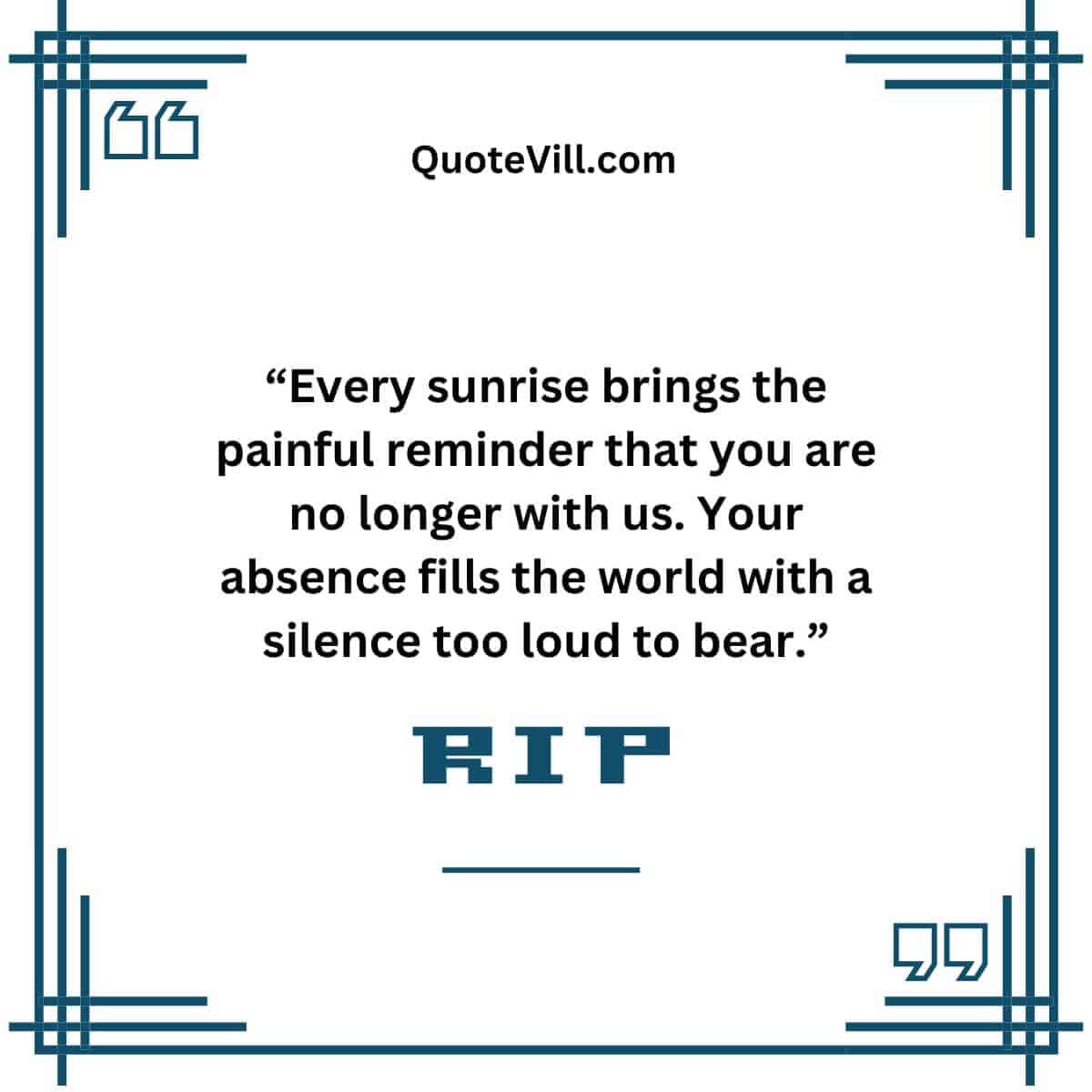 2. "Even after two years, I find myself looking for you in every laughter, every song, every shared memory. It's not the same without you."
3. "Time has moved on, but it forgot to take my sorrow along. The world is less colorful, less vibrant, less lively without you."
4. "Your memories are etched deep into my soul, a bittersweet reminder of what once was. I miss you, my friend, more than words can express."
5. "In the silent moments when I'm alone, your absence hits the hardest. Life has been an empty theatre ever since you took your final bow."
6. "In your absence, our shared jokes became silent whispers, and shared dreams turned into hushed wishes. Two years on, and your absence remains an unfillable void."
7."Though two years have passed, the echo of your laughter still haunts me, the whisper of your name still sends shivers down my spine. You are missed beyond measure."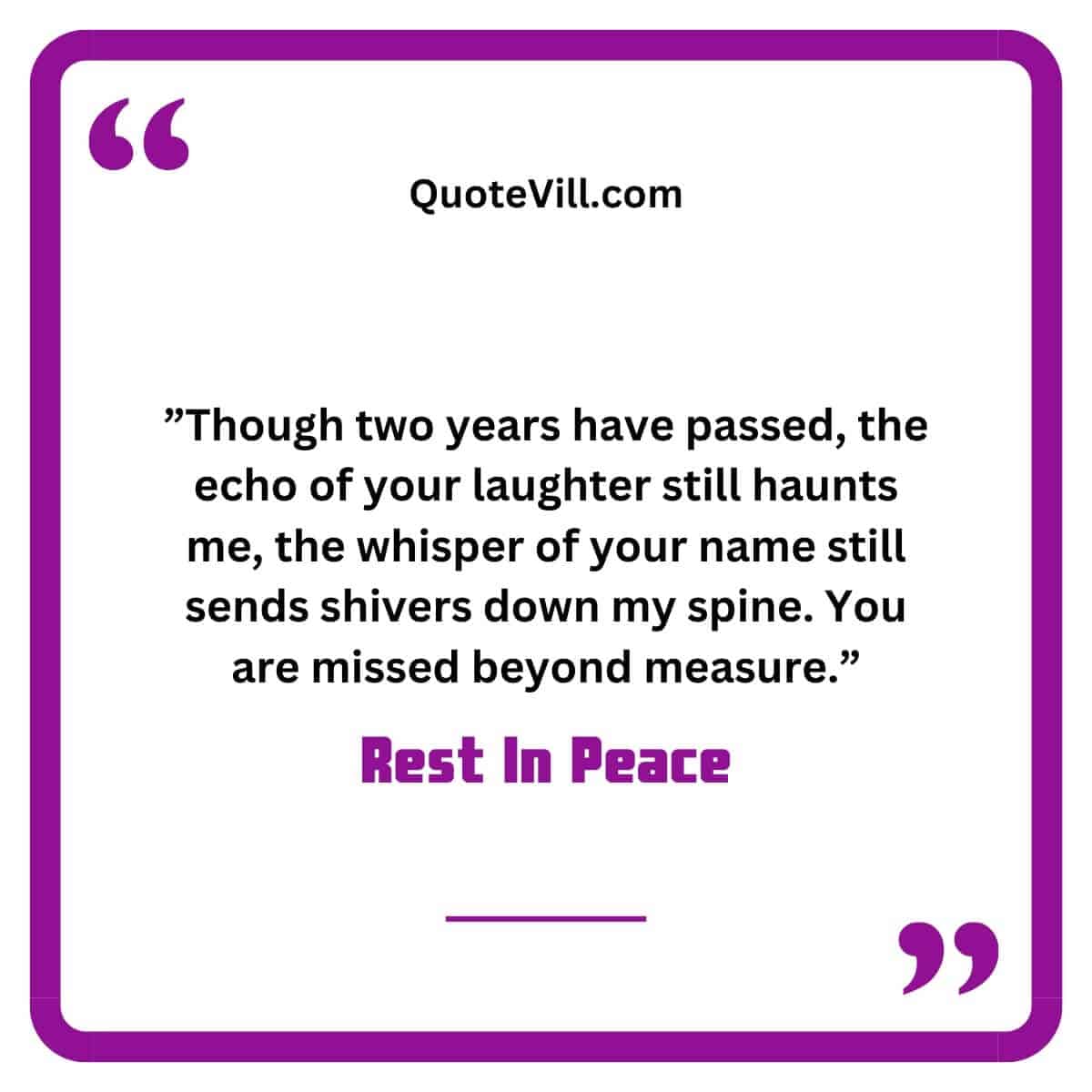 8. "My friend, even the sun seems to shine a little less brightly without you here. The world just isn't as beautiful without your laugh lighting it up."
9. "Every beat of my heart, every breath I take, every step forward seems to echo your absence. Though it's been two years, it still feels like yesterday."
10. "I miss you with every fiber of my being. The years may pass, the seasons may change, but the pain of losing you remains the same."
2 Year Death Anniversary Quotes For Brother
1. Dear Brother, It's been two years since you left us. Two years ago today I lost my best friend and my champion. Even though so much time has passed, I still think of you every day and find myself couldn't stop reminiscing about all the good times that we had together. You were always there for me in life and now you'll be forever remembered in death. I know that seems like an impossible thing to accept, but through faith, we will one day meet again in eternity – which gives me strength and solace when I'm missing you most. I thank God every day for giving me a brother like you who was larger than life in so many ways.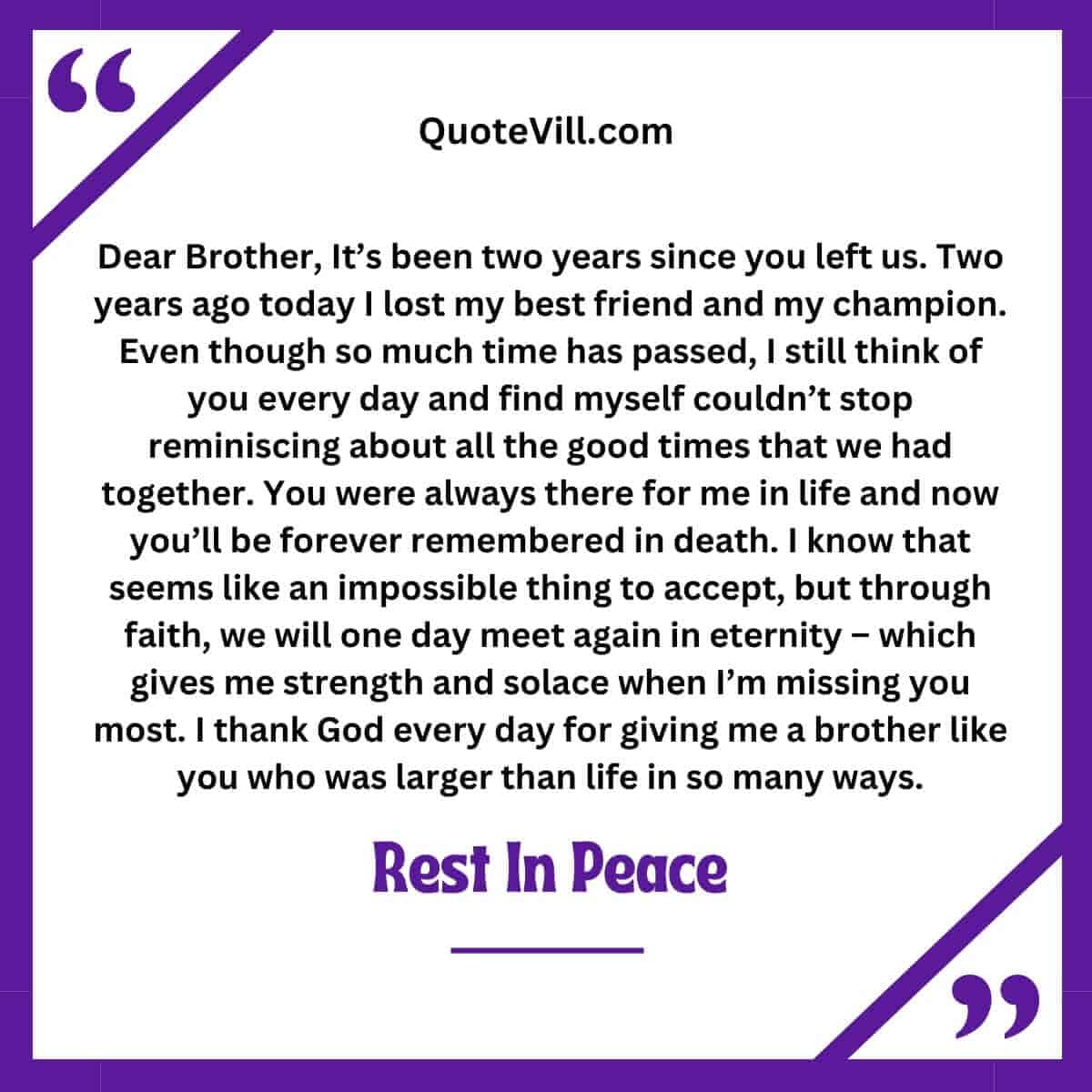 2. My Beloved Brother, It's hard to believe that it's been two years since I said goodbye to you for the last time. Though time has gone by quickly, nothing can erase my memories of our special moments together – or take away our unbreakable bond as siblings. Whenever I need courage or some perspective in life I turn back to those memories for wisdom and guidance – just like you always did when we were growing up. You are irreplaceable in my heart! Your love continues to inspire me everyday even though we aren't physically together anymore – so rest assured that your legacy will live on through everything great that I do with my life in your honor. One day we will reunite again so until then don't forget: brothers never really say goodbye!
3. Dear Brother, It's been two years since Heaven called for its precious angel to come home. As hard as it is to live in a world without you now, I take comfort in knowing that your memory will never fade away because it's imprinted deeply in my heart forever. On this day, as I pause a while and reflect upon all that we shared together during our time here together, I'm filled with joy thinking about how much fun we had together when growing up and sharing experiences even as adults. No matter what life brings us your love will shine brightly reminding me how grateful I am for having known such an outstanding soul like yourself! Love You!
4. My most cherished brother, It has already been two long years since God called for his beautiful angel who was an irreplaceable part of our family-our beloved brother -to leave this world. All Your beautiful qualities captured everyone's hearts-your sense of humor, confidence and passion,fierce loyalty intertwined with unconditional love. We owe so much gratitude To You as You instilled within us important Values and teachings To carry throughout each stage Of Our lives. Knowing That Your living through us assures That Our bond is unbreakable and allows Us To heal peacefully–As We know You still watch Our every movement From Above With Great Pride And Joy Loving Us Unconditionally. Miss Every Minute Of Your Presence Always. Till We Meet Again In The Afterlife,Your Sibling Always Yours Forever!
5. Dear Brother, I still can't believe it's already been two years since your passing – time really does fly by far too quickly! Looking back now at all that we experienced side by side during our childhood feels like a lifetime ago now – but one thing is certain; every second spent with you was truly cherished – there could never be another person quite like YOU! Life isn't ever going to be the same without your presence here amongst us; nevertheless today on this special occasion rather than sadness or despair may our hearts instead fill up with joyful moments remembered between us both. Rest easy dear Bro', know that my love for You runs deep – here until eternity!