Friday is the last weekday. Hence, a sense of accomplishment and success are associated with this day. If you are looking for perfect words to end your week with a note of thankfulness, you can check out these powerful Friday Blessings and Prayers.
Friday means it's time to take a break from your work to rejuvenate. Friday Prayers will inspire you to work hard to achieve your dreams and start the upcoming week with new motivation.
Prayer can bring you solace in fast-paced daily life, where things can overwhelm you quickly. Ushering a workweek with Powerful Friday Blessings can be the best way to channel your inner peace.
Whether composing your prayer with any particular intention or not, you will always feel the serenity and strength embedded in a prayer uttered from the core of your heart. You may add a note to thank God and make things favorable throughout the week. You can also ask the Almighty to bless you and your family.
Prayers should be filled with gratitude and optimism, but you may fall short of exact words that will bless your heart with happiness.
Here is a list of powerful Friday blessings and prayers that can brighten up your day with the presence of the Almighty. You may write down these quotes or share them with your dear ones. If you want to personalize your prayers, you can model them on these quotes.
Key Elements of a Powerful Prayer
Gratitude: Gratitude is at the heart of every powerful prayer. Before we ask, we acknowledge and appreciate. It helps us remember our blessings and fosters a positive mindset.
Sincerity: The most moving prayers are those spoken from the heart. Let your emotions guide your words. The universe responds to genuine intent and raw emotion.
Clarity: Be clear and specific in your prayers. Whether it's peace, love, or joy, express your wishes with precision.
Faith: Trust in a higher power is fundamental. Regardless of the situation, always keep your faith unshaken.
Inspirational Friday Blessings and Prayers
1. "Happy Friday! May your heart radiate with the joy of God's blessings and your spirit glow with His divine love. Walk the path of righteousness and remember His compassion and mercy are infinite."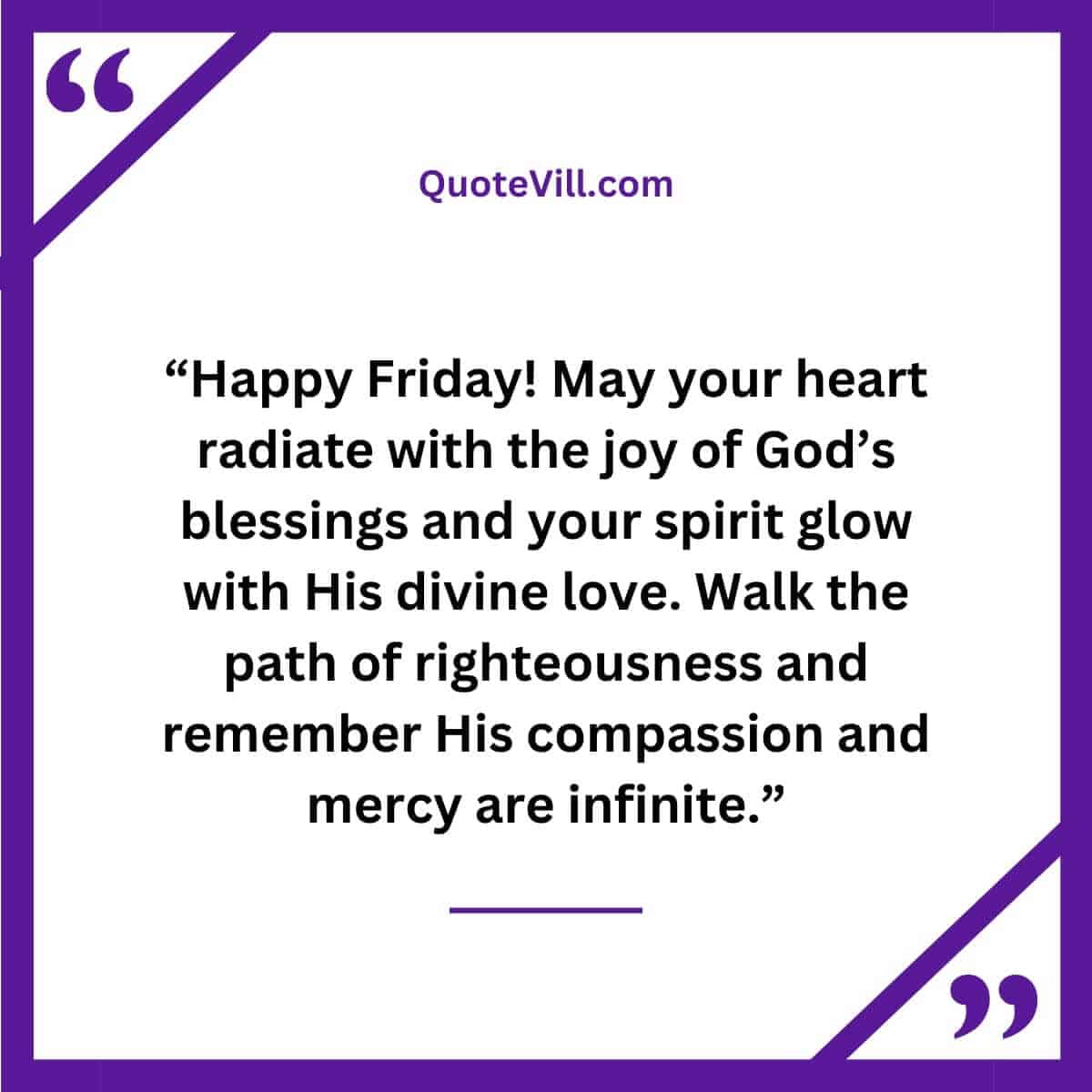 2. "May God's love enshroud you this Friday. As the weekends, may your worries dissipate, replaced by faith and gratitude. Remember, every step forward is a step with Him. Enjoy a peaceful and blessed Friday."
3. "Blessed Friday! May the hand of God gently guide you towards love and joy. May His wisdom be your compass, and His love, your shield. Walk with Him and find peace in every step."
4. "Let the grace of God shine upon you this Friday. Surrender your worries, embrace His love, and stride forward with hope. May your day be filled with divine blessings and genuine happiness."
5. "May your Friday be painted with God's love and kindness. With each breath, thank Him for His blessings, and with each step, walk closer to Him. May His wisdom guide you today and always."
6. "On this blessed Friday, let's seek strength in humility and courage in compassion. May God's grace enlighten your path and His mercy cleanse your spirit. Embrace His love and walk towards a brighter tomorrow."
7. "Happy Friday! May God's love touch your heart, His peace calm your spirit, and His wisdom guide your steps. May His blessings envelop you, as you end the week on a positive and prayerful note."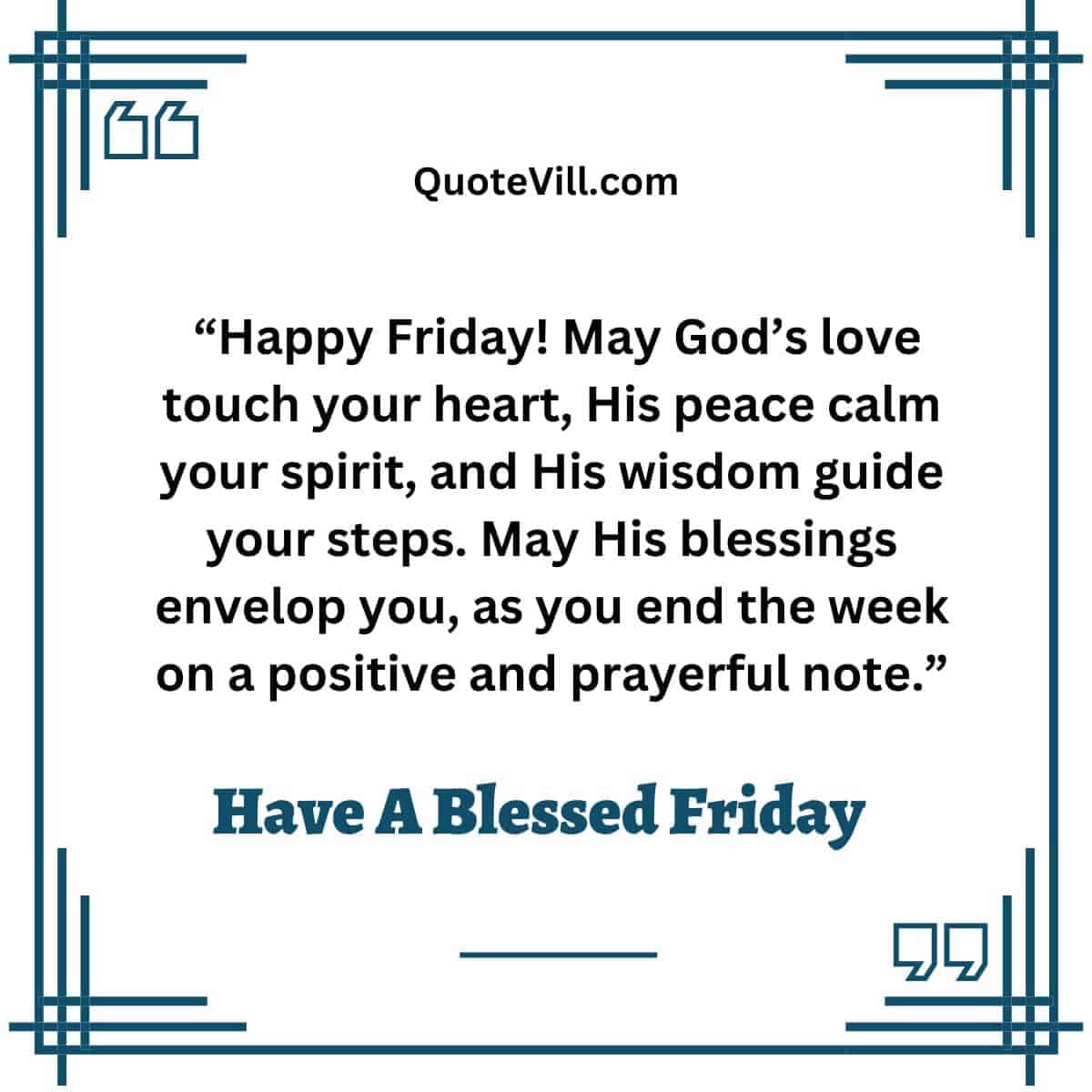 8. "Hey God, it's the end of the workweek. Please give us the feeling of having done a good job and let us look forward to chilling out. Let's be happy and relaxed, knowing that we're done for now."
9. "As Friday ends, I'm asking for a recharge and to feel calm. My heart's thanking you big time for getting through the week and learning stuff along the way."
10. "Big Guy Upstairs, thanks for having my back this week. I'm so thankful for everything that happened – good or bad. Now, as the weekend gets close, let's wind down and get ready for more cool things coming."
11. "Friday's here and that's a wrap on this week's craziness. Here's to new good stuff and chances coming our way. Let's feel good about what we did and get pumped for what's next."
12. "Hey Lord, it's a great Friday! I'm hoping we can feel super chill knowing we did our best this week. Guide us and give us a sweet head-start on whatever comes next."
Read: 57 Good Morning Saturday Blessings to Start Your Weekend
Friday Blessings Quotes
1. "Happy Friday! It's time to chill. May this day be like a super comfy pillow for your tired self. Get all charged up to dream big and be awesome."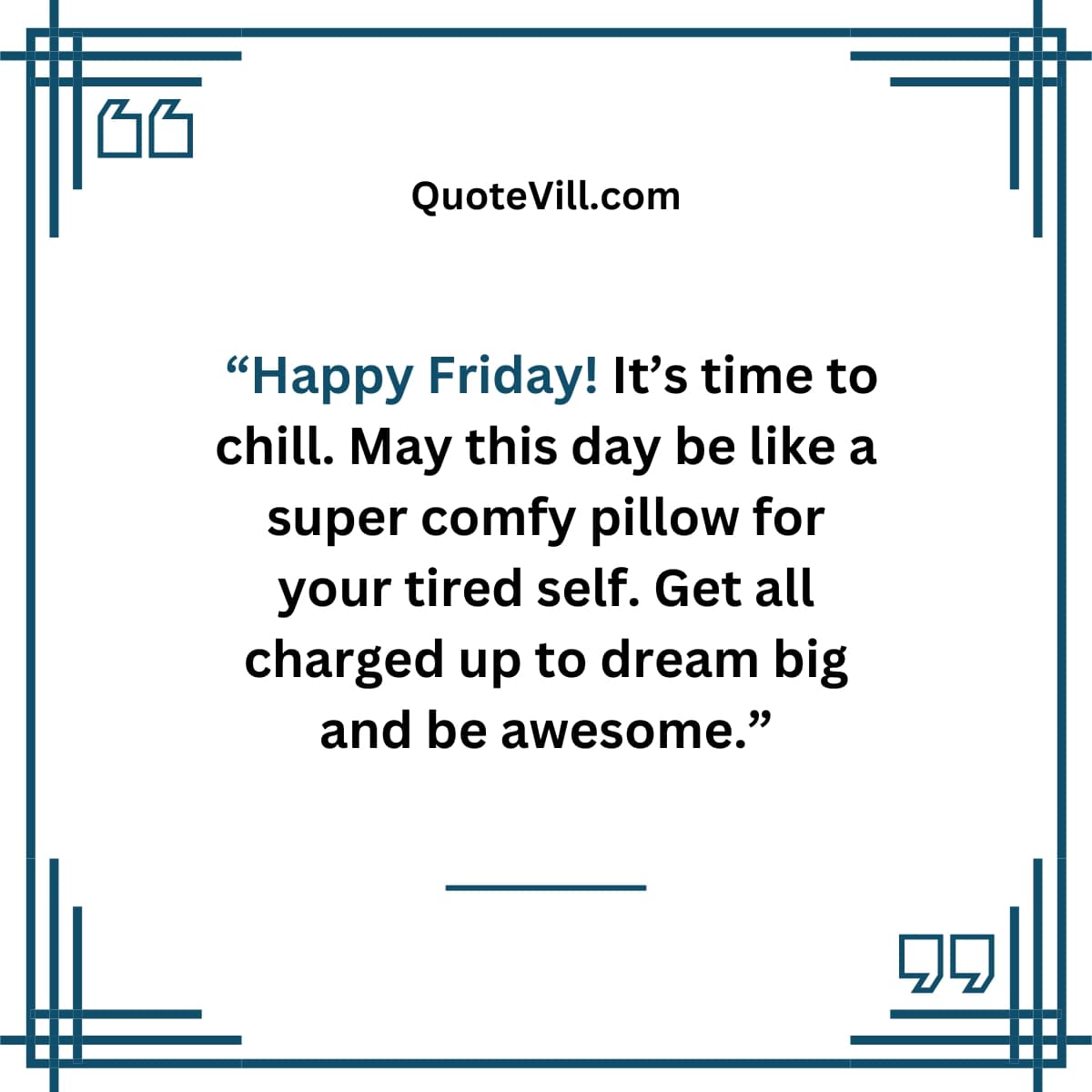 2. "Take it easy this Friday. Life's crazy, but take some time to pray and say thanks. May you find that quiet spot inside that helps you handle anything."
3. "Happy Friday! I hope your heart gets all cozy and happy today. May you feel like God's giving you a big hug, and you're all set for an awesome weekend."
4. "Yay, it's Friday! Hope your heart is full of good vibes as you think about the week. Ask for the strength and smarts for whatever comes next, and rock it!"
5. "This Friday, think of all the hard work you put in like little seeds. Your prayers and thanks are like water and sun. Hope they grow into awesome things!"
6. "Here's to Friday! Take a deep breath, look back, and give yourself a pat on the back. Your heart's got this. Embrace the quiet and get ready for new adventures."
See: 60 Positive Monday Blessings to Motivate You for the Week Ahead
Friday Blessings and Prayers For Friends
1. "Happy Friday, dear friend! May your day be filled with smiles, and may your heart be light. Pray for love and peace to surround you, as you step into the weekend with joy and gratitude."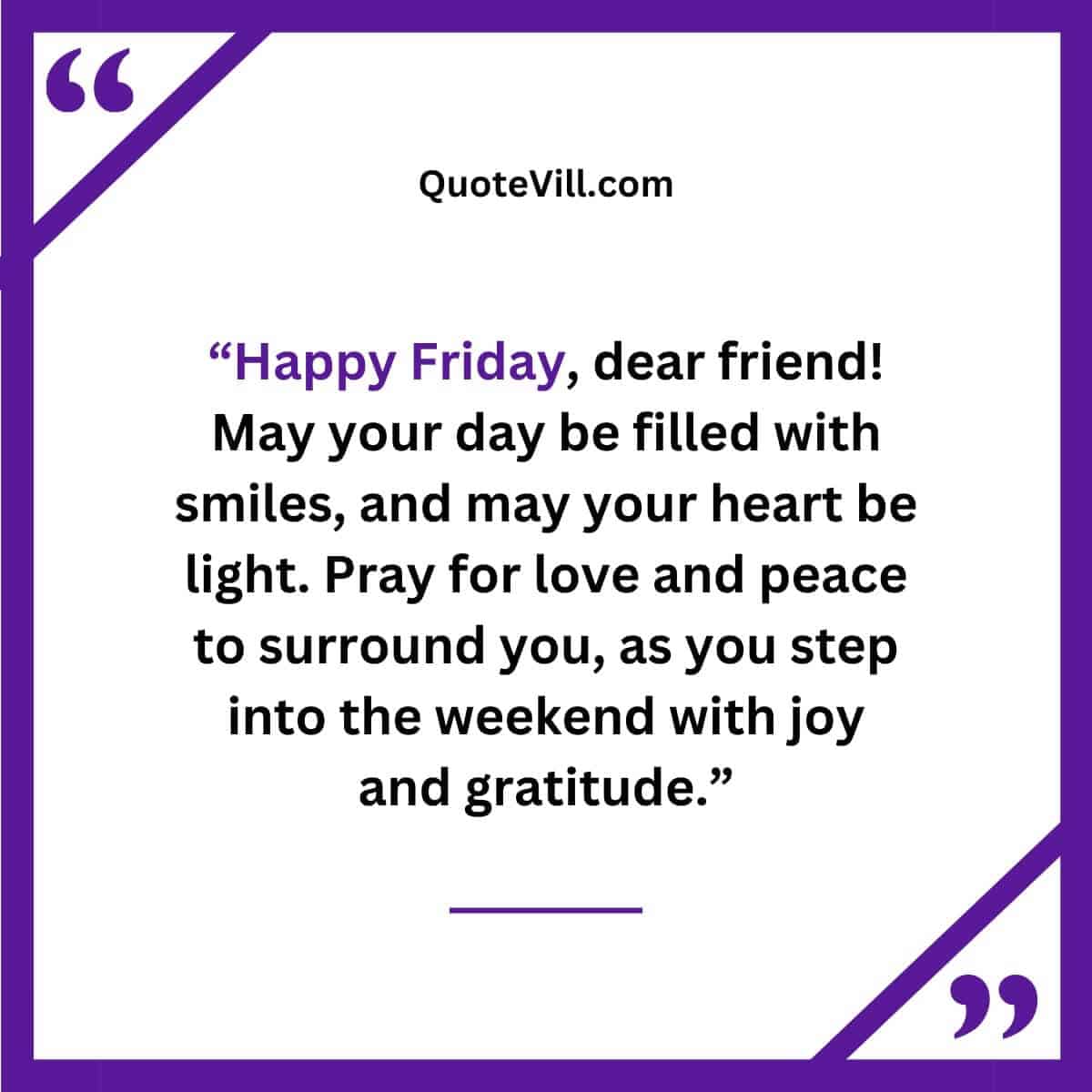 2. "Wishing you a fabulous Friday, my friend! May God bless you with the energy to wrap up the week on a high note. May your prayers be answered, and may your heart overflow with thankfulness."
3. "Dear friend, as you embrace this Friday, may serenity be your companion. May your prayers weave a blanket of peace and your heart be cocooned in warmth and love. Cheers to a blessed day ahead!"
4. "Blessed Friday to you, my friend! May this day be a harbor in the week's storm, where you can anchor your soul, give thanks, and dream of the boundless ocean that awaits. God be with you."
5. "Happy Friday, my friend! May your heart burst into songs of gratitude and your spirit soar high. May you have the strength to face new horizons and the wisdom to walk with grace and dignity."
6. "Sending you Friday blessings, my friend! May the labor of your week bear fruits of joy and contentment. May your prayers nurture your dreams and your gratitude be the sunshine in your garden of blessings."
7. "Cheers to a blessed Friday, my friend! Exhale the worries, inhale the grace. May your heart be fortified with love and joy, as you embrace the divine stillness and prepare for a splendid weekend ahead."
Read More: Have a Good Day at Work Texts
Powerful Friday Morning Prayers
1. "Lord, as the week draws to an end, I pray this Friday morning for renewed energy. May I find fulfillment in my tasks and share my joys with others. Guide me in Your paths of righteousness. Amen."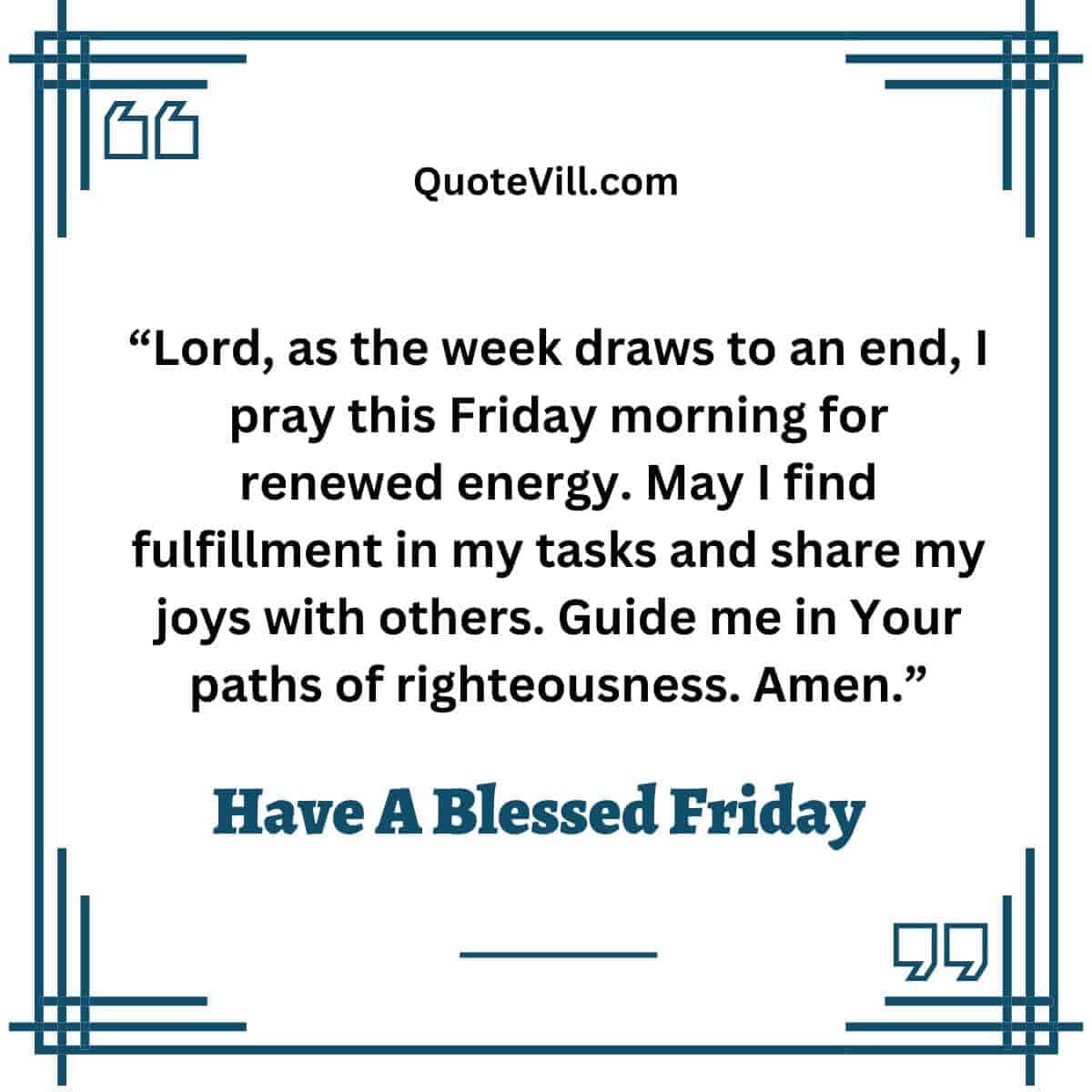 2. "Heavenly Father, on this Friday morning, I pray for protection and guidance. Shield me from negativity, and grant me the discernment to choose the paths that lead to peace and fulfillment."
3. "Almighty God, thank You for this new day. On this Friday morning, may my heart be attuned to Your wisdom, my hands ready to serve, and my spirit eager to spread kindness and joy. In Your name, I pray. Amen."
4. "Heavenly Father, thank You for this blessed Friday morning. I pray for a spirit of generosity and kindness to flow through me. May my words and actions bring hope and encouragement to those I meet today.Amen."
5. "Almighty God, this Friday morning, I offer my heartfelt gratitude for the gift of life. I pray for the strength to overcome obstacles and the grace to spread joy and love wherever my path leads today. "
Positive Friday Blessings
1. "Here's to a Friday filled with positive vibes! May your day be as bright as the morning sun and your heart as warm as a cozy blanket. Spread the love!"
2. "Blessed Friday! Embrace the day with open arms. May the winds of positivity uplift your spirits, and may you soar through the day with grace and happiness."
3. "Cheers to a fabulous Friday! May the melodies of joy fill the air, and may your steps be in sync with the rhythm of positivity. Dance your way into the weekend!"
4. "Wishing you a Friday bursting with blessings! May your cup overflow with joy, peace, and positivity, and may you share this abundance with everyone around you."
5. "Blessed Friday to you! May the sunlight of positivity guide you through the day. Let your heart be your compass, steering you towards joy and fulfillment."
Friday Prayer and Blessings For Islam
1. "Jumu'ah Mubarak, dear ones! On this glorious day, may your heart be a vessel of peace, as you recite Surah Al-Kahf. Through the tapestry of words, may you feel the comforting embrace of Allah's wisdom and love. May He light your path."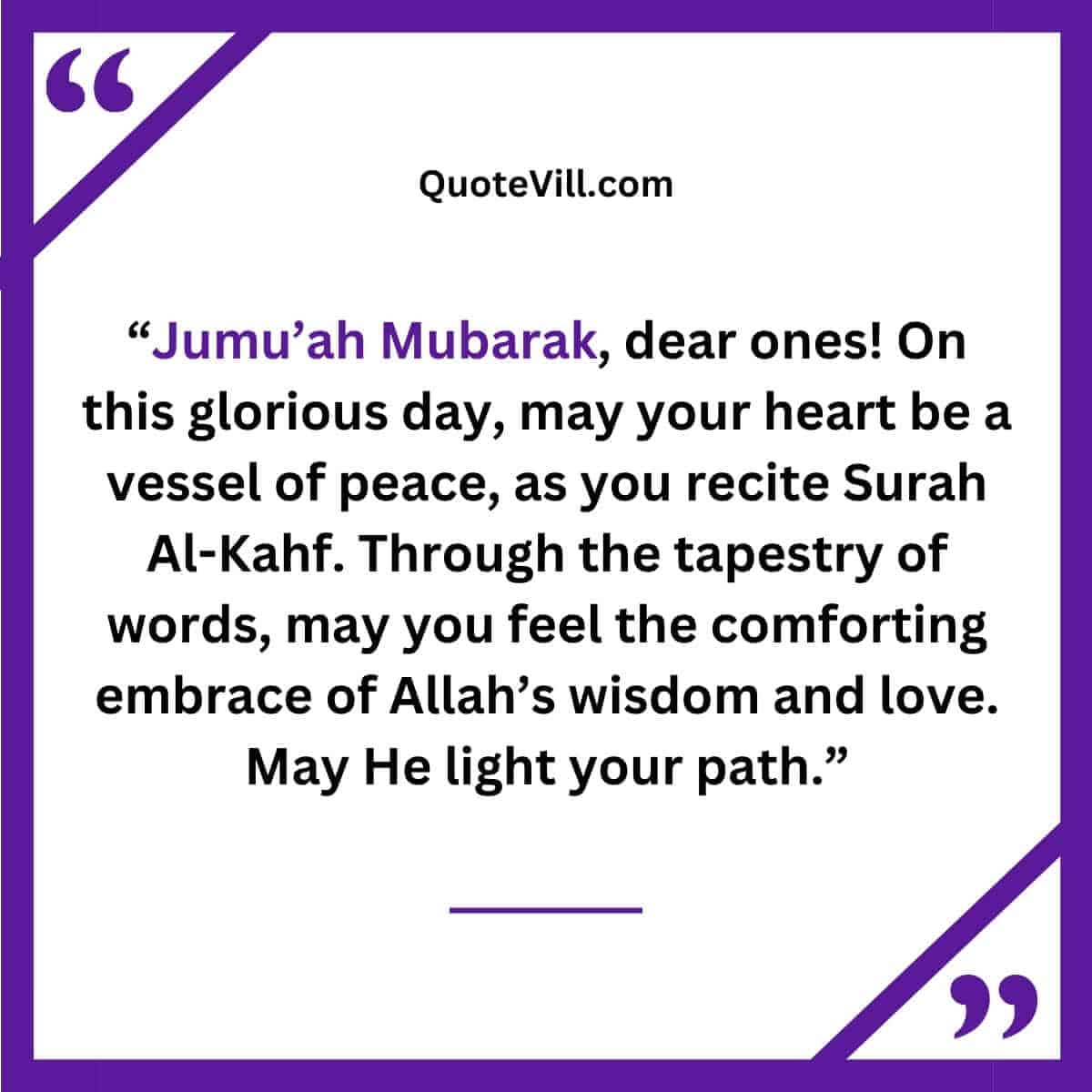 2. "May your worries be light, your joy be great, and your cup overflow with Allah's blessings on this special day. May He bless you with peace, guide you towards righteousness, and accept your prayers. Jumma Mubarak!"
3. "Let's talk Friday magic, the Jumu'ah kind. As the day stretches ahead, may your dua's be the golden threads that stitch your heart to the boundless love of Allah. May you find in your prayers, a refuge, a homecoming. Jumu'ah blessings."
4. "Oh, what a Friday this is! With palms raised and hearts humble, may your prayers soar like birds across the morning sky. May Allah's grace be the wind beneath your wings, and may He grant you contentment and serenity. Jumu'ah Mubarak."
5. "On this blessed Friday, let's remember our brothers and sisters around the world in our prayers. May Allah relieve their sufferings and grant them ease. Jumma Mubarak!"
Friday Blessing Bible Verses
1. "Do not be anxious about anything, but in every situation, by prayer and petition, with thanksgiving, present your requests to God. And the peace of God, which transcends all understanding, will guard your hearts and your minds in Christ Jesus." – Philippians 4:6-7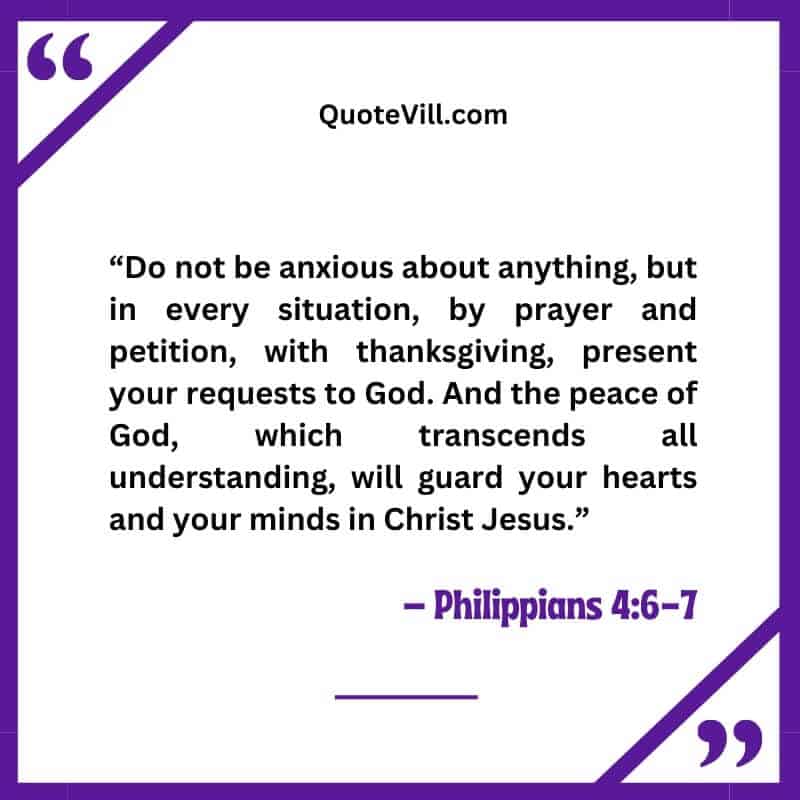 2. "Trust in the Lord with all your heart and lean not on your own understanding; in all your ways submit to him, and he will make your paths straight." – Proverbs 3:5-6
3. "Every good and perfect gift is from above, coming down from the Father of the heavenly lights, who does not change like shifting shadows." – James 1:17
4. "Give thanks to the Lord, for he is good; his love endures forever." – 1 Chronicles 16:34
5. "So do not fear, for I am with you; do not be dismayed, for I am your God. I will strengthen you and help you; I will uphold you with my righteous right hand." – Isaiah 41:10
There are numerous ways to share these Powerful Friday Blessings and Prayers:
Social Media: Platforms like Facebook, Instagram, and Twitter provide an excellent medium to share your blessings and prayers.
Personal Messages: Send a personal text message or an email to your loved ones.
Community Gatherings: Share your blessings in person during community gatherings. This personal touch can bring warmth and unity to any group.
Final Wordings
The power of prayer lies in its ability to soothe our hearts, boost our spirits, and bring us closer to each other and the universe. As we partake in the simple yet profound act of sharing Powerful Friday Blessings and Prayers, we invite positive energy into our lives and the lives of others.
Remember, every blessing you give and every prayer you say, multiplies in the universe, eventually finding its way back to you.
Here's to a blessed Friday and a wonderful weekend!